By Jordan Staggs | 
Photography courtesy of Firefly PCB
At Firefly restaurant in Panama City Beach, Florida, dining transforms into an exceptional experience within a relaxed yet beautiful setting. Sitting under the big tree in the main dining room, with glowing "fireflies" throughout its branches, is akin to relaxing in a charming Italian courtyard. The casual fine-dining destination also includes a number of private dining rooms, the cozy and sophisticated Library Bar, and the upbeat sushi bar. But as much as patrons love the atmosphere of Firefly—which was meticulously restored to its former glory after Hurricane Michael caused the roof to collapse in October 2018—it's the food that keeps them coming back. Firefly's expansive menu offers a little bit of everything, and it's all great!
On November 1, 2019, Executive Chef Rob Burgess took over the Firefly kitchen. Although the menu staples that guests know and love have remained, Burgess says he is also excited about adding some new signature dishes. "My favorite thing about the Firefly menu is the variety of items," he says. "There are a lot of options without it being overwhelming to the customer—steaks, seafood, pasta, sushi. The abundance and availability of fresh local seafood we have are amazing, and the menu offers a mix of Southern-style food with a dash of Cajun-Creole influence and a little Italian flair."
Firefly owner Dave Trepanier was thrilled to bring Burgess on board last year and says the transition has been even better than he could have hoped. "He's the hardest-working chef I've ever been involved with," Trepanier says. "Most of the time, he is the first in and the last out. Rob is an outstanding chef—he's also a neat freak and a stickler for detail. I just spent a bunch of money on a brand-new kitchen after the storm, and he keeps the new equipment spotless, along with the rest of the kitchen. It's fun seeing and tasting a new chef's cuisine. They are all talented, but they each have their own styles and specialties."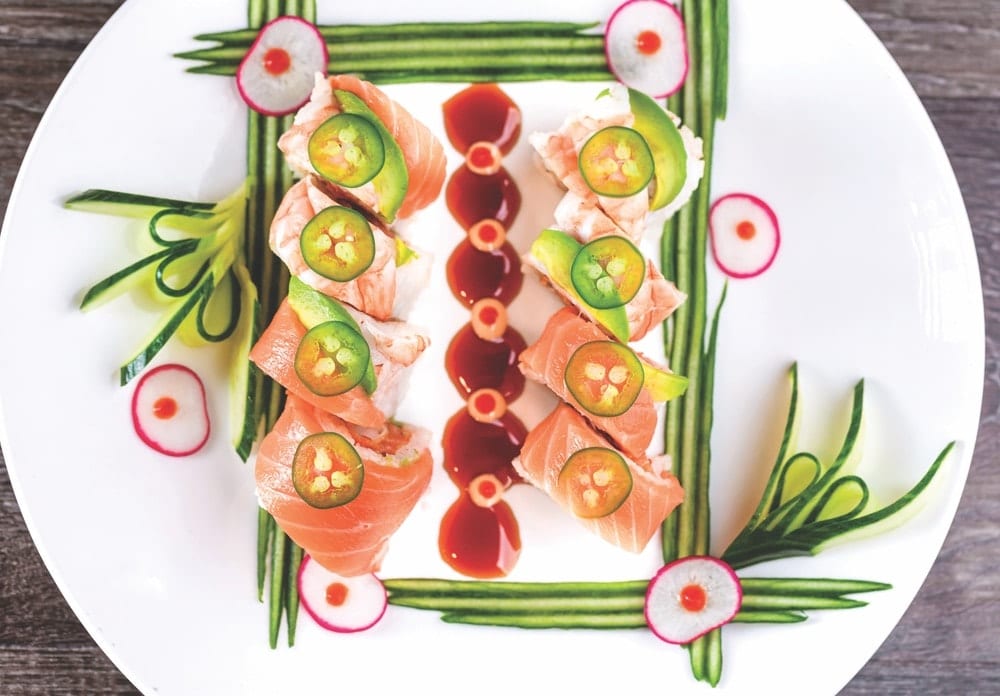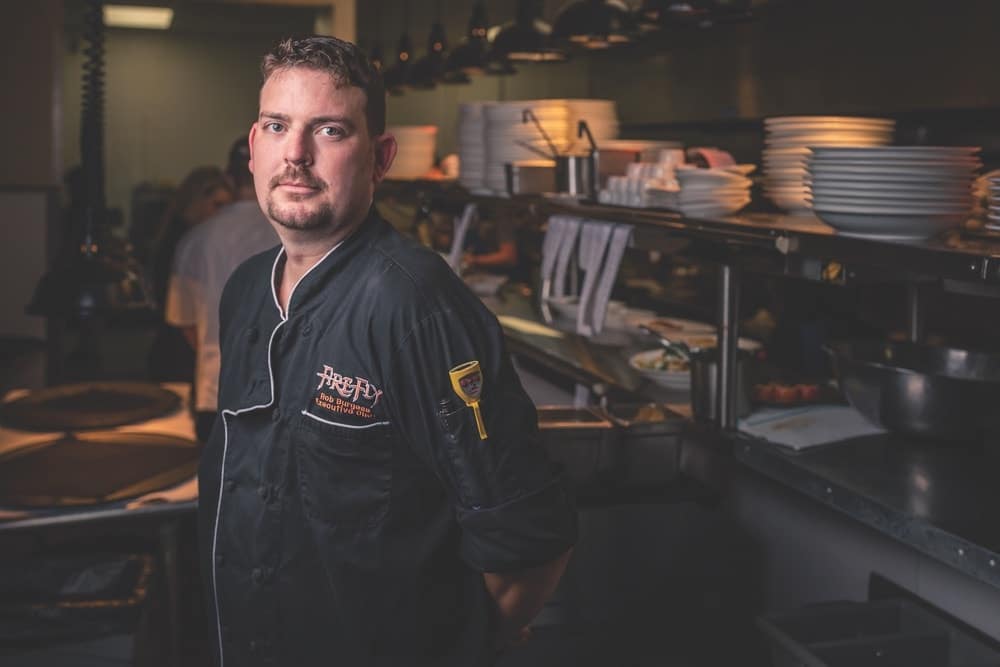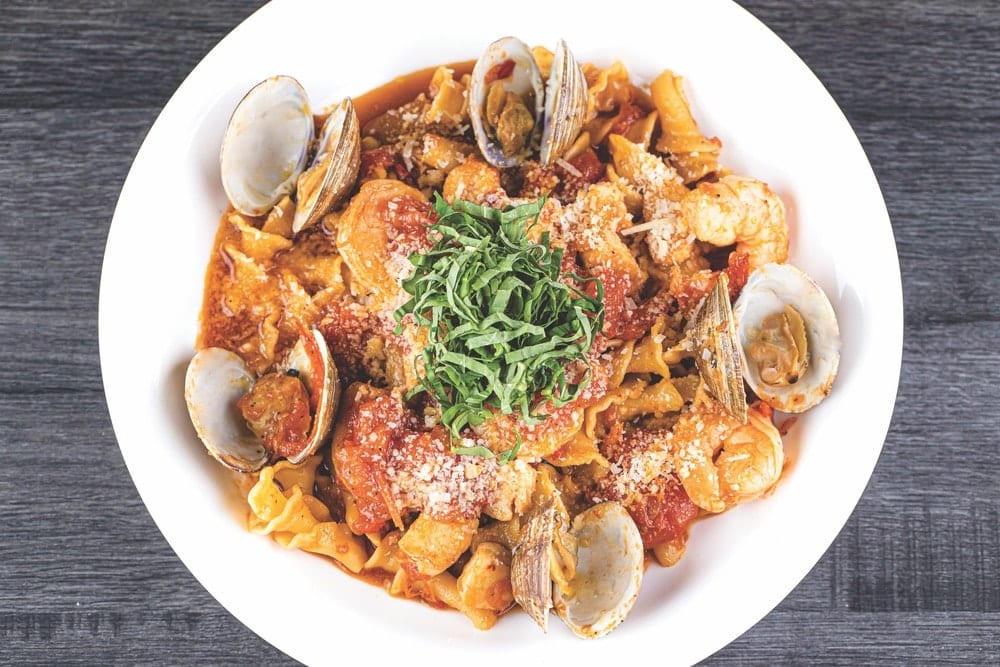 Burgess, who grew up on a small farm in South Carolina, spent much of his free time hunting and taking care of horses, chickens, rabbits, and goats. "My mother always made sure we had a home-cooked meal every night," he says. "I think that's where my love of food originated. After three years of attending Coastal Carolina University, I couldn't find a major that really piqued my interest. I was working at a restaurant, trying to figure out life, and my general manager told me that if I was serious about cooking, I needed to consider going to culinary school. Three months later, I enrolled at Le Cordon Bleu in Atlanta."
Before starting at Firefly last year, Burgess was the executive chef of Saltwater Grill, a PCB favorite, for over seven years. He was also the chef at Panama Country Club and Laketown Wharf Resort, so his footing in the Gulf Coast culinary scene is solid, and his love for cooking hasn't waned. "I'm thrilled to be working at Firefly," he says. "We have an amazing staff that genuinely cares about the customers' needs."
The abundance and availability of fresh local seafood we have are amazing, and the menu offers a mix of Southern-style food with a dash of Cajun-Creole influence and a little Italian flair.
Burgess is working with Trepanier and his staff to make menu updates that both first-time visitors and avid Firefly fans are sure to love. "We've got so many things in the works!" he reveals. "I definitely want to bring escargot back to the menu, and I've been working on my gnocchi recipe, which I would love to pair up with confit chicken as a take on the classic Southern chicken and dumplings. Currently, we are also working on creating a catering menu to help make it more convenient for our event customers to choose exactly what they want."
Trepanier says the Firefly sushi menu is also evolving, and those aren't the only changes at the restaurant. "I've made one of our best longtime employees, Lance Vongerichten, a partner in the restaurant," he says. "He has been our lead server and headed up our wine program for years, so we are looking for exciting changes in our wine list and more wine events coming up."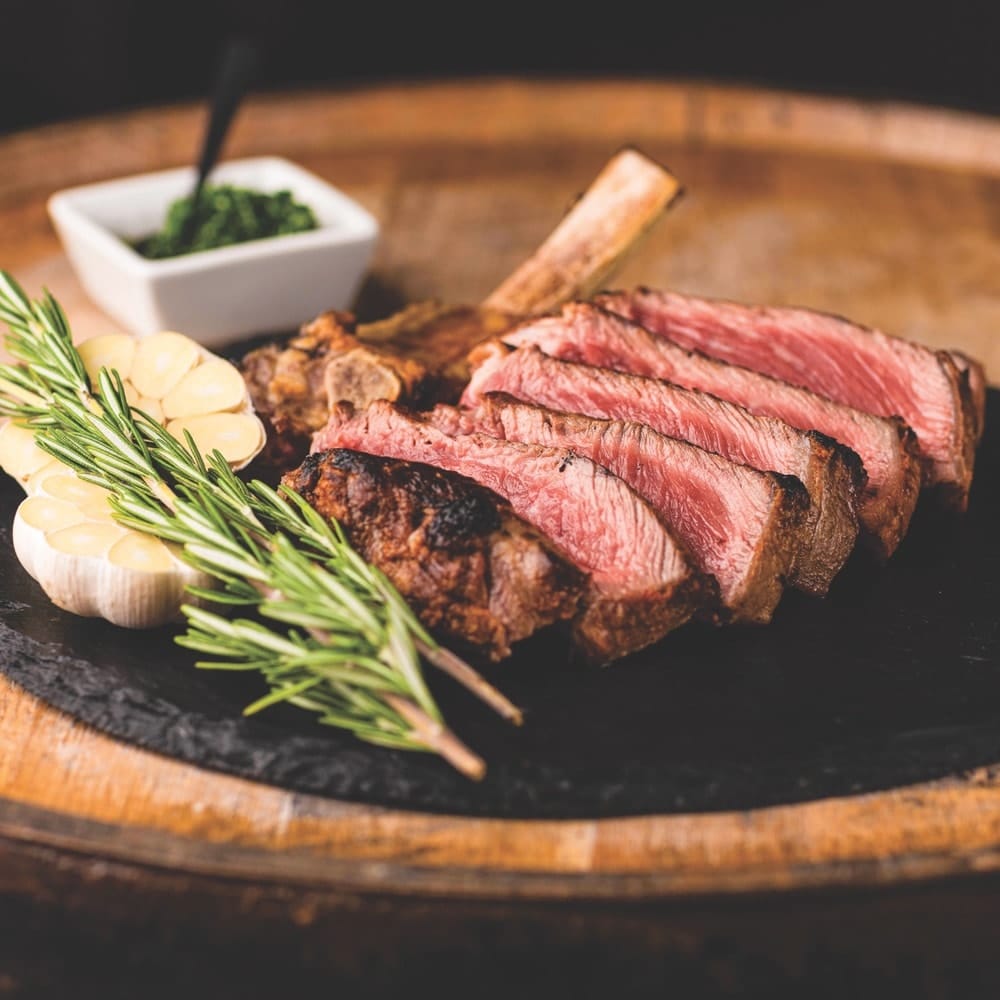 From fresh seafood and sushi, delicious steaks, homemade pasta, and a fabulous selection of wine and specialty cocktails to a signature catering menu, Firefly is stepping up its game. There's no doubt it will keep bringing the best of casual fine dining to Panama City Beach.
"I love that the possibilities are endless when it comes to food," Burgess expounds. "It's also great having customers that are a little more adventurous with their dining choices—it really makes my job fun."
Dining at Firefly is certainly an experience, and one best enjoyed by making a reservation in advance. The restaurant stays busy most nights, and (as with all good things) Chef Burgess's fresh homemade dishes take time to create. Like many businesses in east Panama City Beach and Panama City, Firefly is also still feeling the residual effects of Hurricane Michael when it comes to staffing. Walk-ins are always welcome, and Trepanier and his team invite all guests to relax and enjoy an evening of endless possibilities!
— V —
---
Visit FireflyPCB.com to learn more, view the menu, and make a reservation today.
ARTICLE CATEGORIES