By Jordan Staggs | 
Photography courtesy of Chef Jim Shirley
Stroll into Farm & Fire Southern Pizzeria, and you'll be greeted by what feels more like an industrial-chic New York City eatery than a waterfront bar and restaurant in Santa Rosa Beach, Florida. The shimmering Choctawhatchee Bay at night could easily be the Hudson or East River—but the sunsets here are unobstructed by high-rises as the glowing orb slips below the horizon. That's when the Speakeasy, the prohibition-themed bar at Farm & Fire, comes to life. Grab a seat or a booth with friends and enjoy a melon baller cocktail (the house specialty), a glass of wine, a craft beer, or other beverage of your choice and take in the ambience.
"Coastal industrial" was the vibe Chef Jim Shirley was going for when developing Farm & Fire—the latest in his collection of restaurants under Chef Jim Shirley Enterprises—along with his director of culture and operations, Dan Tinghitella. Shirley certainly has the experience to make it authentic. He has been invited six times to cook dinner at the legendary James Beard House in NYC, an honor bestowed by the James Beard Foundation to chefs from around the US who uphold the foundation's values of "making America's food culture more delicious, diverse, and sustainable for everyone."
Shirley's repertoire is certainly not lacking in diversity. His restaurants range from the well-known Great Southern Café in Seaside, Florida—fittingly serving Southern favorites for breakfast, lunch, and dinner—to Farm & Fire, North Beach Tortilla Co. downstairs from the pizzeria, Ji-Shi Ki-chn sushi and wine bar, and even the Meltdown on 30A, which offers gourmet grilled-cheese sandwiches from a vintage Airstream. Following in Great Southern's footsteps is The Bay, located across the street from Farm & Fire and North Beach Tortilla Co., which serves up Southern- and Asian-inspired favorites and delicious sushi along with live music and events regularly. For specialty frozen drinks in Seaside, be sure to stop by Great Southern's b.f.f., a chic walk-up bar with a twist!
"We opened North Beach Tortilla Co. in June 2019, which wasn't the ideal time to open a new restaurant, but complications from Hurricane Michael had pushed us back," says Tinghitella, who heads up a dedicated operations and culinary team while Shirley is busily overseeing his many irons in the fire. "It was a great learning experience, and fortunately, it's been very successful. We wanted to create a Northwest Florida taco and tequila bar, and we're trying to define that with fresh Gulf seafood, handmade tortillas, and more. With Jim coming from Pensacola, there's a lot of Spanish influence there, so you can see that at North Beach, as well."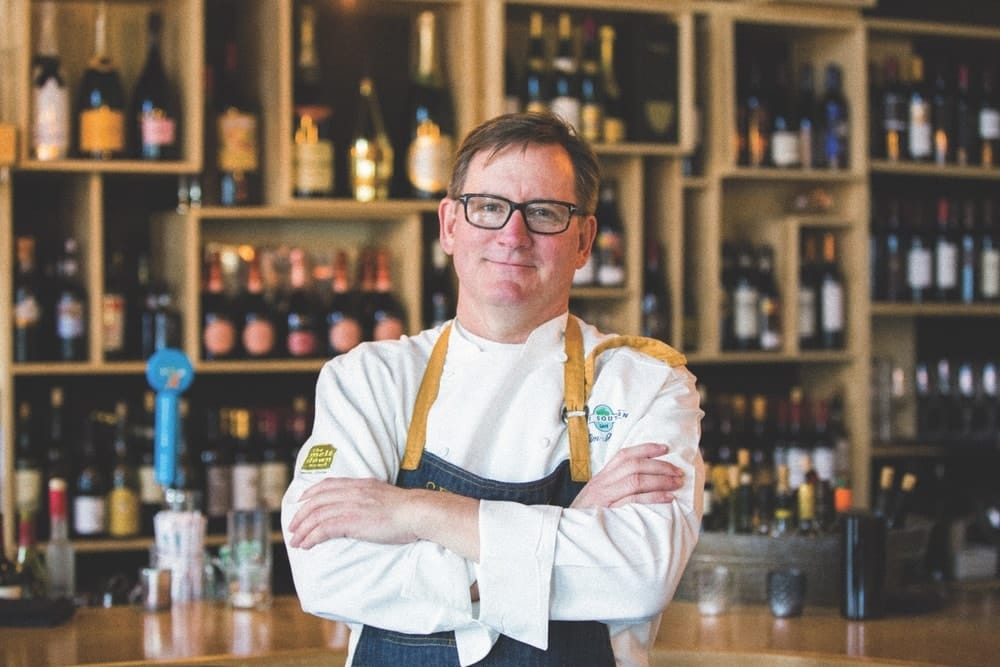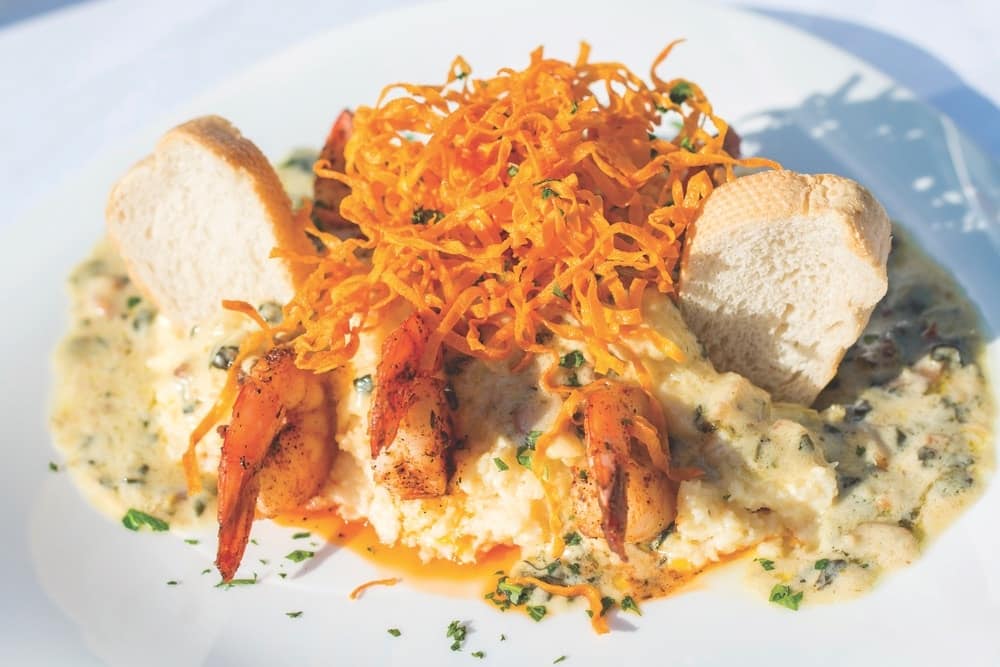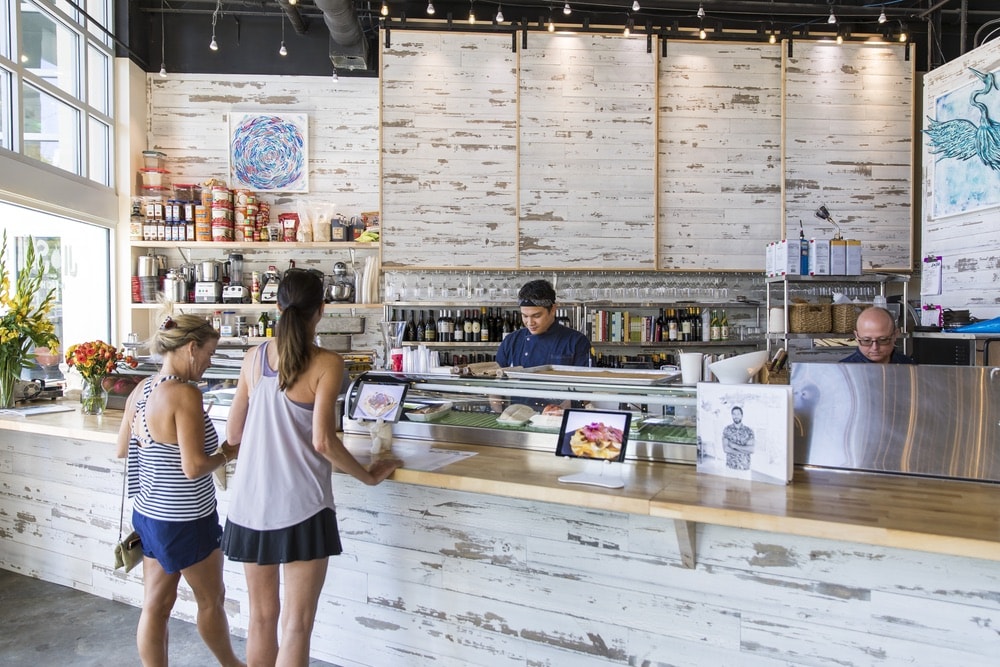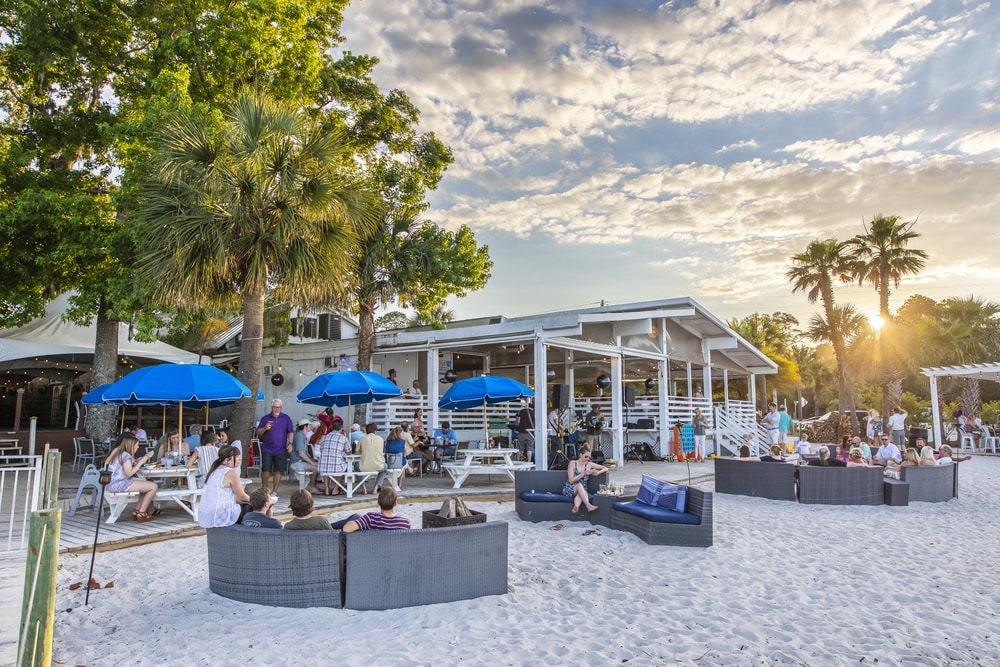 The upstairs pizzeria, meanwhile, centers on a pair of coal-burning brick ovens. Each delicious menu item is fired in the coals, from specialty and build-your-own pizzas to whole Gulf fish, steaks, and farm-fresh seasonal vegetables. "We wanted a totally different vibe from downstairs," says Tinghitella. "'Coastal industrial' is another concept we're still defining, with influences from Chicago restaurants we visited but still keeping our local flavor. It's all about the ingredients and the process with these coal-fired ovens; everything is authentic and fresh. We don't even have a freezer."
Situated on a small white-sand beach on the Choctawhatchee Bay at the south end of the bridge on Highway 331, North Beach and Farm & Fire have one major draw in common—the view. "These sunsets are something you won't see in Chicago or New York," Tinghitella says. "Last year, we had dolphins out here in the bay every evening, pods of twenty or thirty at a time. Farm & Fire opened in November when it gets dark early, so we haven't even been able to enjoy the sunsets from the dining room up there yet. We can't wait to share those with our guests this spring and summer."
Ji-Shi Ki-chn, the rebrand of Shirley's 45 Central Wine Bar, reopened in September of last year, bringing a new superfood-centric concept to Seaside. "We wanted to offer some healthier things like acai bowls for breakfast and lunch," Tinghitella says, "and we want to roll out fresh juices and some other things there soon while still layering in the bar element at night with sushi, paella three nights a week, and the extensive wine list everybody already loved."
"Jim's been involved in the sustainable farm-to-table movement for years and knows so many farmers and fishermen personally, it's second-nature to him."
Fresh, local, and sustainable still define the Jim Shirley Enterprises brand across all its restaurants. Although native to Pensacola, Florida, Shirley's family grew up traveling with his Navy pilot father, and the chef's style draws inspiration from the New Ruralism movement, celebrating the proud farming history of the South and other traditionally rural areas to help create sustainable agriculture in today's more urban society. He has traveled the globe to learn about sustainable farm-to-table techniques and gain inspiration for his food and beverage menus. Still, his favorite dishes usually hark back to his grandmother's traditional Southern kitchen.
In a difficult industry, it takes immense perseverance to own and operate six restaurants, but Shirley's tapestry of culinary greatness doesn't end there. He is also the co-owner of Great Southern Restaurants in Pensacola, which operates the Fish House, Atlas Oyster House, Jackson's Steakhouse, Angelena's Ristorante Italiano, 5 Sisters Blues Café, and Palafox House.
Along with creating great food and dining experiences, the Jim Shirley Enterprises mission places a great deal of emphasis on giving back to the community and beyond. The chef regularly makes appearances at charity functions such as the annual Seaside School Half Marathon Taste of the Race event, which Chef Emeril Lagasse hosts as a benefit for the Seaside Neighborhood School. He is the organizer of the Children's Home Society of Florida's annual fund-raiser called Soundside Splendor, coming up May 3 at Portofino Island Resort in Pensacola. Shirley is also involved with Southern Foodways Alliance, a member-supported nonprofit organization based at the University of Mississippi's Center for the Study of Southern Culture. Its mission is to document, study, and explore the diverse food cultures of the changing American South with the hope of "driving a more progressive future by leading conversations that challenge existing constructs, shape perspectives, and foster meaningful discussions."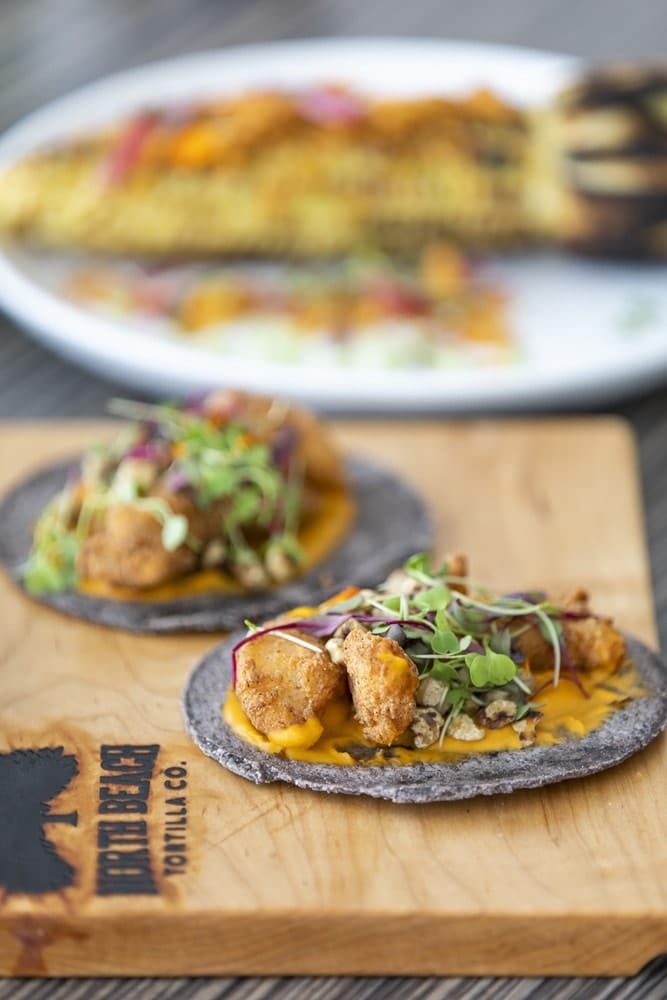 "Jim's been involved in the sustainable farm-to-table movement for years and knows so many farmers and fishermen personally, it's second-nature to him," Tinghitella explains. "He's been a driving force for sustainability on the Gulf Coast for so long now that it's very much part of who we are and everything we do."
His efforts have not gone unnoticed, as awards and accolades have piled up over the past twenty-five years since Shirley opened his first restaurant, Madison's Diner (named for his daughter), in Pensacola. In addition to being asked to participate in six James Beard Foundation dinners, his signature Grits à Ya Ya dish has been named Florida's best Southern dish by Florida Travel + Life magazine, and Shirley was also invited to prepare it for over one thousand people on Capitol Hill in Washington, DC, as part of Taste of the South, organized by US Congressman Jeff Miller of Florida. Last year, Shirley and his team created a four-course meal for Florida Governor Ron DeSantis's inaugural celebration in Tallahassee. Most recently, he traveled to Little Rock, Arkansas, to receive the 2020 Shining Example Award – Epicurean Partner from the Southeast Tourism Society.
The reviews of the most recent James Beard dinner, which took place on January 24, were unanimously positive, with diners raving about the complex flavors of each dish. It featured modern Southern flair, including lionfish cakes with red curry sauce, heritage pork, oysters, three-cowpea succotash, and Gulf red snapper topped with a brown-butter vinaigrette. The crowd favorite, in the end, was the dessert course: blood-orange pie and cornbread pudding served with Shirley's famous Tarnation Eggnog, which debuted at b.f.f. for the winter in 2018. The event also showcased the beverage talent of Northwest Florida, as the predinner reception featured beer from Idyll Hounds Brewing Company and Grayton Beer Company along with a delectable cocktail made with Dune Laker Vodka from Distillery 98, all produced in Santa Rosa Beach.
For those who might not be visiting the Gulf Coast of Northwest Florida anytime soon, Shirley's cookbook, Good Grits! (Southern Boy Cooks), offers a sampling of his signature recipes along with stories from his first fifteen years in the restaurant business. It is available on Amazon.
— V —
---
Visit ChefJimShirley.com to learn more.
ARTICLE CATEGORIES