Taking Food to New Heights at The Pearl
By Liesel Schmidt
With piercing eyes trained on his task, his steady hands carefully place finishing touches on a dish—James Neale is perhaps the quintessential chef. But it takes only a few moments in his presence to determine that his firm command of the kitchen isn't born of arrogance, it's born of a love for his craft and a desire to create exquisite cuisine for an unforgettable dining experience that transcends expectation.
For Chef Neale, that love of food began at a young age, when his family chose their holiday destinations based not on landmarks, but cuisine. They took the forks in the road almost in a literal sense, creating a rich collection of memories tied to the flavors that danced over their tongues and the aromas that scented the air. It could easily be said that such a personal food-based history has made Chef Neale who and what he is today, leading him to the position he now holds. Just a few years into his thirties, he is the executive chef of Havana Beach Bar and Grill, located at The Pearl hotel in Rosemary Beach, Florida.
Admittedly, one's deep immersion in food does not always lead to a path so clearly focused on becoming a chef, but for Neale, the pull was undeniable. It was made even more so with each passing year and each new place he explored to understand its culture and experience its food. Setting off from his native South to pursue some of the more preeminent kitchens in New York after training at CIA in Hyde Park, Neale could well have stayed north of the Mason-Dixon Line to more fully establish himself on the food scene, perhaps with the goal of headlining his own restaurant. But the call of home beckoned him in 2016, and he took the opportunity to return to his childhood home near the Destin, Florida. He accepted a position that would still give his passion a place to shine and allow him the freedom to lead his own team, teaching those under him some of the techniques he had learned and imparting some of his profoundly unique knowledge along the way.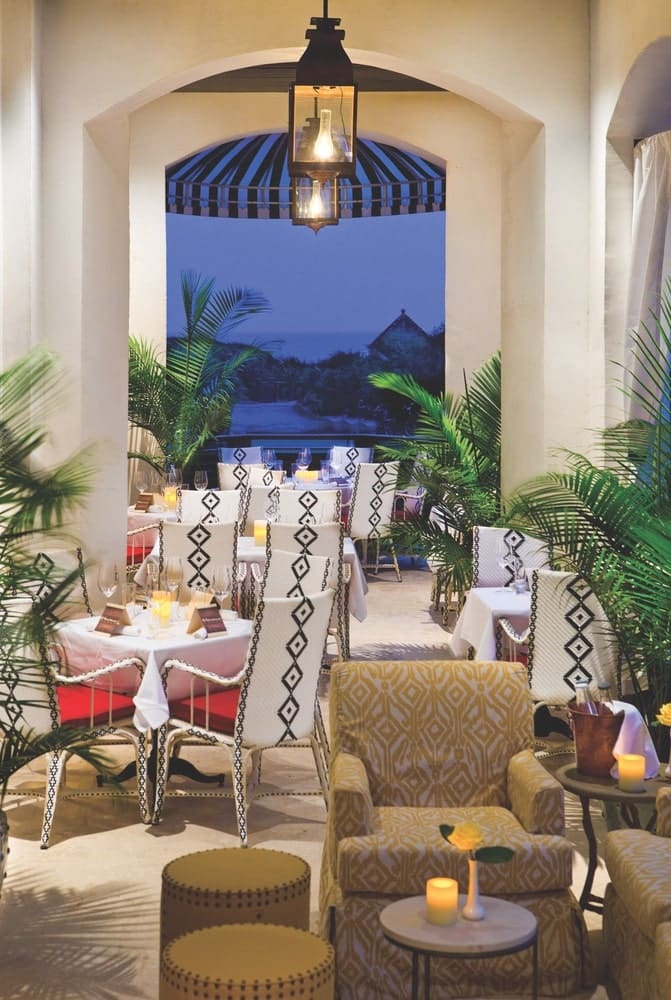 That knowledge is, in effect, one of the very things that keeps him on the cutting edge—ever seeking new methods and ingredients, ever vigilant of knowing not just what he's using but also where it comes from and how it was grown, raised, sourced, or caught. He knows the farmers, the fishermen, the foragers—every detail of what's being added to his menu. And while others satisfy themselves with using expected lists of ingredients, Neale challenges himself—and, by extension, his diners—to think outside the box and try something different. New ingredients, for Neale, bring techniques and flavors to explore. They open the mind and the palate, creating something that isn't just a meal; it's a sensory experience and a way to create a lasting imprint on the brain.
Crucial to just what makes James Neale tick—both as a chef and as a person—is his voracious love of learning, and nowhere is there better evidence of that than in his reading material. His home library—not merely a few neatly arranged shelves—comprises thousands of books. But no matter the number of books at his disposal, there's always room for more, as he eats words with the same appetite as he does food.
He never puts on airs, never overthinks a dish or a technique to the point that it resembles anything other than itself—it's merely been elevated.
"I love reading about everything from food to art to business and finance to personal growth and on and on. I read a book a week most weeks, depending on the size of the book; and I have composition books filled with notes on most of them, which helps in applying my knowledge into my everyday life," he says. "There's a saying that knowledge is power, but knowledge is only power when you use it to better your life and the lives of others. I'm very critical of the way I spend my time, keeping daily journals, constantly trying to replace bad habits with good ones. Books are my escape, but all of the books that I read help me toward a specific goal of mine. It's a win-win."
His penchant for true nose-to-tail, root-to-shoot, farm-to-table cuisine aside, the scholarly young chef—who regularly takes his staff on farm field trips to educate them on the importance of pure products and responsible sourcing—does have a few tells that give insight into the fact that he is just a regular, down-to-earth guy. "I love the Texas Bacon Cheesesteak plate at Waffle House with scattered hash browns totally covered, topped, and peppered," he admits with a laugh.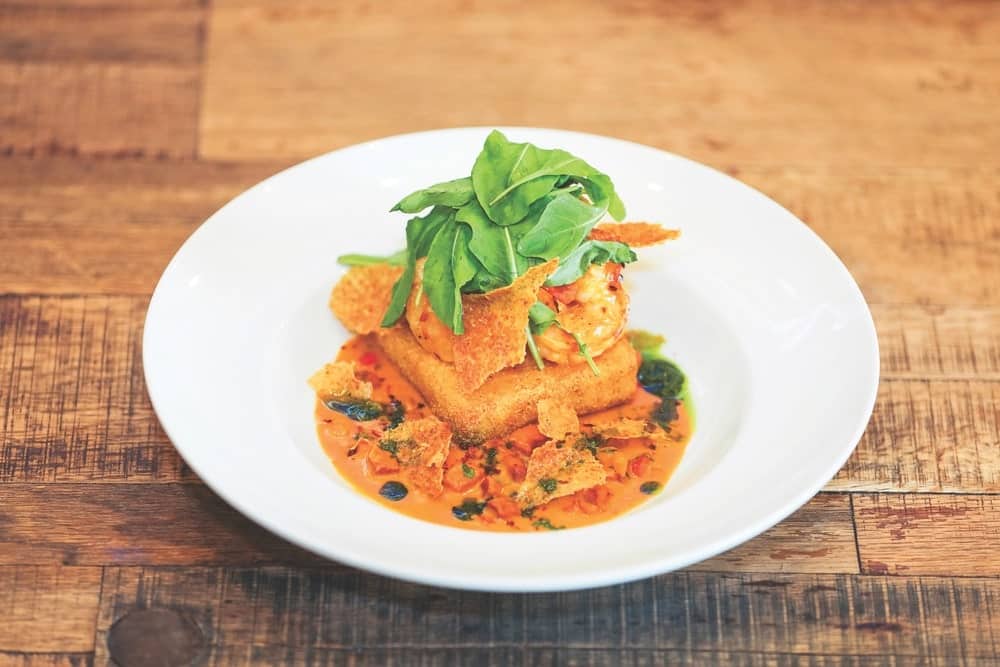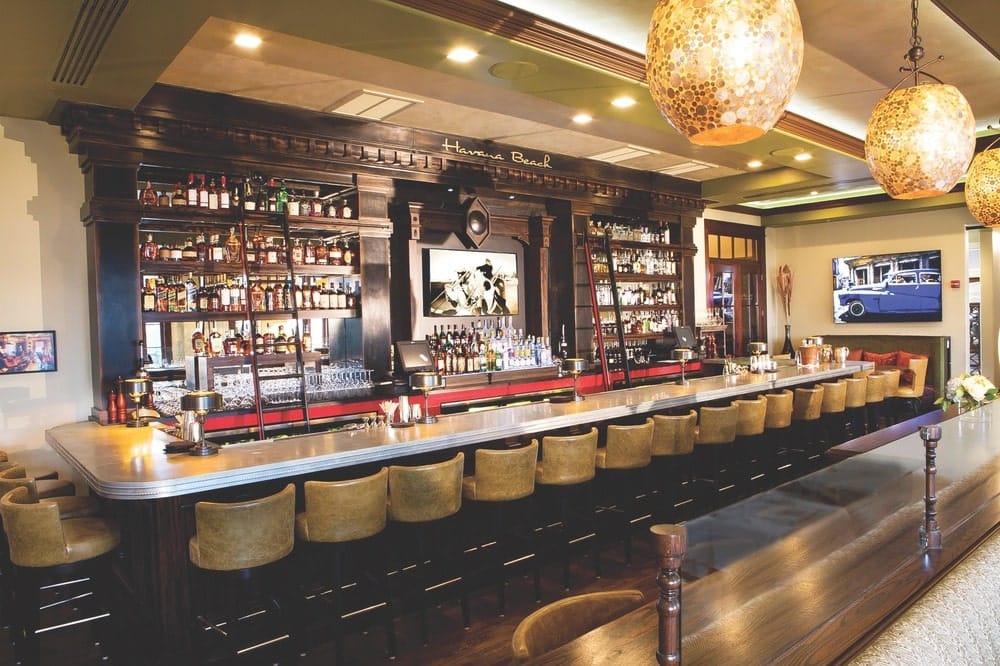 He is, indeed, like the rest of us: a guy who likes to spend his downtime with his wife and son doing ordinary things—except perhaps for using family camping trips to source ingredients like sorrel and mushrooms. Once again, the undeniable DNA of a chef peeks through. And while he certainly creates a menu at Havana Beach that fully displays the tenets to which he so greatly dedicates himself, he never puts on airs, never overthinks a dish or a technique to the point that it resembles anything other than itself—it's merely been elevated. Food is still food, entirely recognizable to the eye as well as to the palate.
The only deviation from that might be seen on Havana's dessert menu, most specifically the long-treasured, grown-up version of s'mores—a creative confection whose seemingly simple presentation to the table is brought to dramatic effect by the billow of smoke from the lid, allowing the first hints of chocolate, house-made graham cracker, and scratch-made marshmallow. It's a whimsical dish, a playful reminder that food should be fun and enjoyable, that it should be inspiring—and, above all, that it should be memorable. After all, as Virginia Woolf once said, "One cannot think well, love well, sleep well, if one has not dined well." And Chef James Neale certainly wants every guest at his restaurant to dine well.
— V —
---
Havana Beach Bar & Grill is located at The Pearl, 63 Main Street, Rosemary Beach, Florida, 32461. For more information, visit ThePearlRB.com.
Liesel Schmidt lives in Navarre, Florida, and works as a freelance writer for local and regional magazines, a web content writer, and a book editor. Having harbored a passionate dread of writing assignments when she was in school, she never imagined making a living at putting words on paper, but life sometimes has a funny way of working out. Follow her on Twitter (@laswrites) or download her novels, Coming Home to You, The Secret of Us, and Life Without You, on Amazon and BarnesandNoble.com.
ARTICLE CATEGORIES