Sophisticated South
By Tori Phelps
When Charlestonians travel, they hear one thing over and over: "You live in Charleston? I love Charleston." Considering that Travel + Leisure readers voted it the number one city in the world—yep, the world—lots of people apparently love Charleston.
I'm one of them. It's my home, and I wouldn't trade living here for anything. Even my husband knows that if it's a choice between him and Charleston, well, I'll miss him.
So, what does this Low Country port city have that other destinations don't? Nothing. But it does have the best of nearly every destination, all in one place.
Charleston is perhaps most famous for its rich history, which still feels very much present, thanks to centuries-old architecture and staunchly preserved cultural traditions. Don't let the city's impeccable manners fool you, though. Its fun side runs just as deep. Natives joke that Charleston isn't a historic town with a drinking problem; it's a drinking town with a historic problem. It's nicknamed the Holy City because of its foundation in religious freedom—not because the residents are saints.
And when it comes to food, hold onto your waistband. In addition to a long list of award-winning restaurants, most weekends are filled with festivals celebrating everything from oysters to mac 'n' cheese.
Historic sites, fabulous food, stunning beaches—there's no shortage of reasons to fall in love with Charleston. But if you ask me, the city's greatest asset is its people. (Not that I'm biased.) Holy City residents are famously gracious and genuinely enjoy sharing Charleston with the world.
Consider this your formal invitation. We hope to see you soon!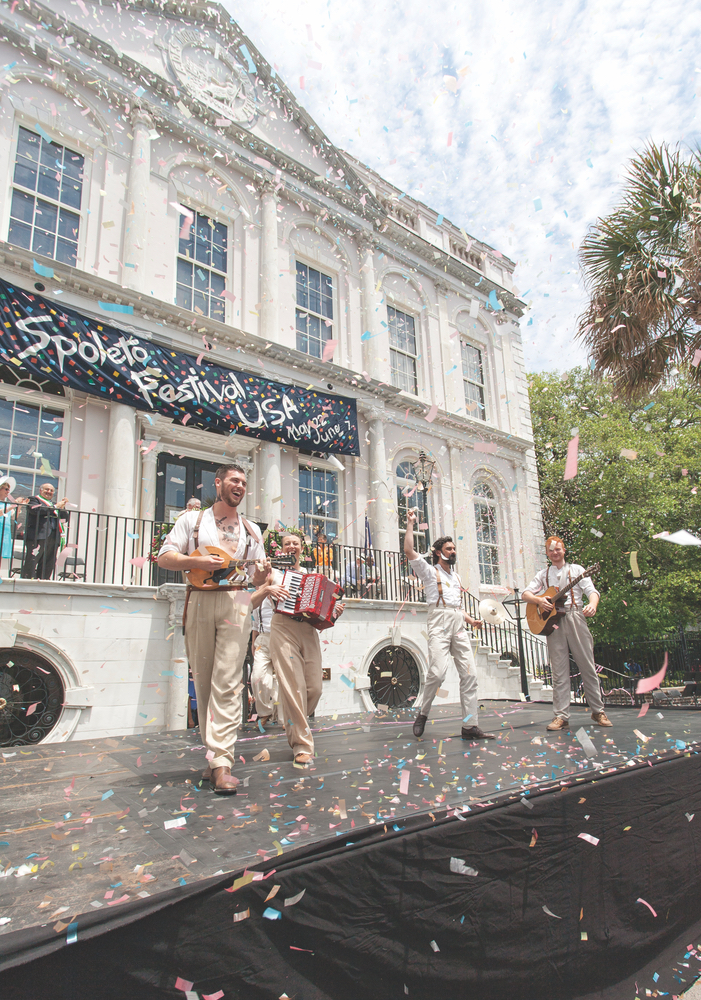 Spoleto Festival: A Love Letter to the Arts
Spoleto Festival USA is a lot like Charleston itself: unique, deeply rooted, and a huge draw for visitors. This two-and-a-half-week performing arts phenomenon has treated audiences to opera, theater, dance, and music for the past forty years, even throwing in some visual arts and special events like garden tours.
It's a scope that's possible, in part, because of its hometown. "Spoleto is a celebration not only of the arts, but also Charleston itself," says Spoleto marketing and PR director Jessie Bagley. "The city is what makes the festival so unique."
"Spoleto is a celebration not only of the arts, but also Charleston itself. The city is what makes the festival so unique."
Actually, the festival was born in the Italian city of—yes—Spoleto. Nearly twenty years after its inception, founder and Pulitzer Prize–winning composer Gian Carlo Menotti sought to expand it to America. Charleston won his heart, and Spoleto made its US debut in 1977.
One reason Menotti decided on Charleston, according to Bagley, is the city's walkability. Plenty has changed in the last four-plus decades (there were only four hotel options in the mid-1970s), but the "car optional" nature has not. Though Spoleto performances take place in more than a dozen venues, only one—the finale at Middleton Place—isn't within walking distance of the other sites, dozens of hotels, and countless restaurants.
Spoleto sells roughly 84,000 tickets during its seventeen-day run. That's a lot of shows and a lot of possibilities. If deciding on an itinerary seems daunting, do what Spoleto staffers do and pick one from every category. "Personally, I like to dabble in each genre," Bagley shares, adding that the festival's diversity is uncommon—and special. "There are some really fantastic music festivals or dance festivals out there, but Spoleto presents a comprehensive selection of programs."
In its forty-first season, which runs May 26 through June 11, attendees can dig into everything—from Monchichi, a fusion of ballet, martial arts, and break dancing, to Mozart's Great Mass. Then, of course, there's Eugene Onegin, the latest opera produced by Spoleto. Though generally a presenting organization—meaning it showcases other companies' performances—opera is the exception. In an annual tradition that sets Spoleto apart from most other arts festivals, Spoleto staff hires everyone from directors to costume designers, and the sets are built right in Charleston.
It's not that they have trouble attracting performing companies. In fact, artists go out of their way to be there. Bagley points to Ireland's Gate Theatre, whose repeat appearances at Spoleto make Charleston one of the only destinations outside Europe in which they've performed.
It's a testament to the artists' experiences that they come back, she says, and the city plays a key role in drawing both repeat and new performers. "We tell them, 'Yes, you're going to have to travel, but you'll be in Charleston. It's a pretty special place.'"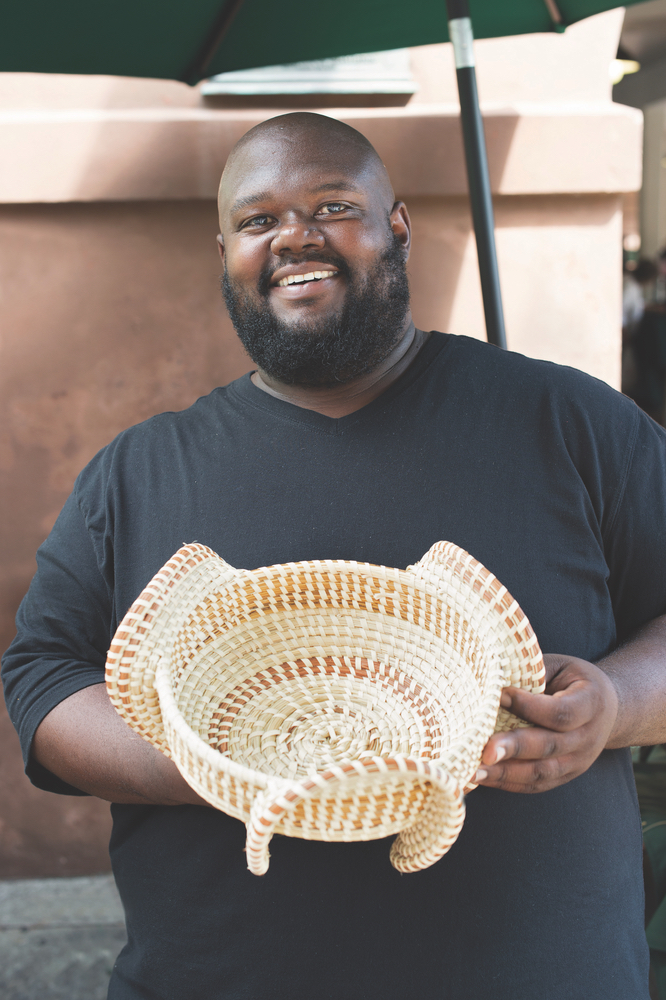 Sweetgrass Baskets: Carrying the Stories of a People
Sometimes, a seemingly simple object has an incredibly complex story to tell. And the tale behind sweetgrass baskets, those intricate works of art so closely associated with South Carolina's Gullah culture, is one that involves both the best and the worst of humanity.
The baskets were brought to the Low Country in the seventeenth century, carried in the minds of enslaved Africans for whom they were a part of daily life. Many West African slaves came from rice-growing regions where they used tightly coiled baskets to separate the chaff from the rice. A similar landscape greeted them in South Carolina, so they created familiar baskets to assist with their forced labor.
Despite their name, sweetgrass baskets weren't made of sweetgrass initially. Bulrush, a sturdy marsh grass, was the material of choice until the turn of the twentieth century. Sweetgrass eventually gained popularity not only for its lovely scent but for a pliability that allows artisans to craft intricate designs. What time hasn't changed is the foundational technique: coiling, rather than more common braiding or twisting methods.
The Gullah people, descendants of enslaved Africans who developed a distinct culture all their own, have preserved both the technique and the pride in craftsmanship through the generations. Visitors can watch modern masters—usually women—at work all around Charleston. But the "sweetgrass corridor" is actually in nearby Mount Pleasant. As many as a hundred roadside stands along Highway 17 offer sweetgrass baskets directly from the artisans who create them.
Finished works can cost hundreds of dollars, with price points varying by size and design. Basket makers devote a dozen hours to even simple designs; elaborate designs and larger pieces often take weeks. They're worth every penny (and more) based on the time investment alone. But when you factor in the tradition that has wrapped around an entire culture, sustaining its people and offering a way to reclaim a piece of exploited heritage, their real value becomes clear.
That's why Gullah-made sweetgrass baskets are more than a practical tool or even art. They're a story you can hold in your hands.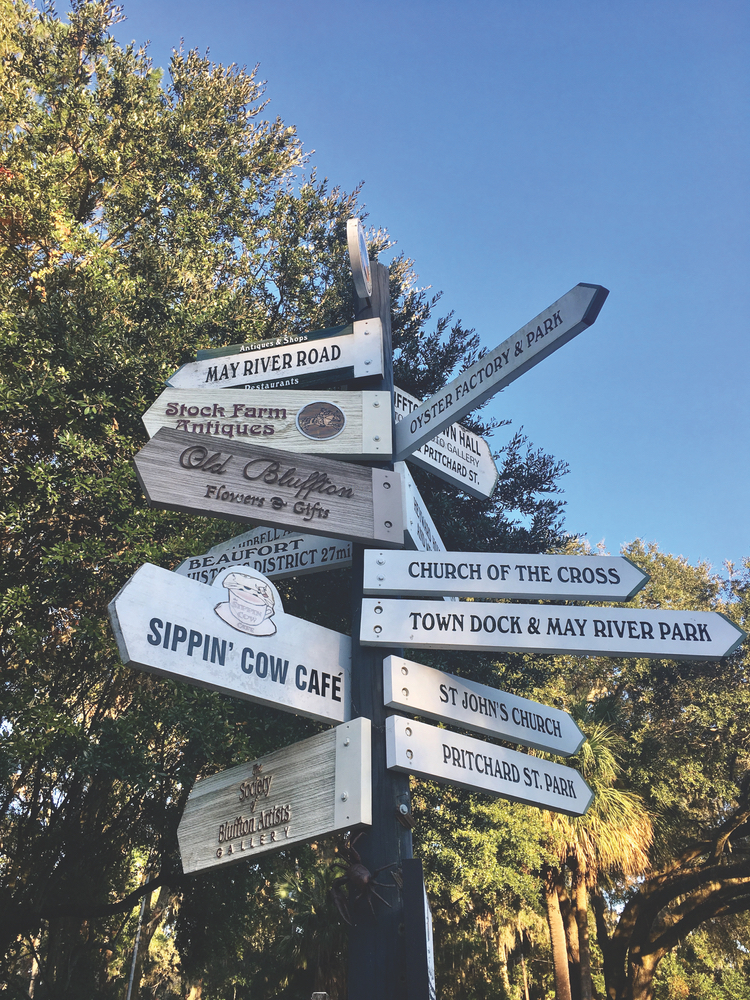 Side Trip: Bluffton, South Carolina
With your bags already packed, why not explore more of South Carolina? Instead of following the crowds to Hilton Head, we recommend stopping ten minutes' shy of the island and enjoying the historic charm of Bluffton instead.
This unspoiled slice of the Low Country is awash in gorgeous May River vistas and moss-draped trees right out of a genteel Southern novel. The scenery is just the start, though, as Bluffton is quietly becoming a prime destination for foodies and lovers of artisan goods. Its picturesque downtown is lined with homegrown bistros, many specializing in local seafood, and boutiques where you can browse everything from antiques to handmade leather bags.
But the crown jewel of Bluffton may be Montage Palmetto Bluff, a destination unto itself. Sprawling across twenty thousand acres of riverbanks and nature preserves, this model of relaxed luxury is an impressive coalescence of genuine hospitality and world-class amenities.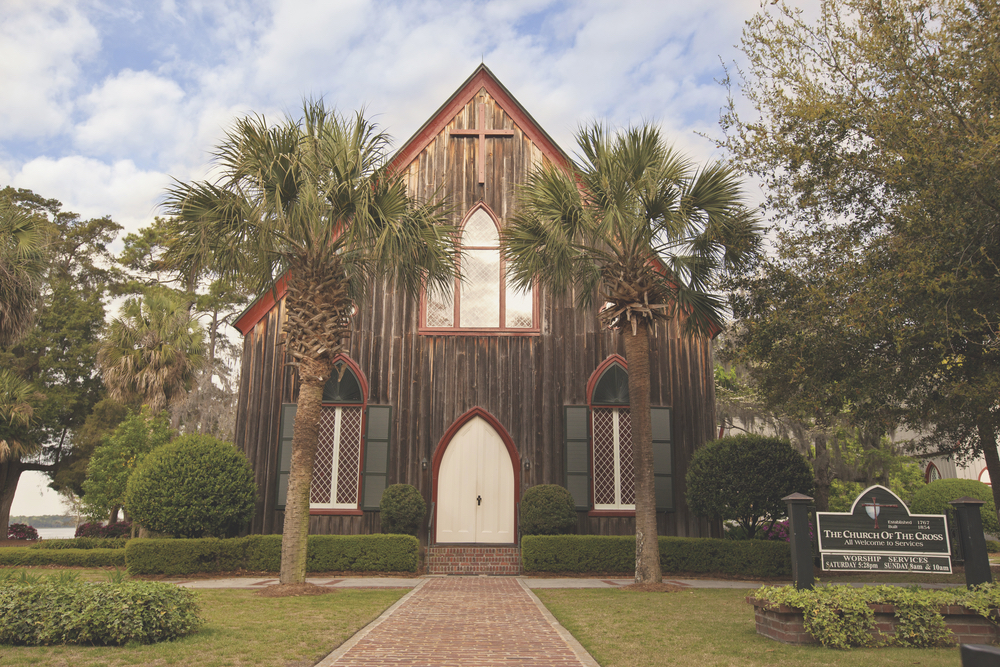 The property is renowned for a staggering number of on-site activities, most of which are complimentary. Headliners include an ecologically sensitive golf course designed by Jack Nicklaus, a well-done spa, and boat excursions. There's also tennis, bocce, kayaking, a state-of-the-art equestrian center, a skeet range—and, believe it or not, much more.
If chewing is as active as you want to be, they've got you covered there, too. The handful of restaurants and lounges are staffed with a crème de la crème culinary team and one of the best sommeliers in the country. Each evening begins with samplings of "culinary heirlooms," like oysters or hoppin' John, and ends with gourmet s'mores by the fire pits. Hunger seems to be a dirty word at Montage Palmetto Bluff.
Accommodations, too, are designed in a something-for-everyone fashion. You can't go wrong with a room at the inn, though do spring for a balcony. Larger groups, or couples looking for more privacy, can rent a cottage or guest house. And because the desire to stay forever isn't uncommon, you can even buy a residence on property.
---
An Insider's Guide to Charleston
Eat
Husk: A James Beard Award–winning chef, locally sourced ingredients, and a track record of topping every "best of" list. Husk is one of the most lauded Charleston restaurants and so obvious a choice that you might consider skipping it. Don't. But do make reservations well ahead of time.
76 Queen Street, Charleston
Callie's Hot Little Biscuit: Biscuits are part of the very fabric of Southern society, and nobody does them like Callie's. These are change-your-life bites of heaven that you can get slightly sweet (try the cinnamon) or savory (black pepper bacon for the win). It's only open from 8 a.m. to 2 p.m.—plus late nights on the weekends—so grab 'em while you can!
476-1/2 King Street, Charleston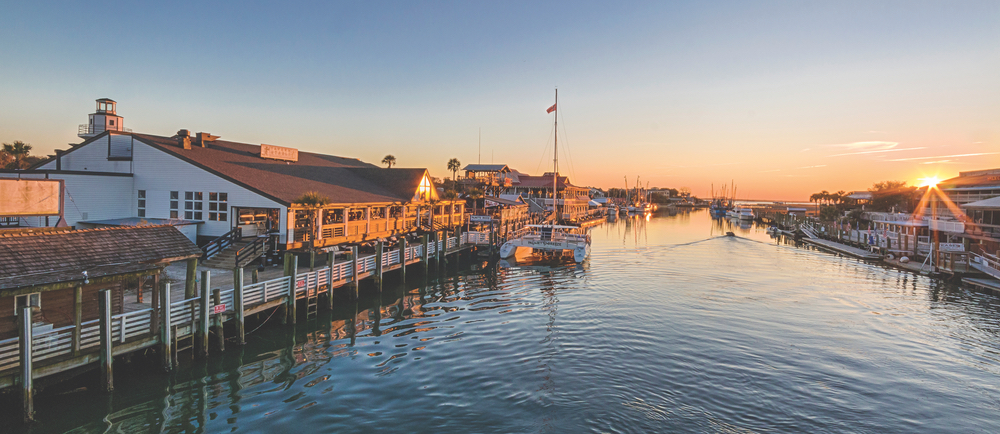 Tavern & Table: The recipe for a memorable meal starts with a chef who bested Food Network icon Bobby Flay. Sit inside if you must, but we recommend a table or couch along Shem Creek. While boats and dolphins idle by, sink your fork into global offerings or more classic Southern dishes.
100 Church Street, Mount Pleasant
Poe's Tavern: An homage to Edgar Allan Poe, who lived on Sullivan's Island while stationed at Fort Moultrie, Poe's Tavern is known for good beer and great burgers. The Instagram-worthy burgers with names like Annabel Lee and Pit & Pendulum are fun for visitors, but local diners know there's plenty of substance behind the style.
2210 Middle Street, Sullivan's Island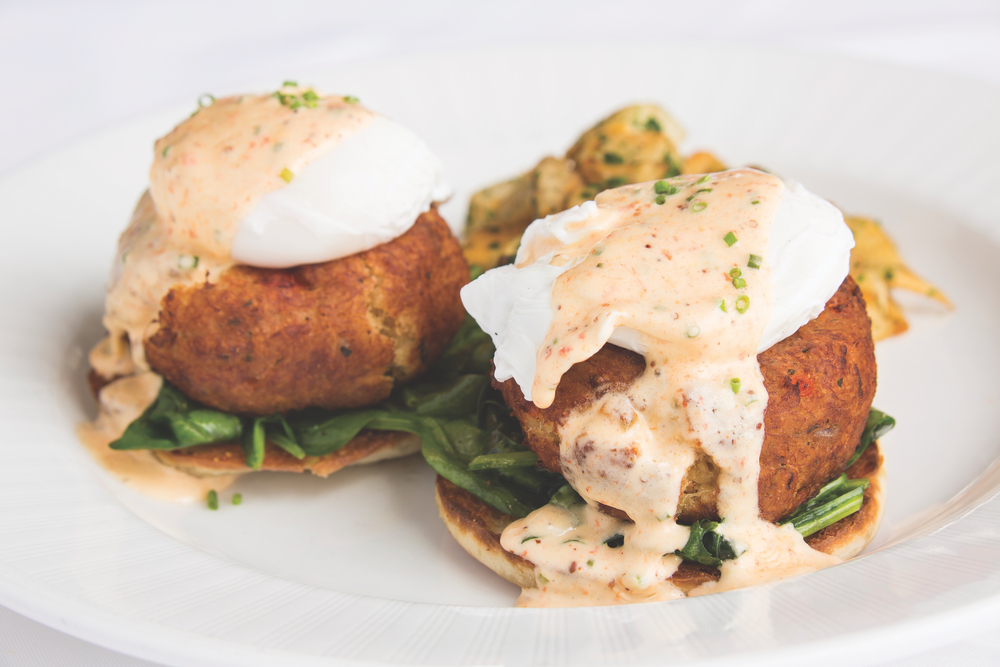 High Cotton: Sunday morning starts with Jesus and ends with brunch. So grab your bow tie or pearls and head to the elegant High Cotton, where even low-rent dishes like doughnut holes go upscale with a bacon-apple-bourbon glaze. Try the Carolina shrimp and grits or Charleston crab soup if you want something substantial.
199 East Bay Street, Charleston
Cupcake DownSouth: Need a sugar rush? Let your nose lead you to one of two Cupcake DownSouth locations nearby. You get twelve classic and seasonal choices every day, including "after dark" options infused with alcohol.
433 King Street, Charleston & 644 Long Point Road, Mount Pleasant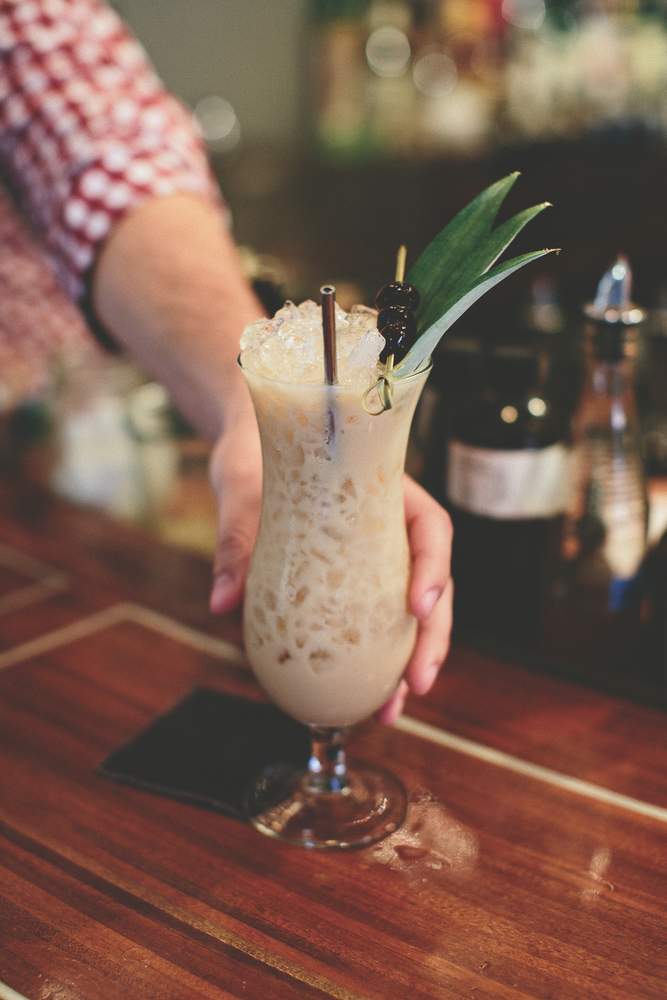 Drink
The Gin Joint: Staffed with real-deal bartenders who know their mescal from their Metaxa, this hideaway is a cocktail lover's dream. Ever-changing menus introduce creative concoctions well beyond the usual martini or cosmo. Daring patrons should opt for the Bartender's Choice. Just pick two words from a list (i.e., sweet, spicy, smoky), and then give the mixologists free rein.
182 East Bay Street, Charleston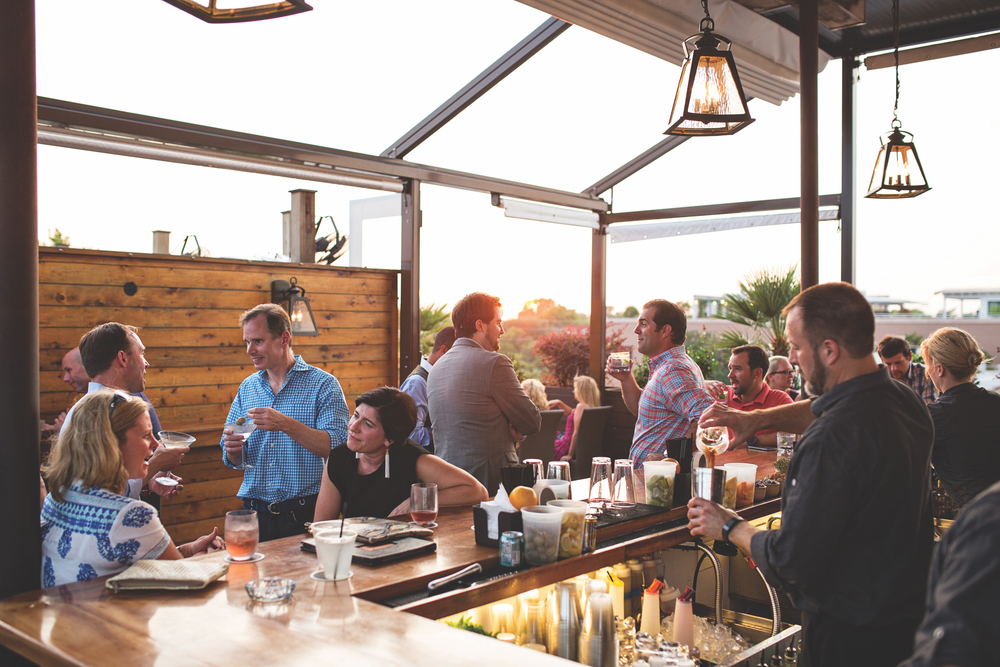 Stars Rooftop: The restaurant below is good, but Stars Rooftop is stellar (pun intended). Belly up to a tigerwood bar or settle into a comfy wicker chair to savor King Street panoramas. This drinks-only destination features an extensive cocktail list, many of which are made with local spirits.
495 King Street, Charleston
Pavilion Bar: Another top-of-the-world lounge, Pavilion Bar is an überchic locale with fun drinks and an impressive wine and champagne menu. Prices are high, but you're really paying for the experience and some of the best views in the city. Heaters on chilly days are free.
225 East Bay Street, Charleston
Second State Coffee: Yes, Charlestonians swap out bourbon for coffee in the morning. Usually. Make like a local and hit up an independent java joint like cult fave Second State, formerly known as Black Tap. Hot, cold, plain, tricked-out—everything here is handcrafted. Parking stinks, but the lavender lattes are worth the effort.
70-1/2 Beaufain Street, Charleston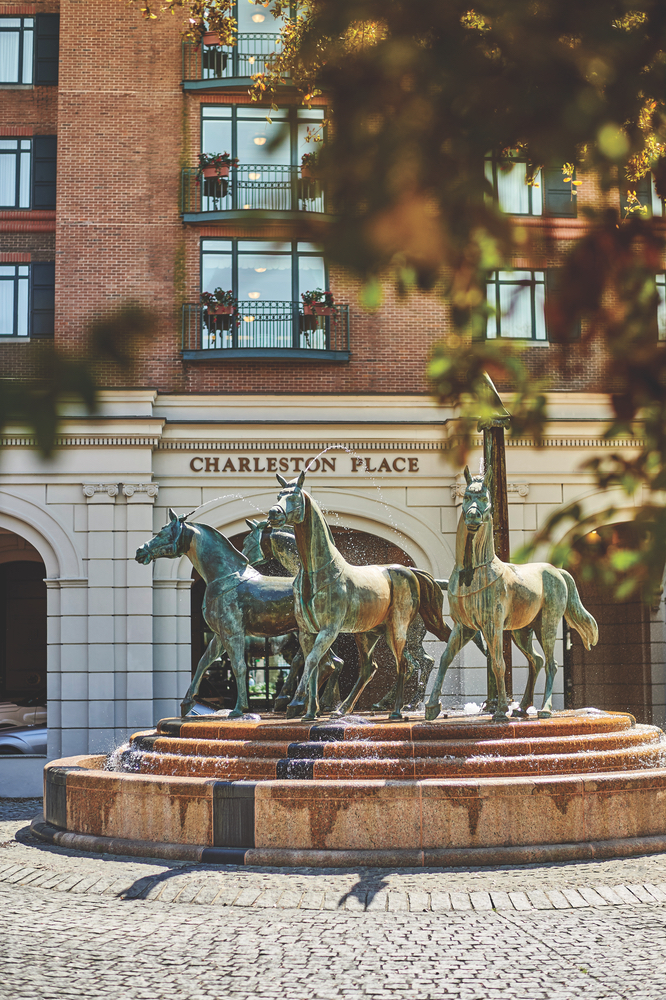 Stay
Belmond Charleston Place: Considered the gold standard in traditional luxury, the Belmond is Charleston's go-to hotel for sophisticated travelers. Shop for Gucci bags, swim in a heated rooftop pool, or spend a day at a world-class spa—all without leaving the hotel.
205 Meeting Street, Charleston
The Vendue: If you've ever wanted to spend the night at an art gallery, the Vendue comes pretty close. This French Quarter boutique is housed in two historic buildings where no two rooms are alike. While there, browse hundreds of original works and visit the artist in residence.
19 Vendue Range, Charleston
The Restoration: Experience the suite life in this hip downtown retreat on Wentworth Street. The brand's mission is to "recreate history and bring an easy, modern twist to the best elements of classic Southern Hospitality." With guest suites that range from studios to three bedrooms and modern downtown loft decor, you'll feel at home here. Don't forget to check out the hotel's "community outlets"—The Watch Rooftop Kitchen, The Port Mercantile, The Amethyst Spa + Nail Bar, and The Rise Coffee Bar.
75 Wentworth Street, Charleston
The Wentworth Mansion: An intimate twenty-one-room stunner with refinement to spare, the Wentworth is a private residence-turned-posh inn and spa. You might expect the crystal chandeliers and marble fireplaces, but complimentary amenities like daily wine and port offerings and house-made chocolates are unexpected pleasures.
149 Wentworth Street, Charleston
John Rutledge House Inn: B and B fans should look no further than the Rutledge. It's pure Charleston, from a National Historic Landmark status to afternoon tea served in the piazza. Originally built by a signer of the Constitution, it exudes regal charm without forgoing modern amenities. And the breakfasts are darn good, too.
116 Broad Street, Charleston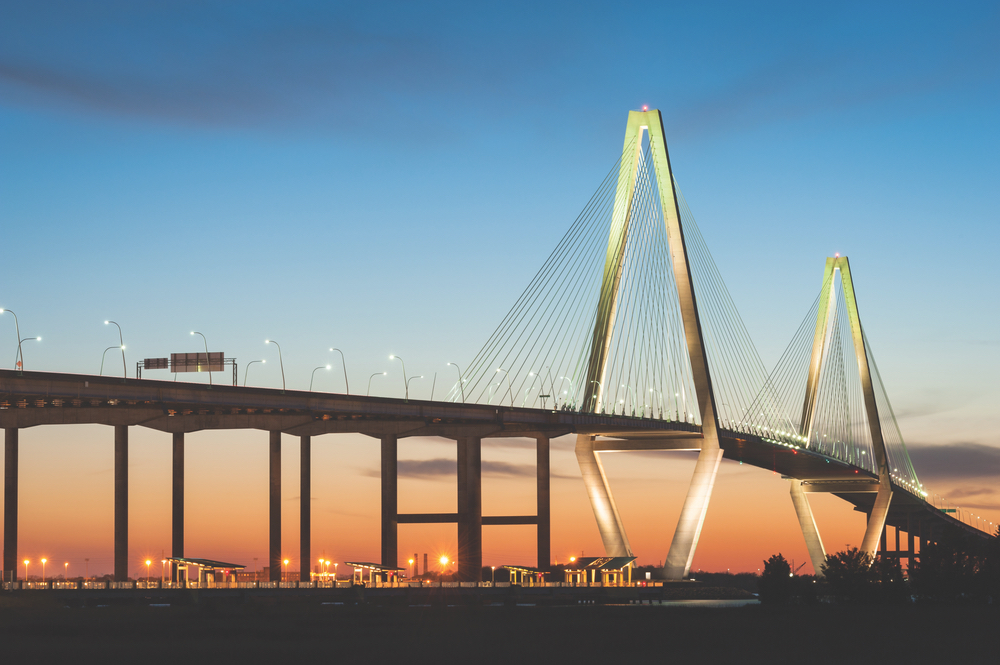 Learn
Boone Hall Plantation: This striking combination of history and natural beauty is a distinctly Low Country marvel. Founded in the late 1600s as a cotton and pecan plantation, Boone Hall today offers both an unflinching look at the slave era and a peek inside a modern working farm. Pick from tours like Gullah culture and gardens with hundred-year-old roses.
1235 Long Point Road, Mount Pleasant
Nathaniel Russell House Museum: Get a feel for how an upper-class merchant family lived during the early 1800s with this breathtaking residence. Everything from the interior paint colors to the formal gardens has been meticulously restored by the Historic Charleston Foundation to the opulence of its 1808 debut. Unearthed artifacts also help illustrate the lives of the home's enslaved residents.
51 Meeting Street, Charleston
Old Slave Mart Museum: A huge percentage of slaves entered the country through Charleston's port, and the Old Slave Mart Museum is dedicated to honoring their stories. It's a difficult but essential stop, filled with both relics and educational pieces, including an interview with a former slave.
6 Chalmers Street, Charleston
USS Yorktown: This nearly nine-hundred-foot-long World War II aircraft carrier, which now rests at Patriots Point, has thirteen decks to explore. Come to Patriots Point for the Yorktown but stay for other museums and memorials, including the country's only Vietnam Experience Exhibit.
40 Patriots Point Road, Mount Pleasant
The Gibbes Museum of Art: Thoroughly Charlestonian in scope, the Gibbes celebrates visual arts in relation to the city and the region. Its permanent collection spans four centuries and mediums from paintings to decorative objects. Plus, excellent temporary exhibits spring up every month or two.
135 Meeting Street, Charleston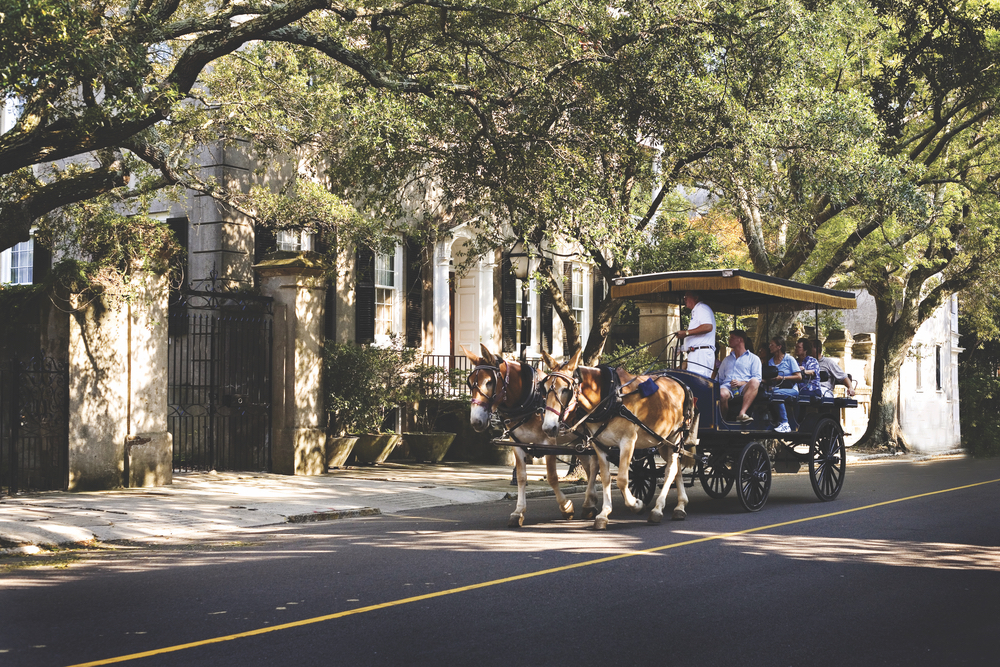 Experience
A tour: Do yourself a favor and book a tour as your first activity. It's the best way to wrap your mind around the city, its geography, and points of interest. Becoming a registered tour guide in Charleston is a rigorous process, so whether you're looking for an overview or a more niche tour (pirates, anyone?), you'll be in good hands—as long as those hands are certified by the Tourism Commission.
Rainbow Row: Iconic Rainbow Row encompasses a string of thirteen Georgian row houses along East Bay Street. Theories abound as to why the eighteenth-century homes were originally painted in Easter egg hues, but their current shades were assigned in the 1920s when the area finally started recovering from the Civil War (a.k.a. the Late Unpleasantness).
83–107 East Bay Street, Charleston
Riley Waterfront Park: There are actually two waterfront parks, one on either side of the Cooper River. Most visitors head for the Charleston side, though, which is home to the city's famous Pineapple Fountain. Let the kids splash around, and then relax in a family-sized swing. If you're lucky, you'll catch dolphins playing in the harbor.
1 Vendue Range, Charleston
Charleston Tea Plantation: The U.S.'s only fully operational tea plantation covers 127 acres of nearby Wadmalaw Island. Take a trolley tour of the historic plantation (now owned by the Bigelow Tea Company), sip the free samples, and even bring a picnic to eat on the massive front porch.
6617 Maybank Highway, Wadmalaw Island
Beaches: Surprise! There are a lot of beaches in the Charleston area, and mild weather means they're nearly year-round destinations. Hint: Get there early during high season to claim your spot. Popular stretches of sand can be found on Isle of Palms, Sullivan's Island, and Folly Beach.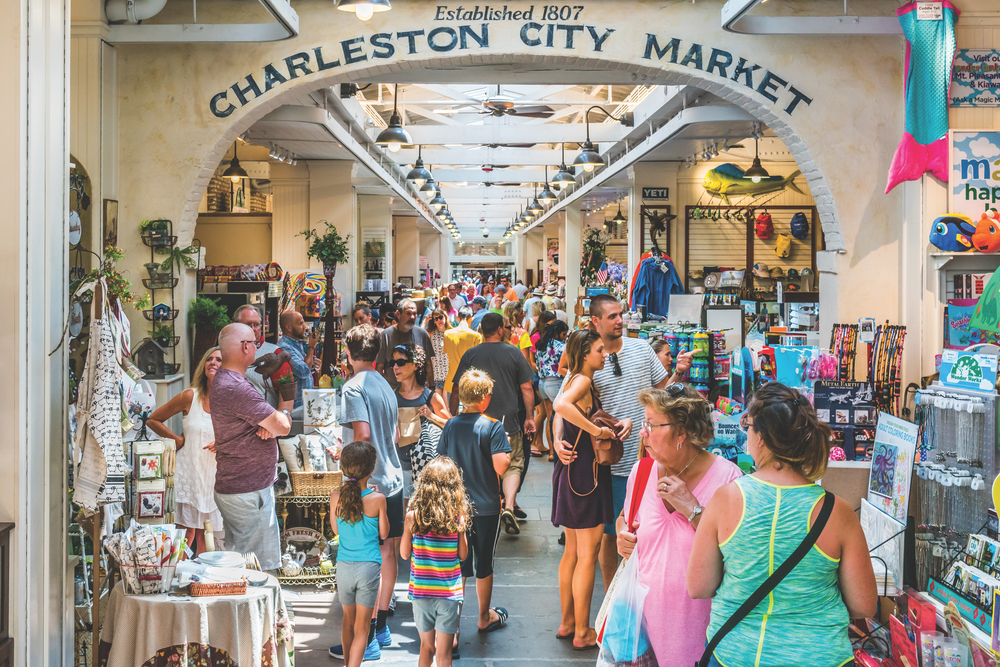 Shop
King Street: This avenue is synonymous with shopping in Charleston. Roughly divided into antiques (Lower King), fashion (Middle King), and design and dining (Upper King), there's truly something for everyone. And while you'll find chain retailers, there are plenty of local, independent shops, too.
Charleston City Market: One of the oldest public markets in the country, the historic City Market is a four-block extravaganza of mostly local goods. Pick up an iconic sweetgrass basket and snack on regional delicacies like benne wafers during the Day Market. The weekend Night Market adds live music to the experience.
188 Meeting Street, Charleston
Charleston Crafts: Skip the T-shirts and bring home a real piece of Charleston instead. The oldest craft co-op in the city, Charleston Crafts stocks a remarkable mix of products, from pottery to jewelry to textiles to skin care. It's all handmade, and it's all courtesy of local artisans.
161 Church Street, Charleston
Christophe Artisan Chocolatier-Pâtissier: Is it art or is it chocolate? At Christophe, it's tough to tell—until you bite into it. The brainchild of a third-generation French chocolatier, the shop is full of hand-painted goodies in innovative flavor combinations (e.g., Earl Grey tea and lavender caramel), as well as traditional favorites.
90 Society Street, Charleston
— V —
---
ARTICLE CATEGORIES