By Sandra K. Woodward
While some people may claim that there are no thirty-year-old experts on any subject, a young man from Middle Georgia is proving that opinion to be emphatically irrelevant.
Graduating from Auburn University in 2004 with a degree in landscape design, James Farmer took the bold step of starting his own landscape design business in his hometown of Kathleen, Georgia, where he had grown up in a family that ingrained in him both a love of the land and an appreciation for celebrating its bounty. These earth-based values, along with his innate creativity and a highly developed sense of aesthetics, positioned Farmer as a fresh, new entry to the Southern scene of gardening, entertaining, and gracious living. His early success in landscape design and his knack for event planning, which reflects his energy and style, created a buzz throughout the South, and his business quickly grew.
With the publication of his first book, A Time to Plant, in 2011, it was instantly clear that Farmer possessed a special gift for sharing an abundance of knowledge about and a passion for what he considers to be the seamless interplay between gardening, the preparation, presentation, and celebration of good food, and the sharing of such with one's family and friends. (Non-Southerners take note: Farmer is unabashedly proud of his Georgia roots, but his guides for the good life apply regardless of where you live.)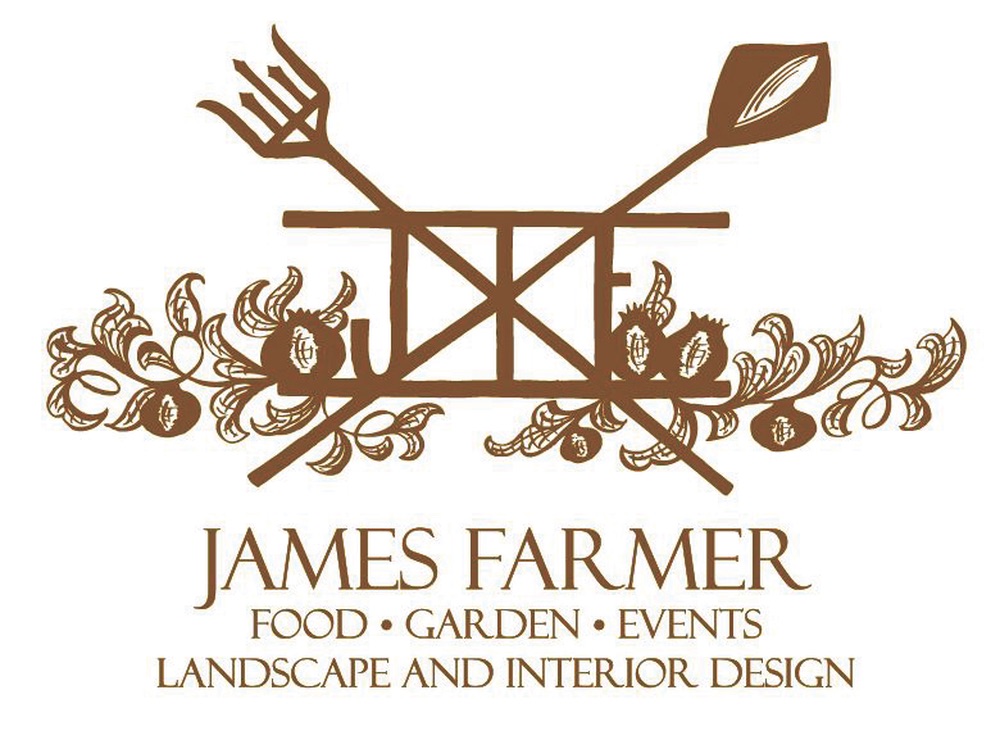 In short order, he followed with five additional books—Sip and Savor, Porch Living, and Wreaths for All Seasons in 2012, A Time to Cook in 2013, and Dinner on the Grounds this year. His seventh, A Time to Celebrate, is scheduled for publication in 2015. All continue his exploration and celebration of Southern grace and style, and only strengthen Farmer's position as an authoritative voice. He also serves as an editor-at-large for Southern Living magazine, which gives him a unique opportunity to be part of a long and honored tradition of Southern style while adding his own signature.
That unique signature accounts for the speed with which Farmer's star has risen in the already crowded field of Southern style leaders, particularly among those in his own age group. His books are informative, stylish, and, perhaps most important, accessible.
Dinner on the Grounds, for example, reflects his strongly held conviction that entertaining should be fun. Primarily a cookbook, it focuses on the many events that bring people together in groups, from picnics to birthday celebrations and weddings. His casual yet sophisticated approach offers even the novice cook an opportunity to shine with recipes that range from playful childhood favorites such as "Ants on a Log" to simple but elegant flavors such as "Goat Cheese Zucchini Roll-Ups" that feature chopped dates and toasted pistachios.
"I don't want people to be intimidated by what they see in my books," he said recently from his office at James Farmer, Inc., in Perry, Georgia. "Entertaining should not create anxiety. It should be fun for everybody, including—maybe especially—the host or hostess. Whether it's a casual picnic or a wedding reception, it should reflect your own likes, your own joy. I hope that's what people find in my work."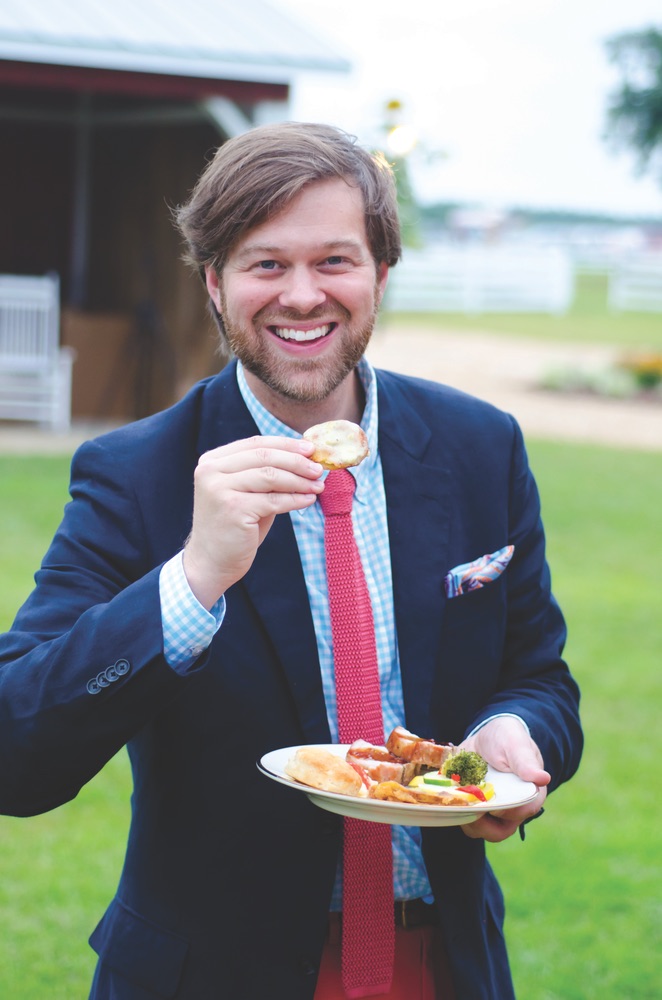 The ability to connect with a young audience is key to Farmer's success, but he values his connections to the past as well. "I enjoy people of all ages, and I am especially happy to meet people of my generation who are just as enthusiastic as I am about entertaining," he said. "It's really so much about sharing, not about impressing people. But for me the connection between the generations is priceless, and I sometimes forget that not everyone my age has been as fortunate as I have been to have had such a strong bond with earlier generations. I feel especially blessed to have had not only the influence of my mother and my grandmother, but my great-grandmother as well, and to have benefited from their wisdom. I am proud to share, in turn, what they so generously shared with me."
His connections with and affection for the past are evident throughout his work. In addition to family recipes and tips from earlier times for both gardening and cooking, which he has updated for twenty-first-century living, Farmer weaves stories of his family into the narrative of his books. (A particularly charming story involves his mother and her love of "Carl.") And among the "Farmer's Dozen" questions he asks in the interviews he posts on his All Things Farmer blog on the website jamesfarmer.com, one is unique: "What do you call your grandmother?" His own answer to that question can be found in the dedication of Dinner on the Grounds.
— V —
---
Recipes for James Farmer article. All are from his latest book, Dinner on the Grounds, published in 2014 by Gibbs Smith.
Cornmeal-Crusted Okra with Zesty Sour Cream
Serves 4–6
Okra is one of my absolute favorite summer crops. Fried, roasted, pickled, or stewed—I can lap up a mess of okra anytime it is served. This version of "fried" okra takes the fear of frying out of the equation and lessens the calories, too. An oven "fry," in this case, still gives a nice flavor that is enhanced with the caramelization caused by this gentle roasting. Anything fried or roasted and served with a dipping sauce is a winner to me!
2 dozen okra pods, sliced lengthwise 1/2 cup olive or pecan oil Salt and pepper 3/4 cup cornmeal, yellow or white 2 tablespoons freshly grated Parmesan cheese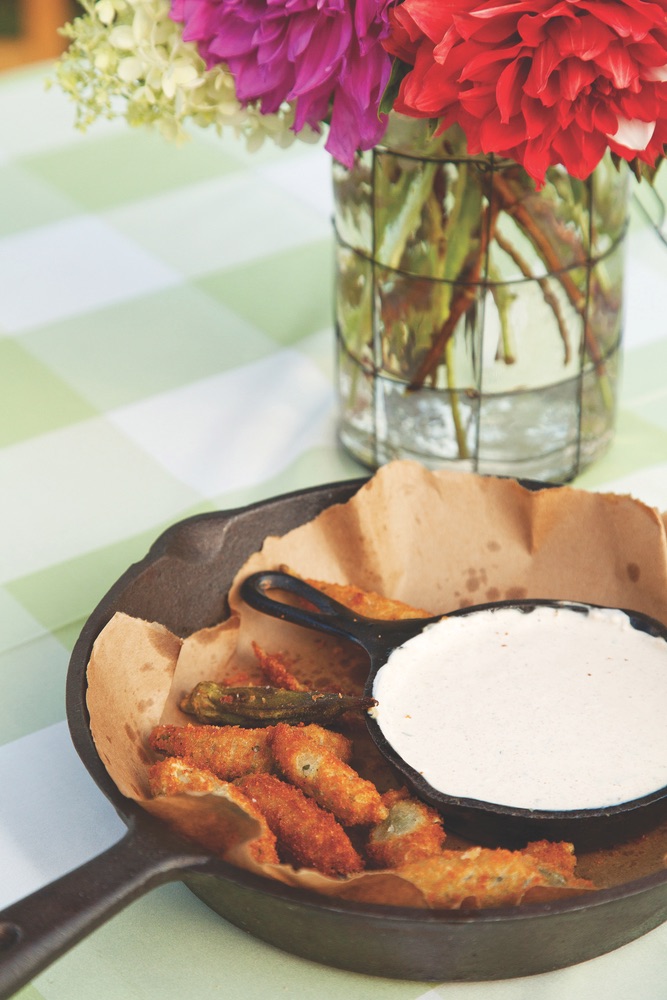 Preheat oven to 400 degrees. Arrange the sliced okra on a greased baking sheet. Drizzle with oil and season to taste with salt and pepper. Roast for 10 minutes, or until pods start to brown. Mix the cornmeal and Parmesan together. Remove okra from oven and sprinkle generously with the cornmeal mixture. Return to the oven for further browning and roasting, about 3 to 5 minutes more.
Farmer's note: Alternatively, try this quick-fry method. Cut the okra into rounds and fry in a skillet with some oil. Once the okra begins to become tender and brown, mix in the cornmeal, salt, and pepper; stir and serve!
Zesty Sour Cream
Makes about 1-3/4 cups 1 cup sour cream 1/2 cup mayonnaise 1 teaspoon lemon juice 1/4 teaspoon salt 1/4 teaspoon paprika 1/4 cup minced parsley or chervil 1 tablespoon grated onion 1 tablespoon minced chives 1/4 teaspoon curry powder 1/2 teaspoon Worcestershire sauce 1 clove garlic, minced 1 tablespoon capers with a touch of liquid
Combine all ingredients well. Stores for up to a week in the refrigerator. Yummy for sandwiches too!
---
Goat Cheese-Zucchini Roll-Ups
Serves 8–10 6 medium-to-large zucchini (about 2 pounds), sliced lengthwise 1/4-inch thick Olive oil cooking spray 6 Medjool dates, chopped 8 ounces goat cheese, softened 1/2 cup shelled unsalted pistachios, toasted and roughly chopped 1 tablespoon fresh lemon juice 2 teaspoons lemon zest 1 tablespoon finely chopped fresh mint Freshly ground black pepper
Preheat a grill to medium. Working in batches, lightly mist both sides of zucchini slices with cooking spray and grill for about 3 minutes per side, until softened and lightly charred. Remove and let cool. In a medium bowl, stir together dates, goat cheese, pistachios, lemon juice, zest, and mint. Season to taste with pepper. Place one slice of zucchini on a clean work surface. Spread l teaspoon of the goat cheese mixture onto zucchini and then roll up securely. Transfer to a serving platter, standing up or seam side down (it will stay closed on its own, but a toothpick helps with serving.) Repeat with remaining zucchini and goat cheese mixture. Serve chilled or at room temperature. Do not chill for more than a couple of hours, as the roll-ups will become mushy.
Farmer's note: On occasion, I have unrolled leftover roll-ups and baked them—makes for a delicious summertime meal or side!
---
Dilly-Creamed Corn Cornbread
Serves 4–6 The Farmer's Skillet Corn with Dill 3 pieces thick-cut bacon 1 Vidalia onion, diced 4 cups whole-kernel Silver Queen corn (about 6 ears) cut from the cob 1 cup sweet milk or cream* Sea salt Cracked black pepper 3 sprigs dill, roughly chopped
On medium heat, render and brown the bacon in an iron skillet. Once bacon is browned, remove from drippings and allow to cool. Cook the onion in the bacon drippings until the onion becomes translucent and starts to show some brown around the edges. Add the corn. Stir continually for 5 minutes, tossing the corn with the onions and drippings. (Caution: Iron skillets get very hot, so you may have to reduce the heat during this step to avoid scorching the corn. The drippings help coat it and minimize scorching, but do mind the heat.) Corn should still be crisp and not mushy. Reduce heat to low and stir the milk or cream into the onion and corn mixture. Season to taste with salt and pepper, then add the dill and stir. Allow cream to bubble and thicken a bit. Reserve until the cornbread batter is mixed.
*Whole milk, heavy cream, buttermilk, or half-and-half all work just fine.
Big Pan o' Cornbread
2 cups self-rising white cornmeal* 1 cup self-rising flour 2 eggs 1-1/4 cups buttermilk, plus a bit more to thin the batter 2 tablespoons vegetable oil, plus 1 tablespoon for the pan Pinch of sugar
Preheat oven to 400 degrees. Mix above ingredients into a batter. Fold in the Farmer's Skillet Corn with Dill and turn out into a hot, oiled iron skillet. Bake for 20 minutes. Serve hot with butter.
Farmer's note: Sugar added to cornbread is not typically a part of the Southern culinary repertoire; yet, I've found that a pinch takes the bite out of the buttermilk's punch and levels out the dill, too.
*Martha White or White Lily—we are in Dixie, after all.
ARTICLE CATEGORIES