The Spirit of Baytowne Wharf
By Sallie W. Boyles | Photos by Sarah and Paul Photography
Have you ever gazed past a gate and fantasized about what might exist on the other side, beyond a bend in the road or behind a patch of trees? In passing the bayside entrance of Sandestin Golf and Beach Resort in Miramar Beach, Florida, many do just that, perhaps not realizing that one of Northwest Florida's hidden gems, The Village of Baytowne Wharf, is a public venue. All are welcome—dogs, too—to enter and experience the unexpected: a fabulous little town with about forty locally owned eateries and unique boutiques, plus endless activities, fantastic entertainment, and stellar events.
Considering Baytowne's setting, it's no wonder that a happy, hospitable climate prevails! Right beside Choctawhatchee Bay, the glorious Florida Panhandle property has a timeless quality, as if the pearls of a bygone fishing village were preserved and refashioned to create a distinctly Southern hot spot. And what a jewel! A central lagoon at the heart of Baytowne reflects an array of cheerful, clapboard buildings, an old-fashioned carousel and water tower, and pedestrian bridges. In perfect harmony, lovely courtyards and historically inspired architecture evoke a more genteel Old Florida. Tall pines and other Spanish moss–laden trees, seasonal flowers, marsh grasses, and the bay itself naturally grace the scene.
Arguably, Baytowne's hometown quality is among its best assets, achieved by the fact that so many inhabitants both work and reside there.
Locally Owned Eateries
Founded by Ron Green, Another Broken Egg was the first eatery at Baytowne and the restaurant's fourth location. Still a fledging enterprise back then, the establishment, offering an extra special breakfast, brunch, and lunch, fit perfectly in a resort, where family and friends gather around the table. Formerly an engineer by profession, Green confides, "I always thought of owning a restaurant." Compelled to inquire about ingredients when he dined out, he later tapped his memory and followed his "gut" to craft original menus for Another Broken Egg. His hugely popular bananas Foster recipe for pancakes, waffles, and French toast is a twist on the iconic dessert created by Paul Blangé for the renowned Brennan's restaurant in New Orleans.
Not your everyday eggs, the Crab Cake Benedict—poached eggs and crab cakes on an English muffin, topped with an andouille-infused hollandaise—is heavenly.
Insisting that "nothing short of right is right," Green loves that patrons have their go-to favorites, but he also encourages them to try something new. Not your everyday eggs, the Crab Cake Benedict—poached eggs and crab cakes on an English muffin, topped with an andouille-infused hollandaise—is heavenly. For a spiked beverage, note that Another Broken Egg's Bloodys (as in Marys) have won several awards!
For a quick breakfast option, an afternoon pick-me-up, or a quiet spot to do some work while visiting Baytowne (though it's recommended to keep work to a minimum on your vacation), Caffe Siena is sure to please with its coffee and specialty drinks. The shop sits at the front entrance of the Village and also boasts smoothies, doughnuts, biscuits, and other snacks.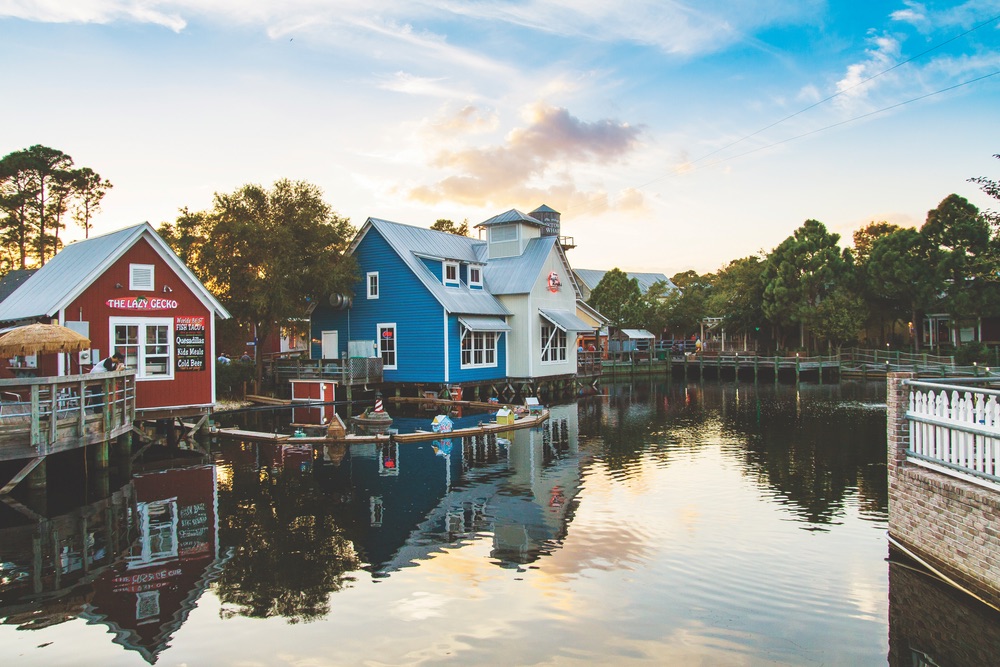 Another Baytowne pioneer, Tom Rice, owner of Marlin Grill, says, "They always wanted us to be the upscale dining house. We've strived to fill that niche by serving fantastic food in a great style and making people comfortable. Our desire is to have what you like and help you understand what you're ordering." The main attractions are succulent steaks and never-frozen seafood. "Year in and year out, our bestselling seafood, fresh from Destin Ice House, is grouper sautéed with lump crabmeat," Rice reveals. By the way, the sides (yes, order the macaroni and cheese, made with four cheeses and tasso ham) are divine. Beverage connoisseurs also appreciate Marlin Grill's eight hundred wine labels, but Rice points out, "We tend to win the martini category; people love our table-side preparation."
Marlin Grill further attends to kids. Along with the expected fish and chicken fingers, the children's menu offers four-course meals with sophisticated entrées like fried lobster tail and filet mignon. "If you never order something new for them," Rice poses, "then how are they going to learn?"
In child-friendly Baytowne, an eatery that seemingly caters to adults often becomes the kids' favorite and vice versa. Jamie Sobik, who co-owns Hartell's Village Diner with her husband, Michael, has witnessed the tables turn numerous times, as when parents snatch golden fries from their children's plates! A new mom who is suddenly guilty of doing the same, Sobik also spends much of her time in the kitchen to ensure everything comes out just right.
Aside from the potatoes, she asserts, only the ice cream enters the diner frozen. Speaking of which, the 1950s-style malts, shakes, and splits make you long for the good old days of sock hops and soda shops. Hartell's is also known for their fresh, handmade hamburger patties and, as yummy as they sound, Krispy Krunchy™ chicken tenders. Eat in or order out, but take the time to view the hand-painted, beachy mural by local artist Donna Burgess (also the talent behind the Sandestin Wine Festival's motif). Burgess presented her labor of love to Hartell's as a gift.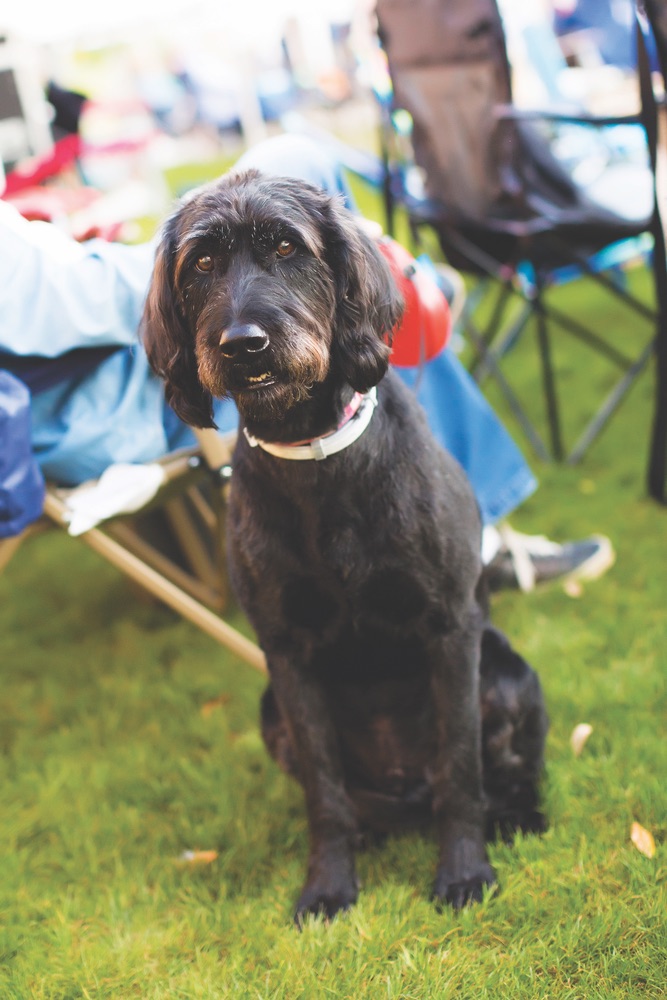 Unique Boutiques
Baytowne's on-trend boutiques showcase local designers, one-of-a-kind finds, and preferred labels.
Displaying a visual feast for browsers, Gemma Azan, owner of Uniquely Chic, carries a "smorgasbord of inventory" that includes decorative items, clothing, and wearable accessories. "I've always been in retail," she says, sharing that she learned the ropes in her family's business in Barbados. She also has a knack for handwork—basketry, ceramics, floral arrangements, and jewelry making. Thus, in addition to representing a dozen local artists, Azan sells her own brand of jewelry, Gemesis Expressions, which she makes by hand in the shop. Working with semiprecious stones and freshwater pearls, Azan uses leather or deerskin as the connecting medium, so her bracelets and necklaces easily layer and wrap. They're also quite durable. She loves helping customers choose pieces for themselves. Many also return, again and again, with shopping lists from envious friends back home!
Similarly alluring, Blu Calypso offers beachy gifts and breezy accessories, as well as a line of beautifully handcrafted jewelry by the store's owner and artisan, Mayra Casillas. "Women from all over tell us that we are their best-kept secret for that unique piece that stands out," says manager Christina Griffin, a savvy stylist who blogs about fashion in her spare time. She and her colleagues entice shoppers to "come by and see us" for assistance in assembling an outfit with just the right statement piece or two! That might be the perfect Kentucky Derby hat and one of Casillas's creations—perhaps a mixed-media, silk-tassel-and-stone necklace—to complete the look.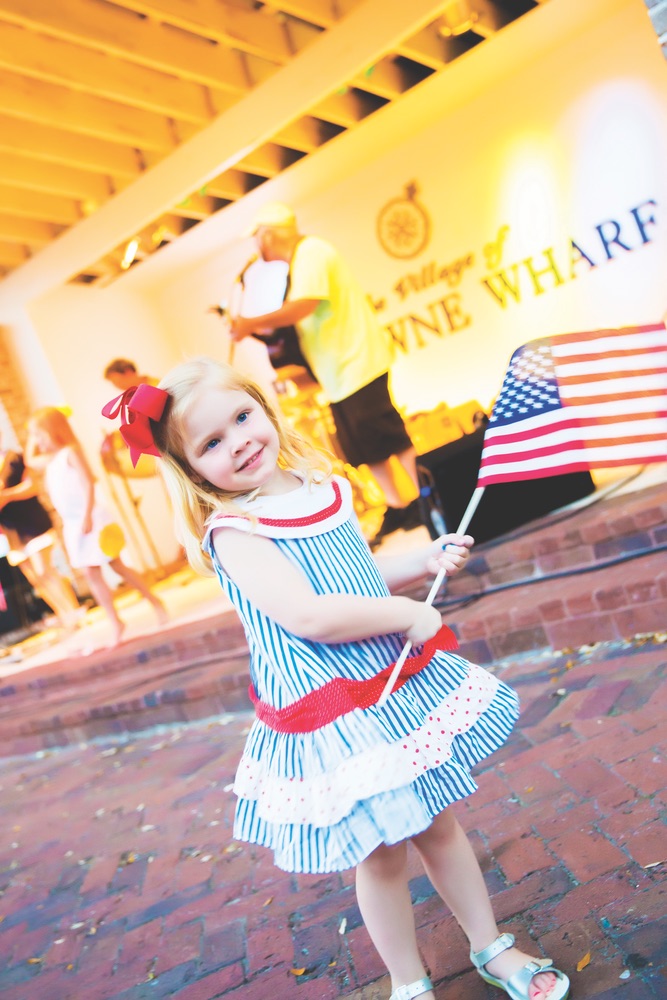 Another fan of fashion, Morgan Liveoak, owner of Blush, admits that she can lose track of time when monitoring trends online and sourcing clothing, shoes, and accessories for the store. Only in her midtwenties, she gravitates to up-and-coming designers with fresh looks and great pricing. As Liveoak points out, "At Blush, you can buy a forty-dollar top and afford the jeans, too!" To keep her merchandise new and exciting, Liveoak orders only a half dozen or so pieces of the same item in assorted sizes. "I love getting something in, seeing people like it, selling out, and starting over," she says. "We always have something new, so locals will come in every other day to see the styles." Quite a few are keeping their eyes on Blush, which has over fifteen thousand Instagram followers!
By catering to ladies and gents of all ages, the Sandestin Family Retail Shops—Barefoot Princess, Island Clothiers, Sandestin Clothing Company, and Coconut Kidz—are considered Baytowne's department store.
By catering to ladies and gents of all ages, the Sandestin Family Retail Shops—Barefoot Princess, Island Clothiers, Sandestin Clothing Company, and Coconut Kidz—are considered Baytowne's department store. Attuned to specific customers and Baytowne's general demographic, Sara Becnel, executive director of retail at Sandestin, and Aja Heck, assistant director, attend at least ten markets annually for the best items and collections.
Barefoot Princess offers apparel for women and children, gifts, and home goods. It's the destination for all things Lilly Pulitzer as well as local designers like Judith March from nearby Santa Rosa Beach and the quintessential Southern sophisticate, Lauren James. The niceties—hosting trunk shows, noting who purchased which outfit (so occasions aren't about who wore it best), keeping clients' wish lists on hand, personal shopping, and assembling and shipping boxes of the latest must-haves to customers—further endear a loyal clientele.
Under the same roof as Barefoot Princess, Island Clothiers outfits men with a "shop within a shop" display of Southern Tide and wide selections of Vineyard Vines and Southern Proper. Since the youngest members of the family also have their favorite labels, Coconut Kidz stocks Disney costumes and toys, in addition to other lines of adorable, fine-quality clothing and accessories for babies and children. Everyone, of course, wants a souvenir, and Sandestin Clothing Company is the source for those signature tees and beach accessories.

Endless Activities
Delighting kids of all ages, Baytowne Adventure Zone was launched in 2005 by owner Russ Scott. Formerly the director of the beach, marina and water sports program, Scott, who first joined Sandestin in 1984, is an expert in family fun. Who else would have thought to erect a zip line in Baytowne?
Sandestin's Zipline rises forty feet and extends across the lagoon for an easygoing trip there and back. "We appeal to kids and adults who have never zip-lined before," says Scott. "It's perfect for small children who weigh thirty pounds and safely fit into a harness." Just as high on to-do lists, the Euro Bungy is a fun way to jump and flip on a trampoline while harnessed. If that doesn't tire them out, kids can climb the forty-foot-high Tower Climb. On top of that, the Sky Trail Ropes course delivers three skill levels of adventure with utmost safety, as climbers' harnesses remain attached. The Sky Tykes Ropes is especially for younger ones under four feet tall.
Active boys and girls also love catch-and-release fishing in the lagoon and just being a kid on Baytowne's nautical-themed playground.
No one is too old to play tugboat captain at Baytowne Tug Company with remote-controlled boats that came all the way from Downtown Disney in Anaheim. Next door, Baytowne Golf Challenge tries the most avid golfer with a target that floats in the lagoon! Beating the odds wins a box of Titleist Pro V1 balls. Scott can't decide which he enjoys more: testing his own skill, or watching others hit or miss!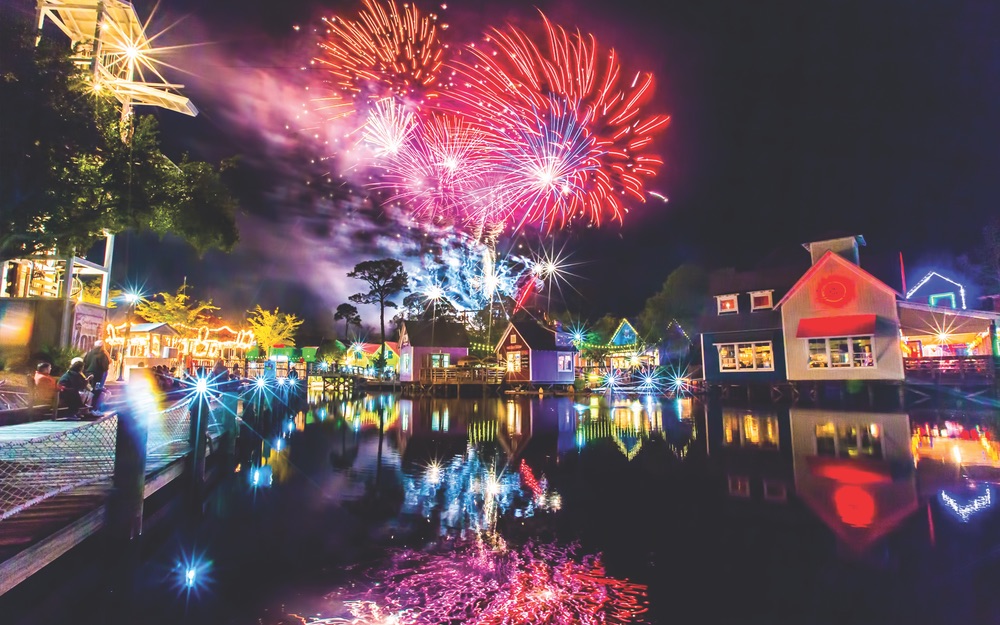 Fantastic Entertainment
Baytowne is also a hit for music lovers, and John Wehner, owner of the Village Door, the live music venue, is instrumental in producing what audiences want to hear. "I've been in this industry since I was thirteen years old," says Wehner, who was a drummer on Bourbon Street by age eighteen. Adding music production and sound engineering to his résumé, he purchased New Orleans's Famous Door in 1992. The once-famed Dixieland nightclub was failing, so Wehner changed the name to John Wehner's Famous Door and applied what he'd learned as a performer. "Immediately," Wehner recalls, "we were the first club full and the last club empty. Bourbon Street was my lab." He ended up assembling a house band that performed a specified playlist. "I hire all musicians individually," he says, "and train them for their roles."
Arrangements are "constantly morphing," Wehner says, but deviations shouldn't alter guests' expectations. "If you bring friends here in April and have an amazing time on a Saturday night, I want to give you the same great experience when you return in August." Such standards apply to the club's DJs—expert technicians who are there to make the music sound great, not be the center of attention. Typically, the DJ and live band take turns playing in thirty-minute intervals, which keeps everyone happy. As Wehner says, "We have all ages on the dance floor together!"
Much of the entertainment in the Village entails music and lighting, and thanks to Pez Marrier, sound and production manager for Baytowne Wharf and owner of Shofar Productions, they go off without a hitch. "Music has been my life," says Marrier. (Many say he has perfect pitch, a benefit to musicians during their setup and performance.) Beyond years of professional studio training, he understands how outdoor elements—e.g., temperature, barometric pressure, spectators' clothing, and where people stand—impact sound and light. Therefore, despite a live venue's uncontrollable factors, an issue like weather does not have to spoil everything.
"With rain in the forecast last New Years' Eve, other places canceled their musical performances early," Marrier relays. "We kept the stage dry and safe so our band could perform." Fireworks also went off as scheduled. "Some were listening and watching from their balconies, but we had a full crowd out and enjoying the show!"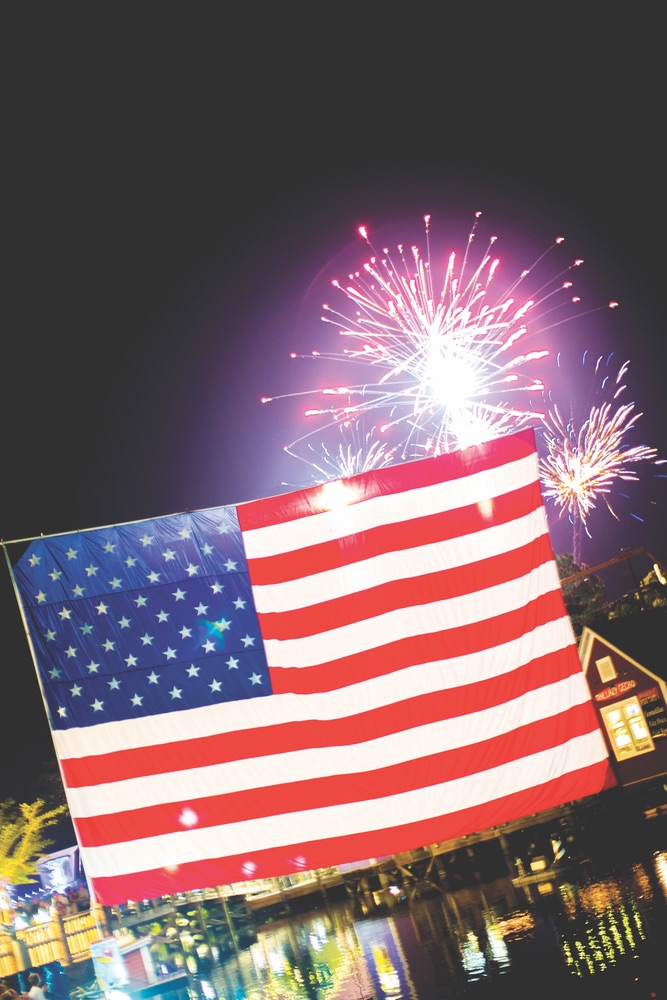 Stellar Events
During the three weeks of spring break in March and weekly from Memorial Day into October, Baytowne hosts a main-stage event each Sunday through Thursday. Cinema Night is on Sunday. Mondays entertain with fly-board demonstrations in the lagoon. Fireworks boom and light the skies on Tuesday evenings. Family concerts featuring tribute bands (themes include blues, country, singer-songwriter, and more) wake up Wednesday nights. Thursdays are magic with Captain Davy.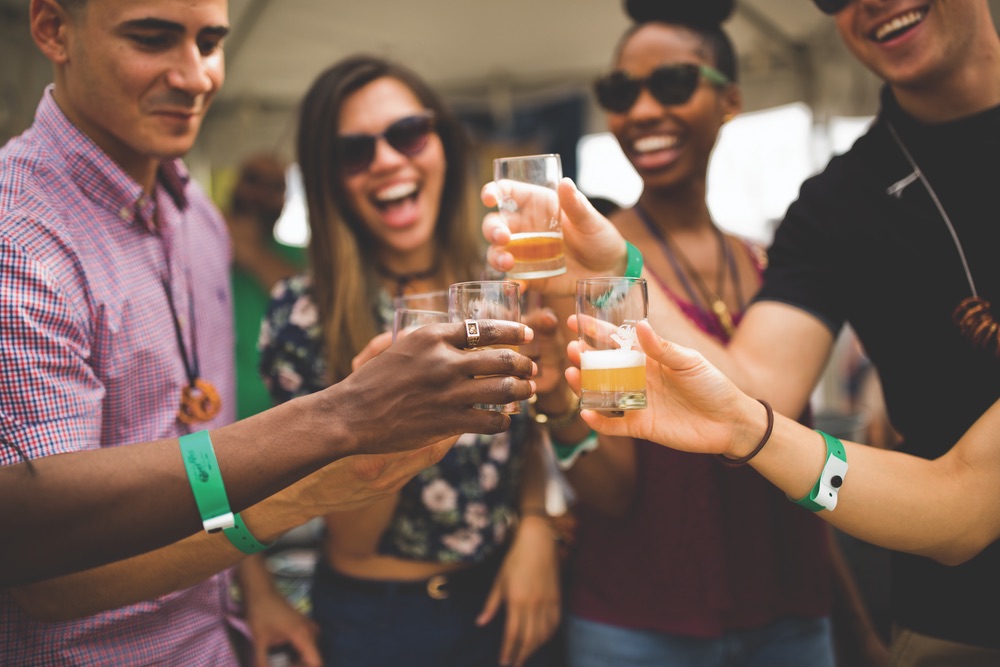 All through the year, Baytowne Wharf is festive:
The Gumbo Festival, one of the largest food events in the region, takes place in February, in addition to a Mardi Gras parade and celebrations.

With spring break programming and St. Patrick's Day's Irish dancers and Celtic music, March is a month of merrymaking.

Marking its thirty-first year in April 2017, the annual Sandestin Wine Festival features over eighty vintners with celebrity chefs, live concerts, wine dinners, and special seminars. The Vettes at the Village Corvette car show is another April happening and charity fund-raiser.

Memorial Day celebrations kick off the summer season in May.

Baytowne celebrates Independence Day—and every other day—in July.

The annual Baytowne Wharf Art Walk festival arrives in September with September Saturdays band concerts.

Highly anticipated in October, the Baytowne Wharf Beer Fest hosts more than sixty breweries. The month ends with Halloween trick-or-treating.

The Sparkling Wine and Holiday Lights event with a choreographed light show and live music and a preview of Christmas shopping highlight November.

A holiday concert series and other Christmas programming celebrate the season in December, culminating on New Year's Eve.
"When you come here," Meyers says, "you always have something to do and see, much of it is free, and you can relax knowing that Baytowne is safe and family friendly."
"We host 175 events over a year," says Alan Meyers, executive director of the Village of Baytowne Wharf. Having worked his way up the ladder in Sandestin, starting as the parking manager, Meyers often feels like the town's mayor. Attending to the needs and wishes of so many, including full-time residents and dozens of shopkeepers and restaurateurs, he remains focused on enriching the guest experience. "When you come here," Meyers says, "you always have something to do and see, much of it is free, and you can relax knowing that Baytowne is safe and family friendly."
— V —
---
The Village of Baytowne Wharf presents its current offerings and a full calendar of events at BaytowneWharf.com.
ARTICLE CATEGORIES