Hindsight Is 20/20
By Jeff Landreth, La Florida Coastal Properties, LLC
How Long Will This Last?
Initially, I intended to provide my insights to this question in the closing of this article. The adage "Save the best for last" has both wisdom and merit, but when confronted with a steady stream of questions from our customers, saving the best for last might not work in this case. I've heard the journalistic phrase "Don't bury the lede," and this article is a perfect case in point. This is the lede.
Using historical data to gauge the future can be a risky venture, but when correctly analyzed through experience and wisdom, it can be a perfect guide toward sound predictions for the impending real estate market. The 2020 Public Health Crisis (PHC) ushered in an unprecedented real estate uptick, unlike anything we've seen before. Because this is an anomaly, it must be factored in as the catalyst to cause people to uproot and upend, changing the way they want to live.
The Plan
Although both education and business sectors transition from remote to in-person activities, the national real estate market reacts to a curious economic climate with inflationary pressure, interest rate volatility, and supply chain interruptions. The aforementioned scenario is a challenge for predicting future real estate trends as a whole. Nevertheless, by way of available data, trends, and opinions from real estate–related professionals,
I hope to provide greater insight to formulate an informed opinion of the current condition and potential future of the real estate market—specifically the market of Walton County within Florida's panhandle, with references to the communities along Scenic Highway 30-A.
The Headlines
Nationally, the number of pending contracts decreased 2.3 percent in September from the previous month, with an 8-percent decrease compared to 2020.¹ This so-called "cooling off" was an anticipated shift considering the significant market increases that were seen from 2019 to 2020. Despite these expected signs of a market correction, other factors indicate areas of potential opportunity. For example, with pending sales down 4.6 percent for September over the previous year, Florida's market seems to follow close suit.2 However, residential properties of over $1 million are actually up 17.5 percent, and closed sales are up 27.2 percent over the same period.2In addition, it appears that diminished inventory and continued demand is reflected in the national average of 3.7 offers for every closed sale.3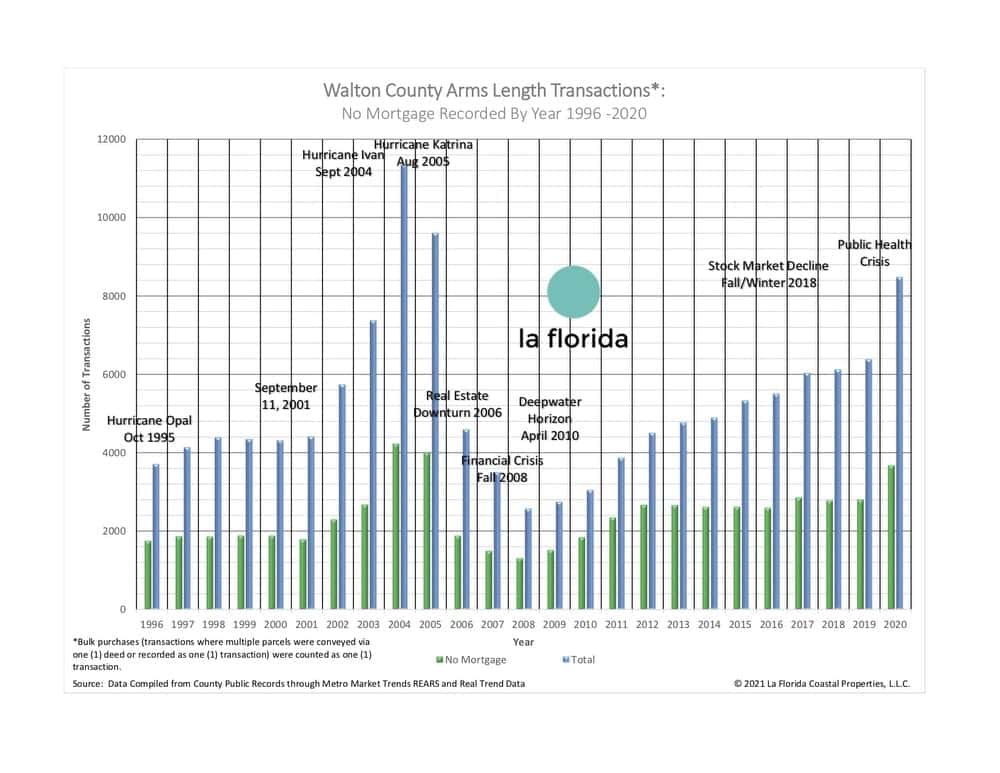 A Short History
Following the real estate downturn and 2008 financial crisis, Walton County's real estate market recovery was stifled by the 2010 DeepWater Horizon oil spill, after which the market experienced significant growth in both the overall number and dollar volume of sales leading up to the current PHC (see Figure 1). As the PHC took hold, uncertainty was high, and contracts fell out. Nationwide, the real estate market dropped: April 2020's national pending sales declined 21.8 percent from the previous month and 33.8 percent from the previous year.4 The South Walton market experienced a similar trend with new pending residential home sales down more than 48 percent with a forty-five-day look back from mid-April 2020 compared to the same period of the previous year.5 There was a consensus of what impact the PHC would have on the market, but experienced bankers and developers—and even one former economic advisor to one of our US presidents—were uncertain of the overall market effects. Then, the unexpected happened: 2020 real estate transactions in Walton County exceeded 2019 by 24.92 percent, with brisk activity continuing through the first half of 2021.6
Transition in Demand
Since around 2016 and leading up to the PHC, rental income potential motivated a surge in rental property sales. Once Florida emerged from the shutdown in May 2020, the influx of vacationers and potential new residents began arriving to enjoy the freedom and beauty of the Emerald Coast. The Haas Center's Tourist Indicators noted a rise in visitors via air travel in a historically favored car-travel market and of bed tax collections—both indicating an increase in rental occupancies and rates (see Figure 2). The PHC drew more visitors and potential purchasers from new markets like the Midwest, Northeast, and California. Buyers and sellers alike began to reevaluate their buy–sell criteria—seeking out rental-restricted properties with higher frequency. Local HOAs are answering the call by amending association bylaws with short-term rental-restriction clauses. Anecdotally, demand-led growth for rental-restricted property that began five years ago has been ultimately accelerated by the PHC.
According to fifteen-year appraisal veteran Susanne Simmons of Simmons & Small Appraisers, demand for rental restricted properties continues, as exemplified by vigorous sales of WaterColor Phase IV. Shannon Widman, Esq., owner of title company Porath and Associates, and Steve Akers of Hancock Whitney Bank, who both shared that primary residence sales are on the rise, as evidenced by brisk sales in the rental-restricted community at Camp Creek. Second homes transitioning to primary residences are occurring more frequently, and those planning to transition to full-time Florida residency have accelerated their plans due to the PHC. Ultimately, homesteads in Walton County have increased on average 3.92 percent per year since 2016, and 2021 is expected to exceed that.7 A resulting side effect of an increase in primary residential property use may further reduce real estate inventory.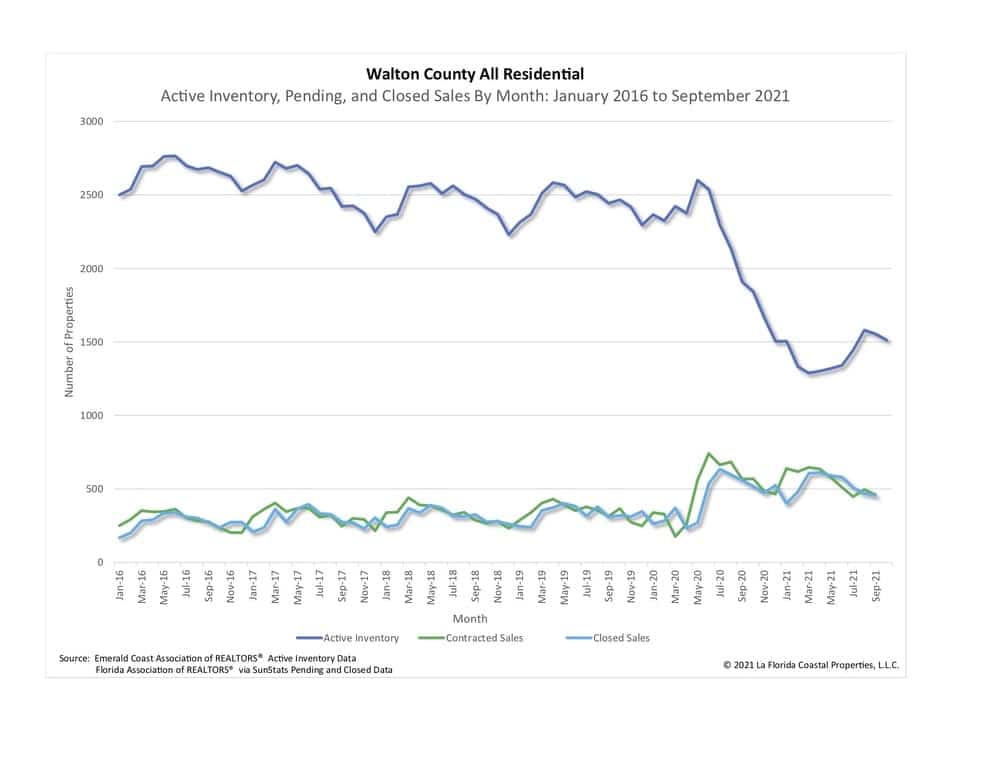 Not All Inventory Is Created Equal
Before the PHC, the availability of inventory allowed buyers the time to find the perfect property. When the market activity increased post-PHC, inventory could not keep up with demand, and buyers—realizing that they were losing their second, third, and sometimes fourth options to other buyers with more attractive offers—quickly became less discerning. As a result, properties on the market for hundreds of days were suddenly selling overnight, and buyers were competing against multiple offers on properties. Simmons adds that one other influence is that "many buyers want new construction," contributing to skyrocketing land costs as both the retail buyer and speculative home builders compete for the dwindling availability of residential lots.
Price Point vs. Price per Square Foot
A property's price per square foot (PPSF) value is commonly used for basic comparisons of similar properties. That can be a good starting point; however, other variables must be considered when making such a comparison. Anecdotally, as more buyers enter the market with a target price point, more emphasis is placed on amenities—explaining some of the significant PPSF disparities between communities.e
Historically, PPSF value is not linear, meaning that a smaller property will trade at a higher PPSF than a larger property. Simmons confirmed this, saying, "The 2021 sales activity has provided appraisers with ample comparables," and Akers commented, "I have not seen any recent issues with appraisal values." Instead, the main issue experienced by all is the lengthy backlog in orders, which directly correlates between a high sales volume and a scarcity of licensed appraisers. According to Brian Robinson of U.S. Bank, these delays have pushed some buyers into a cash closing and then to refinance post-closing but with less favorable terms.
A Few Words about Cost
What is the cost of construction? The ubiquitous question is best answered with this "steak dinner" analogy by my partner Gay Landreth: "It depends on where you decide to dine and what you order." You get the point. Outdoor living spaces, landscaping, balconies, and pools will also add to costs, as well as a community's unique architectural and building requirements.
In addition, we constantly read and hear of scheduling delays created by labor and material shortages. Chris Burch of Grand Bay Construction echoed these complications. Burch shared that they mitigate delays by "having a cohesive team from the beginning of a project" and making early decisions on materials and finishes. It allows enough lead time for sourcing potential alternatives if necessary—"assisting in cost predictions, but with only lessened uncertainty."
Market Stability
La Florida predicted some decreased activity as, historically, the fall season is known for lower market activity, but even more so this season as the country transitions to more "normalized" operations. "The September-October lull," stated Simmons, "is due to people transitioning from summer and going back to school—a transition even more involved this year than traditionally experienced." We are seeing some price reduction in conjunction with the slight uptick in inventory. This could be due to customers returning to more selective standards, or they may feel the market is too overheated and are willing to wait until prices tick down—all of which support the words of Simmons.
According to the 2020 year-end data, just over 43 percent of all Walton County sales did not have a recorded mortgage, with 2021's trend continuing up to 46.85 percent (see Figure 1)8 . The higher number (less leverage) indicates more inherent market stability to weather market cycles. For those properties with leverage, stringent underwriting criteria required by Dodd-Frank Wall Street Reform and Consumer Protection Act further mitigate risk factors like those experienced during the 2006–2009 real estate correction.
Notwithstanding, there are other indicators of an enduring, well-performing market. The high correlation between contracted and closed sales appears to continue with few contract cancellations observed by Widman. Despite all Walton County real estate transactions being slightly down from September 2020, the dollar volume was up, and the September year-to-date transactions and dollar volume were up 34.92 percent and 74.16 percent, respectively.9 Moreover, the latest data available indicate that Walton County's 2021 total number of real estate sales may exceed 2020 numbers. The sales price as a percentage of list price has remained at or above 97 percent since June 2020 for Walton County single-family home sales.10 This indicates two things: the strength of the market (buyers paying close to list price) and properties priced right for the market at the time of sale. The sales price as a percentage of the original list price is an additional number we track, which can indicate a softening market if in decline.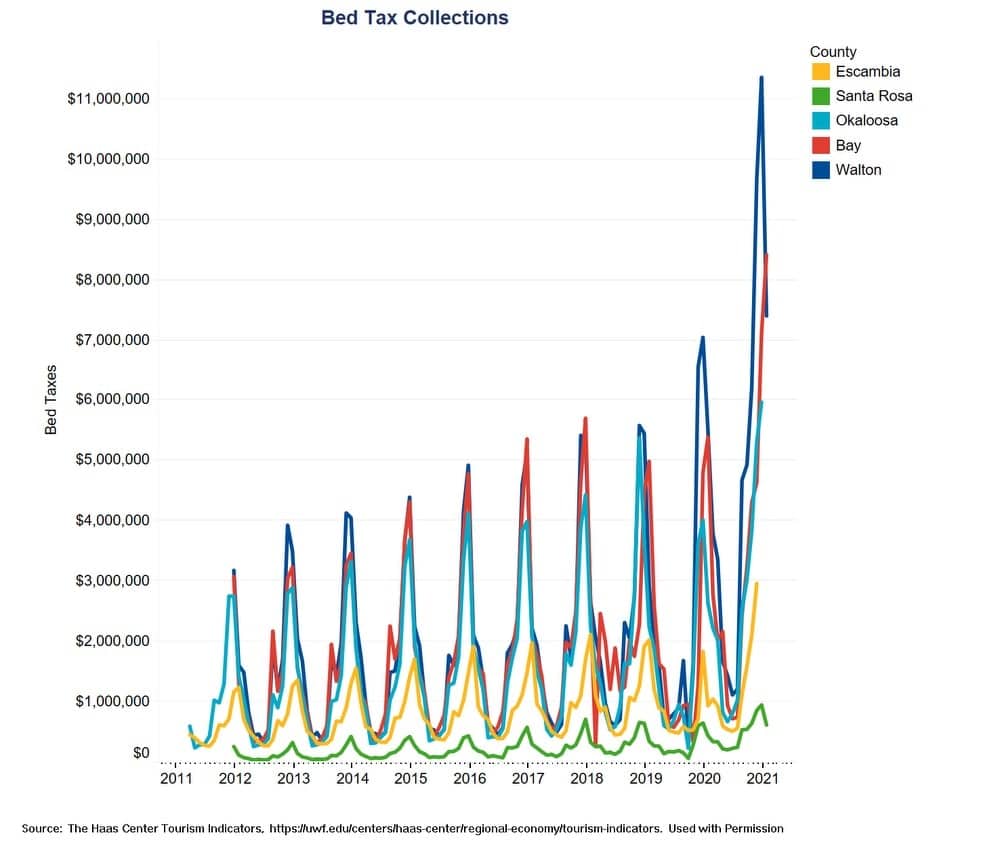 Inventory will continue to be problematic in the short term, especially along 30-A, as developable land is exhausted and new construction completion times lengthen from supply chain shortages. Historically, resale inventory will be added in a strong market to capture potential gains; however, the lack of 1031s and other options may dampen this effect. Extensive and comprehensive planned developments encompassing Walton and Bay counties will help alleviate non-resort inland residential inventory decline.
As the market begins adjusting to a more normalized transition into the holidays, we expect some price variations in the near term, with transaction decline in some market segments compared to previous months year-over-year. Demand will continue for new construction that meets the needs of both the second-home buyer and permanent resident—with some inventory pressure relieved as new construction is completed and current owners decide to capture previous years' market gains in the coming midterm.
— V —
---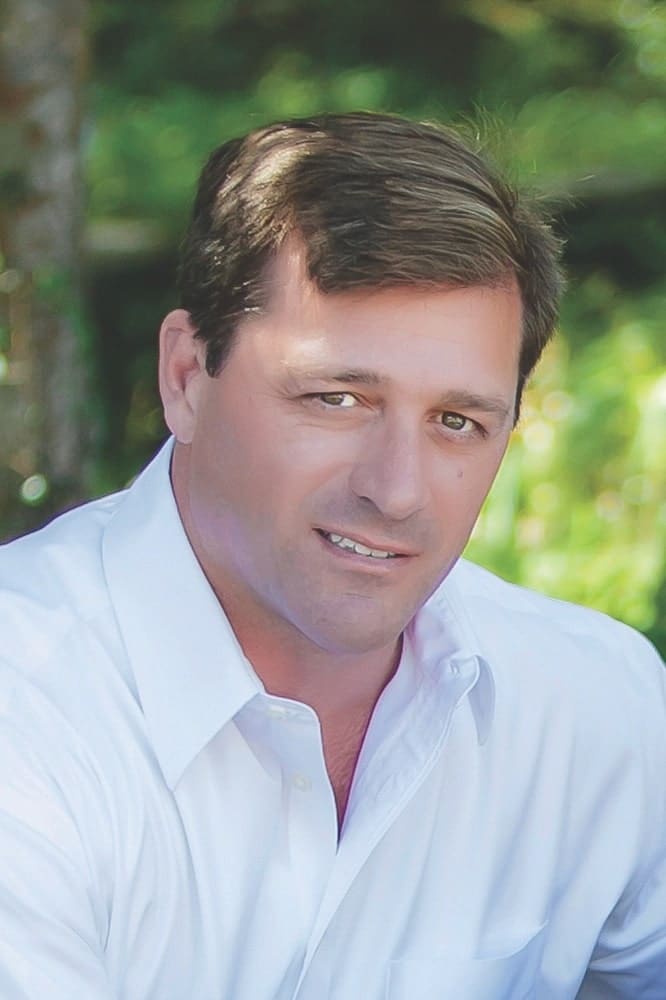 Jeff Landreth is a distinguished graduate, with honors, of the United States Air Force Academy, served as an F-15C combat pilot, and holds a Master of Business Administration from Loyola Marymount University. He studied economics and political science at Columbia University, New York, and has extensive training in leadership, combat aircraft, government acquisition, contracting, management, and project scheduling. Jeff, comanaging broker, and his wife, Gay Landreth, broker of La Florida Coastal Properties, LLC (LaFlorida.com), are proud to represent The Heritage—A VIE Legacy Show Home (HeritageDunes.com)—as the listing broker.
---
Footnotes
1National Association of REALTORS® 2"SunsStats," Florida Association of REALTORS®, October 18, 2021. 3"Confidence Index Survey," National Association of REALTORS®, September 2021. 4Michael Hyman, "April 2020 Pending Home Sales," National Association of REALTORS® Economic        blog, May 29, 2020 5Emerald Coast Association of REALTORS® data. 6"REAL Trend Report," Metro Market Trends, Inc., January 2021. 7Walton County Property Appraiser data, September 2021. 8 Metro Market Trends, Inc. SearchNet Data 9"REAL Trend Report," Metro Market Trends, Inc., November 2021. 10Emerald Coast Association of REALTORS® data.
ARTICLE CATEGORIES