Bubble Hotels around the World
By Xenia Taliotis
Once upon a time, sleeping under a vast star-studded sky on a remote beach or forest floor would have brought you closer to nature than you might have liked. You'd have probably had to weather the discomfort of lying on the ground on a fast-deflating mattress, being bitten by insects, or waking up chilled in the middle of the night. Though your eyes would have opened to gaze upon infinity, you might have been happy to forfeit that for the comforts of a hot shower and a snuggly bed.
Now, though, there's no need to choose between what your soul yearns for and what your body needs because eco-friendly bubble tents are springing up all over the world, bringing all the amenities of a hotel right to the heart of nature, be it a mountaintop, a secluded beach, a canyon ridge, or a peaceful forest.
Here are some of my favorite bubble experiences: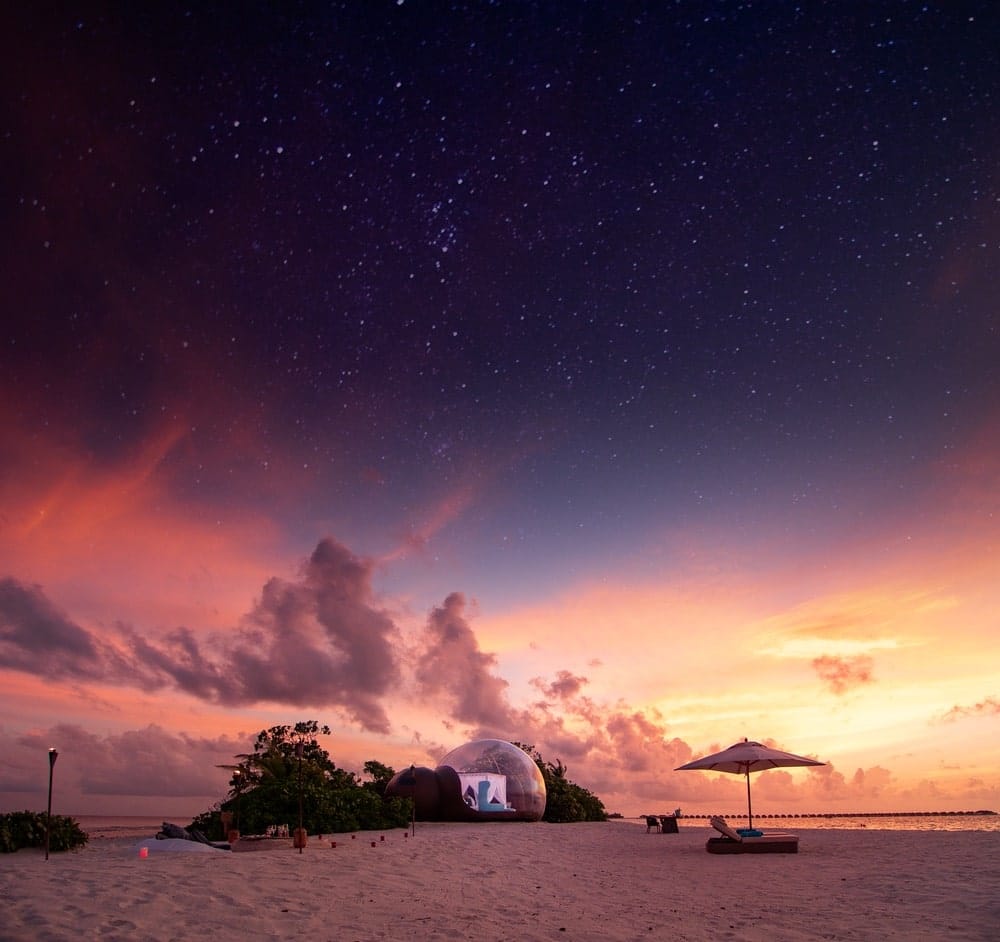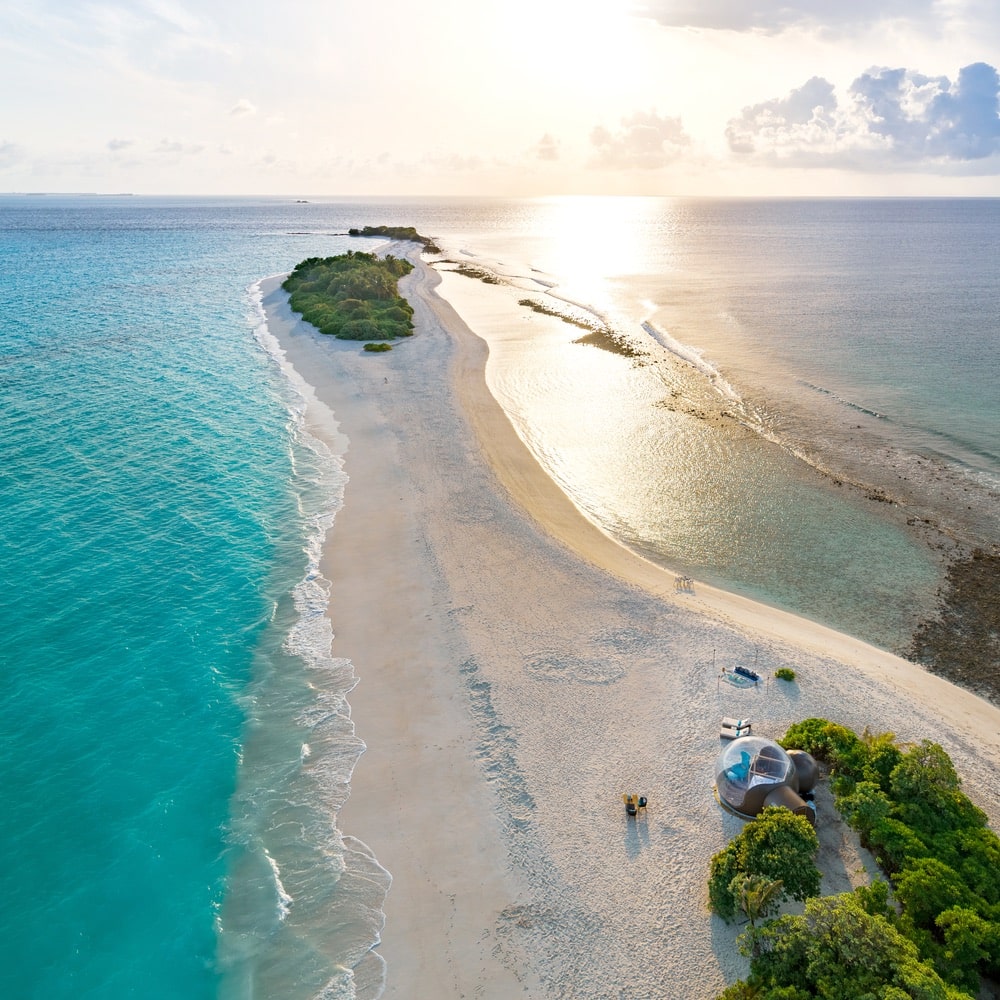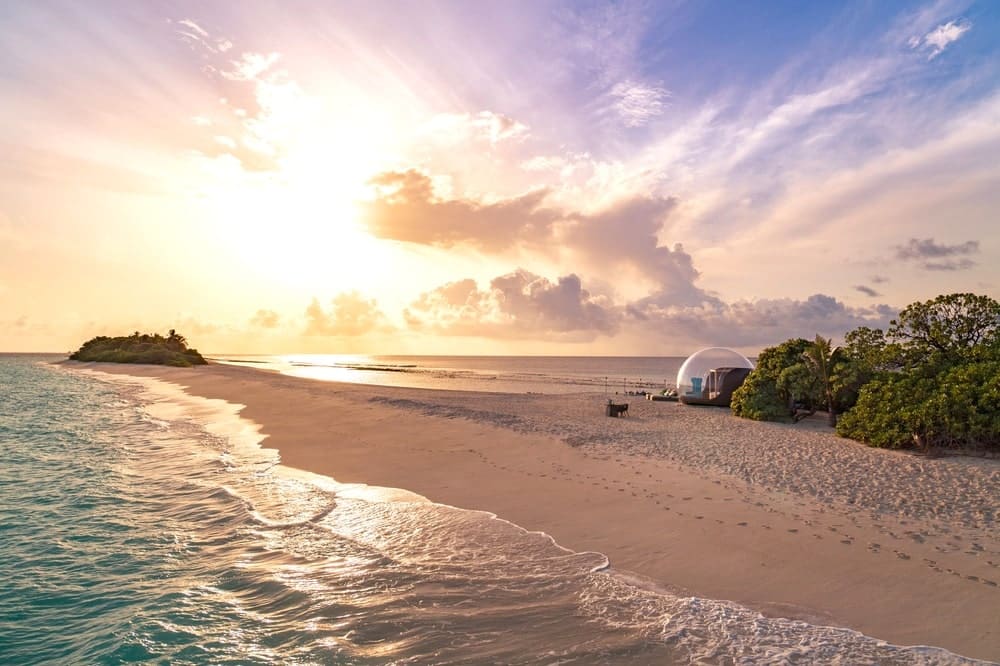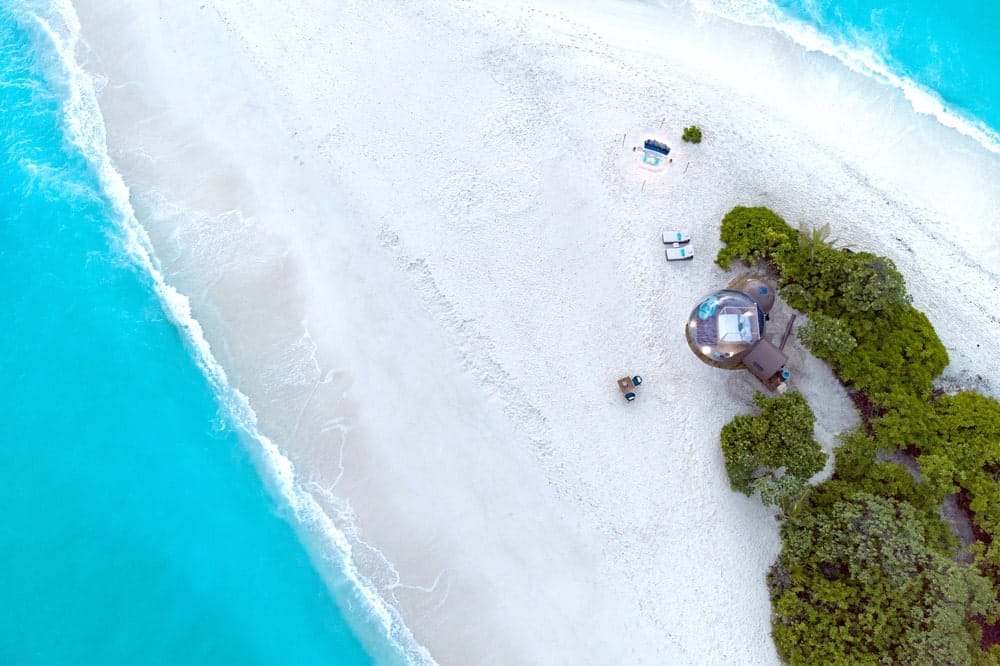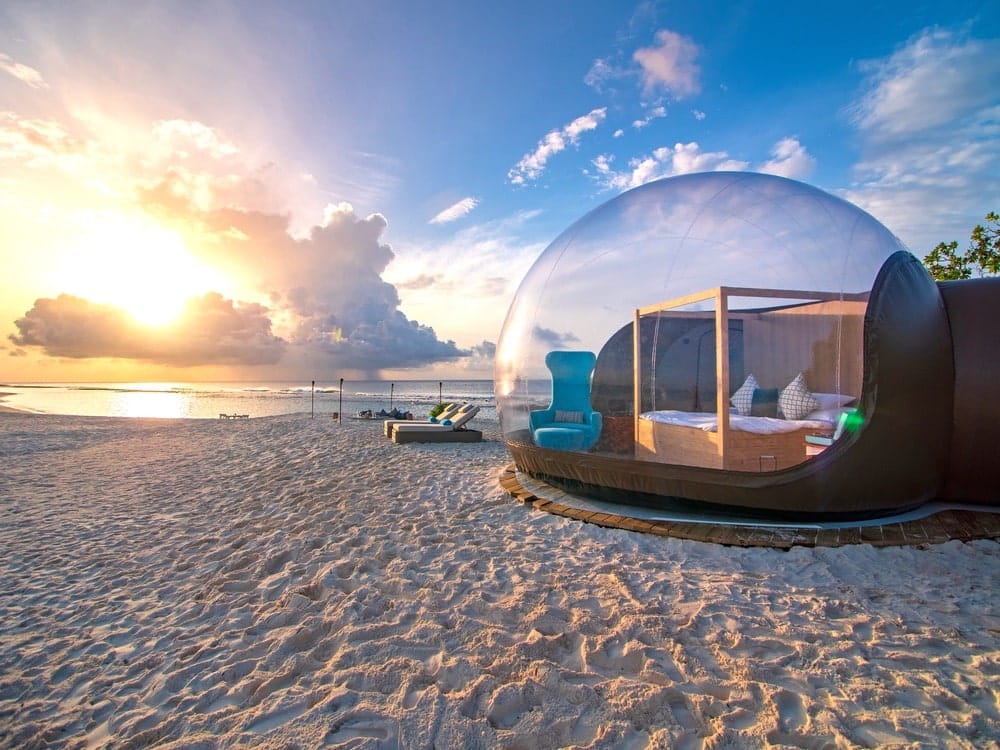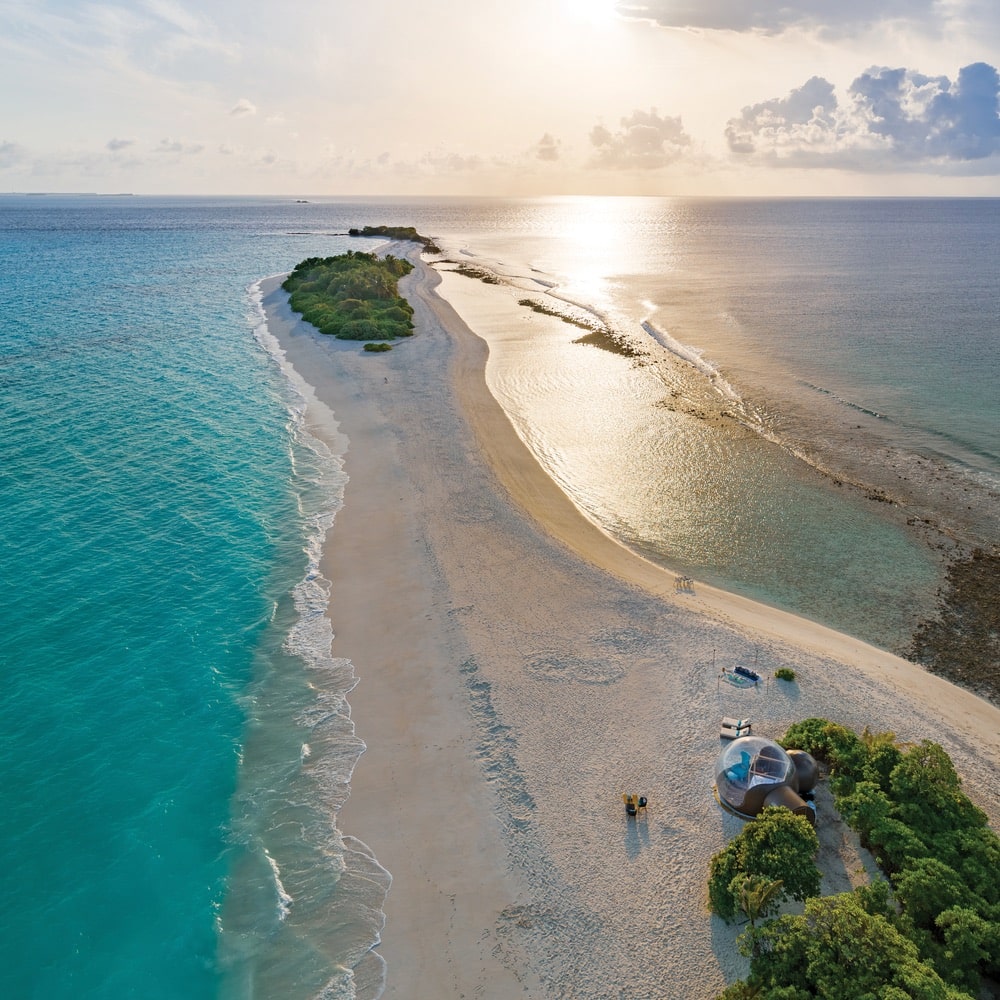 Beach Bubble – Finolhu, Baa Atoll, Maldives
When I stayed in the Finolhu resort's beach bubble, I was so excited, I couldn't bear to sleep—and they almost had to call security the next morning, because I didn't want to leave! It truly was one of the most wonderful experiences of my life.
Finolhu's bubble is a gorgeous-looking, climate-controlled, UV-protected dome with a separate toilet and shower unit, a deep bed, a telescope, and a plush armchair and footstool so you can watch the cascade of shooting stars in comfort. It sits about a mile from the main resort on a long sandbank, which is closed off to other visitors whenever the bubble is occupied. Guests are taken there by boat just before sunset and are accompanied by a chef, who prepares a magnificent three-course beach banquet, and a butler, who serves the meal and keeps wine glasses full, all at a candlelit table cut into the sandbank.
After their meal, guests are left alone to enjoy whatever takes their fancy—the night sky, the sounds of nature, or perhaps each other. Not surprisingly, the bubble has seen many marriage proposals.
The butler returns the next morning to serve breakfast while guests scan the waters of Baa Atoll, the only UNESCO biosphere reserve in the Maldives, for dolphins and sperm whales. Believe me—it's even better than it sounds.
A Beach Bubble Dream Eclipse experience starts at $600 per night, from sunset to sunrise, and includes dinner and breakfast for two. Finolhu.com/Finolhu-Bubble 
Nuit Nature – Combloux, Haute-Savoie, France
If you'd rather wake up to views of snowy mountains or rolling green pastures, then Nuit Nature's bulle, overlooking the Mont Blanc massif, is just the thing for you. With unobstructed views of the highest peak in the Alps, this beautifully furnished bubble promises guests a "unique magical night for two in the middle of the mountains and beneath the stars."
Whether you choose to go in winter or summer, you'll be guaranteed spectacular panoramas, but I find the idea of snuggling beneath the covers as snow falls on the transparent room above me quite irresistible. Depending on when you go, your gourmet dinner and breakfast will either be served alfresco or inside.
Experiences are €480 ($550) until April 30, 2019, and €380 ($435) May 1–October 31, 2019, per night, including dinner and breakfast for two. Nuit-Nature.fr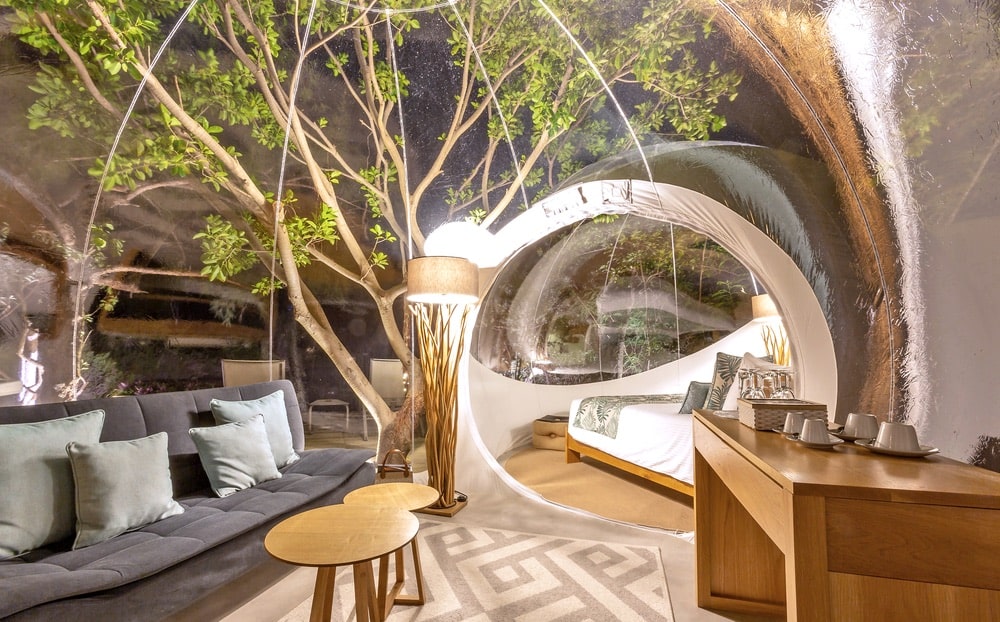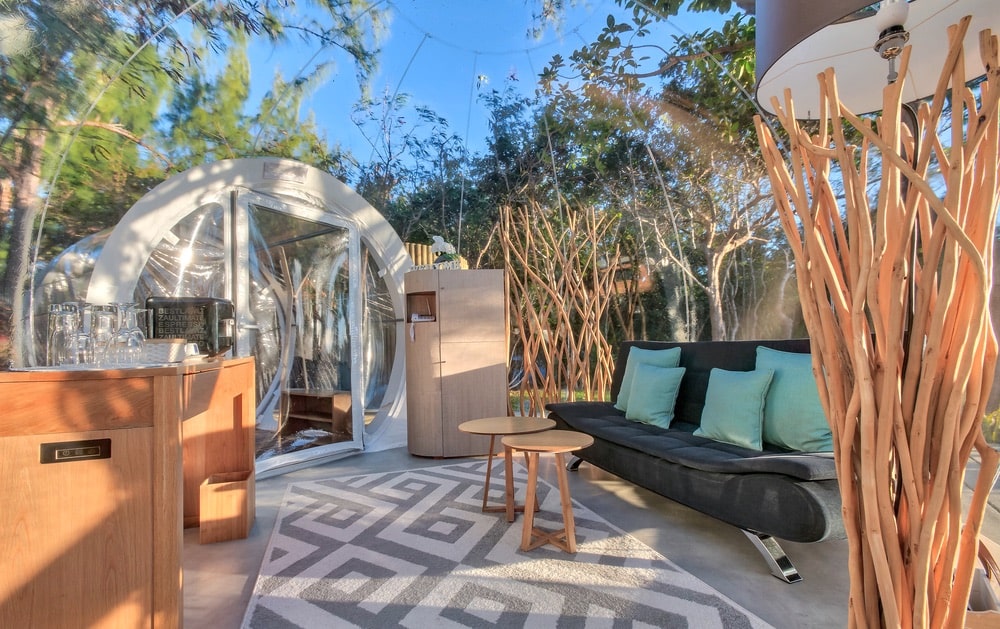 Bubble Lodge – Île aux Cerfs, Mauritius
Fringed by palm trees and home to an eighteen-hole championship golf course, picturesque Île aux Cerfs off the east coast of Mauritius (a bigger island just off Madagascar in the Indian Ocean) is the place to go if you'd like to combine your stay in a dome with a round or two on the Bernhard Langer–designed greens and fairways.
You can choose from three semitransparent, tastefully decorated lodges. All are spacious, with separate pockets for a seating area (which can accommodate a sofa bed suitable for two children), a bedroom with a queen-size bed, and a private bathroom—the showers, which are heavenly, are outside. Each bubble also has its own peaceful garden set amid the island's lush landscapes. Made from 100 percent renewable resources, the bubbles are very eco-friendly.
It's down to the guest's preference as to where he or she would like to wake up. The Ocean Paradise bubble and the Lake and Sea View bubble are both on the beach, while the third bubble is in the center of an ancient banyan tree. Amazing, right? It gets better: the services of a private butler, a fabulous dinner and breakfast in the golf club restaurant, access to a private beach, and green fees for a round of golf or a one-hour initiation lesson are all included.
Book from €379 ($434) per night, including three-course dinner and breakfast for two. Bubble-Lodge.com/Ile-aux-Cerfs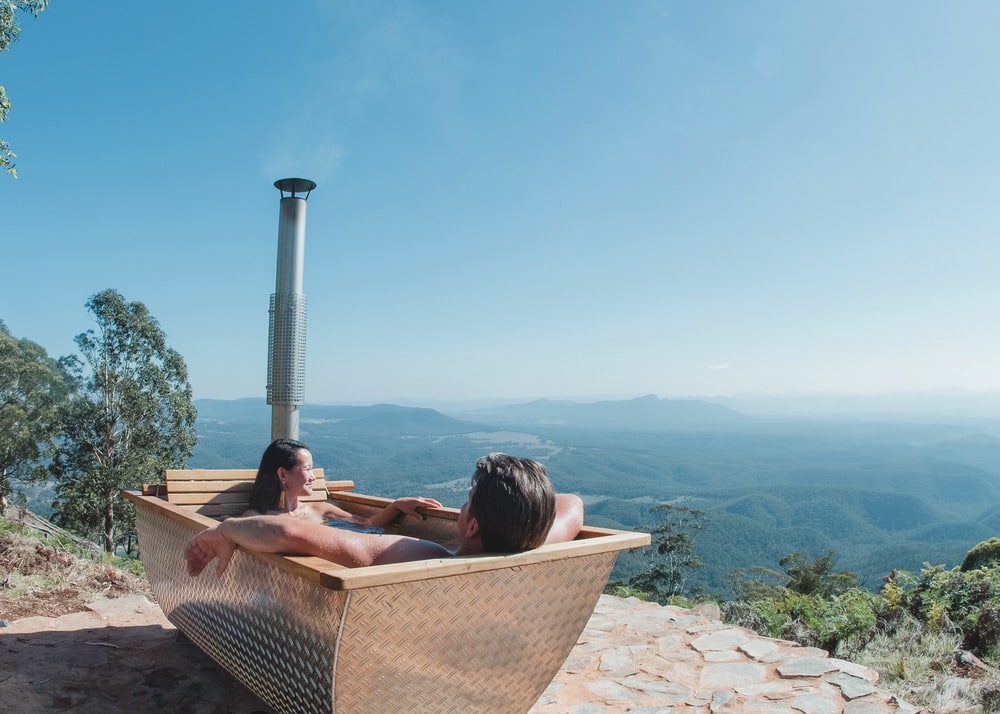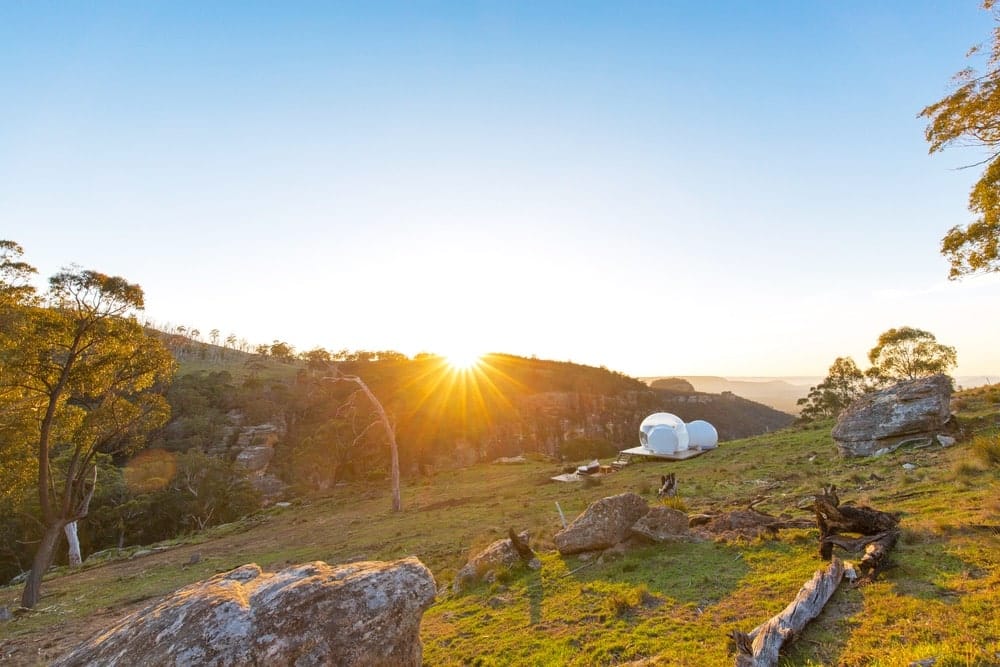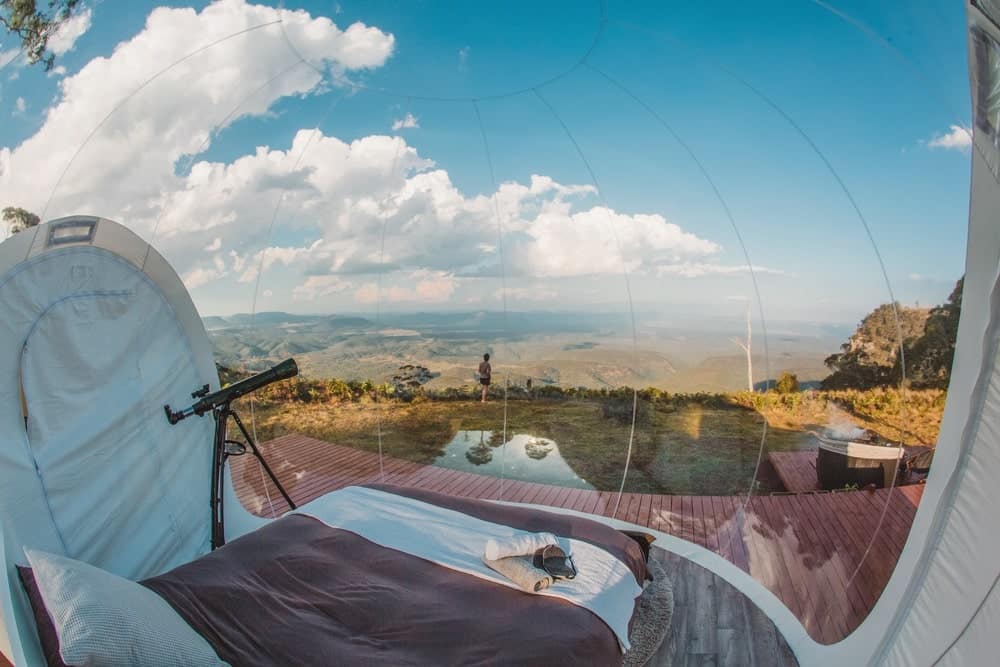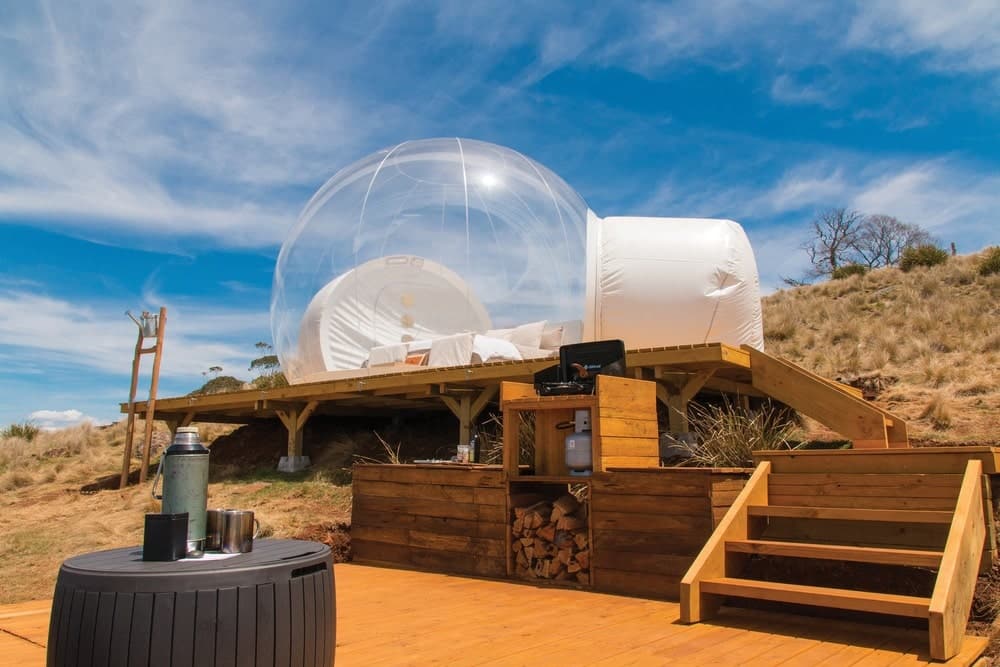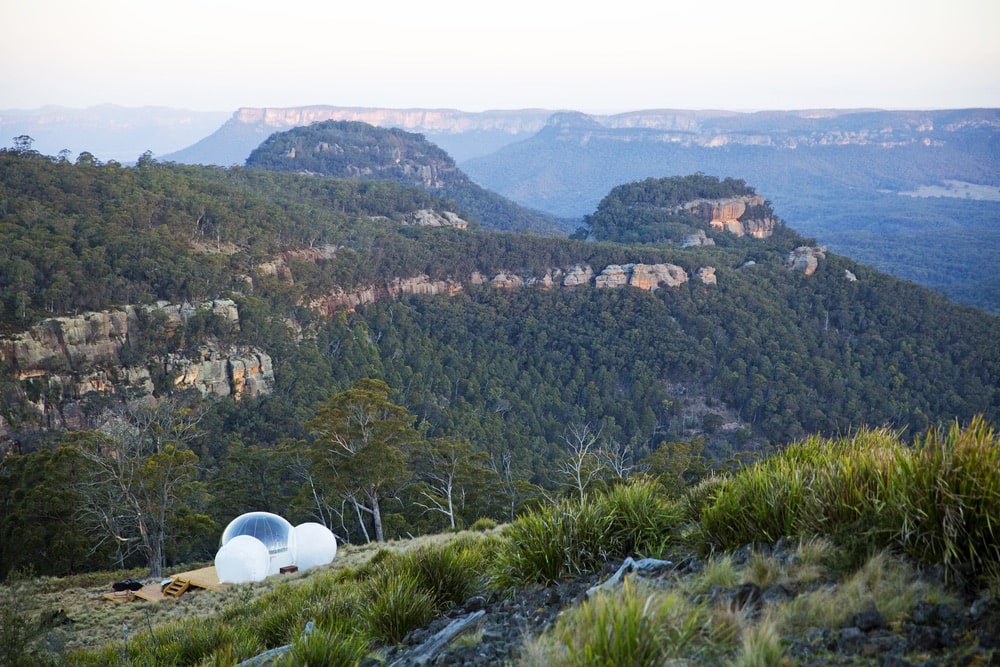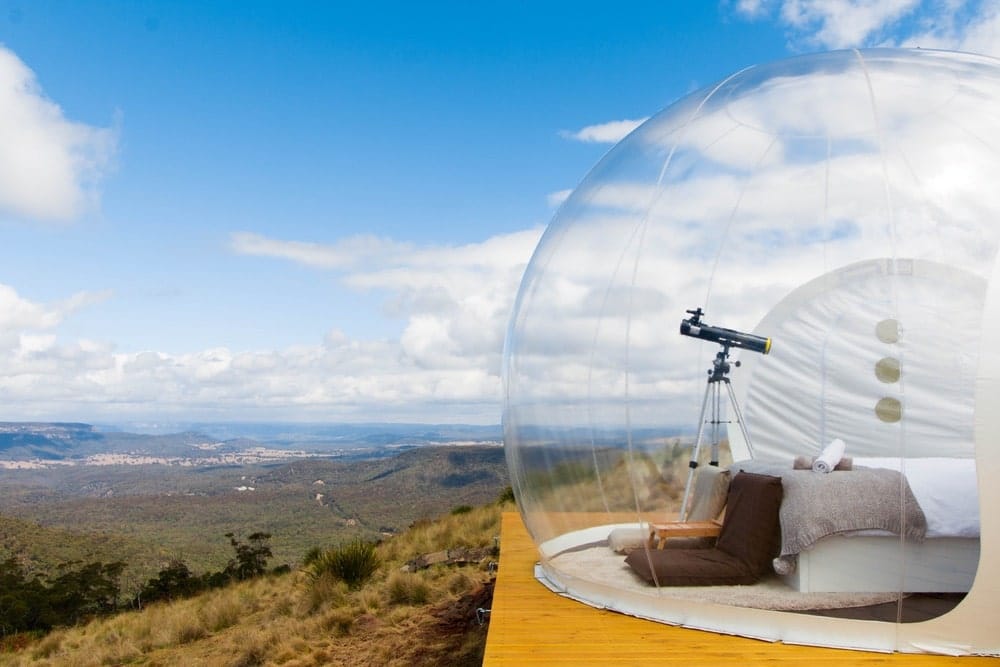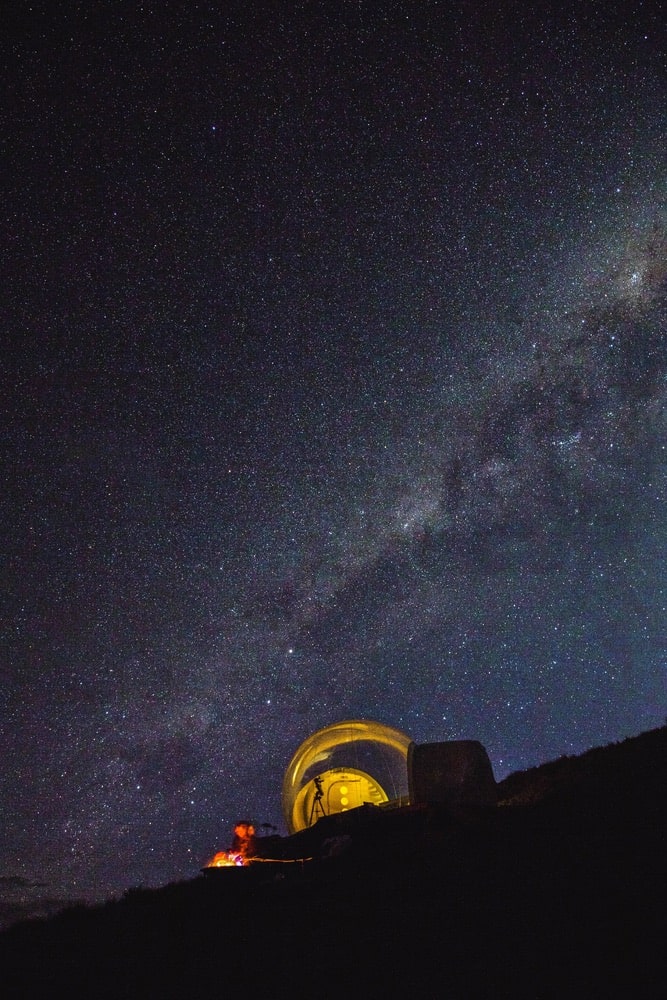 Bubbletent – Running Creek, Queensland, Australia
Oh my! Remote, vast, and dramatic, the wild beauty that surrounds the three off-grid domes at Bubbletent will take your breath away. The precise location of the bubbles is kept secret until two weeks before the guests' arrival, but all are on a forested cliff near Running Creek, two hundred kilometers northwest of Sydney, with spectacular views of the Capertee Valley (the second largest canyon on Earth). Capertee, a designated Important Bird Area, is visited by more than 240 species, including peregrine falcons, pardalotes, owls, and even endangered regent honeyeaters. Watching out for them is one of the huge draws of this magnificent location.
The supercomfortable domes—named Leo, Cancer, and Virgo—have separate bathroom facilities: the showers are outside, set beneath a canopy of eucalyptus trees. Each is unique in aspect if not design: Leo is on one of the highest points in the valley; Cancer commands impressive views of the gully; and Virgo's vistas are as wide and deep as Capertee itself.
Each dome has a small kitchenette, a fire pit, hammocks, binoculars, a telescope, and an iPad loaded with the award-winning astronomy app Luminos to guide you through your stargazing. Virgo also has an outside wood-fired tub, which the staff fills with fresh rainwater each day. Can you think of a better way to end the day than by bathing alfresco as a burning sun sets over the valley? Neither can I.
Stays start from AUD$370 (USD$260) per night, with a two-night minimum. BubbletentAustralia.com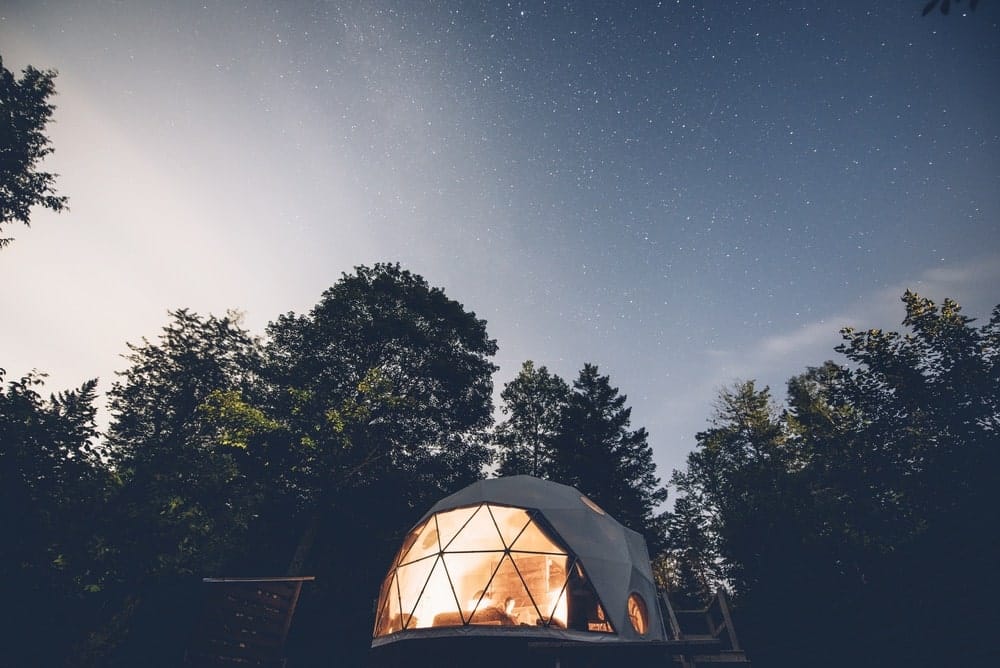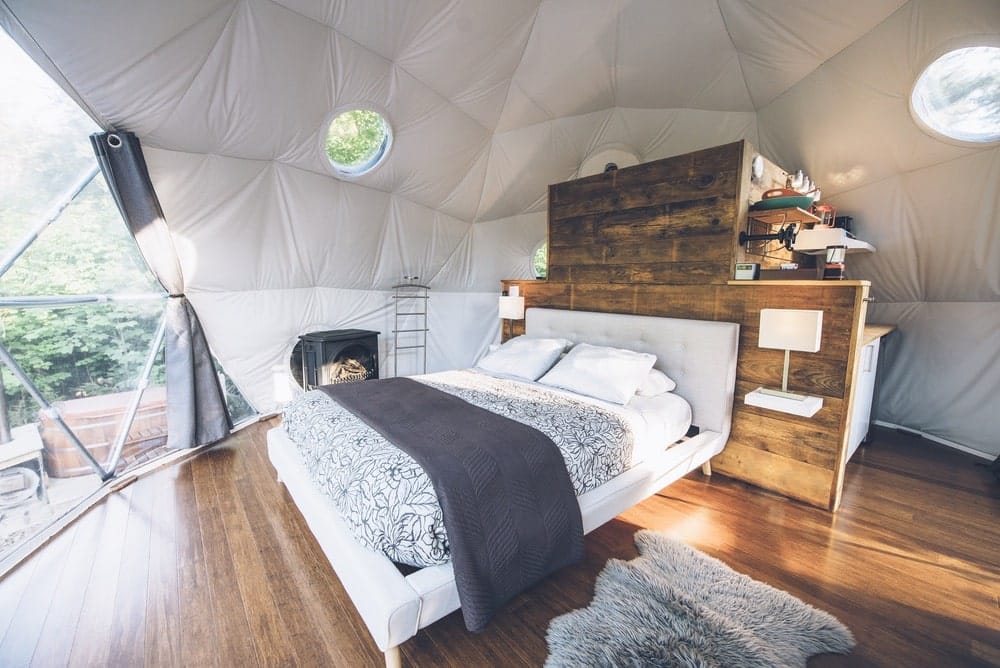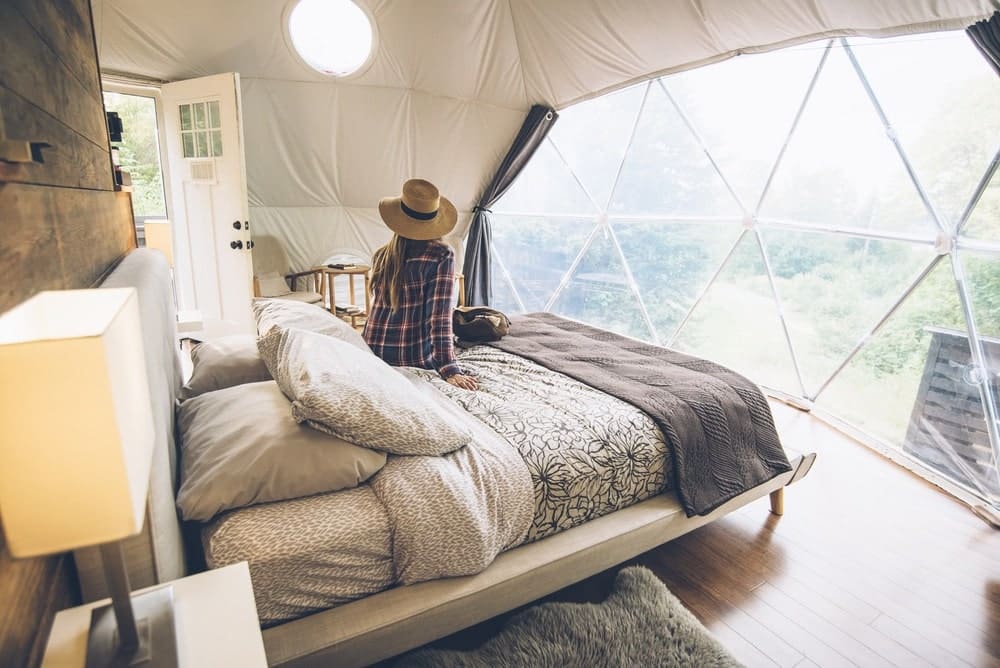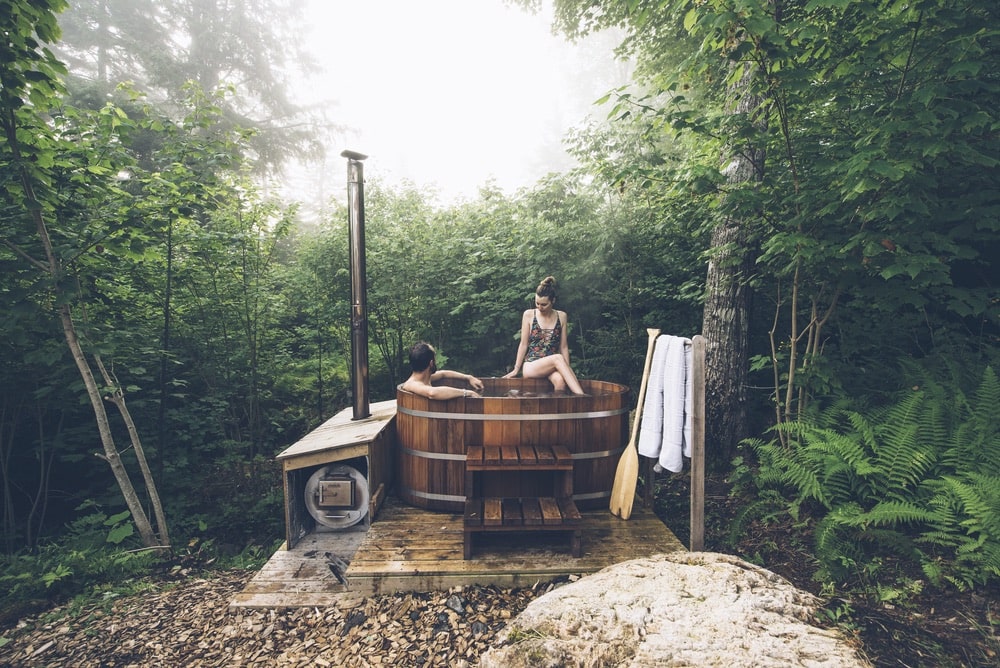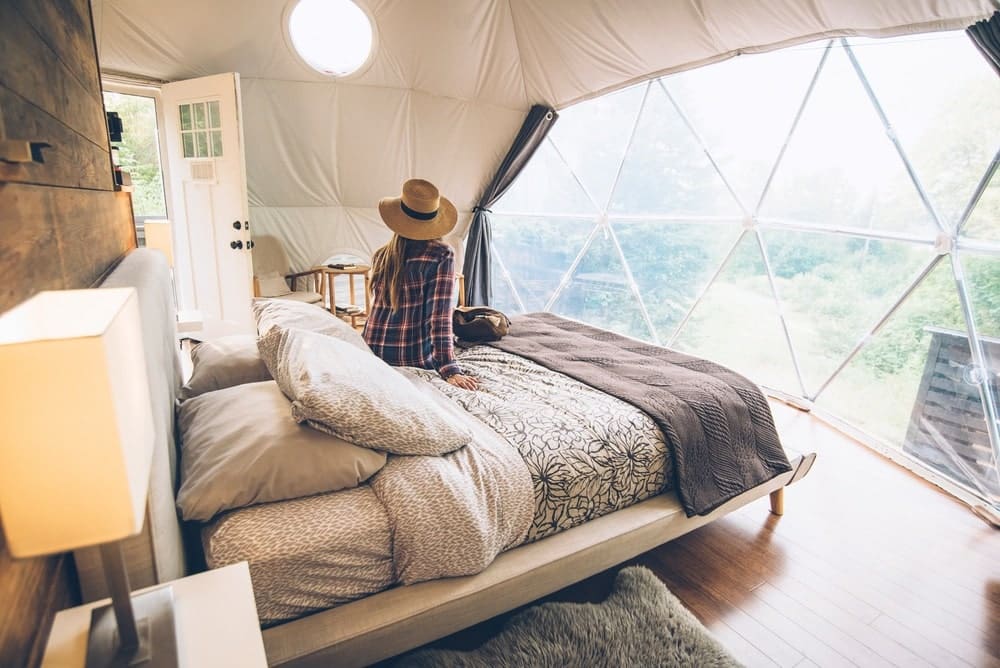 Ridgeback Lodge Dream Domes – Kingston, New Brunswick, Canada
Immersed in a 180-acre private wood on the Kingston Peninsula, the aptly named Dream Domes are ideal for an incredible get-back-to-nature adventure that will live long in your memory and soul. Ridgeback is the place to recoup from the stresses of modern life. Pack your walking boots, binoculars, and a couple of the books you've wanted to read for ages and let your mind and body reap the benefits.
Each semitransparent dome has a stove to warm cold feet, comfy memory-foam beds, a fully equipped kitchenette, an impressive bathroom, and a fabulous wood-fired Japanese hot tub outside—just the thing for moonlit soaks. There are two categories from which to choose: a Dream Dome for up to two people or Stargazer Domes (which have transparent roofs) for a maximum of six guests.
Book your experience from $120 per night. RidgebackLodge.com
— V —
ARTICLE CATEGORIES