All Spring Flings Are Not Created Equal
By Ainsley Rogers
Spring is in the air and all seems right with the world. Newness. Freshness. Sun-soaked days and warmer temps. Spring fever spreads quickly—isn't that what the season is all about?
Last September, Mercedes-Benz Fashion Week 2013 debuted what's in store for spring this year at Lincoln Center in New York City. Style icons and designers unveiled new looks that revisited past trends. The sparkle of gold and the shimmer of silver sashayed down the runway, while neon continued to pop up in a modern interpretation of a popular eighties trend. Monochromatic looks and strikingly crisp black-and-white ensembles took center stage on many a runway. Bold prints, chiffon, and leather and lace all have their place for spring as well. Spring 2013 is a smorgasbord of staples gone by, but with a fresh, new attitude and presentation. Liven up your wardrobe with a few of these new additions for an updated look you can wear right now—and we'll even tell you how.
All That Glitters Isn't Just Gold
It's shades of silver, too! For spring 2013, it's time to shine and not be afraid to have the spotlight cast its magic on you! Metallics—based on the precious metals of copper, gold, nickel, platinum, and silver—have often been paired with rich, jewel-toned colors or featured as accents. But for 2013, the scintillating alloys were featured with neons or stood completely on their own in statement pieces. Lela Rose showed ethereal gowns featuring opulent metallic patterns. The Custo Barcelona collection featured eccentric metal accents paired with bright neons and luxurious black and metallic combos. And Milly models walked the runway in futuristic silver snakeskin pencil skirts.
Wear it now: Known as the "new neutrals," metallics are simple to incorporate into any existing wardrobe. For those skeptical of pulling off the trend, try it first with an accessory. A handbag, shoes, or even a belt in pewter or rich gold will give a face-lift to a surprising number of outfits. And don't just pair your metals with neutral colors—try a fresh duo, like turquoise with gunmetal or emerald with rose gold. If you decide to take the dive headfirst into the trend and add a metallic statement piece to your closet—such as a top, skirt, or dress—darker metallics often look especially luxurious.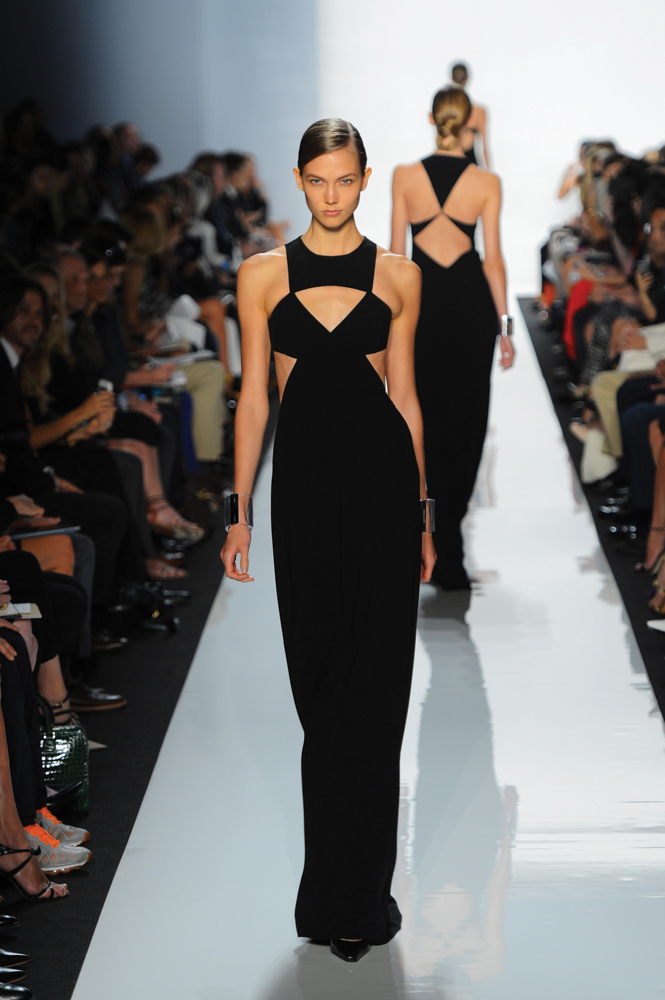 What's Black and White and Chic All Over?
Fashion's most classic color combo is back, as evidenced by the number of black-and-white ensembles that walked the runway at Lincoln Center. From Calvin Klein to Rachel Zoe to Milly by Michelle Smith, black, white, and combinations of the two were the showstoppers. The new twist on the otherwise classic trend is the use of geometric-inspired lines—Rachel Zoe featured asymmetrical tops and hemlines, Calvin Klein incorporated defined necklines, and Emerson featured a stunning chiffon frock with black intersecting lines in the center of the skirt.
Wear it now: We'd be willing to bet every closet has its fair share of black and white. Wear it from head to toe in a monochromatic fashion for a look that is très chic and super-slimming (just make sure your blacks match). Or, if you can't leave color alone, incorporate the two together with your favorite hue, as Milly designer Michelle Smith did with her black-and-white geometric-inspired skirt paired with a casual lime sweater.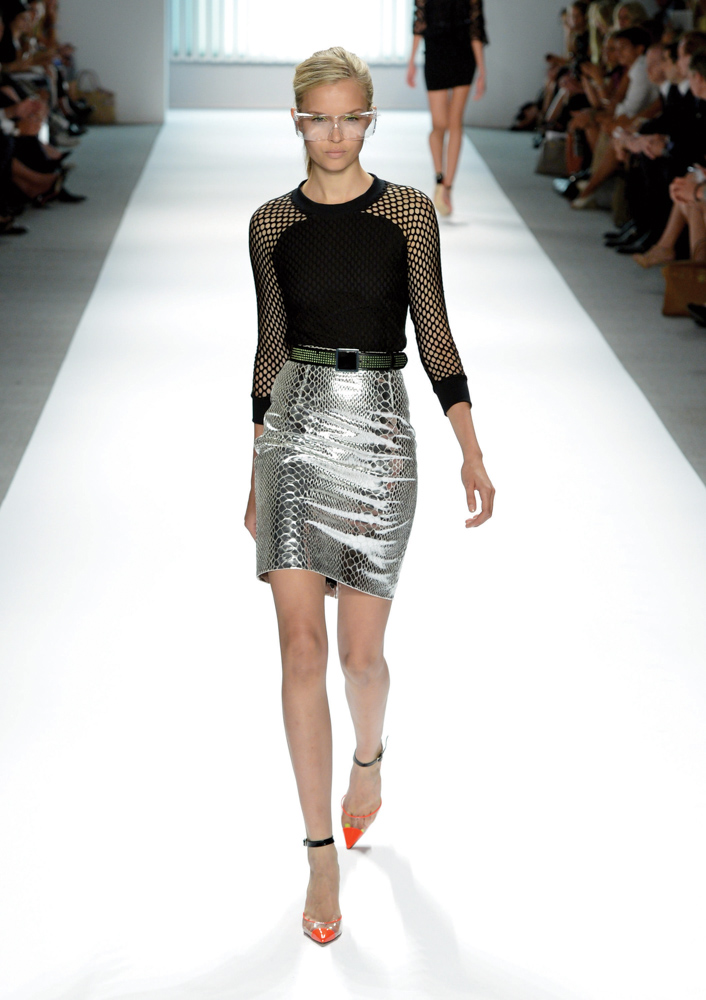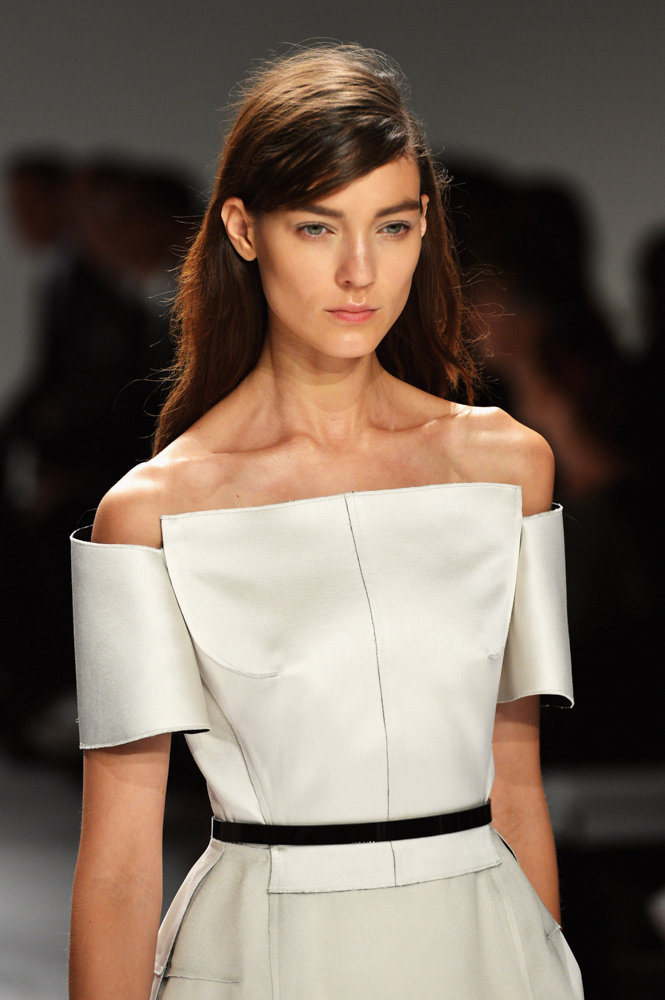 The Luxe of Downton Abbey Struts Its Stuff
One of our favorite trends at Fashion Week was the luxurious detailing popping up in the ready-to-wear lines—showing us that luxe isn't just for couture anymore. The use of exquisite detail in interesting and unexpected places will not appeal to the minimalists out there, but the fashion forward will rejoice in this lavish and indulgent trend reminiscent of the attire on PBS's hit show Downton Abbey. The glamorous details came in almost every form—from Jenny Packham and Naeem Khan's fully beaded frocks to Supima's unexpectedly sexy cutouts. Ralph Lauren showed a cocktail jacket featuring rich brocade—another new and noteworthy trend that is taking spring by storm. But the master of luxe details was notably Custo Dalmau of Custo Barcelona. The designer gave his audience everything at once—color, pattern, beadwork, and texture were all accounted for. One dazzling mini dress featured it all—lace trim, fringed cap-sleeve shoulders, and beadwork that detailed the bodice. Some may say "less is more," but it surely isn't as much fun as this extravagant new trend.
Wear it now: Luxe details aren't for the timid. However, if your tastes lean more to the minimalist, try easing into this trend by adding a ritzy accessory to an otherwise simple outfit. Studded smoking loafers with jeans and a silk blouse, a brocade blazer atop a simple sheath dress, or an arm piled high with vintage-inspired bracelets all help to define what the luxe trend is all about. For those seeking to make a bigger impact, consider adding a luxe statement piece to your wardrobe. A fully beaded tank looks chic underneath a blazer with jeans for a night on the town or tucked into a pencil skirt for a dressier affair. A cocktail jacket with intricate details—such as beading, jeweled accents, feathers, or fringe—can also be dressed up or dressed down. By adding a luxe piece that can transition across multiple looks, you'll be able to wear it repeatedly.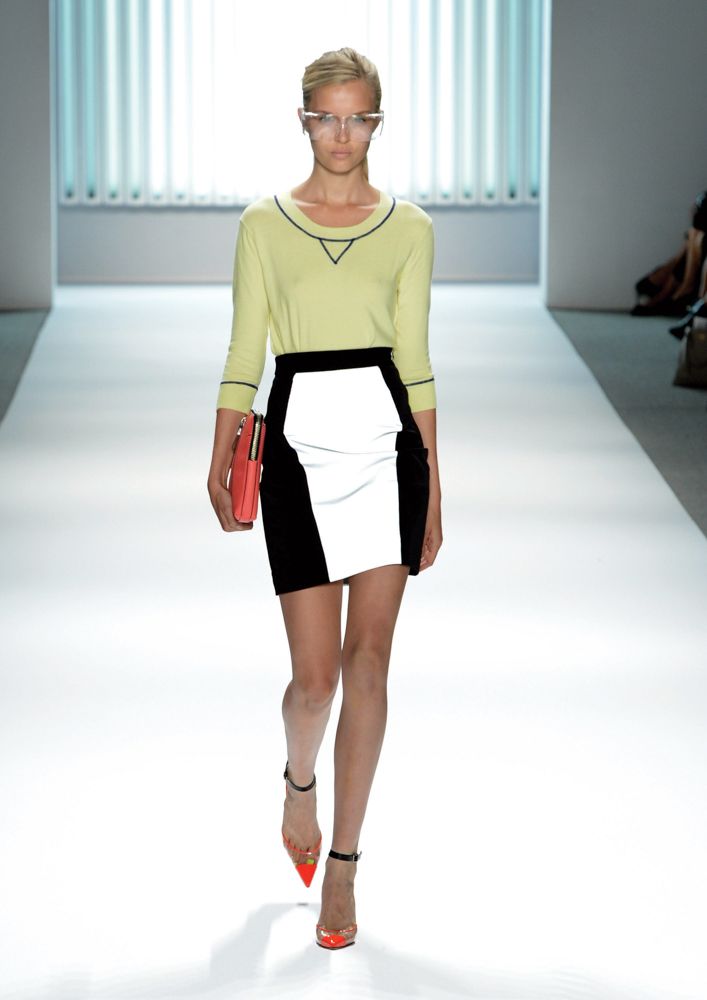 They Say the Neon Lights are Bright on Broadway
Style critics were surprised when neon hues emerged on the runaway of Mercedes-Benz Fashion Week for 2012. But more of us were surprised when the trend reemerged for 2013. From the sweeping chiffon gowns at Badgley Mischka, J. Mendel, and Diane von Furstenberg to the daintiest of details adorning blouses and hemlines as shown by Carolina Herrera and Custo Barcelona, neon elements are back for a second season.
Wear it now: This hot-hued trend is surprisingly versatile in an everyday wardrobe. Try mixing tiny neon details with an otherwise neutral palette, just as Carolina Herrera, Custo Barcelona, and Chado Ralph Rucci did with their surprising pops of neon on an otherwise understated palette. Or, make a bold statement by dressing in monochromatic neon, like the coveted maxi dresses shown by Diane von Furstenberg. Whatever suits your taste, remember to keep the variety of neon hues to a minimum—the key is to look chic, not like a cast member from Saved by the Bell.
Leather and Lace, and Everything Nice
Consider leather and lace the two hottest trends in texture for spring 2013. The abundance of feminine lace and tough leather on the Mercedes-Benz Fashion Week runway left attendees believing that you really can be sugar or spice for spring. Traditional lace accented many a runway model's attire, such as Custo Barcelona's flirty tops and the stunning magenta lace dress shown at Arise magazine's show. But it was the new laser-cut approach—the technique of cutting fabric with a laser for a modern, lace-like appearance—that dominated the runway. Laser cuts are a modern approach to a completely classic look, like Reem Acra's ladylike sheath featuring an expansive laser-cut design or Custo Barcelona's traditional khaki shorts with laser-cut details along the hem. But don't get too swept up in the sweetness of the season—leather is sticking around for spring, paired with delicate chiffon and on dainty sundresses (as in designer Jackie Fraser-Swan's spring collection for Emerson) to toughen up even the prettiest look.
Wear it now: Both leather and lace are so versatile that it's hard to nail down just a few ways to wear the trend. But, for a fresh take on the two, try making your lace edgy and your leather feminine. A lace dress (laser-cut or traditional) would be a great addition to your spring wardrobe—pair it with chunky booties, spiked bracelets, or a statement necklace to keep it from looking too demure. Or, add a leather skirt to your wardrobe—paired with a delicate chiffon tank or silk blouse, you'll be surprised at how quickly it will become one of your favorite pieces. For the perfect expression of sugar and spice, combine the two—a leather jacket in black or camel (a staple piece for any wardrobe) toughens up a cream lace dress. But be wary of faux leather—stay away from those with too much shine.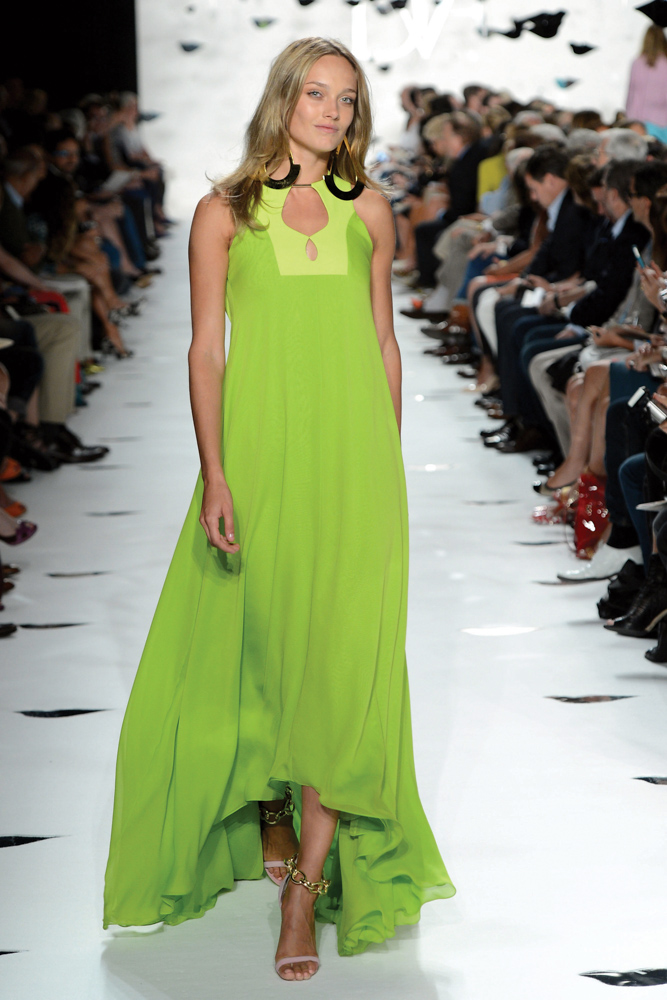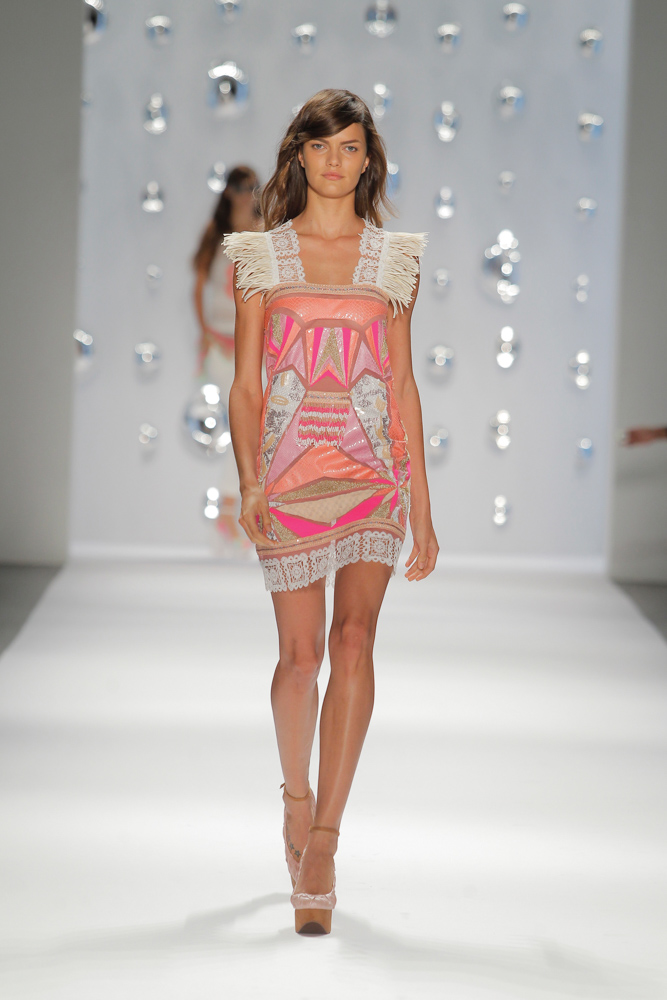 Making Statements is Haute
This season, bold screen-printed patterns and abstract designs are hot off the runway! Making a statement is easy, thanks to the designers that debuted these eye-catching trends. Nicole Miller and Rebecca Minkoff both showed original, screen print-inspired patterns reminiscent of digital designs that were entirely modern. And CZAR by Cesar Galindo, Emerson by Jackie Fraser-Swan, and Custo Barcelona used their pieces as canvases to feature bold, abstract prints in a completely artistic way.
Wear it now: Pattern can seem like a tricky trend to make work effectively. Luckily, a few simple rules for these new patterns featured on the spring 2013 runways will have you flawlessly flaunting them for all to see. First, let the patterns speak for themselves—big, bold prints should take center stage in your attire and be paired with dainty accessories. And while mixing patterns is another interesting trend recently made popular, it's difficult to effectively execute with the new screen-printed or abstract patterns. Next, know your body. If you're larger on top, wear your bold patterns on the bottom by adding a digital print skirt or cropped pant to your wardrobe. And vice versa—pear-shaped figures should stick with wearing these bold patterns in a blouse or jacket. The same rule should apply when selecting printed dresses. For athletic builds, the large, bold patterns will create interesting depth to your look. If yours is a curvier figure, stick with the smaller screen prints or digital designs that are all the rage for spring.
Of course, no matter how hot the trend from Mercedes-Benz Fashion Week Spring 2013, no look can truly be mastered without one crucial addition—confidence. So, select pieces that are uniquely you and use them to portray your distinctive style. And that is the hottest look of all.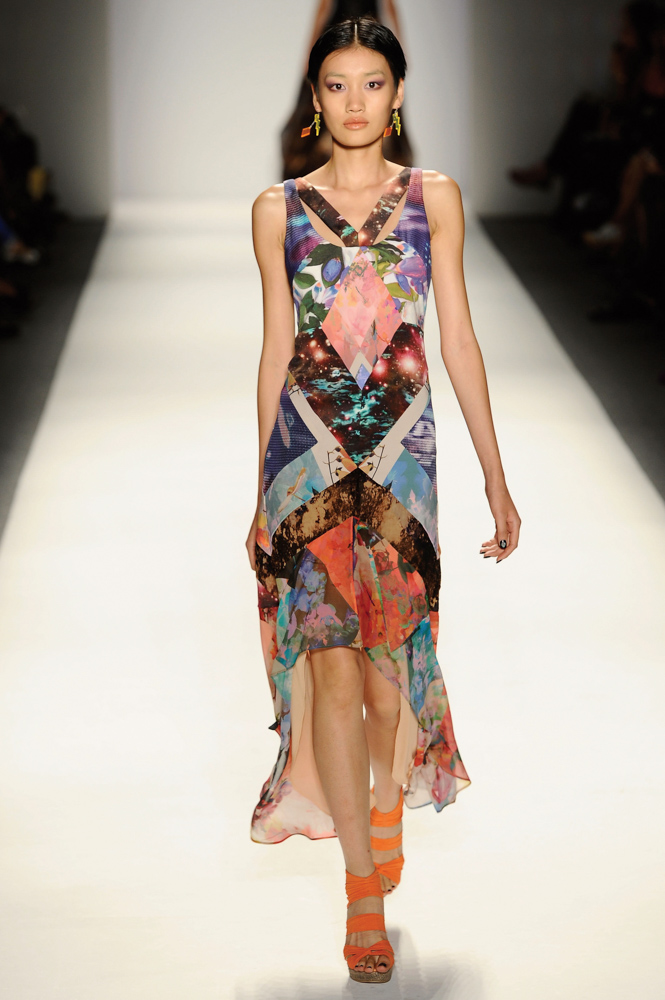 — V —
ARTICLE CATEGORIES