The Link between Humanity and Mother Nature
By Suva Ang-Mendoza | Photography courtesy of Hillary Waters Fayle
It's hard not to admire the natural beauty of Mother Nature's transition from season to season, especially from winter to spring, when frosted branches blossom into leaves and flowers. The view of green foliage and vibrantly colored petals in hues of pink, purple, yellow, and all shades of the rainbow are refreshing after months of cold, gray winter skies. That's how we feel every time we discover a new work of art by Hillary Waters Fayle.
Hillary's artwork is easily recognizable, as she combines "organic objects with the rich traditions of needlecraft," which is how she connects nature with "the human touch." She explains how the two intertwine with each other: "Both tender and ruthless, this intricate stitchwork communicates the idea that our relationship with the natural world is both tenuously fragile and infinitely complex."
Delicate botanical materials, such as leaves and seedpods, are carefully stitched together to create unique patterns, which signify that Hillary's art is handcrafted though created by nature. She uses intricate embroidery and precise lacework to elevate details; she then coats each piece with a nontoxic preservative to sustain the artwork.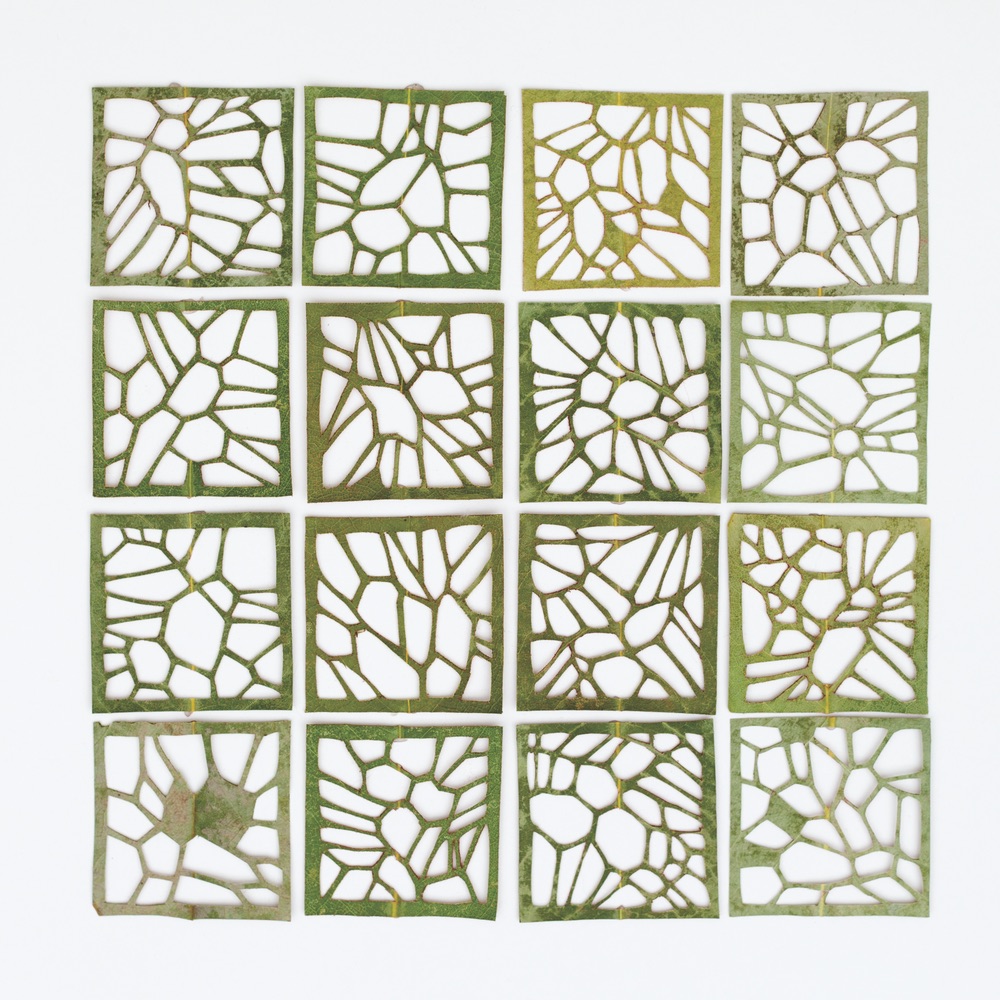 We had a chance to catch up with Hillary and get the details on her work. Here's what she had to say:
VIE: We love the idea of marrying nature and human nature through the use of stitchwork and lacework. What inspired this concept and technique for expressing your ideas?
Hillary: Honestly, I started working before I quite realized what I was doing. I began stitching and using leaves as a primary medium because I loved stitching, and I'm drawn to organic and natural materials. I've always been totally captivated by nature and the outdoors, and since I was very young, I've had a strong sense of stewardship for the natural environment.
When I thought a bit more deeply about what I was doing, the connection was pretty evident. I love the significance of implementing these age-old hand techniques into a very fragile and totally raw natural object. I feel as though what I'm doing with my art is a comparison to the way I feel about human interaction with the natural world. Working within the constraints of the natural world is completely possible and can yield beautiful results, but there needs to be an awareness and a sense of respect and understanding.
VIE: Your works are as intricate as they are stunning. Have you ever gotten discouraged while working on one of your pieces and asked yourself, "What have I gotten myself into?"
Hillary: While I have certainly had that feeling when working on a particularly challenging piece, more often that thought crosses my mind in a general sense pertaining to the life path I've chosen. It's not easy to be an artist, and it can be a real struggle to keep your head above water. I'm trying very hard to follow my heart and do what I love and what I feel is important. In order to do that, I need to work several jobs and also be in the studio as much as I can. Sometimes it feels like a very complicated way to go about life, but I don't think there is another option. When it comes down to it, this is what I want to be doing.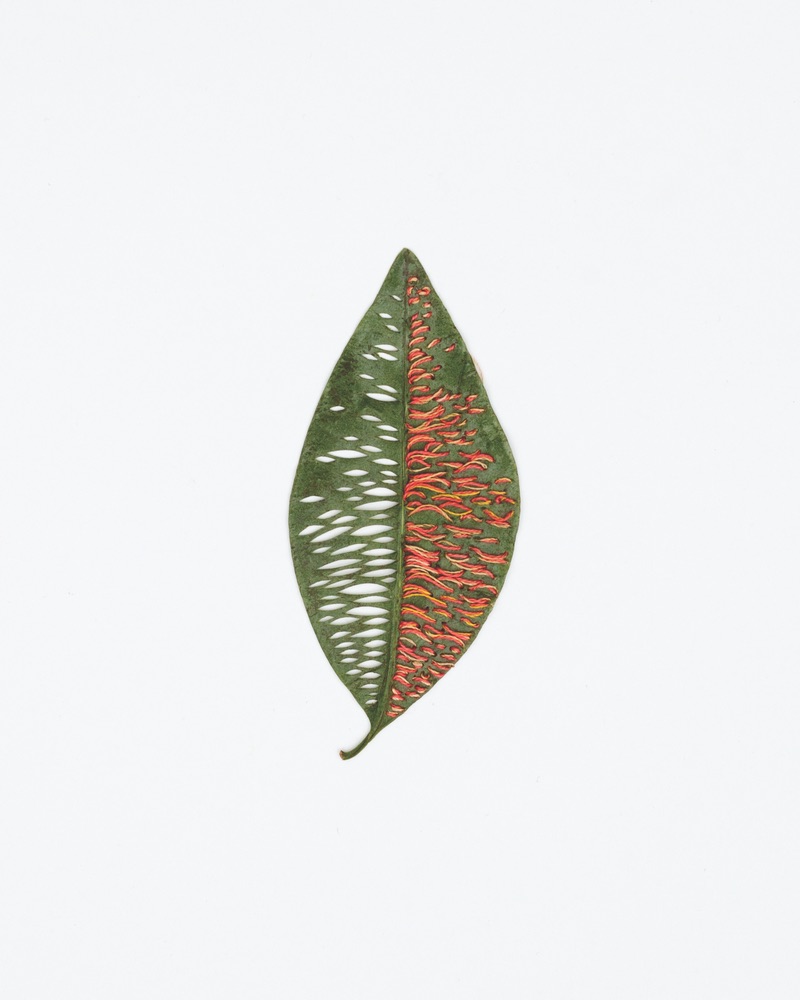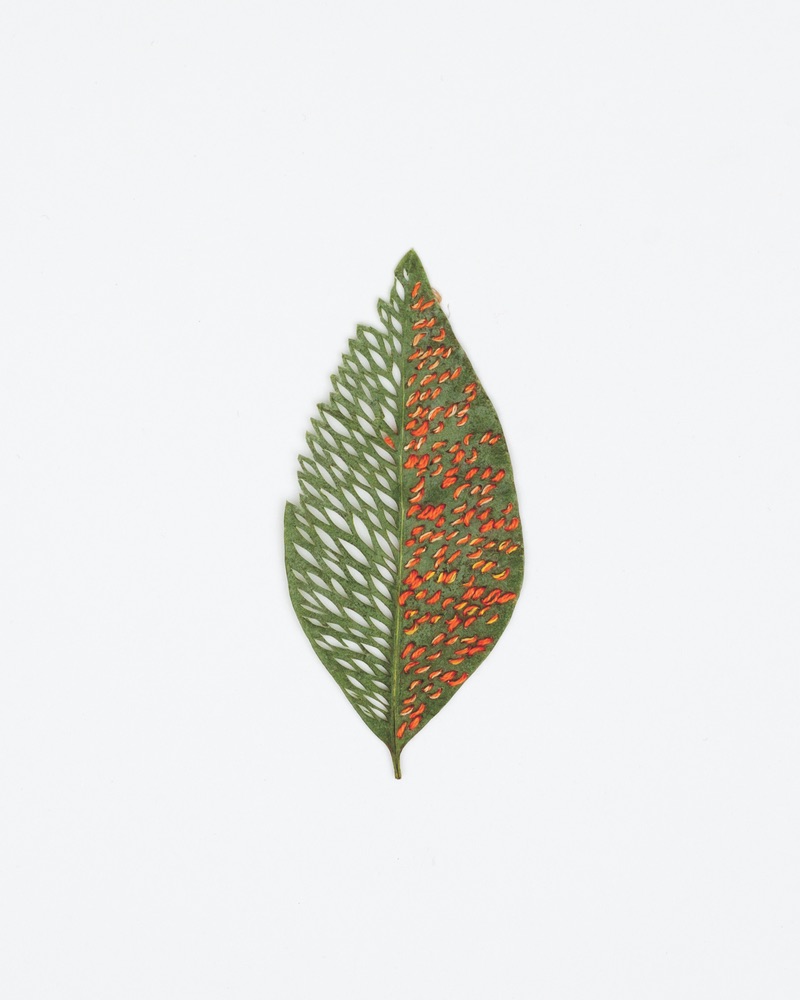 VIE: Can you walk us through the process of developing your creations? About how long does it take to complete a project?
Hillary: Everyone wants to know how long they take, which I think is an interesting question because that part of it doesn't really matter to me. I've devoted my life to pursuing this path, put myself through six years of school, and spent innumerable hours in the studio. The pieces do take a long time, but it doesn't feel that way to me. It just feels like a continuation of what I'm doing. Does that make sense? A single leaf may take a few hours, but I'm working with increasingly more leaves now, so the pieces tend to take days or weeks.
Choosing the right leaf is important. Using very fragile leaves or leaves with certain vein structures can be a real challenge, and some leaves don't hold up well at all to the piercing and the tension of the thread. At first, I experimented with adding stiffeners to the leaves to coat them and strengthen them, but I've grown more of an appreciation for the simplicity of just using a needle and thread and the leaf itself with nothing added or in between. There is a purity and honesty there that I really admire.
As far as actually stitching into leaves, of course there is a certain technique to it—an understanding, a poetry. Each leaf is unique and needs to be treated as such.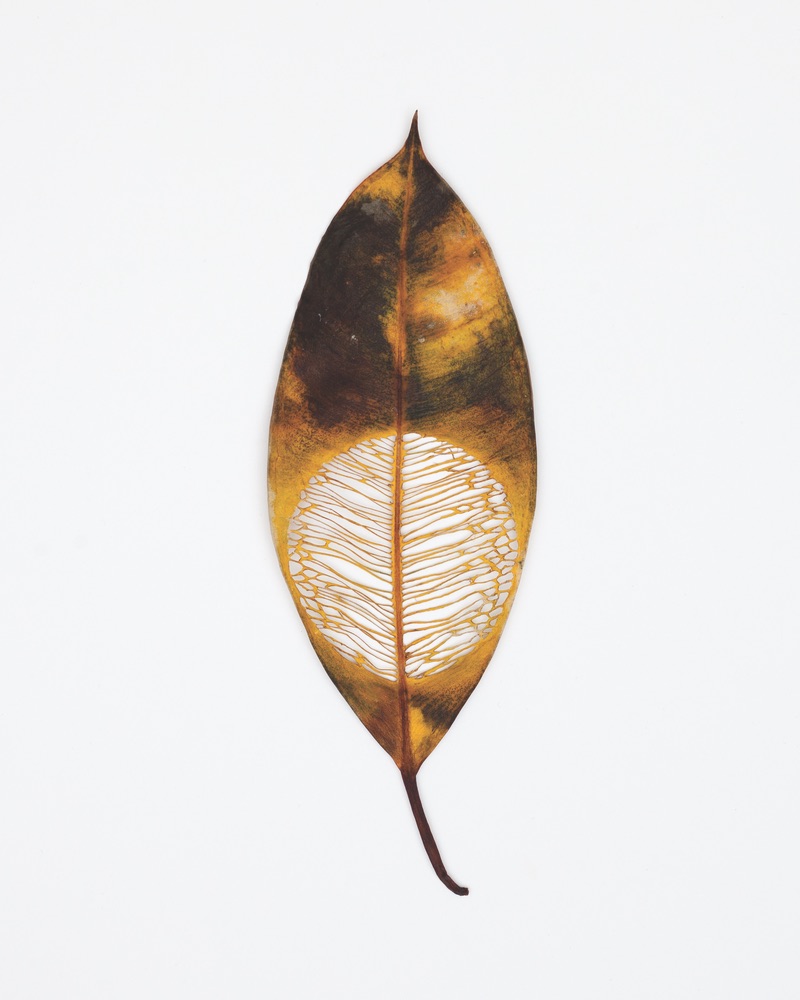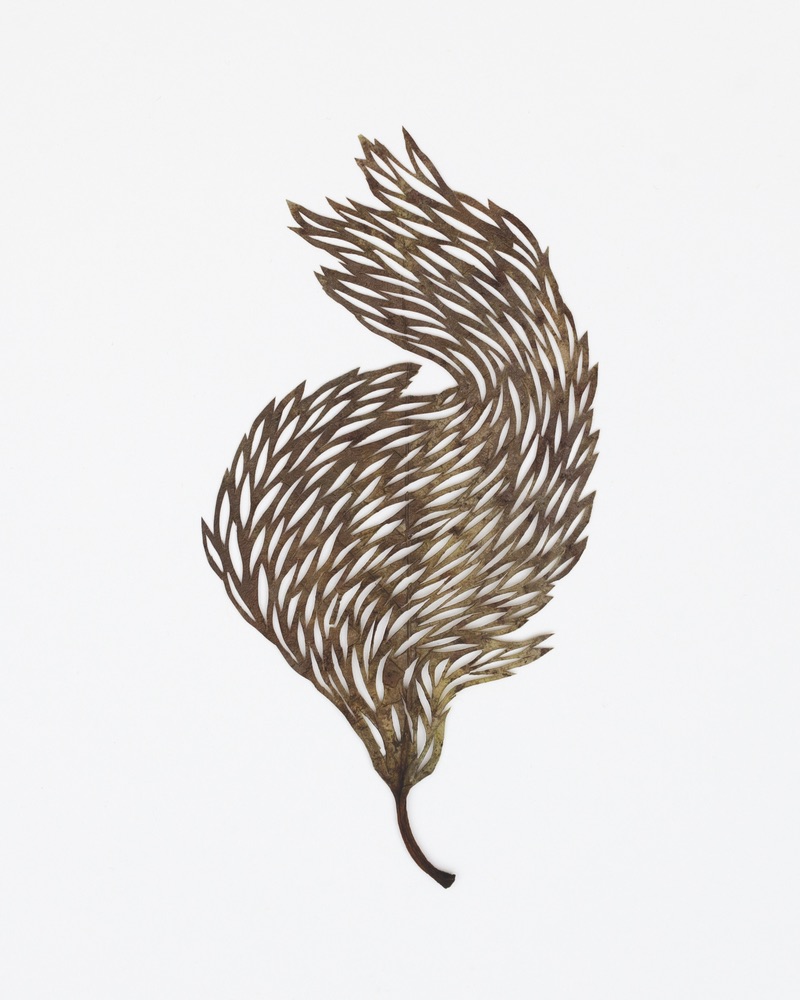 VIE: As an artist, how do you feel when you reflect on your very first pieces? Do you have a favorite project or collection?
Hillary: I look back at some of my first pieces the way I look back at myself in fifth grade—self-conscious and clumsy! I think I have an appreciation for them as a part of my process, but I don't love them or feel totally comfortable with them. They still feel awkward to me in a way that makes me not want to look at them. I don't think I have a favorite. I think there are some really meaningful pieces for me, the stitched feather, Lifted; the Lure, being one of those, but I really tend to be excited and enthralled by the newest pieces I'm working on.
There are actually a few pieces that I've made recently with no thread at all, but the leaves were supple and strong enough for me to cut away a lot of the material, and what is left is really reminiscent of thread. I love being able to really push the material like that—to be able to take a leaf, which everyone has experience with, and turn it into something remarkable and almost unbelievable.
I'm also really excited right now about these drawings I'm making by peeling feathers apart with tweezers and gluing the individual filaments—or barbs, as they're called—down onto paper. It's new for me, but really invigorating. I love having more than one thing happening at once. That's when I'm the happiest and most productive in the studio.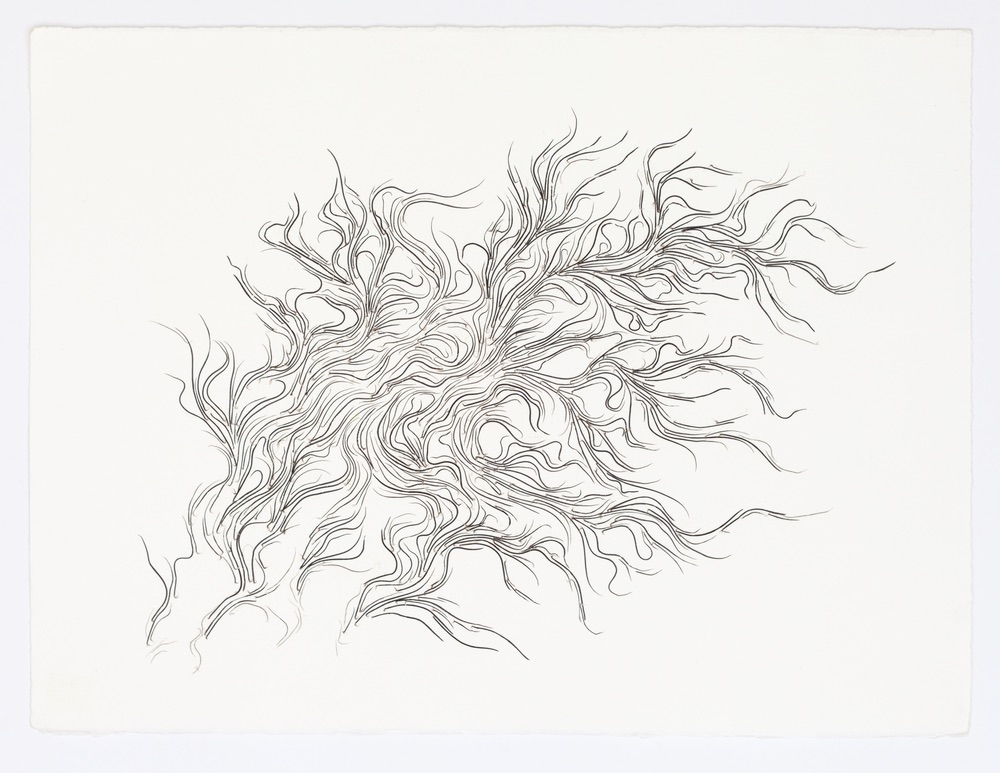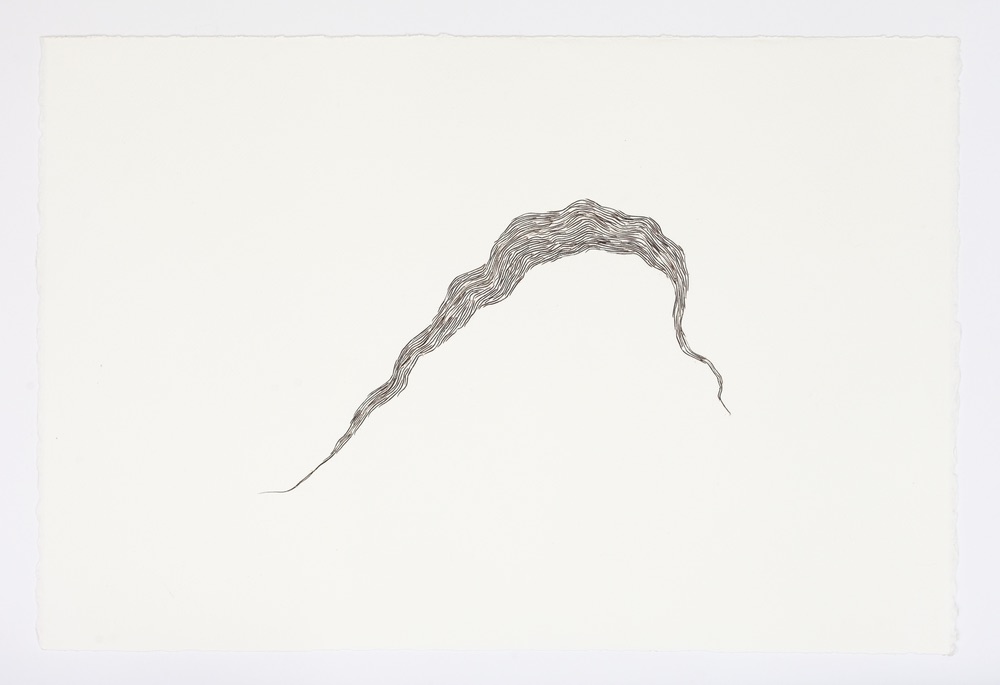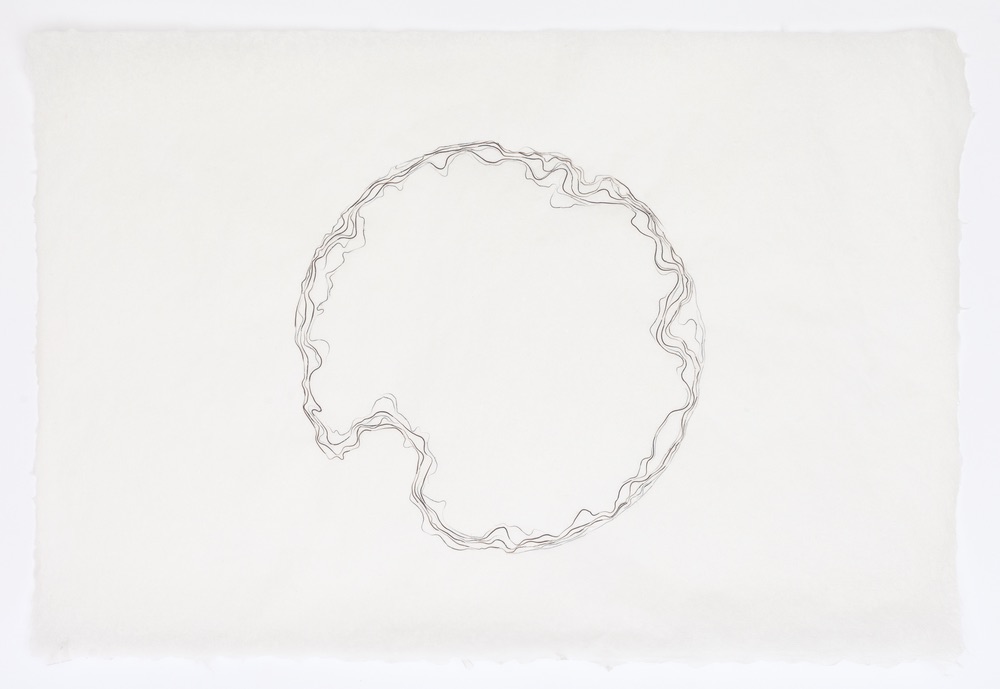 VIE: Let's talk about your Lifted; the Lure collection, in which you always utilize feathers in some sort of pattern. It's stimulating and interesting to look at. Can you describe the collection and what inspired the pieces from it?
Hillary: I've always collected feathers. They are such beautiful and fascinating objects. Sometimes I actually forget that they are part of a bird. They become singular in a way, and they exist in my mind as something other than as a bird part, which was kind of interesting to me. I think that's where I was coming from when I decided to peel them apart and push them even further away from what they started as. I'm really interested in the transformation that they undergo.
Working with specific feathers has become increasingly important as well. It is said that when you see a cardinal, it's a greeting from someone who has passed away. I'm not sure I really believe this, but it's comforting, and I like to think about it. It seems pertinent that I've recently lost some very special people and that I've found two dead male cardinals within three months of each other. It feels serendipitous, in a way. I've been a lifelong bird-watcher, and I had never once seen a dead cardinal, so now to find two of them feels incredibly meaningful.
I'm working on a big piece right now, trying to use all the feathers from one whole cardinal. Each feather is making a loose circle. Some of them return to their start, some don't reach, and some of their ends flow into different beginnings. The lines cross each other, undulating between light pink, vermillion, and deep rust. This piece for me is a meditation on the cyclical nature of our lives—beginning and ending, losing and finding, departing and returning.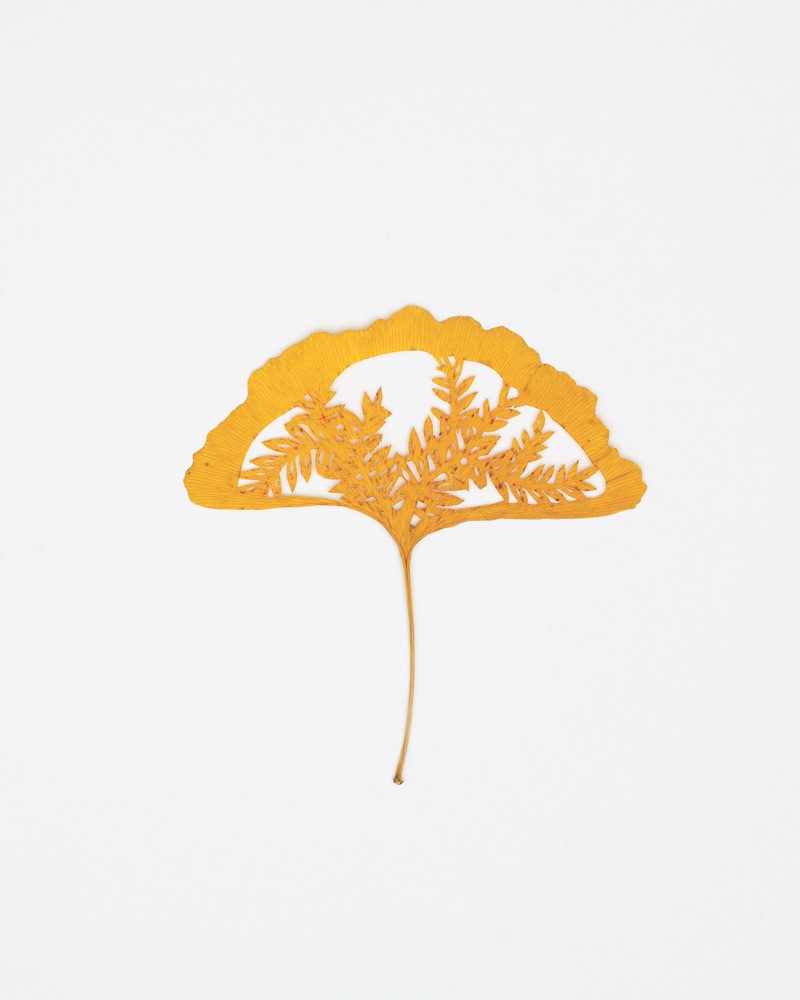 VIE: What has been your proudest moment as an artist, and what do you look forward to in the near future?
Hillary: I've been lucky to have had some really great feedback from some artists and people whose opinions I really respect. That felt really amazing and affirming. I have also been featured on some of the websites that I often look to for inspiration. When that happened, I felt really proud. It felt really good to be included in a group that I've always admired. I've been working really hard this year, and I'll be trying to show as much as I can in the near future. I'm really excited about all the work I've been doing, and I really want to get it out into the world.
— V —
---
Inspired by Hillary's work? Visit www.HillaryWFayle.com and follow her on Instagram @hillary.waters to see more!
ARTICLE CATEGORIES