The Essence of Life
One of the simple pleasures in life is enjoying a fluffy, delicious slice of cake! Whether it's a birthday, a special occasion, or just a weekend when you want to test your skills in the kitchen, baking a cake from scratch will make you—and your family or guests—oh so happy. Elisabeth Farris, the mind and the smile behind popular recipe blog Elisabeth & Butter, kindly shared this beautiful fresh strawberry cake recipe with us, and we can't wait to try it. See the next page so you can too!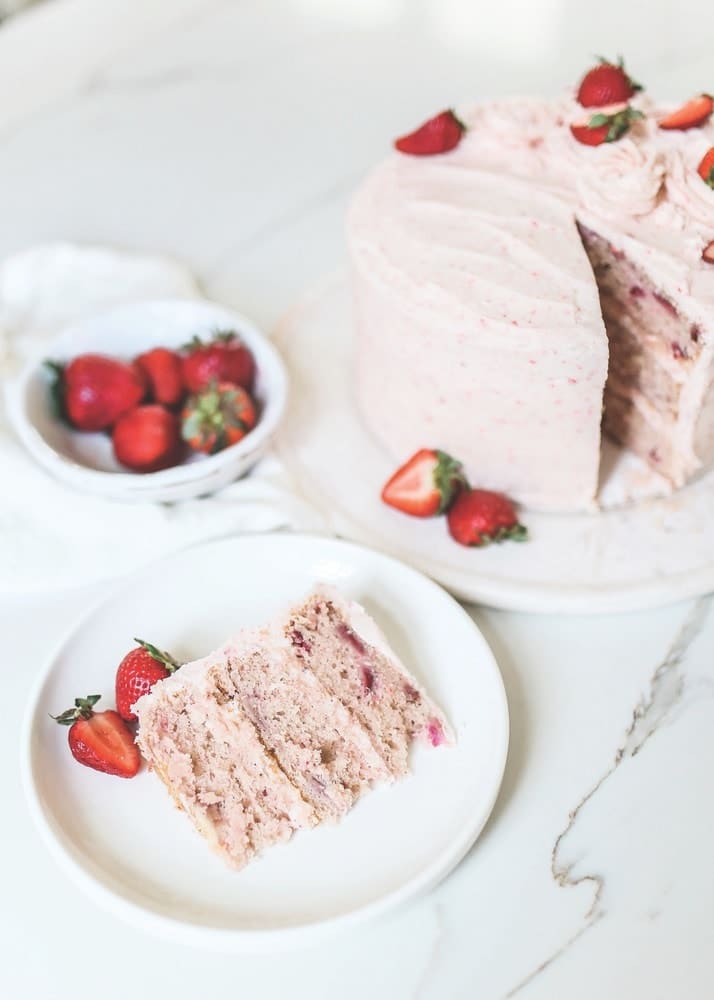 Fresh Strawberry Cake with Strawberry Cream Cheese Frosting
YIELD: 3-LAYER, 8-INCH CAKE
Ingredients
For the Cake
1 1/2 cups salted butter (3 sticks), softened to room temperature
2 1/4 cups sugar
4 egg whites, room temperature
1 teaspoon vanilla extract
3 cups all-purpose flour
1/4 teaspoon baking soda
2 3/4 teaspoons baking powder
1 cup whole milk, room temperature
1/2 cup strawberry puree*
For the Frosting
2 sticks salted butter, softened to room temperature
1 (8-ounce) package cream cheese, softened to room temperature
2 pounds confectioners' sugar
1 teaspoon vanilla extract
1/2 cup ground freeze-dried strawberries**
Heavy cream, as needed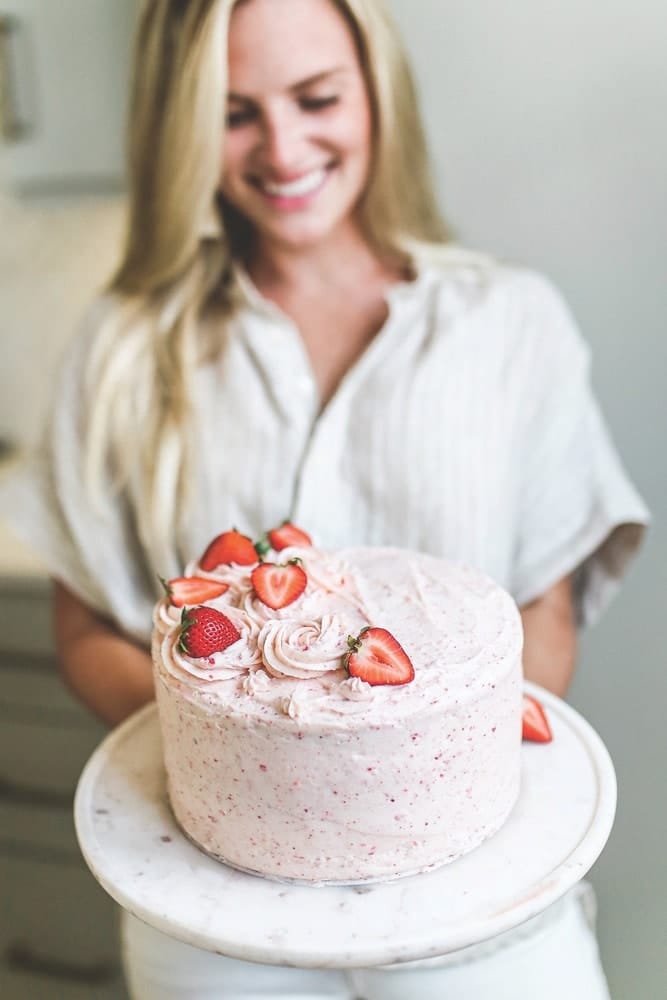 Directions
For the Cake
Preheat oven to 350°F. Grease and flour three eight-inch cake pans. Elisabeth greases them with shortening and then dusts the pans with flour all around.
In a mixing bowl fitted with a paddle attachment, cream butter and sugar together for two minutes. The butter will be light and fluffy. Scrape down the sides of the bowl. Add egg whites and vanilla and beat for one minute—no more, or your egg whites will change the consistency of the batter.
In a medium-size bowl, whisk together the flour, baking soda, and baking powder.
In a blender or food processor, puree fresh strawberries* until smooth and until you have 1/2 cup (Elisabeth used a pint of strawberries and cut the stems off and hulled them). Add this to a liquid measuring cup with the milk. Add about one third of the flour mixture to the butter mixture and beat until incorporated, then scrape down the sides of the bowl. Add about half of the milk/strawberry puree to the batter and beat until incorporated, then scrape down the sides of the bowl. Continue alternating the flour and milk, ending with the flour mixture. Do not overmix.
Divide the batter into the three greased pans and bake for 20 to 30 minutes, or until lightly browned and a toothpick comes out clean. Cool in pans for 10 minutes and then on a cooling rack until completely cooled. After they cool completely, wrap the cakes in plastic wrap and freeze for a few hours, overnight, or even weeks in advance. Freezing your layers allows for easier assembly.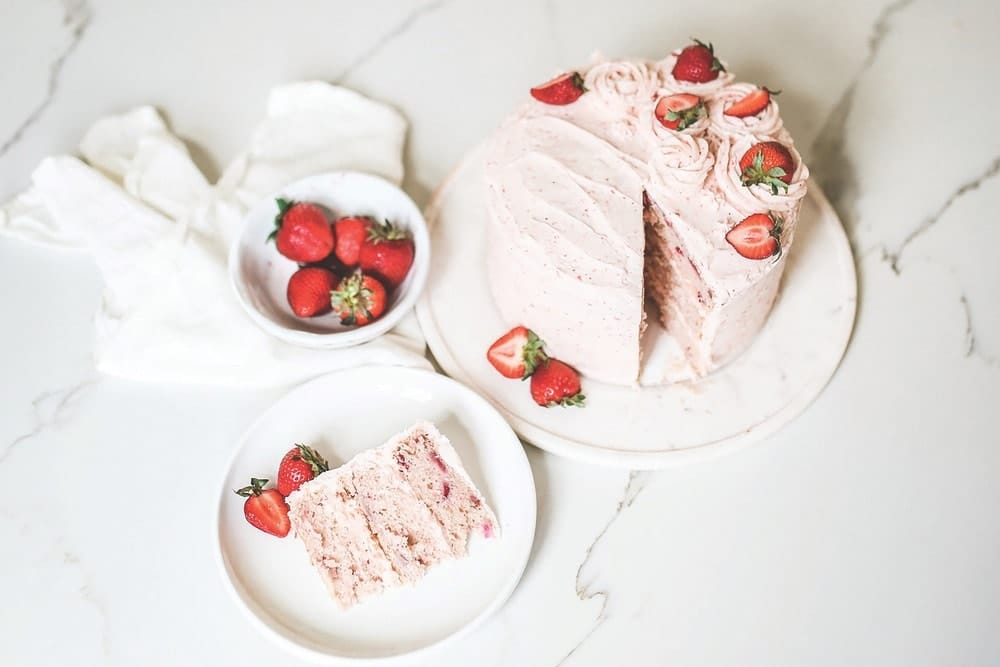 For the Frosting
In a food processor or blender, grind 1 cup freeze-dried strawberries until you have a half cup of ground strawberries.** In a mixing bowl, cream the softened butter and cream cheese on medium-high speed for about three minutes, making it light and fluffy. Add vanilla extract and mix until combined.
Slowly add the confectioners' sugar and freeze-dried strawberries and then beat it on medium speed for two to three minutes, or until light, fluffy, and creamy. If it's too thick, add one tablespoon of heavy cream.
Frost the cake and top with strawberries!
Tip: Elisabeth uses large and small star tips to make the frosting roses for the top of the cake.
— V —
ARTICLE CATEGORIES