A Retreat for the Soul
By Abigail Ryan | 
Photos by Logan Simmons Photography
Do you remember childhood dreams of having the most incredible treehouse in your backyard? Well, Seth Bolt of the American rock band Needtobreathe and his wife, Tori, have reimagined these visions to help each of their guests channel their inner child. But the twist is that they've pulled up the metaphorical rope ladder, because no children are allowed at Bolt Farm Luxury Treehouse and Retreat.
Born and raised in Walhalla, South Carolina, Seth helped his father, Larry Bolt, transform a fraction of their forty-acre farm into a magical treetop escape—The Majestic Treehouse—to celebrate Seth and Tori's marriage in 2016. Seth wanted to create an inspiring place where he and others could escape the busyness of everyday life and rest, relax, and reconnect in nature. "When we realized how magical the experience is and how good it is for the soul, we decided to open it to the public," says Seth. "We hoped that other busy people would welcome the invitation to turn off their cell phones and clear their schedules to unlock the magic of distraction-free quality time. We had no idea how many people were craving this type of soul-lifting experience that is 100 percent offline and 100 percent real."
Seth and Tori live in Charleston, South Carolina, while Seth's parents manage The Majestic Treehouse in Walhalla. They still rent the property to visitors from near and far who require a little R and R. Shortly after starting their married life together in Charleston, Seth and Tori acquired a thirty-acre piece of property perfect for expanding Bolt Farm Treehouse to a second location. They now have five treehouses between Walhalla and Charleston.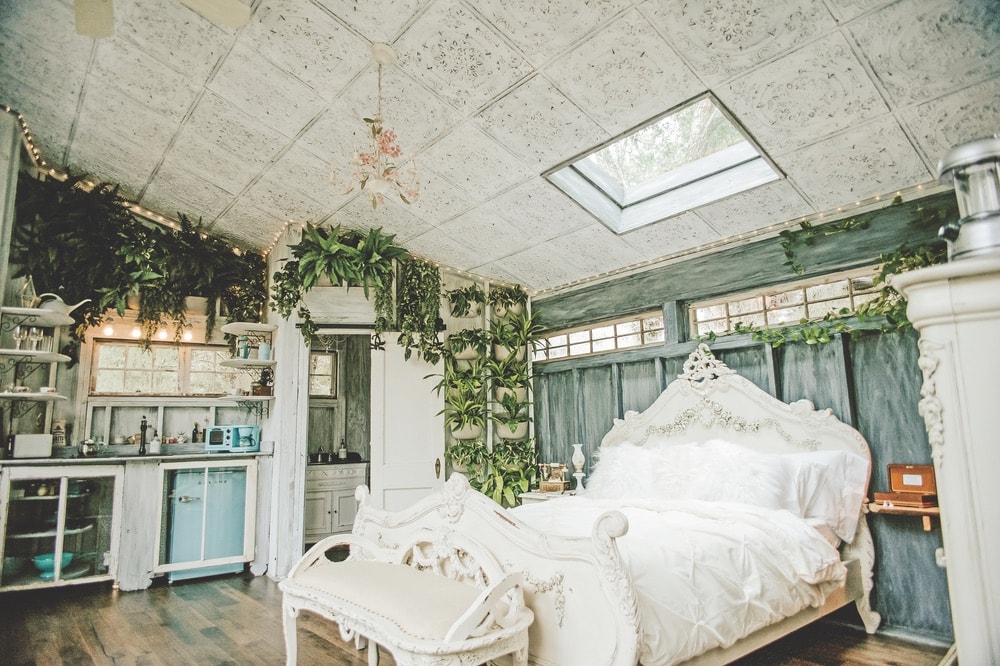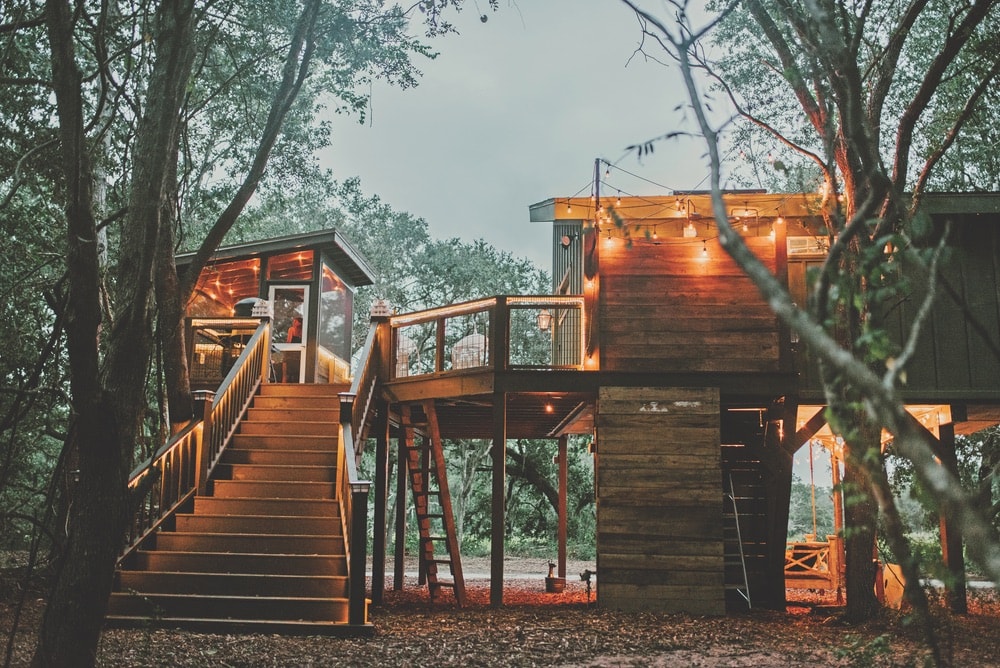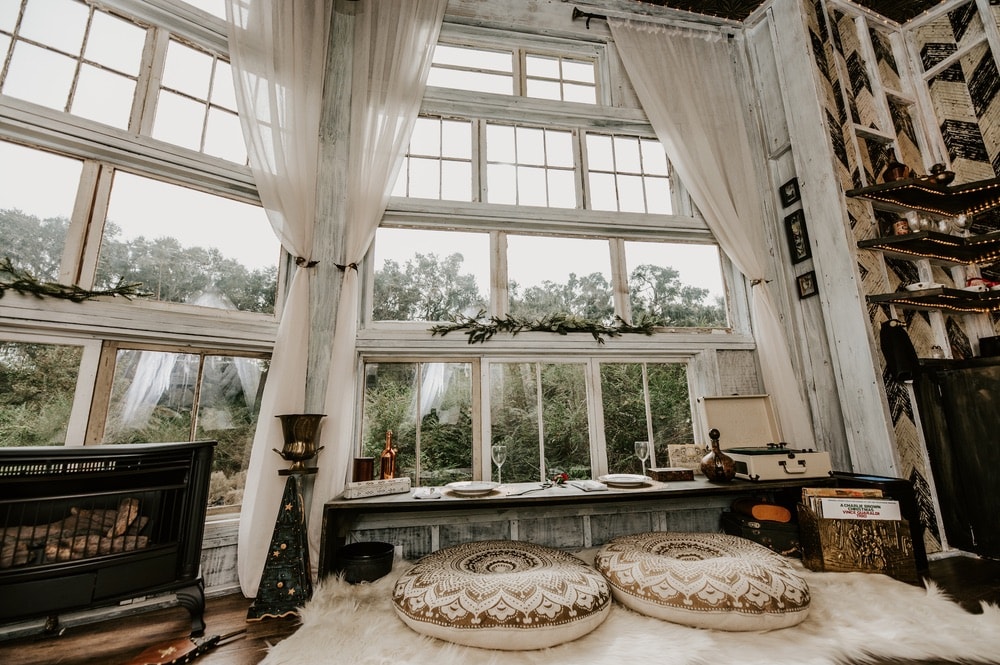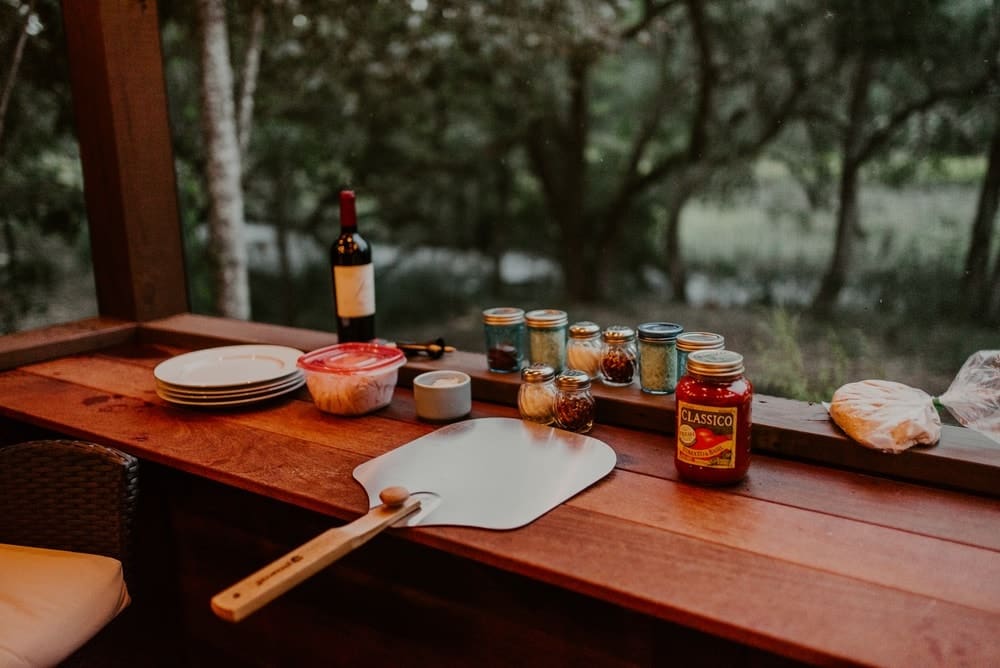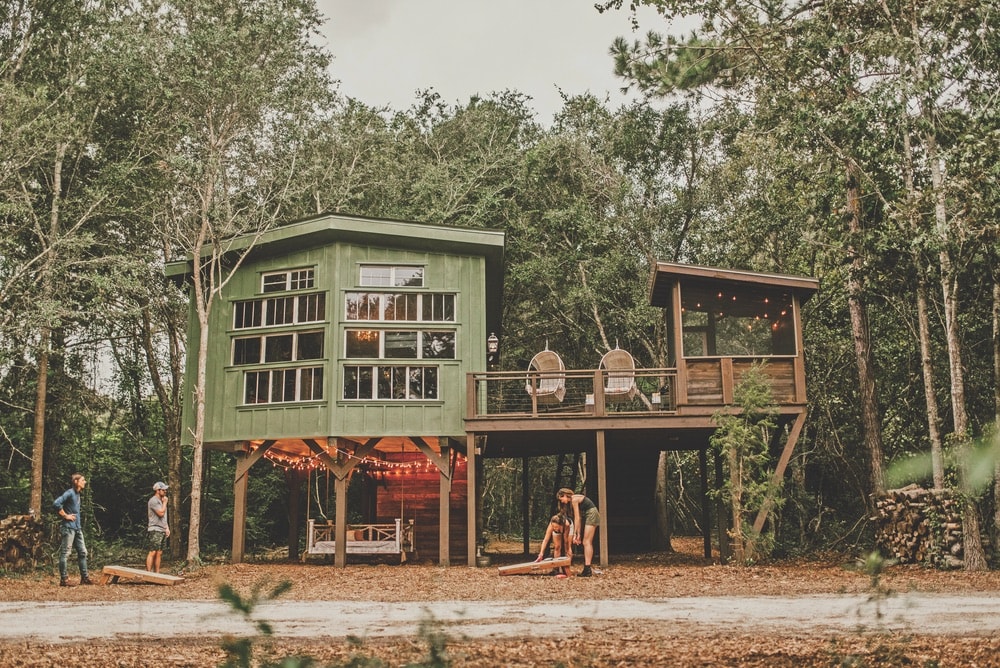 With a passion for creating unforgettable experiences and curating unique spaces, the Bolt family's mission behind their treehouses is simple: to reconnect with nature, reconnect with family, and reconnect with your purpose. They are always looking for new places to build as well. "We know we want more people to experience what we've created and that it's wildly popular and effective," says Tori.
The Living Room Treehouse has my favorite view! You wake up to a gentle sunrise shining through the antique window wall over the tidal creek.
Part of the success is undoubtedly thanks to the magnificent design of the treehouses. "We work, dream up ideas, and do antique shopping together, but most of the ideas are from Seth's creative, artistic mind," Tori admits. "We worked with architect Eric Haas of DeWitt + Haas Design Group to formalize our designs for the build. Seth and I pulled inspiration for some of our designs from our travels—specifically from some of our favorite places, such as Tulum, Italy, and Nashville. One overarching goal was to have something unique and stimulating in every area of the treehouses by using lots of layers, textures, and patterns. We wanted it to feel like you're stepping into a time capsule, so the treehouses are full of antiques—a record player, a manual coffee grinder, a rotary phone—and they are free from technology. The real star is nature, which is why at our Charleston location we have the two-story antique window wall opening up to the view of the mossy oak trees and the tidal creek."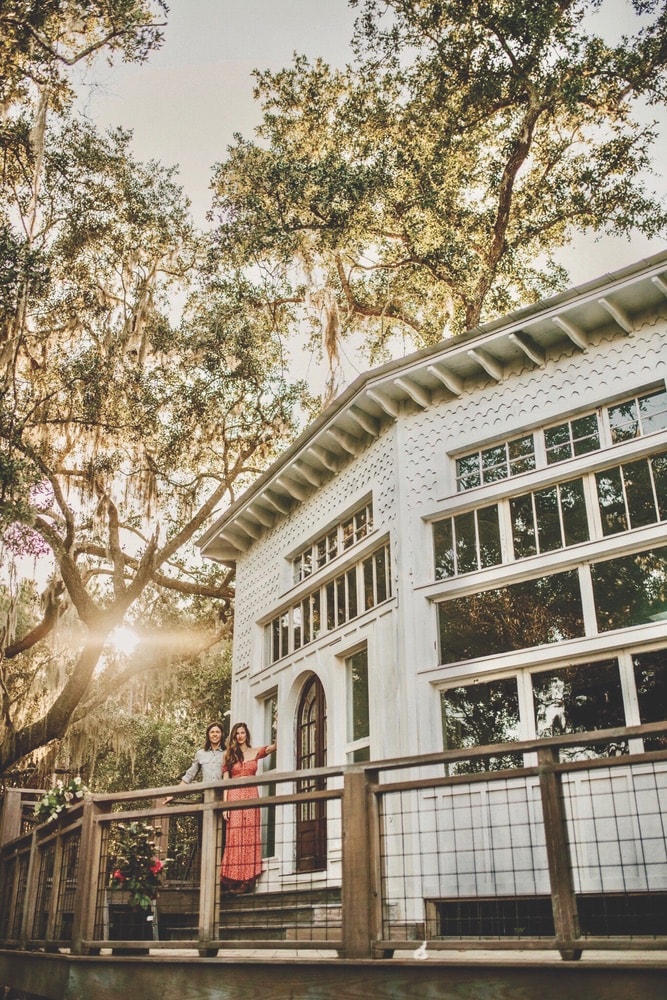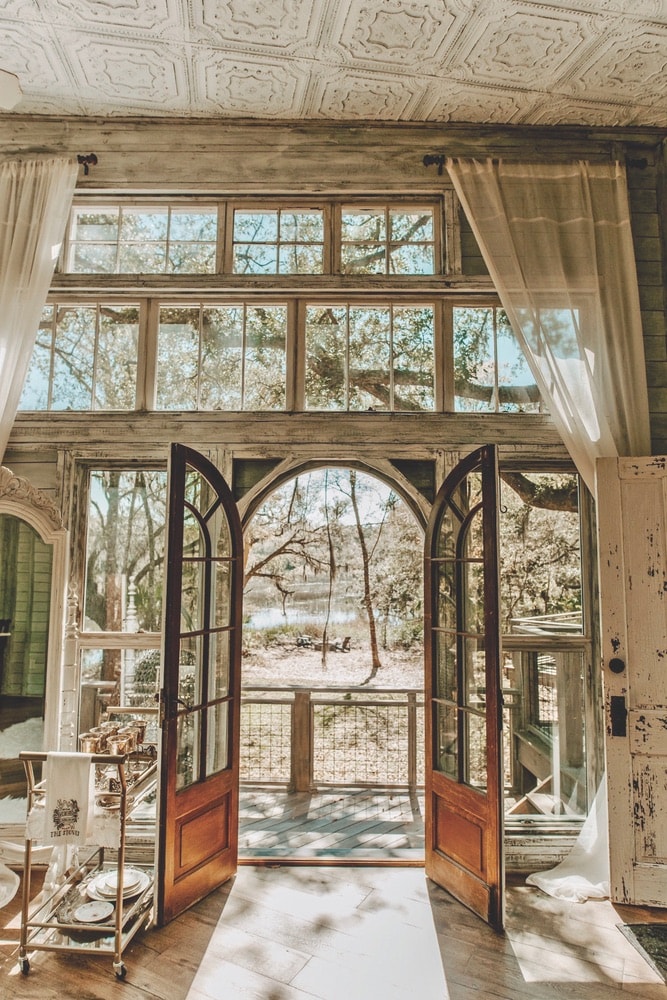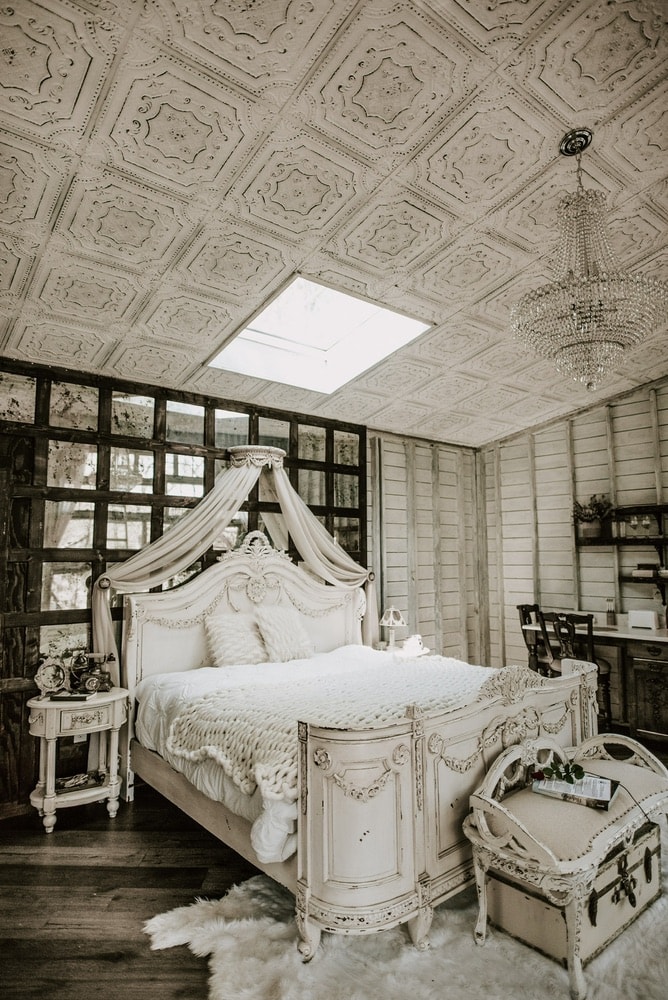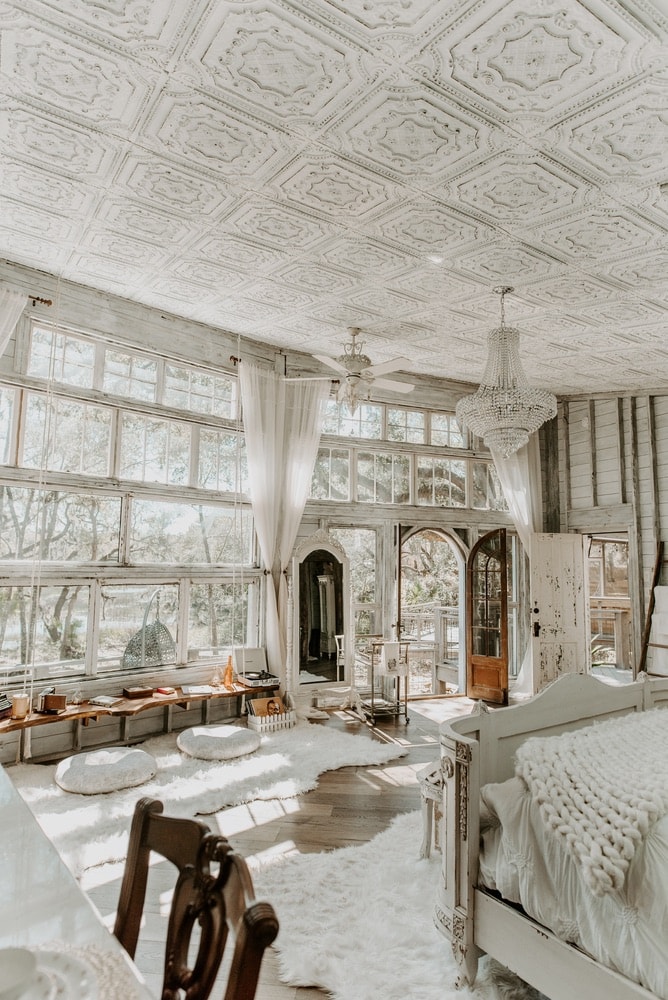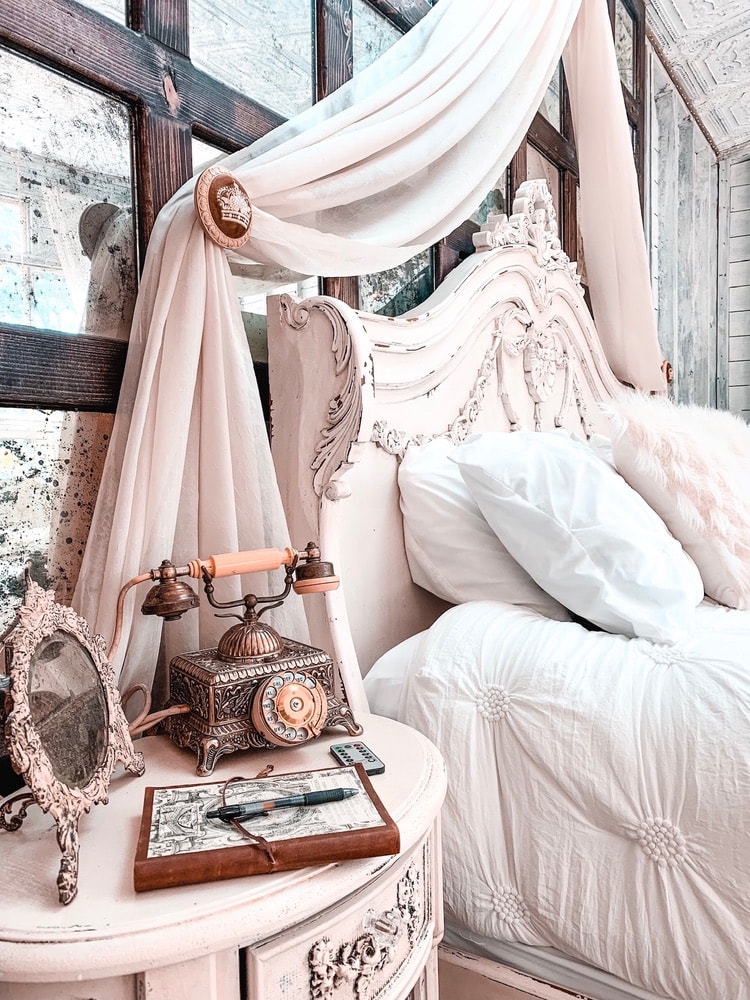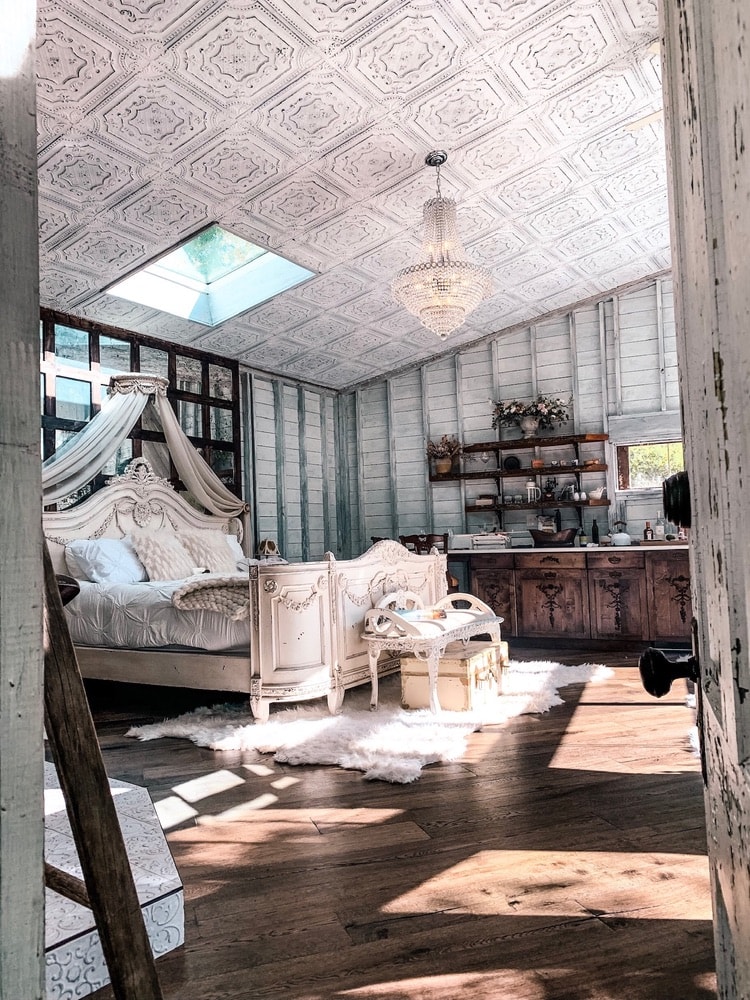 Before they start designing and building, the Bolts observe each location carefully and envision where everything will be. "It's a supernatural experience for us," says Tori. "We chose the placements of the windows based on the views they would give and what trees they could showcase. In the early days, it was mostly just me, Seth, a tape measure, and a stepladder doing the planning. It was really special. Now that construction is complete and we've had the honor of hosting guests, my favorite thing is reading the treehouse guest book, which reads more like a journal, and hearing about the impact and life changes people experience while they're here. It's something we can't even take credit for; I believe it's the peace of God they experience when they take a few days at our nature retreat to slow down and recenter."
"The idea of The Honeymoon Treehouse is that it's a place to celebrate life and love, and it makes you feel like you're on your honeymoon even if you're not."
Tori says it's impossible for her to choose a favorite among the five treehouse designs because each is unique. "The Majestic Treehouse will always have a special place in my heart because it's where Seth and I were married and where we honeymooned. Plus, the suspension bridge and two-story deck are magical," she says. "The Wildflower Treehouse is my favorite in terms of interior design; everything is black, white, or antique brass, and the design feels very rock and roll meets bohemian. The Living Room Treehouse has my favorite view! You wake up to a gentle sunrise shining through the antique window wall over the tidal creek. It's called the Living Room because it's filled with life-giving things, including two 'living walls' full of plants. The Honeymoon Treehouse feels like a little palace in the trees. It has my favorite luxury amenities, including an oversized hammered-copper tub for two and a hot tub outside on the deck. Last, but not least, is The Charleston Treehouse. I love that it pays tribute to historic Charleston and some of its iconic features. This treehouse has seven flower boxes, four gas lamps, vintage shutters, and a mural of the famous Rainbow Row painted above the hanging bed."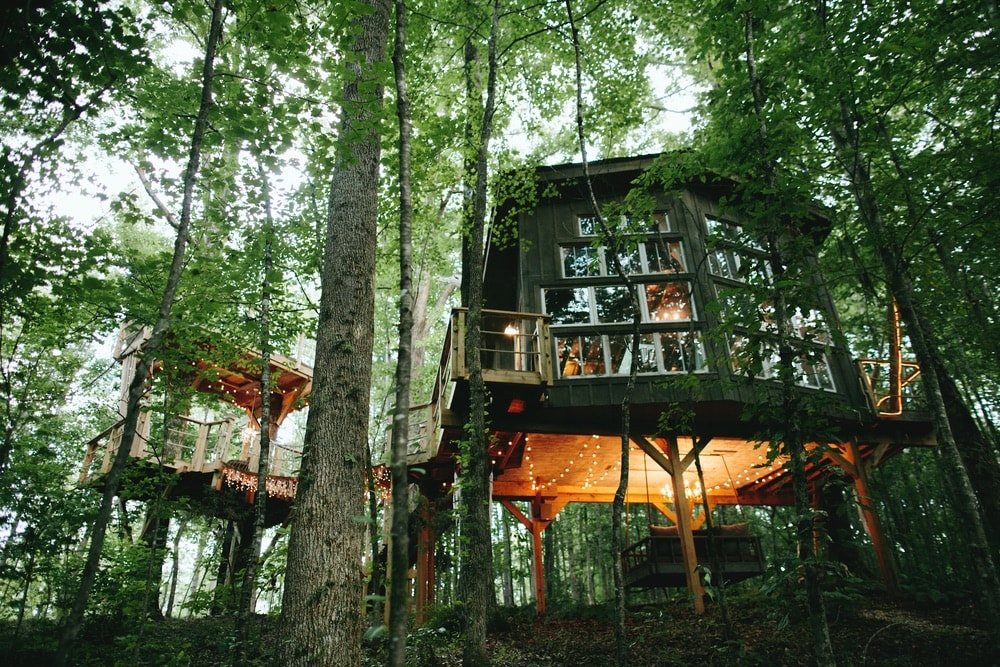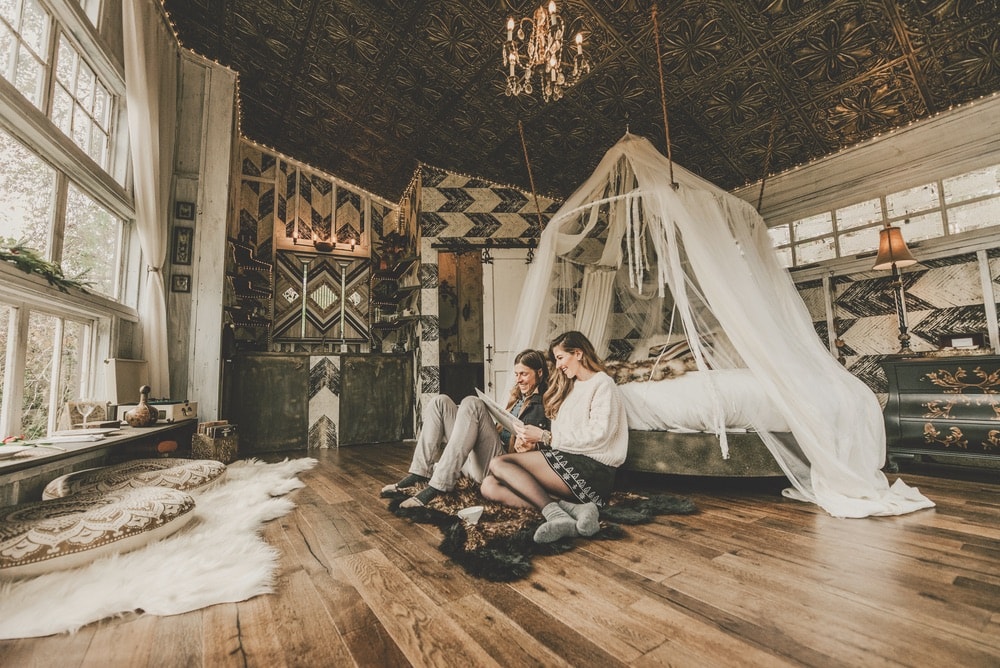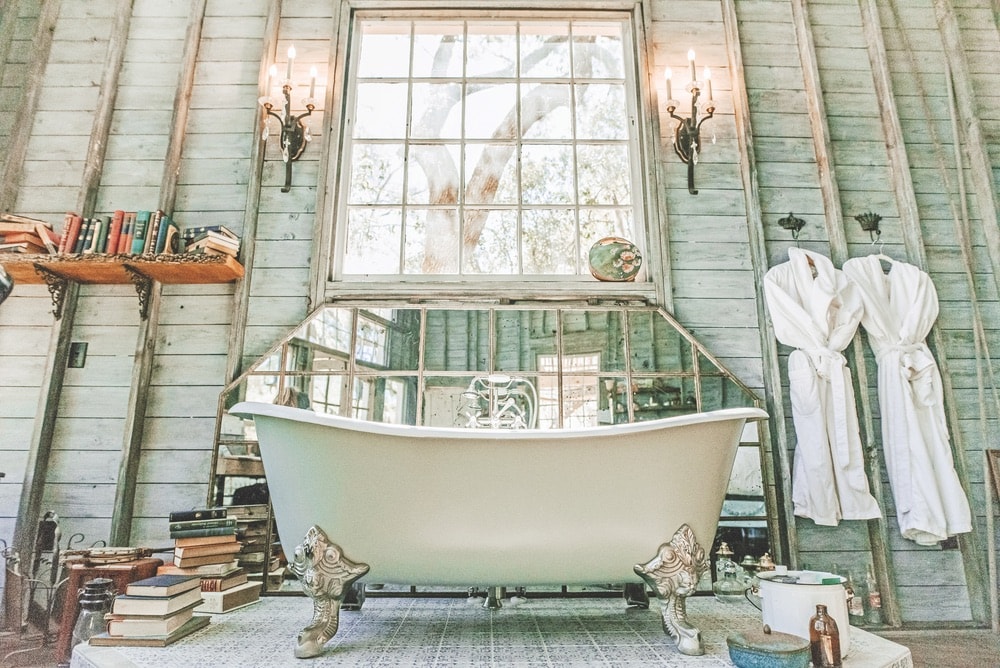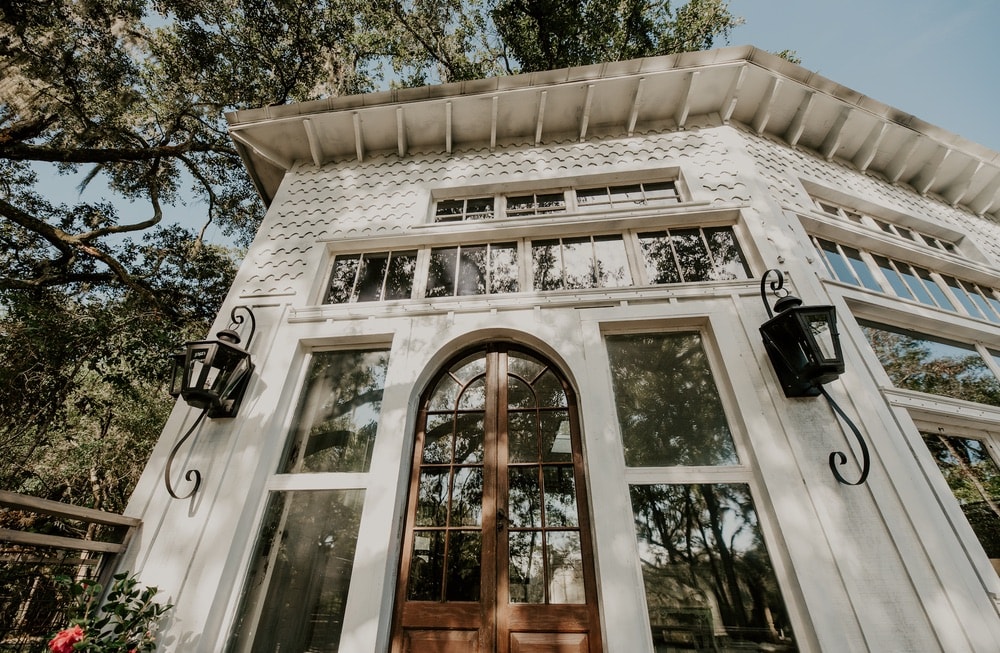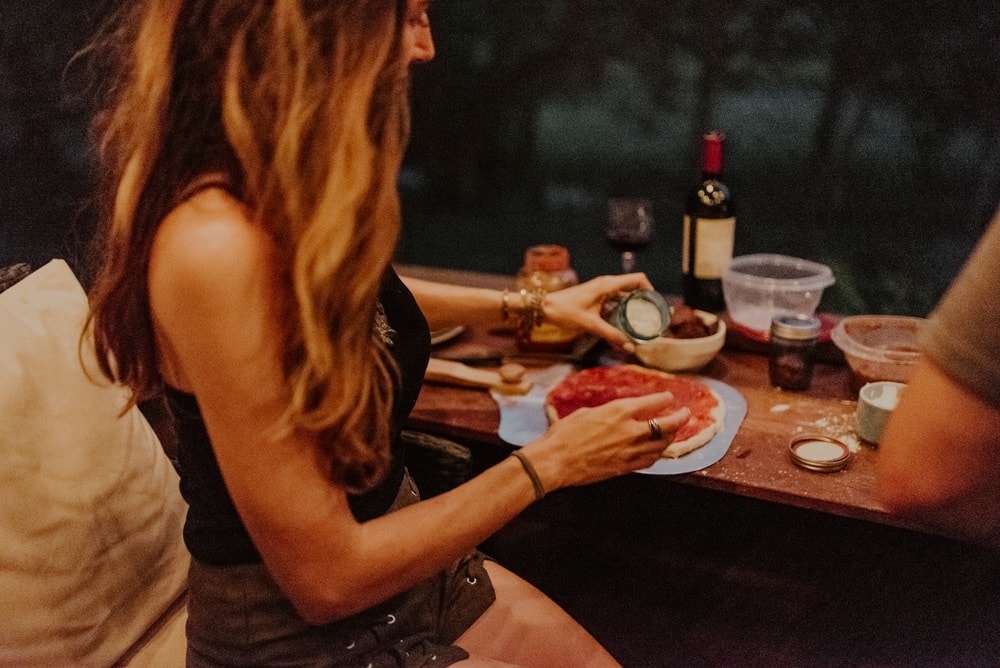 Many of Bolt Farm's guests have traveled from afar to celebrate personal milestones, such as honeymoons, anniversaries, and birthdays; however, it is not just a place for special occasions. "We also have had mother-daughter trips, girlfriend getaways, solo travelers coming for inspiration or processing, writers coming to get clarity—you name it," adds Tori. "The idea of The Honeymoon Treehouse is that it's a place to celebrate life and love, and it makes you feel like you're on your honeymoon even if you're not. We've had couples tell us that a few nights here added twenty-five years to their marriage."
No matter the occasion, it's clear that Bolt Farm's unique treehouse escapes are good for the soul.
— V —
---
Due to the popularity and high demand for these treehouse retreats, Bolt Farm Treehouse has implemented a Treehouse Release Day on the fifteenth of every month beginning at noon eastern standard time, when they release a block of dates for guests to book their reservations. To learn more or to join their waiting list, visit BoltFarmTreehouse.com, and follow them on Instagram @boltfarmtreehouse to stay up to date on giveaways and more.
ARTICLE CATEGORIES