By Phil McDonald | Photography by Romona Robbins
I love New York City. It is a city unlike any other, and it's also where I was lucky enough to marry my wife nearly eight years ago. New York City is said to be a fashion mecca, but from my perspective as a chef and devout food nerd, the same can be said about its culinary scene. I have the bragging rights of being married to a VIE cover model and thus was fortunate to receive a gracious invite in February to join the VIE crew for a four-day escapade to NYC. Priority on the staff's jam-packed schedule was to cover the highly anticipated Mercedes-Benz Fashion Week. Priority on my agenda was to explore and document culinary adventures as we trekked through Manhattan and Brooklyn.
When going to NYC with noshing at the hottest spots in mind, it's best to have a battle plan. With the overwhelming number of choices, it's never a good idea to roam the streets aimlessly while your blood sugar crashes. I asked the help of a chef and friend from Jean Georges, a Michelin three-star restaurant that I staged at a couple years ago, and he was happy to suggest a few obscure but good spots. With our dining itinerary outlined, all I had to do was pack.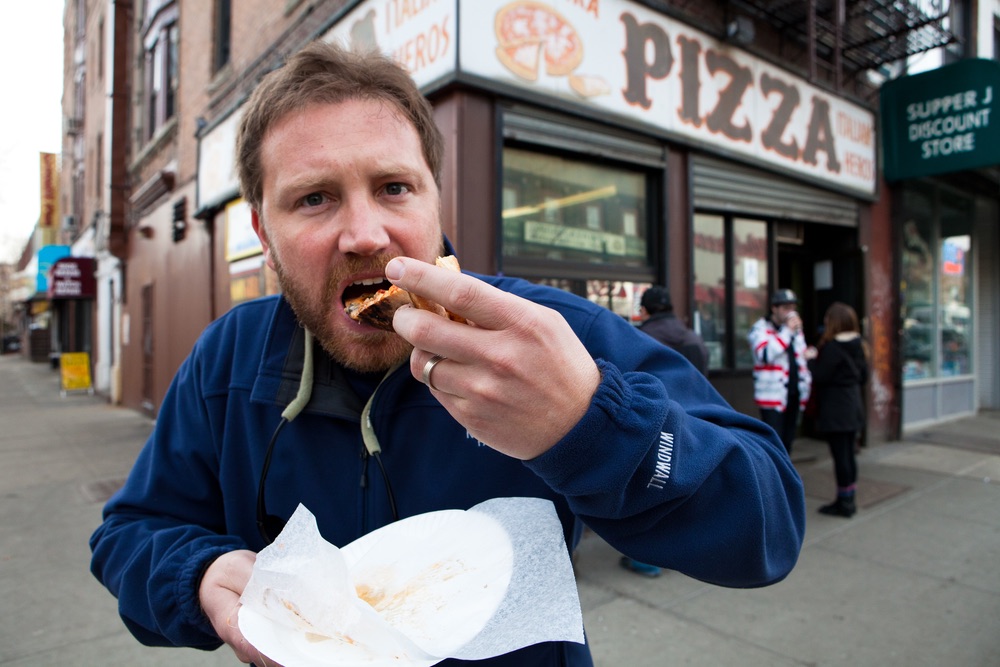 Day One
We arrived at JFK midafternoon on a Saturday. It was cold, and we were ready to get our eat on. Thanks to our dear friends in Brooklyn, we snagged reservations at DuMont, a hot spot in Williamsburg. DuMont is home to some of the most amazing mac 'n' cheese on the planet. It packs a rich punch of Parmesan, Cheddar, and Gruyère, which was textured beautifully over the radiatori pasta (little radiators). For my entrée, I went with the crispy Hudson Valley roast chicken with sweet potato gnocchi, chanterelles, and sage. The chicken was expertly cooked. Its crispy skin with notes of lemon and sage was a perfect contrast to the tender and juicy meat. The sweet potato gnocchi had a delicate sweetness and texture that played with the citrus of the chicken. A very simple dish that can sometimes miss the mark—but not at DuMont. I was already envisioning my next reservation here.
We passed on dessert at DuMont and decided we would indulge in the liquid kind at our next stop in the neighborhood: the notorious Brooklyn Bowl. In hip "Billyburg," nothing is what it seems and this concert hall/disco/bar/restaurant/bowling venue is no exception. The creatively fun menu is the work of the famous Blue Ribbon Restaurant Group. Midgame, we imbibed Bourbon Street Shakes blended with Nutella—both decadent and surprisingly amazing. I know of no other bowling venue where one can enjoy a platter of delicious fried chicken, fried catfish, or shrimp cocktail while bowling and rocking out to a band on stage. When doing so, it's best to heed the advice of a nearby sign: "If dining at the lanes, we suggest you eat with your non-bowling hand."
Day Two
The next morning—up way too early for being out so late—after downing coffee in the lobby, I mapped out a pizza mission to the heart of Brooklyn. I was eager to try pizza from a true pizzaiolo who is absolutely dedicated to the craft—and that was at Di Fara Pizza. After some reluctance from the group due to the out-of-the-way location, they finally decided that the fun was in the adventure and went for it. I was giddy with anticipation when we arrived at the unassuming corner pizza shop. Di Fara is a pizza dive as well as an institution. Dom DeMarco has been crafting one pizza at a time since 1964. It's a bucket-list spot for pizza lovers.
As I walk through the front door, the aromas of yeasty dough, fresh tomatoes, and sweet basil hit me. Looking to my left, I spot Mr. DeMarco dressing pies while simultaneously pulling others out of his large deck oven with his bare hands. I stop to ponder how many pizzas this man has made since opening his doors. A million, I think to myself.
I step up and order two slices. Nothing fussy. Just mozzarella cheese, marinara, and basil. Then I stand back to watch Mr. DeMarco work his magic. Each pizza out of the oven receives the same amount of love: olive oil drizzled from an antique can, fresh grated Parmesan that melts instantly when it hits the hot pie, and fresh basil snipped with scissors. A million pies and counting, and he still boasts a prideful smile with each pizza. I'm finally going to get to taste what I have been longing to try for years. My name is called to pick up my order and I am excited and nervous at the same time—most things don't live up to the hype.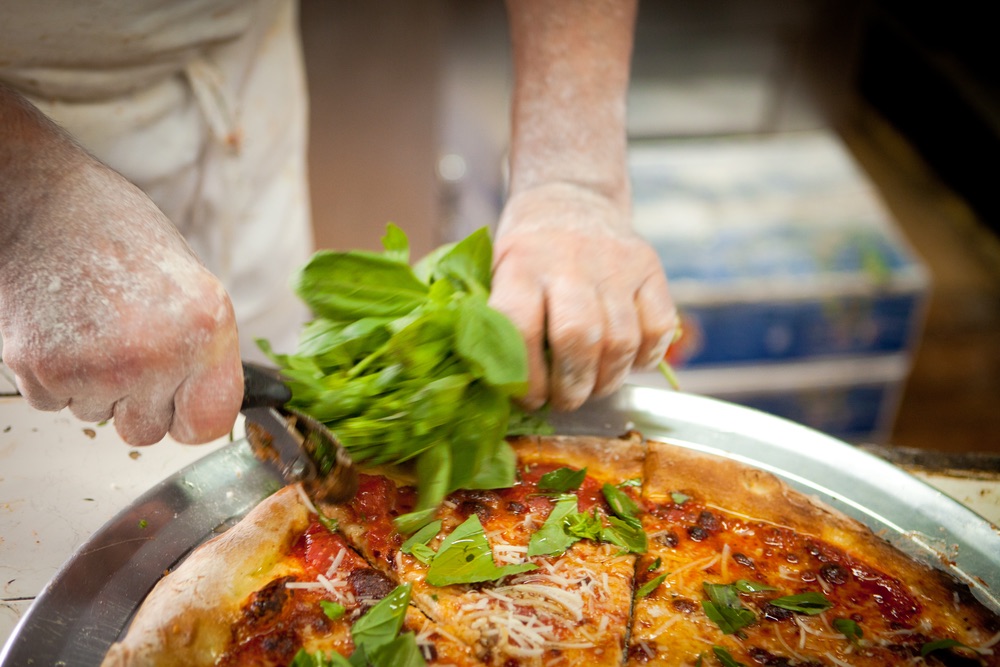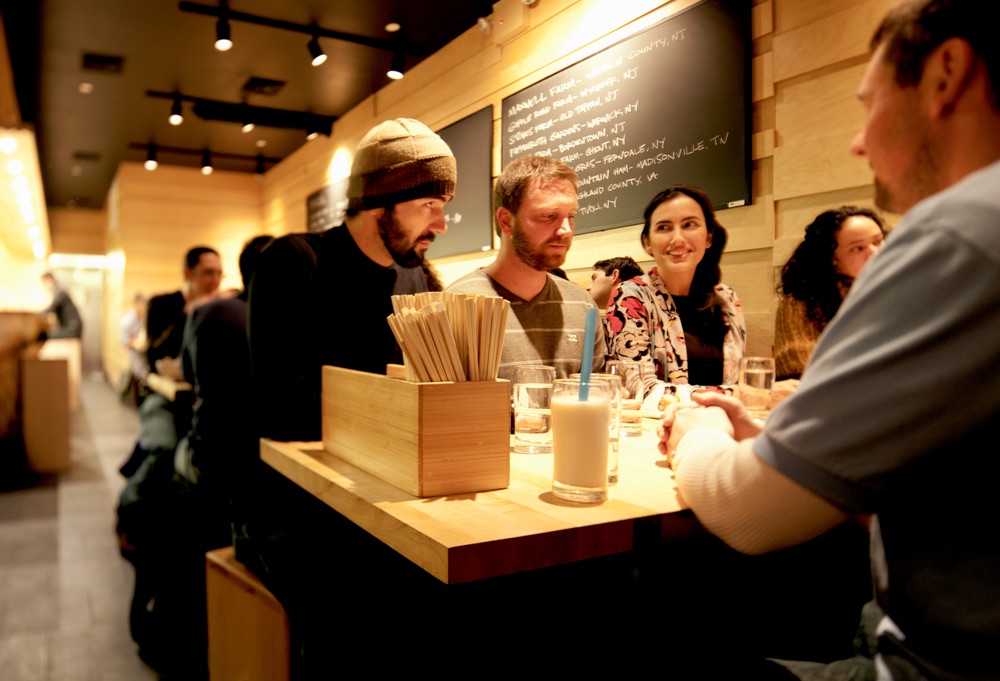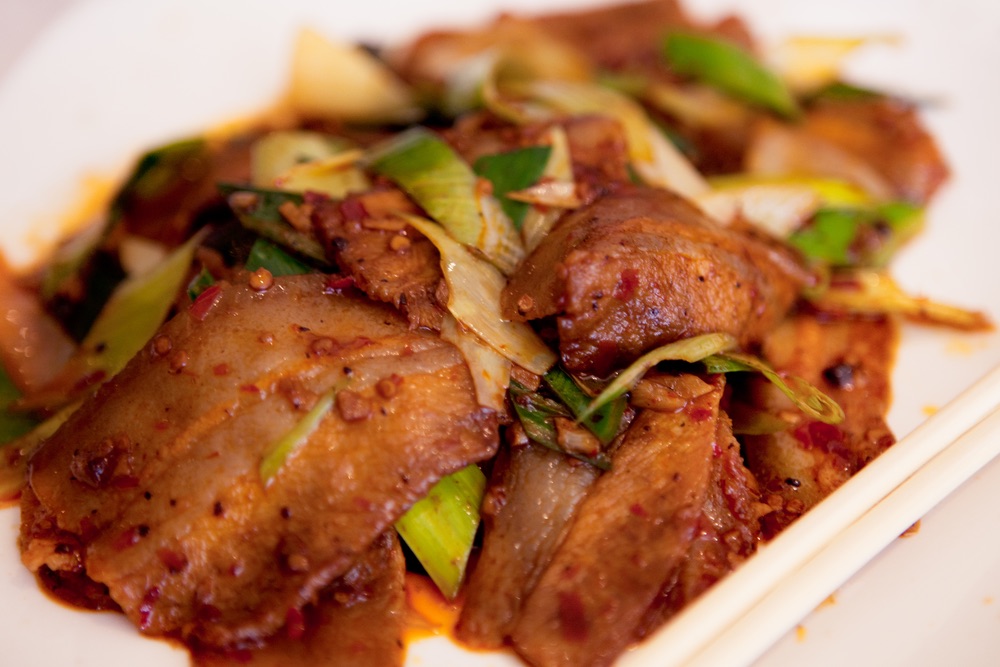 It was some of the best pizza I have ever tasted. The crust was crispy yet creamy with a wonderful yeast aroma. The tomato sauce, with its perfect acidity, balanced well with the whole-milk mozzarella, the saltiness of the Parmesan, and the sweet punch of the basil. By now the place was buzzing with hungry locals and tourists. Our timing for perfect pizza couldn't have been more perfect. Check that one off the bucket list. Moving on.
After our Di Fara high, we strolled through Chinatown, SoHo, and Greenwich Village, taking in the sights, sounds, and smells of street-food vendors in Chinatown and salumerias of the ever-shrinking Little Italy. I start to get curiously hungry for a late afternoon snack and hearkened back to the advice of my chef friend to try a unique sandwich shop on the edge of Chinatown called Saigon Sandwich. We order a few spicy pork banh mi sandwiches, a fusion resulting from the French occupation of Vietnam just before the Vietnam War. It is a huge sandwich and for five dollars, its value to flavor ratio is awesome. The banh mi starts out like any other sandwich but a few bites in, a maelstrom of incredibly clean flavors dance a jig in your mouth. Carrots, daikon, cilantro, cucumbers, spicy pork pâté, and a phenomenal sauce, which ran the gamut from sweet and salty to tangy and aromatic, are sandwiched in a delicate and buttery baguette. Why can't we have one of these back home?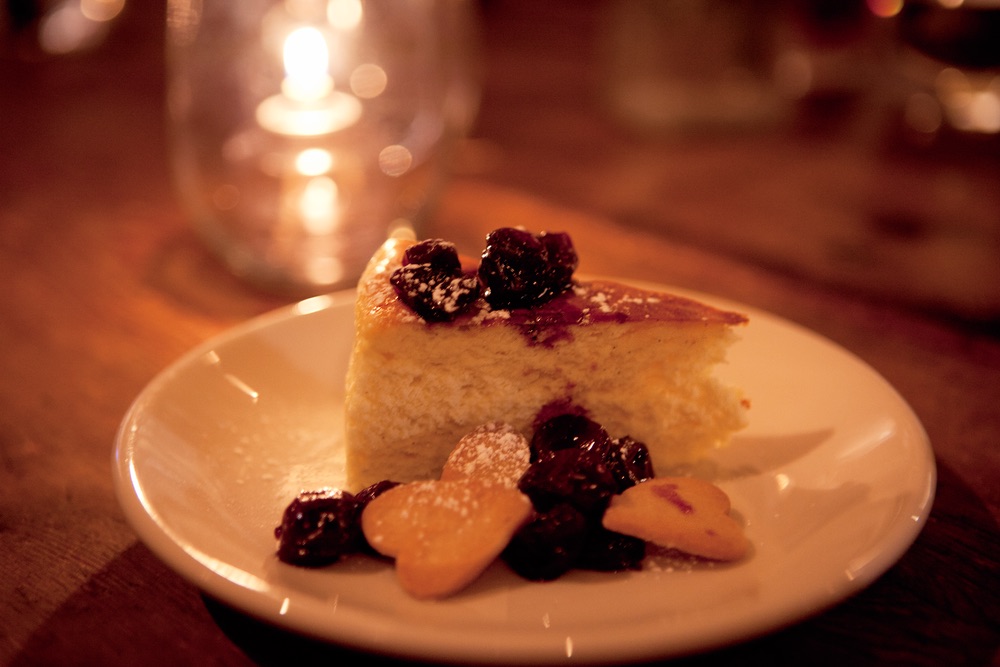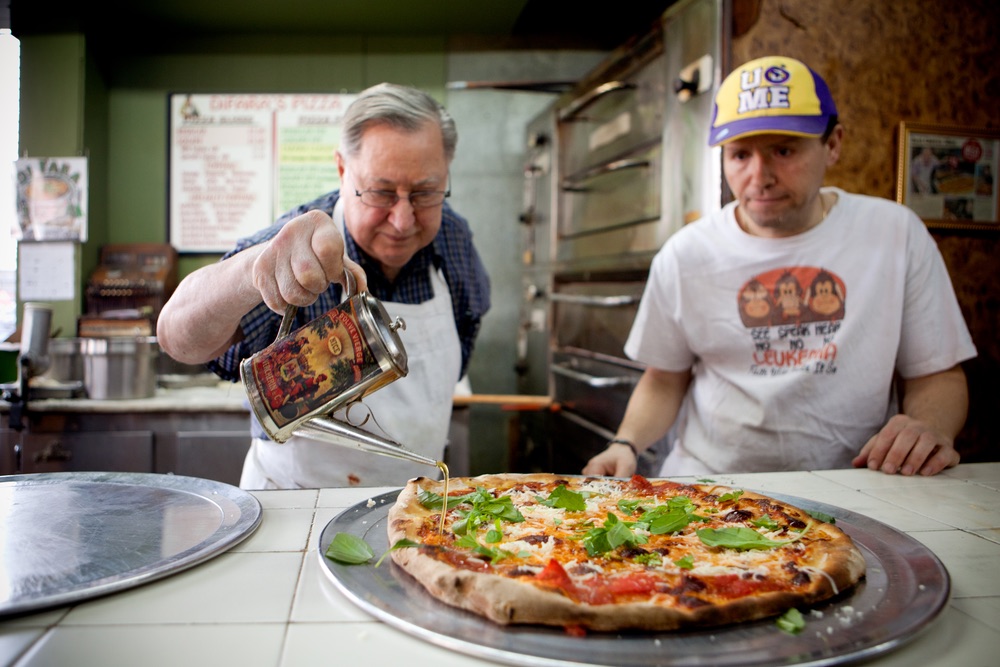 We arrive back at our hotel just in time for evening cocktails. The banh mi has got me hankering for more Asian fare. We jump on the A train and head to Momofuku Noodle Bar in the Lower East Side. Upon arrival, we're not surprised to see the place is packed. To ease the pain of our wait, we order a round of soju slushies. Soju is a potent vodkalike rice liquor from Korea, and Momofuku blends it nicely with refreshing lychee to cut the harshness.
At last, our table is ready. We are seated at a large table, which is adorned with beautiful wooden caddies that hold oversized chopsticks. They're a nice alternative to the usual chopsticks that you find at most take-out spots. To start out, we order a round of the famous pork steam buns—light, fluffy, perfectly steamed buns blanketing two pieces of nicely seasoned, succulent pork belly with cool cucumber.
Next, a brilliant appetizer of charred octopus with shards of fennel, tangy yogurt, and grapefruit. Since this is a noodle bar, the pork belly ramen is the cornerstone dish here and shouldn't be missed. It is not the flavorless ten-cent pack of ramen you ate in college. A rich broth with delicious pork belly, pork shoulder, and poached egg intertwined with a sheet of nori and hand-cut noodles make it an exceptional umami upgrade from my days in Gainesville, Florida. It tastes so good, we laugh out loud. We were fat and happy on the subway ride home.
Day Three
Valentine's Day is one of the busiest days of the year in the restaurant industry, and in NYC it is no exception. After a marathon of phone calls, I lucked out and landed a reservation at Barbuto. This wasn't my first choice, but if I had to do it over, it would be my only choice. Barbuto is Chef Jonathan Waxman's casual, Italian-inspired restaurant in the West Village. You may have seen him on Bravo's Top Chef Masters last year. The industrial building is made up of concrete walls, exposed brick, and wide open spaces, and yet it is very cozy. Upon arriving, we were quickly ushered to the kitchen where our beautiful farm table was set for eight, right in front of the bustling hot line. The cooks on the line were cranking out one beautiful dish after another with laserlike focus and agility. Their Valentine's Day prix fixe menu offering was served family style. We kicked off the special evening with a ceviche of Nantucket Bay scallops, which was a perfect way to open the palate. Plump, sweet little scallops tangoed wonderfully with the citrus acid. A large platter of roasted beets and puntarelle with blood oranges and Pecorino was our next course: a pleasant introduction of earthiness. Our pasta course was next; the risotto, made with rich Vermont butter and Parmesan topped with shavings of Burgundy black truffles, was a revelation. It was hands down the best risotto I have ever tasted, and my friends enthusiastically agreed. The creamy rice was perfectly cooked al dente. The richness of the butter mingled delicately with the Parmesan, and the earthiness of the truffles made this dish a showstopper. Quaffing down a Brunello further enhanced the wonderful subtleties of this dish. I found myself on yet another food high.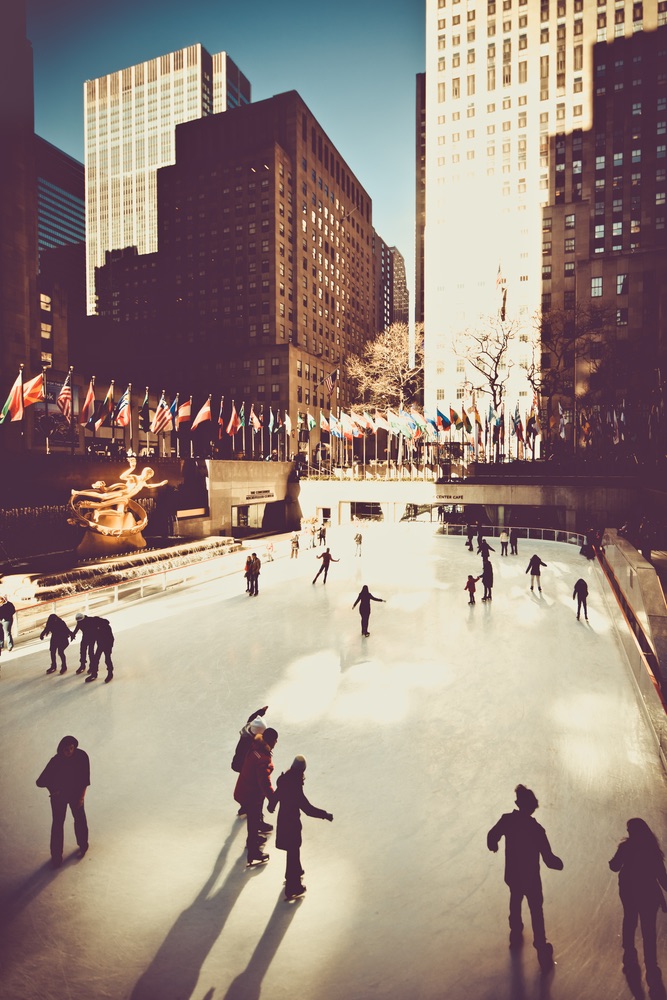 My entrée was a tender braised lamb shank with sunchokes and natural jus. Along with my lamb, the server brought out lovely side dishes of Tuscan kale and tender Italian white beans with caramelized cipollini onions. It was a perfect evening of magnificent food, remarkable Italian wine, and lots of laughs. I will never forget that risotto—it inspired me to buy Chef Waxman's cookbook when I returned home.
Day Four
It's our last day in the Apple, and after enjoying an extra spicy lunch at Szechuan Gourmet, I am already thinking of dinner. Sometimes the problem with a big city like New York is that there are so many choices that it leads to paralysis by analysis; however, it was the consensus of the VIE family that the final dinner in the city would be an Italian one at Mario Batali's Lupa.
Lupa is a Roman-inspired enoteca set in the very charming neighborhood of Greenwich Village. Our group was seated at a beautiful rustic farm table that offered us a view out on to the bustling street. Since we were a large group, the chefs and sommelier put together a custom menu for our party that flowed nicely. We started the evening with a glass of Prosecco and a delightful assortment of Italian salumi, prosciutto, and rustic Italian bread with robust olive oil. The sommelier and service staff floated around us, pouring Italian wines from various regions and serving us side dishes of seasonal vegetables and house-made focaccia. A seasonal squash ragù of maltagliati pasta was light and delicious. Maltagliati is pasta made from the scraps and cuttings of other pastas—the translation literally means "badly cut." One more pasta dish was in order: a tender heritage pork agnolotti with truffle butter. The rich yolk pasta was perfectly al dente and the pork filling was harmonious with the earthy truffle butter. Very simple and exquisite. My entrée was the pollo alla diavola (a.k.a. the devil's chicken). It was a small half chicken with a crispy, charred skin that yielded a wonderfully peppery flavor and was cooked to perfection. It paired beautifully with my Sangiovese, and I sopped up the savory juices with pieces of fluffy focaccia. Dessert was a silky vanilla panna cotta with peach compote.
The dinner was bittersweet as it signaled the end of our adventure. Although we covered a fair amount of ground in a few short days, NYC offers a cornucopia of dining options. This makes it easy to rationalize return visits each year. The Big Apple has carved a special place in my heart for many reasons from tying the knot there to sweating out the Northeast Blackout of 2003 to working alongside some of the best chefs in the world. This trip added another sweet layer of memories, and I was honored to be a part of VIE's anniversary pilgrimage to New York Fashion Week.
— V —
---
Phillip McDonald lives in Miramar Beach with his wife, Madra, and owns Table Five Private Chef + Catering, a private chef service that specializes in dinner parties, elegant soirees, and private home events along the beautiful Emerald Coast. tablefivechef@me.com
ARTICLE CATEGORIES