Bevolo Lights and the
VIE
Beach House
"The transitional nature of this home and use of real materials throughout make for a very comfortable fit with our product and brand," says Drew Bevolo, owner of the New Orleans legacy gas lantern company Bevolo Gas & Electric Lights. "The developers have tastefully intertwined modern style with some traditional natural materials. Copper lanterns complement all of these elements very well, and the styles are simple and clean to complement the architecture."
When considering the exterior lighting for the new VIE Beach House – A Show Home in Seagrove Beach, Florida, VIE magazine founders Lisa and Gerald Burwell and show home developers Suzy and Jim Accola knew that Bevolo was their first choice. The brand, established in the Big Easy in 1945, produces handcrafted copper lighting for homes across the US and beyond. Their riveted metalwork has a reputation for standing the test of time, with some of the original Bevolo lights still shining in the New Orleans French Quarter after decades of being in use.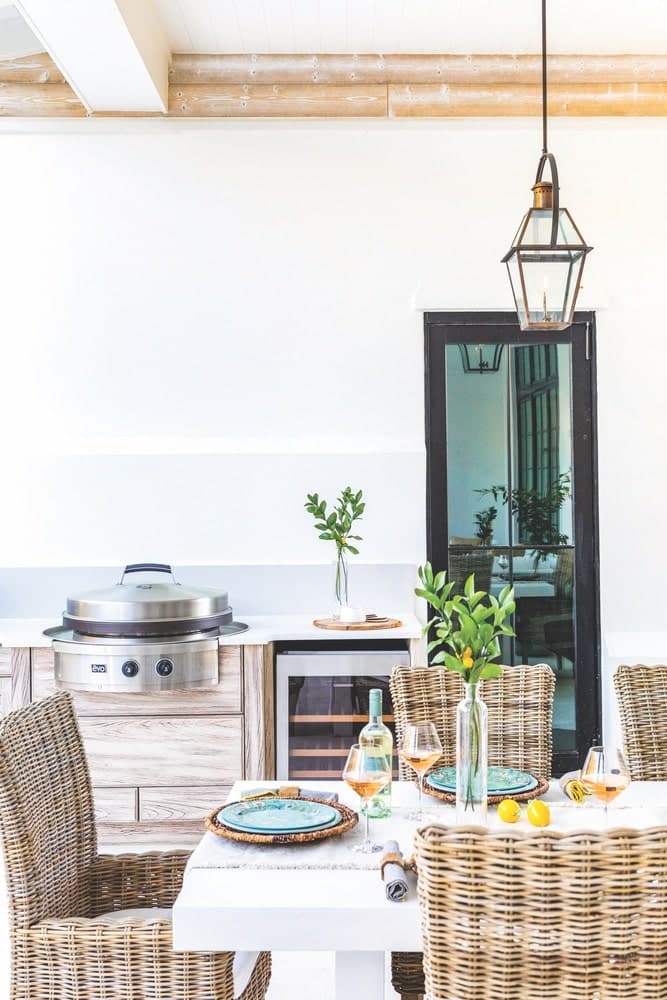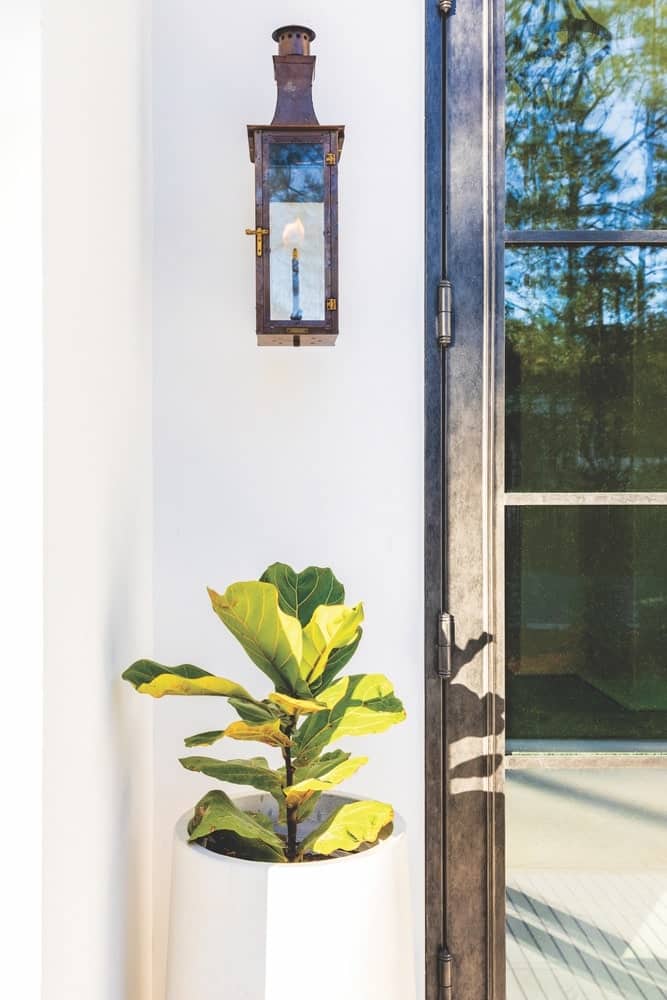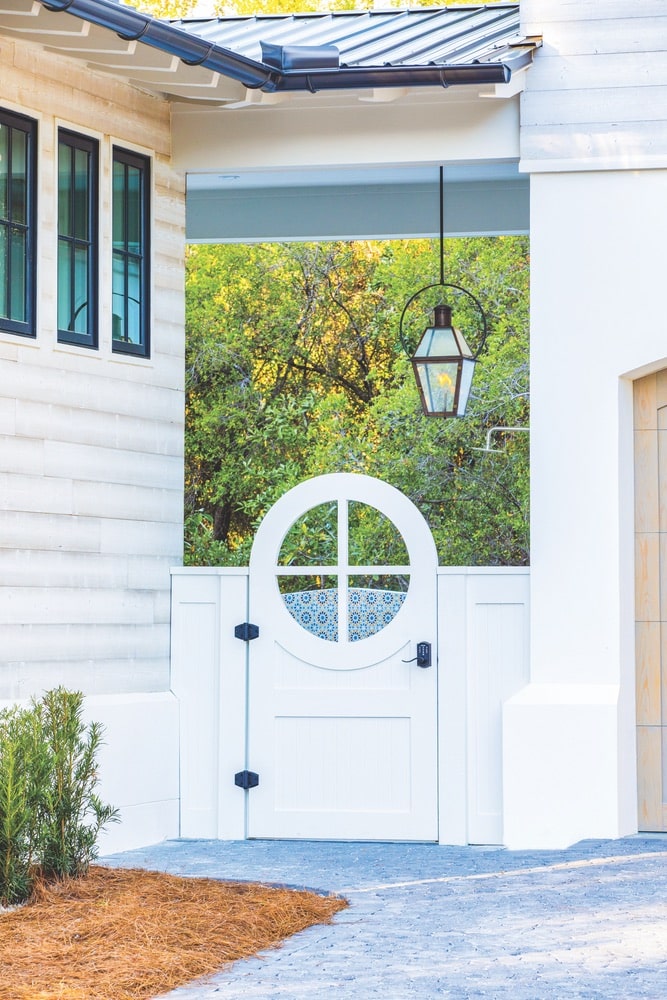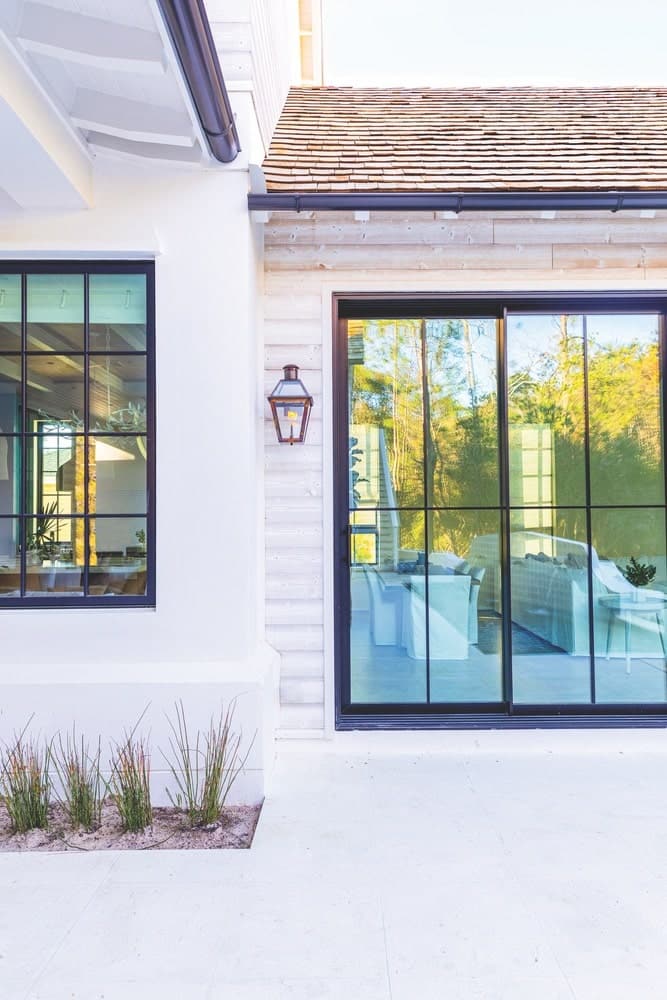 For the VIE Beach House, Bevolo says, "We used a variety of lights on this home, as we often do." The hanging lantern by the pool deck entry is Bevolo's Original French Quarter design on a yoke bracket, while the wall sconces are the brand's Governor lantern. For the overhead areas, Bevolo provided its Warehouse District lantern on a gooseneck bracket. "All of these lanterns are made out of the highest grade American copper, and each bracket is made with a naval brass material to hold up to these conditions," Bevolo adds. "Florida is brutal on metal. Some homeowners have told us they had been swapping out lights annually before they came to us! We pride ourselves on making lifetime fixtures that, in the long run, will save you time and money."
Celebrating its seventy-fifth anniversary in 2020, Bevolo Gas & Electric Lights experienced disruptions due to COVID-19 but has been working to continue its production and sales efforts safely. "We certainly hope to get back to the point where our employees can celebrate our anniversary the proper way this year," Bevolo says. "For our customers, we are putting a special emphasis on the simple complimentary design service we offer. It is so easy with today's technology to forward a plan or send in a photo of your house. We select the perfect size and style of lantern to complement the home based on the architecture so that it never goes out of style. This customer service is a large reason we are in all fifty states and sixty-seven countries to date."
The goal of Bevolo as a company is to bring that otherworldly beauty to every home or building that features its lighting.
Throughout the Northwest Florida coast, Bevolo's lanterns flicker and warm the entryways of homes in high-end communities, including Seagrove Beach, Alys Beach, Grayton Beach, Rosemary Beach, and more. The area's custom luxury homes make perfect canvases for the brand's products to shine and celebrate the legacy that Andrew Bevolo, Sr. began just after World War II.
"The whole 30-A area—and really the entire panhandle of Florida—is such a beautiful part of the country," says Drew Bevolo. "The white sands and clear water, which are so accessible from many of the major cities in the Southeast, have been catalysts for this area to grow rapidly in the past few decades. When you can travel four or five hours from Birmingham or Atlanta and feel like you're in a completely different world, it makes vacationing there that much more desirable."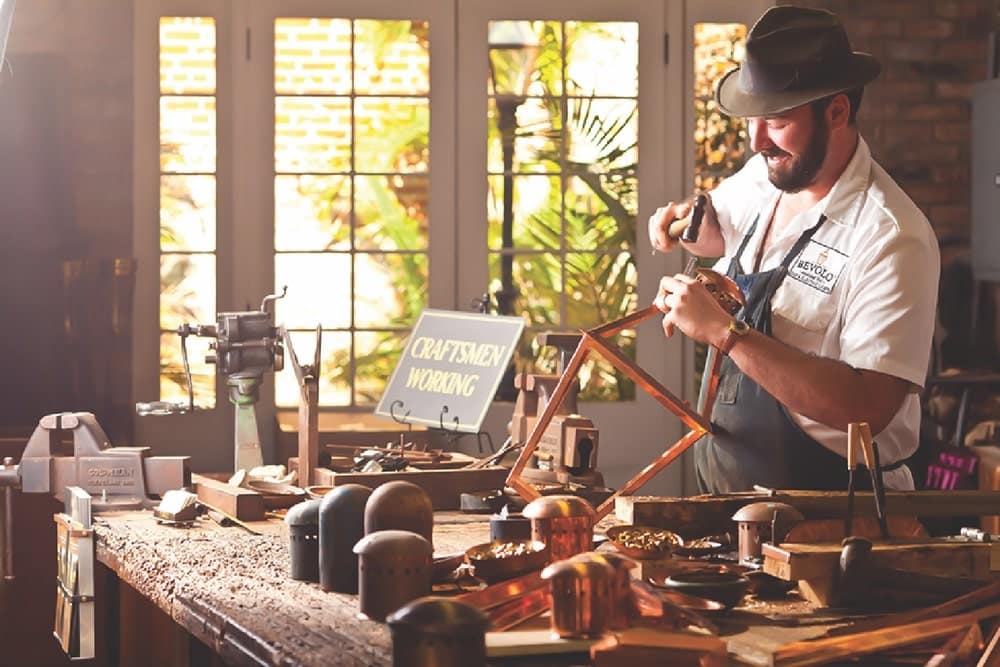 The goal of Bevolo as a company is to bring that otherworldly beauty to every home or building that features its lighting. "The ambience of a gas lantern welcoming you home from work or accompanying you while you have a glass of wine on the back patio creates a certain calm," Bevolo expounds. "It is why we have candles by our bathtubs or as a restaurant centerpiece. It's always hard to beat the romance of the flame."
— V —
---
Learn more about Bevolo Gas & Electric Lights at Bevolo.com or follow them on Instagram @bevolo.
ARTICLE CATEGORIES