By Sallie W. Boyles  |  
Photography courtesy of Bevolo Gas & Electric Lights
Few people today could imagine living in a city that faded into the shadows upon nightfall; however, until about two centuries ago, only candles and oil lamps brightened the world's darkest hours.
A major breakthrough in lighting occurred in 1792, when William Murdoch lit his home in Cornwall, England, with coal gas, and his innovation helped London become the first city ever to use gas for public street lighting. Energizing the night, London's gas lanterns were soon all the rage in cities and towns across the globe—at least until Thomas Edison developed a commercially viable electric lightbulb.
Gas lanterns might have disappeared altogether, but thanks to companies like New Orleans–based Bevolo Gas & Electric Lights, the oldest and largest manufacturer of handmade, open-flame copper lanterns in the United States, they are still produced for an eclectic market in all fifty states and abroad. Some buyers want to preserve the historic integrity of a period structure; others are simply drawn to the flickering flame encased in glass. No matter what first attracts architects, designers, and curious consumers to gas lights, a captivating history awaits them.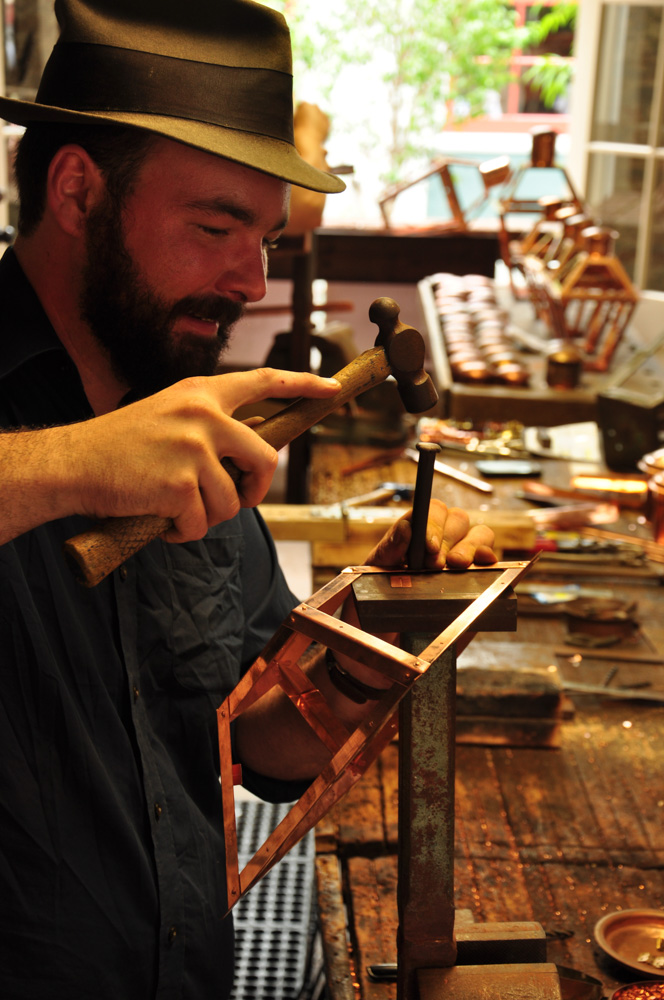 The company's story begins with Andrew Bevolo, who founded the business in 1945. Born near Lake Como in Italy, he immigrated to the United States alone at thirteen years old with a third-grade education. His natural dexterity earned him a job with Ford Motor Company, and the metalworking skills he acquired there led him to work for Igor Sikorsky, who developed the world's first helicopter to go into full-scale production in 1942. When World War II began, Andrew moved his new family from Connecticut, where Sikorsky was based, to New Orleans, where he was hired by Higgins Industries, which manufactured the "Higgins boat" that General Dwight Eisenhower credited with winning the war. By helping build aircraft and boats, Andrew mastered the skill of riveting metal together and the art of precision.
"In 1945, the war was over," says Drew Bevolo, current CEO of the company his late grandfather started. "Eighty percent of New Orleans was working for Higgins, but peace meant they had to take their skills to other jobs." Andrew initially opened Bevolo Metal Crafts. Operating with a motto of "We Metal in Everything," he accepted intricate projects, including plating, polishing, and repairing chandeliers.
At the time, many people acquired relics as souvenirs from war-torn cities, and one customer presented Andrew with a broken London streetlight to restore. "He couldn't repair the lantern by soldering it," says Drew. "If you put a torch on old copper, it will evaporate. Riveting it back together was Grandpa's historic contribution to gas lighting." The riveting technique produced a more permanent joint than solder and laid the groundwork for Andrew Bevolo to manufacture gas lanterns.
His trademark French Quarter copper lantern, a collaboration between Andrew and renowned architect A. Hays Town, was Bevolo's first important project. "Lanterns we made sixty years ago are still burning in the French Quarter today." Drew proudly names many prominent buildings that are graced by Bevolo lanterns (the Cabildo, where the Louisiana Purchase transfer took place, and Thomas Jefferson's former home are two of many), but he admits not fully appreciating what his grandfather established until later in life.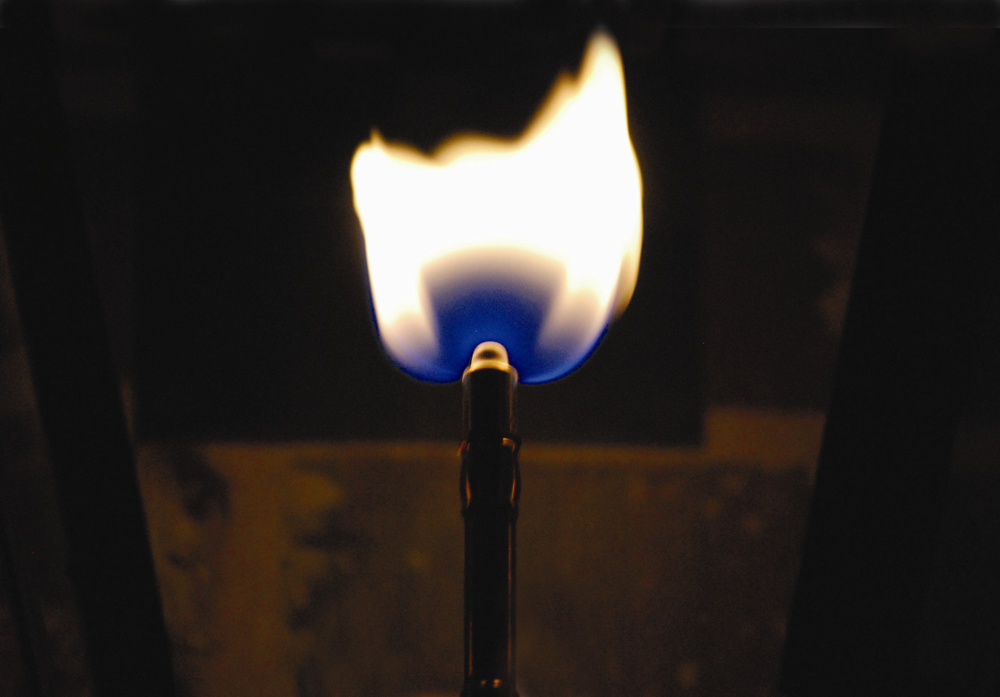 As a boy, Drew enjoyed being with Andrew Sr. but did not like going to the "dirty old French Quarter" to sweep Bevolo's floors or clean its bathrooms. The only lure was the view spanning the French Quarter to the Mississippi River from the top of the company's three-story building. "My grandfather would take me on a ride up the old freight elevator," says Drew, who grew up in a one-story home. "Anything above sea level was exciting."
Urged by his parents to pursue an education and a "professional career," Drew stayed in Baton Rouge after college and enjoyed success as a stockbroker until twenty-two years ago, when his Uncle Jimmy—who was running Bevolo Gas & Electric Lights alone—called for help. Drew returned to the family business and has not looked back since. "My uncle was a craftsman with a good reputation," says Drew, "but he couldn't find qualified craftsmen to replace the ones who were retiring. He was running out of brochures and even contemplated selling the business."
Drew accepted Uncle Jimmy's salary offer of one hundred dollars a week to learn everything about being a coppersmith from the ground up. "I got rid of my suits and dry cleaning bill, and he gave me the priceless gifts of patience and knowledge," Drew says. "I made lights from scratch, cutting copper on foot shears from World War II."
But Drew went beyond following in his elders' footsteps. Along with building Bevolo's portfolio to over five hundred designs—many of which are collaborative works named in honor of prominent architects and places—Drew regularly consults with engineers to improve the operation of his lanterns. "I challenge myself each year to make improvements, sparing no expense," he says. "We are the Coke of our industry. We've had the most efficient lights for years, with recent improvements to make them even more efficient."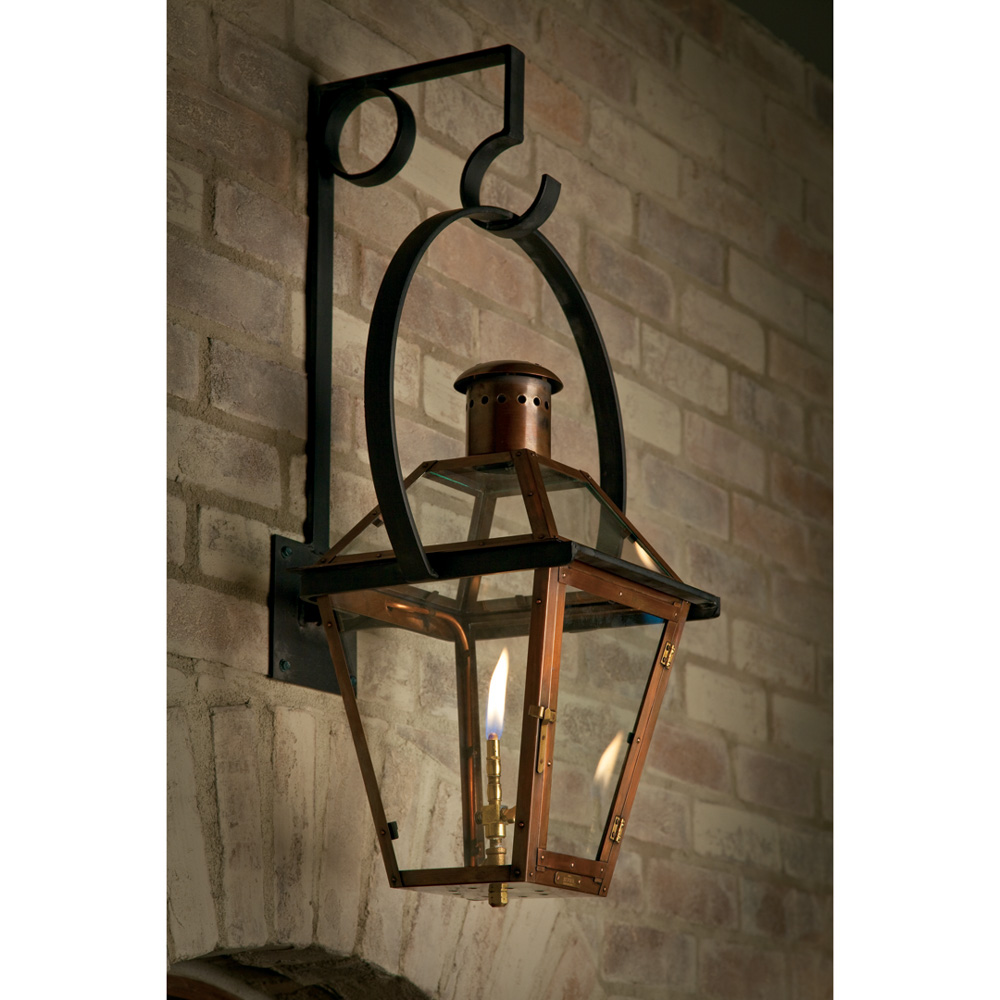 Lanterns we made sixty years ago are still burning in the French Quarter today.
Drew further contends that his copper gas lantern is "the greenest light on the planet because of the sustainability and efficiency of operation. We use only smelted copper mined in the United States." With no soldering involved, Bevolo uses a cold production process. The product line's eco-friendliness also applies to consumption and waste. In contrast to a CFL bulb that lasts only a few years and contains environmentally harmful components upon disposal, a lantern can function for over a century on clean natural gas.
Drew's efforts also entail educating people on the benefits of gas lighting. He was recently invited to Canada, where he enlightened utility executives who understood natural gas as a commodity, but not as a consumer good. "Not one of the natural gas executives, in an audience of two hundred, had natural gas lights on their homes," Drew reveals, "and only a few knew what gas lights were." He introduced the group to "the jewelry of the gas world."
In Drew's basic terminology, Bevolo gas lanterns are "simply a pilot light with a fancy cover." Arguably, Bevolo's batwing flame is more elegant than a furnace's pilot light, but both constantly remain on and ready. "You wouldn't turn your gas lanterns on and off twice a day," says Drew, explaining that doing so would only save one dollar on the monthly utility bill; the cost to keep gas porch lanterns burning is about five to seven dollars per month on average.
Bevolo is also certified for interior gas lights, which create mystique and elegance in spaces like the bar at The Ritz-Carlton, Atlanta hotel. Electricity, of course, prevails, and over the years Drew has expanded the brand to include electric chandeliers and other interior lights, some handmade by Bevolo and others are antique and vintage pieces from around the world. "We do not sell faux anything or concern ourselves with seasonal trends," Drew explains. Even Bevolo's new portable Governor pool house lantern, which accommodates anything from candles to decorative items, such as Christmas ornaments and pine cones or corks and seashells, is made with the same standards as the traditional lanterns.
Bevolo gas lights can be seen in any of the company's retail locations in New Orleans' famous French Quarter and in Mandeville, Louisiana. However, Drew says the right way to choose a lantern for one's home is to submit architectural plans or photographs to Bevolo for their professional yet complimentary recommendations on styles, number of fixtures, and size. Most orders ship within two to three weeks.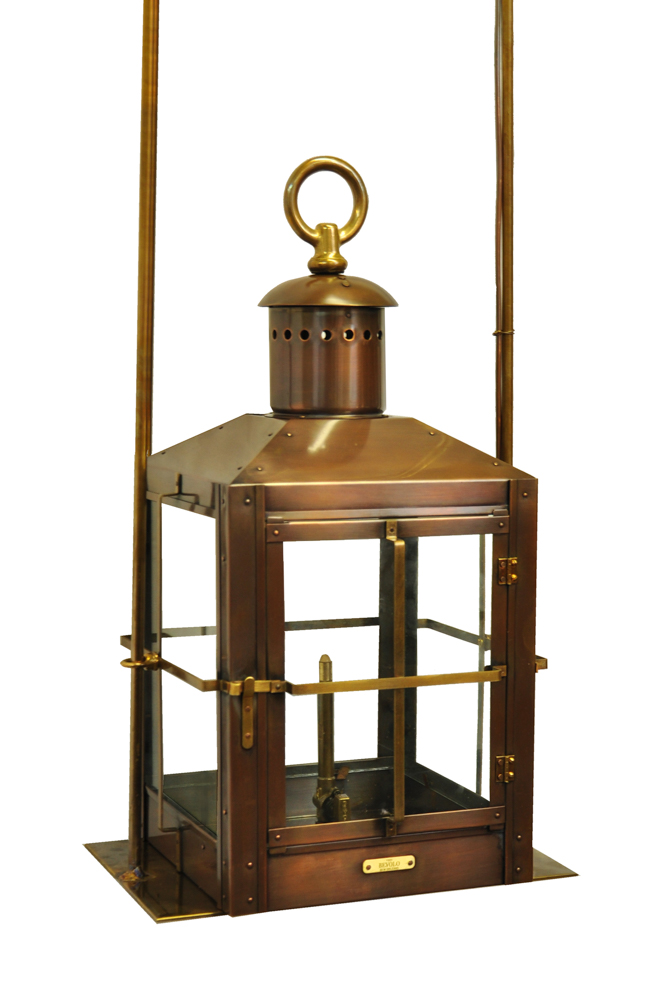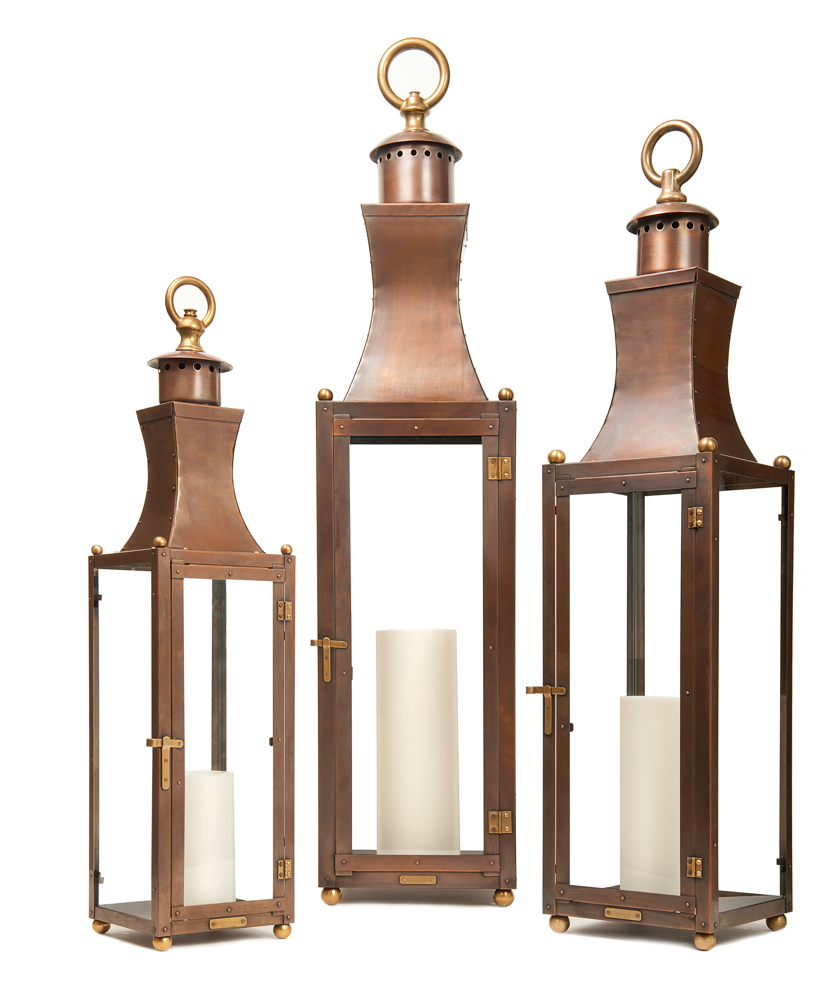 ...The greenest light on the planet because of the sustainability and efficiency of operation. We use only smelted copper mined in the United States.
"If they purchased online or from catalogs, customers would see five hundred lights," Drew contends. "Everyone from the architect to the designer would have opinions. We want only one opinion: the house's opinion. We do an interpretation based upon whether the house should have lights or not. Some people think they need two lights by every door, but one might be appropriate." Drew further emphasizes that lighting should not be a last-minute decision based on what is left in the budget. "You wouldn't buy a Versace outfit and then go to Walmart for your jewelry. It's a lifetime fixture, so you want the right light."
Bevolo Gas & Electric Lights follows the same philosophy with its personnel. "We're careful to hire people who want to be invested in our company," says Drew. Most employees begin with no background in metalworking, so Bevolo devotes about two years to training. It is a mutual commitment that also applies to some fourth-generation Bevolos, such as Drew's eldest son, Chris.
On the subject of bestowing knowledge upon future generations, Drew is also excited to pass along the rich history of lighting through his newly opened Bevolo Lighting Museum, which features coppersmiths visitors can watch as their lights are actually being made. Located in a charming historic building on Royal Street in New Orleans, the museum offers ongoing demonstrations of coppersmiths making actual Bevolo lanterns. For added interest, a hand-painted mural depicts the history of light's impact on civilization. "We have an exhibit dedicated to the effect of lights on Mardi Gras," Drew says. Coincidentally, New Orleans hosted the first electrical parade in 1893, sponsored by Thomas Edison. Participants wore hats with lightbulbs connected to a snaking chord attached to a generator!
As Drew imparts it, the history is illuminating in itself—no flashy embellishments necessary.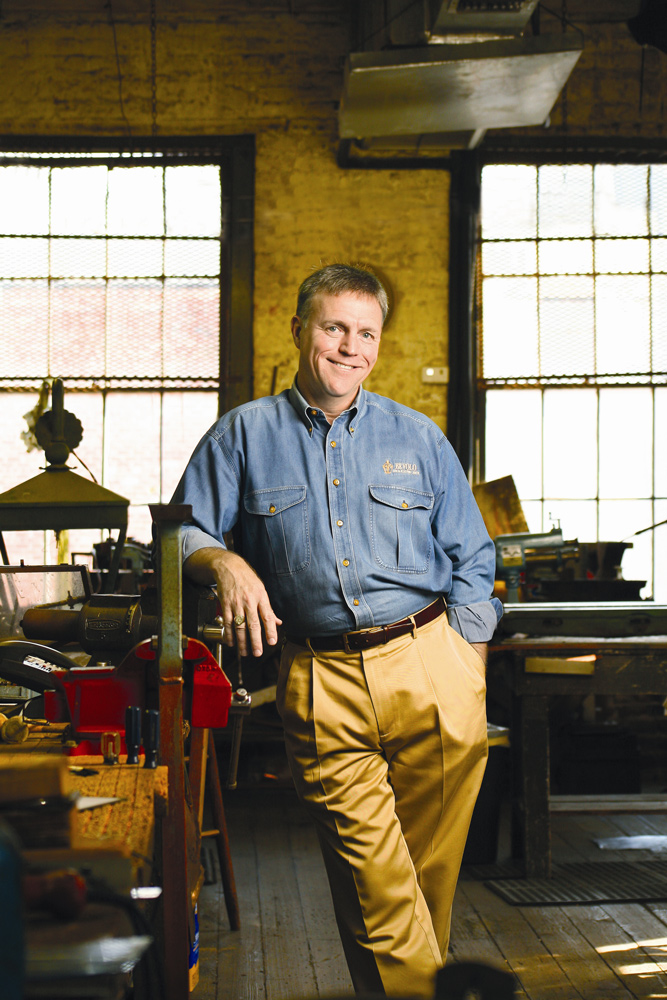 — V —
ARTICLE CATEGORIES