Mr. and Mrs. Salucci
Photography by Lauren Folk
It was a match made in technology heaven—but we're not talking about dating apps this time. When Amanda Bedenbaugh and Vince Salucci met in 2013 while working for the same IT company in Jacksonville, Florida, Vince claims his first thought was, Uh oh, I'm going to be in trouble. It was a few weeks before the pair had any real interaction, but as Amanda says, "Once we did, it felt magnetic. I knew this new guy was special, and, in the beginning, I was very guarded about sharing the relationship with anyone. I wouldn't even tell friends and family what his name was; to them, he was 'work boy!' Well, work boy quickly became the love of my life and best friend, and my friends and family got to learn his actual name." After about four months of dating, the couple moved in together and even expanded their little family by adopting a chocolate Lab puppy, Moose.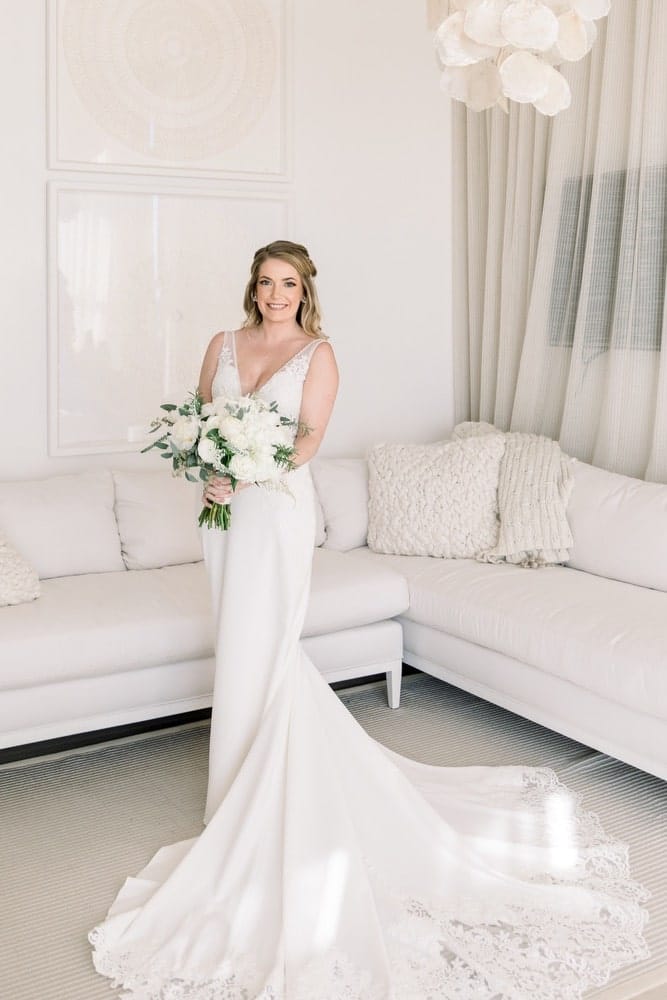 Fast-forward to 2018, when a job opportunity closer to her family in Niceville, Florida, prompted Amanda and Vince to move west. "At that point, I was patiently (impatiently) waiting for Vince to propose since we had talked about marriage and starting a family," Amanda says. "Vince is always up for an adventure, so he was instantly supportive of the move, and we came up with a plan to transition our lives to the Panhandle. In June 2018, I moved back home to start a new job and started house hunting." Vince, who was born in Dallas but grew up in Fernandina Beach, Florida, stayed behind in Jacksonville for a couple of months to wrap up things there.
"During the four years we dated, I was very stubborn and wanted to accomplish several goals before taking the next step of marriage," Vince says. "Amanda loved being patient! However, once I accomplished those goals, Amanda and I got engaged on her birthday in July 2018. That day, we were enjoying some time with her family. All along, I had the ring in my pocket, waiting for what felt like the right time. I didn't have any surprise photography planned, nobody knew what was about to happen, and that's exactly how I wanted it to be—just for us. We had all just returned from a sunset cruise, and evening storm clouds began to growl. Amanda was sitting on the porch as the rain started pouring from the sky. Well, it's something I still can't explain, but when you know, you know."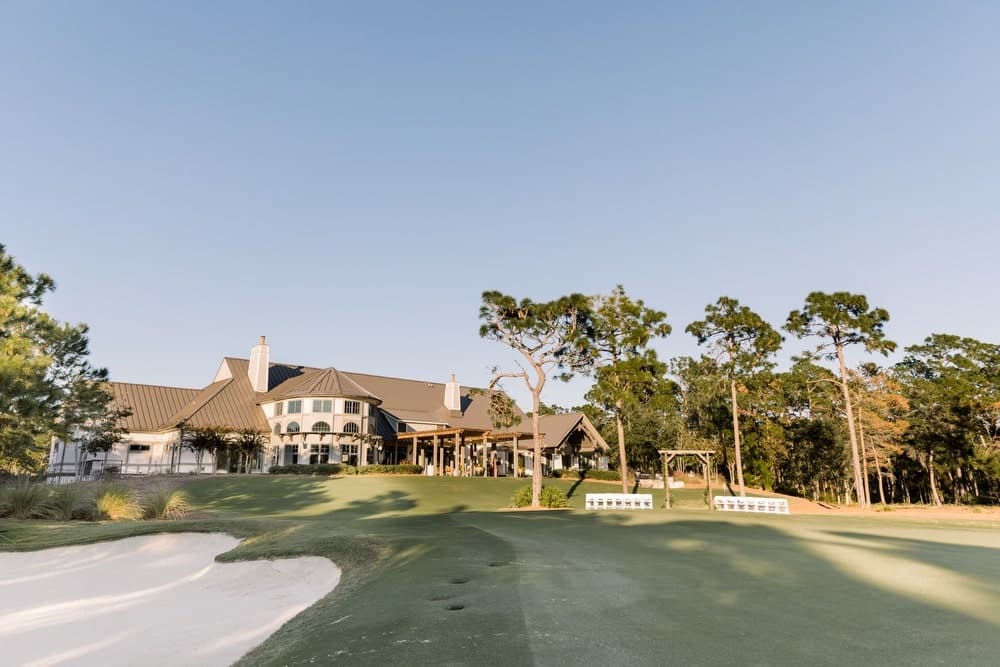 Amanda recalls, "The proposal, in my mind, was never happening—we were just going to be one of those new modern couples that didn't get married. But on my birthday weekend, during one of Vince's many trips to see me before he moved, it finally happened. We had spent my birthday with friends and family doing one of my favorite activities—boating. Afterward, we went back to my family's house for dinner. I was in a slight food coma after eating, so Vince and I went out on the back porch to rest in the swing and watch an evening storm roll in. As I was sitting there in a daze, watching a crazy beautiful lightning storm, I looked over to see Vince on the ground—actually on one knee, but it took me a minute to snap out of my daze and fully understand what was happening. It was perfect, just us at that moment. I fall under the 'I can't remember what he said but I said yes' category—haha!"
The pair went inside to share the news with their family and friends, who teased them with "It's about time!" all around, Vince says. Shortly after moving into their new home in Santa Rosa Beach, Florida, they started wedding planning. "Vince and I are both very laid-back people, but when we're together, it's on a new level—almost to a fault," Amanda laughs. "So, I primarily took over wedding planning, and Vince chimed in on his favorite part, the food."
They knew that a late-fall wedding was in order, as Florida summers are hot and hurricane season can be a genuine concern for planning events through September and October. While searching available venues, Amanda and Vince knew they also wanted one with an in-house wedding coordinator. Amanda recalls, "I had started to reach out to venues and quickly learned all that went into planning a wedding—hello, stress! Then I came across a package that The Clubs by JOE was offering for weddings at Shark's Tooth Golf Club in Panama City Beach. It combined almost all the vendors and items I needed into one easy list—I was instantly interested. We booked a tour of the facility with their coordinator, Madison Smiedendorf, and knew it was the right place! The Club had just been renovated after Hurricane Michael and was really looking its best. We were also able to have the entire wedding and reception in one location—for guests, there is nothing better. I am so thankful to the team at Shark's Tooth because they helped make all the decisions easy and were truly great at their craft. As for the decor and other duties on my plate, I have to give a shout-out to my coworkers at the time for keeping me on track and helping me get our wedding to the finish line. Overall, it was a great experience."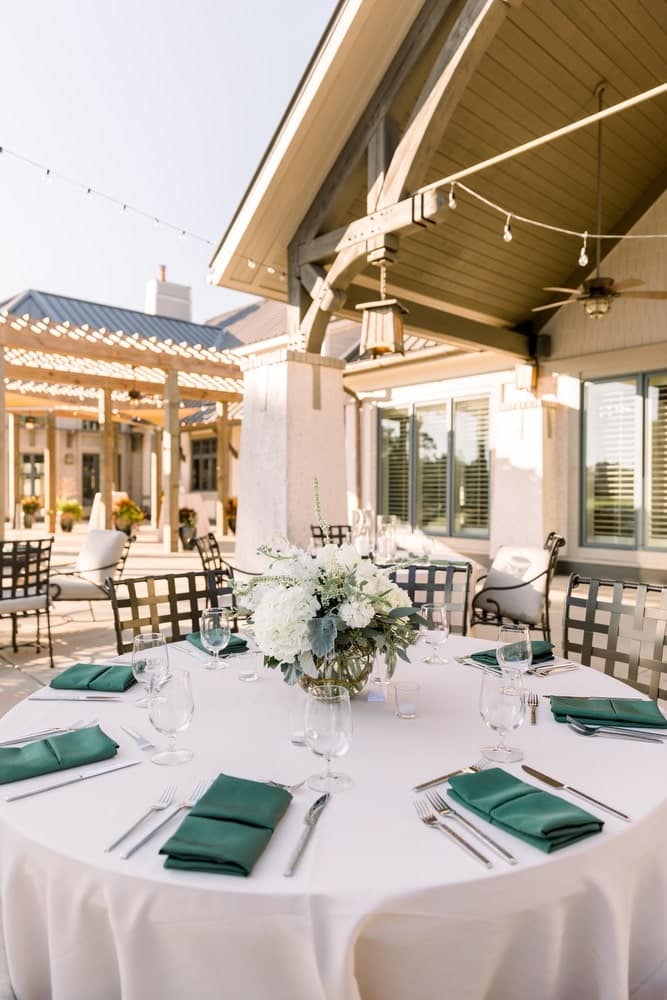 A night-before bonfire on the beach welcomed about 125 of the couple's friends and family from around the country to Panama City Beach as they prepared for the wedding day.
"Vince and I stayed separated the night before, and I remember waking up super early, mainly because of excitement—but I also hadn't written my vows," Amanda admits. "It's funny to look back on it, because Vince and I both unknowingly woke up that morning and wrote down our vows at the same time. They are so precious and something that I will always hold dear." She spent the rest of the morning with her family, preparing for the big day she knew was sure to fly by.
"I could hear the waves crashing right outside of the beach house I was staying in when I woke up, thinking, Today is the day!" Vince adds. "It was time to grab some breakfast and focus on the last task at hand before walking down the aisle: vows. Amanda and I decided to write our own, and—those who know me won't be surprised—I waited until hours before to write it all down. It wasn't a difficult task, but it took me about three hours to get it just right. Sharing my thoughts, feelings, jokes, and overall outlook on our relationship—past, present, and future—with everyone in attendance was nerve-racking but well worth it!"
In their final moments before becoming Mr. and Mrs. Salucci, Vince and Amanda shared a first look before the ceremony. "It gave me all the butterflies and calmed me down all at once," Amanda recalls. "I was so ready to marry this guy! I was nervous about the vows because sharing something so vulnerable in front of everyone was scary, but it was one of my favorite parts of a very special day."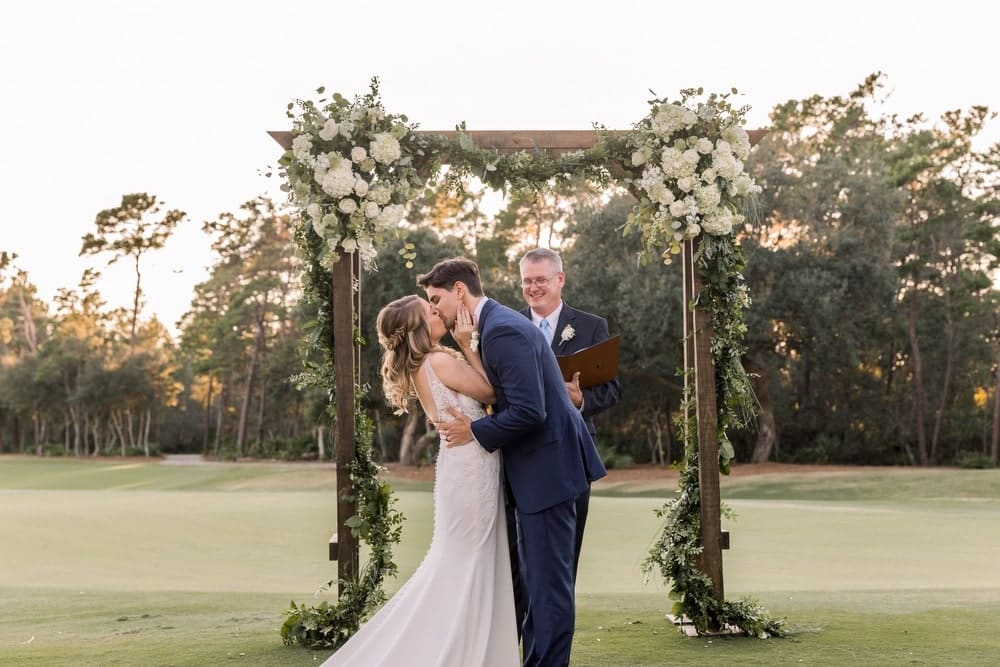 With Shark's Tooth Golf Club bedecked in elegant green, white, silver, and gold, Amanda and Vince came together on the sunny afternoon of November 9, 2019. As one of the first cool days of the season, without a cloud in the sky, the weather was perfect. An arch covered in gorgeous white blossoms overlooked a manicured golf green and the forest beyond, setting the scene for a beautiful union.
Amanda's uncle, Harley Willis, officiated the ceremony—"He nailed it," Vince says—and the Saluccis made their way back down the aisle as husband and wife.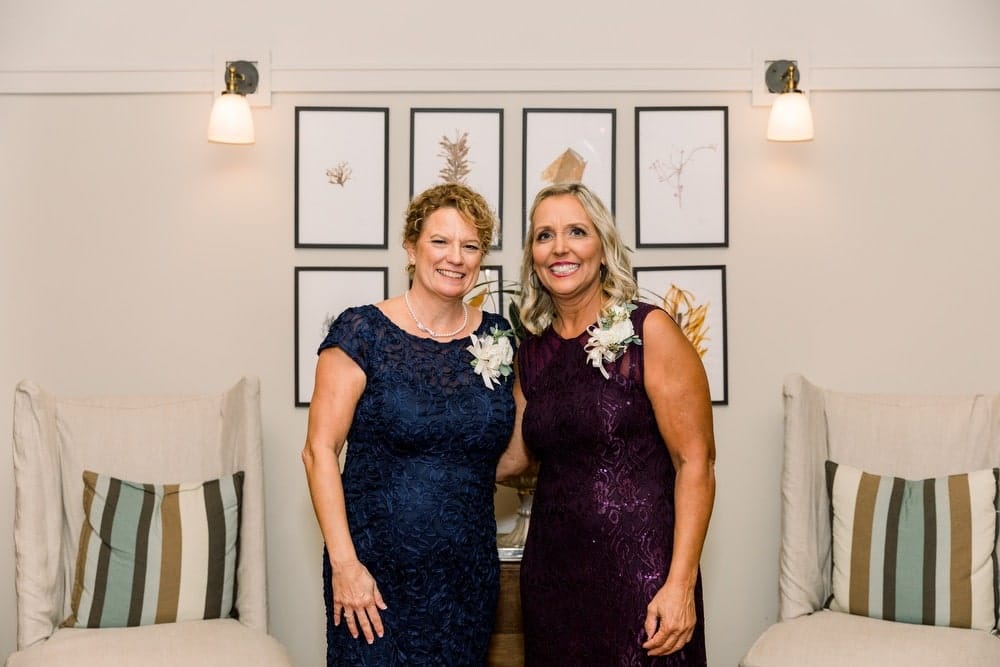 "The rest of the night was filled with endless joy and dancing to all the '90s kids' favorite jams (our DJ was amazing), and before we knew it, the night was over," says Amanda.
"The day ended up being perfect," says Vince. "Besides marrying Amanda, of course, one of the highlights of our wedding for me was the food! We received an overwhelming response regarding how great it was.
Amanda and I both consider ourselves foodies, so the thought of everyone enjoying the part where you're forced to sit with people and share a meal was just more icing on the cake."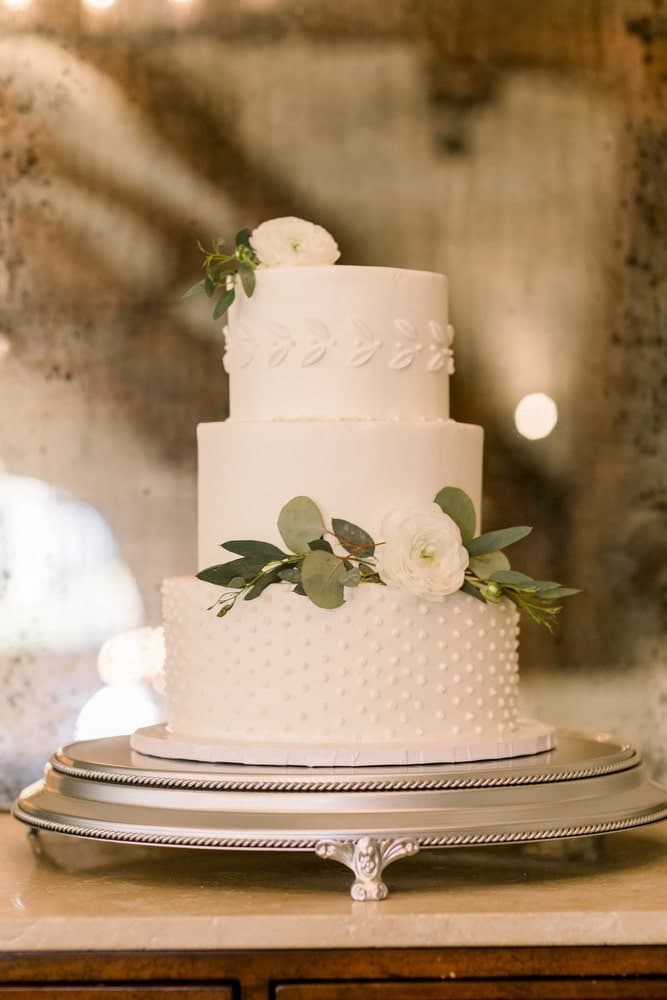 Speaking of cake—Amanda designed the gorgeous three-tier confection created by Mallory Archer of RELAX & Eat Cake in Panama City Beach. "She met Vince's need to have three different cake flavors with the beautiful, understated white outside," Amanda laughs. "She has since messaged me saying many brides request this same cake design, which is super special to us."
Unfortunately, like many newlyweds in 2019 and 2020, the Saluccis had to put their honeymoon on hold due to the coronavirus pandemic sweeping the globe. "We had planned a two-week getaway to Europe," says Vince. "We've both always wanted to visit several countries across the pond. As a third-generation Italian, going back to my roots in Italy has always been my goal, and Amanda shares the same sentiment. We had our sights set on the Amalfi coast—beautiful landscape and scenery, small coastal towns, and copious amounts of local food and culture. We didn't want to stay in one location, so we also planned to experience some more popular areas such as Rome, Florence, and Venice. When news of the COVID outbreak reached the US, we tried to move our plans from Italy into other parts of Europe that weren't getting hit as hard: from London to Paris to Barcelona. Unfortunately, all of our ideas were canceled by the pandemic in March 2020. We remain optimistic that when given a chance to travel abroad, we can properly celebrate our honeymoon."
And the Saluccis have even more to celebrate this year, as they recently shared the news that they are expecting their first child in November—right around their anniversary. Congratulations, Amanda and Vince!
— V —
---
Special Thanks
Photography: Lauren Folk, Folk House Photo Bridal gown: Margaret Ellen Bridal Cake: Mallory Archer, RELAX & Eat Cake Venue: Shark's Tooth Golf Club Coordinators: Madison Smiedendorf and Samantha Kasten Officiant: Harley Willis (the bride's uncle) DJ: DJ Powell Florals and decor: Clay Keels, Signature Events Transportation: Southern Comfort Services Hairstyling: Jessie Bennett Makeup: Ariana Fernando
ARTICLE CATEGORIES