Bermonds Locke Meets Joshua Tree
Story and photography courtesy of Holloway Li
A new hotel design unifies sustainability with a sunset-drenched aesthetic in the heart of Bermondsey, London. This neighborhood could be described as the Brooklyn south of Thames, with its converted warehouse spaces and hip apartments that have attracted a renaissance of art and culture in the past few years. Museums, galleries, and gourmet eateries have made it one of the city's best new places to stay, and the interior architects at Holloway Li agree. Earlier this year, they unveiled their design for Bermonds Locke, the latest property of home-meets-hotel brand Locke. This sustainable urban retreat in the heart of Bermondsey features repurposed materials that transform the 143-room hotel into a surreal, iridescent haven inspired by California's Joshua Tree National Park and the surrounding Mojave Desert.
The desert-inspired aesthetic begins with a moonlit reception area bathed in a glittering mirage created by overhead mirrors. It was inspired by Olafur Eliasson's The Weather Project, a massive art installation at London's Tate Modern, which mimicked a blazing orange sunset that viewers could stand or lie under and take ethereal photos.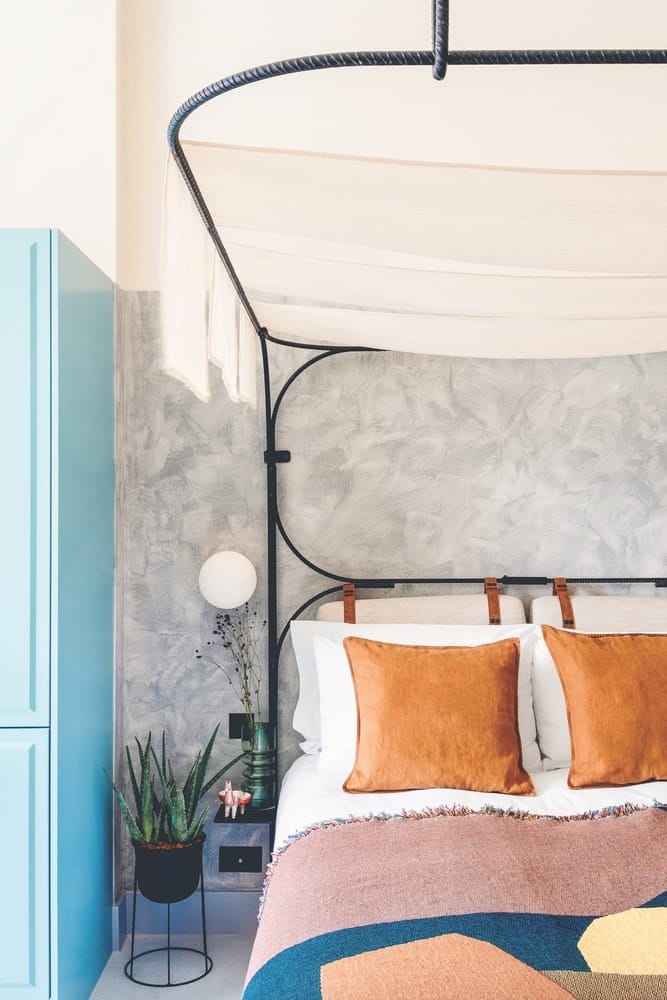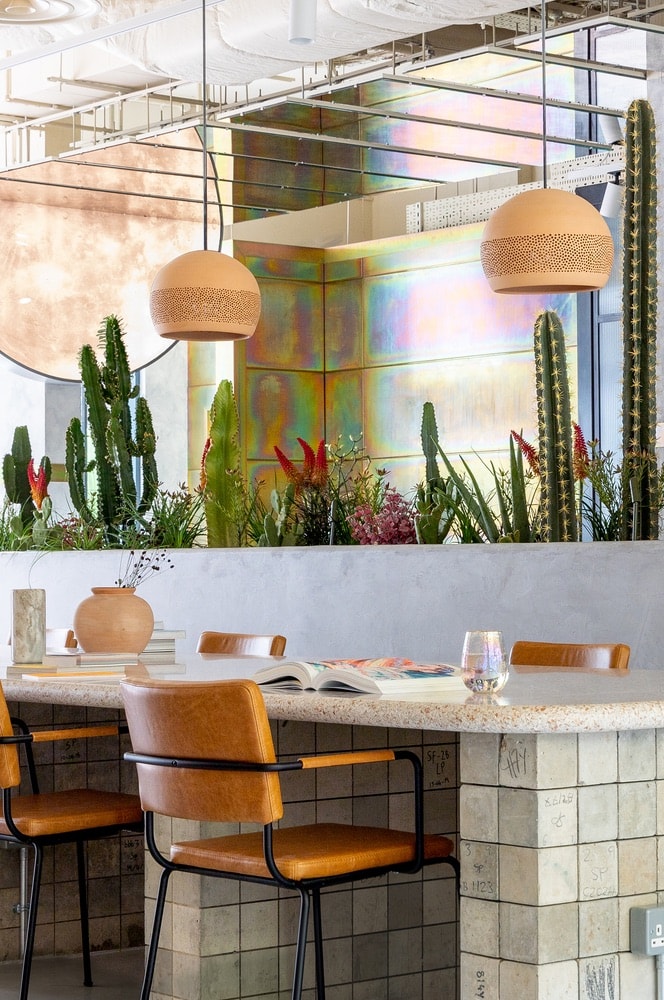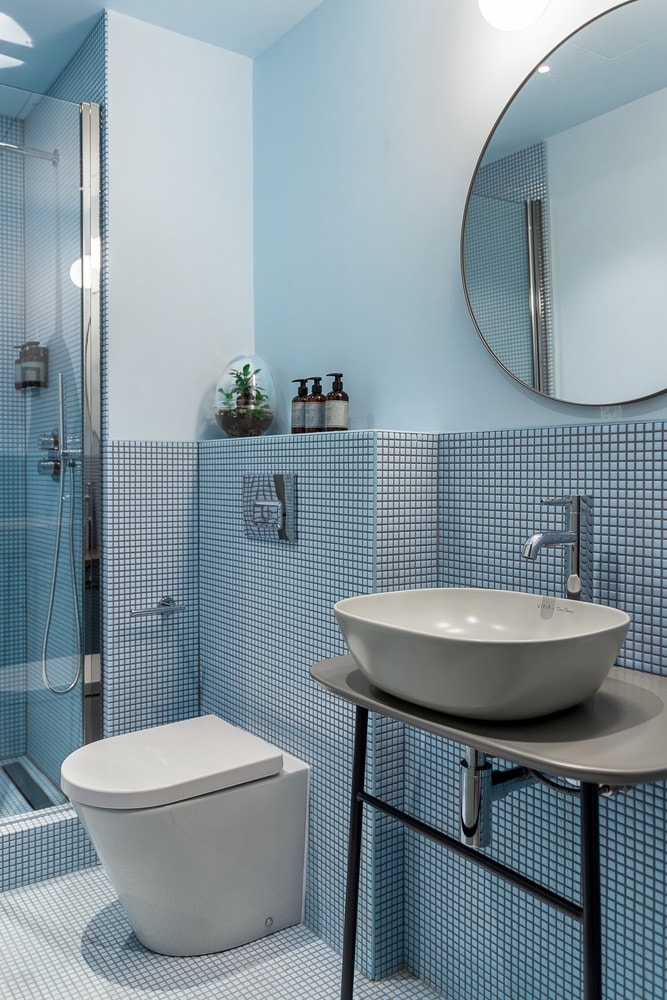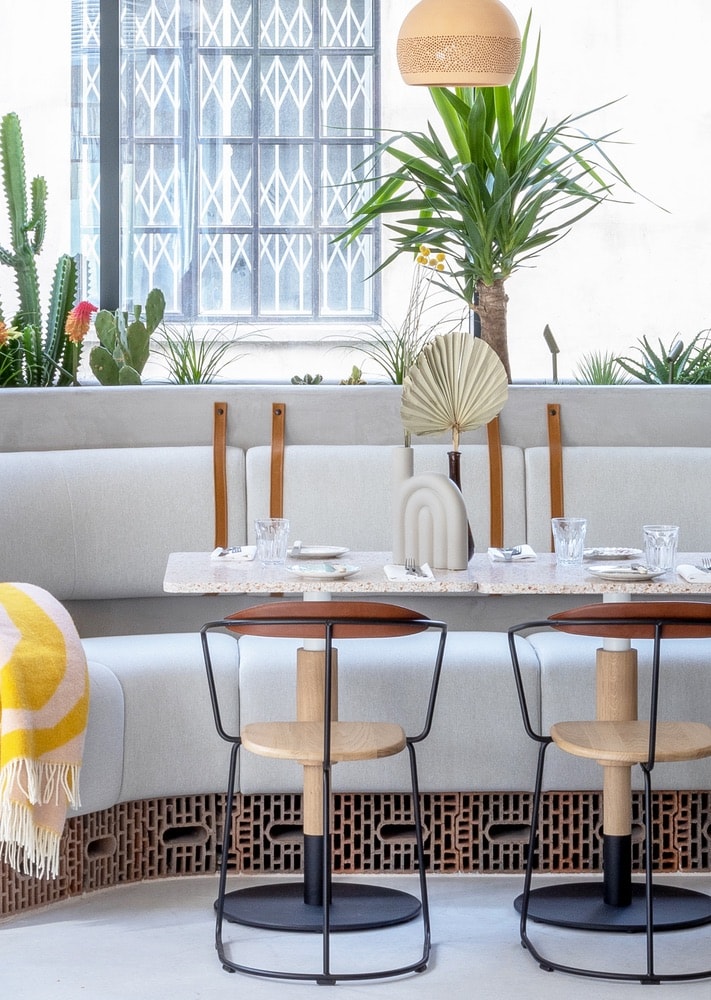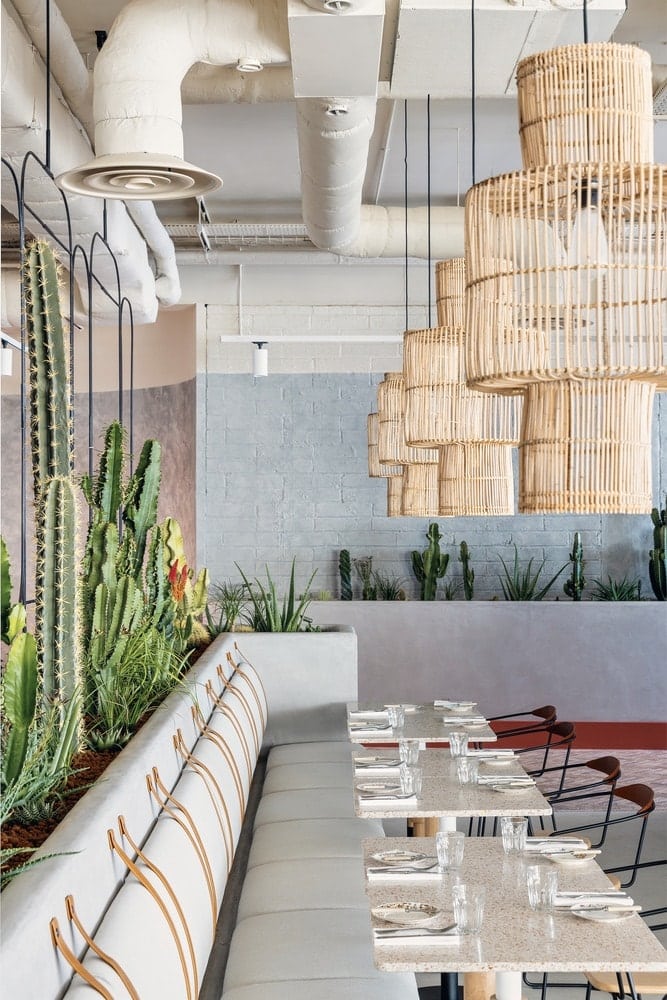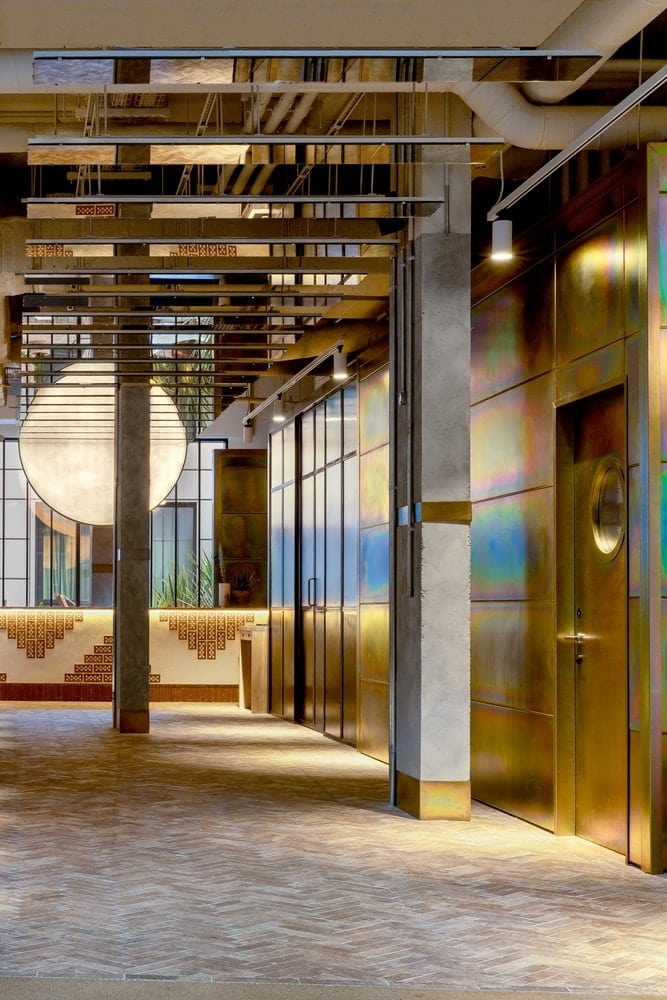 In the tranquil pursuit of both business and pleasure at Bermonds Locke, visitors can meander through open coworking spaces with soft light, swing chairs, fixed concrete banquette seating, and suspended planters punctuating the stretch between the bar and restaurant in the hotel's on-site eatery, Bermondsey Larder. The hotel is conveniently situated within the neighborhood's "Beer Mile," which comprises a collection of breweries and bottle shops, ensuring guests will never go thirsty or lack entertainment.
Marking a new design direction for Locke, which has three other apartment-style hotel locations in London, Holloway Li curated a living experience carved out of recycled construction-site materials. They adorn the studio rooms, bar and restaurant, coworking spaces, gym, and yoga room. The studio harnessed the potential of upcycling to curate bespoke furniture and interiors throughout the space. Concrete testing cubes that were destined for the landfill found new purpose at Bermonds Locke. They now serve as plinths for a twenty-foot-long terrazzo table in the ground-floor workspace and were shaped into the bar for Bermondsey Larder. Repurposed steel rebar and clay bricks form decorative ironwork and joinery elements throughout the dining space.
"We are really excited to partner with Locke to pave a new design direction for the brand's home-meets-hotel concept," share Alex Holloway and Na Li, the cofounders of Holloway Li. "By innovating the reuse of materials, we hope to highlight how a circular material economy can generate an incredibly unique aesthetic and a new kind of living experience—doing more with less."
"By innovating the reuse of materials, we hope to highlight how a circular material economy can generate an incredibly unique aesthetic and a new kind of living experience—doing more with less."
Bringing the changing gradient of the desert sunset to South London, Locke's signature functional living rooms on the upper floors are dipped in blue, beige, and gray hues, while saturated, vibrant reds adorn the spaces on lower floors. Holloway Li designed bespoke modular sofas for the hotel that were hand made using sand mixed with resin lay-up to re-create the desert's tonality. Rough-sawn timber floors welcome a patina to be marked as more guests tread upon them.
Each studio is designed to be a real home away from home, equipped with a fully functional kitchen and laundry facilities to give guests the flexibility to live undisturbed. Bespoke bed frames, woven from blackened rebar and accented with linen canopies, pay homage to nature's wonder in aesthetic and eco-responsibility. The result infuses old notions of the concrete jungle with a new sense of sanctuary. Stays can be booked from one night to three months.
Capturing the psychedelic experience of Joshua Tree underpins the entire design narrative in all spaces. An industrial process called zinc passivation created the iridescent rainbow finish found on bar tops and wall paneling. This metal-dipping process forms a patina over the metal, embedding the desert sky into the hotel's DNA. The lustrous look is echoed in the fluted glass partitions in the rooms.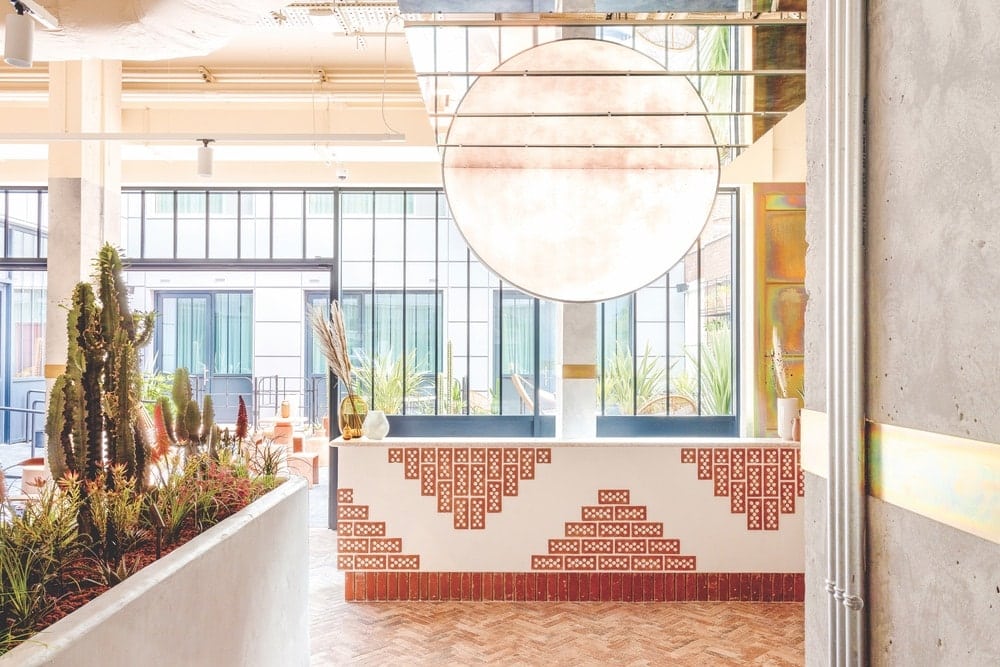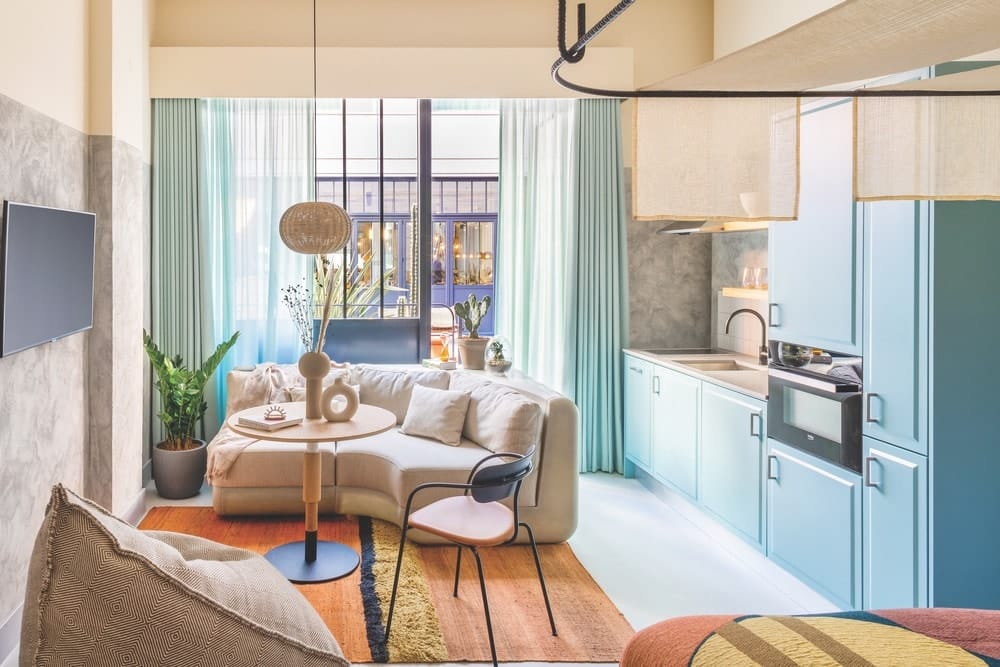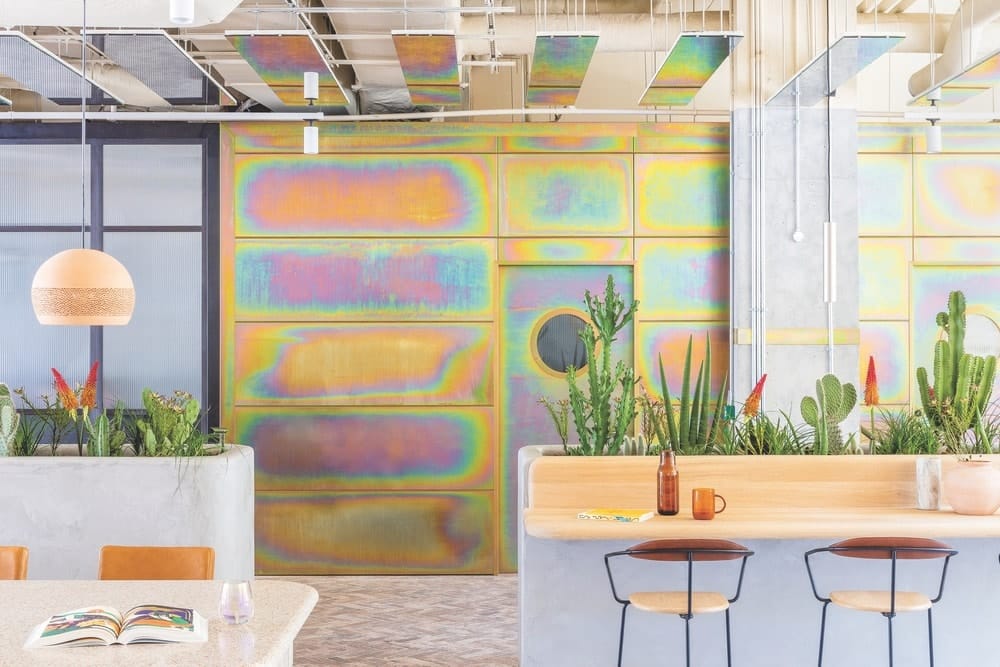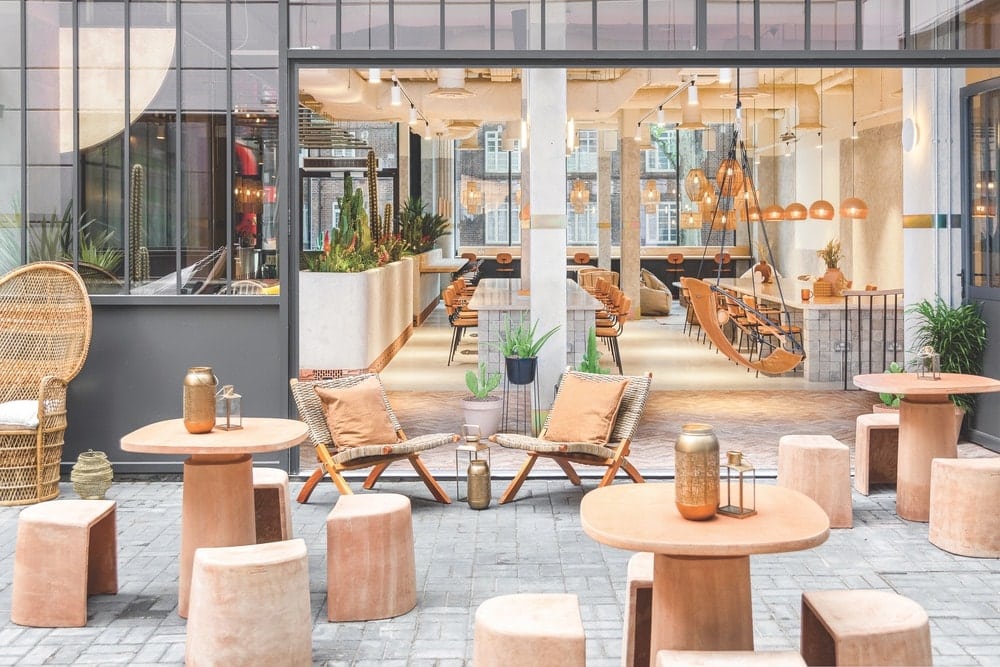 "We are delighted to work with design studio Holloway Li to bring our third outpost to life with their unique vision," says Stephen McCall, CEO of edyn, the development studio over the Locke brand. The studio specializes in extended-stay "aparthotel" accommodations. "Locke aims to liberate guests from the typical oppressive hotel room by providing beautiful apartments that are designed to be lived in."
Bermonds Locke is the first of a series of collaborative projects for Holloway Li and Locke. Other recent projects by the design studio include a rooftop extension for The Hoxton—an iconic boutique hotel in Shoreditch, London—and Georgian/French brand Entree's first UK bakery and modern-style café in Notting Hill.
— V —
---
To learn more or book your stay, go to LockeLiving.com/en/london/bermonds-locke. To see more projects from the design team, visit HollowayLi.com.
ARTICLE CATEGORIES