By L. Jordan Swanson  |  
Photography by Shelly Swanger
For Allison Wickey, painting is like yoga—therapeutic and liberating for the body, mind, and soul. Luckily for this artist, finding inspiration is as easy as breathing. In fact, it's as easy as commuting to work. The scenic drive to her new gallery in Seacrest Beach, Florida, consists of blue waters, green trees, and white sands—a veritable artist's palette that constantly sparks ideas for her work.
Although Wickey is known for her landscape paintings, she also enjoys the challenge of abstracts. She achieves both through a style that's actually a type of fresco: Venetian plaster mixed with acrylic paint on wood. "It's a thirteen-step process that entails a lot of texture and impressionism," she says. It also entails a lot of patience. The intricate layering and drying process means that each piece takes about four days to complete.
Wickey, who has practiced this technique for six years, stresses that the first step in the process is simply observing. "If someone wants a painting that represents Seacrest Beach, I go down to the beach and look at how high the dunes are, the vegetation and how it grows, and the curve of the beach, and then I paint that," Wickey explains.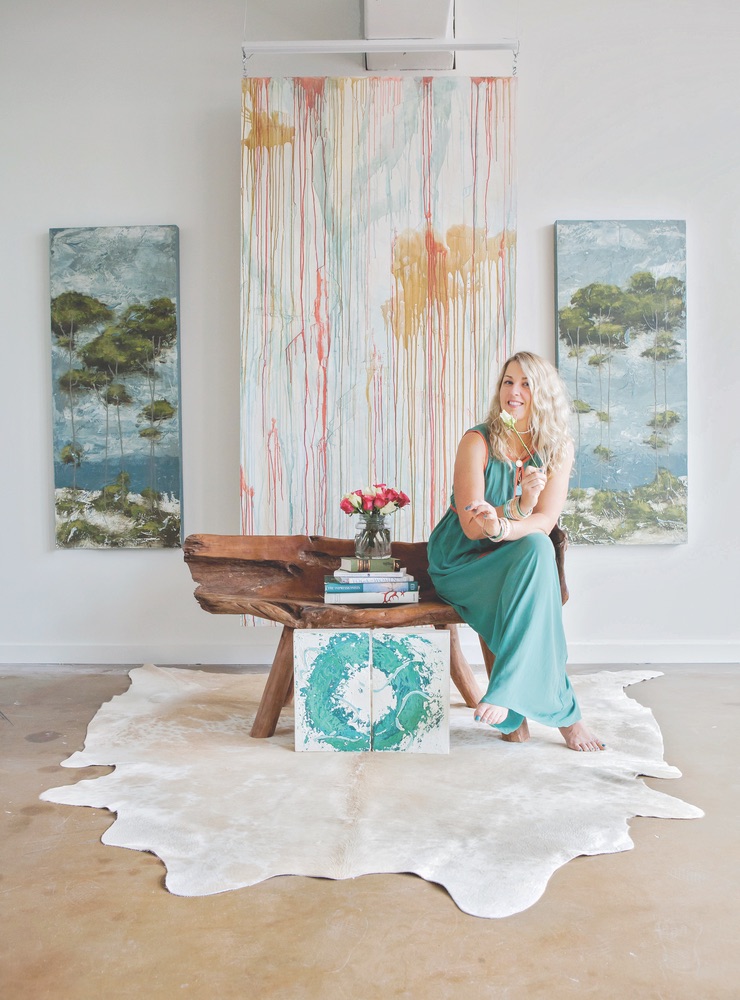 Left to her own devices, Wickey frequently chooses to paint herons. She's so drawn to them that she even gives her lifelike creations names that fit the personalities she envisions for each one.
No matter the subject, Wickey's paintings are noteworthy for what they don't have: anything man-made, which she removes from the scene—at least in her mind's eye—so that she can produce a landscape that's akin to what settlers in Florida would have seen five hundred years ago. And it's a good bet that she'll find something in that scaled-back picture that's crying out for a dab of her favorite color, a dusty blue-green she likens to the sea on a cloudy day.
That shade and what it represents are a long way from Wickey's Midwestern roots. The Illinois native earned a degree from Columbia College Chicago before moving to St. Louis, where a job as a muralist and faux finish painter introduced her to plasterwork and glaze making—materials and techniques she still uses today. But without the freedom to paint her own pieces, Wickey wasn't fulfilled. Listening as always to her intuition and being unafraid to take risks, she decided to kick-start her career as an independent artist by relocating to Blue Mountain Beach in 2006.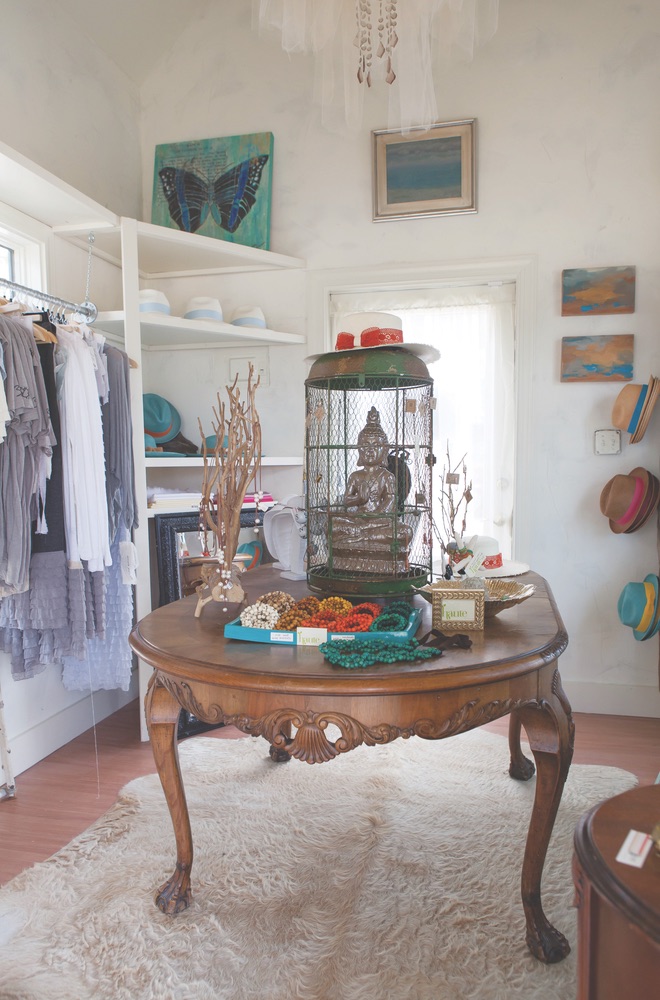 If someone wants a painting that represents Seacrest Beach, I go down to the beach and look at how high the dunes are, the vegetation and how it grows, and the curve of the beach, and then I paint that.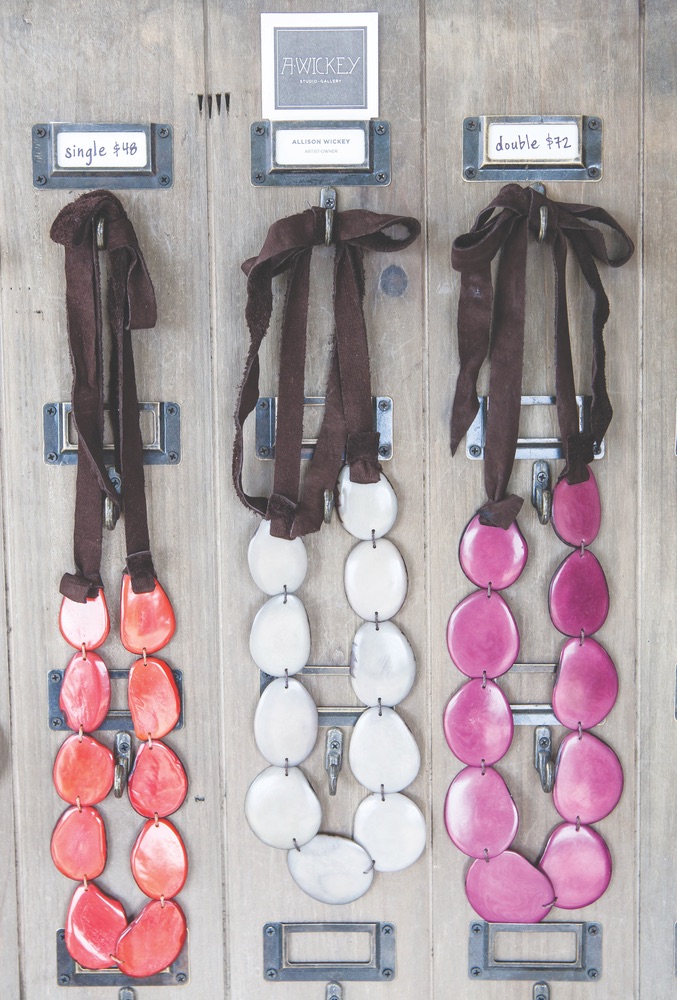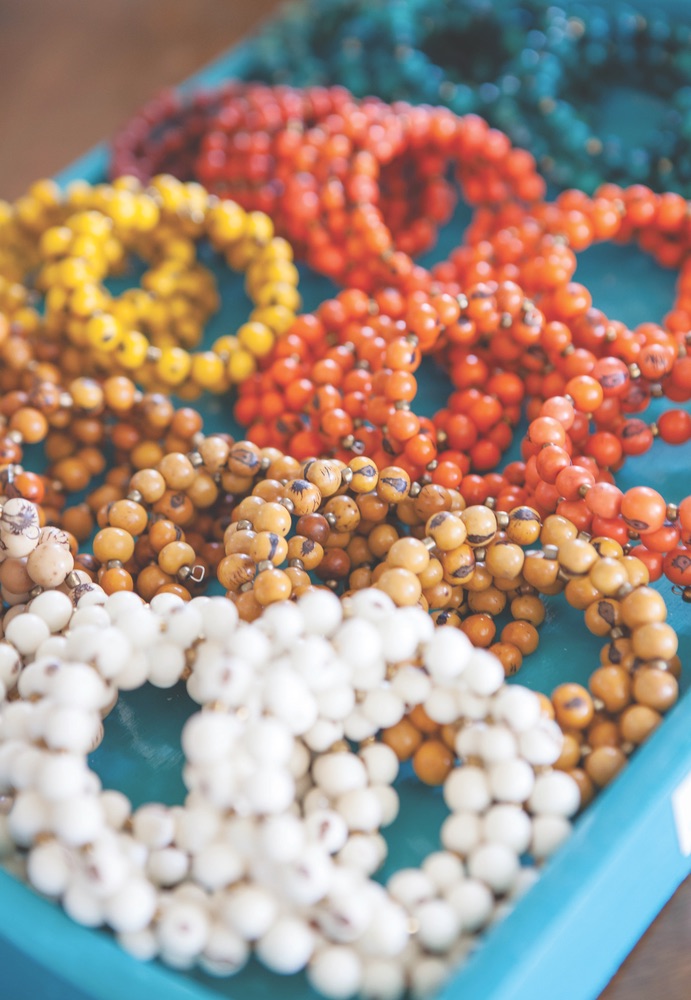 Wickey immediately fell in love with everything about her new home—except the art. Finding much of it too bright for her tastes, she pulled out the plaster and began experimenting, eventually hitting on the kinds of things she wanted to hang in her own house: pieces that looked charmingly aged. These pieces spoke to others as well, and she began getting rave reviews. In 2011, Wickey was named Artist of the Year for Walton County, and in 2012, the gallery she had opened a few years earlier was honored by Emerald Coast Magazine as Best Gallery on the Emerald Coast.
The A.Wickey Studio-Gallery, which recently moved from Rosemary Beach to a 4,000-square-foot space in Seacrest Beach, showcases not only Wickey's paintings but also the work of fellow artists. The gallery currently represents sixteen local artists—including Nicole Paloma, Wendy Mignot, Gaëlle Le Goff, Christon Anderson, Juan Francisco Adaro, Justin Lyons, Mary Hong, and Steve Wagner—whose bigger pieces can be found in the gallery and whose smaller pieces can be found in the kiosk.
No doubt Wickey has a lot on her plate, which is why she depends on her right-hand man, artist and musician Cody Copeland, to help things run smoothly at the gallery. Calling him her perfect counterbalance, she credits him with keeping her grounded and lending some much-needed practicality.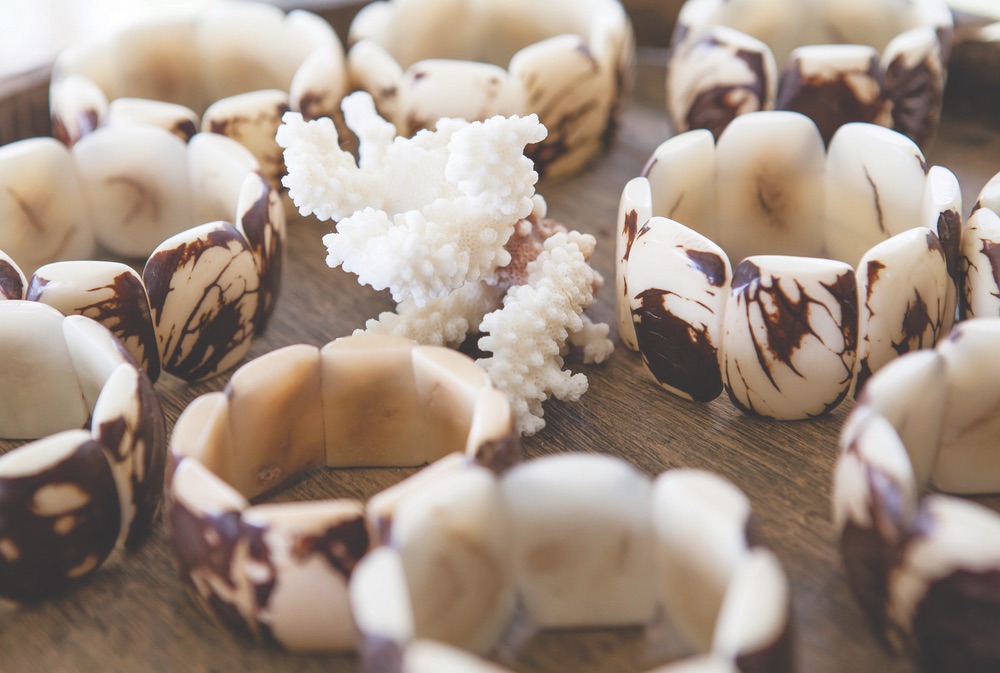 Wickey's success as a gallery owner and especially as an artist is no surprise to friend and client Diane Carroll, who says that Wickey manages to depict the Gulf Coast's fairy-tale quality in her paintings. Carroll, whose family splits its time between Inlet Beach and Texas, found herself desperately missing the Florida scenery when she was away. But thanks to her husband, who surprised her with a Wickey painting for their home in Texas, all she has to do is glance at the tall trees, dunes, and waters of Grayton Beach's Western Lake, and she's right back on the Gulf. "It captures a feeling you get when you're here," says Carroll. "It really evokes the beauty and the vibe of being at the beach."
Wickey's landscapes of Western Lake seem to be in high demand. She recently created an eighteen-by-twelve-foot fresco of the same subject for the Pearl, a luxury hotel in Rosemary Beach. And fortunately for the public, the fresco is earmarked for display in the street-level private dining room, so passersby can enjoy the piece as well. Up next for the busy artist is a juried art show, ArtsQuest, in WaterColor, Florida.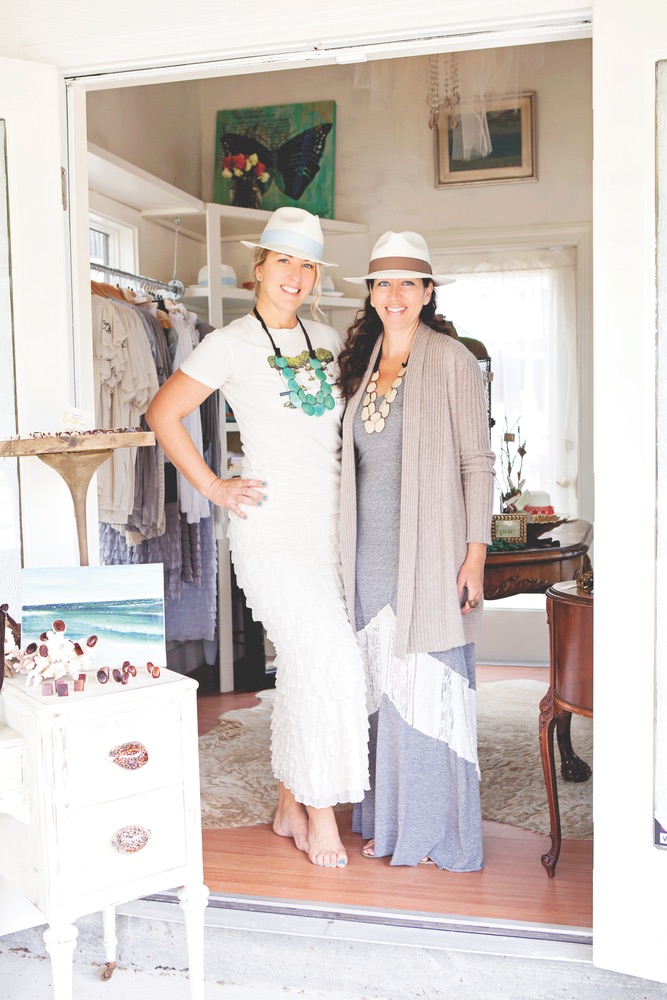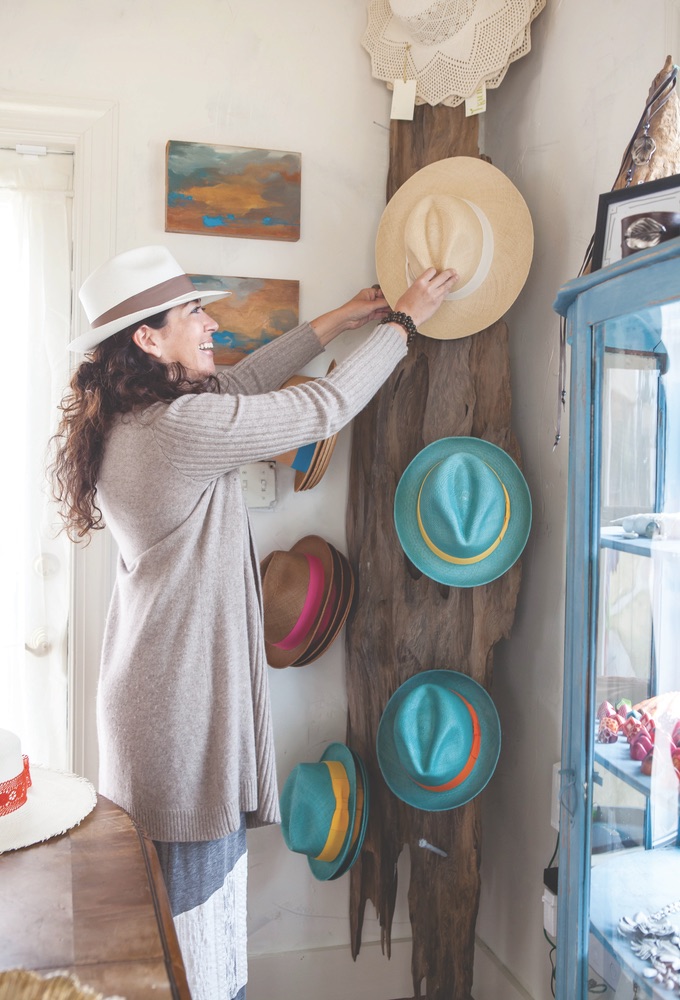 Always at the top of Wickey's to-do list, however, is spending time with her two children, ages nine and six. And thanks to their mom, the kids have a ready-made place to express their own creative sides. Wickey makes a point of helping her children appreciate the beauty around them, and whether it's nature or nurture, they've taken those lessons to heart. "They're both pretty good little artists themselves," she says.
Wickey's interest in nurturing artistic gifts isn't limited to her offspring. Wickey's goal is to continue to provide talented new artists with a place to sell their work, effectively supporting the dreams of others as she's living her own. It's an integral part of a simple life plan that goes something like this: "Work less, make more money, and be happy," she laughs.
— V —
---
A.Wickey Studio-Gallery and A.Wickey at the Pavilion kiosk are located at 10343 East County Highway 30-A in Seacrest Beach, Florida. The gallery is number 130, situated in the building behind La Cocina on the first floor, and the kiosk is number 7. The gallery is open from 11 a.m. to 4:30 p.m., Tuesday through Friday; the kiosk is open from 11 a.m. to 4:30 p.m., Monday through Saturday. To contact Wickey, call (850) 588-2551 or visit www.AllisonWickey.com.
ARTICLE CATEGORIES