By Emme Martin
Dedicated to fighting child hunger since 2010, Food For Thought Outreach (FFT) is a not-for-profit organization serving children in grades K–12 in Northwest Florida's Walton and Okaloosa Counties. Founded by Tiffanie Nelson in 2010, FFT supports children from over thirty-two schools by bridging the gap between school meals during weekends and breaks. FFT also offers learning and life-skill resources through the Emeril Lagasse Full Circle Kitchen and their Full Circle Gardens. Many children in our community only have access to school meals during the week, so FFT plays a vital role in ensuring these children can eat when they go home for the weekend. Hunger affects a child's ability to concentrate and perform complex tasks in and out of the classroom. Research also indicates that hunger can cause behavioral problems such as hyperactivity, anxiety, and aggression. These are all reasons that the VIE Beach House – A Show Home team is ecstatic to donate a portion of the profit from the home's sale to this local organization.
Nelson's desire to empower the underserved in our community drives her mission to take the stress of wondering where the next meal will come from off children, allowing them to focus on their education and become productive members of the community.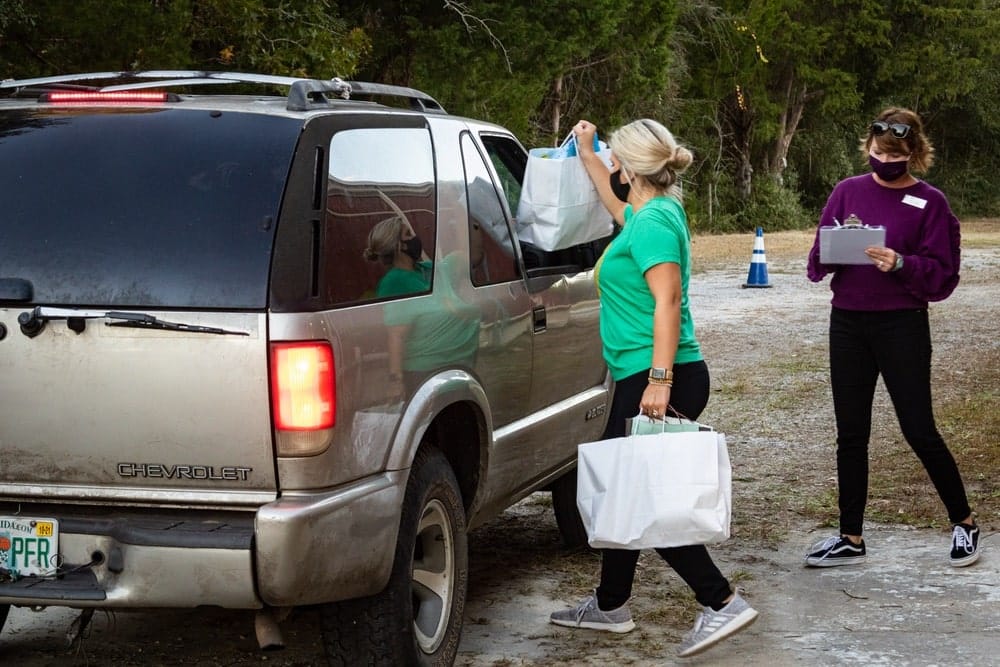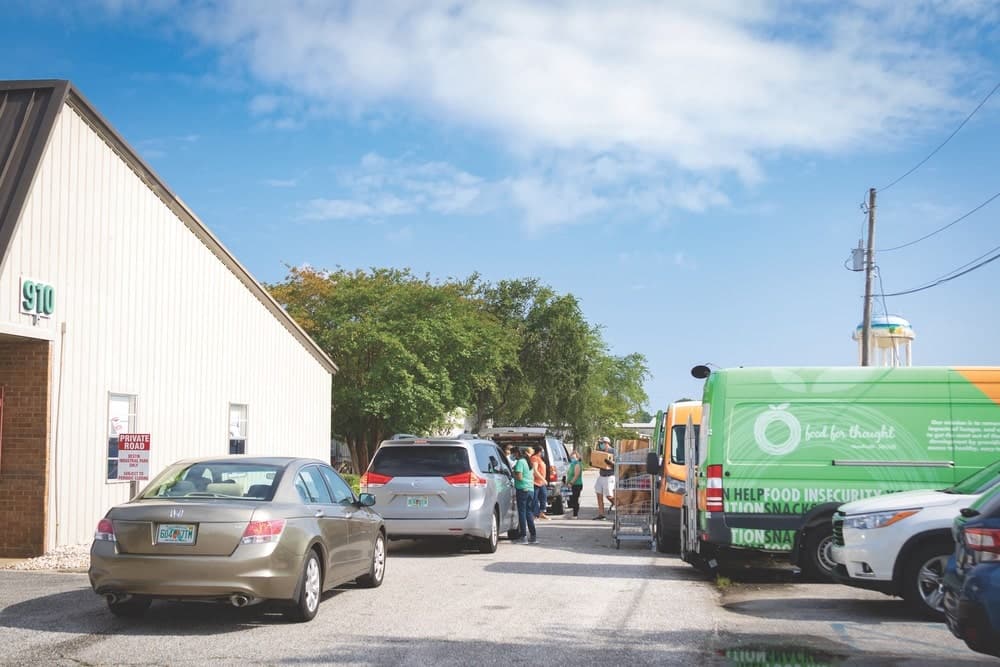 The organization has been providing meals to food-insecure children through their in-school backpack program for years. The backpacks, containing healthy and easy-to-prepare meals, are the most effective way to fight child hunger in our community; children are provided with critical items in a discreet manner, so they don't have to worry about feeling judged.
When asked about her connection to the organization, show home developer and owner of Q Tile + Design Studio Suzy Accola says, "We have worked with Food For Thought and watched them grow in this area over the ten years we have lived in Santa Rosa Beach. Between our three kids, they've attended Bay Elementary, Seaside Middle School, Emerald Coast Middle School, Seacoast Collegiate High School, South Walton High School, and Ohana Institute. There is such a need in our area and beyond for kids to receive nutritious foods that feed their brains and bodies. Food For Thought provides kids the ability to receive these meals anonymously in backpacks from their schools."
"We cannot think of a more worthy or deserving cause to support during these difficult times," says VIE founder/CEO Lisa Burwell. "Children are the future of our community, and they deserve the very best chance for health, happiness, and success in their lives. Thank you, Food For Thought, for everything you do to help them and their families throughout the year!"
"Food For Thought provides kids the ability to receive these meals anonymously in backpacks from their schools."
With the onset of the COVID-19 crisis, FFT changed operations to a modified plan that involves curbside pickups in five locations every week. The curbside program has served five hundred to six hundred families, each with a bag of over thirty food items. Thanks to the organization's dedication to creating a sustainable program, FFT has not missed a week of service since March 2020.
Since January 2021, FFT has been able to reincorporate the in-school backpack program into half of the schools they serve and are slowly working toward reincorporating the rest. Keeping safety in mind and depending on the protocols, FFT hopes to return to normal processes by the end of the year. Nelson and the rest of the FFT staff and volunteers understand that food-insecure children need the program now more than ever. According to Feeding America, before the COVID-19 crisis, nearly 11 million children lived in food-insecure households. Despite this staggering number, prepandemic data reflected the lowest food-insecurity rates in more than twenty years. The devasting effects of COVID-19 have reversed all of the improvements made over the past decade, with millions more children now newly experiencing food insecurity. FFT has never lost sight of the goal to feed as many children in the community as possible. Despite the challenges of the recent year, their steadfast determination remains more robust than ever.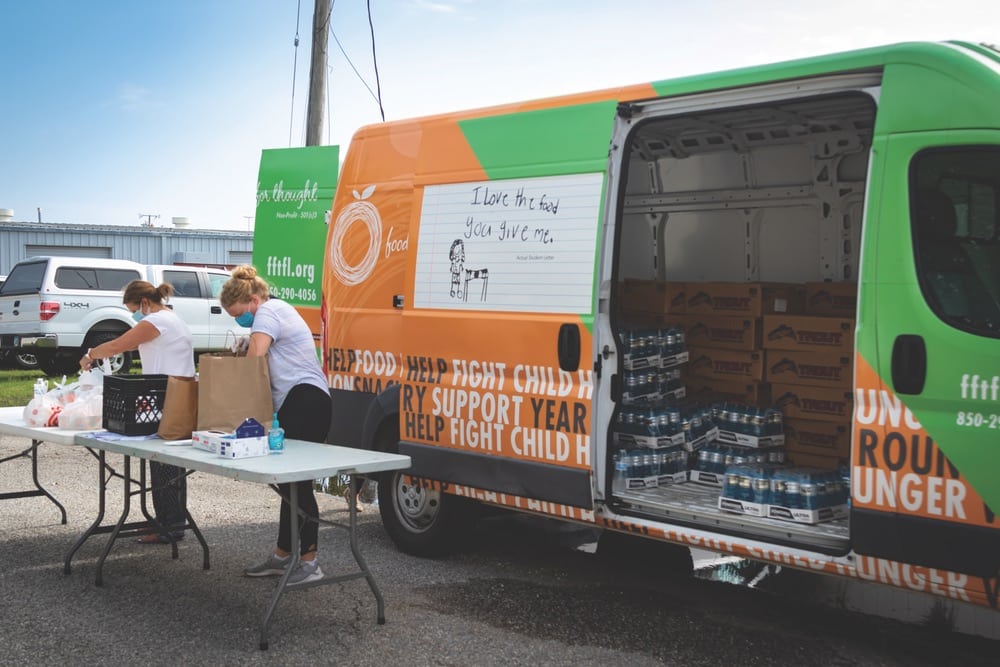 The donation from the VIE Beach House's sale, with a mission of "neighbors helping neighbors," will support at least thirty thousand food items that will go directly to the food-insecure children enrolled in FFT services.
"I love all that Tiffanie stands for, as well as so many others at Food For Thought who give their time, energy, and creativity to make good things happen!" says Accola.
Food For Thought depends on the generosity and partnership of the community to provide their services. If you would like to help, FFT has weekly volunteer opportunities and is always accepting donations. Volunteers have always been the backbone of FFT and have continued to be throughout the pandemic. By volunteering or donating to Food For Thought, you help power the programs and ensure services can continue to be consistent and reliable.
— V —
---
To learn more about how you can help, email support@fftfl.org or visit FFTFL.org.
ARTICLE CATEGORIES