Give your yard a functional face-lift and enjoy your home in a whole new way
By Wendy O. Dixon
There's something about certain rooms in our homes that make them our favorites, those that invite us in with a welcoming ambience. It could be the decor or the functionality of the space, but there's one universally appealing aspect to our favorite rooms—windows.
"While our indoor rooms are more polished, we all gravitate toward the rooms that have a connection to the outdoors—those rooms with windows," says home designer Tom Flowers.
Flowers, who is also a landscape architect and the CEO of award-winning design-build firm Sanctum, based in Atlanta, Georgia, has designed homes and outdoor spaces for more than thirty years. His work has been featured in Better Homes and Gardens, Atlanta Homes and Lifestyles, the Atlanta Journal-Constitution and Today's Custom Home, among other publications.
Lately, many homeowners are enjoying their homes in an entirely new way—by designing outdoor living spaces that rival their indoor counterparts. "Our relationship to the outdoors is more tactile," Flowers continues. "You can feel the wind in your hair and the crunch of the grass under your feet. The relationship is entirely different from what we have with our indoor rooms."
Outdoor "rooms" can now incorporate functional yet luxurious amenities that have traditionally resided indoors. Plastic patio furniture is giving way to plush weather-resistant sofas and lounge chairs. Flat-panel waterproof televisions are a popular addition to an outdoor entertainment room, and gourmets and gourmands are sliding homemade pizzas into wood-fired pizza ovens in their alfresco kitchens. With the help of an expert, you can design your own private sanctuary, enjoy year-round entertaining, and practice your culinary skills—all in your backyard.
These additions not only add to your home's value, but they also enable you to enjoy your home on a whole new level. "Enjoying your home to its fullest potential means having an emotional connection to it," Flowers explains. "You can enjoy it best when the space embraces you and creates an emotional response." By considering what you want that response to be, you can design your outdoor space accordingly.
But don't just bring in a bunch of rocks and plants and think you'll figure it out as you go, Flowers warns. Have a plan. First, determine how you want to use the space. Do you plan to entertain most weekends? Will you cook meals outdoors several nights a week? Will you watch the sunset each night while sipping a glass of wine? Do you want a lot of shade? Privacy? Fencing? "That will determine the size, shape, and type of materials and landscaping you'll need," he says. Having a professional landscape architect visit the site will help you determine how to best use the space to fit your lifestyle.
Of course, your budget is certainly part of the equation. With the help of a landscaping expert, first gather information to explore all the options. "The minimum budget should be at least enough so that the project makes a meaningful lifestyle change for the owner," Flowers says. "If you're just making more of what you've already got, why do it?" Once you define the alternatives, you can determine the financial objectives and see if you can reach your wish list based on the resources you have.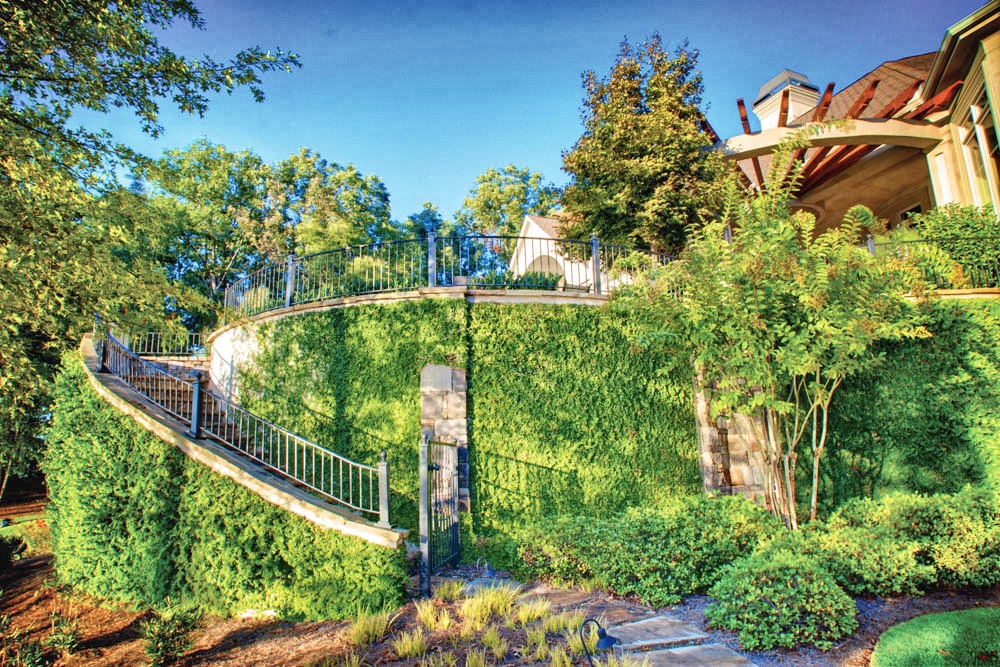 The existing structure will tell you what it is naturally suggesting. You wouldn't take a Tuscan-style home and add something formal on the outside. Next, the lay of the land starts suggesting what you can do.
Next, consider the existing architecture and environment. "Those are your two driving forces," says Flowers. "The existing structure will tell you what it is naturally suggesting. You wouldn't take a Tuscan-style home and add something formal on the outside. Next, the lay of the land starts suggesting what you can do. If your house faces east, it would suggest areas for wonderful morning sun and shade in the late afternoon or early evening. If it faces west or south, it suggests the need for shade structures such as covered porches, pergolas, arbors, or large shade trees to offer a reprieve from the sun and oppressive heat during the times we traditionally use these types of outdoor spaces. Otherwise the spaces are intolerable."
Also consider how much time to you want to spend maintaining it, beyond pulling weeds and trimming hedges. Think about how much effort you want to invest in hardscape (nonliving) elements such as walkways, patios, fences, seating, and other design features. "Those made from masonry are most sustainable," Flowers explains, adding that stone is durable, versatile, and beautiful. "It needs a lot less care and gets better with age." Wood comes in many varieties, colors, and grain patterns, and requires more maintenance. Concrete, gravel, and granite all have their own perks and levels of sustainability.
Once you decide on the theme, budget, and materials for your backyard design, you can visualize a harmonious look that seamlessly blends your indoor space with the outdoor area. Seamless is the key word, cautions Flowers. "You don't want to go into a radical departure," he says, "so you'll want to choose similar building materials."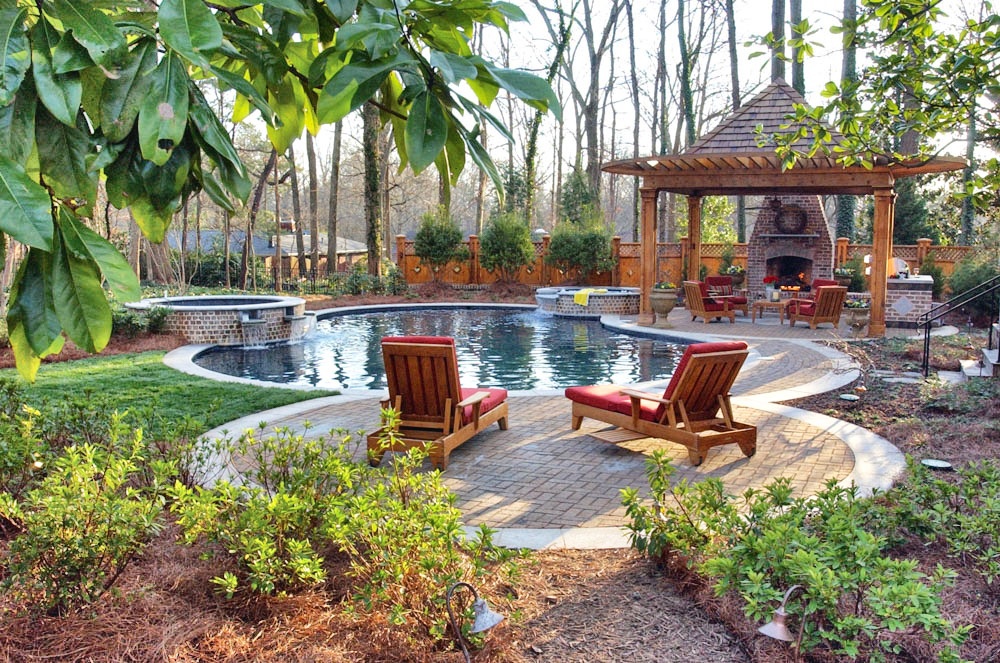 Outdoor Rooms 
The latest in backyard design involves adding the comforts of the indoors—flat-screen TVs, gourmet kitchens, and fireplaces—to the natural beauty of your outdoor space that are every bit as functional and beautiful as indoor ones. With a little imagination, you can transform your backyard into a rustic retreat, a charming kitchen and dining space, or a fun entertainment area. "Those are the top trends now," Flowers says.
Consider tropical resort features, taking cues from the decor you loved during your last resort stay. You can re-create an exotic, relaxing, and luxurious environment with bamboo, stone, mosaic tiles, tropical flowers, and torches.
Water features make for a spalike, nurturing environment, and flowing water invites relaxation and a restful mood. Contemplate a miniature reflecting pool, birdbath, koi pond, or water fountain for a tranquil setting.
For the ultimate alfresco kitchen, a stainless steel grill with an overhead vent is a must. Upgrade with a wood-fired pizza oven, but also make room for the essentials, including a sink, a cabinet, and a refrigerator. Add a cocktail bar and a seating area and you may never want to go back inside.
Outdoor fireplaces are popular even in the South, when a warm fire can make a chilly fall or winter night cozy and romantic. For a rustic feel, use stools made from preserved tree trunks. Or for more comfortable seating, set out love seats, plush chairs, and ottomans done in weather-resistant fabrics.
If your yard space permits, consider making several small designated areas for intimate backyard time. A reading nook with a chaise and small table tucked beneath a shade tree or alongside blooming flowers can make for a favorite spot to catch up on a great book, meditate, or enjoy a cup of soothing tea.
No matter your lifestyle or budget, all the same activities you enjoy indoors can be afforded outside now, Flowers says. "Most of my clients spend every day in their outdoor space," he says. "They tell me how wonderful it is, and that they're out there much more than they anticipated."
— V —
ARTICLE CATEGORIES