Still Rolling after All These Years
By Janet Thomas
From Deadheads to Parrotheads, boomer fans—and their hero bands—take it to the limit one more time.
Okay, Baby Boomers (you know who you are) and classic rock lovers of all ages: Remember in great detail some of your favorite, earth-shattering live concerts and music festivals? Perhaps some are slightly hazier than others; but oh, the vinyl albums, the 45s, the cassettes, the eight-track tapes!
Pop the top off a group discussion about classic rock bands you grew up loving, and it can quickly expand into an entertaining evening of memories. Some may be deeply individual recollections, like the songs you listened to endlessly in your bedroom as you gazed at your groovy band posters or in your car (Meatloaf's "Paradise by the Dashboard Light," anyone?). Others are collective group remembrances, nostalgic flashbacks lasting a lifetime.
Barely making it into the younger side of the Baby Boomer club, I cut my teeth on Elvis. From the age of seven, every birthday and Christmas would bring me his latest release. From there, I had a brief brush with disco (The Bee Gees, heartthrob Andy Gibb, KC and the Sunshine Band, everything Saturday Night Fever). Next came my purple faux-fur bedroom, black lights, and lava lamps—much cooler than my brother's black fur bedroom. With my driver's license came The Cars, Supertramp, Head East, Cheap Trick, and Bad Company. We'd drive around small-town Iowa for hours blasting these tunes, checking out all the other teens doing the same thing. It was the best of times.
Recently, I sat down with Ken Mansfield, former US Manager for Apple Records. The Beatles were his main focus, and when the foursome created Apple, they specifically requested that he guide the stateside business. Warm, witty, and soft-spoken (sporting a sometimes-mischievous sparkle in his eye as we talked music for more than two hours), Mansfield recalled the details with precision.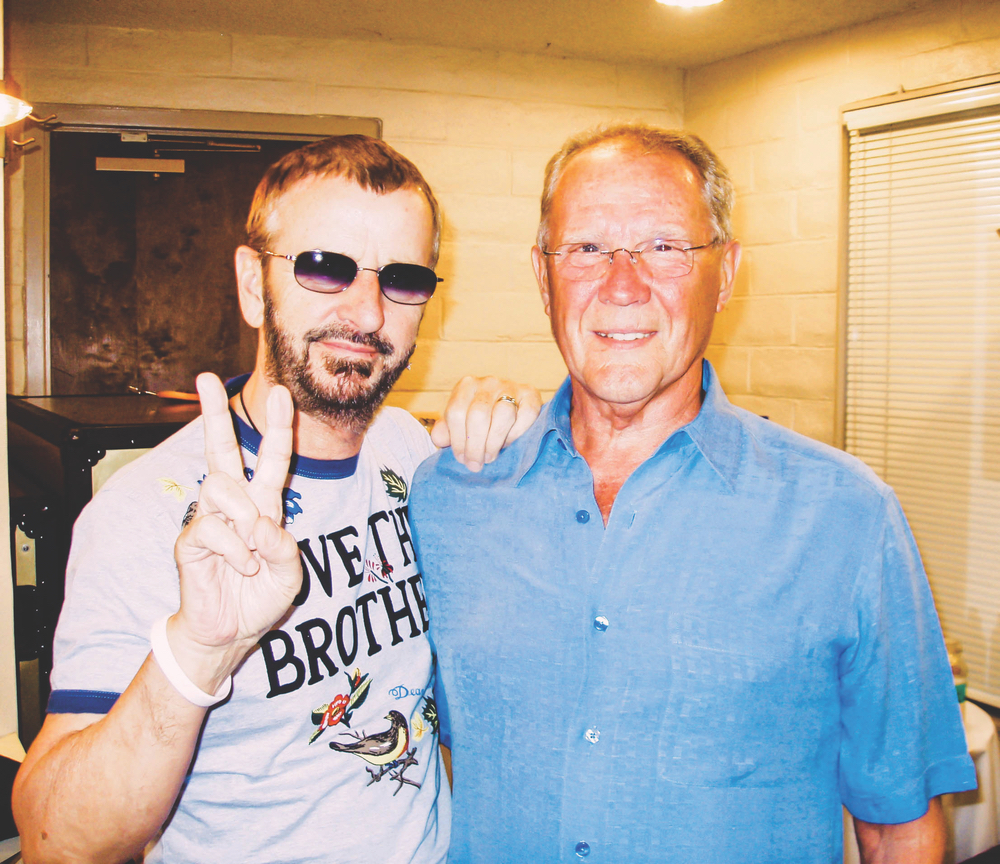 Mansfield has authored several books, including The Beatles, the Bible, and Bodega Bay: My Long and Winding Road. But hold on to your hats, because November 13 marks his release of The Roof: The Beatles' Final Concert. The book reveals, in heartfelt and glorious detail, the people and events surrounding the monumental day in January of 1969 that the foursome played together for the last time. Their last concert before that was years earlier, in August of 1966 at San Francisco's Candlestick Park. Few people witnessed the rooftop occurrence in London that almost didn't happen. Mansfield was there, bracing the cold in a white trench coat, next to two of the Beatle wives and another Apple staffer.
"I witnessed their final moments as a live rock 'n' roll band," Ken writes in the book. The specifics of the unannounced concert and why it ultimately happened on the Apple rooftop at 3 Savile Row are fascinating for seasoned Beatles fans and newbies alike. Mansfield told me a great story of a nineteen-year-old lad that was on the roof that day working with sound equipment. Years later, he discovered it was Alan Parsons, of Alan Parsons Project fame, who became a musician, composer, and multiplatinum producer and sound engineer to the Beatles and Pink Floyd. Parsons had this to say about The Roof book: "Ken Mansfield and I unknowingly shared the experience of the famous Apple rooftop session. Ken was not only working for the Beatles through their heyday, but he was also their trusted friend. There is no one better equipped to tell the Beatles' story truthfully—and more important, factually—from the inside."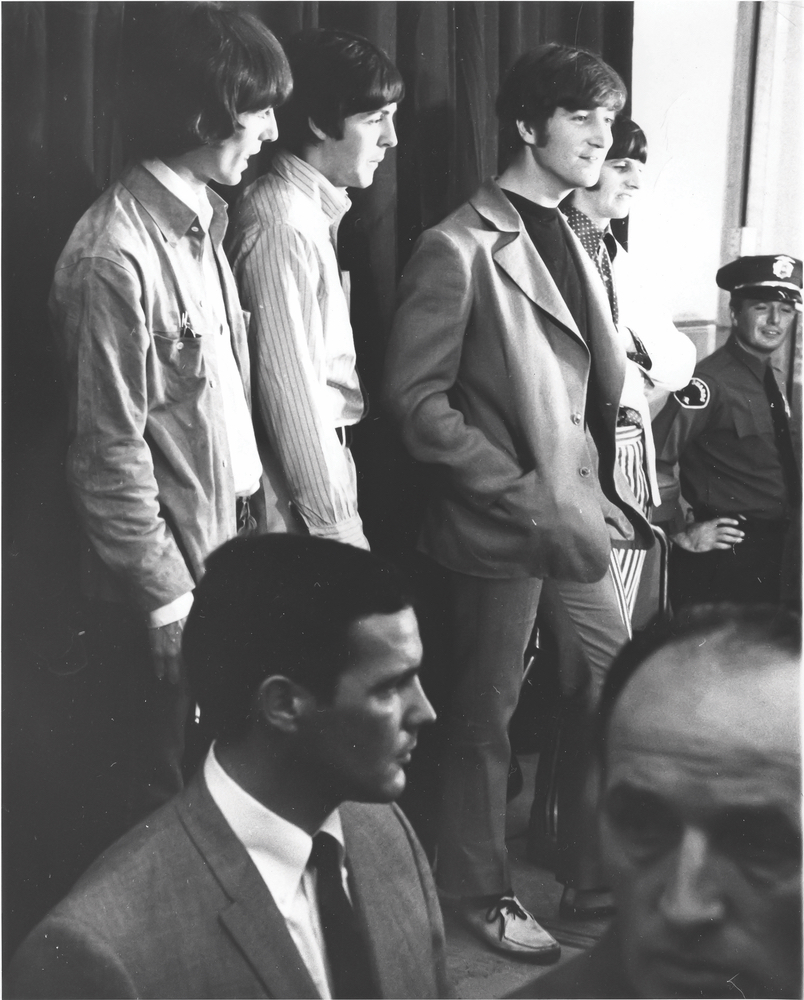 Few common denominators span generations and walks of life as music does. People have such a deep and personal attachment to certain bands and songs, often connecting them intrinsically to special moments of their life. Baby Boomers, most often described as those born between the early to mid-1940s to about 1964, have collected a wealth of musical memories and continue to do so.
But younger generations are also clinging to classic rock, sporting T-shirts with the likes of The Who, Journey, The Grateful Dead, The Rolling Stones, and Led Zeppelin and flocking to concerts and festivals. One such "youngster," Caroline Boone, describes it like this: "Speaking on behalf of many in their twenties and thirties, I think we choose to listen to bands and artists like the Rolling Stones, Led Zeppelin, Eagles, Pink Floyd, Van Morrison, Eric Clapton, and Grateful Dead because music made in older generations sets an authentic mood. It's real, it's raw, it's talented, and it puts us in a world that was before the technology of today's age. I wear my Pink Floyd shirt to assure older generations we haven't completely lost sight of the good music. It's now our mission to make sure rock 'n' roll lives on!"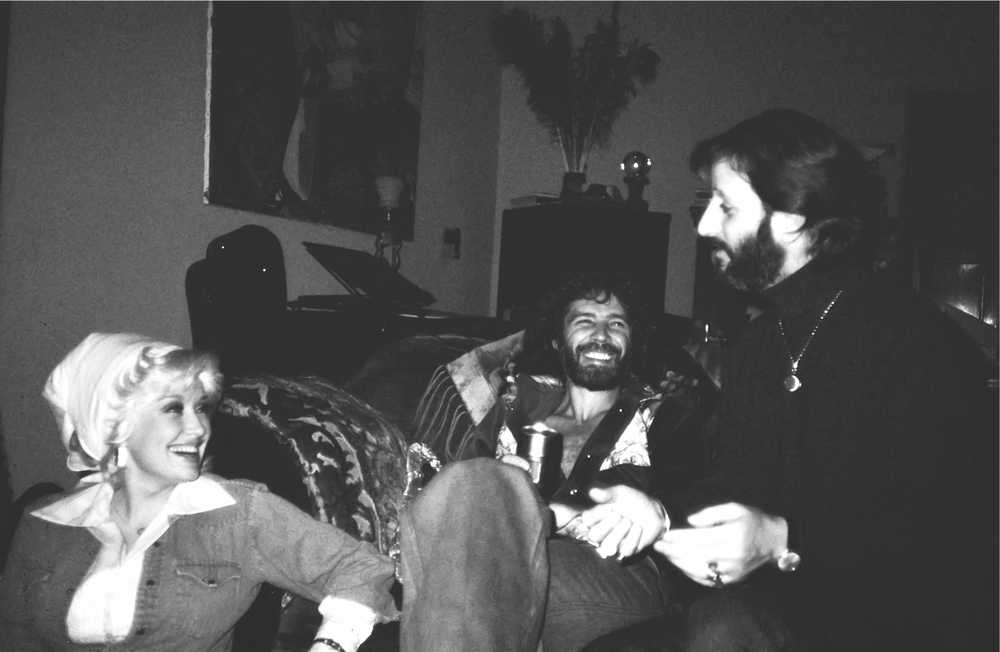 My twenty-three-year-old journalist niece Danielle Meadows puts it this way: "Classic rock has such a staying power because of the creativity and innovation that was used during that time. These musicians didn't have advanced recording technology like there is now. We don't hear instrumental solos quite as often in modern rock, and they aren't as exciting. From the ethereal twelve-string guitar sound in Led Zeppelin's 'Going to California' to the gorgeous, generation-defining lyrics of 'Let it Be' by the Beatles—there was a certain effort and meaning put into songs that have somewhat disappeared. That's why people of my generation treasure the music of the past. We hear the influences of these bands in every artist that comes out now, but it's not quite as magical."
Many bands have hit astonishing fifty-year anniversaries. You do the math, and it's hard not to notice how many septuagenarian stars are still performing—Bob Dylan, Don Henley, Paul McCartney, Eric Clapton, Elton John, and Jimmy Buffet, to name a few. The October release of Led Zeppelin by Led Zeppelin celebrates five decades since the band's inception and is the only book produced in collaboration with the musicians themselves, according to Amazon. Aerosmith just announced big news of a Las Vegas residency for 2019 to celebrate their fiftieth anniversary, with shows at MGM's cutting-edge Park Theater. (Here's betting these shows will be incredible history in the making—we'd expect nothing less from America's top-selling rock 'n' roll band of all time.) ZZ Top promises great things for their fiftieth, which also happens in 2019, including a tour—fingers crossed they release new music, as well!
VIE's hometown area of Northwest Florida has hosted many classic rock bands, to the delight of visitors and locals alike. Richard Sanders, vice president of sports and events for Visit Panama City Beach, attributes some of the appetite for classic rock to the sheer population of baby boomers in the area. "The music of the '50s, '60s, and '70s has been termed as a timeless music period. It's arguably the greatest music period ever—music that never dies," declares Sanders. "A good number of boomer parents raised their small children on the music, taking them to concerts they attended. Our Chasin' the Sun Music Festival focused on '50s, '60s, and '70s beach music, and past PCB Seafood Festivals have featured classic rock performers including Foreigner, Lynyrd Skynyrd, Foghat, Styx, and REO Speedwagon. ZZ Top was the first rock group to perform at the new Aaron Bessant Park Amphitheatre when it opened in 2013."
Classic rock is a lesson in economics, outperforming other music genres. There is serious money to be made (legacy headliners in concert tend to be a cash cow right now), and there's often an accompanying rush for the musicians. Mansfield agrees many of them do it for the love of the music and performing. At a Hall & Oates and Train show I recently attended, the mixed-generation crowd was going nuts for Hall & Oates. Daryl Hall shook his head and beamed, "It just doesn't get any better than this." The crowd had a similar reaction at Foreigner's Juke Box Heroes Tour with special guests Whitesnake and Jason Bonham's Led Zeppelin Evening. There is no doubt that baby boomers are supporting their heroic musicians and are willing to open their wallets and leisure time to the cause.
Speaking of leisure, if you've never been to a Jimmy Buffett concert, it's a sight to behold. RVs and "Parrothead parties" often fill the areas surrounding the venue, and many groupies go "on tour" with Jimmy, making a pastime of supporting him in multiple cities—changes in latitudes, no doubt. Leave it to business genius Buffett to deliver the lifestyle his fans crave; he's now in the business of active adult communities. His third Latitude Margaritaville is slated to open in early 2020 near Panama City Beach. The St. Joe Company, a master at creating beautiful developments with loads of amenities, is working with Minto Communities and Margaritaville Holdings on the project. Who wouldn't want to be at that community clubhouse come five o'clock anywhere?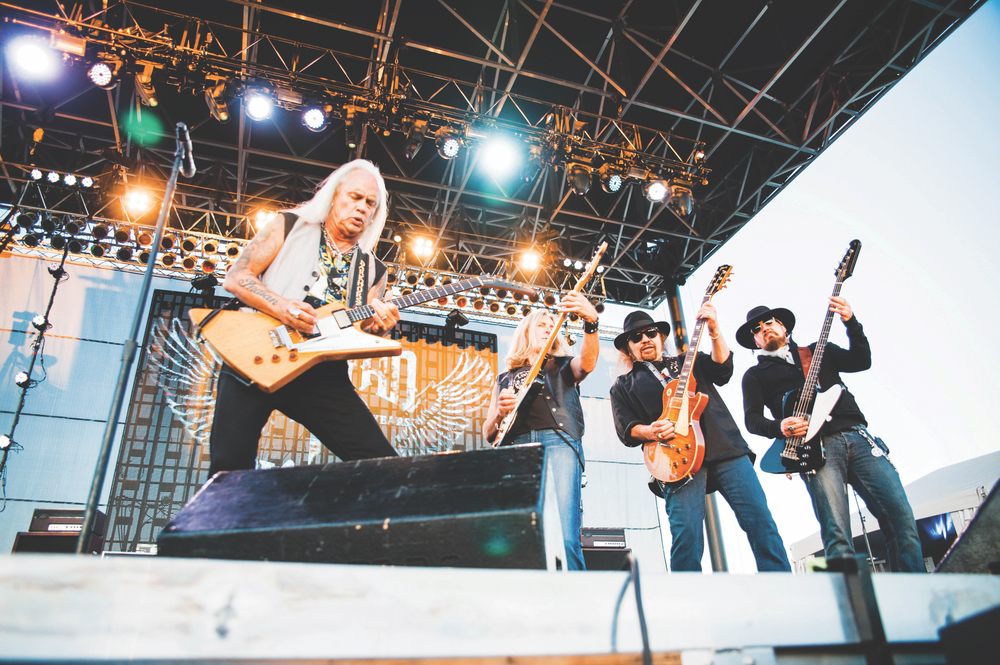 Classic rock and Southern rock cruises continue to swell thanks to Justin Hayward of the Moody Blues and bands like Lynyrd Skynyrd. Skynyrd also announced a second wind of shows in their Last of the Street Survivors Farewell Tour, sharing the stage with acts like Kid Rock, Blackberry Smoke, and Bad Company. Elton John has kicked off his Farewell Yellow Brick Road tour, hitting five continents with three hundred spellbinding shows. Queen and Adam Lambert teamed up and will surely rock the house, and just-released feature film Bohemian Rhapsody celebrates all things Queen and Freddie Mercury. Van Morrison, Robert Plant, Toto, Billy Joel, John Mellencamp, Paul Simon, Eagles (now with Vince Gill and the late, great Glen Frey's talented son, Deacon)—tons of legends are truly in this for the long run. Paul McCartney just kicked off a tour supporting Egypt Station, his new solo album, and Bob Dylan is back on the road and has released a line of whiskey called—wait for it—Heaven's Door.
Boomers and their favorite bands are most certainly aging differently and more defiantly than their predecessors (guess it's better to burn out than to fade away). Mansfield suggests that classic rock is still going strong because the music is just so good. "The creativity, the hard work, the dedication to the music—there's nothing like it," he says. "These bands are like the classical masters of the past."
My Boomer-aged, classic rock fanatic husband boasts about his seventeen linear feet of albums and one thousand CDs. Ultimate concert memories for him include seeing the Rolling Stones after they released their Some Girls album, Elvis when he was in his full-blown Las Vegas mode and did a karate demo coordinated to a drum solo, Chicago and Doobie Brothers in one remarkable concert, and Elton John with opening act Steely Dan.
"The creativity, the hard work, the dedication to the music—there's nothing like it," he says. "These bands are like the classical masters of the past."
My twenty-year-old niece from Iowa is crazy about Fleetwood Mac's "Sara" and Hall & Oates' "Sara Smile"—yes, her name is Sara. According to Sara's friend, twenty-year-old Becca Reutter, "I personally love that the live versions of classic rock music are just as good as the CDs. A lot of rap and pop is not very intriguing live because much of it is done on a computer, and there are no instruments to watch. A lot of people can relate to classic rock's lyrics. It usually has depth and a story behind it." Becca's beau, twenty-two-year-old Justin agrees. He's part of the up-and-coming Justin Elliott Band, playing mostly Southern and country rock. His favorites are Blackberry Smoke, The Cadillac Three, Kid Rock, and the Steve Miller Band.
Boomer husband and I had a big time one night with these Iowa "kiddos" on their recent visit to our Florida beach house. We were all playing DJ and dancing to Skynyrd's "Sweet Home Alabama" and Kid Rock's "All Summer Long." This happy-hearted boomer would call that a "hoot."
On my boomer band bucket list? Eagles and Lynyrd Skynyrd for sure, along with Fleetwood Mac, whose 2019 concerts are sure to sell out in a heartbeat, so grab tickets while you can! And inquiring minds are sure to wonder about Mansfield's favorite Beatles album. It's Abbey Road. His fave Fab Four song? "Come Together." If I had to pick a classic rock favorite, I'd need a drink and a quick decision. Classic rock, Southern rock—it's all rock 'n' roll to me. See you at the show.
— V —
---
Ken Mansfield's book The Roof: The Beatles' Final Concert is now available for pre-order at Amazon. Check official band and artist websites for the latest concert and tour news.
Janet Thomas, shown here with her first foray into rock 'n' roll, circa 1969, describes her work as a fairy tale. She travels the world for a good story, and has been published in Modern Luxury, Dallas Morning News, Organic Spa, Jezebel, and more. She's a former longtime editor-in-chief of American Airlines' premium magazine, Celebrated Living, and writes often for VIE. She no longer has a purple fur bedroom.
ARTICLE CATEGORIES