The Tapestry of a Cultural Movement
BY JENNIFER STEELE SAUNDERS | Photography courtesy of Shelia Goode and The Cultural Arts Association
I set out to write this story about the twenty years of ArtsQuest with the intent of somehow tying it into my own little life. Grayton Beach seemed the obvious common thread, seeing as how I grew up in the sleepy community where the Grayton Beach Fine Arts Festival, now ArtsQuest, began back in 1989. Another would have been to write about my own passion for promoting the arts and how I am now so honored to be a part of such an important event. But along the way I found that what I was looking for was right before me and very simple… it was the people. The more characters I interviewed, the more stories I heard, and the more I thought about how these individuals have helped to shape my own life, I stopped looking at ArtsQuest as a thing or a community event; I began to see it as an intricate and beautifully detailed tapestry, woven over the years by "locals" tooled with varying backgrounds, resources, and talents, and I came to realize that they are truly the foundation of South Walton's modern cultural movement.
When I ask artist Susan Foster about her inspiration to begin the Grayton Beach Fine Arts Festival back in 1989, she laughs. It's the first time I have ever heard her laugh. When I was a kid, I would cautiously enter her little shop in Grayton Beach every summer to buy postcards and flip through her matted photographs. Even though she was a friend of my family, the Pinkstons, I was still intimidated by her seriousness. I was also in awe—her gallery was my first experience with fine art, and her shop is as much a part of my childhood memories in Grayton Beach as the beach itself.
Today, Susan jokes that she had no intention of creating an arts festival that would last twenty years. In fact, she says that if it hadn't been for Jan Clarke, the Grayton Beach Fine Arts Festival wouldn't exist today. As a friend of her daughter, Lee, I have personally known Jan for fifteen years, and I believe this must be true as she is one of the most energetic and inspired people I know.
"While the beaches here were indeed the best in the world, I missed the sense of community that the art world provides."
Susan and Jan first met on Grayton Beach during the 1985 Rags to Riches Hobie Cat race that used to take place each Fourth of July. After growing up in England and spending many years in the Far East, Jan had recently been transplanted to the States soon after marrying her husband, Neil Clarke. He was sailing that day, and Susan recalls the wind not being very cooperative, causing the race to last longer than usual, but allowing her and Jan plenty of time to learn more about each other. Both remember this first conversation as a pivotal point in their relationship. "When I arrived in the South Walton area, I'd been used to the exotic Far East and then London with its stimulus of arts, concerts, and museums," Jan recalls. "While the beaches here were indeed the best in the world, I missed the sense of community that the art world provides." Jan learned that Susan had a little framing workshop in Grayton Beach (what is now part of the Red Bar restaurant), and Jan, having already established a small gallery outside London, suggested including a gallery that featured local artists. The Gallery at Grayton was born, along with a lifelong friendship between the two.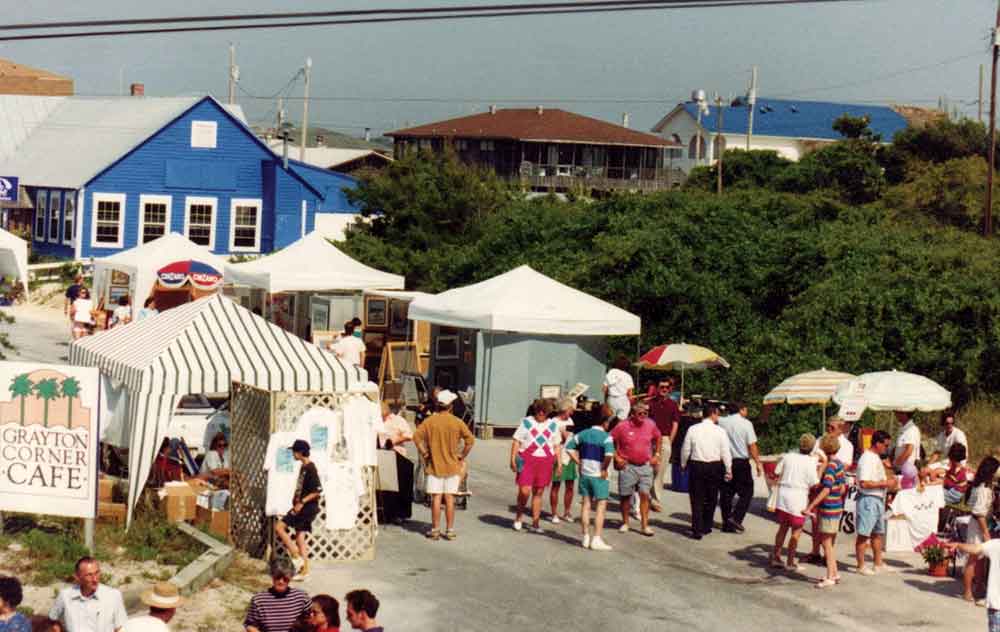 Susan, who grew up along the Florida panhandle, including DeFuniak Springs and Fort Walton Beach, recalls when visiting Grayton Beach in her youth, she always got a feeling she was "coming home," and she had always thought it would be the perfect place for an arts festival. She mentioned the idea one day to Jan, who mentioned it to Grayton Beach local Van Ness Butler, and within days, locals were coming into the Gallery excitedly talking about the arts festival they were having.
Susan coordinated the artists and Jan, along with Jeff Ellis of the Walton County Tourist Development Council, handled the festival organization. The Walton TDC encouraged the organizers to schedule the event during a slow time of the year. The Festival was held over Mother's Day weekend and was one of the first events to promote a "shoulder season." Countless other people were involved in those early years. I could never name them all, but they were people like Pat Eisenmann, an ArtsQuest enthusiast to this very day; Hilda McDonald and her late husband Jim, who were pioneers of the Festival and wore many hats, including publicity coordination; Johnny Earles, the first official food vendor; Kris and Manny Chavez, who drove from Apalachicola to Fort Walton Beach, placing event signs along Highway 98; the late Ellen Barton, "volunteer extraordinaire," who acted as the one-woman office for the Festival; the "boys" at the Grayton Corner Café, Paul DiGiacimo, Doug Krumel, Nicki Frye and Jack Houston and Malcolm Patterson, a Grayton Beach local and executive director of the Walton TDC at the time, who administered the first TDC grant to the Festival in the amount of $4,000. There are so many more, that I could probably fill this magazine with their names and contributions.
And so the Grayton Beach Fine Arts Festival grew and grew. Most think it was moved to Eden State Gardens in 1996 because of Hurricane Opal's destruction of some of Grayton Beach in 1995, including the Gallery at Grayton. But Susan says the move was planned before the storm's arrival. They wanted to expand to a weekend-long event, something that Grayton Beach could not handle. Some said Eden could never be a successful location; but others like Sharon Hazelton, Debbie Eberhart, and Chick Huettel made it happen—and it did work. Attendance doubled in 1996, and the Festival remained at Eden until 2003 when, under the leadership of Jack Abbit, it was moved to the Village of Baytowne Wharf and experienced even more growth.
Throughout my interview with Susan, she related some amusing stories—like the year when Jan and others had to chalk and set up artist booths around cars that had been abandoned in Grayton Beach after a late night at what is now the Red Bar, and about the mother of one of the performing ballerinas who wanted to cut the limb off of an old Live Oak tree at Eden so she could drive her large truck inside the venue, and how one year they had to feed the artists boiled peanuts for dinner because the meals that had been arranged never arrived.
There were also stories of inspiration—for instance, in the first year, a group of young violin students from the New Orleans Suzuki Music Camp traveled to South Walton to perform a complimentary concert; and another year, the artist awards were sandcastles made from local beach sand; and in 1994, Susan printed black bands around the sleeves of the Festival t-shirts in honor of Jim McDonald, who had recently passed; and, ultimately, as a result of the success of the Festival, the Cultural Arts Association was created.
No one was paid; all who participated were volunteers − and still are to this day.
All the stories were of camaraderie and determination. No one was paid; all who participated were volunteers − and still are to this day. I have never seen anything in my life to compare to the gracious spirit of the people who volunteer for ArtsQuest and the CAA. It's remarkable, and our area needs more people like them.
Looking back, Jan and Susan both liken the creation of the Grayton Beach Fine Arts Festival to giving birth. They are both proud that their little Festival has grown into the ArtsQuest of today—it is now one of the top 200 juried arts shows in the United States, attracting more than 10,000 people and featuring a week's worth of cultural events. Jan jokes, "I helped lay the egg, but look at the family now." She gets very emotional when she sees how far the CAA has come in promoting the arts, way beyond anything she ever could have imagined.
Jan credits Susan with introducing her to Old Florida and the depths of understanding and history that go along with it. She calls Susan her "very, very, very, very loyal friend—a real friend." I am amazed by these women, especially when I think that when I first knew them I had no idea of all they were accomplishing. To think that something so big began with just a small thread—a simple friendship between two women, begun on Grayton Beach, furthered by a passion for the arts, and sustained by an entire community.
The tapestry is now thick and rich with history and stories, but it is by no means complete.
— V —
Jennifer Steele Saunders is the co-founder of the Seaside Repertory Theatre and the president of her nonprofit consulting firm, The Saunders Group. She lives in DeFuniak Springs with her husband and two sons. JenniferSteeleSaunders@gmail.com
ARTICLE CATEGORIES