By Jordan Staggs  |  
Photography by Romona Robbins
"I would describe my style as raw, expressive, and loose, with a contemporary feel," says Justin Lyons, a painter who made his debut about seven years ago by "tagging" things around town with a friend. "We noticed our stuff was being taken by people who were putting it in their homes. One thing led to another, and the next thing we knew, we were having our first art show."
Since we last caught up with Justin in the VIE 2012 Home and Garden Issue, his work has become even more well known throughout the Emerald Coast region and now on an international scale, thanks to his recent collaboration with the leading producer of stand-up paddleboards, YOLO Board.

Justin's graffiti style has graced the glossy finishes of five YOLO Board surf model designs and the YOLO Original 5th Anniversary Board, and it might be seen on more of the brand's products in the future. "It's definitely cool and crazy to see my art on such an international product," says Justin, a longtime surfer. "Big thanks to Jake Meyer of I Will Design for Food, Inc., for putting that one into motion!"
YOLO Board is not the only popular local brand to hit Justin up for his sweet style. Highly recognizable among locals and fans alike, tourism website 30A.com worked with him on a series of T-shirt designs this year and last. The tees feature a redfish, a Land Rover, an Airstream trailer that is reminiscent of the food trucks in Seaside, Florida, and the iconic 30A.com "Life Shines" logo. "I think my work was a good match with YOLO and 30A.com because both brands have a very carefree, relaxed vibe to them," Justin says. "I don't know, but somehow, we complemented each other." He was also one of many artists whose work was featured as a stage backdrop during the 30A Songwriters Festival this year. His piece featuring the words "Song Ain't Dead," etched alongside a gritty portrait of rocker Kurt Cobain, inspired the title for the recap of the festival in this issue of VIE.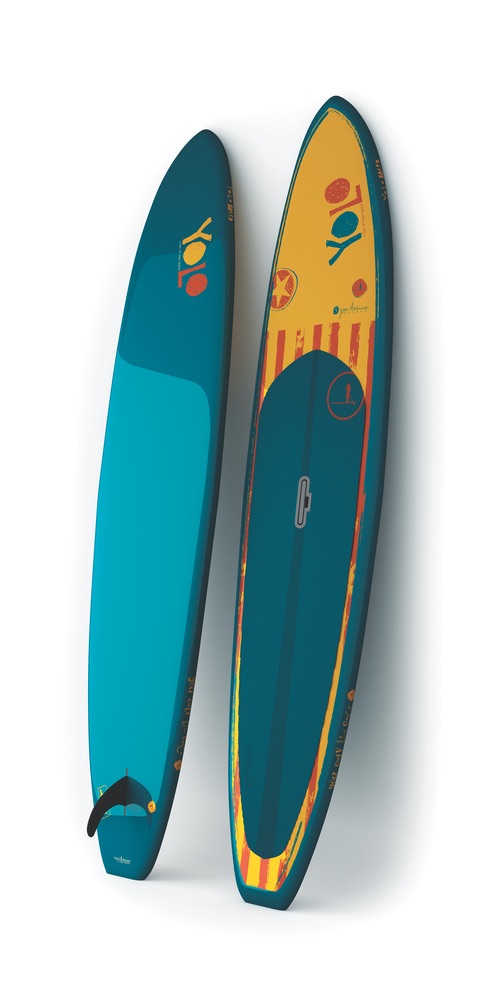 Many of Justin's pieces, such as the Kurt Cobain portrait, include bits of text or lettering that help to convey the meaning of each painting—sometimes playful and fun, other times a deeper message. "I use a lot of social commentary in my work," Justin explains. "If I'm feeling a particular word or phrase that's stuck in my head, I'll write it down and just slowly expand upon that original thought to see where it leads. I rarely start with any real direction." The muse behind those thoughts can come from anywhere, he says. "What inspires my work is just life and how I see the world. Anything from food, film, music, people—really anything I can find an interesting perspective on."

Justin's perspective has obviously struck a chord with those who see his art, as evidenced in his many recent accomplishments, and he shows no sign of slowing down anytime soon. Aside from his successful brand collaborations, Justin's work has been in galleries, art shows, magazines, and blogs around the country. He was named "Best Mixed Media" artist at 2012 ArtsQuest in Seaside, and his work is featured on the 2013 ArtsQuest promotional poster.
"I would like to thank all the people who have given me such awesome support," Justin says. "My wife, Stephanie, my kiddos, Mom and Dad, my brother, YOLO Board, 30A.com, Meyer Boarding Company, I Will Design For Food, M Public Relations, Jeremy Asher Lynch, Michael and Laura Granberry, Allison Wickey, Anne Hunter, the Cultural Arts Alliance, and all my friends who told me to keep painting. And, of course, the Creator, who gave me the passion to paint."
— V —
---
To learn more, and to see more of Justin's work, visit www.jlyonsart.com, and "Like" Justin Lyons Art on Facebook. Justin's original artwork is available for purchase at A.Wickey Studio-Gallery in Seacrest Beach, Florida, and at www.jlyonsart.com.
ARTICLE CATEGORIES