Lubbock's Surprising Arts Scene
By Courtney Drake-McDonough
Think of West Texas and visions of tumbleweeds may go rolling through your mind, perhaps accompanied by the soundtrack from a classic western film. A thriving arts scene isn't likely to be part of that vision, yet that's what Lubbock, Texas, has. The city's commitment to the arts is a surprise to visitors and a source of pride to its residents. The arts scene lives primarily in two areas: across the sprawling Texas Tech University campus and in the Lubbock Cultural District downtown.
Rushing from class to class is a lot more pleasant for the students of Texas Tech with sculptures and paintings to see along the way. For visitors, too, expanses of lawn, tree-lined paths, and a variety of architectural styles are dotted with artworks placed as part of the school's public art program. The school created the program in 1998 with the purpose of extending its educational mission and enlivening the campus experience for all. One percent of the estimated cost of each new capital project funds the program, so as buildings get built and improved, so too, does the public art scene on campus.
Between the Lubbock, Amarillo, El Paso, Abilene, and Angelo State University campuses that make up the Texas Tech University System (TTUS), there are 227 works of art with a total value of $8.1 million, according to Emily Wilkinson, the system's public art director. Ninety-eight of those pieces are on the Lubbock campus with approximately 80 percent of them located outdoors. Visitors can take a walking tour of each campus to see them all, and a mobile app is in the works.
Once a new construction project is approved on campus, artists apply to be included in the public art program, and a few are selected to create a full proposal and presentation to the University Public Art Committee. After reviewing recommendations from the committee, the University system's president and chancellor make the final decision. Most art pieces are commissioned specifically for the project, but a few are purchased from existing collections.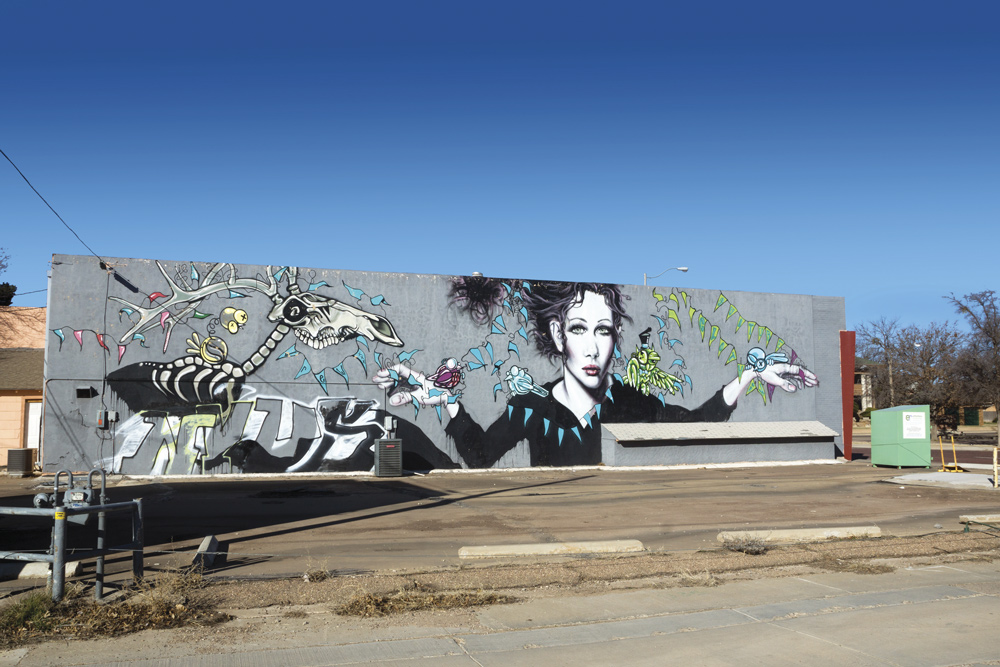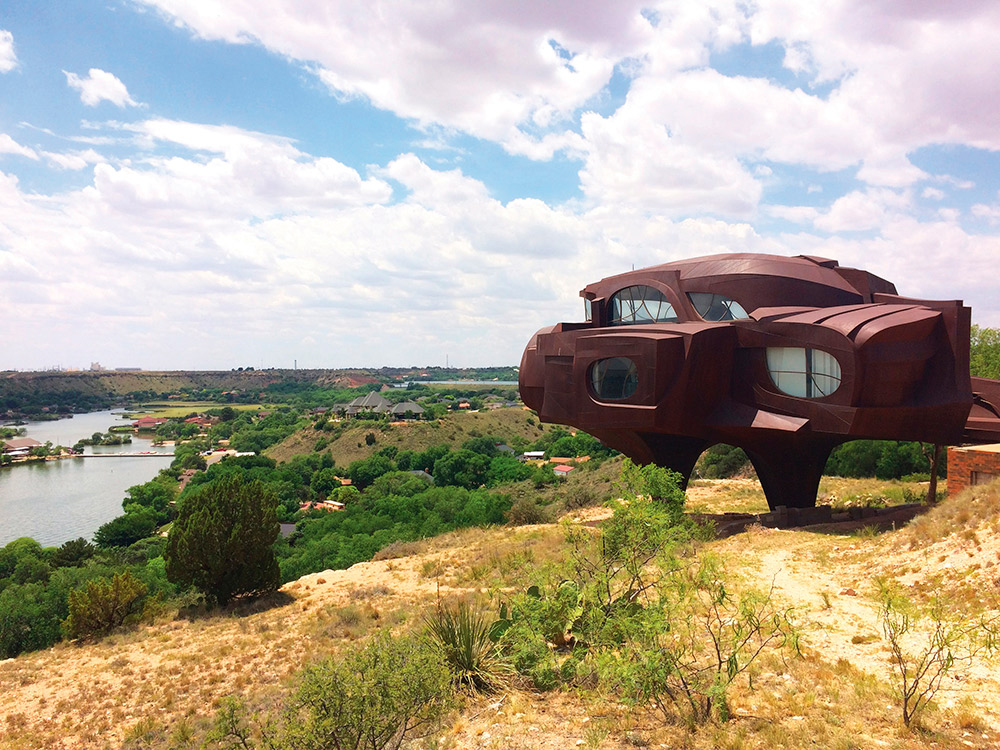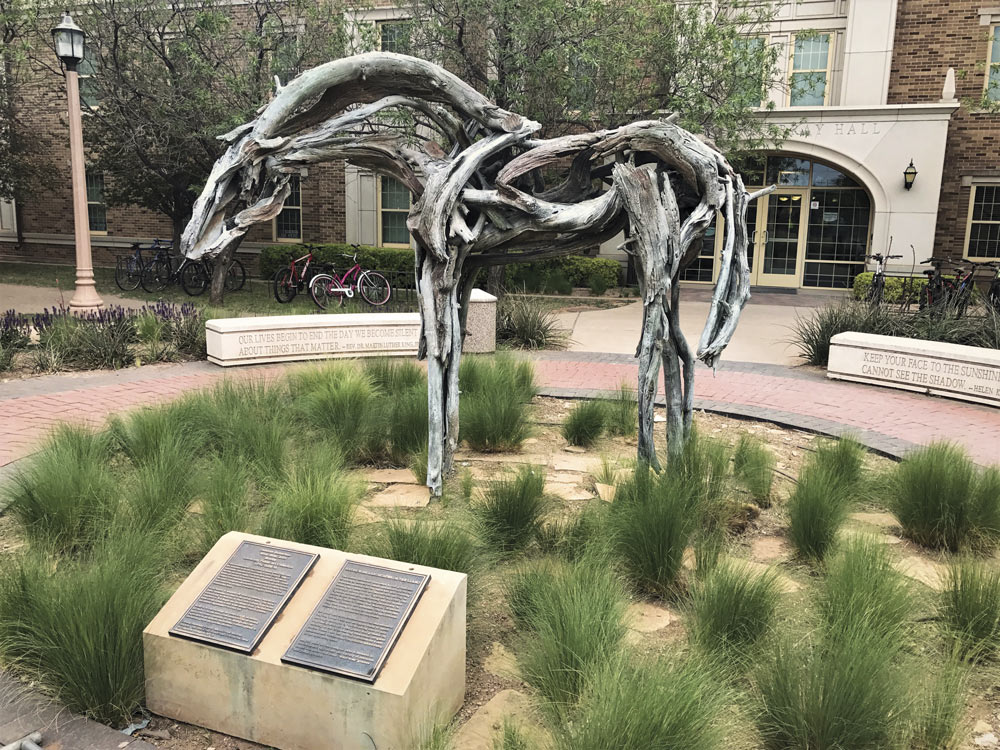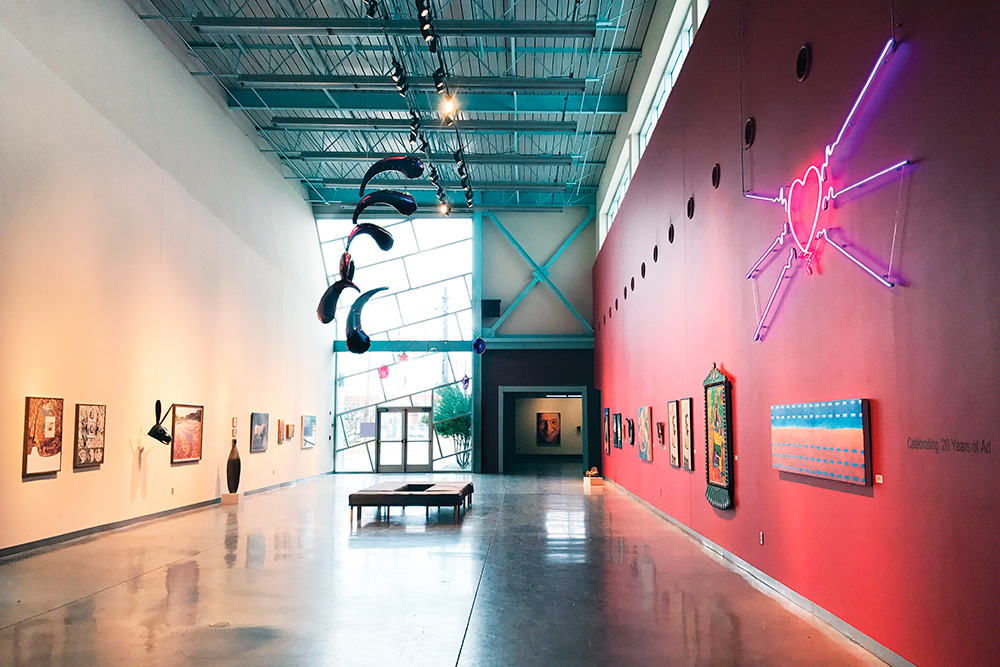 Some of the notable artists with pieces in the TTUS program include Deborah Butterfield, Terry Allen, Barbara Grygutis, Larry Kirkland, Jesús Moroles, Tom Otterness, Shan Shan Sheng, and Lubbock native Glenna Goodacre. Many artworks are themed to accompany the department building they are near, such as Agave Dreams by Julian Voss-Andreae, which is outside the biology building, and Illuminated Arboreal Data Codes by Koryn Rolstad, outside of the college of business.
The program was named one of the top ten public art collections at US colleges and universities by Public Art Review in 2006 and received the Louise Hopkins Underwood Center for the Arts (LHUCA) Catalyst Award in 2016.
LHUCA is one of the elements of the Lubbock Cultural District, devoted to nurturing emerging artists and enabling the public to connect with them and their art. In addition to LHUCA, which offers gallery shows and performing arts, there is the Charles Adams Gallery and the Charles Adams Studio Project (CASP). The privately owned project provides live/work studios for artists who apply to be part of the two-year program. The arts incubator allows the artists to make art, show their work, gain experience running a studio, interact with the public, and teach classes. Artists living at CASP are expected to engage the public through holding open studio hours, giving demonstrations and lectures, and participating in the monthly First Friday Art Trail.
The arts incubator allows the artists to make art, show their work, gain experience running a studio, interact with the public, and teach classes.
The gallery and project's namesake, Charles Adams, is a Lubbock native who couldn't wait to leave when he was a young man. He went to Manhattan and had a gallery on Bleecker Street from 1969 to 1980. "Manhattan is fabulous if you're young or rich, and I was neither, so I came back to make a difference here," says Adams. Inspired by a project he'd seen in New York, in which a city-owned building was repurposed with modest apartments for artists and gallery and workshop spaces, he wanted to create something similar in Lubbock.
Having worked with artists for decades, Adams knew what was missing in his hometown. "When you graduate from Texas Tech or any university, you completely lose your facilities," he says. "You lose your camaraderie and your feedback and teachers paid to critique your work." Students also lose access to equipment and supplies that can be cost prohibitive in the real world. Adams built studios in the Lubbock Cultural District with equipment artists would need, like a foundry and a lithography press. In the process, he created a sense of community between the artists and those who appreciate art. "Artists in most places live on the edge of their communities and sometimes have no heat, electricity, or toilets—plus the public can't find them. Here, they have all of that in the middle of an arts district. What we found is that the public is obsessed with the viewing process! If you talk to an artist about 'process,' you're more likely to buy that art than art you just see as 'product.' It has been a win-win."
Although the public can explore the Charles Adams Gallery and CASP anytime, stopping by to try their hands at printmaking, ceramics, and other mediums for free at the First Friday Art Trail provides a year-round opportunity to turn the art experience into a festive atmosphere for thousands. With all three entities participating (LHUCA, Charles Adams Gallery, and CASP), it's an opportunity to see exhibitions by local and national artists, enjoy music and dance performances, and sample offerings from food trucks.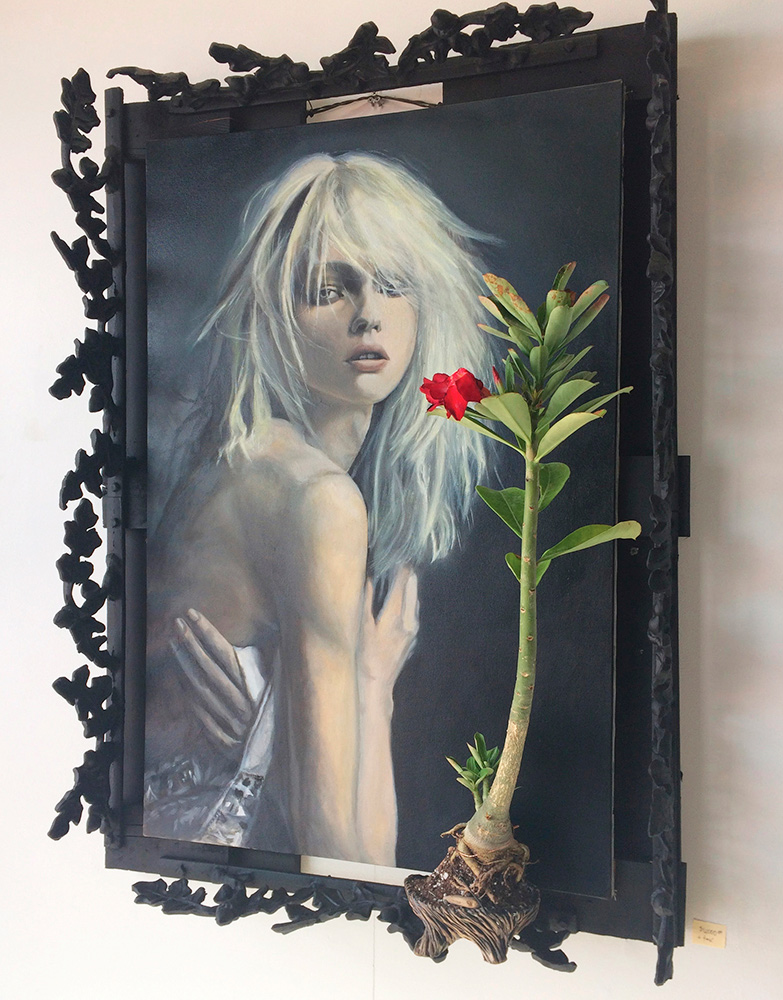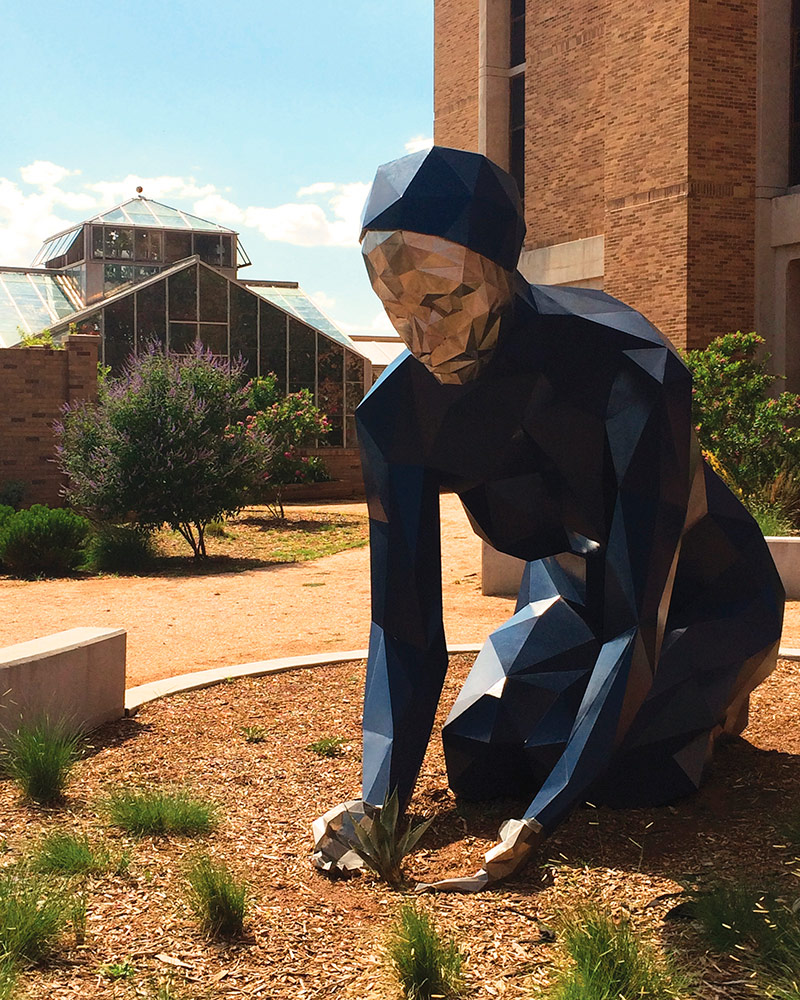 In addition to First Fridays, twice a month there are Saturdays at LHUCA, featuring art lectures, gallery talks, and even Tai Chi classes. The organization also sponsors the annual Flatland Film Festival and the Lubbock Book Festival. "LHUCA's mission is to cultivate and celebrate all the arts by inspiring creativity and engaging with the community, so we provide frequent opportunities to participate," says Jean Caslin, executive director of LHUCA. The center collaborates with numerous entities at Texas Tech University, with other nonprofits, and with businesses. "By collaborating with others on events and programs, together we build on our strengths and expand our audiences."
One interesting extension of Lubbock's arts scene is a sculptural dwelling. Artist Robert Bruno had created Untitled for the Lubbock campus; this abstract, almost animal-looking sculpture then inspired him to create a similarly shaped home. The Robert Bruno Steel House overlooks Lake Ransom Canyon through a wall of irregularly shaped windows. The artist died before the dramatic multilevel, multangular house/work of art was completed, but tours are available from the property's caretaker, a loyal friend of Bruno's.
In addition to the arts scene, there are plenty of other reasons to visit Lubbock: a variety of museums, the Buddy Holly Center and gravesite, wineries, great restaurants (don't miss Evie Mae's Pit Barbecue or La Diosa Cellars), and other fun activities, such as practicing the "art" of golf at 4ORE! The Overton Hotel and Conference Center makes for a centrally located base while taking it all in. The palpable energy and opportunities for both artists and art enthusiasts in this neck of West Texas are a definite draw—pun fully intended.
— V —
---
Denver native Courtney Drake-McDonough is a writer and editor specializing in arts, culture, and travel. She enjoys traveling to unlikely destinations that make people ask, "Why would you want to go there?" She enjoys responding, "That's exactly what I'm going to go find out."
ARTICLE CATEGORIES