The Exploration of Gordie Hinds
By Sallie W. Boyles | Photography by Romona Robbins
Pablo Picasso, one of the most influential agents of avant-garde art, once said, "I am always doing that which I cannot do, in order that I may learn how to do it."
The same words could sketch a portrait of artist Gordie Hinds, although cubism, symbolism, and surrealism are not his inspiration. "I don't go for a lot of superartsy stuff," he says. To describe his bold, colorful strokes and the vintage quality of Gordie's work, his wife, Susan, an interior designer, uses the term Hemingwayesque. Gordie says his style is impressionistic—evocative but not exact. "You don't have to ask, 'Is that a woman or a cow?'" Gordie offers. In the same vein, he contends, "I'm more of an illustrator than an artist."
Many would agree that his ability to tell a story is Gordie's signature, and his personal bio sheds some light as to why.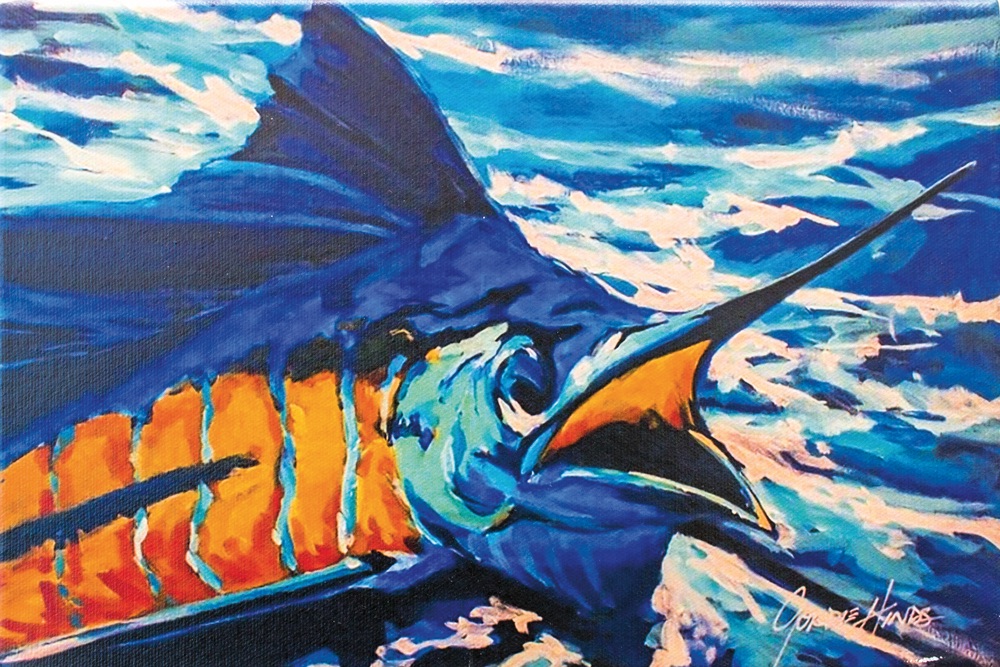 While influenced by their technique, Gordie's portraits and scenes—life on the beach, anglers in action, boats and sailing, horses and racing, dogs and wildlife, landscapes and still lifes, baseball and other sports—are products of his firsthand observations and experiences.
After successes in designing, merchandising, and promoting catalogs for companies including Orvis, Columbia Sportswear, and Dunn's Sporting Goods, he spent almost twenty years as an independent marketing and media consultant for notable clients. "If the consumer buys it, you're a genius," Gordie remarks. "You're a supergenius if you figure out why." Quite simply, he declares, "I picked it up and enjoyed it."
The outdoor industry further appealed to his love of fishing, hunting, and riding horses, and Gordie admired the iconic look and feel of the scenes that graced such catalogs. "The guys who did those covers were combat artists," he says, relaying that their ability to capture battlefield action proved an asset in depicting nature and all it has to offer.
While influenced by their technique, Gordie's portraits and scenes—life on the beach, anglers in action, boats and sailing, horses and racing, dogs and wildlife, landscapes and still lifes, baseball and other sports—are products of his firsthand observations and experiences. "I get inspired by putting myself in the environment," he says. "It's rare that I paint from imagination."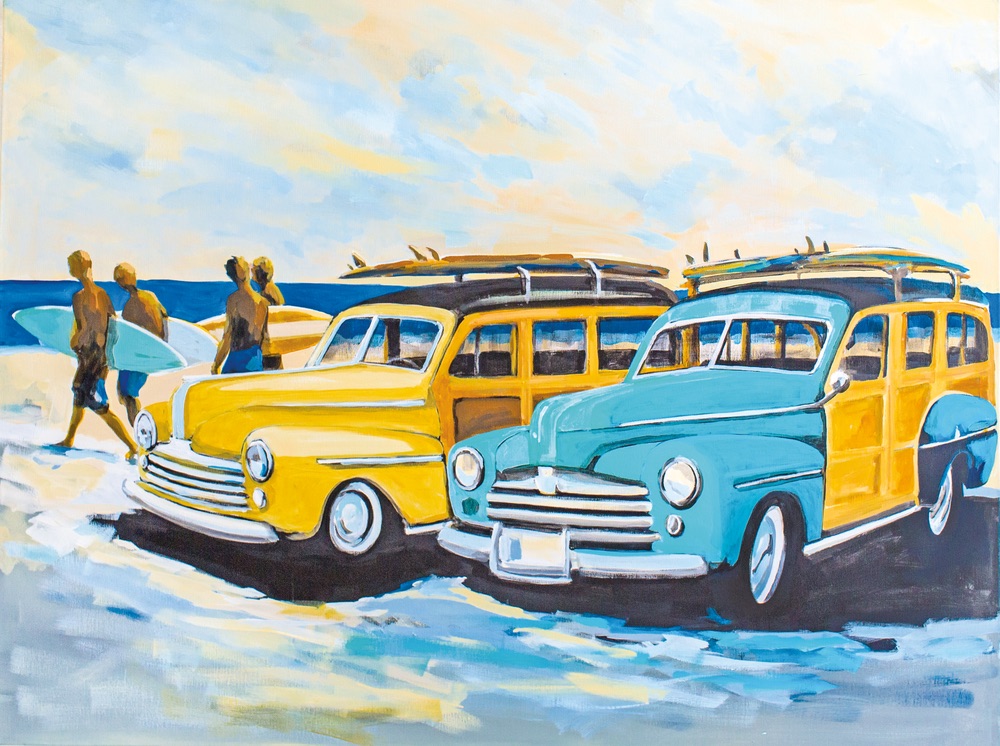 On one occasion, when Gordie did just that, he says, "I woke up and said, 'I'm going to paint some crows.' So, I painted three crows sitting on a limb against a stark white background. I was pretty pleased with them but got it out of my system!"
Living on the Gulf of Mexico and being an avid boat captain and fisherman with some tournament trophies on his shelf, Gordie finds plenty of subject matter to catch his eye and interpret. "When I first moved here," he says, "one of my buddies was the owner of a boat company, so I got one. They say when you get your own boat, you never fish, so I got my captain's license." He now provides private yacht management through his company, Angry Fish Yacht Management, but previously had a great run operating fishing charters, too.
A lover of horses as well, Gordie begged for one of his own as a child. "I couldn't understand why everyone didn't want to be Roy Rogers," he says. As he puts it, "I was born a Navy brat. My dad was a career officer (he retired as a U.S. Navy Captain), and we moved every twelve to eighteen months." Gordie was in his late twenties when he finally bought his first horse. He then learned to rope and entered competitions in his thirties.
"I started breeding by accident when I bought a mare in foal," he shares. Jokingly, he says, "I knew nothing about birthing no babies but ended up selling the colt for more than I paid for the mare." Horse farming suddenly became serious business. "I raised, trained, and showed performance horses with an eye toward selling them." Over a decade, before a single buyer took over the entire farm, his stock won twenty-six world championships. "I love horses and the lifestyle," Gordie muses. "I miss it a lot."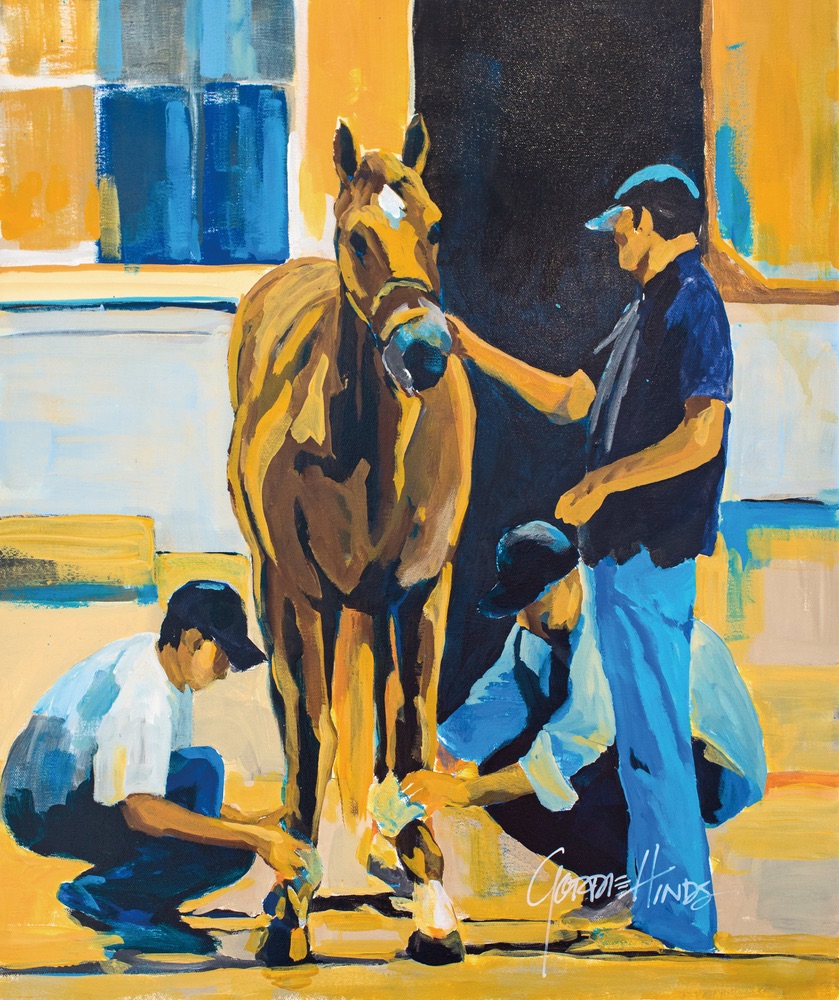 Even so, happily married for a year to Susan, he says, "I have nothing to complain about: I fish. I paint. I live at the beach. I just want to paint and get better." In that endeavor, Gordie says, "I'm more of a learn-by-doing sort of person; I hate studying. I have a lot of scenes in my head, and I'll say, 'I can do that,' and then sometimes not. I sketch almost constantly. I almost always have a sketchbook in my hand if I'm not fishing."
Now that a large volume of his work is commissioned, Gordie has no problem going with the flow and painting what his clients desire, especially since people want what they admire in his paintings. "I just did a dog commission that was an absolute joy," he says. Yes, he loves dogs, too; his own are friendly greeters at the gallery.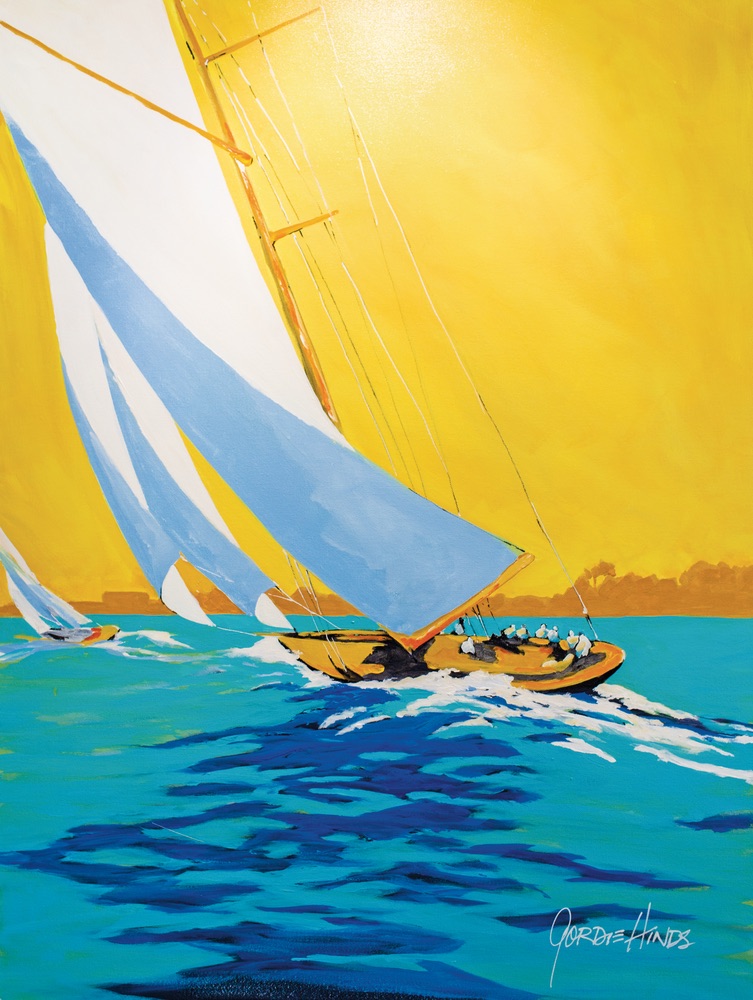 Surprisingly, in light of his rich portfolio, Gordie has had no formal artistic training, aside from some classes in high school. He remembers receiving encouragement from his kindergarten teacher, a young woman working on her PhD, when she put his art aside to show his parents. She told them he had a gift. Gordie says, "I remember thinking, 'I'm five. What can you tell from a five-year-old?'" He personally thought, "Not much."
He didn't pick up a paintbrush until later in life—thirteen years ago.
"My ex-wife had an art gallery, and I was between boats," Gordie says, referring to a period of running his charter business. "I was bored, waiting for a boat delivery, not happy, and in her gallery more than I should have been. She got tired of it and gave me a board and some paint. I painted two fish and sold them both in the same day." Once he was busy running charters again, he recalls, "I'd wake up at one or two in the morning and paint until I had to go to the marina each day."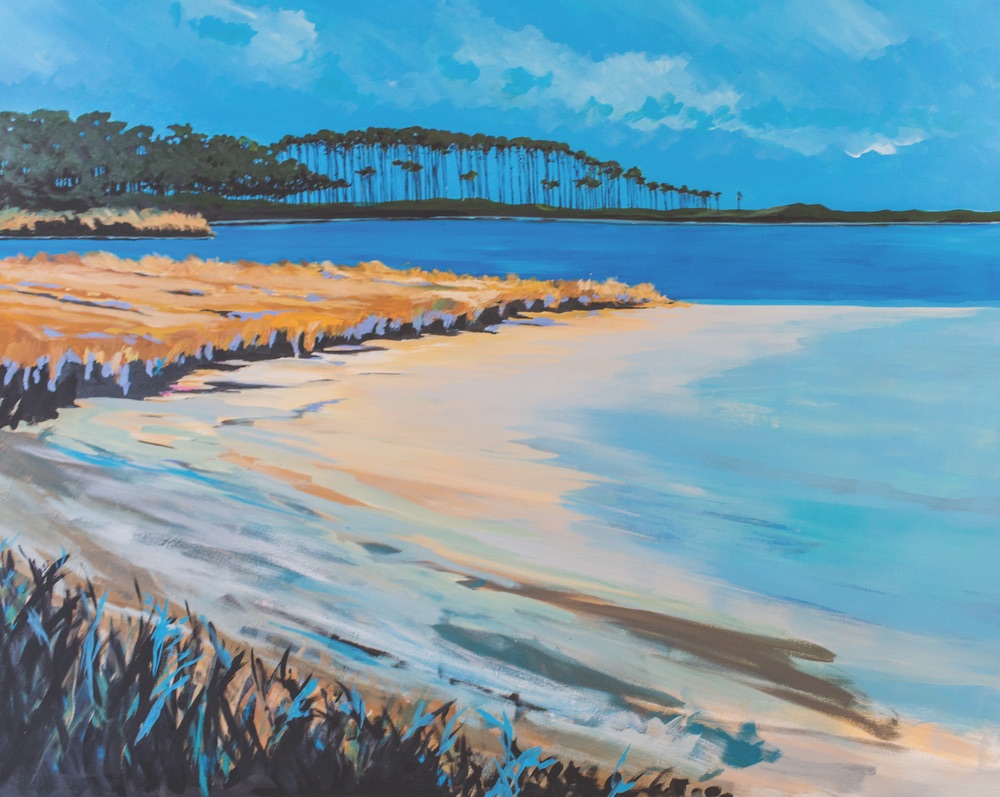 His pattern of rising before dawn to paint hasn't changed, only now he has his own studio in the back of Gordie Hinds Art Gallery at the Gulf Place Town Center in Santa Rosa Beach, Florida, where his work is on display. Susan also operates Spaces Redefined, her interior design business, from her office there, but the wee morning hours are Gordie's alone. "I'm usually here from 2:00 or 3:00 a.m. until midafternoon," Gordie informs. Likewise, the sign on the door reads, "Hours: Randomly Open or by Appointment." "Most days I forget to unlock the front, but I'm open!"
During those times, Gordie's usually working with music playing (Tchaikovsky, Beethoven, Tommy Dorsey, Elvis, or AC/DC) and two televisions broadcasting baseball games on low volume. "It all drives Susan crazy," he confesses. "I have ADD." Whether or not that's the case, he both craves the stimuli and gets distracted. "There are probably thirty half-finished paintings in my studio," Gordie admits. "I'll finish most of them, but not today."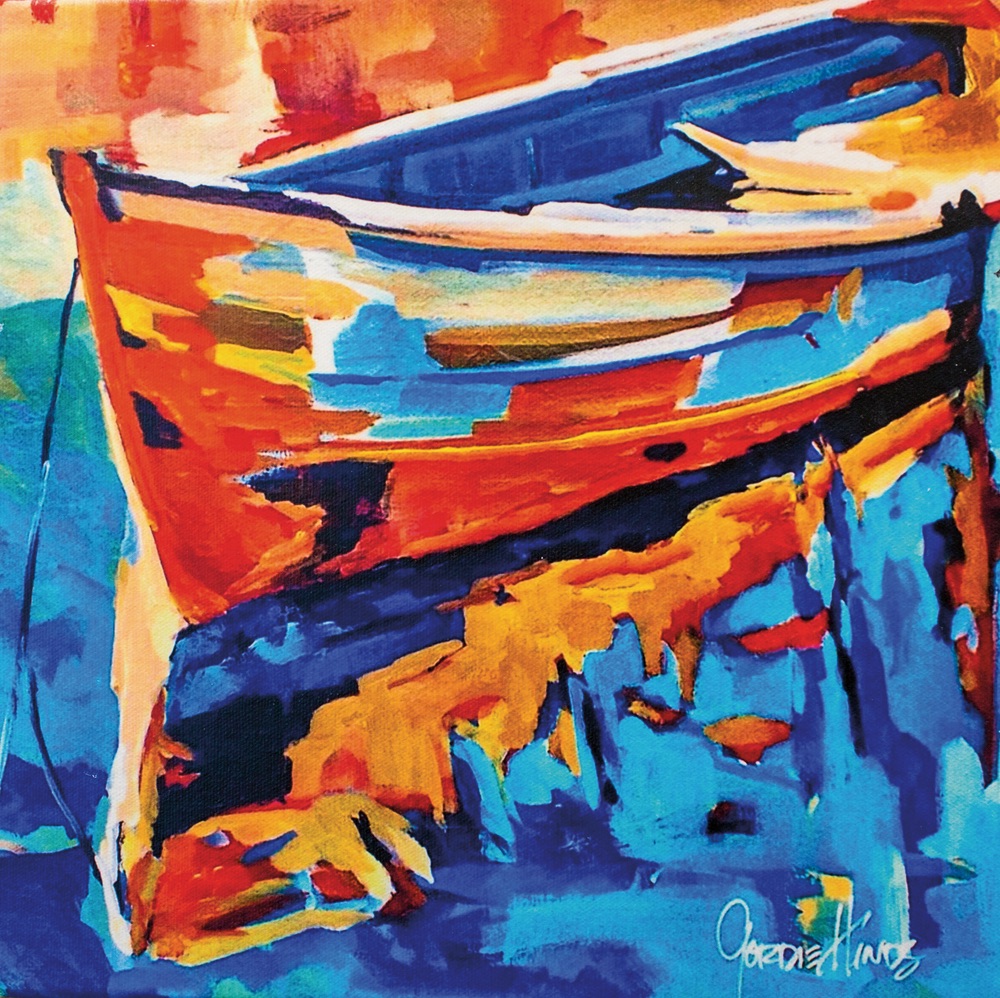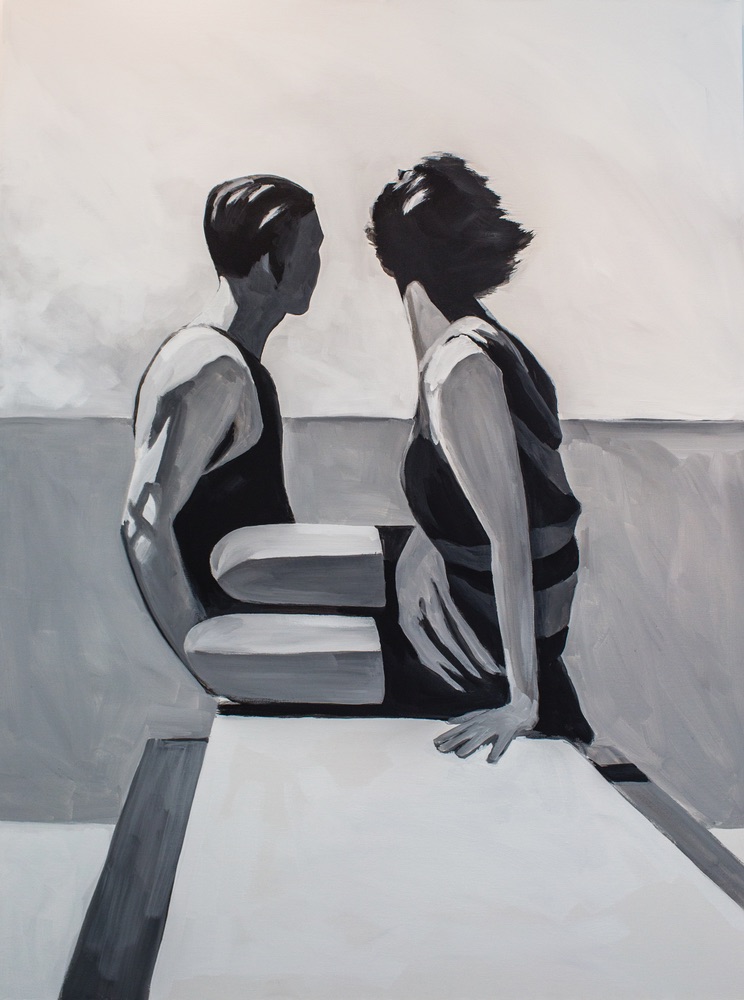 Accordingly, he enjoys painting with acrylics, which dry quickly and allow him to move on. "I would love to do more with oils, but the drying time … for me to have to put it up on the wall and wait two weeks for it to dry, I'll take it down, and it'll never get done! I'd love to do more pencil sketches and ink washes. I started doing some to teach myself, and they're really difficult. You can hide behind color," he notes.
He's preparing to prove that point with his next venture, a book. "The working title, Art in Its Place, is premised on the notion that the ultimate accomplishment of most art is to have it seen and enjoyed by others," Gordie explains. Although talkative and engaging, the artist is refreshingly shy about self-promotion. Rather than shining the spotlight solely on his works, he'll show them in the context of their settings within some spectacular homes in Florida and across the country, in addition to commercial venues.
Readers can view more of Gordie Hinds's work online at GordieHindsArt.com or visit him at the gallery. "People love his art, and they love it all the more when they meet him," says Susan. "Once you know him and he opens up, all of his art makes sense."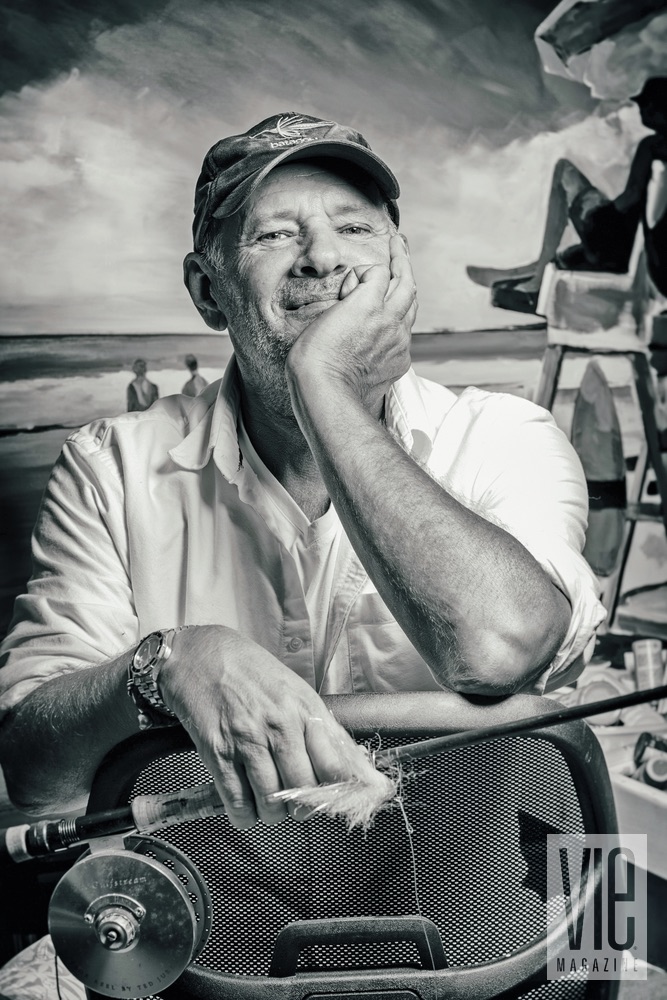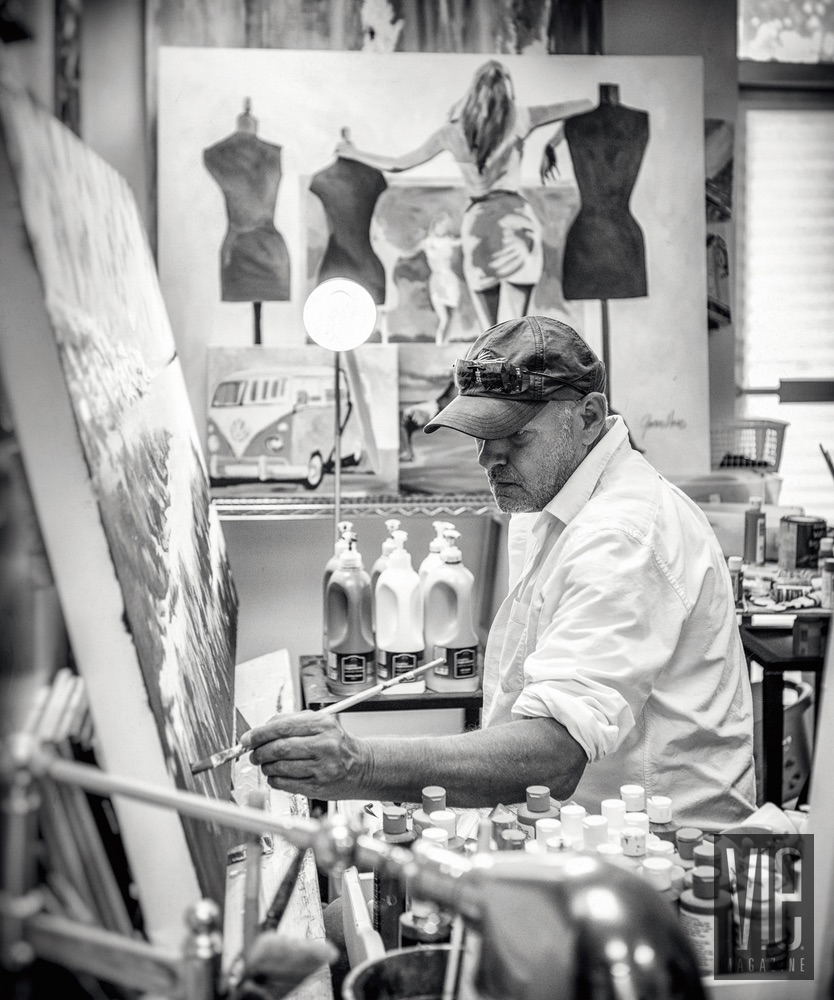 ARTICLE CATEGORIES