Modern Fashion Illustration with Holly Nichols
By Laurette Ryan | Artwork by Holly Nichols
Art touches our lives in many ways. If you are a lover and fan of fashion and art, you may have heard of Boston-based artist and illustrator Holly Nichols. Her tutorial videos on TikTok and Instagram draw millions of viewers every month. Nichols's art is inspirational to a wide and diverse following, as her many followers on social media would attest.
Her unique stylized presentation draws you in, mesmerizing with her use of color, effects, markers, and paper. Her videos inspire young and old to try their hands at creating art. At the core of it all is her love of fashion.
I asked Nichols her thoughts on fashion and its effect on society. She told me, "Fashion is everywhere. It is political, it is emotional, it is art. I vehemently oppose the thought that a career in fashion is frivolous, which it is often considered. The smartest businesspeople I know work in fashion."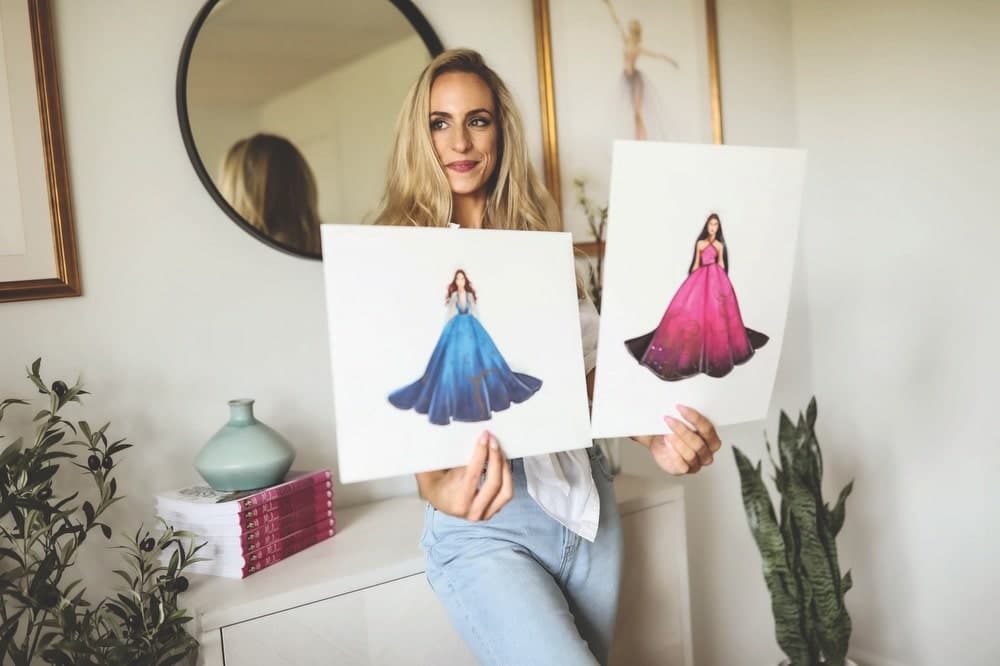 Nichols explains, "One of fashion illustration's earliest uses was to enable designers to show their work to clients as ideas on paper. Today, I employ it as 'art for art's sake,' meaning I create it as art without the utility of the piece being turned into a physical garment. My goal is to depict not only beautiful fashion but also subjects and people you don't traditionally see represented in fashion or art. The best feeling is when someone tells me they see themselves in my work."
Nichols's work sparks interest in creativity in some of her youngest followers. She told me it was the most fulfilling part of her job. "I have a little folder saved of notes from parents of children who share their child's design process. They often include a photo of the child smiling ear to ear, proudly holding up his or her work. I love that kids explore art without inhibition. It is only later that the fear of imperfection gets in the way."
She began creating as a child herself. "I can't remember a time when I wasn't making art—it has very much been a big part of my life," Nichols relates. "My family has always been very supportive of my work. My mother took me to a Mary Cassatt exhibit at Boston's Museum of Science, which made a big impression on me. It gave me the first glimpse of a professional female artist. From there, I enrolled in private art lessons, a high school arts-focused program of study, and later graduated with my BFA in Fine Arts."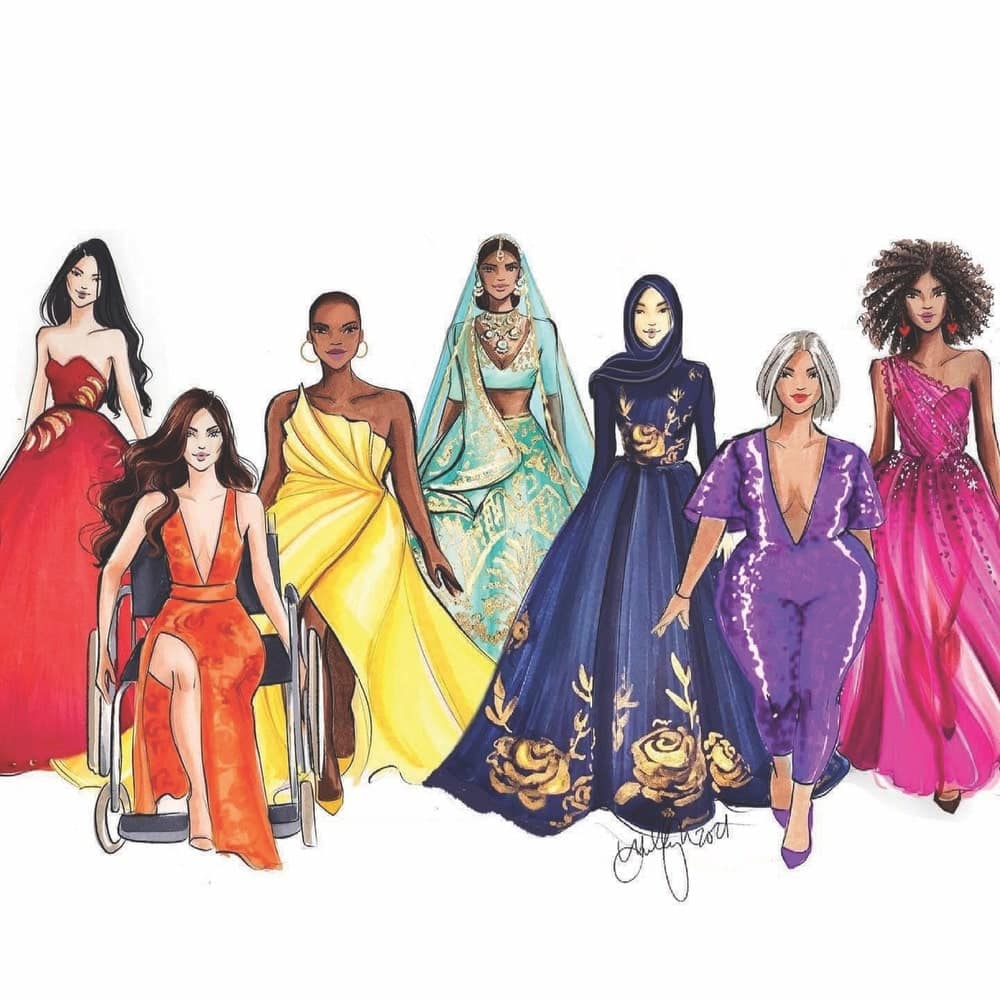 In 2019 Nichols was approached to do a book. Modern Fashion Illustration is a how-to guide with step-by-step instructions on the art and promotion of fashion illustration.
My goal is to depict not only beautiful fashion but also subjects and people you don't traditionally see represented in fashion or art.
"I have always loved teaching. In past years, I would give my social media followers little snippets of tutorials, but I had always held back on how much I shared—to protect my process to a certain degree. Then I was presented with the opportunity to publish a book. I worked on it all through COVID lockdowns, and it was published in 2021. The book finally felt like a method of sharing my process that was fair to me. But it also opened my process for artists to discover their love for fashion illustration. I love hearing that young children enjoy the book. I also hear a lot from parents or older adults who had to step away from their artistic passions when life got in the way but found a return to their art through my book. Hearing that I've inspired someone to discover his or her creative process is endlessly rewarding."
Nichols has created illustrations and campaigns for TRESemmé, Saks Fifth Avenue, Barneys New York, Neiman Marcus, and Disney, to name a few. "My work is heavily inspired by fashion, particularly couture. I love the detail, the drama—just the 'extra-ness' of it all." Nichols's favorite designers include Elie Saab, Christian Dior (his original work), and Guo Pei.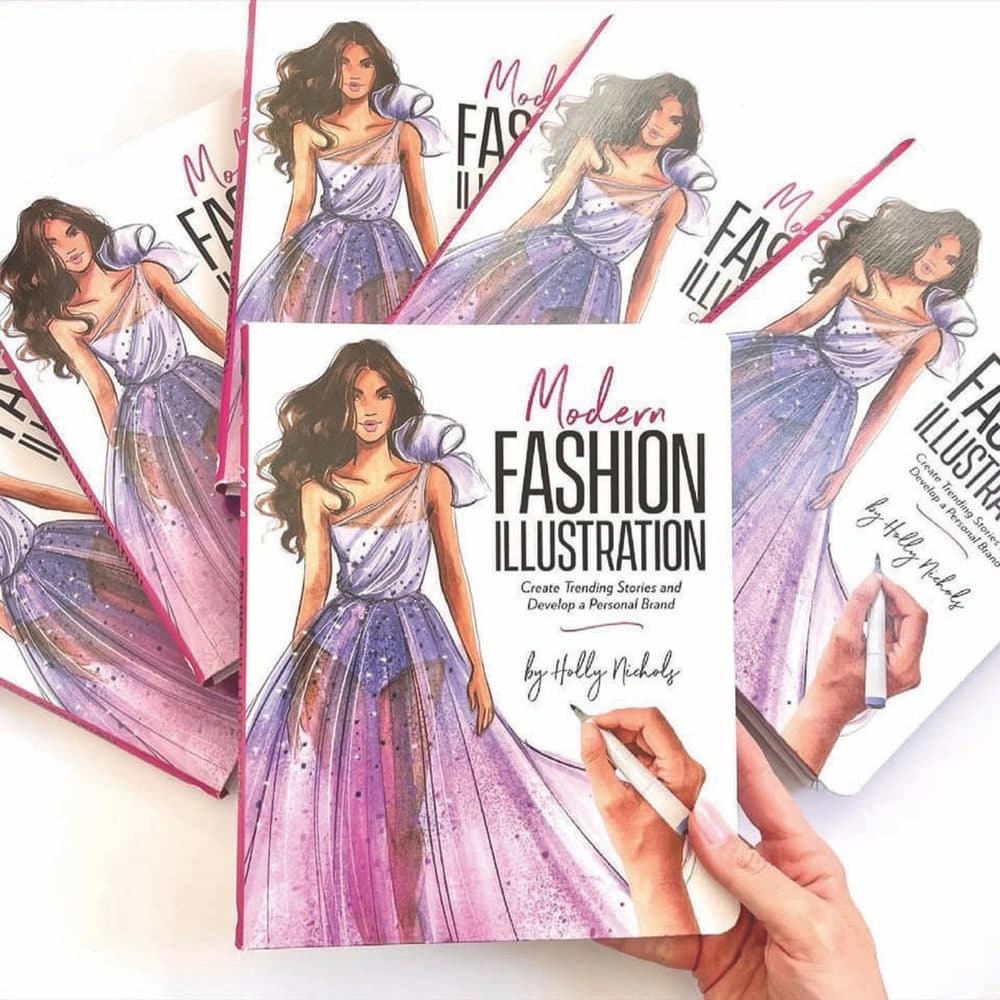 She has adeptly used social media to grow and expand the reach of her work. "I would not have a business or career without social media—for better or worse," she adds. "I started an Instagram feed back in 2013, which quickly took off. It exposed me to a global audience, where I was able to attract big-name brand clients, which was unfathomable to me at the time. I have maintained a substantial Instagram following since. Last November, I started a TikTok account. Social media is very video-dominated at the moment. My work always got high traction, but through that platform, I experienced a rate of virality I didn't know was even possible. I quickly grew my overall followers across all platforms to around eight million followers. It blows my mind that eight million people have seen some of my videos! I am a very quiet, private person in all other senses, so it's a very strange feeling to comprehend. I am endlessly grateful for the opportunities social media has brought me."
I asked Nichols what her most memorable fashion illustration project was so far in her career. "My favorite partnership to date was working with TRESemmé for New York Fashion Week. I have been many times since, but that experience allowed me my first glimpse of fashion week, both working backstage sketching hair and beauty looks while models and stylists frantically prepared for the show, and from the audience, where I quickly sketched the looks as the models walked the runway. I imagine I looked like a deer in the headlights at the time—I was quite young!"
Nichols advises aspiring artists: "Your art will evolve over time. Let go of the idea that you need to find your style or monetize your creation process to be considered an artist. Everyone can be an artist—all it takes is creative thought."
— V —
---
Visit HNicholsIllustration.com or follow @hnicholsillustration on Instagram to see more.
ARTICLE CATEGORIES