By Giselle Brantley
Come with me to a land where pride and national identity consume its people. A people whose diverse culture is comprised of mainly European influences, but whose only remnants of that heritage are the foods, customs, and languages that find themselves nestled in different regions of their land—a land that has endured economic strife, but which, out of those hardships, has produced figures such as Eva Perón (Evita), a first lady who helped the poor, and Carlos Gardel, the innovator of tango music. This is a land absorbed by a passion for beauty, a dedication to family, and a fanaticism for a sport they call "football." This land is Argentina, the southernmost country in the world.
Throughout my life, I've had a yearning that has pulled me to South America—a place that tugs at my heart and piques my interest, but, most of all, a continent that is home to a family I barely knew. So, when my younger brother turned thirty on this past New Year's Eve, I suggested that we take a trip to the land of our ancestors to discover where we are from, to get to know our family, and to have a little fun in the process.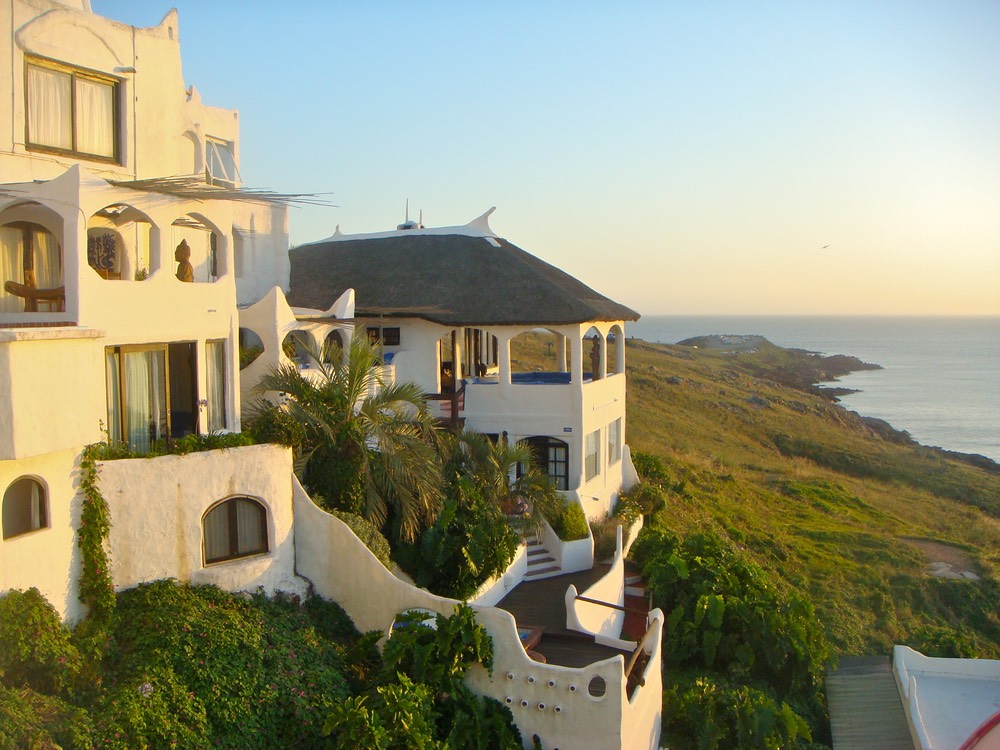 But our travels don't begin in Argentina—they started with its neighbor, Uruguay. My companions on this voyage were my husband, Tommy, my brother, Darren, and our friend, Blake, from Dallas. We embarked on an eleven-hour trip from Miami to Punta del Este, often called "the Hamptons of South America." The trip was long and exhausting, but, luckily, there is only a two-hour time difference. Exhilarated and looking forward to the journey, we managed to forget about our sleep deprivation, which was clouding us like a bad hangover.
After arriving in Punta, we discovered that our rental car was too small to carry us and our baggage. However, like a scene from National Lampoon's Vacation, we managed to cram everyone into the car. Despite the body-numbing sensation that resulted, I smiled with grim determination—we were off, and nothing was going to stop us!
The drive along the coast was breathtaking as we made our way to La Barra, a quaint surfer town just outside of Punta. At the entrance of town is the unusual and undulating La Barra Bridge—a unique structure that reflects the charm and beauty of the town. A multitude of shops and outdoor cafés line both sides of the street. It may not be Rodeo Drive, but wealth is evident everywhere. The native residents have an urban, bohemian style and possess a charm that oozes confidence. Tall, tan, and lean, they look as if they were taken straight from the pages of a fashion magazine. The women have long, thick hair down to their waists and clean, fresh faces. The men are aloof in nature, and they all seem to have mischievous smiles that play upon their lips.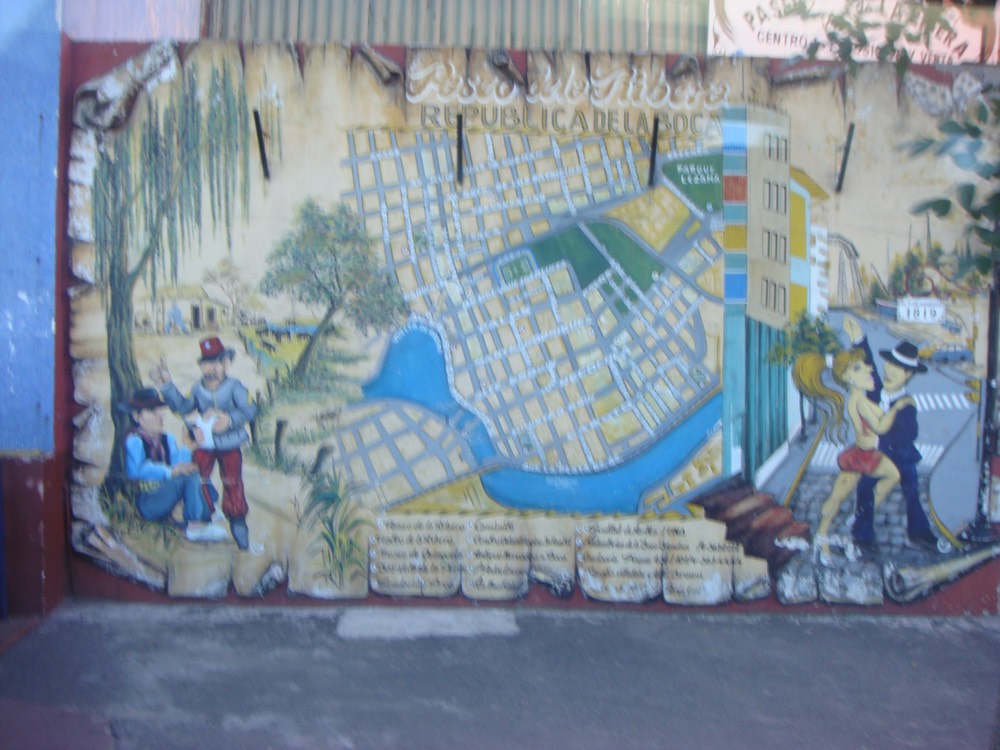 Being that far south at that time of year, the sun set at around 9:30 p.m. As the air turned cooler, we went in search of a place with good food and an exotic atmosphere. We grabbed a seat at Pizza Cero, a small outdoor café (which became our favorite restaurant in La Barra) and ordered a mushroom and Italian sausage wood-oven pizza. Then we sat back and soaked in the vibes. I could feel the salt air on my skin as the stress from the day's travels melted away with the sweet fragrance of flowers and sunscreen blended together.
The raw beauty of the land mesmerizes people vacationing in Punta—even the local natives. They are easygoing, and enjoy the slow pace of life found there; the culture is a cross between that found in Saint Bart's and the way of life in Laguna Beach. The sun set late, so dinner was served late, and the people danced until dawn. There are amazing places at which to dine, and during the two weeks before and after New Year's Eve, everything is exorbitantly expensive. We soon adapted to our late dinners and dancing until dawn; we thought it would be impossible to readjust to our routine life back home.
Our most memorable beach excursion took us to José Ignacio, about thirty minutes outside of Punta, where the very elite go to play. On the surface, José Ignacio appears subdued in comparison to La Barra. Celebrities, such as Naomi Campbell, own homes there because it is a town where you can choose not to be found. A narrow wooden path led us from the main road and then it wound its way down the sand to a restaurant called La Huella. The eatery blends into the beach landscape with its white billowing canopies and wide-open spaces. As sunbathers began to gather their belongings, we capped off our day with white-wine sangria and a cut of bife de chorizo (Argentinean sirloin beef) with succulent potatoes. Another day in paradise was coming to an end—but we were ready to dance and play.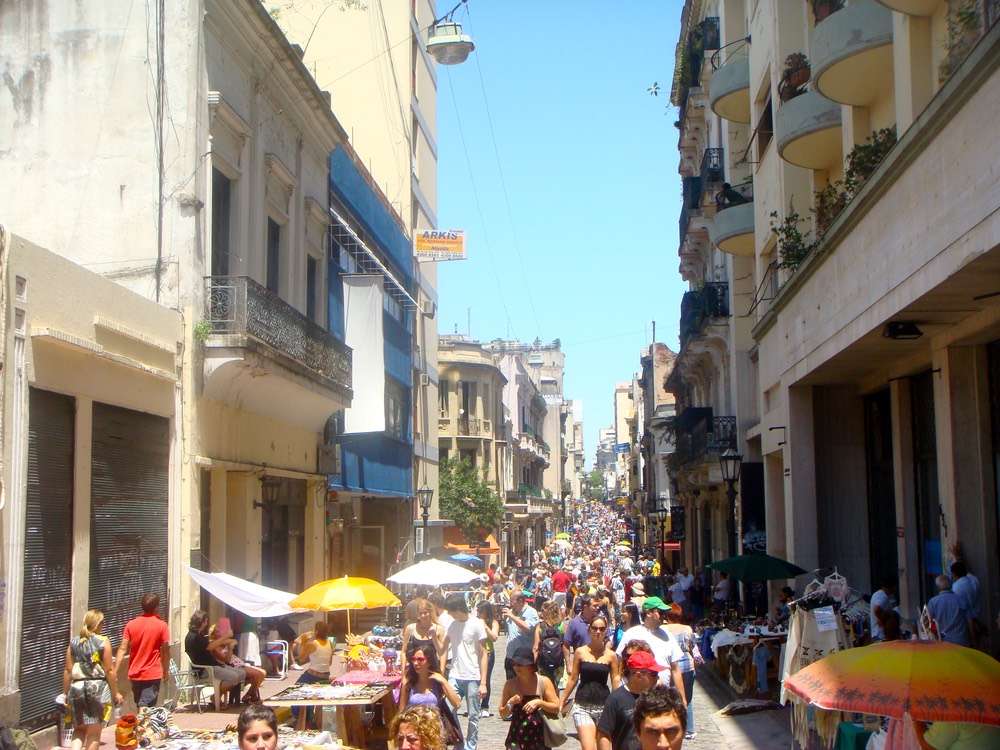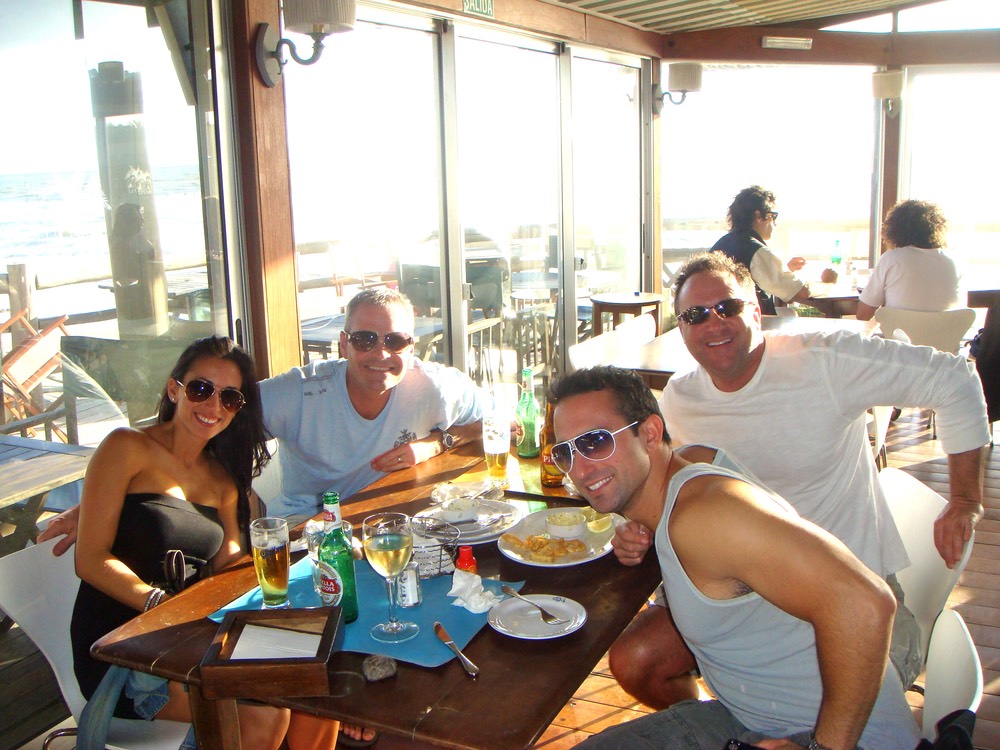 Punta offered us spiritual healing with breathtaking sunsets at Hotel Casapueblo, which resembles a white castle in the sky. There, we gazed at the kaleidoscope of colors reflected from the shimmering ocean surface while our ears were caressed by Spanish poetry describing the sun's descent. Punta also offered revitalization through a private end-of-the-season party at the mansion Chacra La Silenciosa with five hundred friends and the best DJs we had ever heard. As we listened to the music of David Guetta's "Delirious," confetti shot ten feet into the air and people began to jump and dance as dawn made its approach. None of this seemed unusual. After all, we were in Punta del Este … where anything is possible and everything is surreal.
Tanned and exhausted, we caught our flight to Buenos Aires. We arrived at the charming Mine Hotel Boutique, which is located within the chic Palermo Soho district of the city, and unwound from the long day with a fantastic meal at the restaurant La Cabrera, which is well known for its steaks.
The next afternoon, we met up with my great-uncle, Oscar, at Romario, a pizzeria just one block from our hotel. After sharing heartfelt embraces, we caught up on family and discussed our plans for the remainder of our trip, including a four-hour tour of the city that afternoon. Some of the barrios (neighborhoods) that we saw on the tour are truly worth mentioning, as they reflect the cultures that have built Buenos Aires into a cosmopolitan city. A few notables are La Boca—a neighborhood originally occupied by Italian immigrants and home to the Boca Juniors Football Team, one of the world's most successful soccer teams; San Telmo—the birthplace of tango and host to weekly Sunday street fairs; the neighborhood of Plaza de Mayo—home of the national building where Evita gave her famous speech, and where protestors still cry out for things they desire; and lastly, Puerto Madero—the newest and most upscale neighborhood in the city.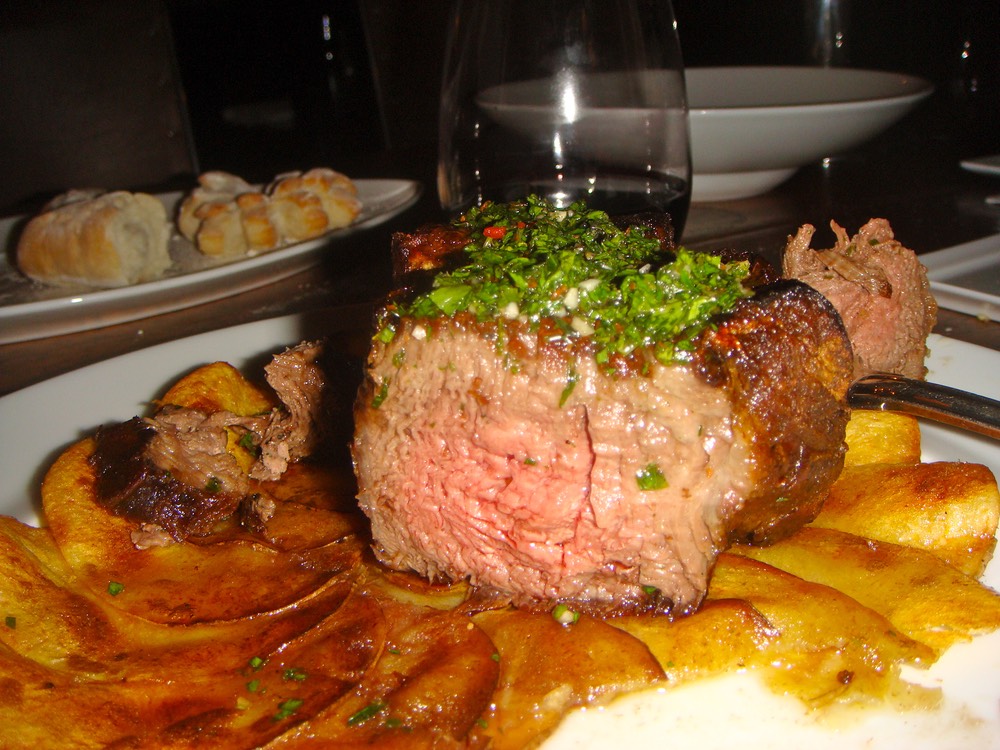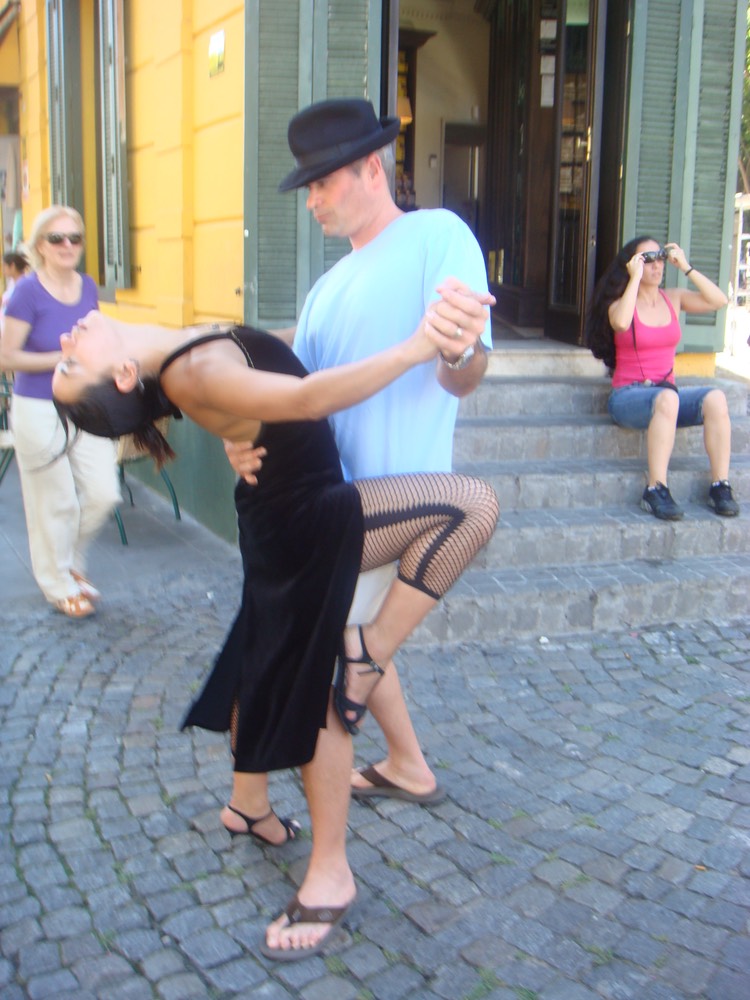 During the following days, our adventures led us through and around Buenos Aires and finally to the town of Adrogué, located about one hour outside the city, where much of my family lives: my great-uncle Oscar, with his wife, Ines, and my two cousins, Gabriela and Lourda. It was there that I captured the true essence of how my family lives. Adrogué is known for its incredible cuisine, and Alamos Restaurant & Grill, set on a quaint, tree-lined street, did not disappoint. Over an amazing dinner of "sweetbread" (meat from the neck or throat of a young calf), we talked about family back home, the recent passing of my great-grandmother at the age of ninety-seven, and how, in 1906, my great-grandfather, Frederico, came to Argentina from Ukraine during the Russian Revolution.
That night, Oscar decided that we should attend a real tango show in Buenos Aires. We joined up at the restaurant Esquina Homero Manzi, named after a famous tango songwriter, located at the junction of San Juan and Boedo Streets—a historic corner of town steeped in local tradition. The original bar, built in 1927, became a symbol of the urban culture of the 1940s; it featured many of the popular musicians who turned tango into the foremost artistic expression of Buenos Aires. Here, over a three-course dinner, I met my other cousins, (Oscar's daughters) Carolina and Sandra.
The next day, we again joined our cousins at Sandra's apartment in Boedo, where we learned that she is an aspiring opera singer. We drank mate (a traditional hot South American drink that is sipped through a metal straw) as we listened to her sing, accompanied by beautiful piano and guitar performances by her boyfriend and her son, Julian. The deeply moving songs evoked passion and sadness.
Walking out of Sandra's apartment that afternoon, what amazed me the most was how affectionate and welcoming my family had been to us. They invited us in and shared with us as if we'd always been a part of their lives. They were passionate about music and the arts, and about their children and their customs.
There is something about the people of Argentina that is said to capture your heart and spirit. For a place that has endured so much, both economically and politically, the people are fiercely proud. For a country that is comprised of so many immigrants and varied customs, they are surprisingly united—united by music and dance, by sports, and by customs such as drinking mate, but mostly, they are united through family and national identity.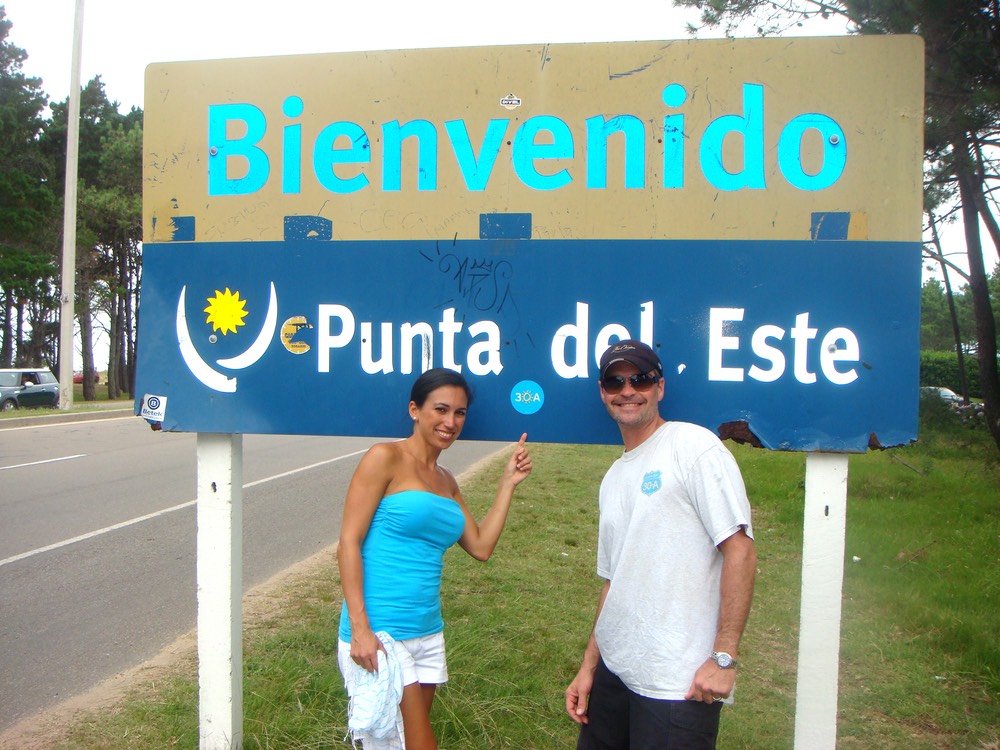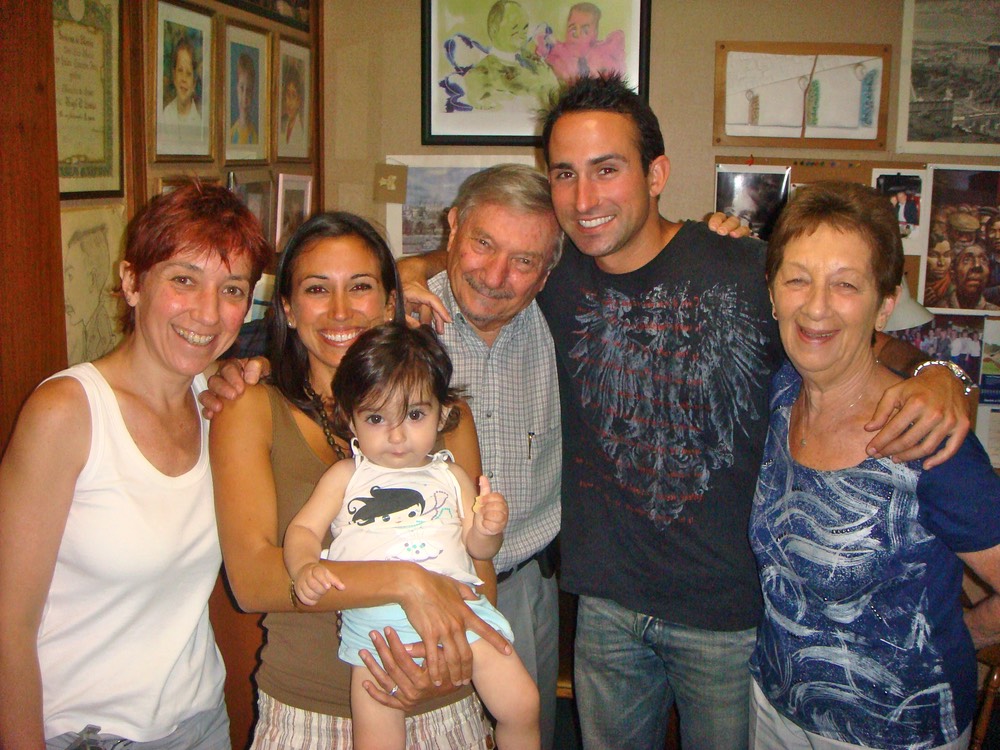 To say that this trip fulfilled all of my expectations would be an understatement. From the beautiful, tan people on the beach to the warm and affectionate life-blood of my family who allowed us to fall in love with the South American people, this was a wonderful, life-altering trip. From the rugged coastline of Uruguay, where the wealthy play until dawn, to the multifaceted cultural history of a city that is often compared to Paris, we experienced so much. What impressed us most throughout the trip was the way we were taken in everywhere we went, how proud people were to show us their culture, and how open they were to learn about ours. My family connections have been fortified and will only deepen through the years.
I now understand Argentina. I now understand where I'm from.
— V —
---
Giselle Brantley is the owner and proprietor of 30A Genie, LLC, a boutique full-service concierge company. Since 2006, Giselle has assisted both visitors and second-home owners with their vacation and home maintenance needs, providing them with the peace of mind they deserve. To contact Giselle or for more information, please visit www.30AGenie.com.
ARTICLE CATEGORIES