By Anthea Gerrie | 
Photography courtesy of Architectural Accents
For a designer who grew up among the traditions of English homes and formal gardens, the chance to bring the best of European artistry to a grand property in Sea Island, Georgia, was irresistible.
"My head is crammed full of images from the past, and that's where most of my ideas seem to come from," says Charles Nevinson, who went to prep school with Prince Charles. His Atlanta-based firm, Architectural Accents, offers interior design consultancy and landscaping, often involving salvaged materials with a rich heritage.
One example is the supply of Savannah gray bricks that Nevinson sourced to form the building blocks of John Imhoff's grand Sea Island cottage. They were essential to refurbishing, extending, and completely relandscaping the 7500-square-foot house on a prime double waterfront lot.
The renovation started with a barely used deck when Imhoff, an eye surgeon, moved into the house twenty-five years ago. "It was ghastly and in appalling condition," explains Nevinson, who placed an inviting new patio and deck around the existing pool and an outdoor kitchen and dining area overlooking the marsh. He also created a fabulous formal garden around the owner's collection of bonsai trees, complemented by the live oaks Imhoff has trimmed and trained over the years to give them a bonsai-like quality.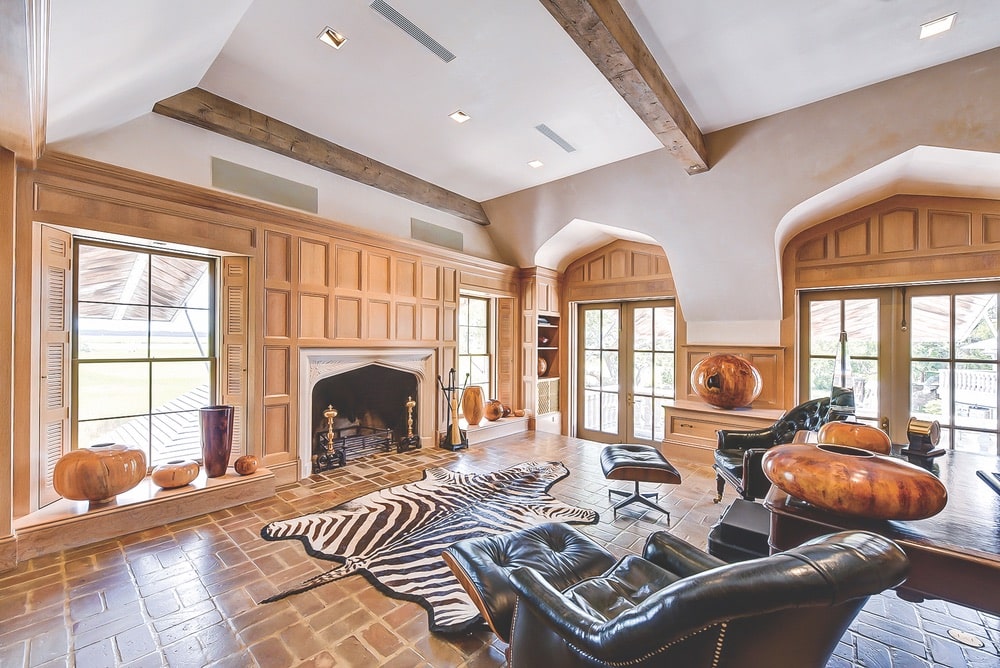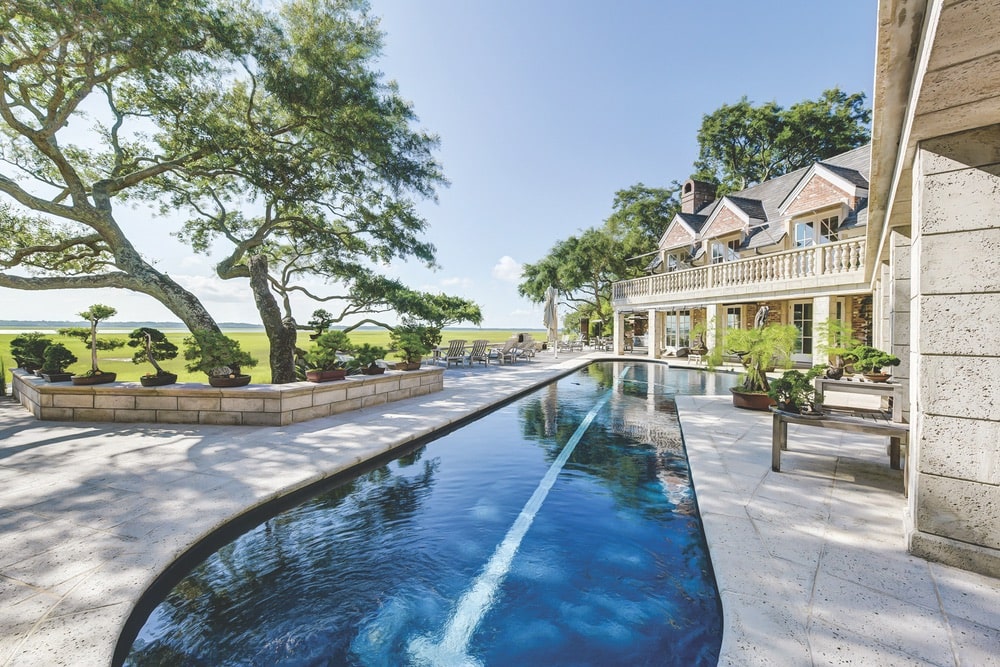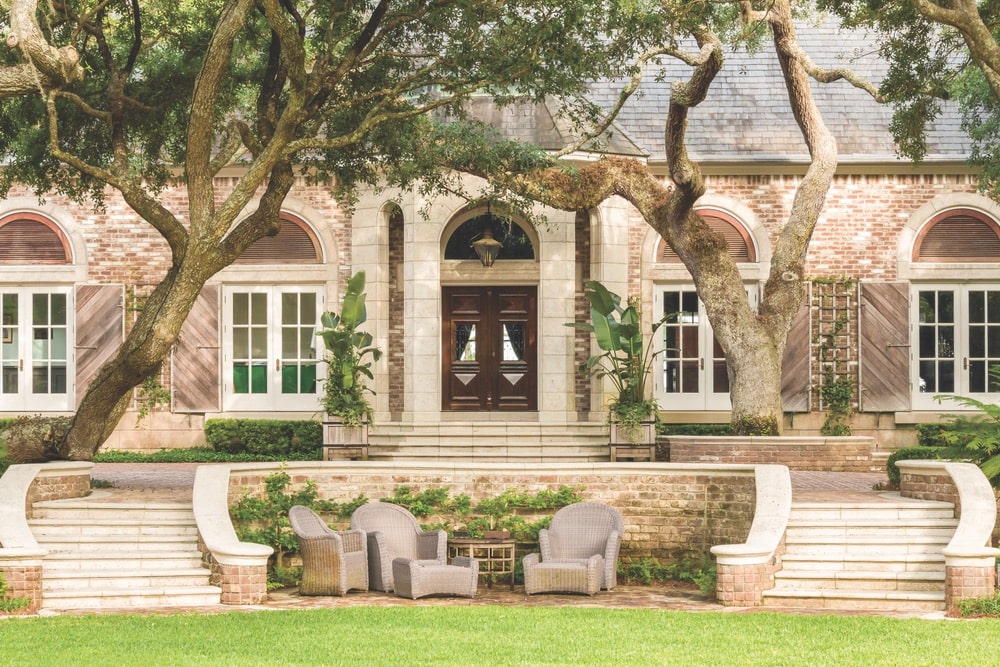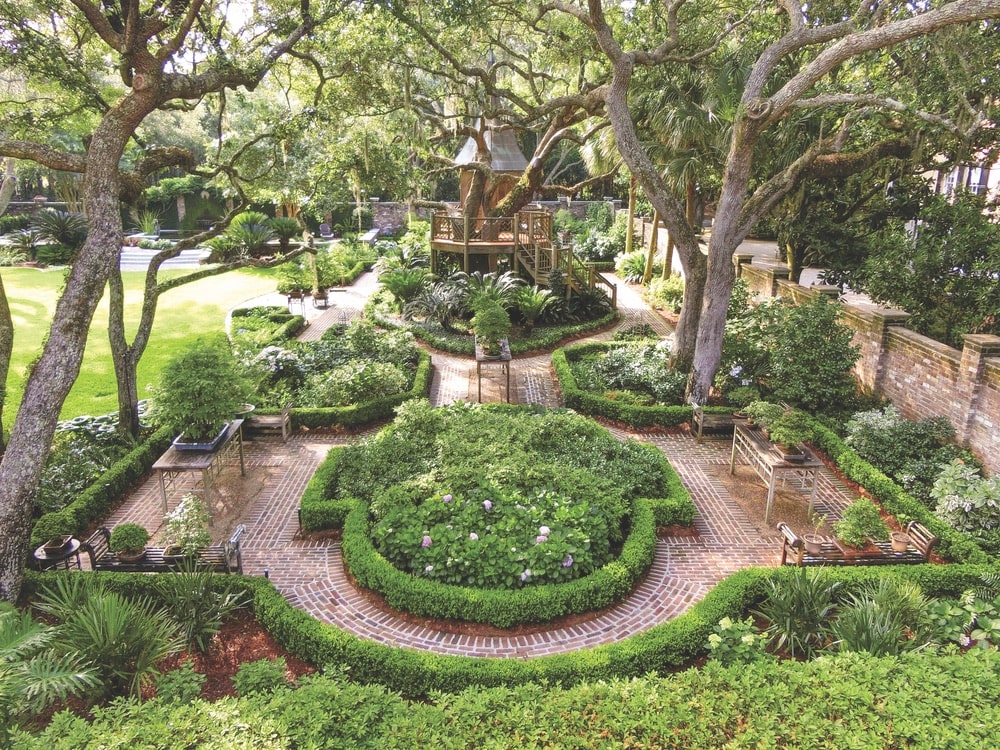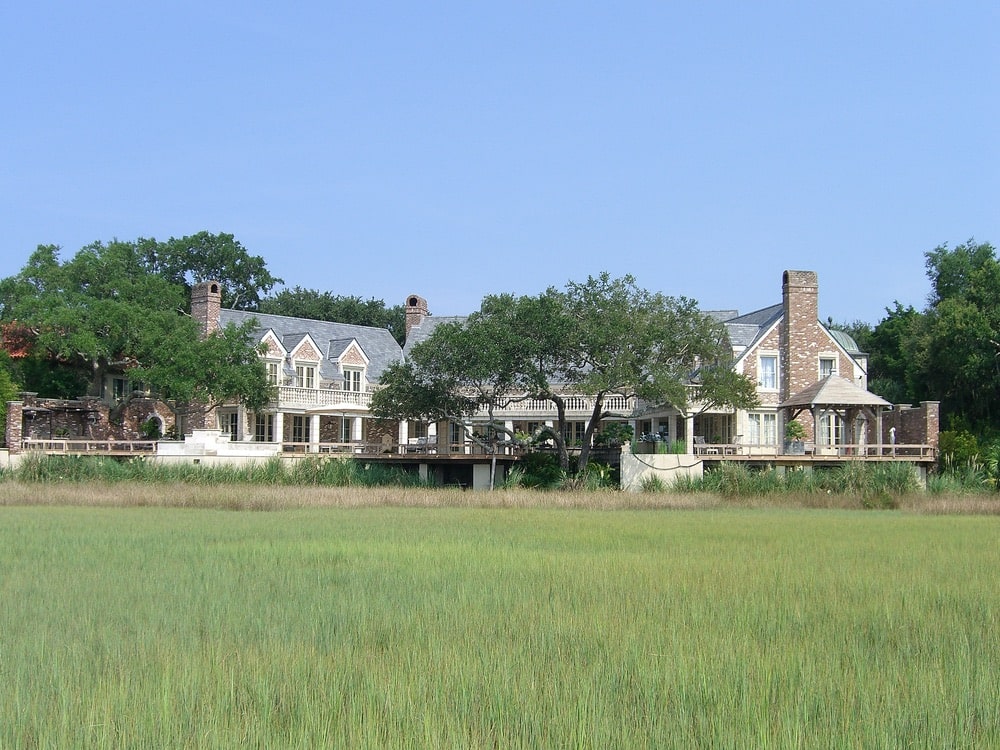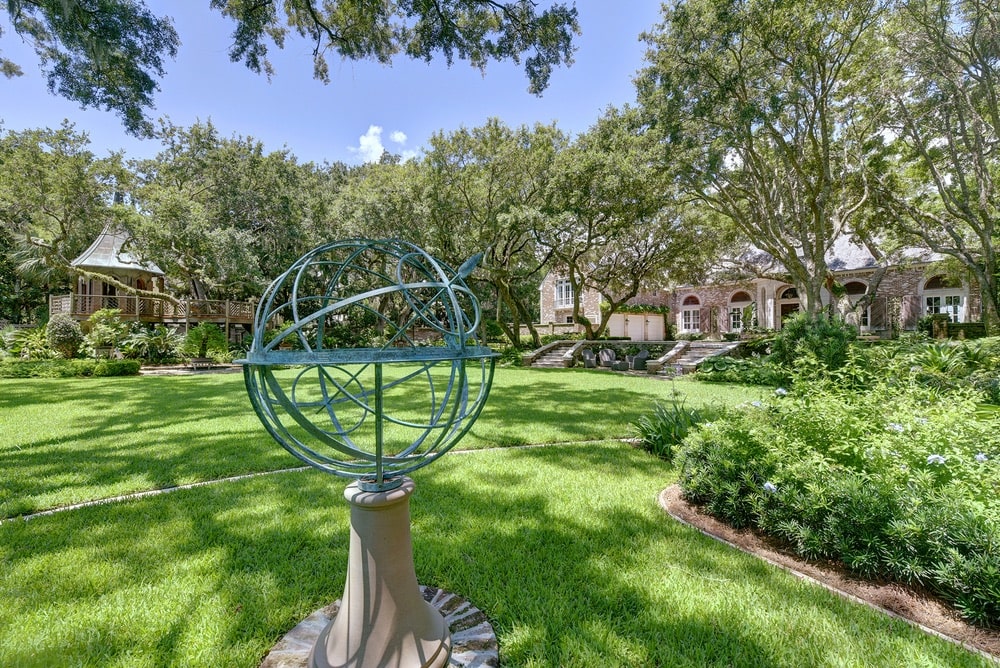 Now the good doctor, who according to Nevinson "never really enjoyed the deck," spends most of his evenings enjoying every facet of the outdoor living space, which takes up an entire lot. "I go into the formal garden when I get back from work and enjoy the different viewpoints with my dogs," explains Imhoff, who raised a son in what he considers an outstanding family home, but equally enjoys living there alone with his furry companions. "I love to cook, and Charles has made me a fabulous outdoor kitchen where I like to do that," he continues. "After dinner on the rear deck, I sit and watch the sun go down over the marsh, and I'll relax in front of the fire pit even in summer."
As the sun goes down, Imhoff says, "it's like watching the sunset over the Serengeti, where I used to spend time every year." He then retreats to the wood-beamed second-floor library, which has become his favorite room in the house. "It's where I end every evening, doing a bit of paperwork and reading the newspaper before I retire to bed." Nevinson installed a brick floor in this sumptuous room, as well as a wealth of white-oak paneling in which speakers are embedded. A cast stone mantel conceals a television that will rise when needed. The zebra rug in the library is reprised with another in the exquisite master bathroom, redone by Nevinson in a wealth of white marble, mirror glass, and exotic dark wood. It segues into an opulent sanctuary of a walk-in closet whose cupboards and drawers are decorated with faux-glazed Venetian paintwork.
"Because of the tides here, I overlook every day the kind of savanna that reminds me of Africa, and at another time of the same day, I see nothing but water. The views over the marsh here are unique."
Imhoff no longer spends a portion of every year in Africa, where he was involved with a conservation project, but he loves the way his property in Georgia reminds him of that landscape. "Because of the tides here, I overlook every day the kind of savanna that reminds me of Africa, and at another time of the same day, I see nothing but water. The views over the marsh here are unique."
Hunting, now limited to birds, still has enough hold on Imhoff's heart that the game room and kitchen of his Sea Island home are decorated with trophy heads. He enjoys cooking indoors as well as out and hosts dinners in his grand formal dining room. "This is a great house for entertaining," he says, pointing out the excellent flow from the deck to the pool and the marsh overlook. There is also considerable privacy, ensured by an eight-foot-high brick wall around the property.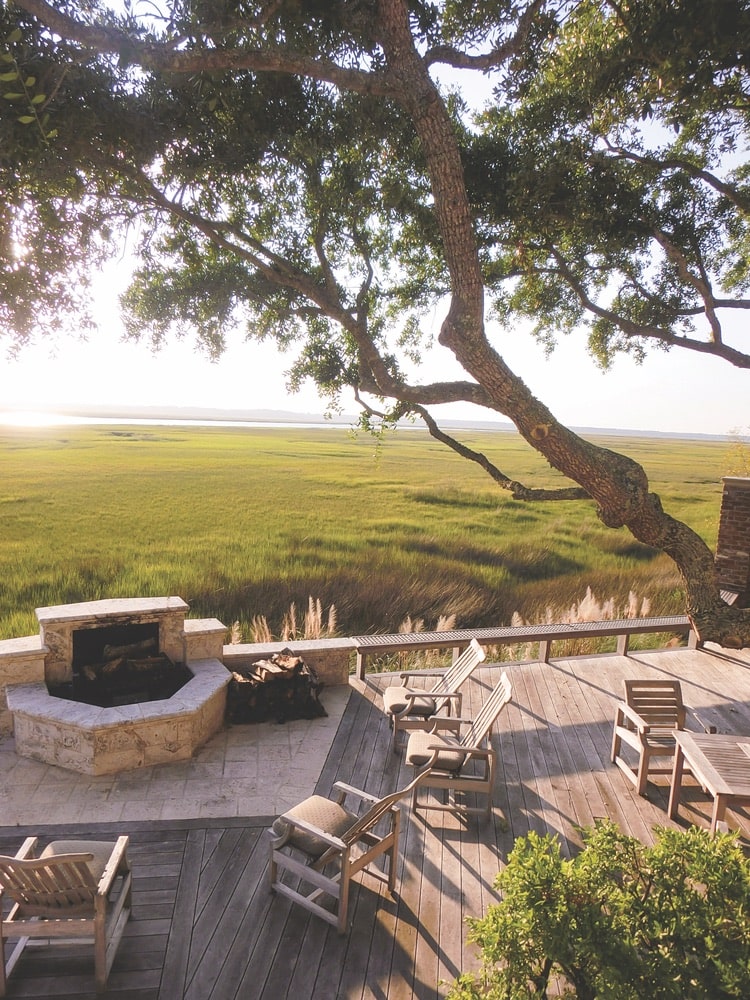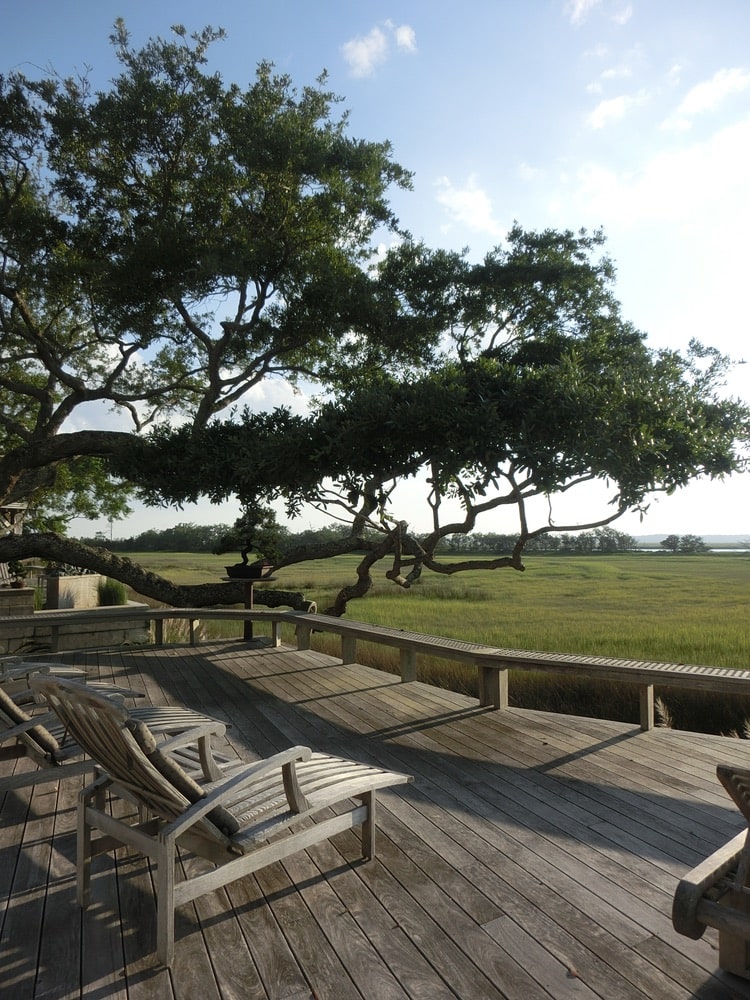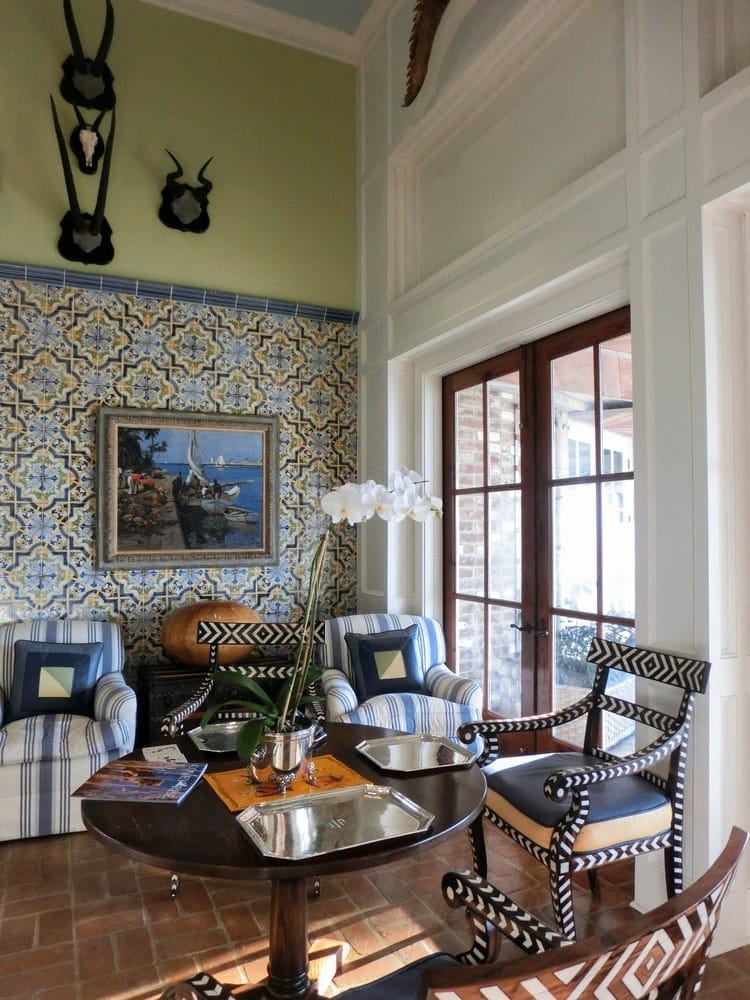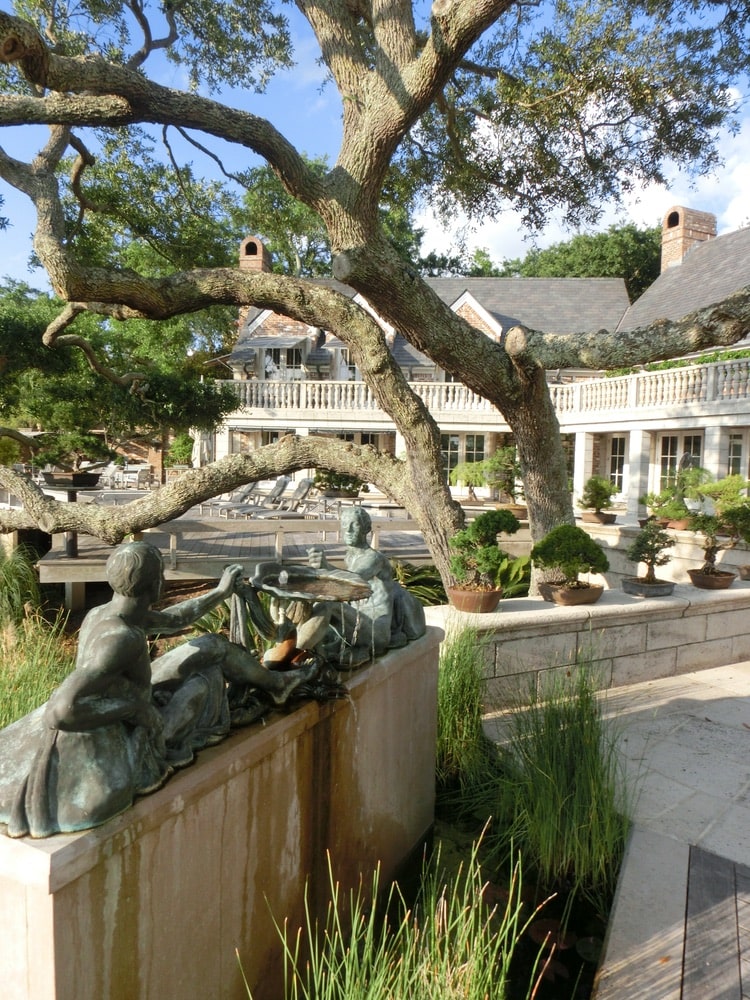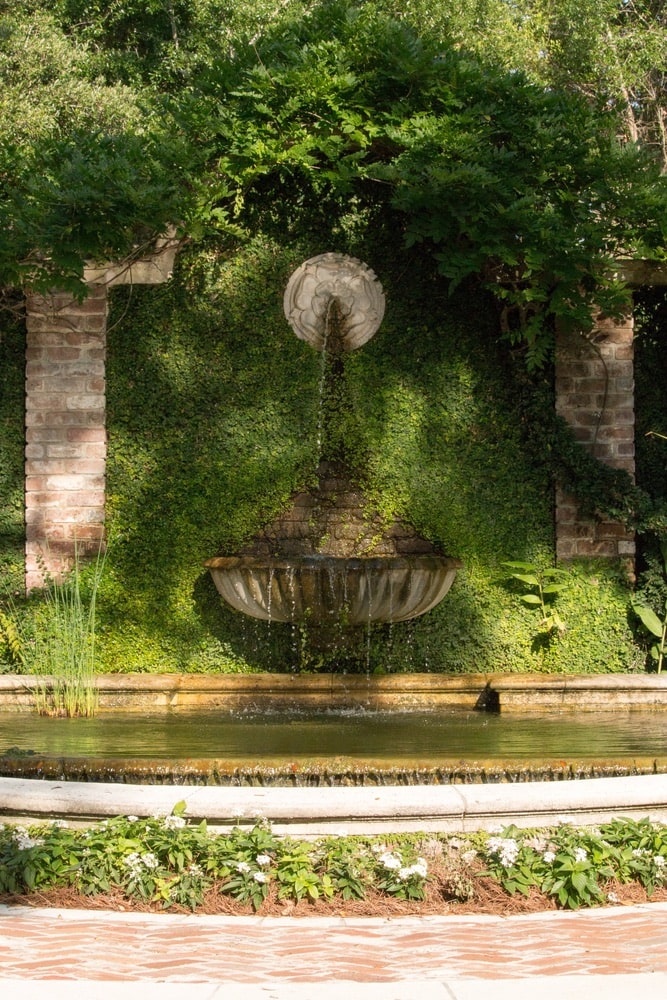 The formal garden, by comparison, is a more intimate space for contemplation. Nevinson explains, "I put in a fair amount of hardscape to give some order as well as create focal points on which to install the Japanese-inspired ipe display tables."
A grand second-floor balcony with a new roof of Vermont slate, new balusters, and hurricane shutters overlooks the new deck (also trimmed in ipe) and the marsh beyond. Heralding that view is a cast bronze fountain depicting Castor and Pollux mounted on a limestone plinth that stands in a small angular pond. To the left are the fire pit, dining area, and that full outdoor kitchen where Imhoff so likes to sit and remember the Serengeti—although here on Sea Island, he is truly out of Africa.
— V —
---
Visit ArchitecturalAccents.com to see more of Nevinson's work.
Anthea Gerrie is based in the UK but travels the world in search of stories. Her special interests are architecture and design, culture, food, and drink, as well as the best places to visit in the world's great playgrounds. She is a regular contributor to the Daily Mail, the Independent, and Blueprint.
ARTICLE CATEGORIES