Model and Artist is a Living Legacy through Her Daughters
By Tory Phelps | Interview and Research Conducted by Lisa Burwell | Photography by Jessie Shepard
In comparing life to a play, William Shakespeare famously wrote that "all the world's a stage." If the Bard's metaphor is true, then Alice Jean Gibbs's three acts have all been Tony Award–worthy. Even better, her two daughters—Lynn Wilson Spohrer and Carol Harris—have followed in their mother's dramatically unordinary footsteps, creating equally compelling and wholly original lives that, like their mother's, have led them to Apalachicola, Florida.
The three women's stories begin, of course, with Alice. Her remarkable journey from her native Chicago to an idyllic life as an in-demand art teacher here on the coast includes years spent dancing and modeling—most famously as one of the first Coca-Cola girls—a life-changing discovery of art, and raising her multitalented daughters. She chronicles these tales while relaxing at the home of her daughter Lynn, a globe-trotting designer whose exquisite home sets the perfect tone for this magical trip through time.
The Coca-Cola Girl Makes Her Debut
At 93 years of age, Alice leads a very full life and retains an unmistakable beauty that testifies to her previous life as a model. It all began when she was sixteen and earned a spot in the children's theater at the World's Fair in Chicago. Other engagements followed, and she soon left high school for the glamorous world of dance, ending up at the renowned Fox Theatre in Brooklyn. The twelve girls in her dancing group performed four shows a day and five on the weekends for $35 per week—all while traveling by freight train to the next performance, but she gladly put up with the grueling schedule and dicey mode of transportation. "The reward was worth it because I became a classically trained dancer," she smiles.
During this period Alice was hired by the John Robert Powers Modeling Agency, founded by the eponymous actor-turned-entrepreneur who persuaded icons like Lauren Bacall, Lucille Ball, and Ava Gardner to come aboard as well. Alice didn't turn in her dancing shoes, however. She auditioned for and was hired as a member of the Roxyettes, a troupe of precision dancers that headlined at the Roxy Theatre—then one of New York City's most famous showplaces and a precursor to Radio City Music Hall's Rockettes.
After a few years of life on the road, a homesick Alice returned to Chicago, where she modeled full-time. One of those assignments was for Haddon "Sunny" Sundblom, Chicago's leading commercial artist in the 1930s and 1940s and one of several artists contracted by Coca-Cola to create their ads. The process was simple: a photographer took her photo, which Sundblom used as the basis for an oil painting that Coca-Cola reproduced for billboards, posters, and magazine ads.
Not only did that assignment forever link Alice with one of the most iconic ad campaigns in U.S. history, but it also introduced her to art. "While I was posing for Sunny, I asked him about painting, and, at his suggestion, I started taking art classes," Alice said. Alice modeled by day and attended the Art Institute of Chicago and the American Academy of Fine Arts at night, uncovering a love affair that has played a huge role in the second and third acts of her life.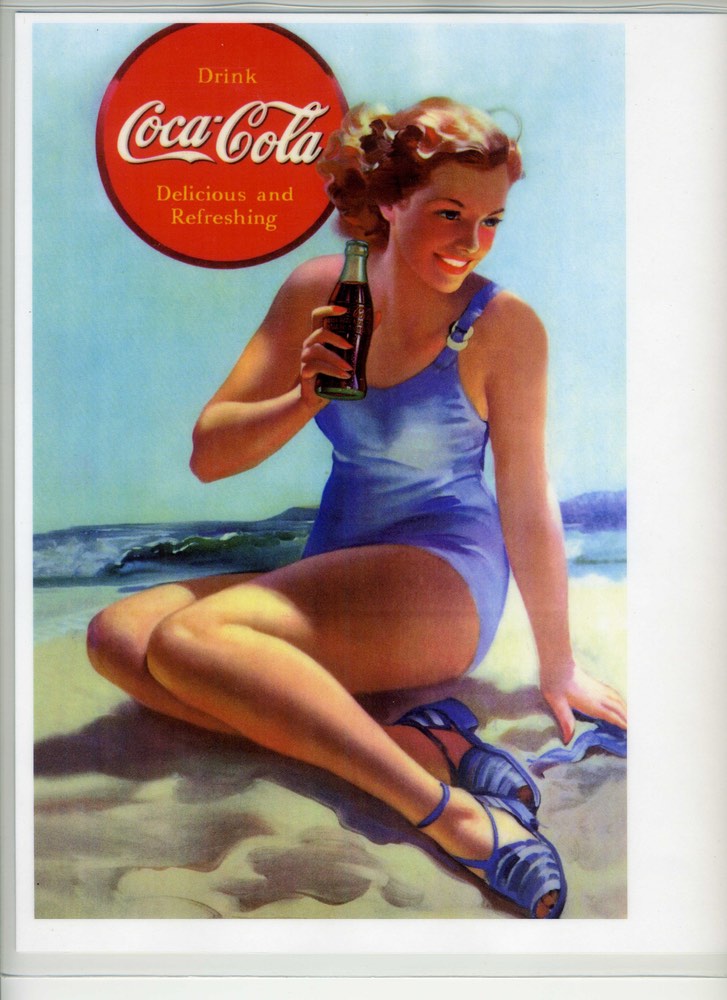 From Pinup to Parent
Alice moved with her husband, a professional pianist, to Miami and started a family, but she didn't set aside her passion. She owned a children's dance studio for years and has been an accomplished pastel and oil painter since her early twenties. Twice widowed and once divorced, Alice moved to Apalachicola in 1995 to be near her daughters. She opened the Alice Jean Gallery downtown and today holds twice-weekly art classes for students who benefit from her inborn talent and years of study with some of the finest artists in the country. She and her daughter Lynn, an accomplished artist as well, also travel to France, Italy, or Sicily for a week or two each year to paint outdoor scenes en plein air. Similarities between mother and daughter don't end there, however.
"My mother was my mentor," Lynn says, which may explain why she, too, went on the road as a dancer when she was a teenager. In addition, she sang and acted in off-Broadway productions for giants like Lou Walters (Barbara Walters' father), who hired her as a Coconut Grove dancer—a gig that allowed her to dance with Mel Tormé. Among her other show biz credits was a role in the Frank Sinatra film A Hole in the Head; TV roles on Dr. Kildare and Bonanza; and commercials for products such as Listerine and Zest soap. She also met Fidel Castro during a pre-blockade stint as queen of Cuba's Carnival. Never one to rest when she could be working, Lynn kept up her performance schedules while taking advantage of a full scholarship to the University of Miami. She even went back to school for her master's degree in art history when she was pregnant, when her professional dancing had to be put on hold.
Surprisingly, her mother characterizes her as a "shy" child. Lynn attributes the confidence she's enjoyed as an adult to the theatrical and dance training she received as a child, as well as to a memorable spiritual encounter in her teen years. "A star perched on my shoulder when I was seventeen, and I allowed God to take over my life," she remembers.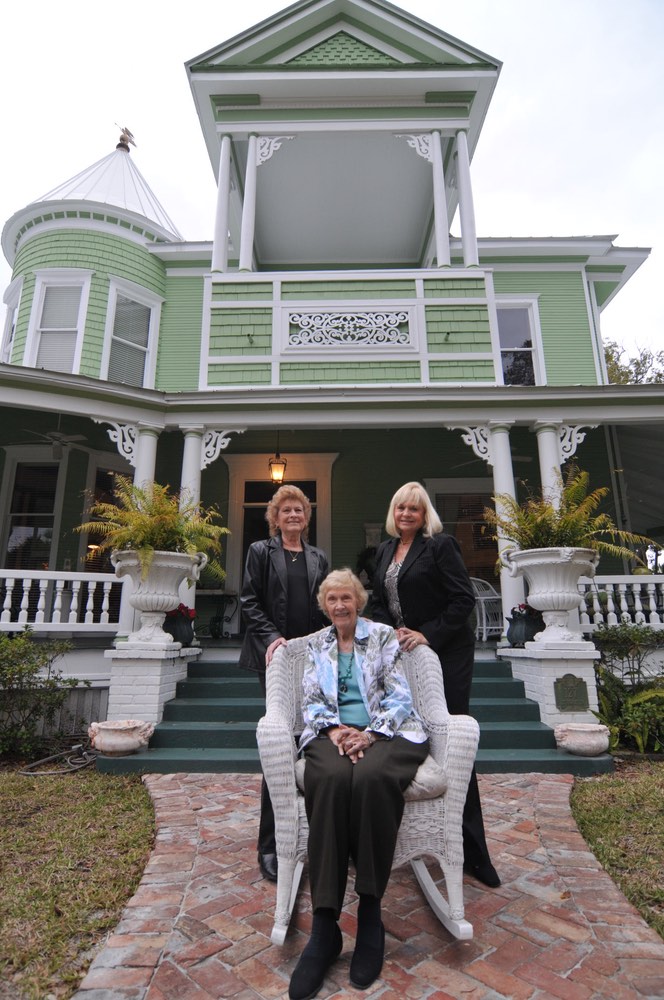 She took that confidence and, at age twenty-seven, founded Lynn Wilson Associates International (www.lynnwilsonassociates.com), one of the top ten interior design firms in the country. With offices in New York, Los Angeles, Paris, Hong Kong, and Mexico, her company is responsible for refurbishing the Biltmore Hotel, the Stouffer Vinoy in St. Petersburg, the Boca Raton Hotel, and the Taj Mahal Hotel in Mumbai. Though glamorous, her line of work runs into occasional snags—the most notable recent example being the fire at the Taj Mahal Hotel last year, which devastated Lynn. She watched, helpless, as TV news reports showed her restoration being consumed by flames.
Around the World and Back
Lynn's business has taken her to the Middle East, China, Korea, and Pakistan. Her mother, while visibly swelling with pride at her daughter's achievements, has nonetheless worried about her solo travels, though Lynn herself has no such qualms. She revels in stories like the one about brokering a $3.5 million contract in a boardroom in Japan where she was the only female. With her poise and self-assurance—not to mention talent—the company Lynn fronts has attracted clients such as Queen Elizabeth II of England, King Hussein and Queen Noor of Jordan, and His Royal Highness Sheikh Maktoum of Dubai. On a personal note, her company is the reason she met her husband, Bill, whose Nicaraguan airline company became a client.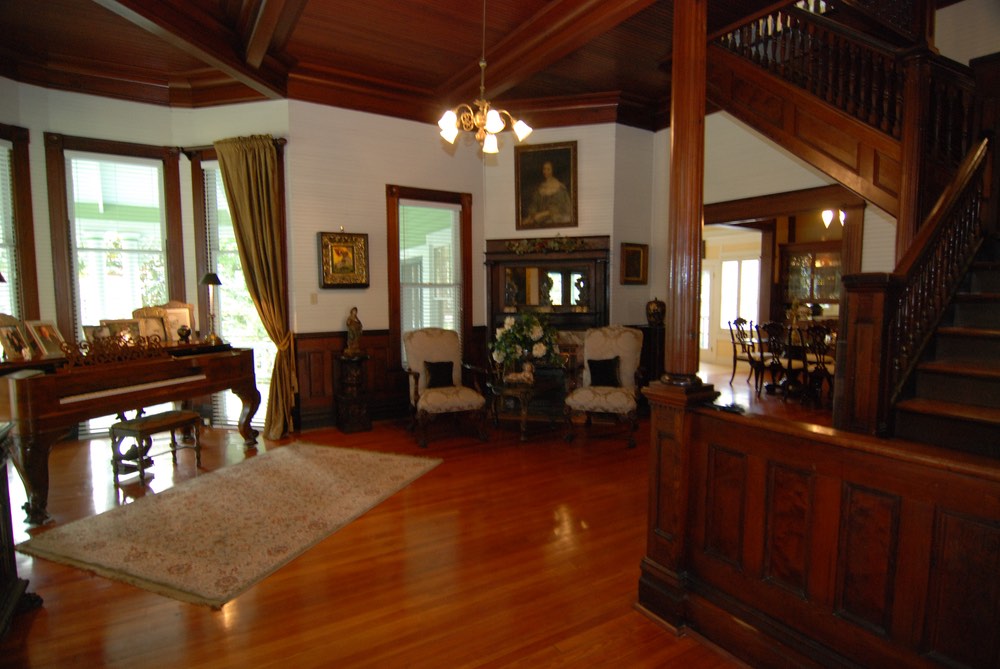 Lynn and Bill's home is dotted with photos of the couple with some of the most famous faces on the planet, but it's safe to assume that, upon the arrival of Lynn's sister, Carol, two of the most impressive people they know are sitting in their house, drinking tea and reminiscing. With Carol Harris's entrance, talk turns to Alice's other daughter, a phenomenally talented musician who plays violin, guitar, Scottish fiddle, bass, banjo, and mandolin. Though self-taught, Carol also took lessons from jazz great Tom Righi for about seven years. "Her musical accomplishments are truly a miracle," Alice explains, "because as a child Carol had rheumatic fever, which left her in bed for six months." Now, she has a perfectly pitched ear, which she uses to teach music in Apalach'. Naturally, Carol is also a talented artist. Though her visit is short, it's clear that her story would be worthy of its own feature article. 
So how did these fascinating, talented people, who count heads of state among their friends, end up in Apalachicola? Because, after all the places they've been and the people they've met, this community is the one that's captured their hearts. Here, people ask Alice for her autograph, recognizing that the woman who teaches them to make a canvas come alive with oil paint is the same woman who is part of the very fabric of Americana. And this is where the daughters who inherited her beauty, grace, and talent feel at home.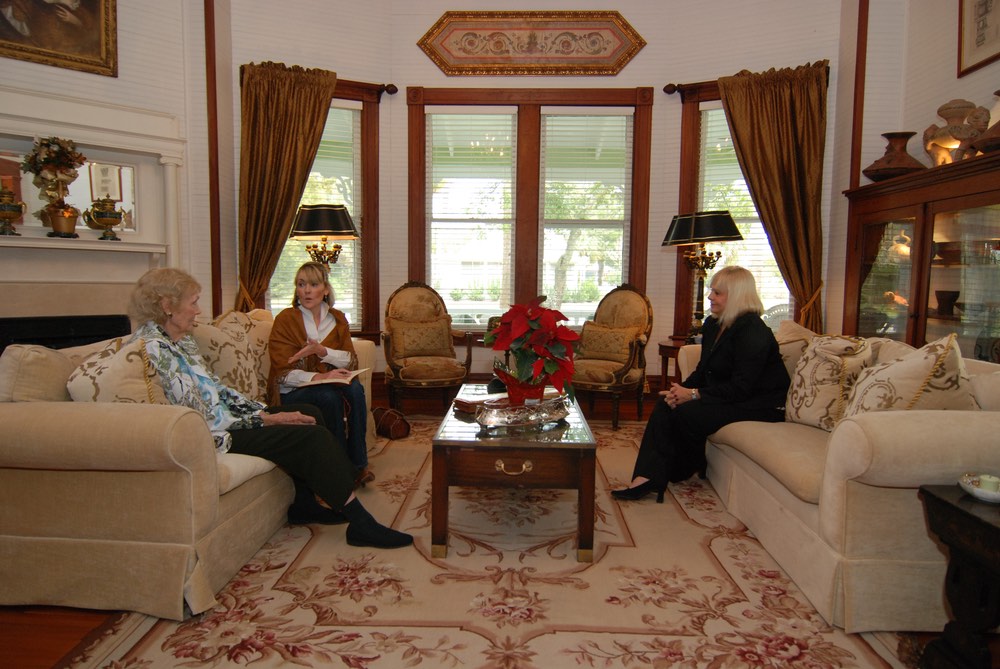 Restoring Apalachicola
Lynn and Bill Spohrer first came to know Apalachicola some twenty years ago. On one of their first visits, Lynn began the process of trying to convince Bill that she could revive the crumbling building that now houses the Coombs House Inn. "When Lynn saw this decaying house, she knew immediately that she had to save it," Bill recounts. "It took us ten years just to close the deal on the former home of James Coombs."
Restoring the historic Coombs House (www.coombshouseinn.com) to its former glory was not an easy task, as labor was hard to come by and renovations of this magnitude were rare for Apalachicola at the time. The beautiful craftsmanship and attention to detail are near perfection, thanks to the ecclesiastically trained painters and faux painters from Russia she hired to work on the restoration. The Coombs House Inn is filled with the Spohrers' own collection of antiques, furnishings, oil paintings, Oriental carpets, and fireplaces. Numerous articles have appeared in the New York Times, the Tallahassee Democrat, and the Miami Herald about this special getaway in the sleepy town of Apalach', and Travel and Leisure named it one of the "30 Outstanding Small Inns in the United States."
Apalachicola is more than a home to the Spohrers; it's their chance to harness their creative abilities to help rejuvenate a town that's come to mean so much to them. "Bill and I have been a small part of a grassroots movement to effect change in Apalachicola," Lynn explains. "There's real community here, and I wanted to show the world what Apalachicola could be. I marvel at what it has become and what it will become."
— V —
---
To read more about Bill and Lynn Wilson Spohrer, check out the article, "I met the 'Indiana Jones of South America' in Apalachicola," which appeared in the Spring/Summer 2008 issue of VIE (www.VIEzine.com).
ARTICLE CATEGORIES