By Sallie W. Boyles | Photography provided by ICON Aircraft
If George Jetson were to travel back to 2014 in search of the coolest, safest vehicle he could buy for the pure pleasure of flying around in, he would, without question, land on the ICON A5. Like a sports car with wings, the A5 has arrived to make the dreams of today's grown-up kids come true like no other airplane of its kind.
Classified as a light-sport aircraft (LSA), a category first allowed by the Federal Aviation Administration (FAA) in 2004, the A5 is a two-seater built for recreation yet fortified with cutting-edge operational features that do not exist in larger, more expensive private passenger planes. By focusing on the ease of handling and the joy of flying while also raising the safety bar (some might say to the moon!) with NASA- and fighter jet–inspired features, ICON's launch product has attracted keen buyers and investors from the United States and abroad.
In addition to seasoned pilots seeking easy, breezy fun in the sky, one-third of ICON's early enthusiasts are new to the cockpit. All have decided that such a toy, which costs around $189,000, is well worth the money plus some patience. Currently, over a thousand custom orders are waiting for the final production prototype aircraft to demonstrate compliance and complete testing. The first delivery is estimated by the end of this year. If a buyer ordered today, the anticipated delivery would be late 2017. Once the production aircraft have been approved, prospective buyers will be able to take test flights. Although offering international dealerships to a few candidates, ICON plans to manage US sales directly.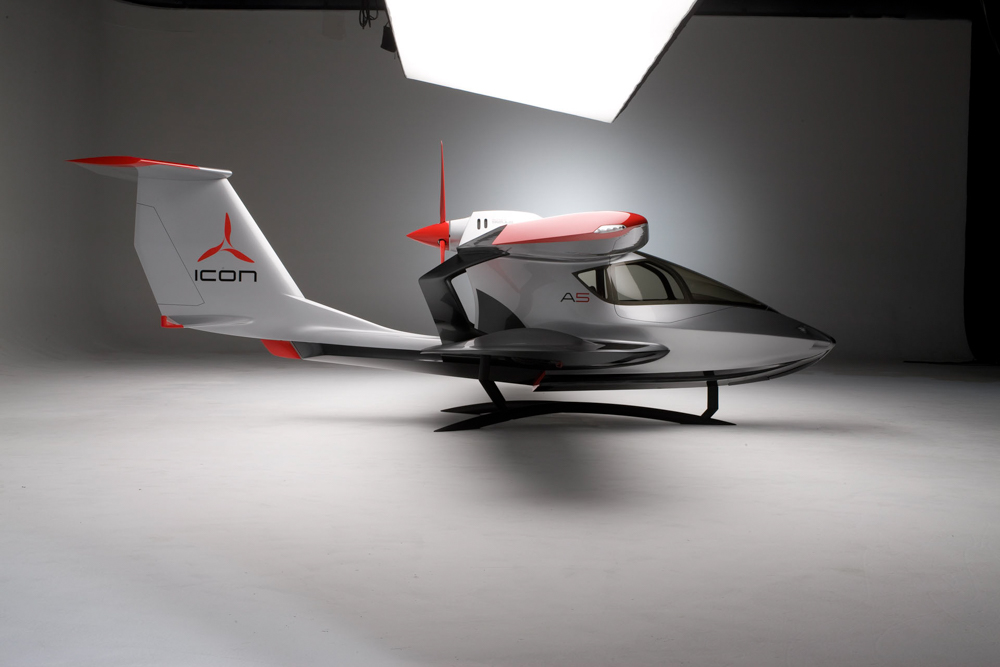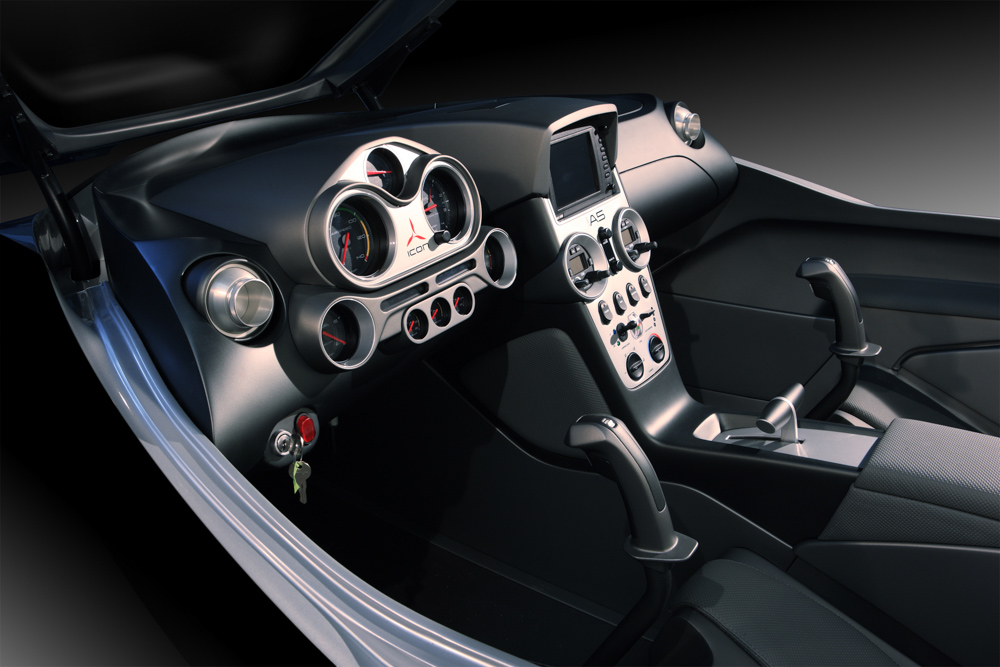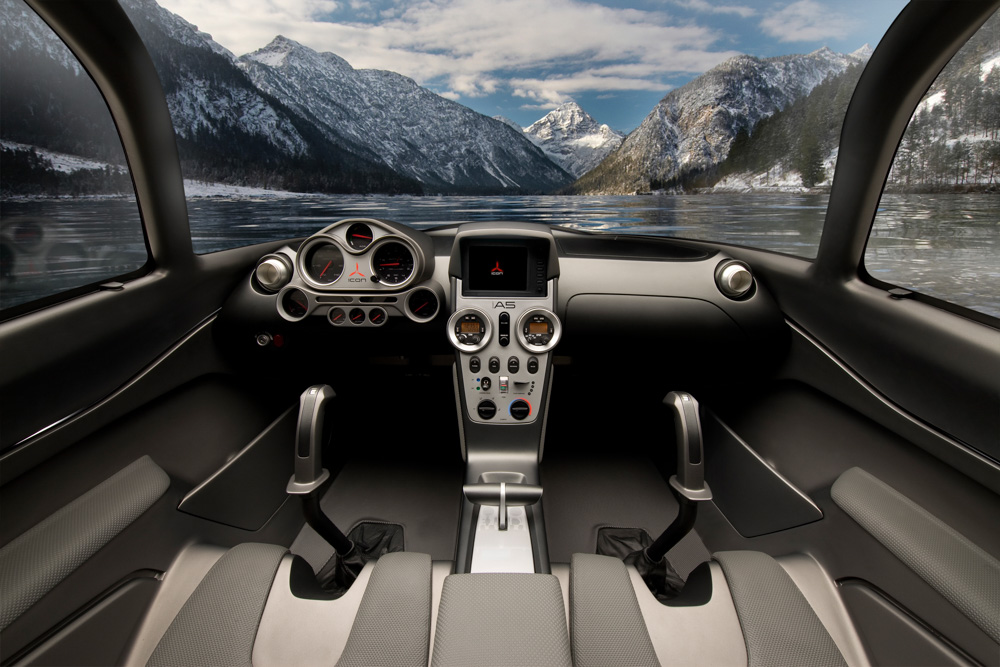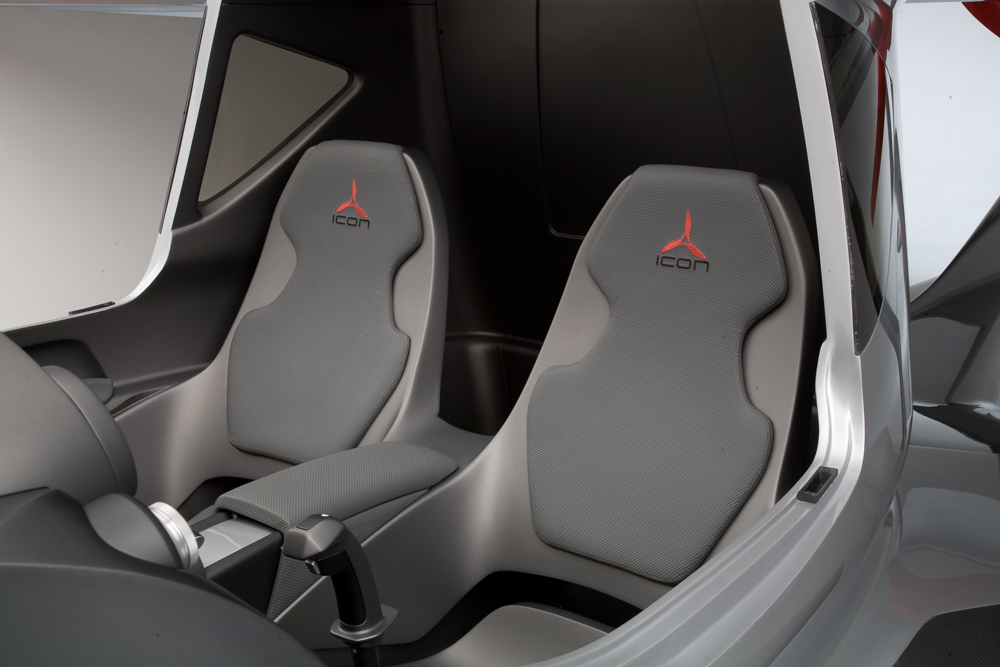 Without a doubt, a love of flying inspired its concept, but the nuts and bolts of the A5 did not materialize out of the clear blue. The desire to be an industry pioneer first struck ICON Aircraft founder and CEO Kirk Hawkins, a former U.S. Air Force F-16 pilot and an enthusiast of action sports from snowboarding to skydiving, when the FAA opened the LSA gateway. "The freedoms provided to manufacturers by these new standards allow more innovation with less onerous, expensive, or unnecessary regulations," Hawkins reveals.
With a BS degree in Mechanical Engineering from Clemson University, Hawkins served as director of engineering for an aerospace contractor before returning to Stanford University for a Master's in Engineering. That's where he met his cofounder Steen Strand. Strand, who holds an MS in Product Design from Stanford and an AB in Economics from Harvard, is known for his design innovations, particularly in sports-related products, as well as for his asset management acumen.
The two formed the Southern California–based ICON Aircraft in 2005 with a shared sense of where they wanted to go: "How do we create a product that every time you interact with it, you fall in love with it?" poses Hawkins.
"You need to consider how cool it is, and how will I feel when I'm driving and flying," says Steen. In short, sleek and fast. Interestingly, along with Jet Skis and other speedy means of travel, the A5's concept boards depict a shark. Why a shark? "The shark is aggressive; it's fast; it's in the water," explains Strand. "If you want to create this excitement, there needs to be a little attitude."
To transform such ideas into a viable consumer product, they recruited a powerful team of aeronautical engineers and fabricators from Scaled Composites, a company founded by Burt Rutan, recognized for designing and building air and space vehicles. "I'm incredibly proud of our engineering and fabrication team," says Hawkins, referring to the in-house experts and their strategic partners.
Collaborating with ICON, Lotus engineers contributed on structural design and on manufacturing processes. Cirrus Aircraft, another key contributor, produces much of the composite airframe components. The depth of knowledge continues with ICON's impressive board of advisors, such as former Boeing CEO Phil Condit. From all indications, the investments in human capital and technology have paid off.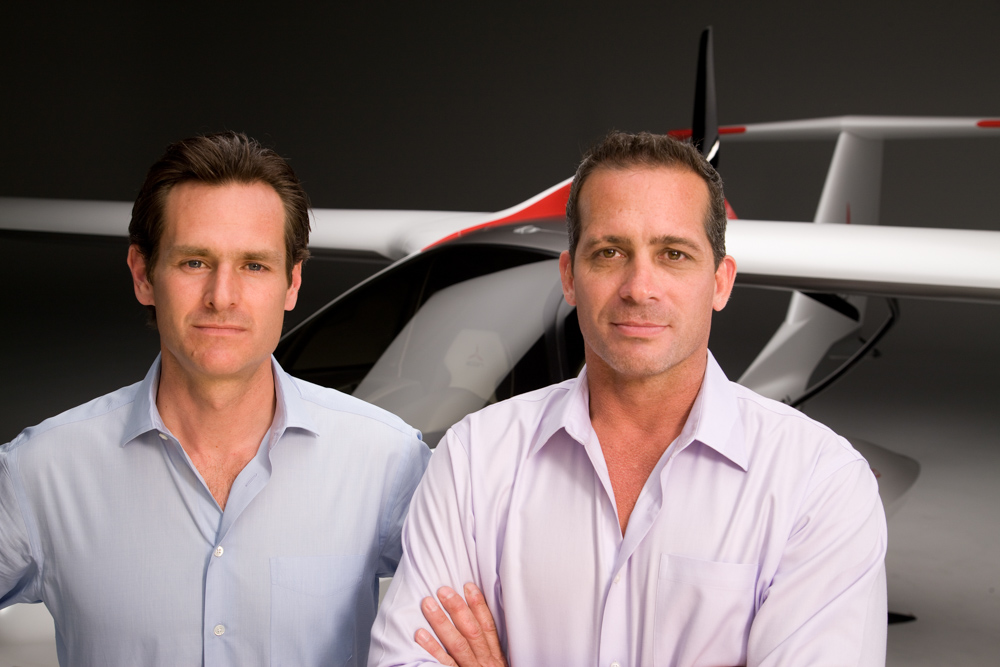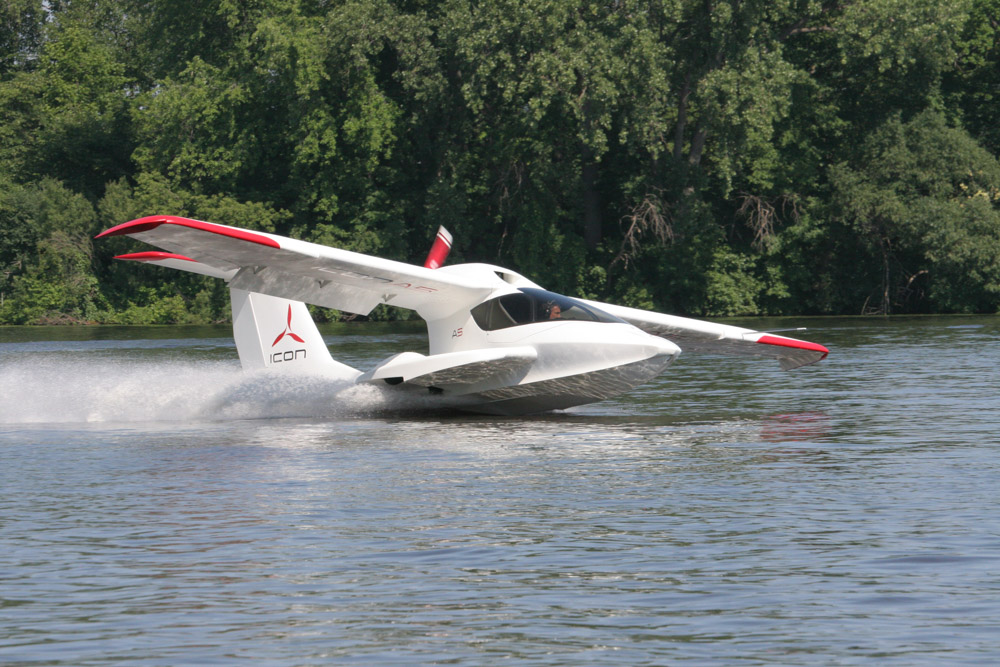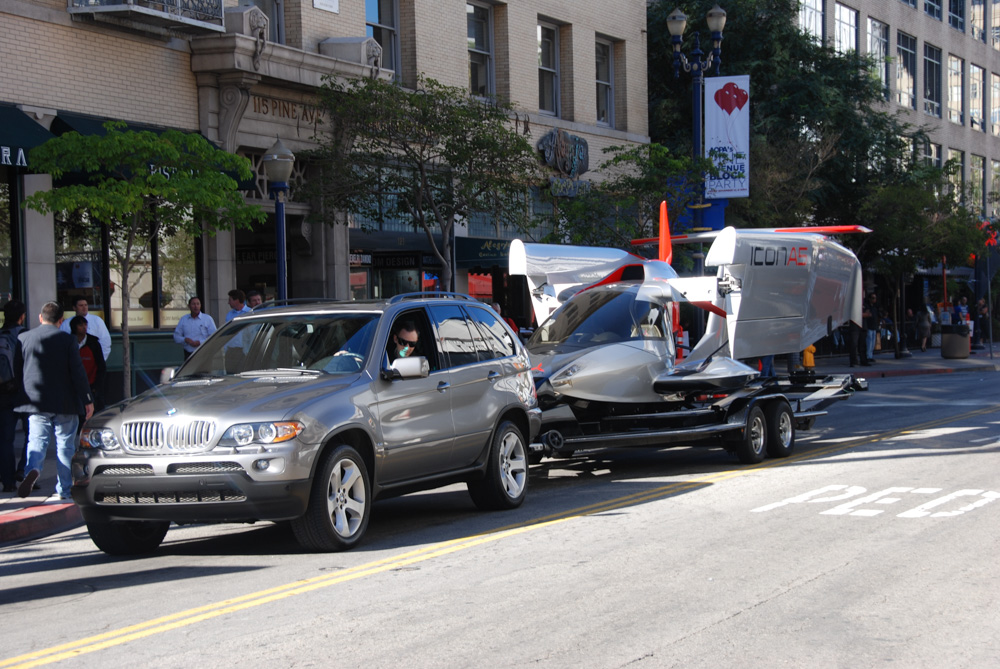 In many aspects, the A5 has been deemed a pleasure vehicle to rival a new Ferrari—only one that flies! While still in the early testing stages, the ICON A5 became the talk of cable news and networks like the Discovery Channel. Some, nevertheless, would say that the A5's success arrived when the 2009 Neiman Marcus Christmas Book featured the sporty plane as the annual fantasy gift. The ICON team, however, is decidedly proud of earning the renowned Red Dot Award for Product Design in 2010 among thousands of entries from around the world. The prestigious distinctions continue with the IDEA Gold Award for Transportation Design, IDEA's People's Choice Award, and the Gold Spark Award.
Awards aside, the company's real satisfaction stems from building a remarkably safe amphibious two-seater consumer aircraft that virtually anyone with a driver's license can learn to operate in less time than one might expect. "It changes the way you see the world," says Hawkins. "You're not sitting in an aluminum tube, crammed in a seat with a little window. We've taken something that's historically been extremely technical and moved it into the consumer market with a great understanding of human beings and the human interface with great design and great engineering."
In every aspect, ICON has turned the usually complex process of flying into a seemingly seamless act of nature. Like a waterfowl, the amphibious LSA requires only five hundred to a thousand linear feet of space for takeoff and landing on water or ground, whether the surface happens to be a lake, an airport landing strip, or a grassy field. Also, similar to water skis or a small boat, the compact plane, with (optional) automatically folding wings, handily stores in the owner's garage.
Conveniently, the sturdy pleasure craft—made of lightweight, high-density carbon fiber—also travels to and from the desired takeoff/landing spot on a custom trailer. The A5's versatility further pertains to fuel. The plane's Rotax engine runs on premium gas or aviation fuel, so operators can fill up the tank at the airport, the boat marina, or the gas station. For many owners, taking a Sunday afternoon spin in the A5 becomes less involved than going out on a boat.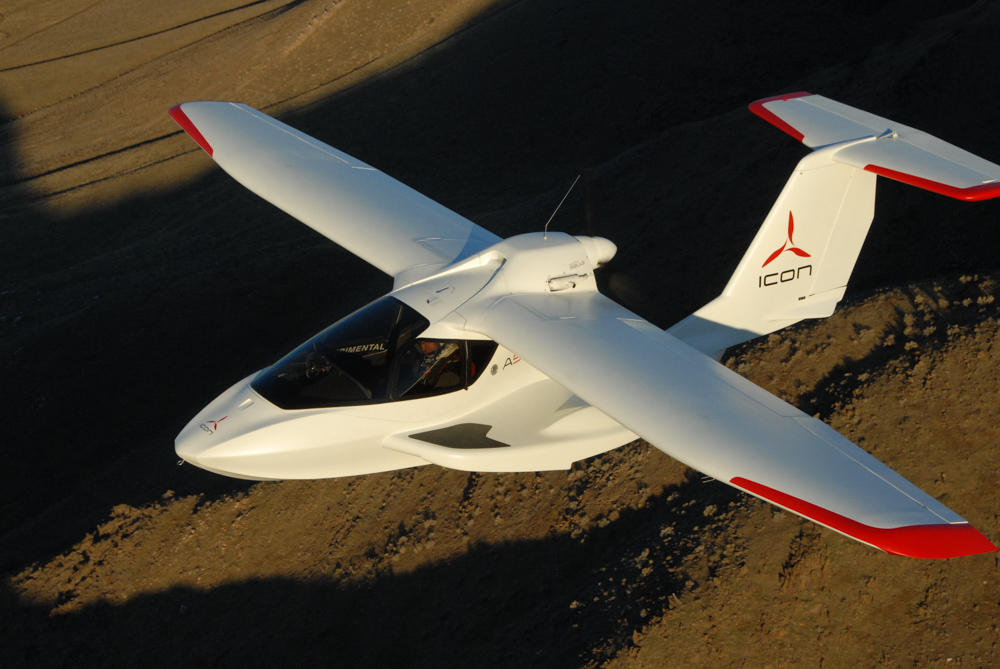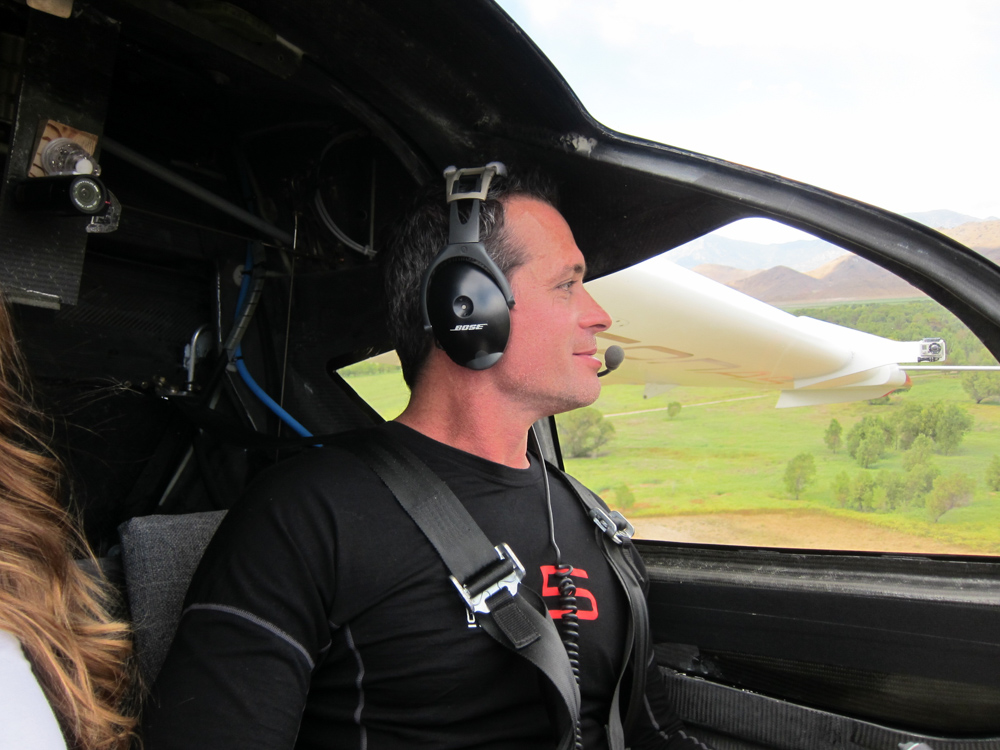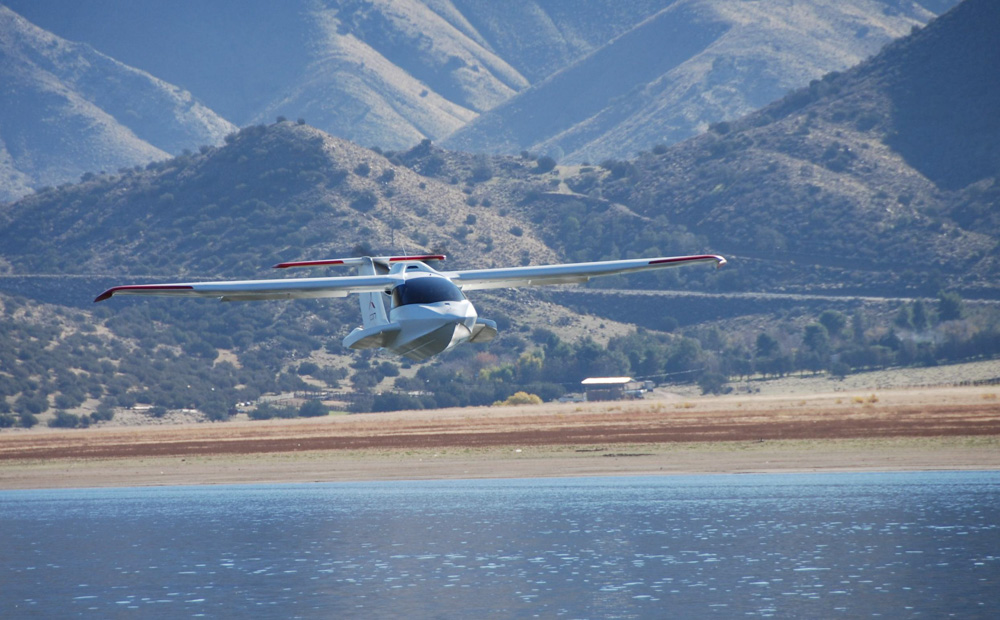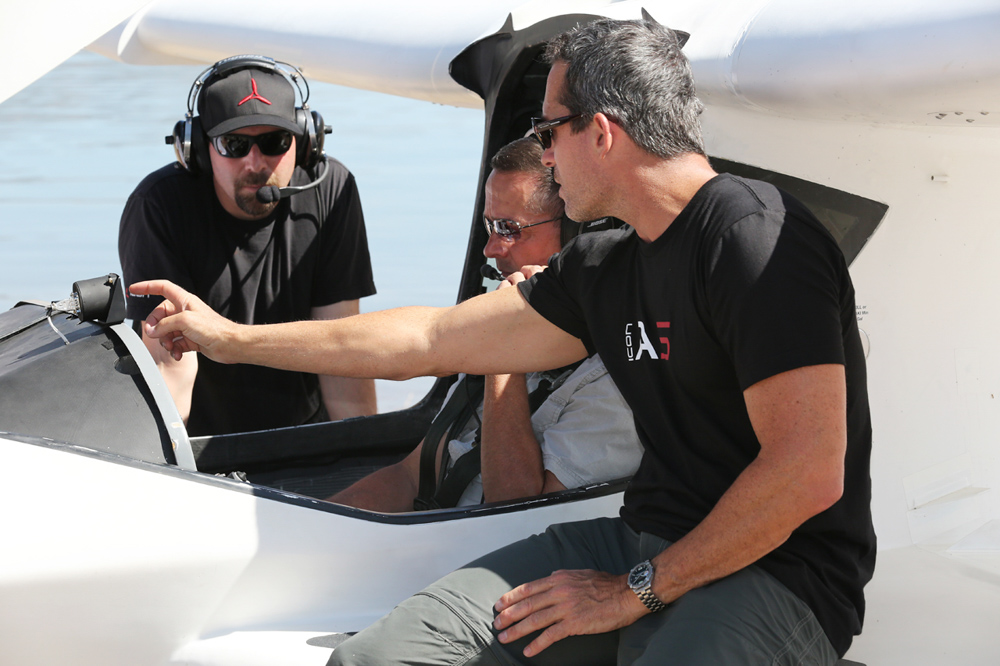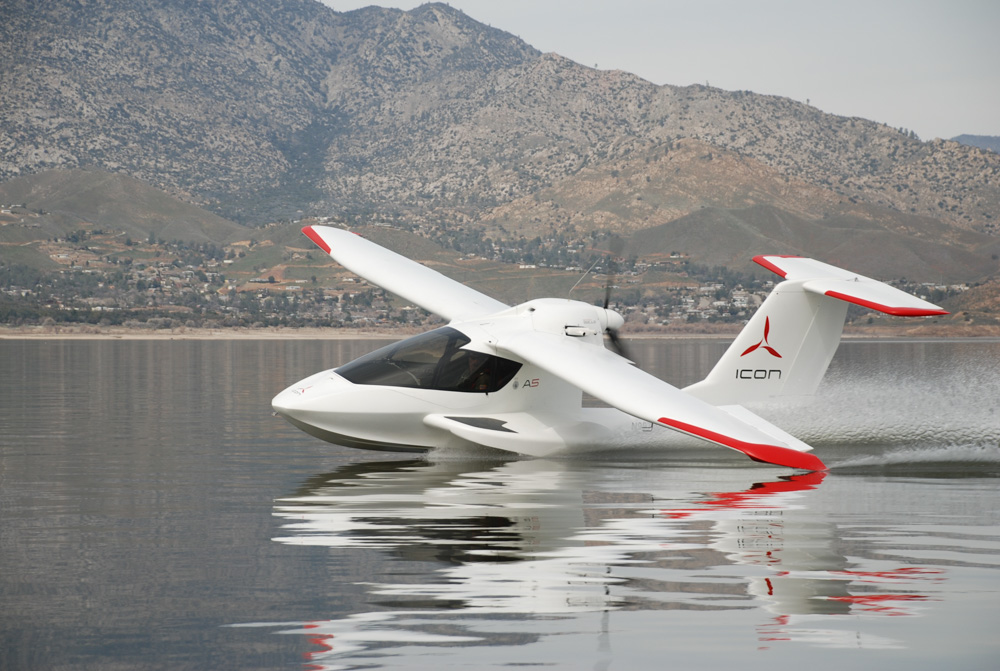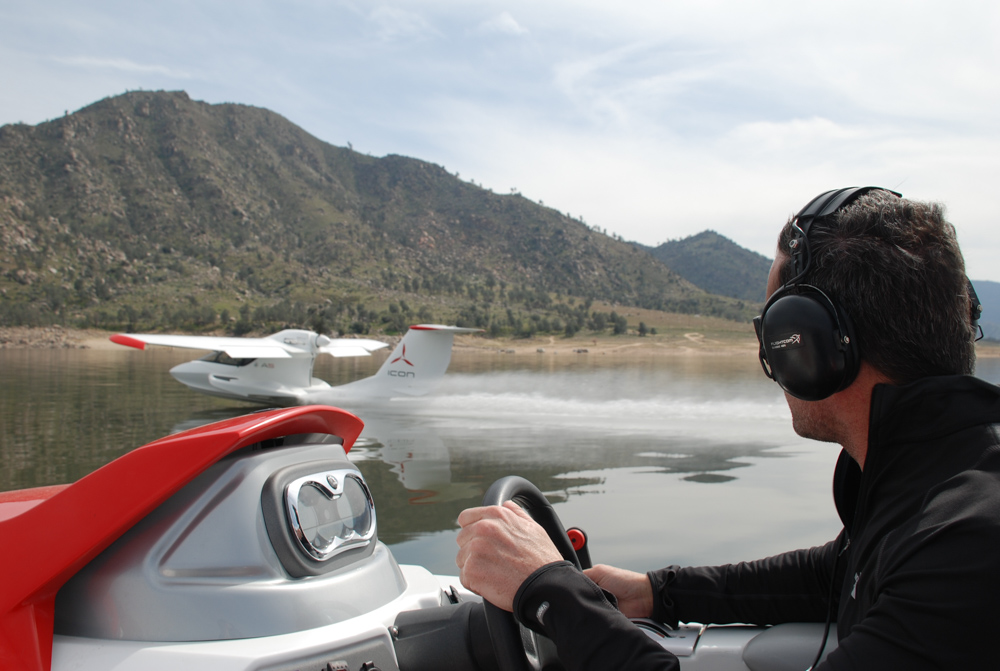 The element of ease further extends to licensing. The sport pilot license (SPL) necessary to take the controls of an A5 can be earned with a minimum of twenty hours of in-flight training. Incidentally, ICON offers on-site training that can be completed in two weeks for $3,000 to $4,000—half of the time and money invested for a traditional private pilot license. Although the SPL restricts operators, who must be seventeen years old, to flying in low altitudes (up to ten thousand feet), good weather, daytime, and uncongested airspace, the A5, which has a nonpressurized cabin and side windows that open, is meant for those very conditions, granting a true sense of freedom and control.
The A5 also delivers peace of mind through highly sophisticated yet intuitive controls with assurances that the greenest pilot will remain safely on course. According to a 2010 report by the Aircraft Owners and Pilots Association Air Safety Institute, pilot-related factors account for 70 percent of general aviation accidents; 41 percent of pilot-related fatalities result from losing control when an aircraft stalls and spins. Stalls and spins occur at any height, but the concern increases in lower altitudes, where the pilot has less time to recover from a descent. Inexperience further escalates the risk. Consequently, while the FAA stipulates that LSAs must have spin-recoverable or spin-resistant mechanisms, ICON went above and beyond.
Opting for a preventative strategy, ICON engineered an intuitive angle-of-attack (AoA) gauge that measures real-time wing performance and reveals how much lift the wing can deliver before it stalls. Prominently positioned top and center among the other streamlined cockpit controls, the AoA uses green, yellow, and red indicators to provide immediate feedback: either all is well or corrective action is needed. Such displays are common in military aircraft, but otherwise virtually nonexistent in general aviation aircraft.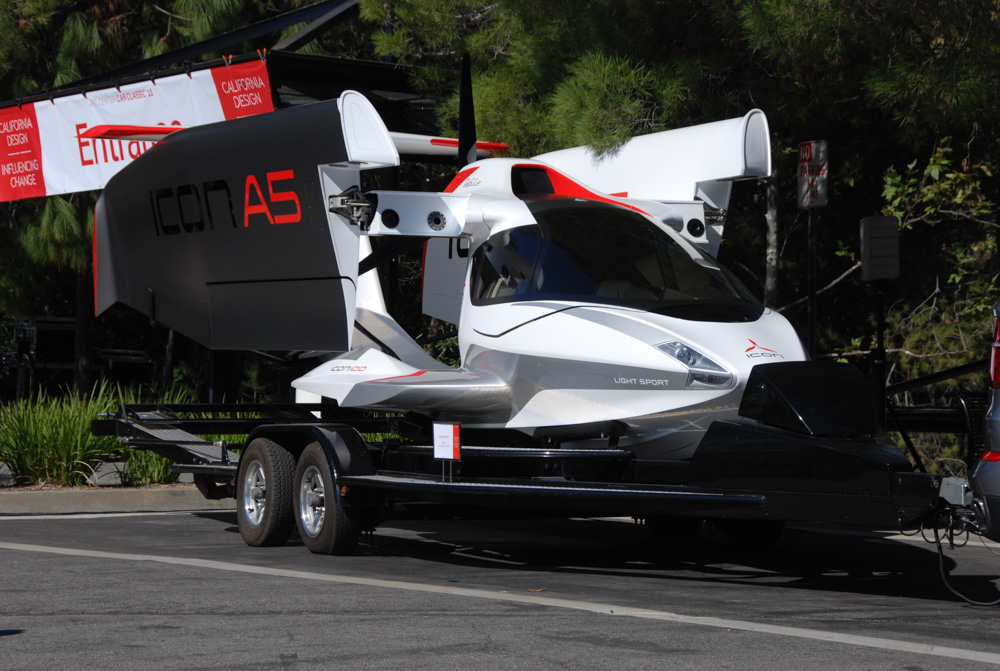 "Every fighter pilot in the world relies on the AoA to help them land, keep them safe from unintended stalls, and max perform their aircraft," says Hawkins, pointing out that such equipment should be in the hands of anyone, especially new pilots, flying small aircraft.
"Angle of attack is likely the single most important parameter that helps a pilot fly at all times, and yet this information has not been readily available in small planes," says Hawkins. "Part of ICON's mission is to produce one of the safest flight aircraft ever created; incorporating an intuitive AoA system in the A5 is just another example of that commitment."
In addition to implementing gauges that track performance, ICON took NASA's lead in designing a spin-resistant airframe that forces stalls to occur near the root of the wing. At the same time, the wing has a separation, enabling the outboard panels to continue flying and generating lift. As a result, before the stall can develop fully, the airframe remains controllable instead of spiraling out of control. Over 360 tests have demonstrated the A5's stability and controllability, establishing the model as the only production aircraft in history to demonstrate compliance with the FAA's full-envelope Part 23 spin-resistance standard.
ICON addresses another critical safety measure—navigational reliability—by equipping every A5 with a removable Garmin GPS. The portable feature lets pilots accomplish their flight planning and become familiar with the system, which is uniquely programmed for air travel, outside the cockpit. Once on board, the large display is readable in direct sunlight.
Offering every precaution, ICON also gives buyers the option of adding a parachute, which remains housed in the frame unless all else fails—or, more likely, if a new pilot loses nerve. The parachute deploys within three seconds and then takes the plane on a gradual descent that isn't much faster than a parachuting individual would drop.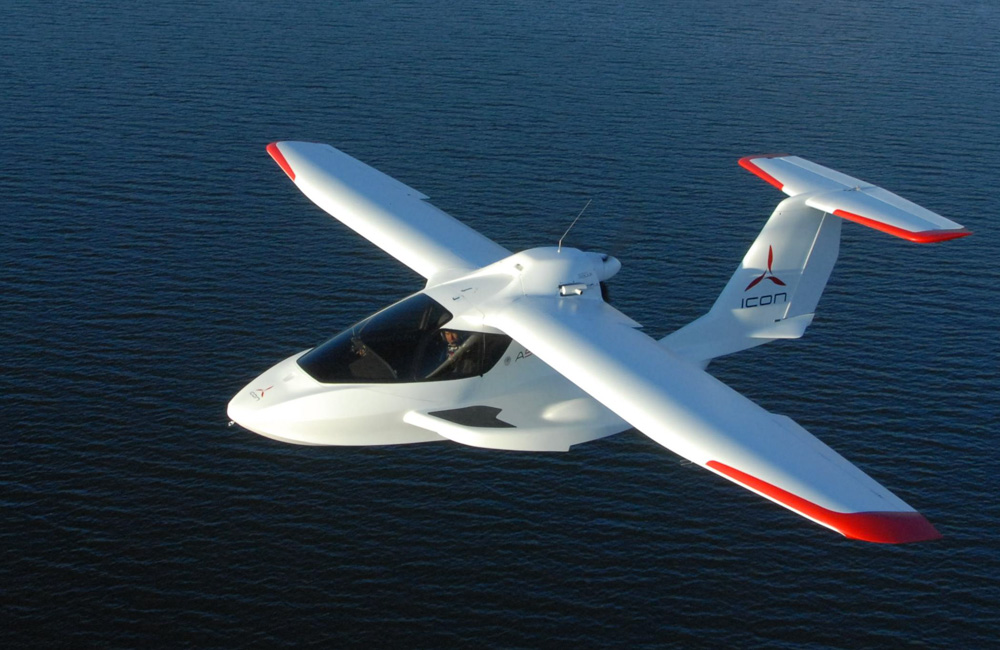 In many aspects, the A5 experience is laid-back; the ICON team uses the word "docile" to describe the way it maneuvers. This aircraft takes off and lands at forty-five miles per hour, and reaches a maximum airspeed of 138 miles per hour (or 120 knots). If the wings touch water while in motion, they are designed to skim off the surface rather than dig into the water. Fear is not a factor, but thrill seekers are duly rewarded by the views and sense of freedom.
"For everyone who has kept the faith, remained a great wingman, and waited patiently for the A5," promises Hawkins, "you're going to get the most amazing sport aircraft ever created."
In the meantime, without leaving home, wannabe George Jetsons of all ages can test fly the A5 over the skies of Hawaii's Big Island with Microsoft Flight. The downloadable, simulated adventure is not only liberating, but also free of charge!
— V —
---
For sales information on the ICON A5, please visit their website at www.iconaircraft.com or contact the company's sales department at (424) 201-3505.
ARTICLE CATEGORIES