By sallie w. boyles | artwork by Erica wildman
While living in San Francisco and building a lucrative career in real estate finance, Erica Wildman enjoyed helping friends with their design projects. She was visiting one of them when Wildman asked about a painting she admired. Learning her friend was the artist, Wildman announced, "I want to paint something!"
Having an eye for color and composition, Wildman had entered college with the intention of earning a degree in interior architecture. She'd also observed her talented father, who wasn't an artist by profession, "dabble here and there." Even so, she informs, "I'd never taken an art class."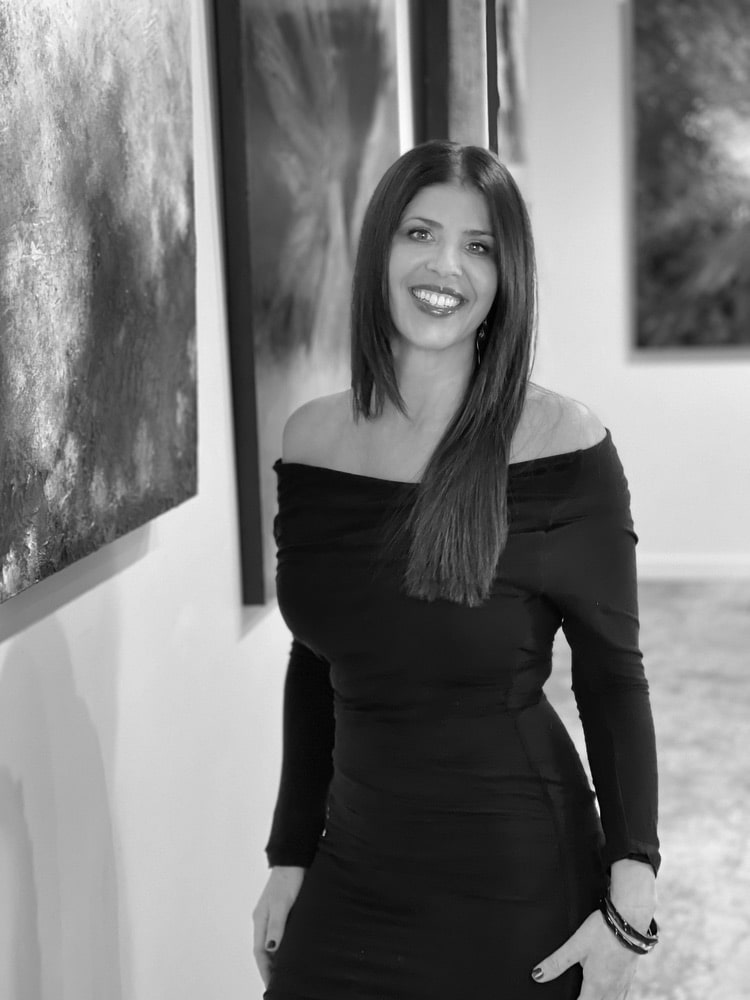 Suddenly inspired to create something for a plain wall in her office, Wildman purchased a canvas and a lot of different paint colors. Instead of picking up a brush, the novice experimented with the rectangular blade of a hand chopper from the kitchen. "I changed it several times, just trying to get a grip," Wildman recalls. Before long, the knife "smeared and blended the paint nicely."
Pleased with her two paintings (one four-by-four feet and the other three-by-four feet), Wildman had them hanging in her office for just over a week when a visitor—who happened to be a gallery owner—inquired about them. When he questioned the medium, she replied, "I don't even know what you're asking me." In the beginning, Wildman discloses, "I literally knew nothing. I found out I was using acrylics."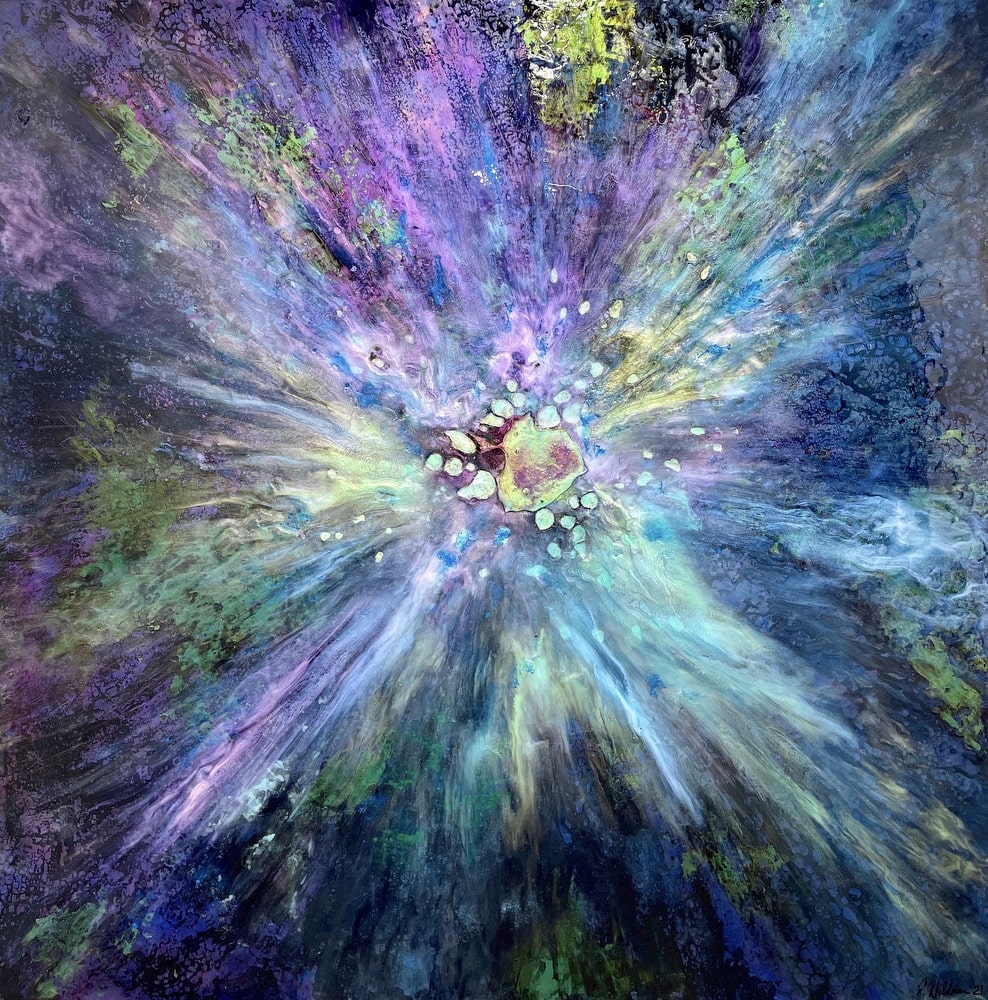 That was in 2006. After about four years of painting exclusively with acrylics, Wildman picked up other media, including alcohol resins, modeling paste, glass paste, watercolors, and dry pigments. Considering the significance of adding texture, she says, "I have been asked several times about making prints of my work, but you cannot appreciate the depth and layers in 2D." As for her process, Wildman says, "I tell people I paint as the wind blows. Every day I take a different approach to my work. When I have a burning desire to paint, I'll start, and the painting will guide me. I'm a happy emotional painter."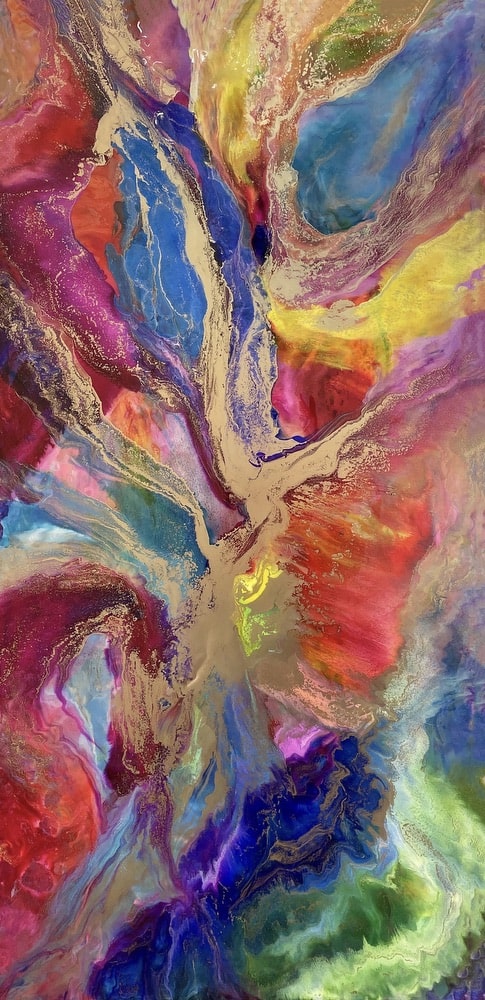 She usually has several works in progress—six as of this writing. "You have to go into abstract art loosely," Wildman explains, "or it's going to stop you. I will work on a painting, and if it's not coming together, I'll tell it, 'We are clearly not friends, so I'll put you aside.' I'll then lean it up against the wall until I get reinspired. Sometimes, I put it back in my canvas rack so I can't see it."
Getting "a feeling" when a work is complete, she says, "I'll flip it in different directions to make sure it's balanced." Viewing her paintings that way makes Wildman fully receptive to moving her signature if she's painted horizontally, for instance, and her client deems it should hang vertically. "My approach is 100 percent about my customer," she states. That's also true with commissions, which may entail color and size preferences.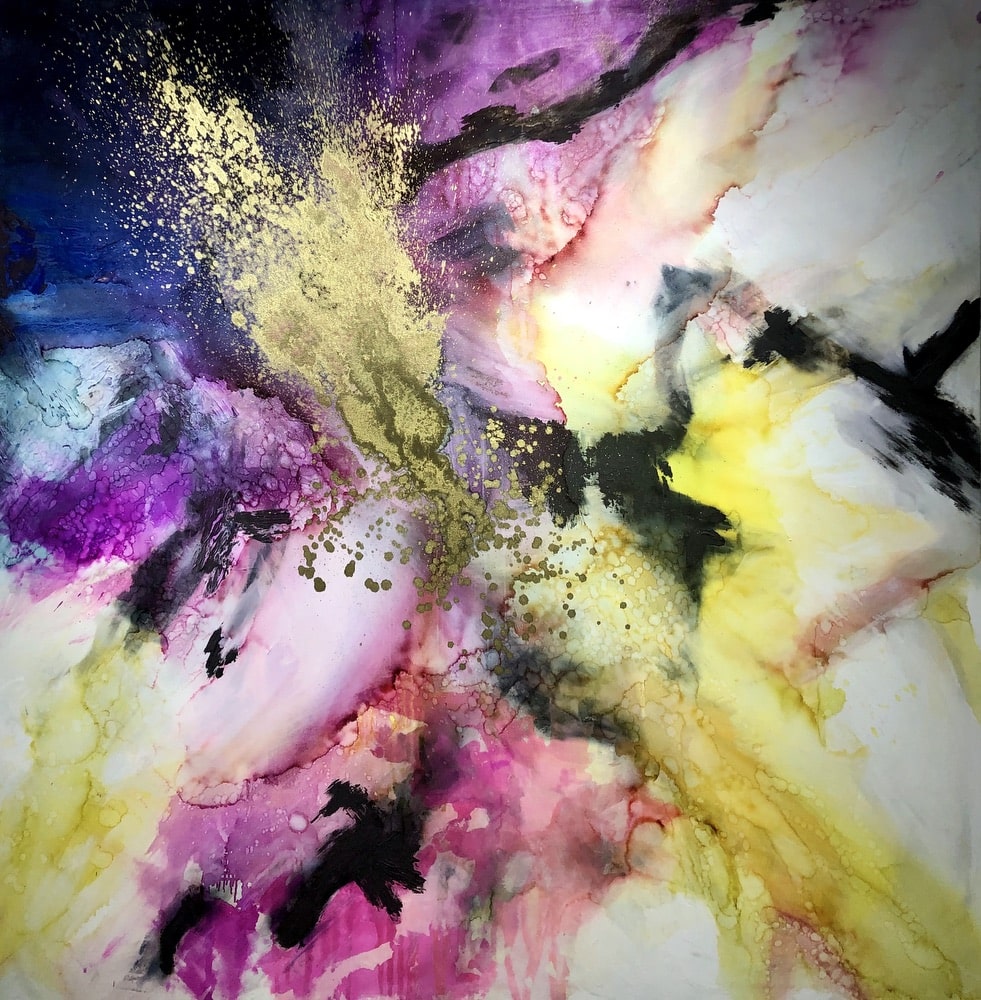 Certain paintings can take weeks to complete, yet Wildman agrees she's a prolific artist. "I've probably sold one thousand or so pieces over the years."
When I have a burning desire to paint, I'll start, and the painting will guide me. I'm a happy emotional painter.
And it all began with that first gallery owner who recognized an amateur's promise and offered to show Wildman's work. Encouraged to paint anything, she produced fifteen pieces. "Some were smaller," she remembers, "because I was doing it part-time out on my balcony. I didn't have a studio."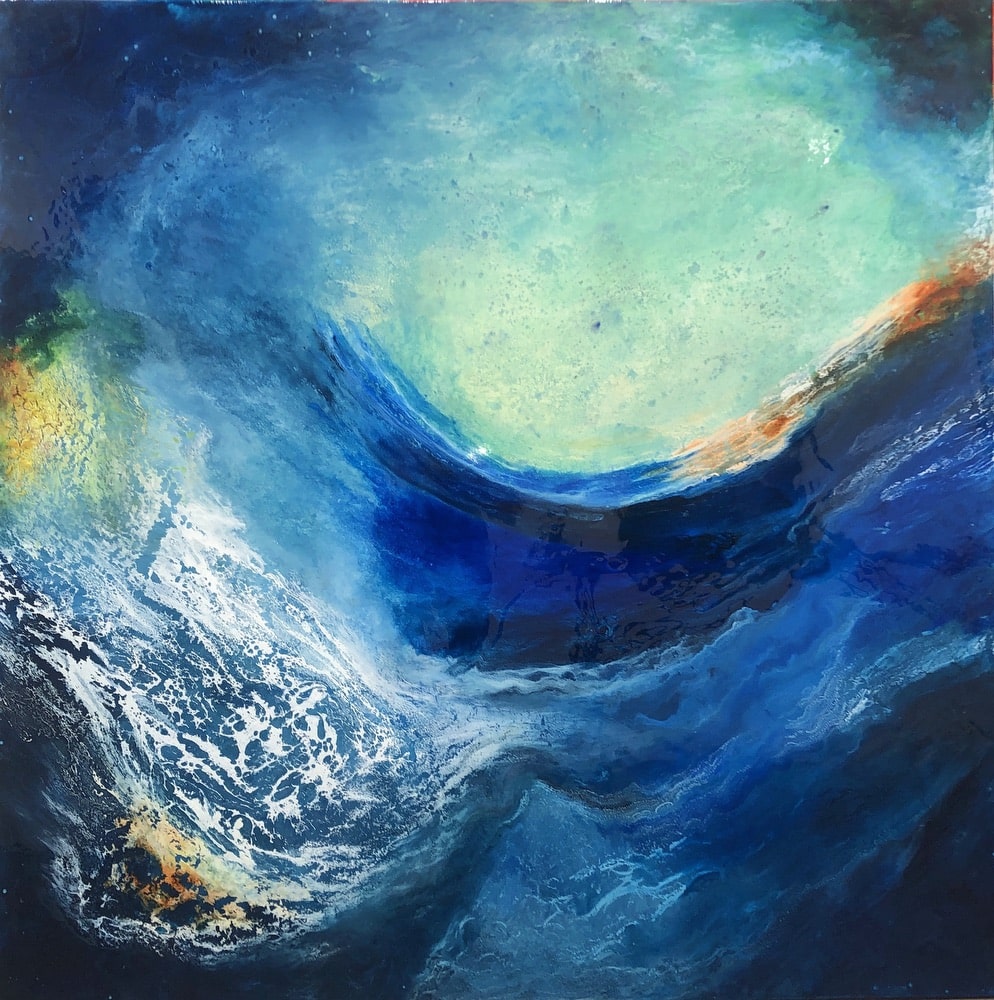 As the news of her work circulated through the real estate world, designers requested her paintings for use in staging homes. When seen on display, the paintings almost always sold. In 2010, Wildman decided to leave the mortgage business, return to her hometown of Austin, Texas, and focus on art. Still, she relays, "When I moved from San Francisco to Austin, I didn't know what I wanted to do, so I opened a boutique with art. I was too shy to sell my own items."
The artist within finally spoke out during a quiet evening with her mother. Wildman says, "I got an email from someone who had heard about me and asked, 'Can we use your work?' I looked at my mother and said, 'I'm going to do this full-time. I hate running the boutique.' She said, 'You might want a backup plan,' and I replied, 'No.'"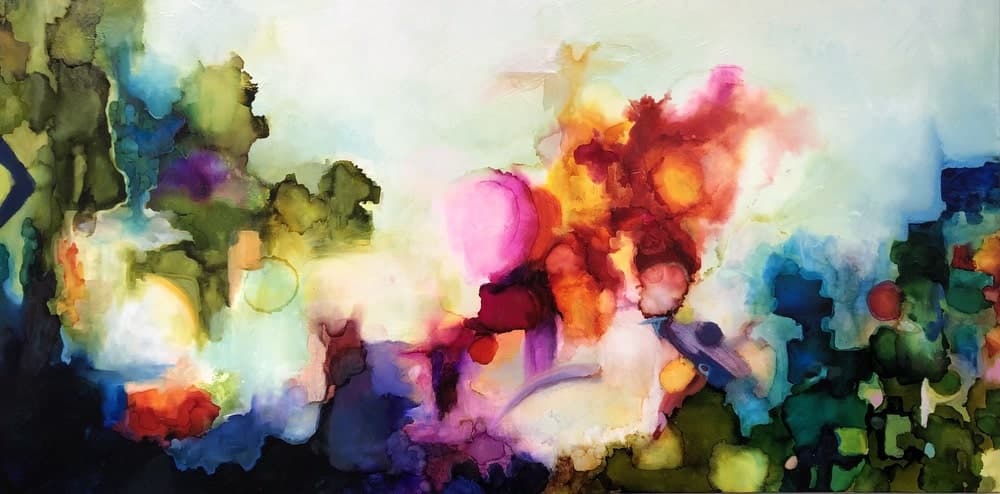 Rather than wishing she'd pursued her passion sooner, Wildman appreciates how her prior business experience taught her to stay organized and "be tough." Armed with great contacts, she further says, "I started through networking—the slow burn of meeting people and collecting emails." When she mainly was displaying her paintings at a weekly street fair, Wildman points out, "I sold seven or eight to a lady who had been on my email list for years."
Moving forward, instead of bringing people into her messy studio, she hosted art shows in private homes and local venues. One attendee led her to a designer who worked with HGTV's Property Brothers, and they used her art for a televised renovation.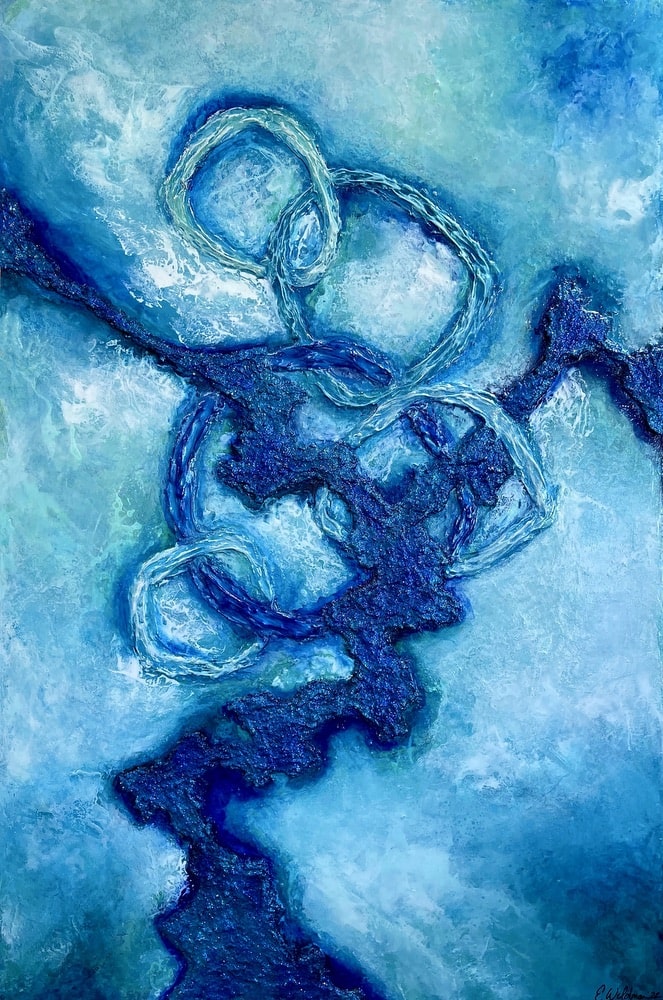 When the movie Song to Song (released in 2017) was filmed in Austin, a production company contacted her. Wildman explains, "The set designer loved my art. They rented eighteen pieces, and I got to go on set." (The latter may have been the best part for Wildman, who is a big fan of Ryan Gosling, one of the stars.) Her work has also appeared in the miniseries From Dusk Till Dawn and some commercials.
"The fact that someone chooses me over all the art available is exciting," says Wildman. "That feeling doesn't get old."
Expressing that her art is still so brand-new, Wildman continues to "create and figure out different styles and techniques. I would love to start doing women's faces," she says. Encouraging individuals to view her originals in person, Wildman welcomes visitors by appointment to her gallery, E. Wildman Gallery, which she opened in 2019. She also presents paintings and her line of velveteen pillows online.
— V —
---
Keep up with Erica or see available works at EricaWildman.com, Instagram @ewildmangallery, and Facebook.com/EWildmanGallery. Guests may visit E. Wildman Gallery by appointment only at 2311 Thornton Road, Suite J, Austin, Texas 78704. Call or text (512) 588-2787 or email Art@EWildmanGallery.com.
ARTICLE CATEGORIES