By Sarah Freeman | Photography by Global Image Creation, 7132 Hotel
Well-being meets world-class architecture in a remote Swiss valley where guests find rejuvenation in healing waters and hyperlocal cuisine.
Shadowy figures float in steam-saturated air that hovers like a swirling mist over glowing water. Above, a blanket of stars picks out the contours of a mountain ridge. With hushed whispers, more ghost-like silhouettes slip through a chain-link curtain that leads to secret grottoes, scented pools, and reverberation chambers.
This ethereal experience happens three nights a week at 7132 Therme—a modernist maze of stone and healing mineral waters in Switzerland's mountainous Graubünden region. Credited with catapulting the little-known village of Vals into the global spotlight in 1996, the vast spa complex is a temple to both wellness and design.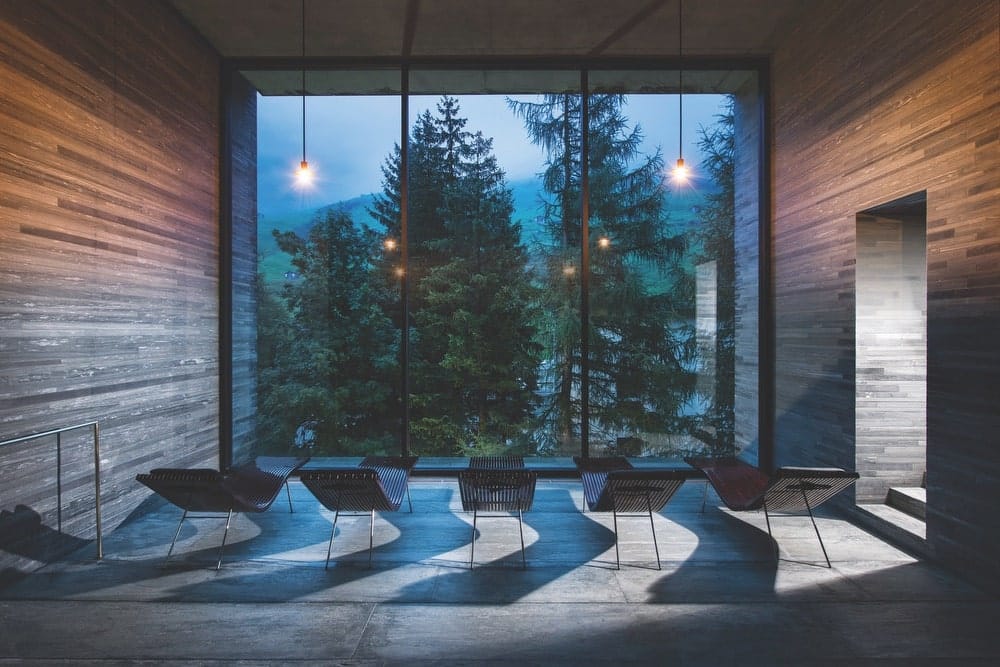 Back inside, I gravitate toward its catacomb of chambers, where water ranges from a teeth-chattering 14°C (around 52°F) to a sweltering 42°C (around 107°F). Accessing one high-ceilinged room via a narrow tunnel is very like discovering a lost cave. In another, I listen to a recording of a symphony composed for the spa. My personal favorite is the blossom bath, scented with yellow calendula petals pumped from water jets that tickle your legs!
This interplay of mist, temperature, water, light, sound, and scent is no accident. Peter Zumthor—the cabinetmaker turned celebrated architect behind the baths—thinks in multiple dimensions, uniting all the sensory qualities of a space.
Designated a protected monument just two years after it opened, the spa embodies the architect's masterful use of materials and attention to place.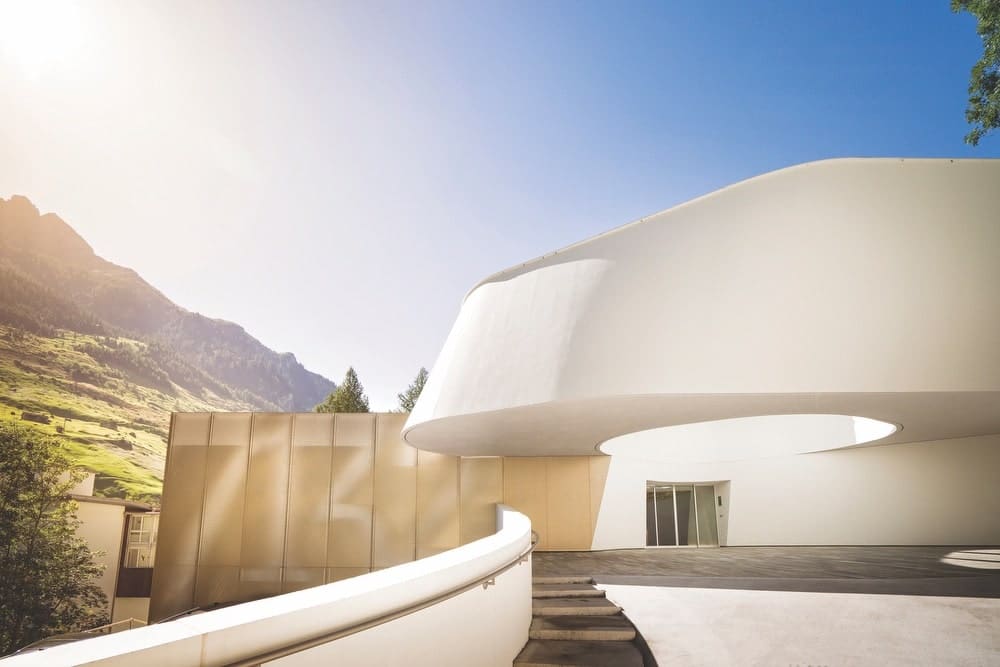 Bunkered into the hillside, the cavernous baths are barely visible from above, thanks to a grassed rooftop, which mimics Vals's emerald-green meadows. These flower-freckled pastures, studded with hay barns and two-toned goats, climb right up to Vals Valley's dizzying mountain ridges.
It's a scene I drink in over breakfast the next day from the sweeping terrace of 7132 Hotel: a white futuristic-looking building connected seamlessly to the spa by elevator. Formerly owned by Vals's one-thousand-strong community, the hotel (named after Vals's postcode) and its thermal baths were bought by local Remo Stoffel in 2012.
Much like the spa, the 1,200-meter-high chocolate-box village of Vals owes its very existence to water and stone. The same Vals quartzite used in the baths also roofs the traditional Walser houses. A type of local gneiss birthed millions of years ago when the Grison Alps formed, Vals quartzite is quarried from the village's "backyard" mountain.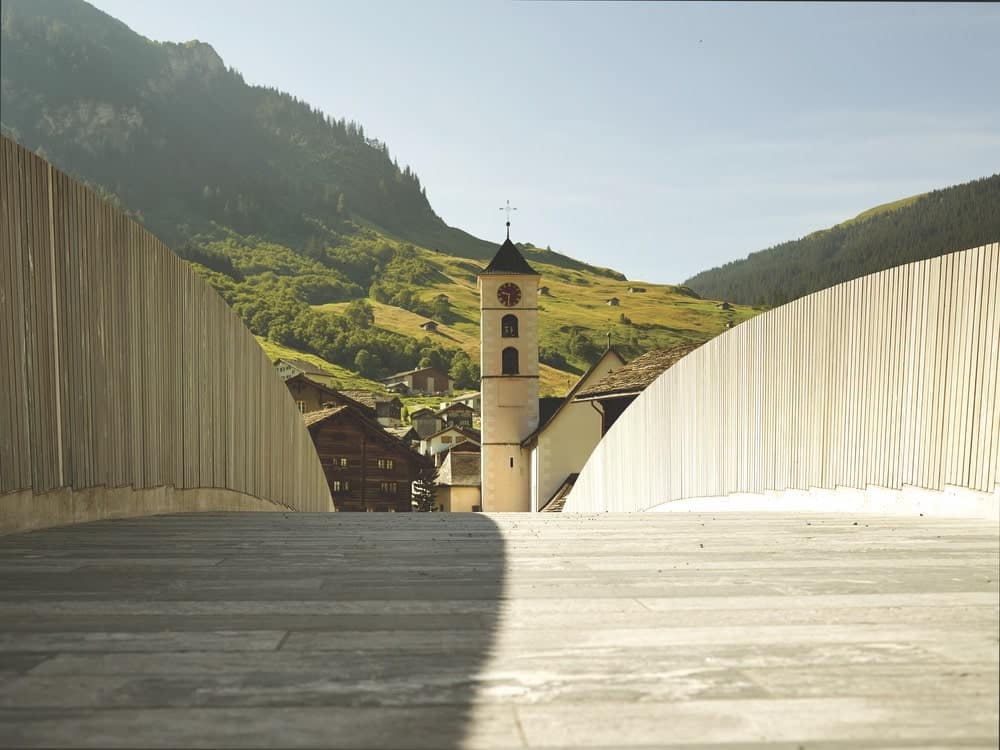 The bath's monolithic horizontal and vertical quartzite slabs (all sixty thousand of them) also serve a practical function: to conserve the heat of the thermal water. Tapped for its curative benefits for centuries, more than four hundred liters of it gushes every minute from Vals's two springs. Around half is bottled as Valser mineral water in the village, with the rest conveyed to 7132 Therme, where bathers can wallow in the champagne of Swiss thermal waters!
I let its rich minerals work their healing magic as I drift across the spa's centralized, sunken interior pool, where the splashing sounds of water echo throughout the space. The baths take on a completely different atmosphere by day. Inside, light cascades down from slits in the ceiling, revealing the quartzite walls' gray-blue color. Outside, cutouts in the edifice serve as giant frames for Vals's bucolic alpine scenery. Somehow, the space—where walls both hide and reveal—manages to be monumental and intimate all at once.
The ritual of purification, it turns out, is a tiring one. Like a Roman who has overindulged on bath time, I find myself snoozing on one of the stone benches that radiate the warmth of the thermal spring beneath.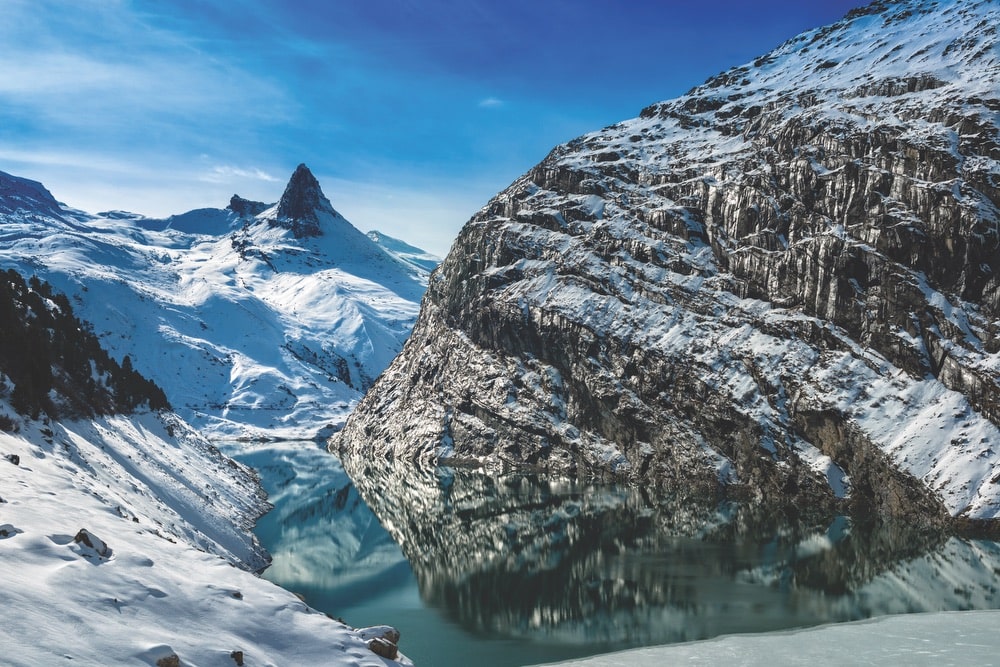 Zumthor deliberately omitted clocks here to suspend bathers' sense of time. It's liberating—until you realize you have a massage appointment waiting!
A snaking walkway leads me to the spa's monastic-like treatment rooms, sunken one floor down. My muscles (already relaxed by the therapeutic waters) are kneaded with hot polished quartzite stones for ninety blissful minutes to the soundtrack of chiming cowbells.
Revitalized, I retreat to my Spa Deluxe Room, feeling like I've never left the bath's watery environs. A vast circular tub takes center stage in the bathroom that also features a steam shower and luxurious twin vanities. At over three hundred square feet, it's as big as the bedroom, which is a vision of neutral tones, luxe linens, and warm oak carpentry.
It's one of twenty-three guest rooms spanning five categories in 7132 Hotel. By far the most lavish are its three penthouses, dreamed up by Japanese architect Kengo Kuma who is known for his high-tech remixes of traditional design elements.
He joined three Pritzker Prize–winning architects in masterminding the four-star 7132 House of Architects, tethered to its five-star sister via a glassed-in passageway. It's here you'll also find a sumptuous library. Stacked with art tomes, it's a choice spot to linger in the early evening when the fire crackles and a pianist tinkles away on a Steinway and Sons.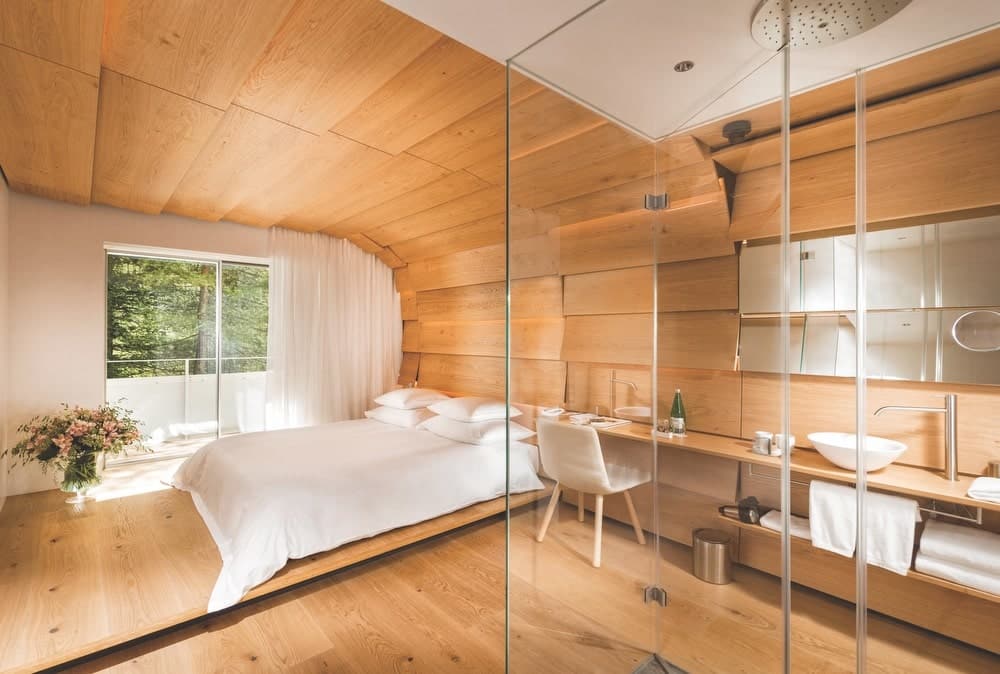 A design purist's dream, each 7132 House of Architects room honors a single material—from locally harvested oak to the Vals quartzite. While former professional boxer Tadao Ando draws inspiration from Japanese teahouses, American architect Thom Mayne's rooms feature sculpture-like showers. Zumthor, meanwhile, plastered his ten guest rooms using the Italian Renaissance stucco lustro technique, painting them in singular hues of red, yellow, and black.
The next day, I head for the hills, searching for the elemental forces that inspired 7132 Therme's elemental beauty. Oh, and to live my best "Heidi" life!
My hike begins spectacularly by crossing the 151-meter-high curving dam wall of Lake Zervreila—a gateway to eighty-seven miles of invigorating mountain trails. It's backdropped by Zervreilahorn, nicknamed the Matterhorn of the Grisons on account of its pyramidical peak.
Wending past larch-timbered mountain chalets blackened by the sun, I delight in ringing the bell of a tiny eighteenth-century chapel, which clings to a rock face. The fleeting glimpse of a lone ibex (a species of wild goat and Graubünden's heraldic symbol) is a sure sign we're in wild terrain—wild terrain that's just a three-hour drive from Italy's Lake Como and a two-and-a-half-hour drive from Zurich, my hiking guide Katrin tells me.
The seven-mile-long trail descends gently through wildflower grasses and shaded forests, with uninterrupted views of the snow-covered Lepontine Alps that border Italy.
The halfway point is the picture-postcard hamlet of Leis, where once again Zumthor has left his mark, this time with a trio of stylish vacation homes modeled on the valley's eighteenth-century hay barns.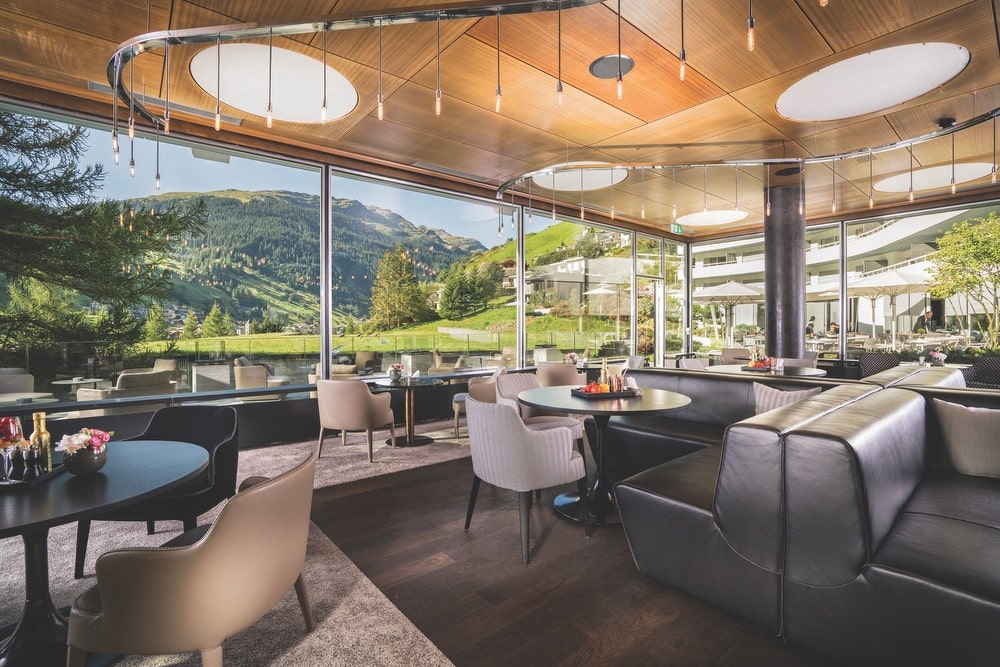 Opposite, the oh-so-rustic, family-run Ganni restaurant serves up hyperlocal dishes like trout salad (wild-caught from alpine lakes) and home-churned quince ice cream.
I refuel with a goat burger, procured from the very herd we pass on the trail's final stretch from Zorts to Vals, which tobogganists careen down in winter!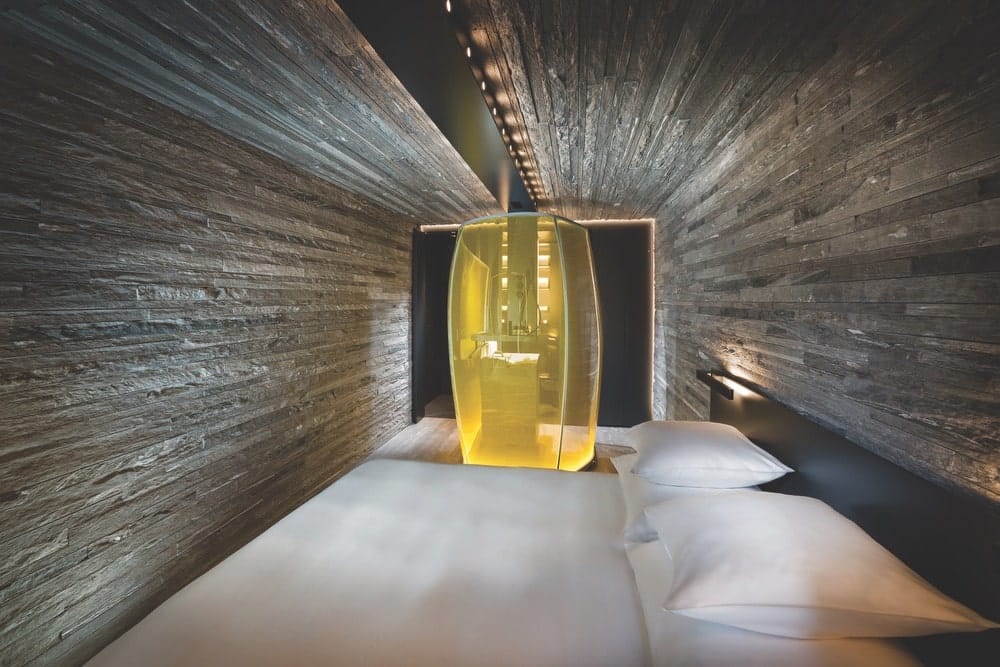 Back in Vals village, I tour Hof Padanatsch—an organic farm owned by Marlies Tönz (a certified animal homeopath) and her volunteer firefighter husband, Fritz. The duo grows eighty-six different vegetables, alongside Sundheimer chickens, Highland cattle, and Europe's oldest breed of pig, across their eighty-six acres. A few years ago, Vals's farmers elected to go exclusively organic.
One of the Tönzes' prized Turopolje pigs has already been "reserved" for the fine diners of Michelin two-star 7132 Silver, which indulges guests with a nine-course tasting extravaganza.
I settle for a sunset cocktail on the deck of the hotel's Blue Bar, raising a glass to the elemental quartzite bathhouse, which celebrates its quarter-century anniversary this year.
Something tells me this symphony of water, acoustics, stone, and light will still be calling travelers to the Vals valley twenty-five years from now. So, too, will the clanging cowbells!
— V —
---
To learn more about 7132 Hotel and 7132 Therme, visit 7132.com/en. Zurich Airport is a two-and-a-half-hour drive from Vals or a three-and-a-half-hour journey by train and bus.
ARTICLE CATEGORIES