Finding Beauty
en Provence
By Allison Wickey | Photography courtesy of A. Wickey Studio
One day in 2014, I had two visitors at my gallery—the A. Wickey Studio-Gallery—in Seacrest Beach, Florida. They had scheduled a meeting with me to talk about a retreat in France, an unexpected topic. I normally meet and talk with anyone who requests a meeting because you never know what you might learn. We casually sat and talked, and I learned they wanted me to be the "talent" at an organized art retreat in Provence. What? Impulsivity had taken me to the most interesting places in life before, so I agreed, and we had five months to pull things together for a June retreat. It all sounded too good to be true. I waited for the other shoe to drop, but it never did. And now here I sit trying to figure out how I can possibly put this experience into words.
As soon as my plane touched down for a layover in Madrid, I could feel all my senses standing at attention. The light was different. So were the trees, the color of the earth, and the people. The airport was one of the most beautiful buildings I have ever visited. Two hours later, I landed in Marseille, France, and my host, Ken Jourdan, picked me up. We headed north for two hours into Provence to the Rhone Retreat. I hadn't slept at all on my flights, so I napped on the drive, waking up occasionally as we wound through tiny towns and streets. In my sleepy haze, my first thoughts were that there is no way these places were real; they were just too perfect. And is that really a thousand-year-old castle on top of that hill?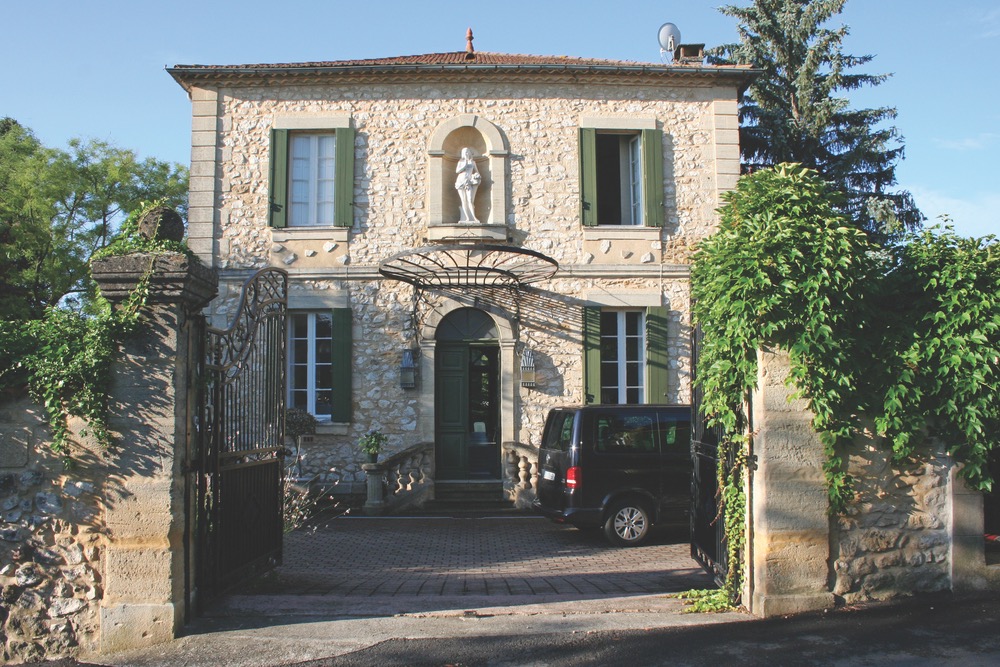 We arrived at a huge iron gate in front of a breathtaking stone-walled villa, and it swung open for us. It reminded me of when I used to wait back home in the beach towns of Highway 30-A for my kids' school bus to drop them off and I would hear tourists exclaim, "People actually live here?"
We arrived at a huge iron gate in front of a breathtaking stone-walled villa, and it swung open for us.
Yes, people actually live there. Ken Jourdan, the proprietor, has led a life full of travel and exploration while maintaining ties to the Northwest Florida coast. Ken attended FSU, his wonderful parents reside in Seagrove Beach, and he comes back to the area frequently to take care of his clients; he is a masseur, a father, a tour guide, and a full-time caretaker of the Rhone Retreat. Ken and a few business partners bought the property, which includes the main house, cottages, and outbuildings, in 2004 with the purpose of starting a bed-and-breakfast. He has done a lot of work on the property to discreetly modernize it, as his guests there are mostly Americans.
After a few seasons of hosting groups and getting to know his clientele, Ken tweaked the B and B format and began cultivating a French cultural learning experience specific to each group's needs—he even renamed the business Americans in Provence. Whether the guests are into antiques, wine, art, exploration, or something else, Ken will curate an itinerary to fit their interests, all the while maintaining an easy, flexible schedule. The idea behind Americans in Provence is "you have the people, we have the place," and the retreat manages the entire excursion from airport to poolside. While Ken is taking care of everyone on the property, driving to mountaintops and castle ruins, and providing each guest with a massage, Chef Kim Pitchford is in the kitchen preparing authentic French culinary experiences each day.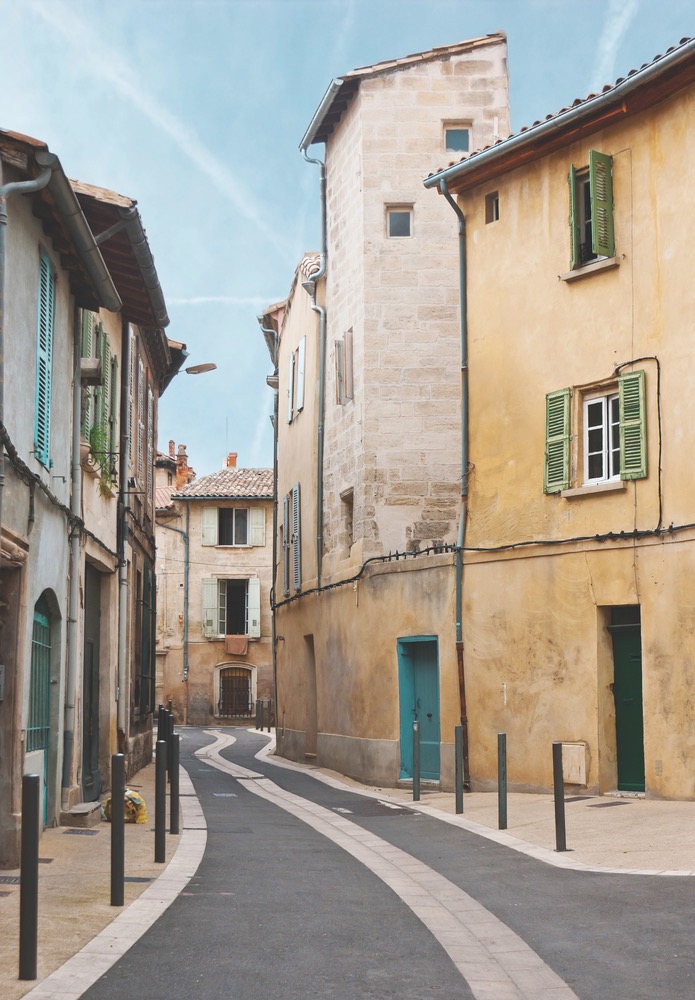 Kim, like Ken, has ties to the Emerald Coast and has also led an interesting life of travel and exploration. She lived in France three separate times before becoming a partner in Americans in Provence with Ken in 2013. She graduated from the French Culinary Institute (now the International Culinary Center) in New York City and did a professional internship at a Michelin-starred restaurant in Paris. Kim brought her talents to Grayton Beach, Florida, in 2006 and started Dine by Design Catering, which she sold two years ago when she moved to Rhone Retreat.
Until I spent ten days with Kim, I was the kind of person who would be completely content if all food came in pill form so that I could just go about my day. From the moment I set foot in the main house where the kitchen was located, my thoughts about food as art began to change. When we arrived from the airport, it was noon and I was half asleep. I walked into the timeless main house—formerly a church school—full of natural light from its eight-foot windows. I sat at a beautiful weathered harvest table arranged with a bowl of fresh cherries, assorted cheeses, a baguette, freshly sliced tomatoes, and a carafe of rosé. It was a perfectly casual, everyday French lunch, and I knew I had found my people.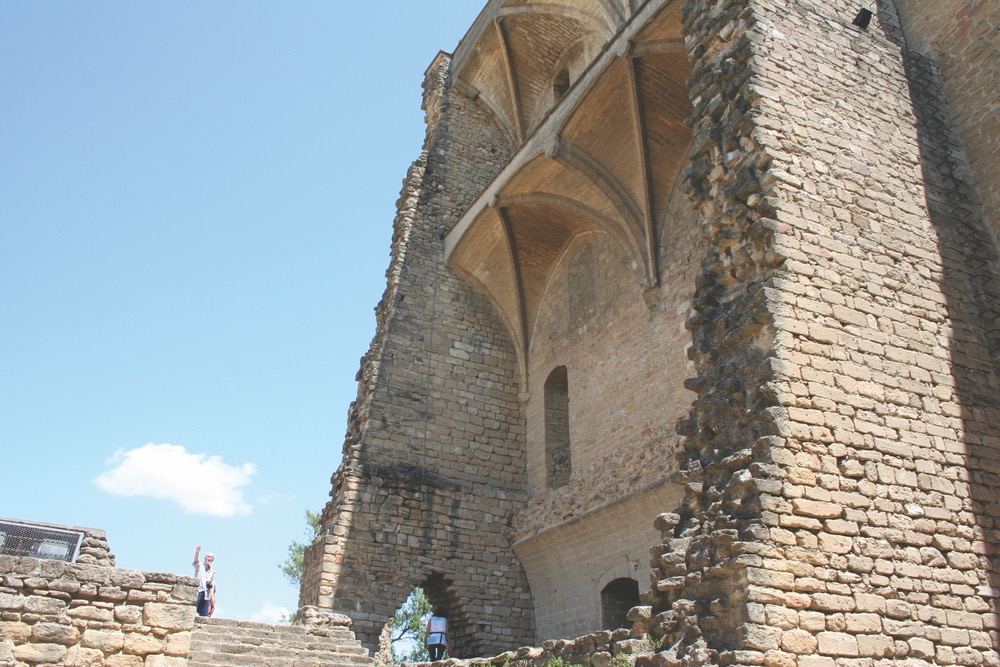 After nibbling and drinking a couple glasses of wine, I was led to my cottage, which was my hundredth "People actually live here?" experience of the day. The cottage had exposed stone walls and floors, ivy climbing up the exterior, open windows, high ceilings, and a coolness that was still lingering from the morning. I went to sleep and woke up eight hours later around ten o'clock at night. Traces of the sunset were still visible, and I dozed back off thinking, "I've been here for twelve hours, and I've already seen enough amazing things that, if I went home now, I would be satisfied."
The cottage had exposed stone walls and floors, ivy climbing up the exterior, open windows, high ceilings, and a coolness that was still lingering from the morning.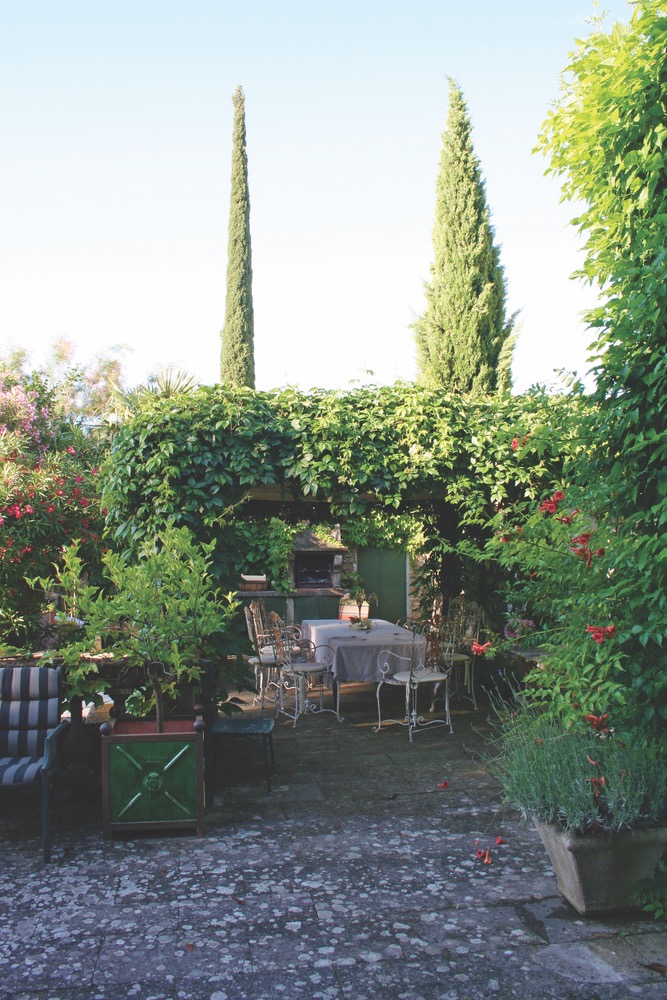 I spent the next couple of days collecting art supplies for myself and the four American guests who had signed up to attend the art retreat I was recruited to lead. I had no idea what to expect, but I have taught workshops and so was all set to discuss topics like not being afraid of failure and letting go of control, just in case we had time to kill while paintings were drying. When we weren't preparing for the guests, I took off on foot around the nearby sloping village of Gaujac—population under a thousand—in the foothills of the Alps. Atop the nearest "mountain" were some Roman ruins. I made it my mission to walk the steep trail to those ruins as often as possible, taking in the view of the rolling landscape dotted with tiny ancient villages and working off all the croissants and the salt-infused butter.
One of my best friends from Florida later arrived to enjoy the retreat and to help out; one of the first things she said upon arrival was "Are you kidding me?" It sums up how lucky we felt to be in such a place. She instantly found herself at home in the kitchen assisting Kim, and I did some last-minute preparations around the property, gathering fresh flowers and sweeping the winding trails between the cottages and gardens.
Finally, our guests arrived! Weather had caused some travel glitches in the United States and there was an unfortunate luggage situation, but the guests settled in and we all got to know each other. Each of my four students was an artist in her own right and each had her own style. They were all friends who circulated among the art festivals in the southern United States. The "ringleader" was a contemporary landscape/abstract artist from Birmingham, Alabama, named Vicki Denaburg. I had actually met Vicki through friends about four years ago. She heard about the retreat and gathered three of her friends—Leatha, Lauren, and Emily—to come along.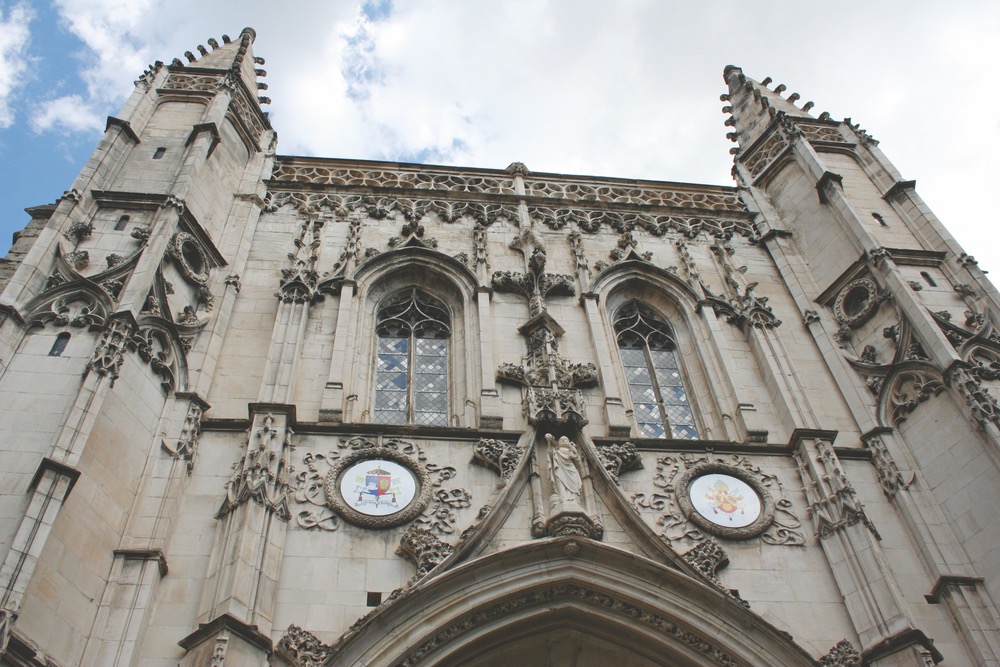 Leatha Frost is a real Southern lady to the core. I wondered what she would think of my less-than-ladylike personality. Ultimately, we adored each other, and I loved watching her blossom on this much-needed retreat. Her work is beautiful and graceful, just like her.
Nashville artist Emily Little is best described as a joyful, effervescent spirit, and her work reflects her perfectly. We witnessed Emily creating her first-ever landscapes, and she was a master! Her personal style and positive attitude are arts in themselves.
Lauren Dunn, also an artist in Nashville, embodies the phrase "still waters run deep." This was her first trip to Europe, and her bag didn't arrive until two or three days after she did, but she held it together! Her work is amazing and flows through intuitive pops of color and shapes. All the while, she remains calm and collected. I "won" one of her pieces at the end of the retreat and consider it a treasure.
All our backgrounds and personalities ran the spectrum, and from the beginning I knew it would be an interesting experience.
The travelers needed a day of leisure and, with typical Ken and Kim precision, one of many perfect days started with a sightseeing stroll and a mouthwatering picnic near the Roman ruins. Later, we took a dip in the pool, and at nine o'clock we sat down outdoors under candlelight for our first group dinner. Kim quickly became everyone's new favorite person. Her meals were always elegant but never snooty. She used seasonal vegetables and fruits, along with hand-rolled pasta, and she did magical things that I can't begin to explain.
Our little village was smack in the middle of wine country and in every direction there were vineyards, so our wine knowledge and intake were also ramped up; we floated around Provence with permanent smiles on our faces, soaking it all in.
Every morning we would trickle into the kitchen or the outdoor kitchen, sip coffee and talk, and usually fit in a walk to the ruins or nearby village before starting our daily artistic and cultural adventures. Every day Ken and Kim had a destination planned for us to visit, including an unbelievable French market and a gourmet picnic within the walls of a former Pope's castle, and in the afternoons we painted.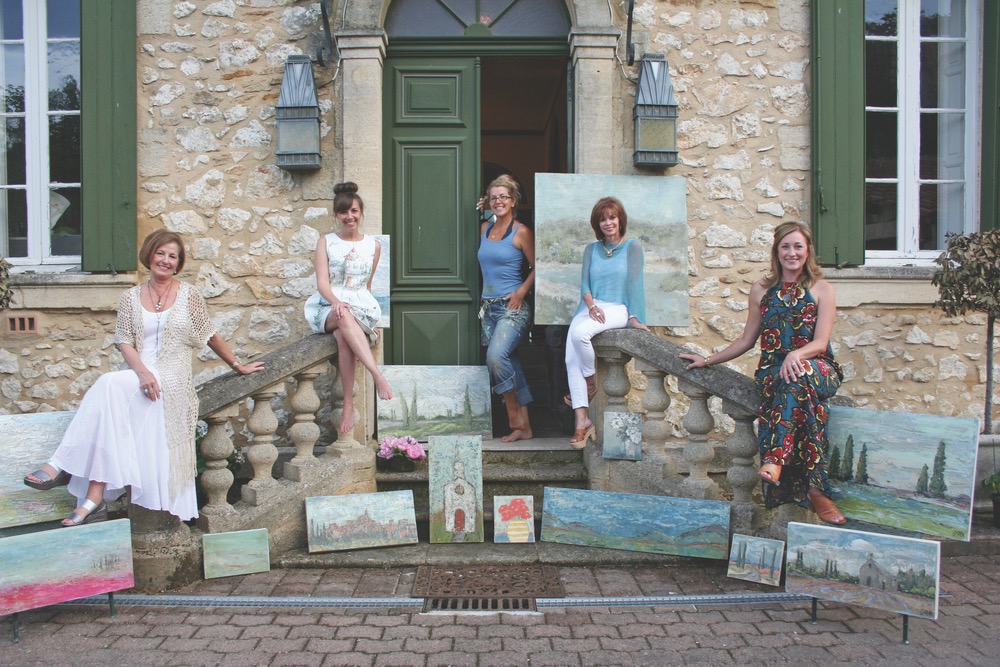 I decided to start the workshop by teaching the students how to construct a frame using a chop saw, glue, and nails. We were very fortunate to have a renowned wood sculptor living down the street, and he gave us access to his exquisite studio to do some initial woodcutting. We took our lumber and headed back to one of the retreat's courtyards to finish frame construction under a huge willow tree. The workshops lasted for about two hours each afternoon, depending on everyone's moods and the day's travel plans.
Days spent with the group included learning each other's techniques and styles, as well as bonding over leisurely meals and stories about our families and work. The beauty of the Rhone Retreat is having the ability to spend time with a group while also having the freedom to enjoy solitude in your own corner of the property. Everyone is free to come and go as they please and to paint or not. Every night at dinner the question "What was your favorite part of the day?" came up, and without fail there would be a silence and a slow realization that we each loved every single thing we did and saw; we could never come up with a favorite. Ken is an expert on the area and its history, and once he got a read on our group, he tailored our day trips to match the level of adventure he knew we wanted.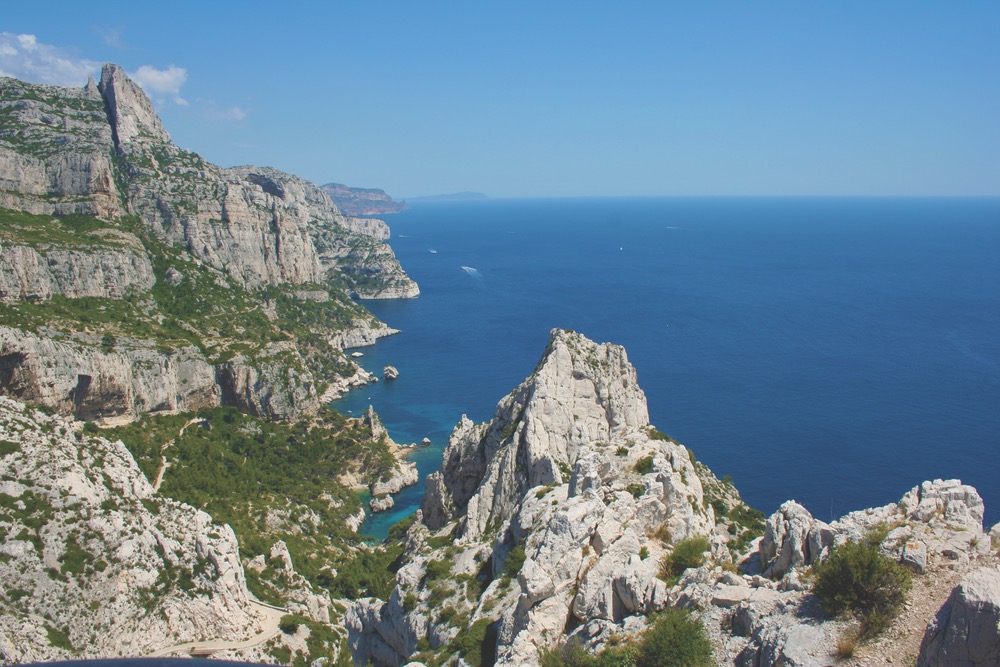 From cool mornings to dazzling sunsets, we were wowed by our surroundings and all began painting our versions of the sights we had seen.
From cool mornings to dazzling sunsets, we were wowed by our surroundings and all began painting our versions of the sights we had seen. We had our main paint studio in and around one of the property cottages, and we each set up our own little studios. After I taught the group members the steps to my technique, they began to crave the supplies they use at home to best re-create the landscapes and architecture, so they grabbed more supplies and off they went! Each artist had different techniques, tools, color palettes, and inspirations. All of us experimented with tools, colors, and subjects we had never before tried and learned so much from watching each other.
On the last day of the retreat, we had an impromptu exhibit. We dressed up and invited a few people from town to the property for a cocktail hour. There was a slight language barrier, but after exchanging smiles and with the help of translations by Ken and Kim, we felt we had sufficiently impressed our attendees as we sat down outside under the candlelit arbor for our final dinner together. By this time, we had all surrendered to the salt-infused butter on flaky baguettes, and we dived into Kim's meals as if they were the answer to all ills. Our dinners were always hours long, and the only things that peeled us away from the table were complaints that our faces hurt from laughing too much.
We left the retreat buzzing from everything we saw, felt, and tasted. Every sense was still heightened, and I wondered how long it would last once I settled back in to normal life at home. It's been almost five months since the retreat, and recently most of our group was able to meet for an evening at the beach. We laughed and retold stories and other "What happens in Gaujac, stays in Gaujac" anecdotes until our faces hurt again. The consensus is that it was a trip of a lifetime and marked different important personal firsts for all of us. Ken and Kim have massaged the Rhone Retreat into the perfect backdrop for creating art, memories, and friendships. Like they say, "Once you Gaujac, you always go back."
— V —
ARTICLE CATEGORIES