Nicole Paloma Bridal Comes to Life
By Jordan Staggs |
Photography by Marscha Cavaliere
Grayton Beach, Florida, might not be the fashion capital of the world, but some of the most creative, up-and-coming designers do call it home. Just stop by the Nicole Paloma store at Monet Monet on Scenic Highway 30-A, and you'll see. Paloma has created unique clothing for women (and a few menswear pieces) since 2011, though her foray into the design world started long before that, at age four, when she began cutting old T-shirts into new creations.
This year represented another evolution for the Nicole Paloma brand as she launched her first bridal collection with an official White Dress Party in the garden at Monet Monet in early July. We caught up with the designer and her mother, photographer Marscha Cavaliere, to talk about this new endeavor in design and what's next for Paloma and her brand.
VIE: Why did you decide to create a bridal line? 
Nicole: Honestly, it was the profit margin. My plan for launching bridal was to ease my schedule so I can spend more time with my babies—actually, it's not the time with them, because they get all of me already. It's my sleep that needs me. There are two parts to my life—home and work—and it is a constant balancing act between the two!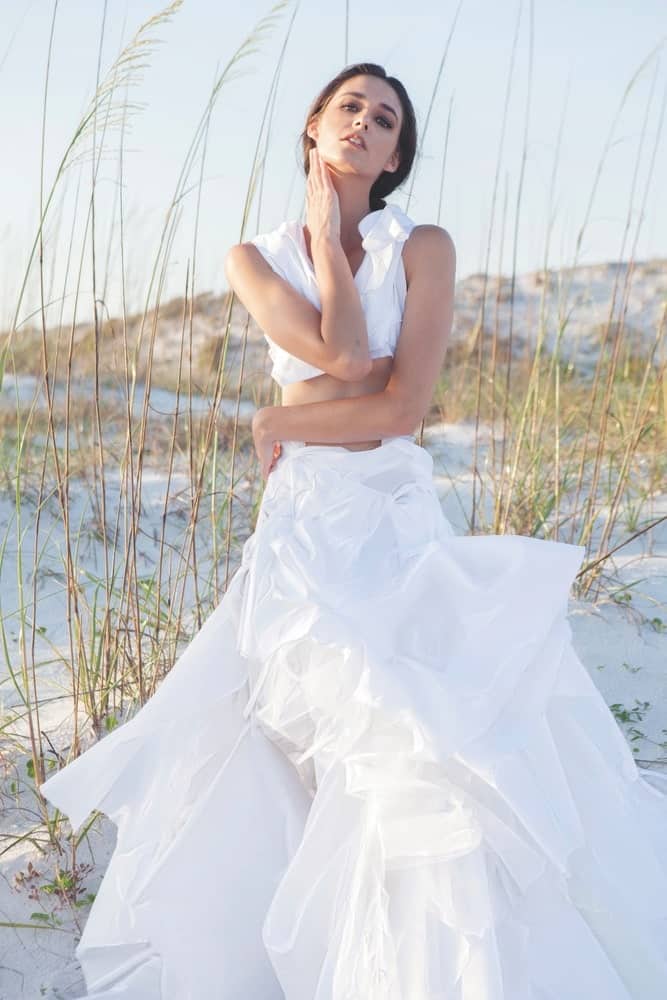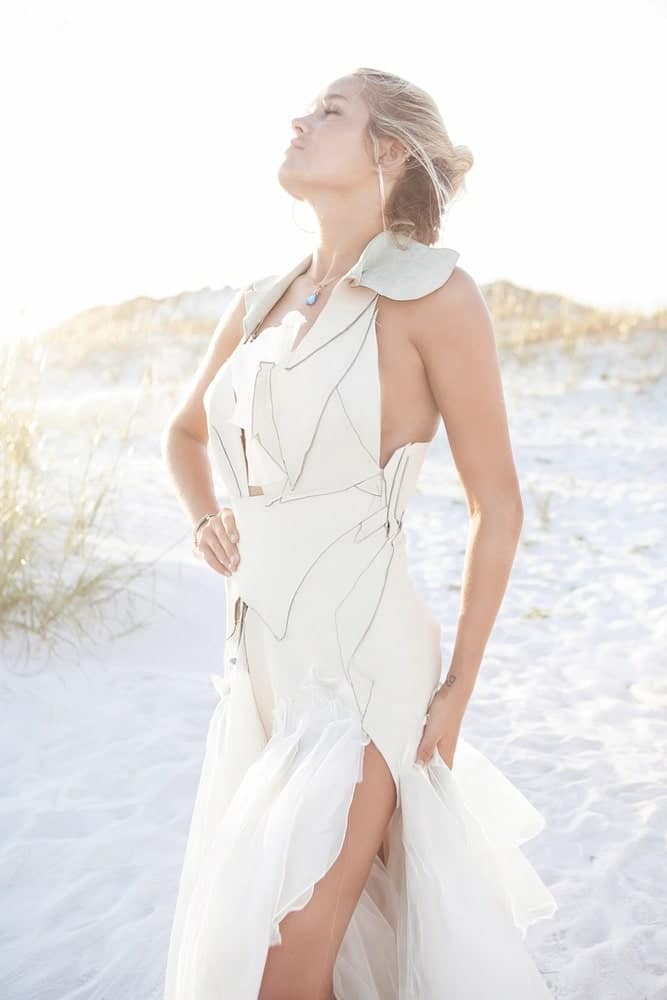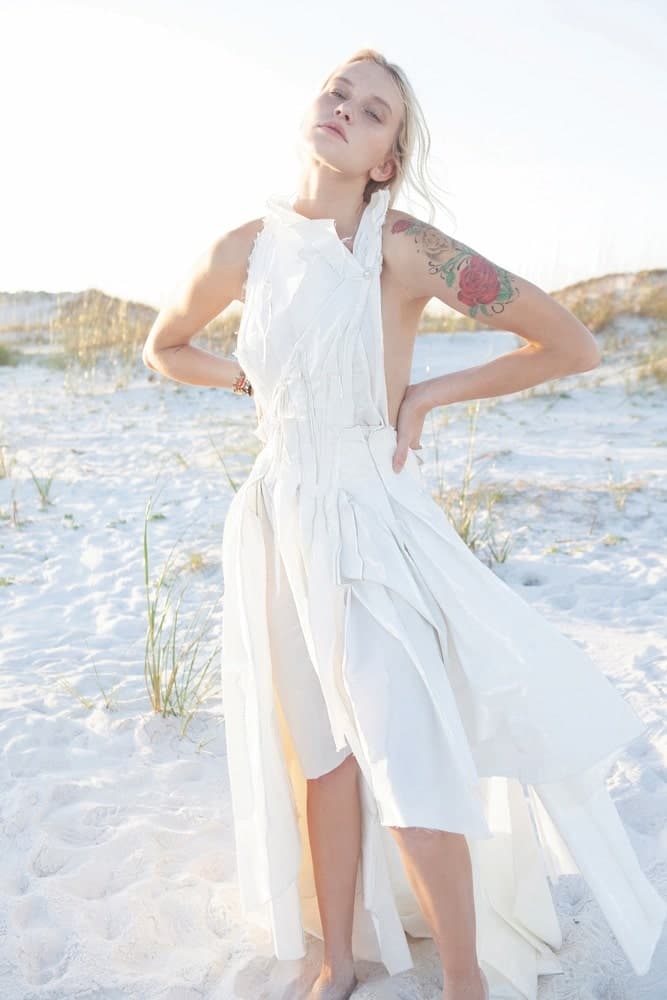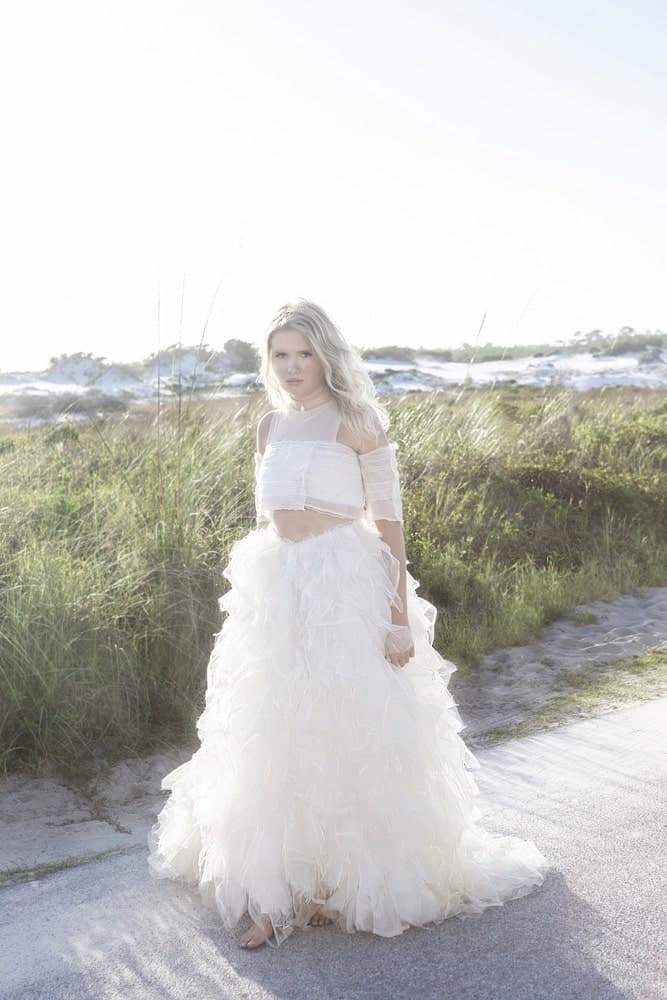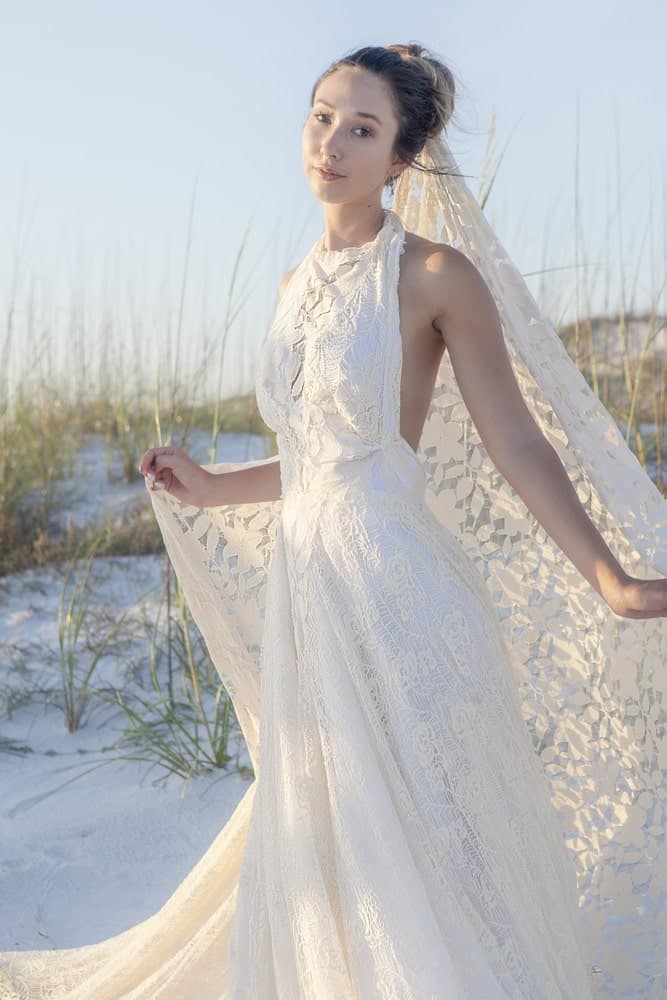 VIE: What do you think sets these gowns apart from your other creations? 
Nicole: It's fun to do the unexpected, especially in this realm, but the goal wasn't to make outlandish wedding gowns. The goal was to sell them. I felt that I had to rein it in a bit, working with just ivory fabric. It's tempting to go really edgy to give the contrast to the femininity and innocence.
The construction was different for me. Someone once told me that I am a process artist—I don't visualize the finished piece ahead of time. I start with an emotion and a key design element and work from there. But the White Dress Collection gowns have to be built like structures: they need framework. That was a twist I enjoyed, reversing my process and building these dresses.
VIE: Marscha, you were very inspired by the textiles and the beach for the bridal collection photo shoot. How did you play up those elements to feature the gowns?
Marscha: Textiles, fabrics, and color are about touching, feeling, seeing, and creating. It is truly in our DNA. Nicole's great-great-grandmother worked with exquisite materials and designer apparel on Worth Avenue in Palm Beach from the 1940s to the 1970s. Her great-grandmother designed and made matching collections, which included the hats, gloves, purses, and covered shoes. She and my mother were always on the hunt for new materials as they made hand-sewn clothing for all of us. Running my hands through fabric was my favorite part—I hated sewing clothing. But major fabric shopping trips with Nicole woke me to the fact that the years of touching and choosing memories have enabled me to understand the properties of textiles.
Because of those memories, I also understand Nicole's rebellious designs. I see what the fabric does in her hands, and that makes me pay homage to her and our lineage by trying to capture the intentions with my photography. I can also see and feel how women react and carry themselves in her clothing. The runway models know they have on couture gowns that are beautiful and wild and dramatic from both front and back. Our models have amazing chemistry, and the collection photographs caught that.
The beach shoot was something else entirely. Nicole wanted the dunes and the designs to show off the White Dress Collection. I wanted to "feel" the fabric and its reaction to the white sand and the sunlight. It was ethereal. But I wanted all of the elements of her designs to be punctuated, and those details were so drenched in light that they were blown out. Post-production took two weeks while I drew in all of the stitches, folds, flounces, tucks, roses, and hand-jeweled structures. This collaboration honors our heritage and the bridal collection it became.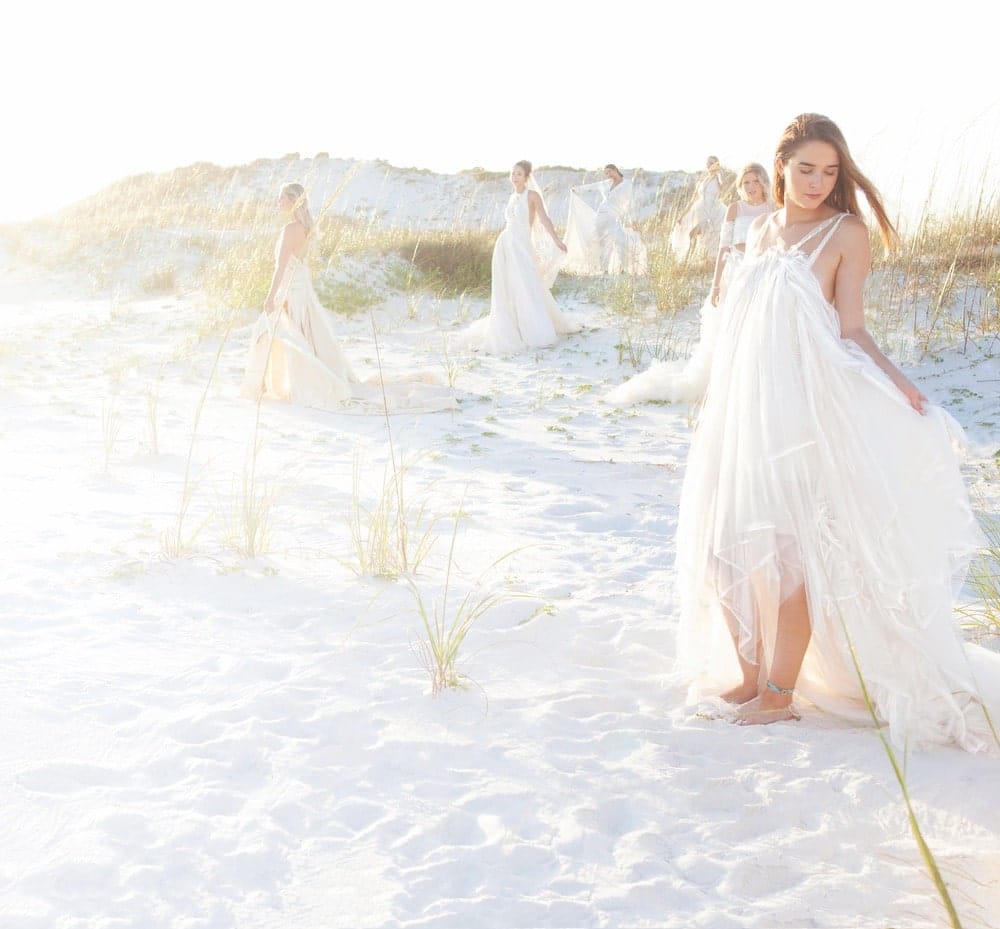 VIE: Your shows, events, and photos are nothing short of theatrical. Why do you think that works for your brand and how will you continue to raise the creative bar?
Nicole: Art is an emotion expressed in the physical form. We have so many senses—touch, sight, hearing, smell, taste. Why not use as many as possible to capture the essence of the collection? That is the beauty: to live it, breathe it, and connect to each other through it.
Raising the bar, I only worry about blowing my own mind. One of my favorite quote tees that we make is "Once in a while, blow your own damn mind." I try to make it a daily thing, even if it's just with a new level of patience and compassion.
VIE: What is #love_sewn? Tell us a little about that project.
Nicole: There is magic when you learn to do something with your hands, something empowering about pure creation. #love_sewn is a business that teaches individuals—ones in a position to take a step forward in life and believe in themselves—how to sew, market, and grow a business to support themselves and give gratitude for who they are by seeing the light in what they might see as darkness. This tailorable blueprint of a business will manufacture sellable goods that will support their causes.
Our mission is to inspire others, to "live your truth," to dare greatly, to see the light and love in it all, and to understand that through darkness, shining is possible.
— V —
---
To learn more about Nicole Paloma and #love_sewn, visit NicolePaloma.com or shop the store at Monet Monet—100 East County Highway 30-A, Santa Rosa Beach, Florida.
ARTICLE CATEGORIES