by xenia taliotis
When mortals throw lumps of earth around, they make a mess. When the child of a god does it, he creates an island that will be known for all time for its utmost beauty. According to Greek mythology, Santorini—that island of red and black sands, of purple and orange skies, of white cave houses and blue-domed churches—came into being when Euphemus, an Argonaut and a son of Poseidon, god of the sea, threw a clump of soil into the Aegean Sea. Many versions of the story exist, but the one that seems to crop up most often revolves around a dream that Euphemus had, in which he conceived a baby with the nymph Kalliste.
When she realized she was pregnant, Kalliste urged her lover to help her escape the wrath of her father, Triton, by finding a safe haven for her and their child. Euphemus picked up a clod of earth, flung it into the ocean, and watched in amazement as a new land rose from the waves. He first named this miraculous island Kalliste (meaning "most beautiful") and then Thera (after his son, Theras), a name by which Santorini is still known.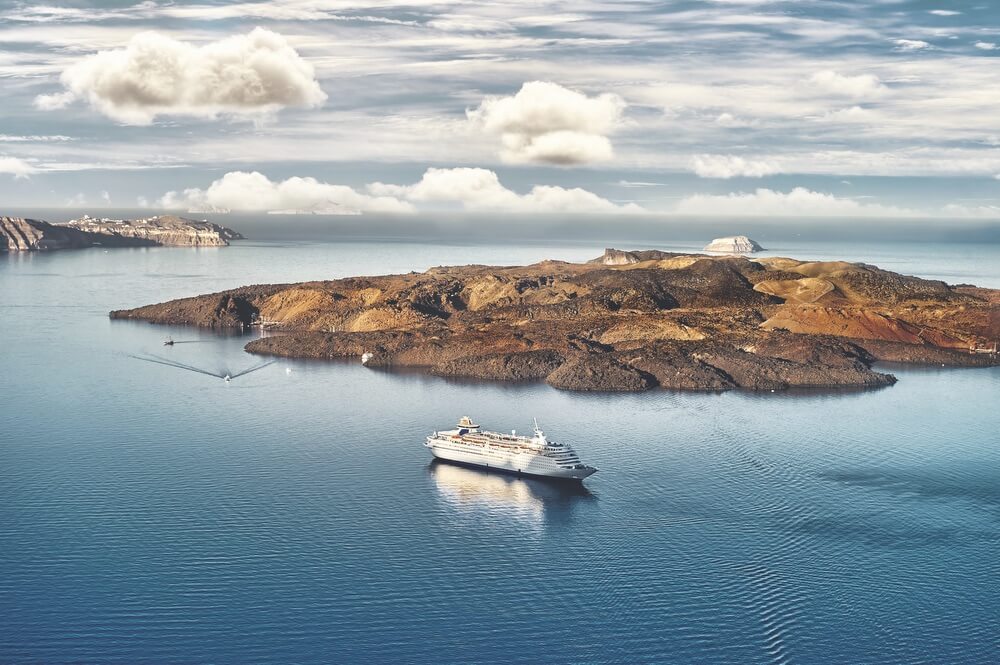 For those who eschew flights of fancy for hard facts, the reality of present-day Santorini's creation is no less fantastical—its prawn-shaped mass was formed in about 1650 BCE by one of the biggest volcanic eruptions in history. Before then, it had been a round volcanic isle sitting in the Aegean, but the explosion—estimated to have been one hundred times more powerful than Vesuvius—blasted most of it away, leaving behind little more than a semi-circular rim of cliffs framing a spectacular caldera.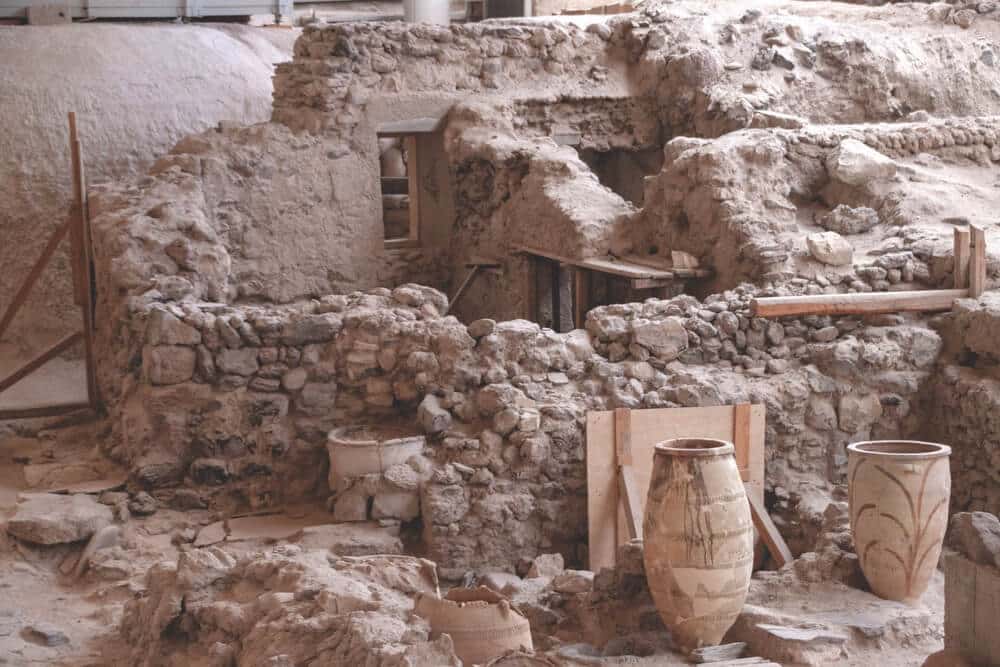 So much debris was detonated into the atmosphere that much of the Mediterranean didn't see sunlight for a year. Neighbors near and far felt the force, but for Thera, it meant annihilation. Over the years, tantalizing speculation has arisen as to what exactly might have been drowned or buried in the aftermath of that explosion, the most wishful of which suggest that it could be the lost city of Atlantis.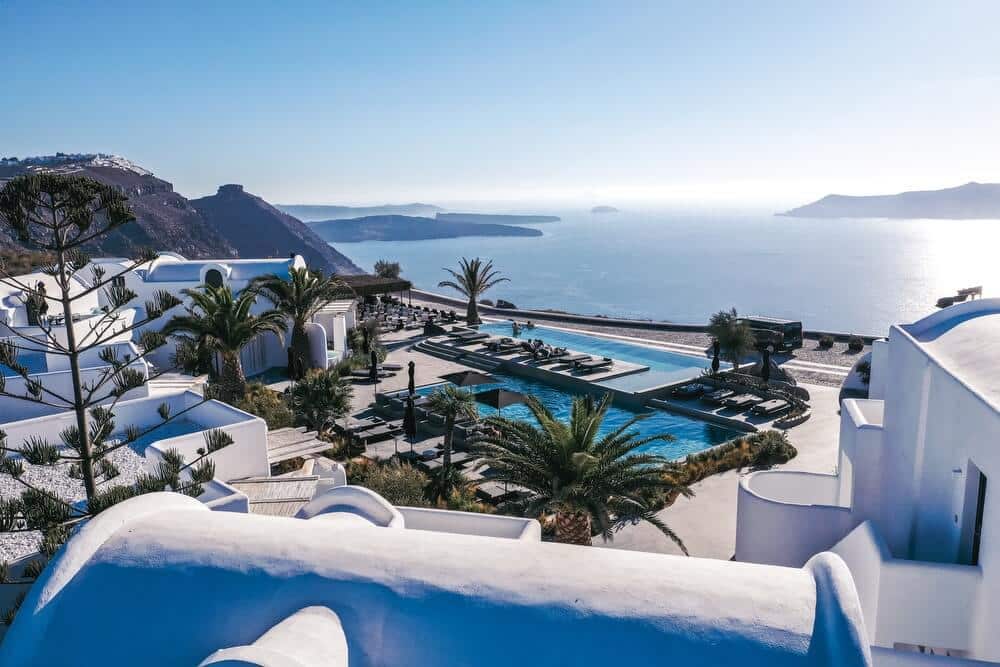 Santorini remains the most active volcano in the South Aegean, and it is still a place of mythical mystique, though its more recent rebirth—as a star of Instagram and top 10 lists of places to be seen—sometimes eclipses that. Its incomparable beauty, rather than its history, has become the key attraction. It is, admittedly, difficult to break the spell of those bewitching views long enough to go in search of something more, but the rewards for those who do are immeasurable.
On a four-day trip to the island last fall, I chose to chase fables instead of photo opportunities and to find Thera as well as Santorini. I started as far back as I could go at Akrotiri, one of the most important prehistoric settlements in the Aegean. First inhabited six thousand years ago, this Minoan city had become Santorini's principal port and one of the most important urban and trade centers in the region by 2000 BCE.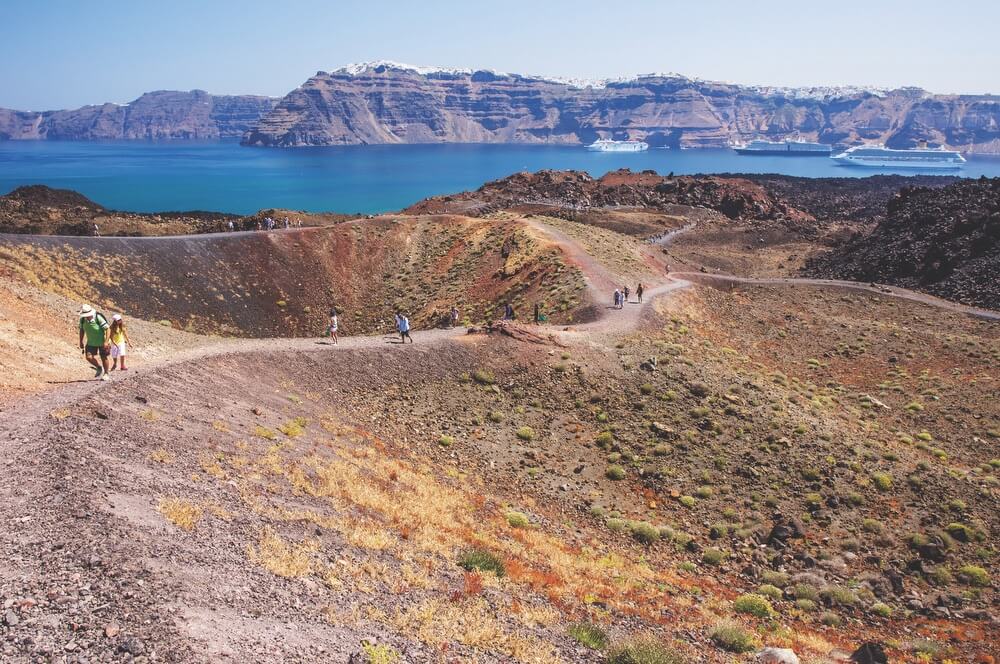 Santorini remains the most active volcano in the South Aegean, and it is still a place of mythical mystique, though its more recent rebirth—as a star of Instagram and top 10 lists of places to be seen—sometimes eclipses that.
The lava and ash that buried the city and its treasures for thousands of years also, mercifully, preserved them. In 1967, archaeologist Spyridon Marinatos's excavations unearthed streets lined with three- and four-story houses decorated with frescoes that surpassed even those found at Knossos, the ancient Minoan capital in Crete. The wall paintings, some of which are now in Santorini's excellent Museum of Prehistoric Thera, show life in all its vibrancy: young boys boxing, monkeys swinging through the trees, sinewy fishermen displaying their catch of the day, swallows flitting and floating above a landscape of lilies. They reveal a remarkable civilization going about its business.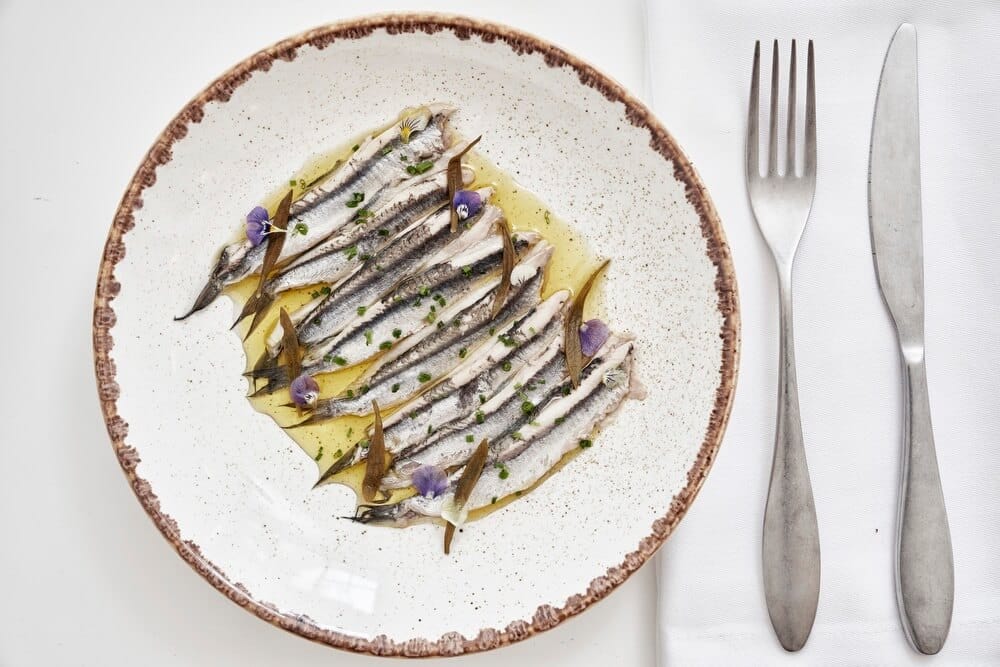 Akrotiri took me back to that civilization. I peeped into the houses and saw accommodation not so different from our own. In one I saw a bath, in another a bed. I saw ancient pithoi (ceramic pots) used for storing and preserving food. I saw life as it was and, in many ways, as it still is.
The excavations also showed that even then, the locals were making wine, which is no surprise given that Greece is one of the oldest wine-producing cultures in the world. Yannis Valambous, who owns the exemplary Vassaltis Vineyards, a few kilometers to the north of Akrotiri, explained: "The Ancient Greeks were making wine sixty-five hundred years ago, and their skills, as well as their produce, were highly valued. They pioneered methods of viticulture that were then adopted by Italy and France, for example. Here in Santorini, the terroir produces grapes with high minerality and acidity. Our most famous varieties are Assyrtiko, Aidani, Athiri, Mandelaria, and Mavrotragano, but many others are equally complex."
Again Santorini has the volcano to thank, not only for its soil but for the survival of its vines, which are some of the oldest in all of Greece. The volcanic earth provided the vines with an unassailable defense against phylloxera, the louse that devastated so many great vineyards during the nineteenth century.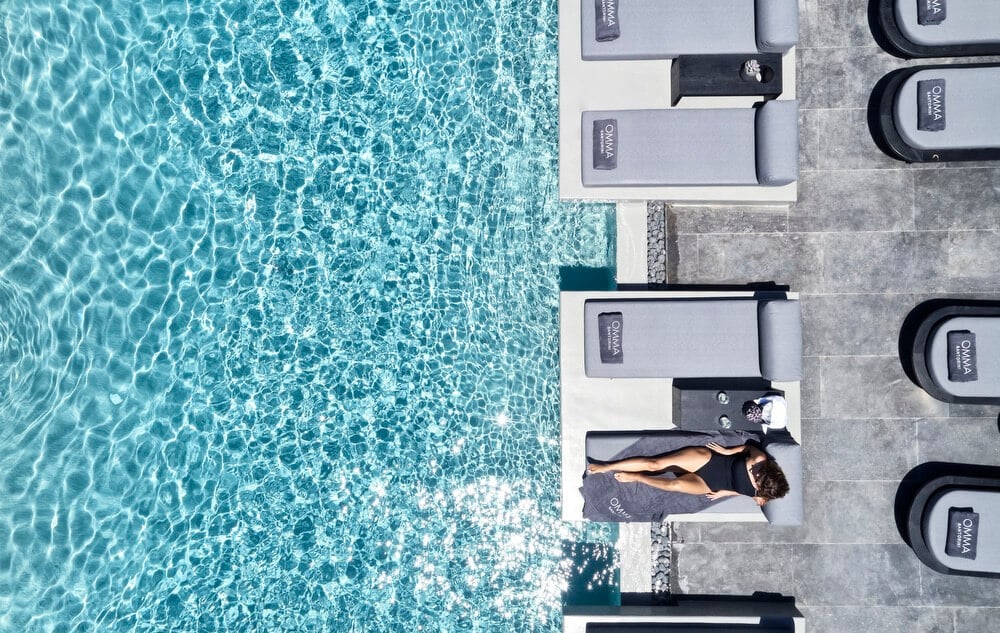 During my visit, both Vassaltis and Akrotiri were quiet, the pandemic having hit them hard. I wondered if the crowds had also stayed away from Santorini's superstar attraction, Oia, the perfectly beautiful settlement on the island's northern tip that has launched a bazillion Instagram posts. Known for its dazzling white cave houses (yposkafa) and for providing the best vantage points for watching some of the most magnificent sunsets that nature can produce, Oia is normally besieged by visitors until the start of winter.
In early October, Oia's narrow streets were still busy with visitors who seemingly wanted to photograph their every step. The yposkafa, once humble dwellings for mariners and laborers, have been transformed into elegant—and expensive—hotels for the well-heeled. The local shops have also reinvented themselves to cater to those wishing to splash out on jewelry and designer clothing. Thera was undoubtedly present in Oia, but less conspicuously so, and at times I lost sight of her. It wasn't difficult to imagine I was on a film set rather than a living, breathing town with a rich story to tell.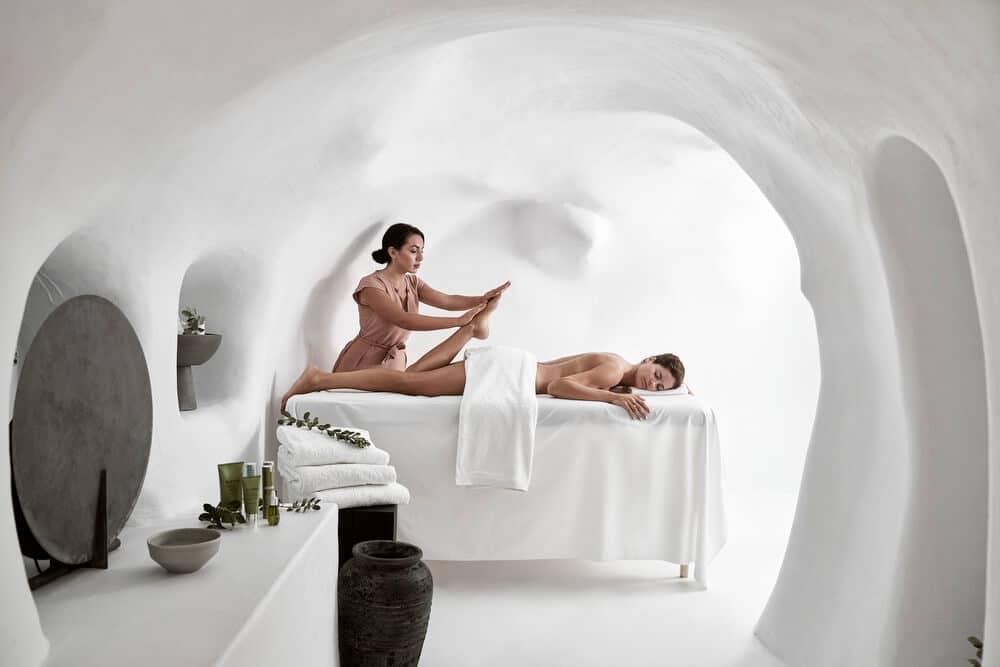 I didn't stay for sunset but instead returned to my hotel, the Nobu Hotel Santorini, to watch that evening's performance without the intrusion of others. Located on a rocky headland in charming Imerovigli, the luxury property gazes into the infinite expanse of water and sky ahead of it, providing intoxicating views of the sunsets and the tranquility I needed to surrender my senses to it. I sat by the pool with a perfectly chilled Assyrtiko while the rays of the sinking sun shot like flame throwers across the sky, scorching it to a thousand shades of pink and purple, of honey and bourbon. Soon it disappeared into the sea, and dusk gave way to night. Deep darkness enveloped ancient Thera and modern-day Santorini, making it impossible to split sky from sea and fact from fable. It was easy to believe that, out there, the city of Atlantis was waiting quietly to be discovered.
— V —
---
Xenia Taliotis was a guest of the Nobu Hotel, a five-star hotel in Imerovigli. Nightly rates start from $1,200. To book, visit Santorini.NobuHotels.com.
Xenia Taliotis is a UK-based editor and writer who covers lifestyle, travel, well-being, property, and finance for a number of publications, including The Telegraph, Christie's International Real Estate, Women's Health, and VIE.
ARTICLE CATEGORIES