Portraits That Speak
By Xenia Taliotis | Photography courtesy of Harvey B-Brown and David Scheinmann
When you hear the word portrait, what do you envision? Is it the intensity of the faces produced by such supreme masters of the arts as da Vinci, Rembrandt, and Vermeer; the staid paintings of England's queens and kings lining the walls of a gallery; the vivacity of Warhol's celebrity screen prints; the sometimes-painful, almost-intrusive intimacy of Diane Arbus's photographs; or the stylized realism of Amy Sherald?
Whatever image you have in your mind's eye, however realistic it is, it will share one common characteristic with all other portraits: it is an interpretation, an impression of the subject as seen by the artist.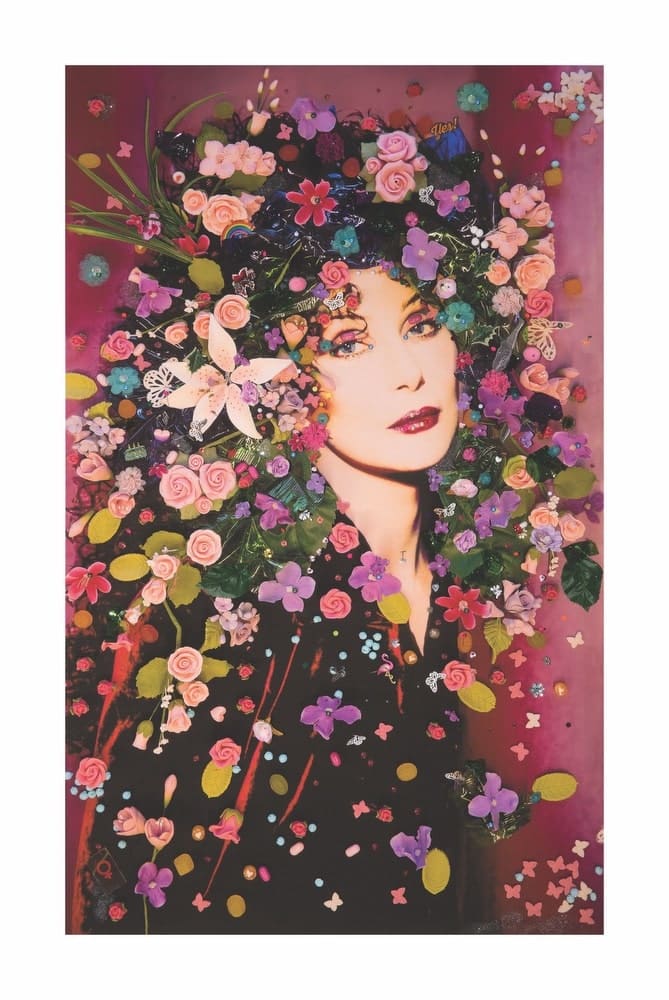 Portraits—whether photographs or caricatures, paintings or line drawings—reveal as much about what the artist makes of the person posing as they do about the sitter themselves. If the artist has caught a glimpse of melancholia, a shadow of a smile, a second of self-doubt, a hint of ambiguity, that is what he or she will immortalize. Even if the subject tries to give nothing away, the artist will capture that apparent inscrutability on canvas or in print.
All artists look for that essence to inject life into their portraits, but for Harvey B-Brown and David Scheinmann, who collaborate under the name Adored & Adorned, the desire to pluck out and communicate what makes their subjects who they are underpins everything they do.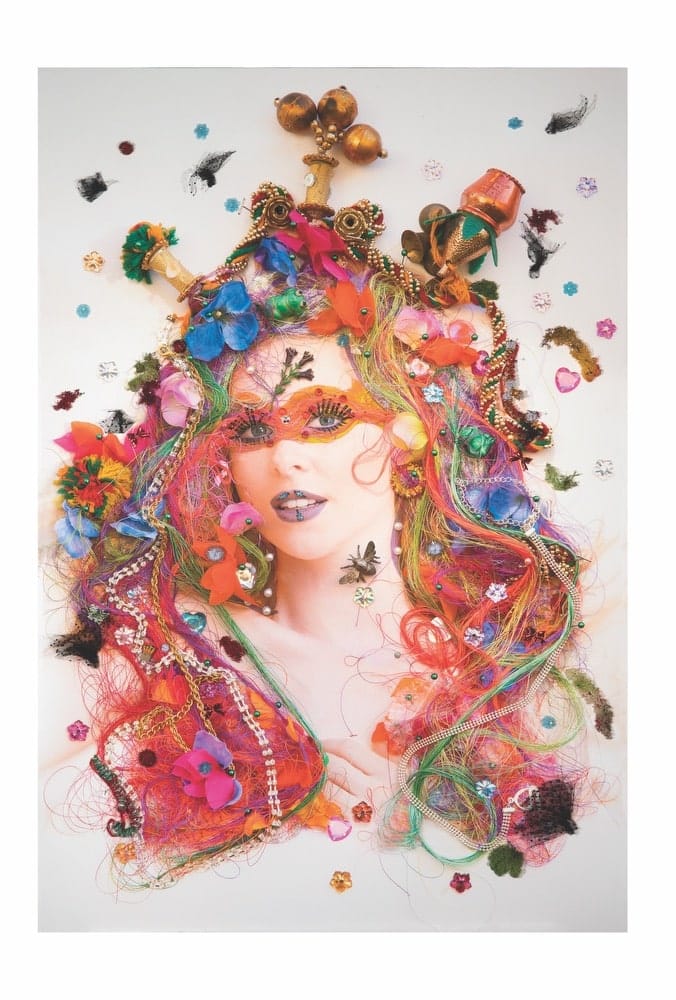 The duo makes dazzling, mixed-media meta portraits from photographs embellished with personal artifacts that give an insight into the person's life. Their celebrity clients include singers Cher and Bryan Ferry, fashion designer Xuzhi Chen, chat-show host Graham Norton, the late actress Helen McCrory (Narcissa Malfoy in the Harry Potter films and Polly Gray of Peaky Blinders), and former prima ballerina Darcey Bussell. The artworks, which are collages as much as photographs, might include a collar from a greatly loved pet, a wrapper from a favorite candy, a single earring, a broken chain, family photographs, or objects that reference the person's career or passions.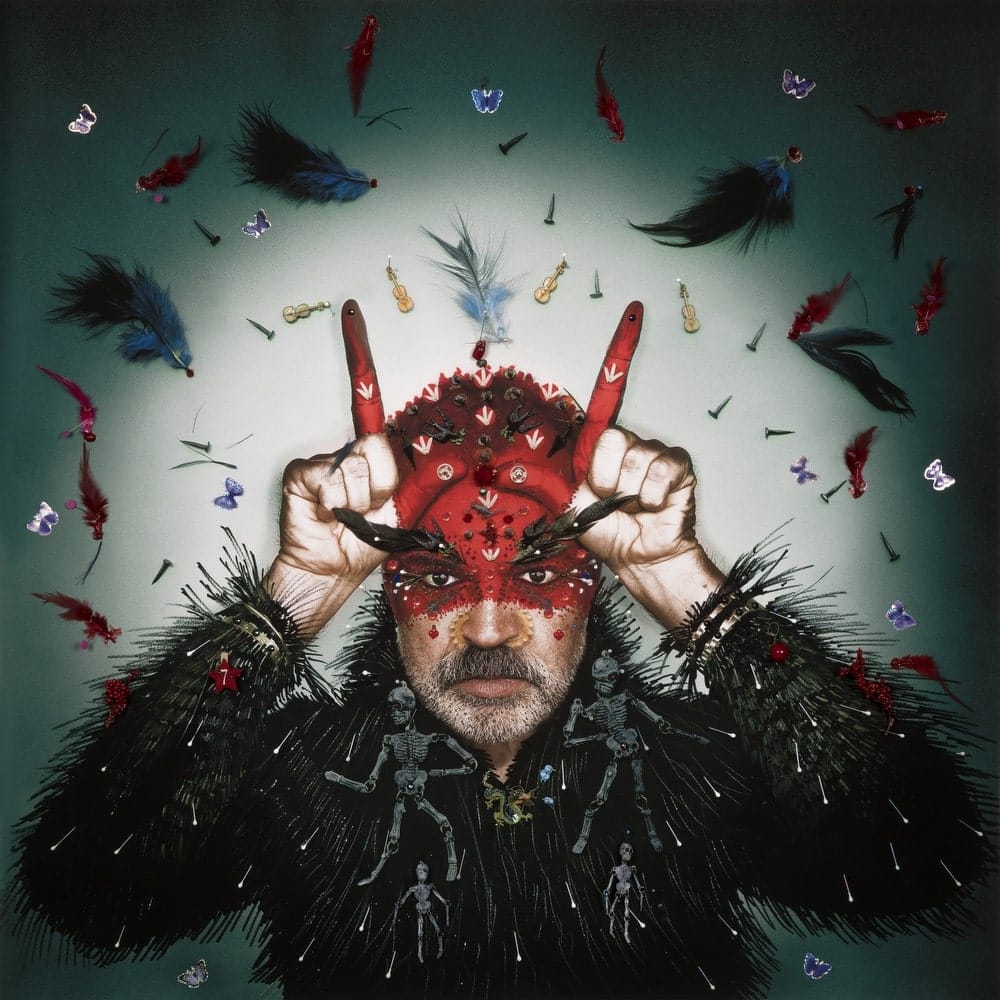 The items can be treasure-hunt or trash-can finds: for B-Brown, gathering what he calls the "detritus of life" for the works—things his clients are about to toss—is as relevant as choosing items that are precious to them. Both are incorporated into these large-scale portraits. "We're like magpies, collecting our clients' stories and creating a visual, evocative narrative from them," he says. The result is an exuberant celebration of the subject's life and interests.
"We want our artworks to communicate, to give an insight into our clients' individuality," says Scheinmann. "Portraiture has gone from being something that promised immortality to something that, in the form of a selfie, is vacuous and inherently transient. People snap and post images that immediately disappear. The pictures are often not even of the moment but of the instant. So many are essentially the same image—this or that person posting their best side, their best pose or pout, only with a different background. It's a record, but of what? 'I went here and here and here.' But why? To take a photo of yourself? We want to counter this transience with portraits that are evocative, that draw people into the subject's world. Our work is a response to the selfie. We want to enhance the value of identity and explore issues of personal iconography."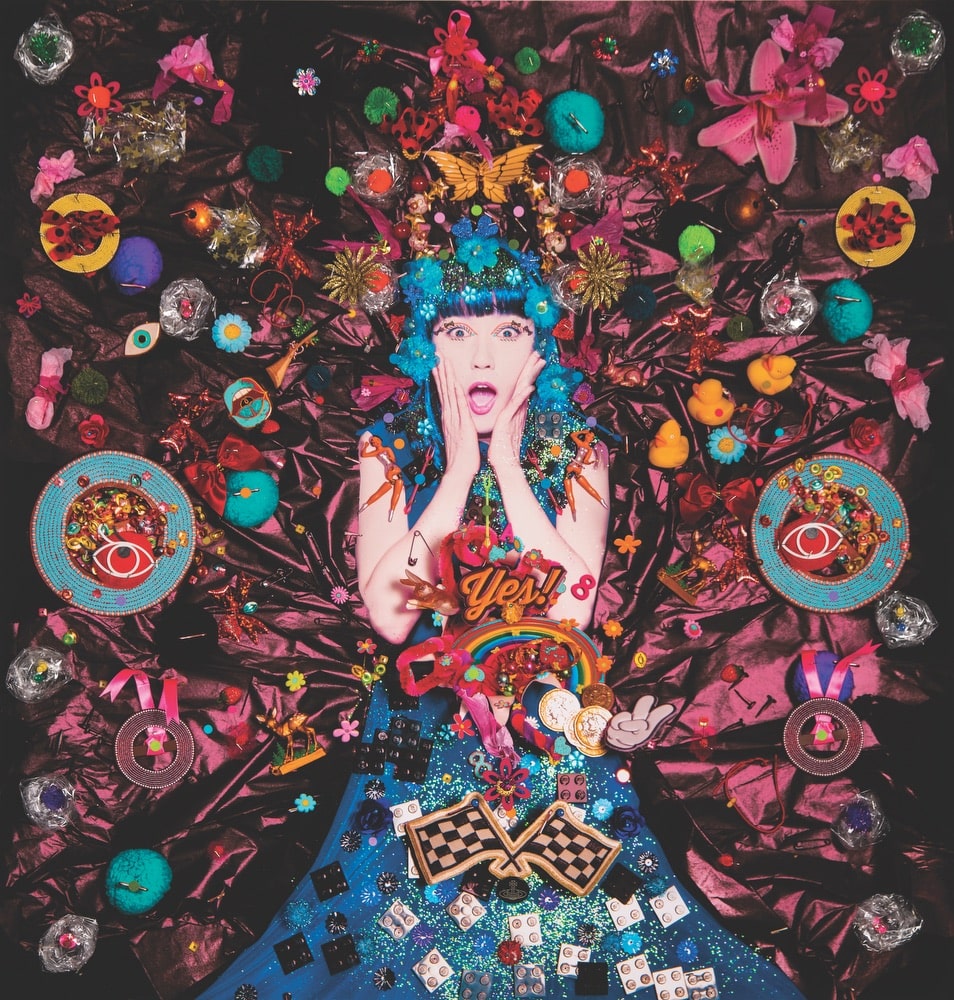 The Adored & Adorned portraiture process starts with a photograph taken by Scheinmann at a place chosen by the sitter. "It's very informal," he says, "and very fast. I've shot people at home or in their dressing rooms before a performance—it's never about bringing them into a studio. They don't need to put on a show or be made up or dressed up or pose. We want to understand who they are and what's important to them."
Though they are full of fantasy and magic and make-believe, they communicate something true about the person.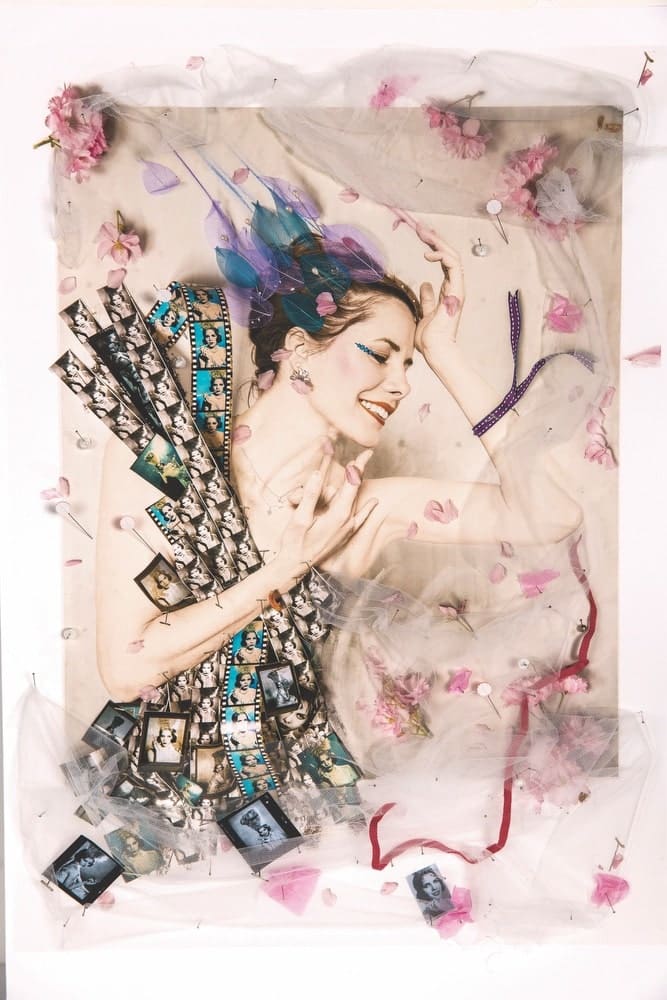 The photograph then goes to B-Brown, who begins the process of adorning, painting, collaging, and embellishing with jewels, feathers, or lace. He layers one aspect of the person's narrative on top of the other. The result is spectacular—beautiful, revealing, and full of humanity.
"People fall into our portraits," says B-Brown. "They can get lost in them. They're capsules, glimpses of a life, a story. Though they are full of fantasy and magic and make-believe, they communicate something true about the person. Graham Norton's portrait is a good example of what I mean. He's considered a national treasure, only a few steps down from the Queen. When we were chatting, he suddenly held his index fingers up to his head and, right there, gave us the imagery for his portrait. It was so playful and naughty—so Graham Norton. He showed us the devil in him—like everyone, of course, he has that side to his nature. And I added skeletons to his clothing because, again, we all have a few of those in our cupboards. That's part of what makes us human."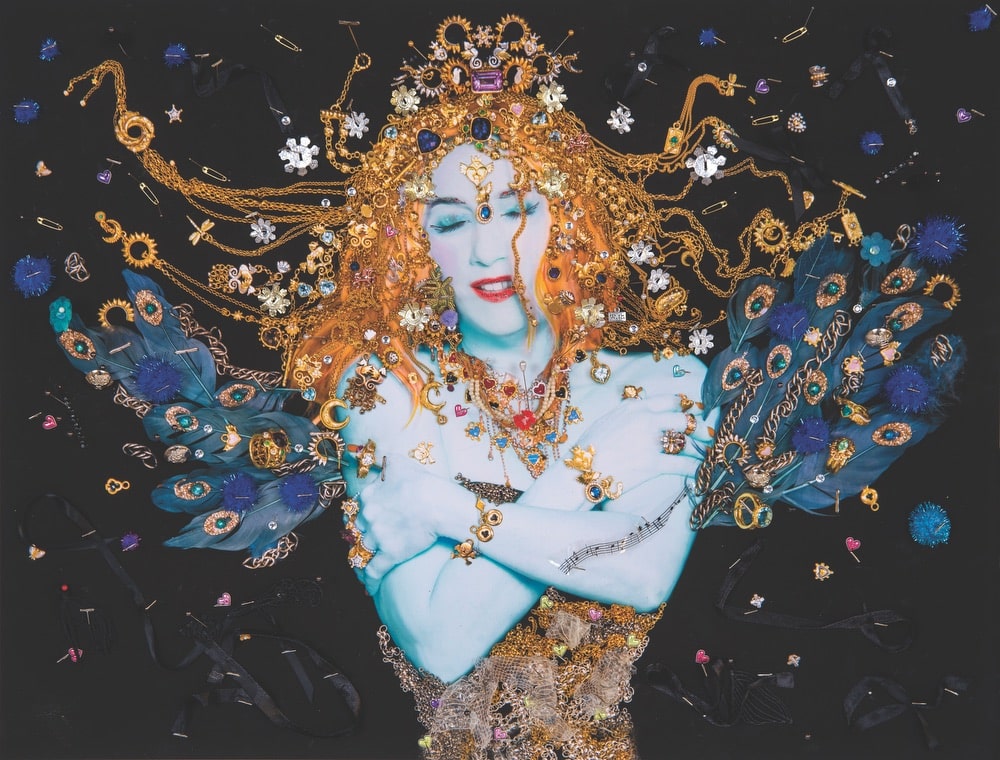 Meanwhile, dancer Darcey Bussell's portrait shows her torso covered with contact sheets of photographs—shot by Scheinmann decades ago just after she became a prima ballerina—which fit around her like a bodice. It's a gorgeous image of a mature Bussell, now with her dancing career behind her, perhaps thinking and celebrating her past while looking forward to her future. It depicts the age and experience that follows youth and potential: her beautiful face is beaming; tutu net and flowers bedeck the portrait; the world is still her oyster.
B-Brown describes the process of creating each artwork as an evolution, with the portrait gradually emerging, almost like the petals of a flower unfurling. Sometimes the process will be straightforward, but at other times new inspiration will take him in a different direction midway through. This is why he never shows the work to the client until it is finished. "I don't want to interrupt my creative flow," he says. "Suggestions about including this or that aren't helpful."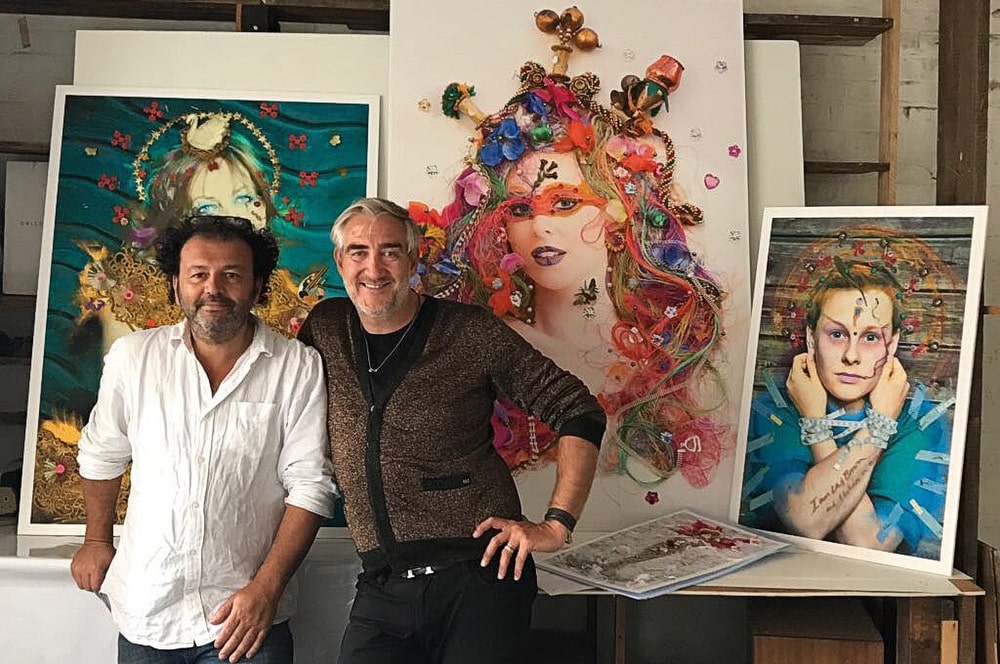 Once the collage is complete, it is photographed again by Scheinmann and enhanced using sophisticated post-production technology. He'll print in several layers—sometimes as many as six, enhancing details and colors—until they finally consider it ready. Deep, rich, and with many levels of accessibility, each one can be taken at face value—as a painting of Bryan Ferry, say—or scrutinized to reveal far more.
How did the artists enjoy working on their own portraits? "It was liberating for me," says Scheinmann. "Harvey and I have known each other for decades, but it was fascinating to see his portrayal of me, boss-eyed, with my head exploding and my work flying out of it. I felt quite vulnerable, but I knew that for us to get the best portrait, I had to allow myself to be seen."
And for B-Brown, he says, "When David took that photograph, my life was in transition. My husband and I were relocating to Italy, where we'd just bought a ruin to turn into a luxury boutique hotel (Castle Elvira in Puglia, where guests can book their own Portrait Experience), and he caught me in a moment of pure emotion. I don't know if I would go as far as saying anxiety, but certainly, I was in a heightened state. David's photograph has elements of Munch's The Scream and Picasso's The Weeping Woman, and the adornment of my image played with both of those. For me, it was cathartic; it somehow calmed my thoughts."
— V —
---
Portraits by Harvey B-Brown and David Scheinmann start from £7,000 plus 20-percent tax ($8,142 plus tax). Contact the artists at AdoredandAdorned.co.uk for details or to buy prints from the Adored & Adorned archive.
The Portrait Experience is available at Castle Elvira (CastleElvira.com), a beautifully restored nineteenth-century property in Puglia, Italy, owned by Harvey B-Brown and his husband, Steve Riseley. Prices from €10,000 plus tax ($9,984 plus tax), which includes accommodations for up to four people (two rooms) for four nights, breakfast, and one custom portrait.
ARTICLE CATEGORIES