Mr. and Mrs. Bellotti
Photography by Rich Hudson
Although Aisling Ryan and Peter V. Bellotti III grew up less than twenty miles from each other in the suburbs of Boston, they never met until summer 2014. Their families had long been acquainted—Aisling's aunt even babysat Peter's father's cousins when they were growing up—and it was a fateful birthday celebration for Peter's grandmother that brought the young pair together. "He approached me at the bar and later asked to take me into the city," Aisling recalls. "The rest is history!"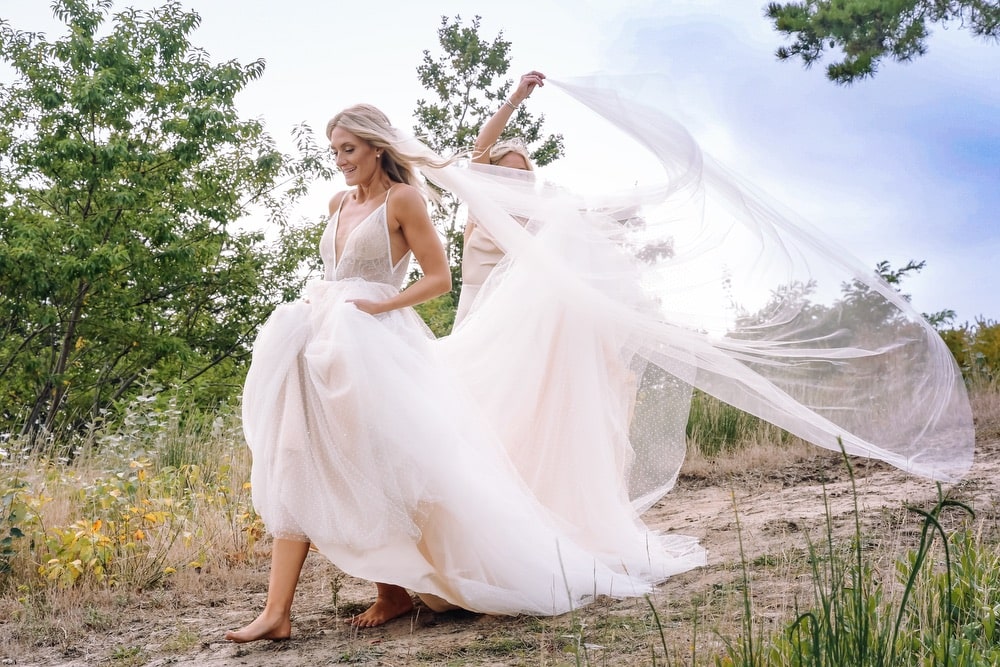 On the official six-month anniversary from the time they began dating, Peter left a surprise card for Aisling to find when she woke up. "Peter was friends with my coworker at the time, and I was in the office telling him how I thought I was getting engaged that day," Aisling shares. "He stated that I should be worried about getting something else—along the lines of a dog. I immediately called Peter, and he said that he heard barking downstairs!" Frantic about the day's progression, Aisling even left work early and drove home to see if there was actually a canine in the house. As it turned out, her first instinct had been spot on. "When I opened the door, there were rose petals all the way up the stairs, and Peter was to the right on one knee."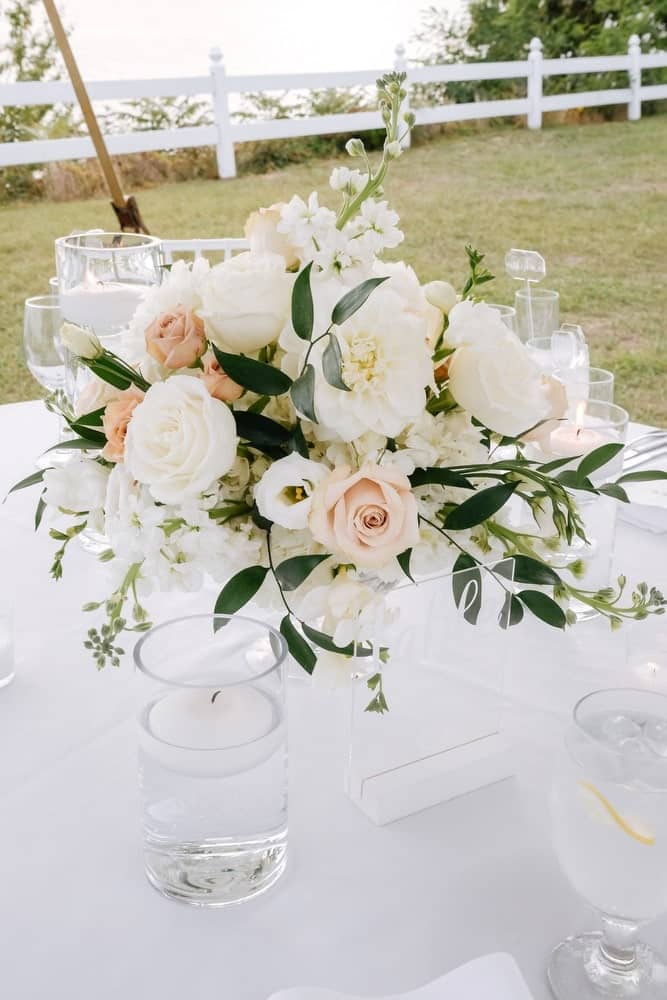 The couple enjoyed a long engagement and planned to say their vows by the beach in beautiful Aruba in May of 2020. Unfortunately, like many unsuspecting couples last year, the future Bellottis were blindsided by the coronavirus pandemic. It was a devastating turn of events, and Aisling and Peter began to weigh their options: Postpone the glamorous island destination wedding? Move the ceremony to the Gulf Coast?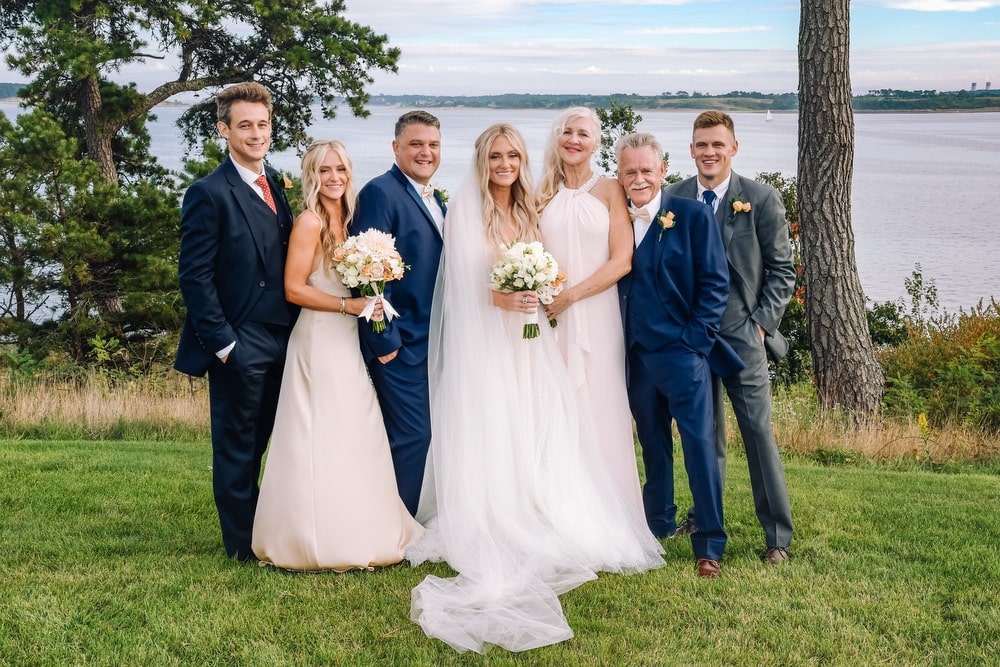 "We decided to take a trip to Palm Beach, Florida, in June of 2020 to lift our spirits and get away from it all," Aisling says. "While we were there, we concluded that we did not want to push back our wedding any longer. We decided to do something small and intimate near home with our closest family and friends. Peter's family has a house in Falmouth, Massachusetts, and we summer in the Cape, so we decided to look for a venue in that vicinity."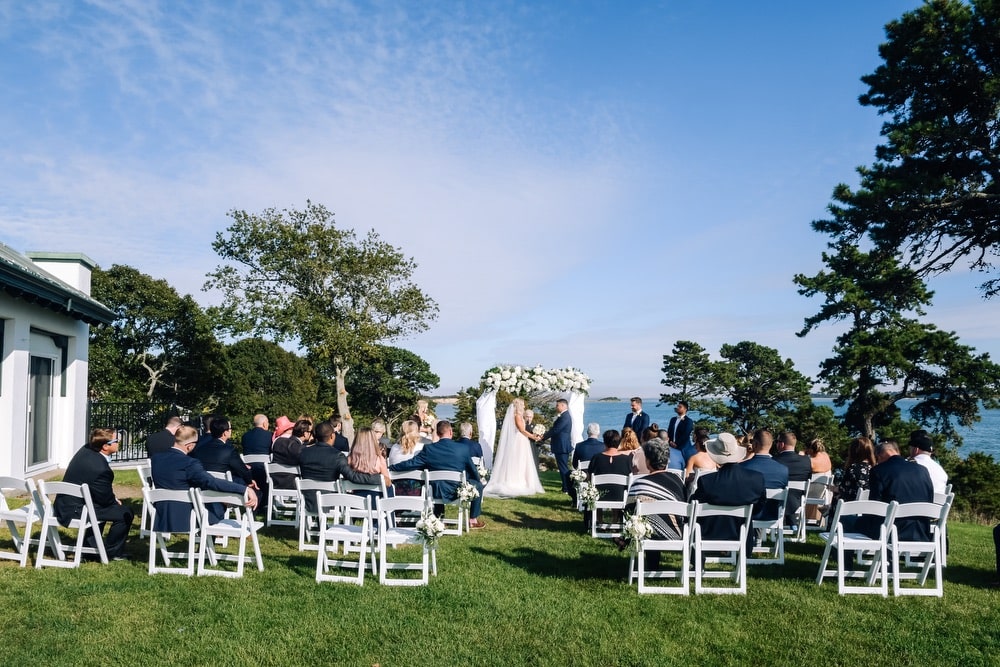 Renting a property where the family could stay and host the ceremony and reception all together seemed like the best, most COVID-safe option for the couple. They began to search for bed-and-breakfasts and vacation rentals near Cape Cod, where the cool breezes and saltwater could hopefully wash all their wedding woes away—and it did.
"Once I saw the Winslow Estate in Orleans, Massachusetts, I was in love," Aisling shares.
"I reached out to the homeowner and inquired whether or not they allowed weddings on the property and, thankfully, they did! I proposed two dates to the homeowner, and she stated that the date I had chosen—September 26—had become available just fifteen minutes prior due to a cancellation. Right then, Peter and I knew it was destiny. We immediately filled out the contract and sent the deposit, and I started planning again!"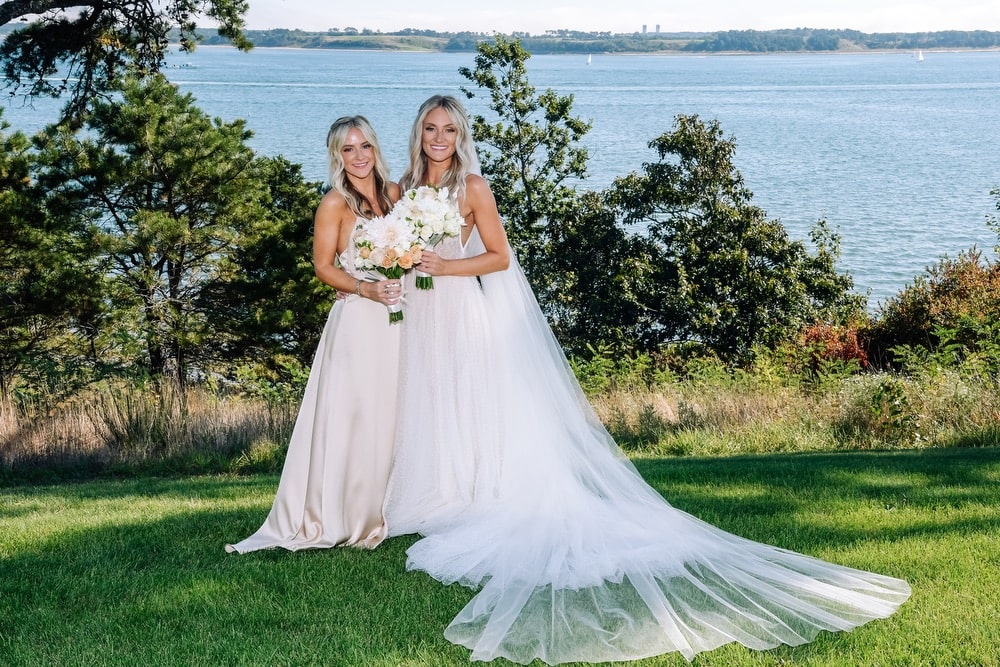 Forgoing a traditional wedding planner, Aisling got to work quickly, with just a few months to transform their dreamy island getaway into an equally enchanting weekend on the Cape. "I love to do party-planning things like that, and while working from home during COVID, it was much easier to manage. I used The Knot to find all of my vendors, and everything fell into place accordingly. I always tell Petey this was God's way of repaying us for wedding number one being canceled. It certainly was stressful with COVID and the anxiety of whether or not this wedding was going to happen, or if it was going to be canceled again, but we made it, and I don't think our wedding day could have been any more perfect."
The big day arrived with fair skies and an intimate guest list of fifty close friends and family at the classic-meets-coastal Winslow Estate. "We initially had bigger wedding parties planned, but for the downsized wedding, Peter and I decided just to have our siblings join us at the altar for the ceremony," Aisling explains. "There were nineteen of us staying at the estate from Thursday to Monday on the weekend of the wedding, and on September 26, we girls woke up, put on our matching robes, and started getting dolled up. The weather, the vibes, and the people involved made it a day like no other."
Florals and catering staff began to arrive at the Winslow Estate that afternoon while Peter and Aisling celebrated and got ready with their bridesmaids and groomsmen on opposite sides of the home. The men opted for classic navy suits that matched the seaside setting, while the ladies were stunning in soft blush hues. Around 3:30 p.m., the guests were seated on the lawn overlooking the bay as the sun shone on an equally beautiful union.
Aisling shares her touching experiences from the day.
"Peter and I decided not to do the first look, but I did one with my dad because I knew the pictures would be special—along with the lifelong memory—and I'm very happy I did. Once those photos were complete, I went inside with my mother, my sister (who was my maid of honor), and my mother-in-law—three of the women closest to my heart. We spent some very special time together before I walked down the aisle. My older brother's girlfriend, Aurora Martin, gifted us with her beautiful voice to start the ceremony. She is an opera singer and opened with 'Ave Maria.' It was stunning. Right as my dad and I stepped out onto the grass, my tears instantly started flowing. The moment and the song were so beautiful and memorable. Paired with Aurora's voice, Peter's lifelong friend Brian Flynn was playing the bagpipes. My dad's mother and father are both off-the-boat from Ireland, and when Brian offered to play for us, I knew it would truly complete the day I had envisioned. We surprised my dad with this news the night before the wedding, and he couldn't believe it. On the day of, no one else could either. It was truly a memory I will keep forever, along with the ones that followed as we said our vows.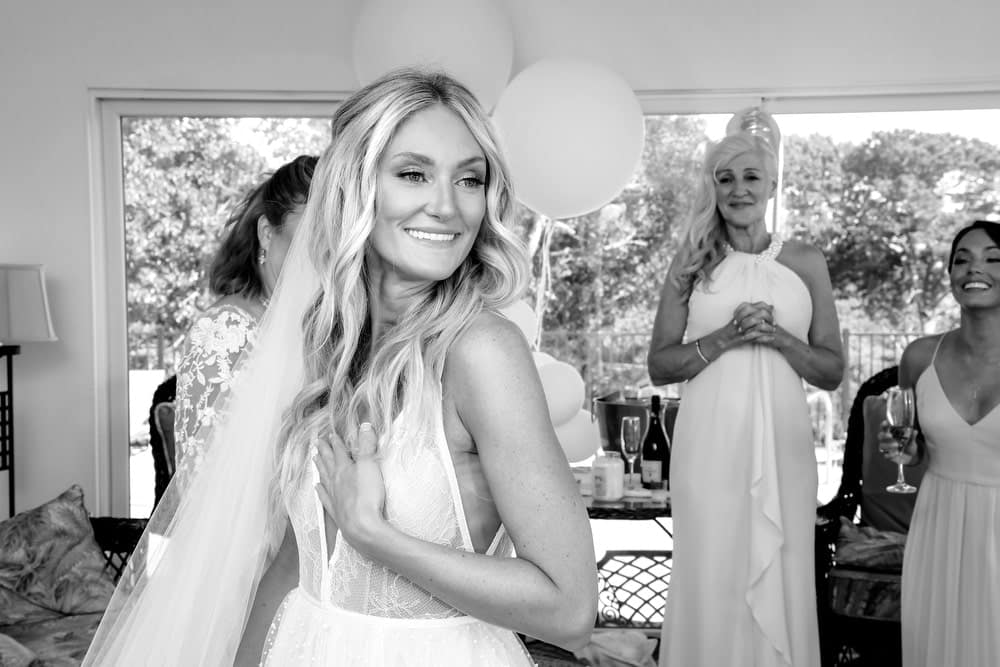 "Once the ceremony was over, we had a Cape Cod cocktail hour with mojitos and oysters, along with numerous other hors d'oeuvres. Next was my father-daughter dance to 'Have I Told You Lately' and Peter's mother-son dance to 'Isn't She Lovely.' Unfortunately, due to COVID restrictions, we could not have more dancing; but that did not stop everyone from having a great night. The maid of honor and best man speeches devoted to us both from our siblings and best friends helped seal the deal of this being the best day of our lives. My older brother also made a toast that had me in tears and meant a lot, especially because he is very quiet and soft-spoken. All in all, it was everything I envisioned and dreamed. It reminded me of a quote attributed to Marilyn Monroe: 'Sometimes good things fall apart so better things can fall together.' This might not have been our initial wedding plan, but it ended up being exactly what we wanted and more!"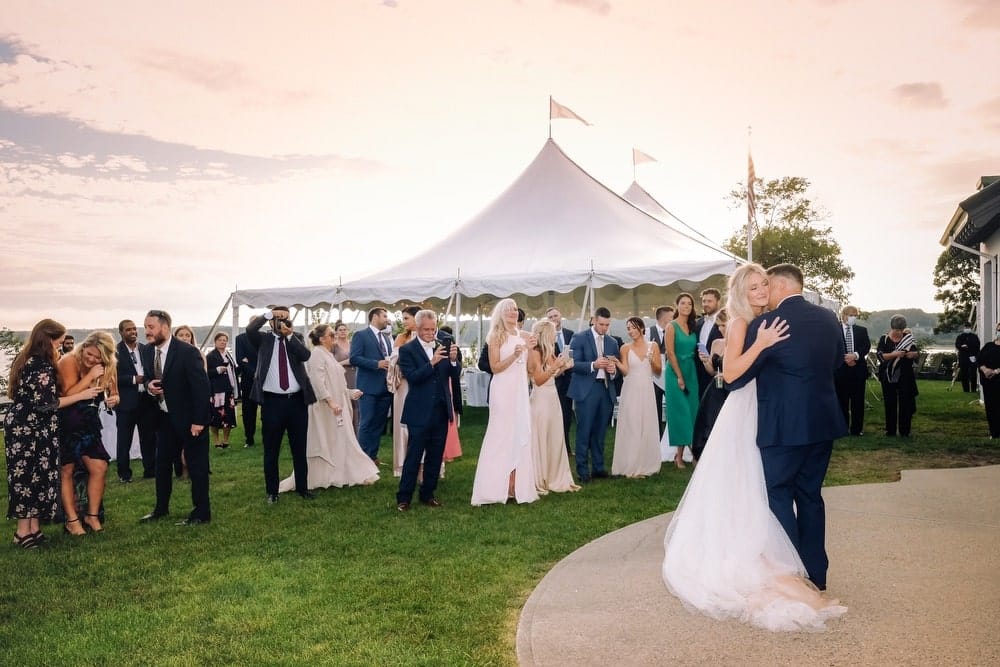 Happily enjoying their first year of marriage, Aisling and Peter have not taken a honeymoon yet. However, they did visit the Northwest Florida Gulf Coast to celebrate with family this spring and to spend some time aboard the beautiful Never Rest superyacht, which you'll also find in this issue of VIE. Congratulations to the Bellottis!
— V —
---
Special Thanks
Flowers: Fancy Flowers by Meredith, FlowersByFancy.com
Catering: The Casual Gourmet, TheCasualGourmet.com
Photography: Mobile Video and Photography – Rich Hudson, MobileVideoandPhotography.com
DJ: Cape Tunes, CapeTunes.com
Signs, table numbers, and more: Crossing T's – Tori Milano, CrossingT.com Seven One Seven Designs – Emily Welch, @sevenoneseven_designs
Hairstyling and makeup: TreNoi Salon – Krissy Perrone Manzo and Jessie Bissett, TreNoiSalon.com
Ceremony vocals: Aurora Martin
Bagpipes: Brian Flynn
Jeweler: Gigian Jewelers & Co. – Mayk Cimen, HarryGigian.com
Dress: BHLDN, BHLDN.com
Tent and event rentals: Undercover Tent & Party, TentRentalsCapeCod.com
ARTICLE CATEGORIES