Celebrating with Emeril Lagasse Foundation
By Colleen Sachs | Photography courtesy of Emeril Lagasse Foundation
Every November in New Orleans, temperatures get more pleasant, festive decorations go up (some won't come down until after Fat Tuesday), and Chef Emeril Lagasse hosts the Carnivale du Vin. The Carnivale du Vin packs abundant food and drink, outstanding entertainment, and stellar fundraising into a fun-filled weekend.
November 3 and 4, 2022, marked the twentieth anniversary of the event, which is one of three annual signature fundraisers for the Emeril Lagasse Foundation. The other two are Line, Vine, and Dine, a fishing tournament held in the warmth of the Fort Lauderdale winter, and the Chi Chi Miguel Throwdown weekend, a barbecue competition held each spring in Santa Rosa Beach, Florida.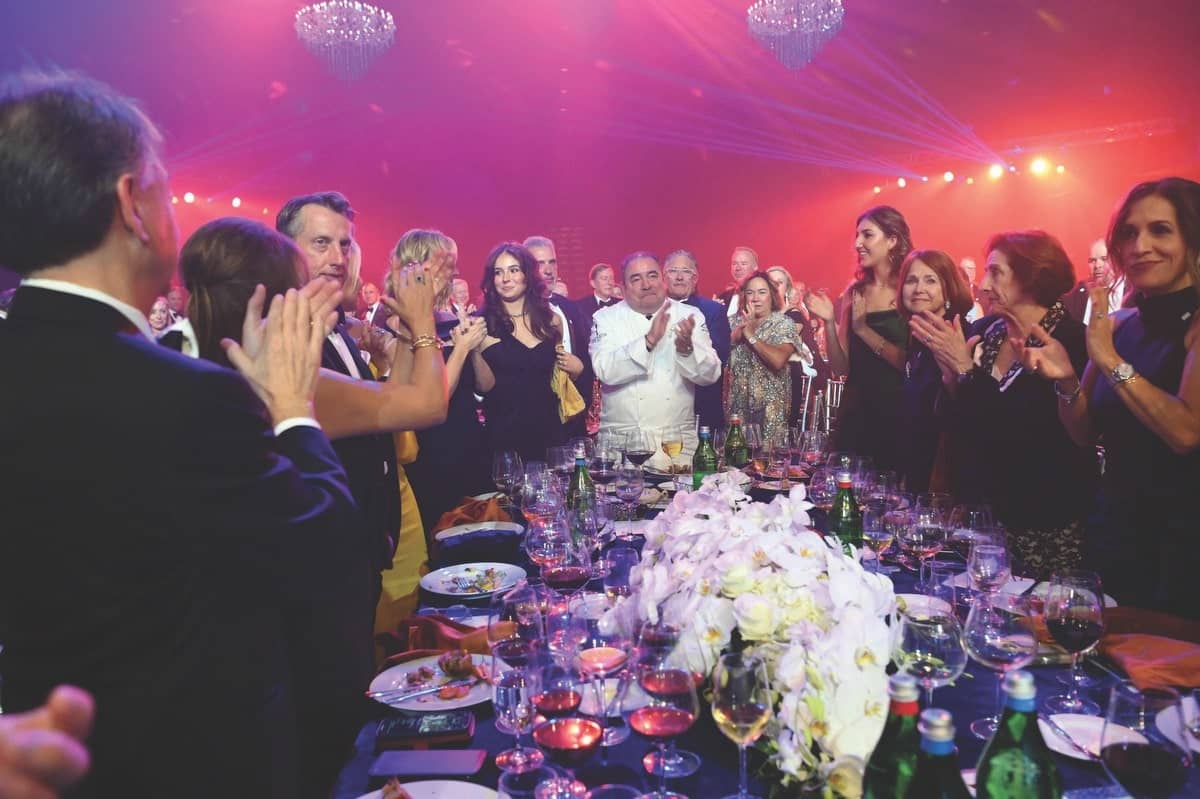 The Emeril Lagasse Foundation was founded in 2002 by Emeril and his wife, Alden. The foundation's mission is "to create opportunities to inspire, mentor, and enable youth to reach their full potential through culinary, nutrition, and arts education with a focus on life skills development." Among the beneficiaries of the foundation's community grants program are the St. Michael Special School, which has an accessible learning kitchen for students with special needs, the New Orleans Center for the Creative Arts (NOCCA), which offers high school students a four-year program in the culinary arts, and the Emeril Lagasse Foundation Hospitality Center at Café Reconcile, which provides hospitality training for at-risk youth. The mission's success is displayed throughout the weekend, with students from NOCCA designing the dinner menu for Carnivale du Vin's Saturday evening gala. As Emeril says, "It's all about children and mentoring children . . . giving them the opportunity to learn and move forward in the industry."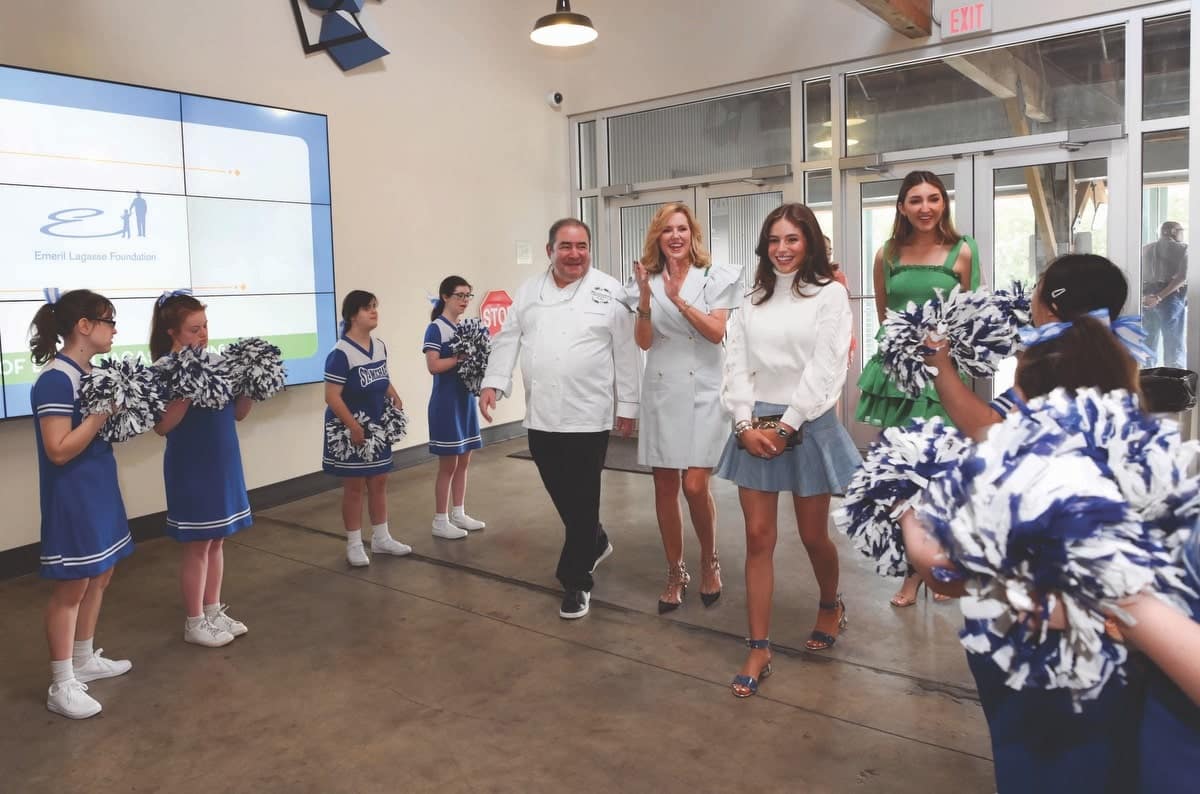 It's all about children and mentoring children . . . giving them the opportunity to learn and move forward in the industry.
The weekend began Friday afternoon with guests checking into the event hotel, the charming Eliza Jane, on Magazine Street. The Eliza Jane was ideally located at the edge of the Central Business District, just a block from the other event hotel—the Windsor Court—and two blocks from The Fillmore, the location of the Saturday evening festivities. Check-in for the event was also set up at the hotel. To give attendees a taste of the good the foundation does, tables displayed food, artwork, and other goodies from some of the foundation beneficiaries. They included: the St. Michael Special School; Sprout NOLA, supporting established and developing farmers; Girls Leadership Academy of Wilmington (G.L.O.W.), an all-girls public charter school that helps its students develop confidence, compassion, critical thinking, and personal responsibility; and Liberty's Kitchen, using food to provide pathways to success for young New Orleanians.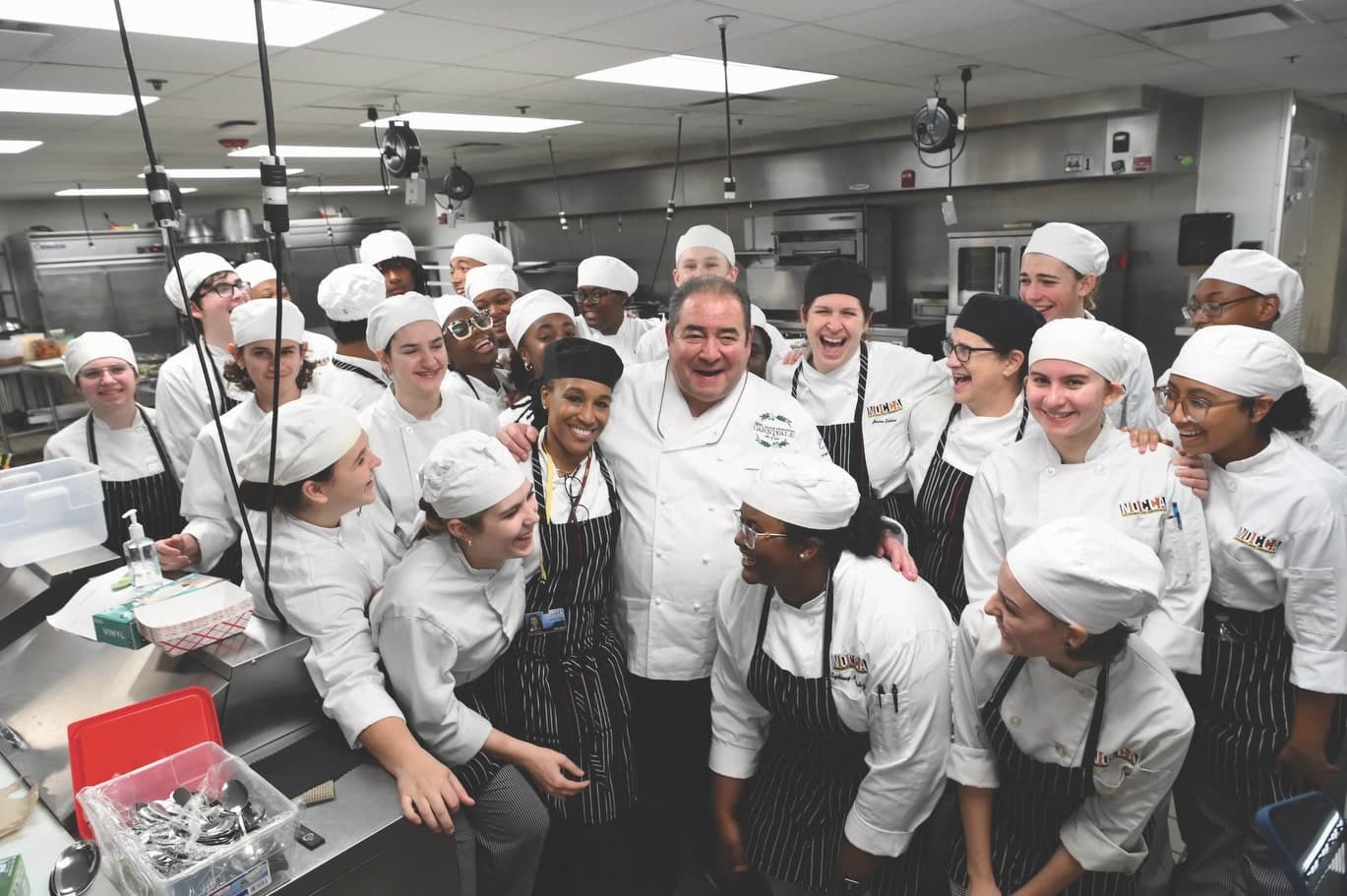 After spending a few hours enjoying the sights, sounds, and tastes of New Orleans, we headed to the Patron Celebration at the New Orleans Culinary & Hospitality Institute (NOCHI). The Emeril Lagasse Foundation is a founding donor of NOCHI, providing education in the hospitality industry. Live music and enticing aromas welcomed us into the building. Each floor featured tasty bites and creative bourbon cocktails—a nod to the Boudin, Bourbon, and Beer events that have raised millions of dollars to support programs for children's education and basic needs. Plenty of local Abita beer was also available, including their strawberry lager. Among the dishes we were treated to were: duck prosciutto and melon from Chef Geordie Brower at Acorn; tuna tostada with Cajun caviar from Chef Miles Landrem at Johnny Sánchez; heirloom grits with smoked mushrooms, butternut squash conserva, and trout roe from Chef Alex Harrell at Commons Club; and beef short rib with bourbon jus, spiced Gulf shrimp, and Palmetto Farms grits from Chef Dan Vargo, a popular personal chef in the Destin-South Walton area of Florida.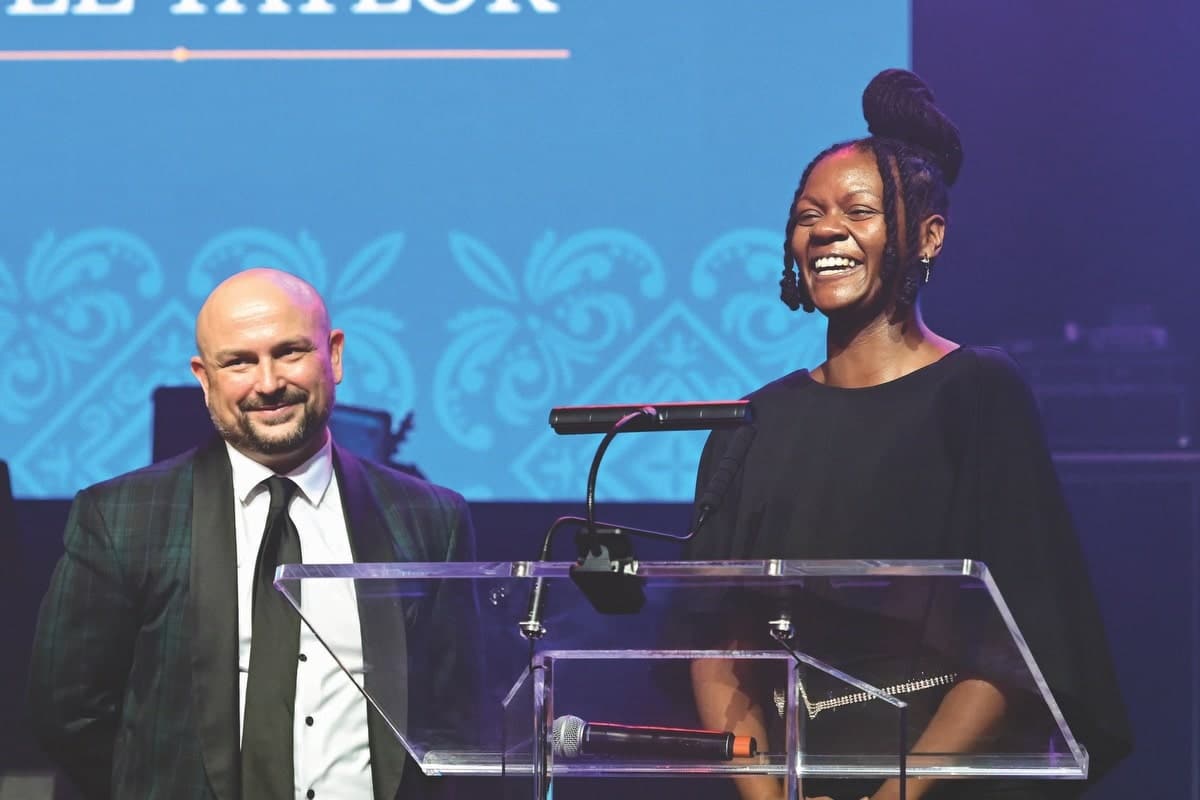 It was a fun and casual evening. This avid home cook enjoyed wandering the kitchens and admiring the shining professional equipment. The best part of the evening was the pop-up restaurant created in the Food Hall by NOCHI students. Highlights included onigiri (seaweed-wrapped rice balls with miso chicken), Carolina BBQ pulled pork on cornbread crostini with southern-style slaw, and a clever and delicious vegan chicharron with a puffy rice flour crisp holding fried yuca and curtido slaw. This bright Salvadoran slaw gets tanginess from vinegar and spiciness from chilies. The students were eager to talk about their creations, and their pride in their work and joy in watching people enjoy the food was unmistakable.
The students were eager to talk about their creations, and their pride in their work and joy in watching people enjoy the food was unmistakable.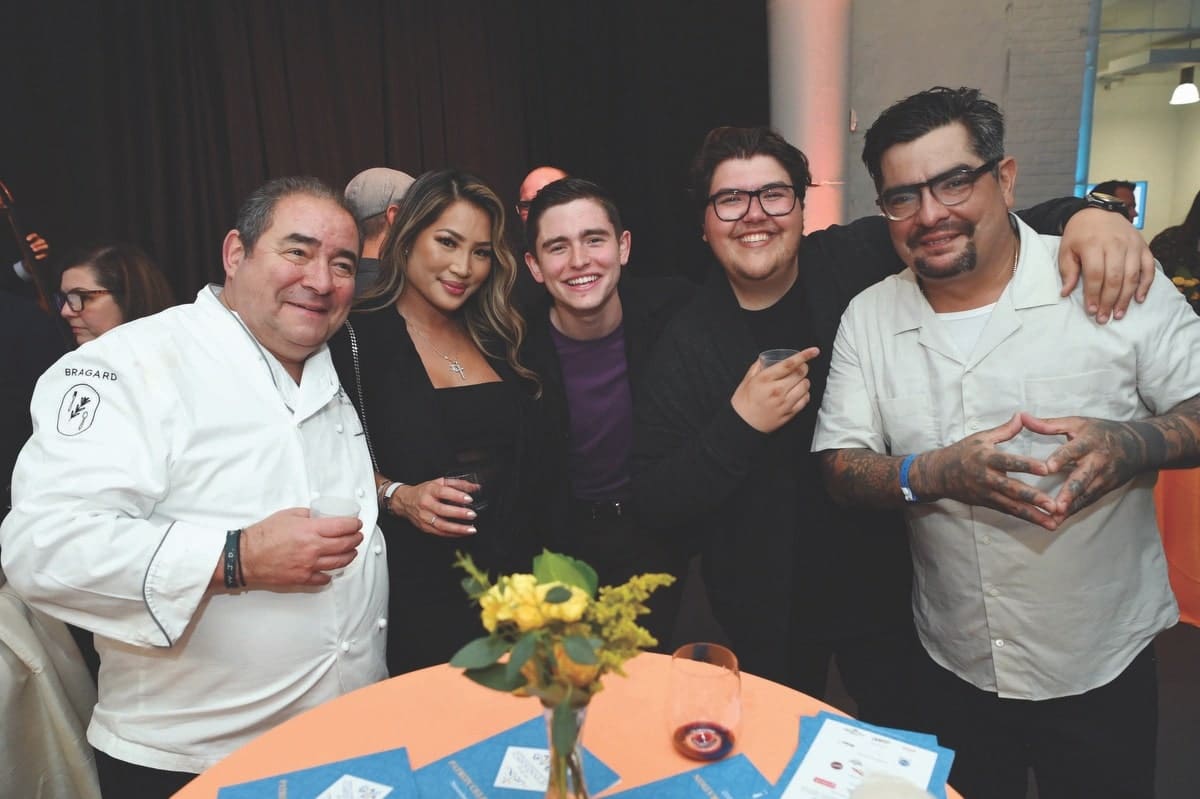 Saturday brought additional time to visit New Orleans' stalwart longtime and exciting new restaurants, bakeries, and coffee shops from the Warehouse District to Uptown. As evening approached, we made our way over to The Fillmore for the black-tie Carnivale du Vin gala. After registering for the auction, guests entered a room buzzing with excitement. Guests sampled the food and beverages offered for the first act of the evening. Chef Dustin Valette of Healdsburg offered smoked duck breast with pickled dried cherries and liquid nitrogen-frozen foie gras torchon. Chef Jimmy Bannos, Jr. of Chicago had crystal bread. The ingenious hollow blocks of "bread" were crisp and light as air and provided a perfect base for savory stracciatella crème, shavings of black truffle, egg yolk, and Serrano ham. I was fortunate to live in New Orleans when Susan Spicer received recognition from Food & Wine magazine as a Best New Chef. That was in 1989, and she is still a New Orleans favorite. Her contribution to the evening was fried smoked quail breast with pear, bourbon, and a molasses vinaigrette. Always gracious, Emeril also took time to mingle with guests and other chefs.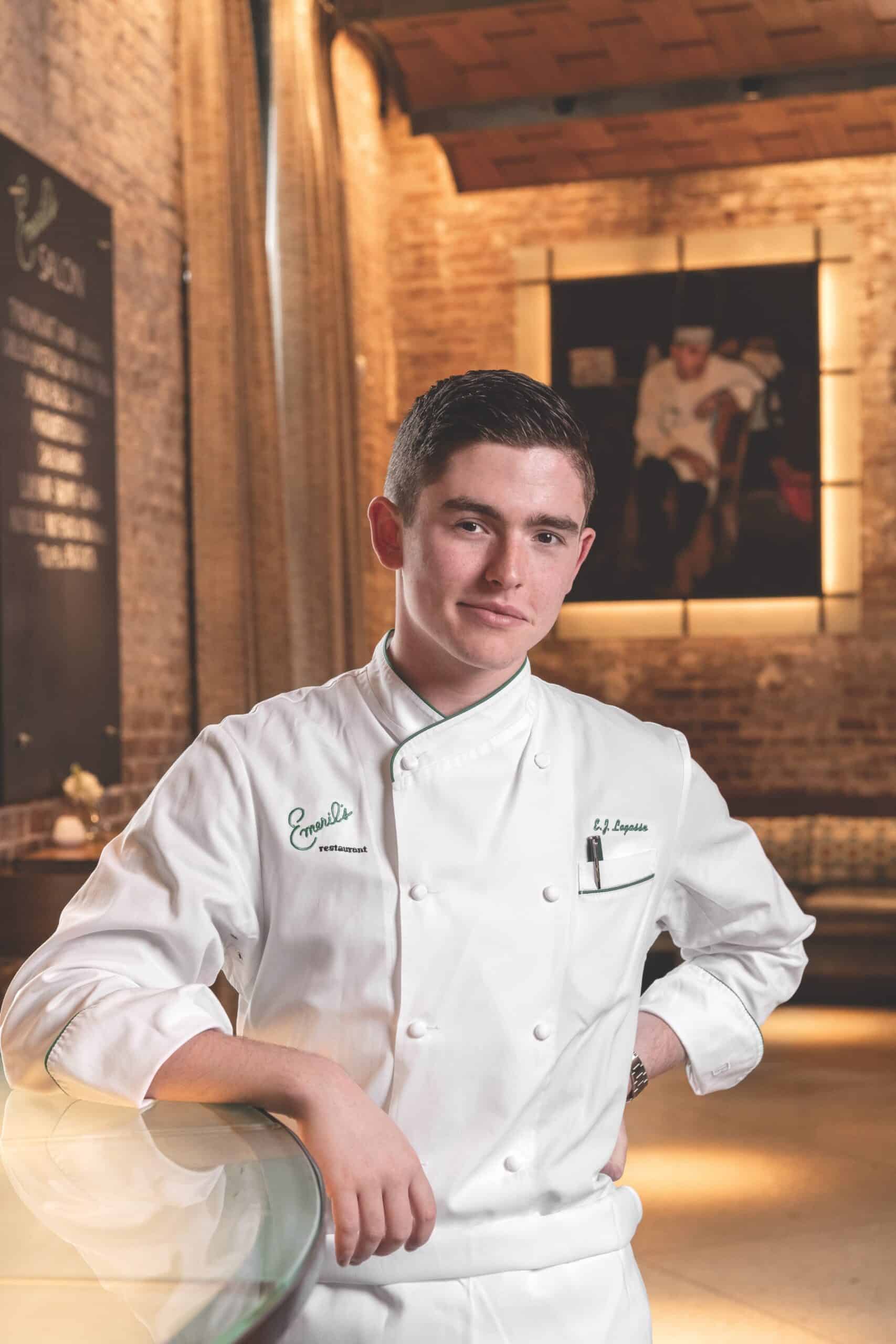 Many auction lots that would be bid on later in the evening were displayed along a corridor. From the first lot, Room Full of Magnums (twelve large-format wines from vintners at the event), to the twenty-fourth lot, Line, Vine, and Dine for three couples, complete with accommodations at the Fort Lauderdale Ritz-Carlton and a fishing charter for six, the bidding options posed plenty of temptation. Some of the standout items were: Behind the Scenes of MasterChef, including a studio tour and a dinner at Chef Aarón Sánchez's Los Angeles home (the Aarón Sánchez Impact Fund is a grant recipient of ELF); a cooking class with Andrew Zimmern at the winning bidder's home; and London Lights, a four-night London extravaganza with VIP tickets to Bruce Springsteen and Billy Joel concerts and dinner at Clare Smyth's Core restaurant. A silent auction ran concurrently with the live one, with many more fabulous items up for bid.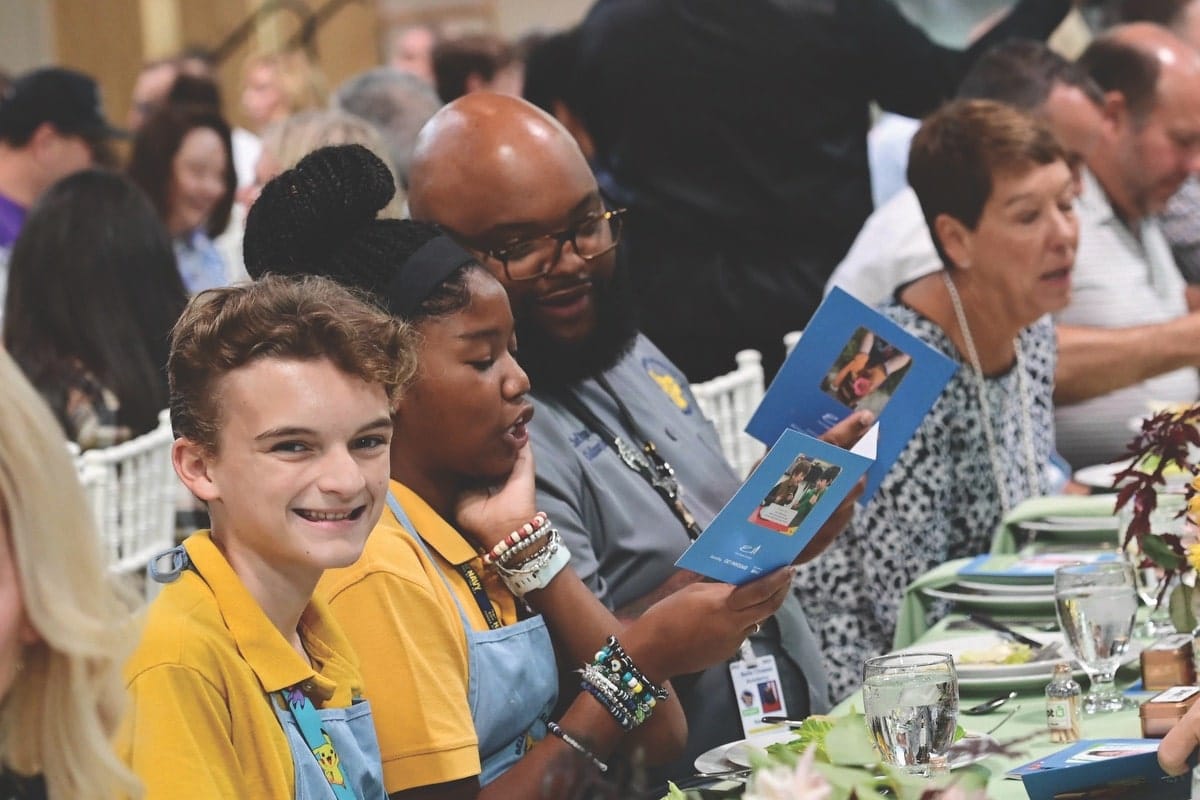 The dinner was billed as "classroom-to-table." NOCCA students worked with Chef David Slater, sommelier Johnny Slamon, and Chef Dana Tuohy to create the menu for the evening. Then, at the event, they worked with the chefs from the Windsor Court Hotel and Emeril's team to bring the menu to life. It featured smoked trout cheesecake and jumbo lump crab ravigote, Gulf snapper with fennel bread pudding and lobster, chicken roulade with black truffle gumbo sauce, balsamic braised beef short ribs with bone marrow, prune baked potato and cardamom carrots, and dark chocolate tart. Beautiful chocolates in tiny boxes were also offered as guests left. These were the work of students at Belle Chasse Academy, one of Emeril's Culinary Garden and Teaching Kitchen locations. As to the Culinary School and Garden program, Emeril noted, "We have eight around the country and are continuing to grow."
The auctioneer for the evening was DawnMarie Kotsonis, whose energy among auctioneers is unparalleled. Bidders were incredibly generous, and DawnMarie's fun coaxing helped steadily increase the overall total for the evening. Michael Haney of Black Dog Cellars was a guest auction reader. The evening wrapped up with classic rock performances by John Payne of Asia, Fran Cosmo of Boston, and John Elefante of Kansas (all names of their bands rather than the places).
Carnivale du Vin is still going strong after twenty years, as are the Emeril Lagasse Foundation and the chef himself. Emeril says his flagship New Orleans restaurant "has undergone a huge transition, and we are gearing up for a renovation in July." He has been working on this project with his son, EJ, the restaurant's chef patron. EJ is an accomplished chef in his own right, with culinary work experience that belies his years. Among the changes at Emeril's, the elder Lagasse says guests in the main dining room will have "a classic seasonal tasting menu," while a la carte dining is available in the salon. Emeril and EJ are also working on 34, a restaurant under construction slated for a late fall opening. This father-son partnership is the beginning of what's sure to be a family legacy, with the torch passing to EJ on many restaurant projects in the future as Emeril continues building his personal brand and supporting the foundation's many efforts.
Among Emeril's other restaurants are Meril in the New Orleans Warehouse District, his two Las Vegas restaurants (Delmonico Steakhouse in the Venetian and Emeril's New Orleans Fish House in the MGM Grand), and Emeril's Coastal Italian in Miramar Beach, Florida. In addition, Emeril's Table in the Louis Armstrong New Orleans International Airport was recently honored as the best local-inspired airport restaurant at the AX awards. Emeril also hosts the streaming series Emeril Cooks on Roku and is the new creative culinary director for Carnival Cruise Lines.
Emeril says he is "blessed to have a great team and great people who understand the goals and mission" of his foundation and many projects. His philosophy is to "get up every day and just try a little harder than the day before." He does that in his business, and it is clear that he does that when he gives back to the community, as well.
— V —
---
Visit Emeril.org to learn more about Carnivale du Vin and Emeril Lagasse Foundation's programs, or head to EmerilsRestaurants.com to learn more or make reservations at one of Emeril's establishments.
ARTICLE CATEGORIES