christian siriano soars
by emme martin | photography by tim lenz
Fashion's influence on interior design is undeniable, especially in our modern-day renaissance era, as some might describe it. Cue the rise of antique-inspired pieces, nostalgia-fueled fashion, and the growing popularity of cozy textiles like bouclé in furnishings—undoubtedly a result of people wearing their comfiest "work from home" ensembles for the past couple of years. There's no denying it; the home and apparel industries are tightly knit, so when renowned fashion designer Christian Siriano enters the interiors scene, it's best to pay attention.
Growing up surrounded by women—he has listed his mother, sister, and friends as inspirations throughout his career—Siriano was always drawn to dressing as an art form. In high school, between working as a hair washer at Bubbles Salon in Annapolis and designing costumes for school plays, a fire was lit in the young creator as he became inspired to pursue a career in the arts. That flame was further stoked through internships with sartorial icons Vivienne Westwood and Alexander McQueen when Siriano attended college abroad in London. Later, in 2008, he took his learnings into Season 4 of Project Runway, becoming the youngest designer to win the show, and went on to open his eponymous collection that same year. Over a decade later, it's safe to say his light has not dimmed.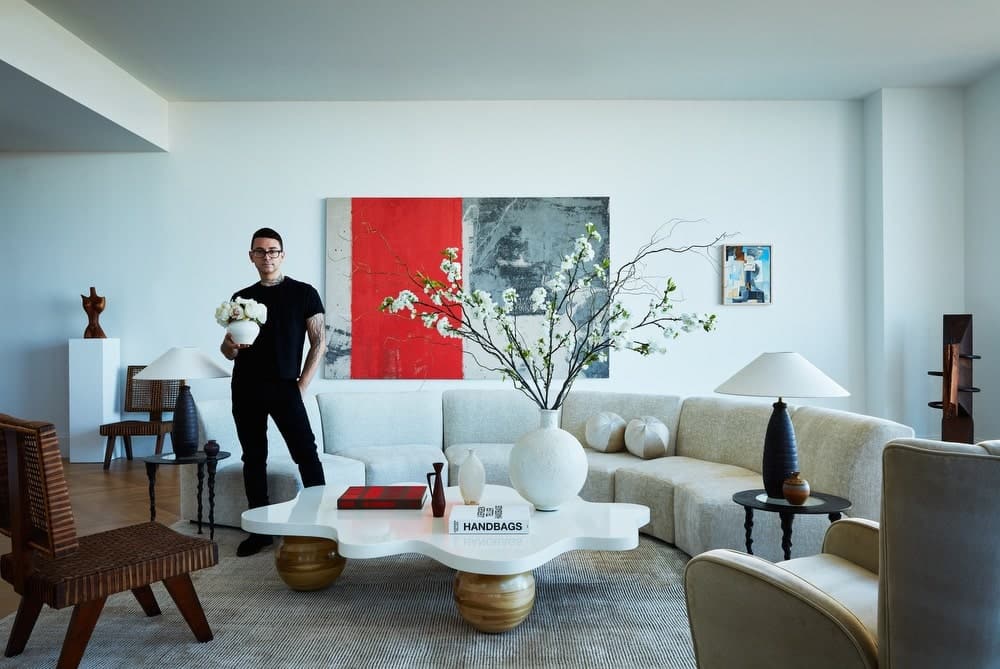 Siriano's trademark lies in his bold and whimsical designs gracing the runways of New York City and showrooms of Paris. He's dressed the biggest names in Hollywood, leaving one remiss to find a prestigious red carpet without one of his showstopping looks on it. The prolific designer now details his newest venture, Siriano Interiors, which has already reached impressive heights since he started it in 2019.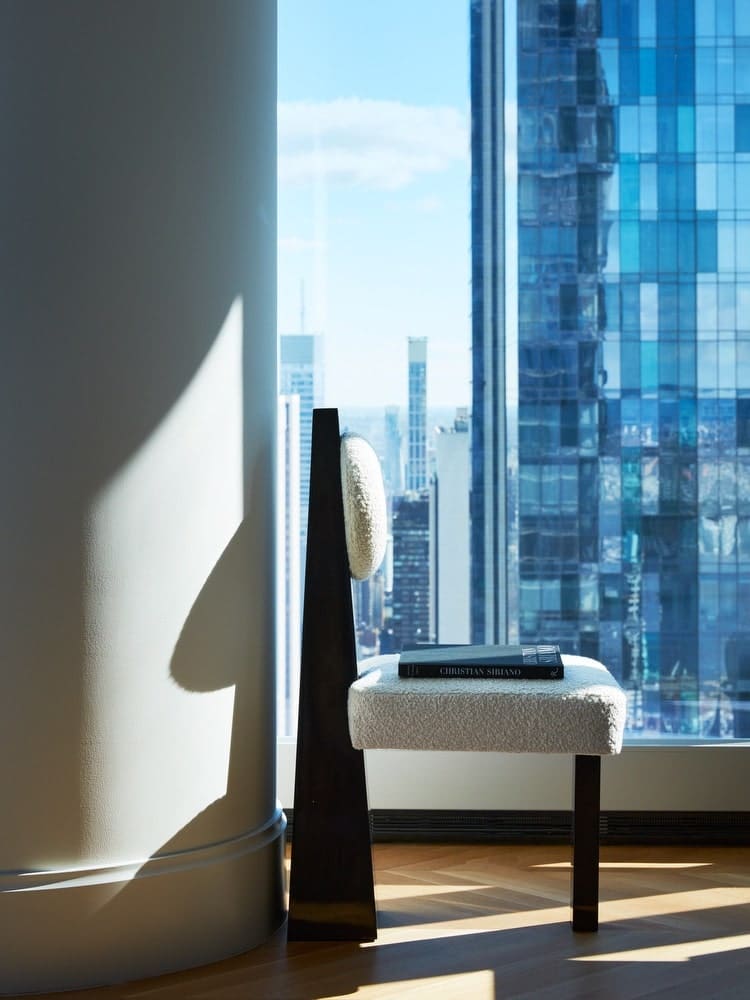 Those who follow the celebrated designer know this is not the first time he's receiving attention for his interior design prowess, as his personal homes have earned praise for years. VIE photographed his Connecticut cottage in 2016, and Architectural Digest featured his new modern pad in 2020, among other paramount publications, solidifying the star's interior work as a force to be reckoned with. Now he's taking his skill set outside his own home.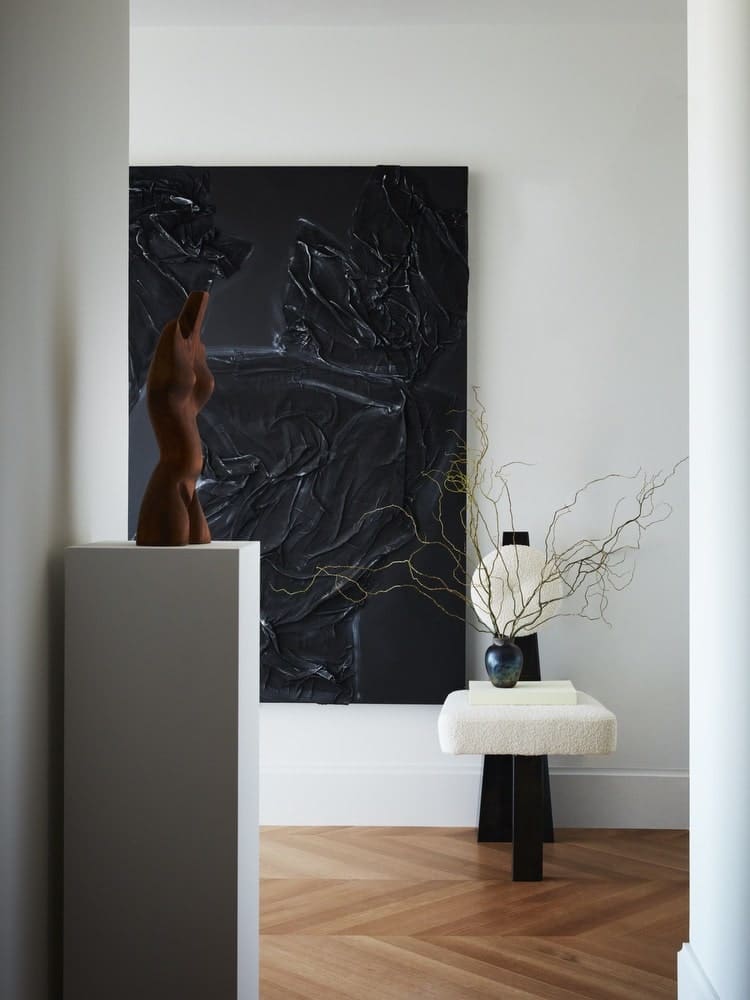 With various commercial and residential projects under his belt and in the works, including the Inn of Chagrin Falls in Ohio set to unveil this spring, Siriano also spearheaded the design of a lavish private residence in Manhattan that graces the cover of this issue. The impressive space is the part-time home of a cosmopolitan couple who gave Siriano free rein over the project. The couple explains, "We chose Christian to design our space for his eclectic design ability and the way he can make a modern space feel like a home." While always up for a challenge, Siriano notes the most significant test was balancing the limelight between the apartment's interiors and the impressive city and Central Park views—an elevated task in the world's tallest residential building at present.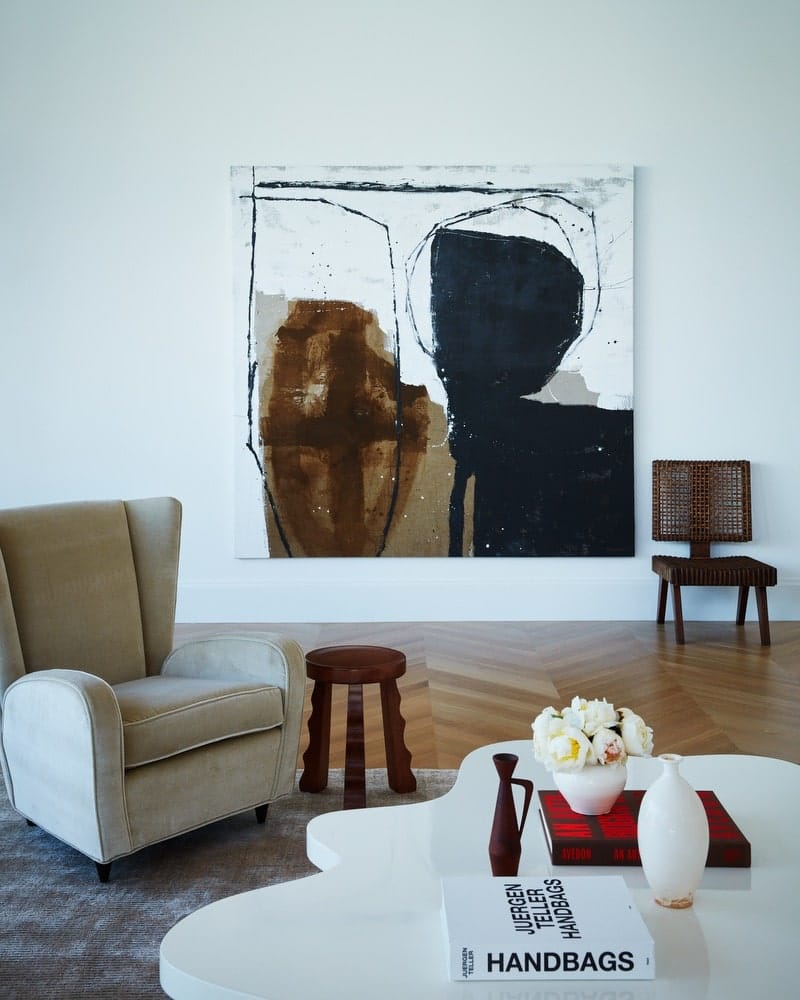 Despite the modern structure, Siriano wanted the space to feel warm, which he achieved through a highly selective approach and a keen eye for artisan treasures. An art connoisseur and creator himself, the star discovered Connecticut-based artist Meighan Morrison's work and fell in love with a bold red, white, and black painting that became the focal point and guiding palette for this project (see magazine cover). "Finding that piece was the kicking-off point," he says, adding that discovering "one great moment" to build upon is similar to his approach to fashion design. It makes sense, as he's made a name for himself through his ability to create a moment on the runway.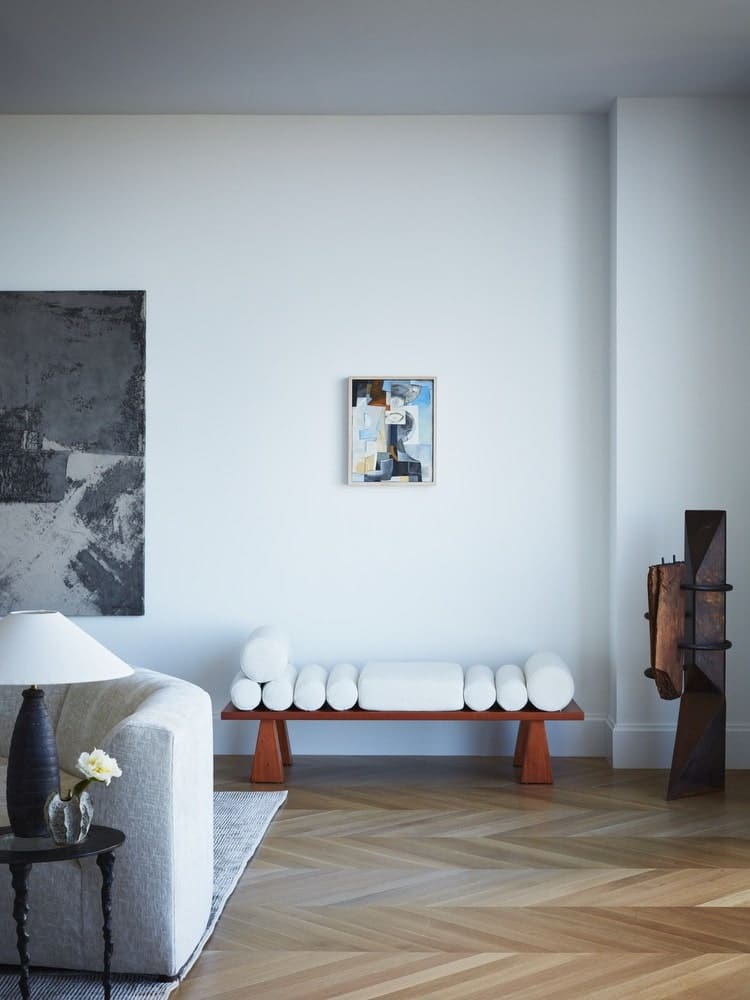 The apartment contains a diverse mix of art and sculpture, including one of Siriano's paintings in the entryway and some intriguing vintage pieces. Many of the vignettes and accent pieces found in the space result from his love for scouring antique markets around the world—an activity he claims brings him peace. One of his most special finds is the wooden bust overlooking the window. Siriano discloses its serendipitous backstory: "That piece is actually from the 1940s. I got it from an auction in Paris eight years ago and held it forever until it found a home here."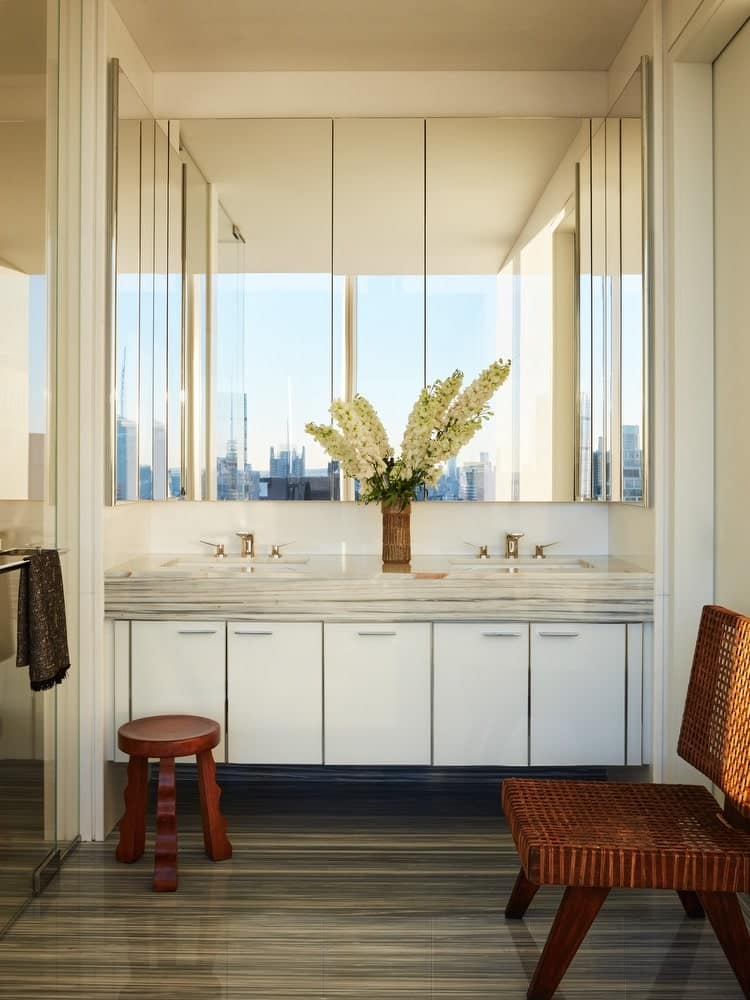 His love of mixing old and new styles is evident as he claims people love things with a bit of history. However, striking the right balance is essential. "The dining room is all custom Siriano Interiors furniture, but we reupholstered the owners' original club chairs in the living room. I like to design that way, creating something new but honoring great classic pieces."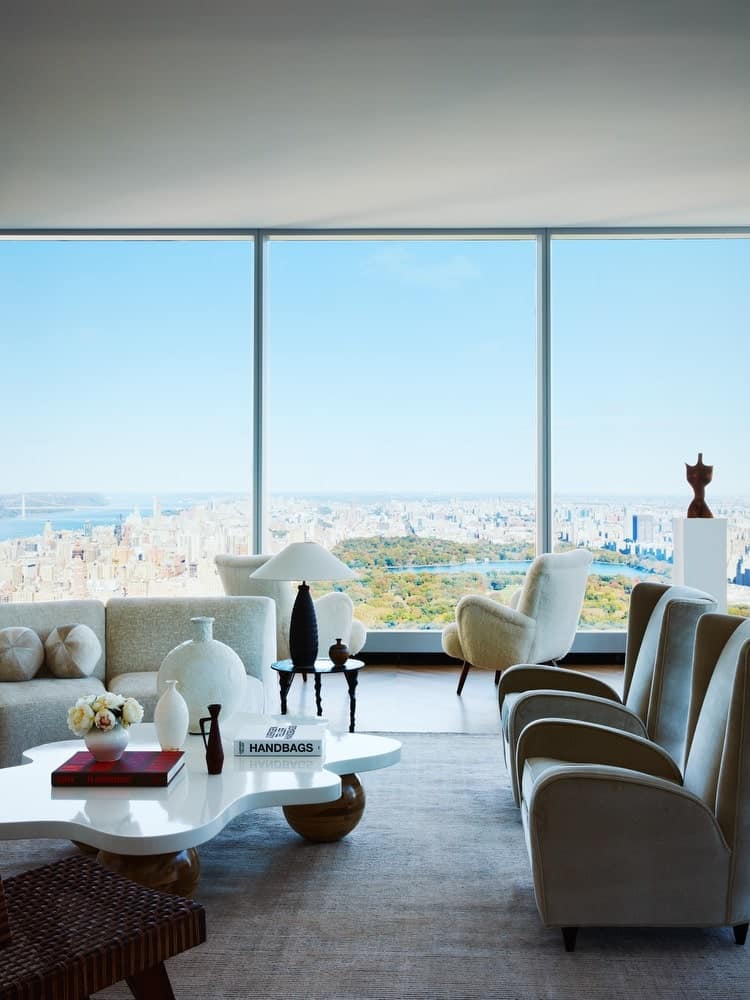 He divulges more of his tactics when he explains that he first drew the coffee table on a scrap piece of paper. The designer laughs when he tells the story of presenting the tiny strip to his manufacturer, who he claims is like family. They met him with, "Are you sure?" Of course, he was.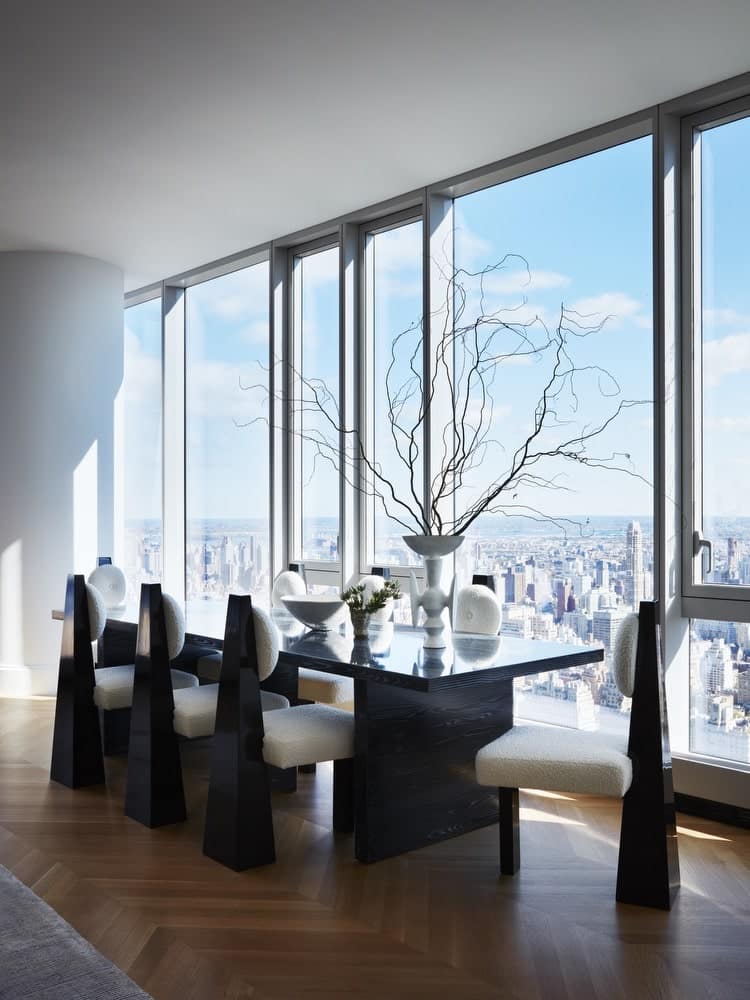 In addition to the custom pieces, bespoke furnishings from his first retail collection are sprinkled throughout the space, including the Lily Stool in ivory bouclé, inspired by the star's favorite childhood candy, gumdrops. Speaking of unconventional shapes, Siriano swears the Lula Chairs in the dining room are more comfortable than they look, adding, "I love an element of surprise." His Lennox Stools and the eye-catching Lennon Daybed also appear in the swanky abode. Custom or sourced, all of the mixed furniture styles in the space create a bold yet cohesive impression throughout the apartment.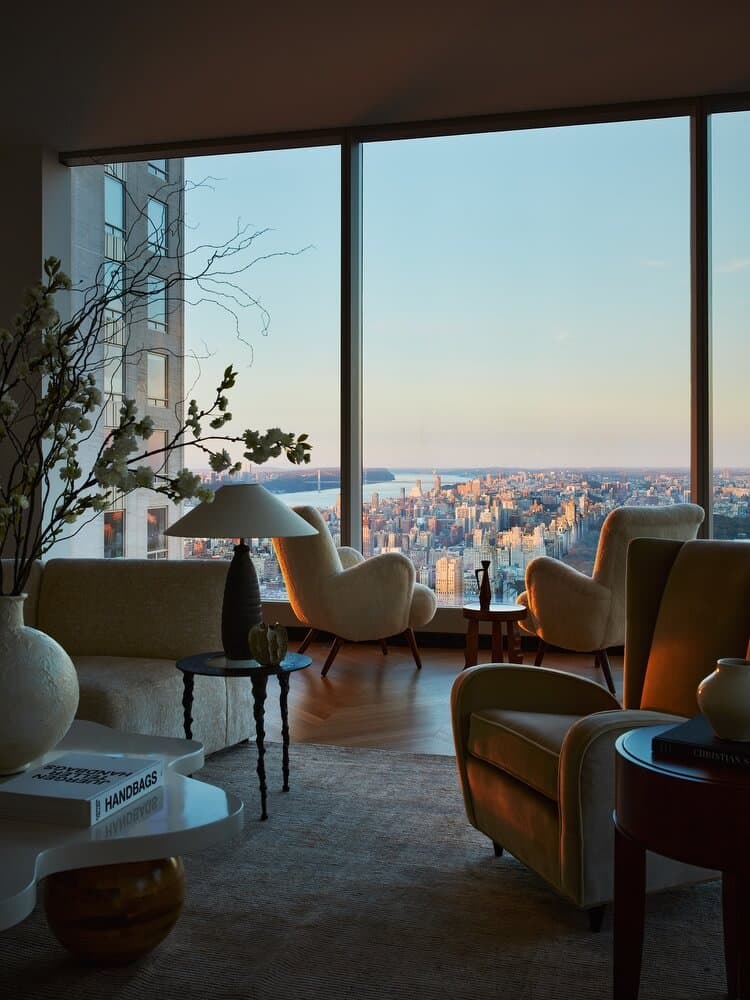 The thirty-six-year-old beams as he speaks about creating something beautiful from nothing—revealing his creative genius through his inherent zeal. Examining the similarities between designing an outfit and a piece of furniture, he describes, "First, I start with the fabric choice, then work on the silhouette." He subsequently compares the idea of a curved armrest to a curved sleeve on a dress.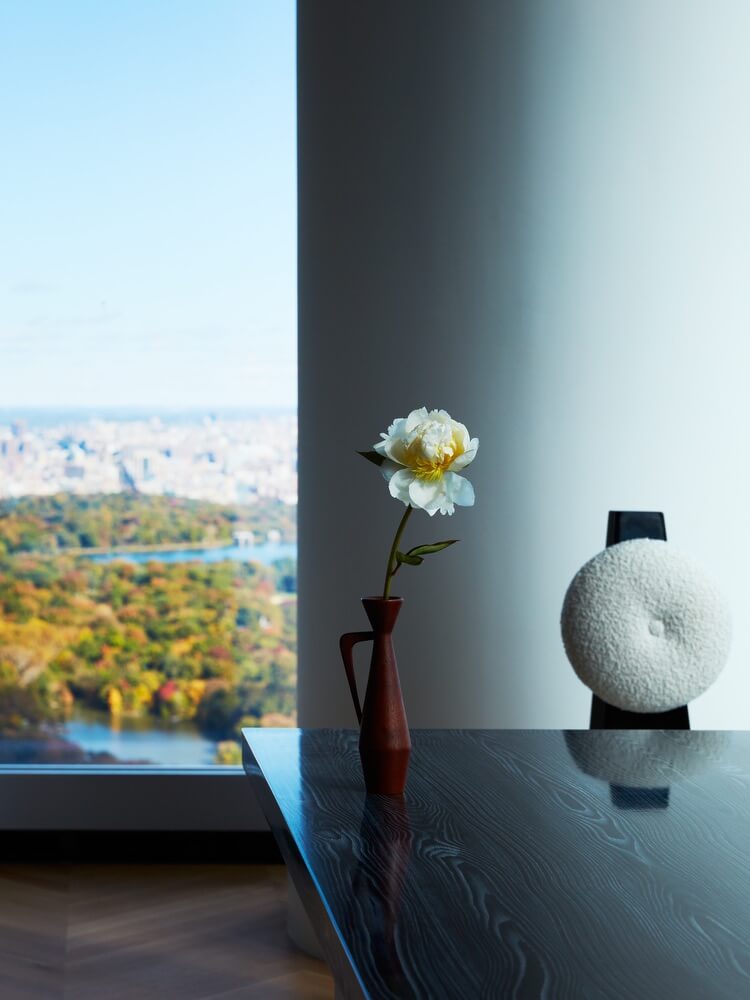 As for the differences between his two professions, his furniture line refrains from his usual bold color palette seen on the runway. A decision he made for good reason, "Because I work with so much color all the time, making fuchsia ball gowns or lime-green tulle dresses, I wanted to keep a more soothing furniture palette—I think I need it." But he admits a colorful line is a possibility in the future, keeping us all on our toes for what's next.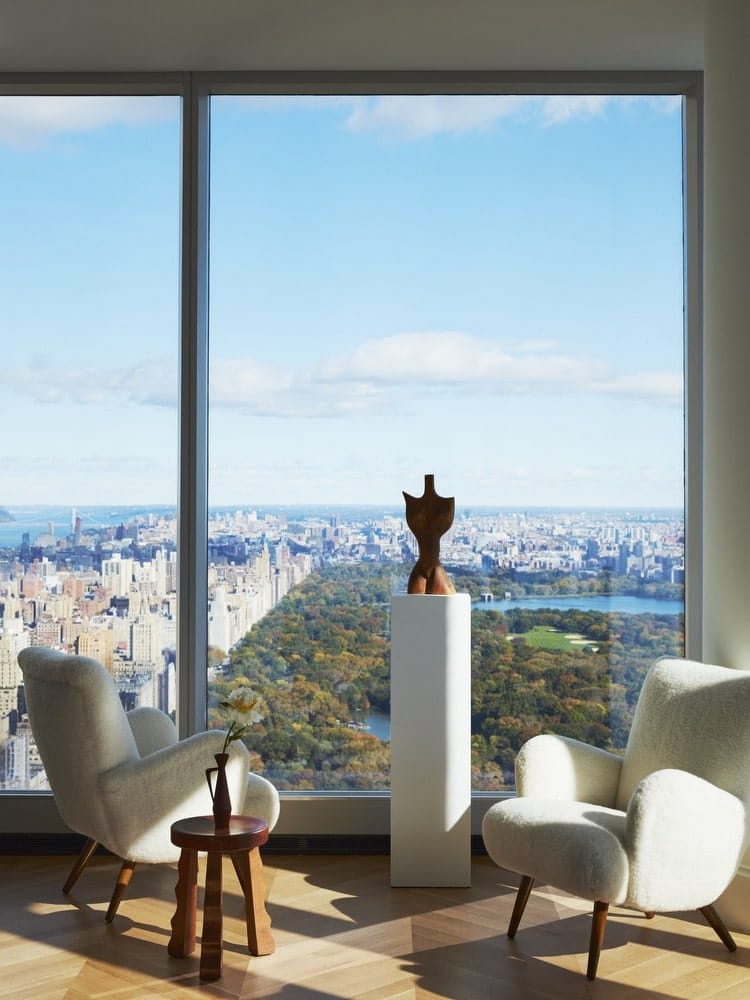 I feel like my furniture needed to have personality, a talking point if you would say.
Siriano relates his hands-on approach to his interior projects to the early days of his fashion business, reminiscing about the grind of building his empire. "It's like a baby that you want to grow up and become successful." He emphasizes how lucky he feels to have found a core interior design team that works so well together, adding he finds ease in the closeness of having a small group.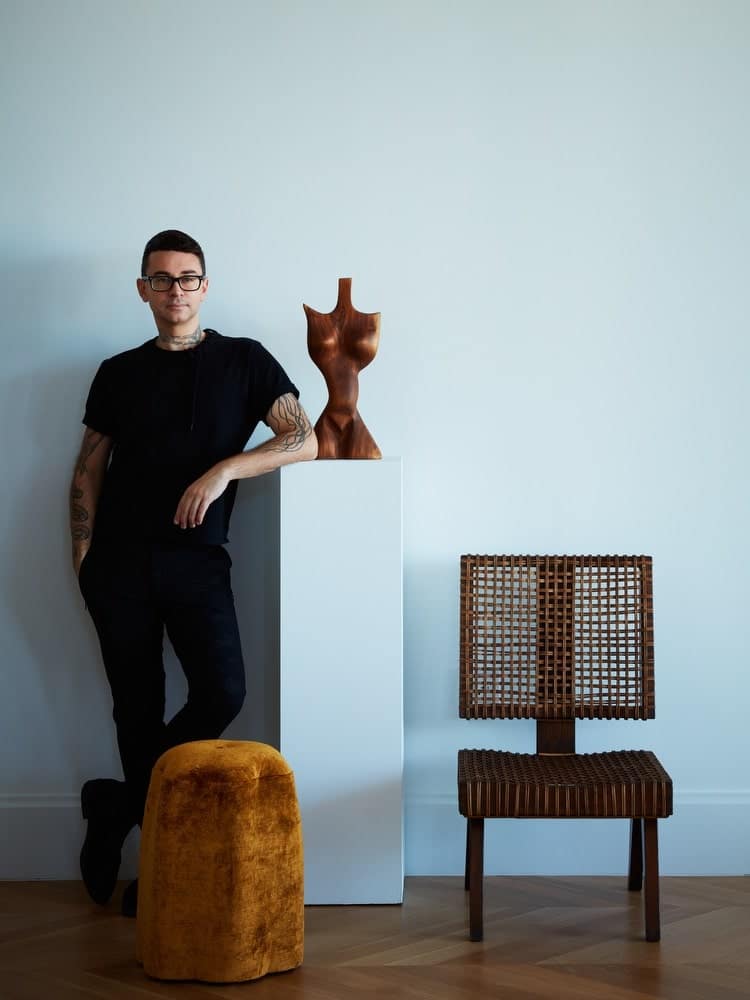 The trailblazer's vision has been in the works for some time. He credits his passion for furniture and decor to his mother, who constantly changed the drapes, couch coverings, and details in their house as he grew up. "I always thought that was a really interesting craft." He also received much inspiration from 1950s and '60s furniture styles and Italian and French influences, underlining his love for statement pieces. "I feel like my furniture needs to have personality. It's a talking point, you might say." Ironically, Siriano's creations being a talking point goes without saying.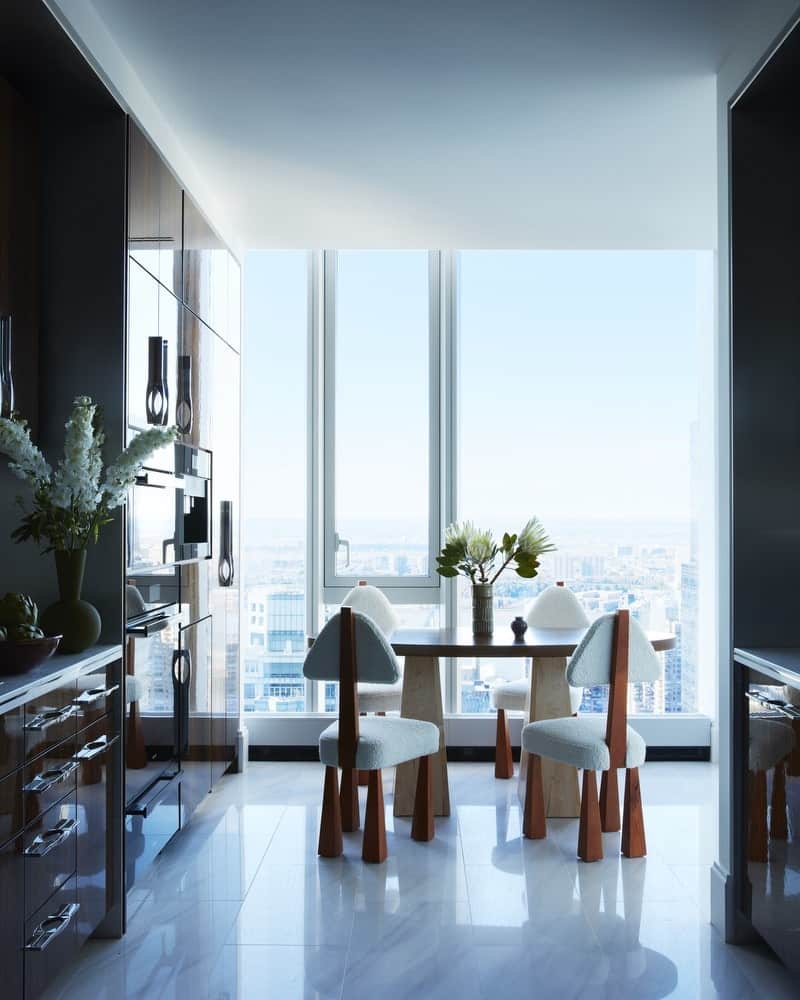 With a second furniture collection set to unveil soon and multiple large- and small-scale interior projects in process, Siriano seems to have an endless stream of new ideas. His seeming ease toward his latest endeavor is admirable. In the beginning, a new venture is never simple, but Siriano's passion for the work certainly shows in each breathtaking outcome. He notes that he doesn't design to please anyone but his clients, admitting he knows his style isn't for everyone, and maybe that's the secret to his success.
— V —
---
Visit 1stdibs.com or SirianoInteriors.com to purchase Siriano's furniture or view more of his work. You can also keep up with Christian on Instagram @csiriano and @sirianointeriors.
ARTICLE CATEGORIES