Sarah Elizabeth & Phillip
March 24, 2017
When Sarah Elizabeth Dewey and Phillip Petitto met on New Year's Eve in 2013, neither of them imagined finding a soul mate that night. But there was a spark amid the revelry that had nothing to do with the fireworks.
Our Love Story
Phillip and I met on New Year's Eve in 2013 via mutual friends in New Orleans (it was the dreaded setup). We were seated next to each other at a big group dinner. After a few months of heavy courtship, we decided to see each other exclusively. From then on, it was nothing but fun, and I can't imagine life without him now.
The proposal happened on Friday, March 4, 2016. We were supposed to be attending an event I had committed to, so we were dressed for a night out on the town. We met friends for drinks at a little bar on Magazine Street. A friend of mine who was supposed to be meeting us gave me a call and said she had hit a car in the parking lot (oh, the drama) and we needed to help her. (This particular friend also helped plan the proposal and later became my wedding planner.) We walked down the street and turned the corner; flowers, candles, and champagne were set up in front of my favorite building in the city (which happens to be right across from where we got married). Phillip dropped to one knee, and the rest is history. We took a pedicab (we had taken a pedicab on our first date!) to Brennan's in the French Quarter, where our family and friends met us for a fabulous dinner in the King's Room. It was the perfect night.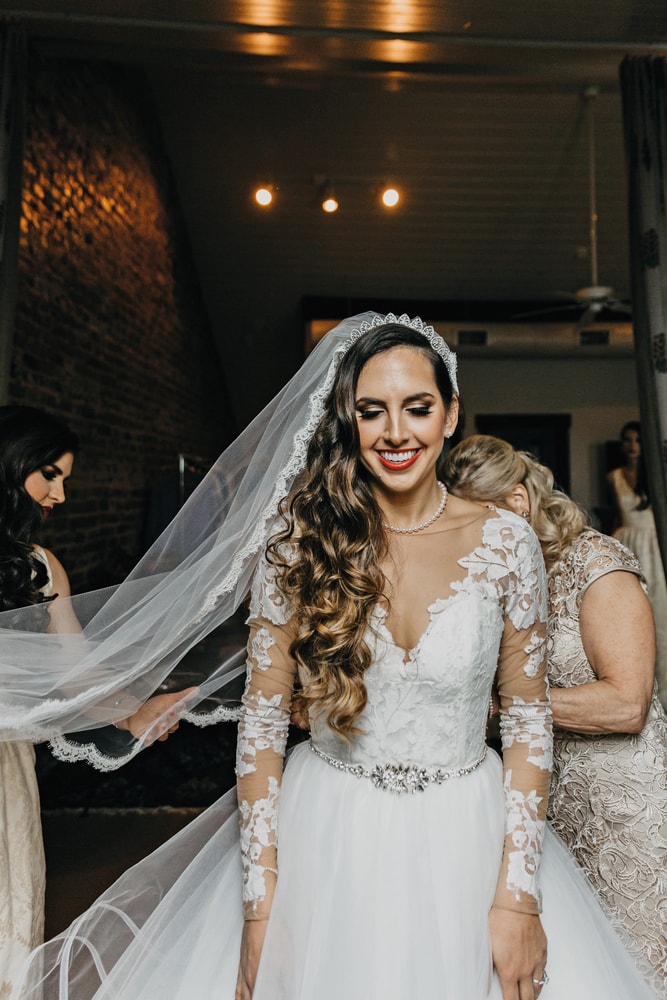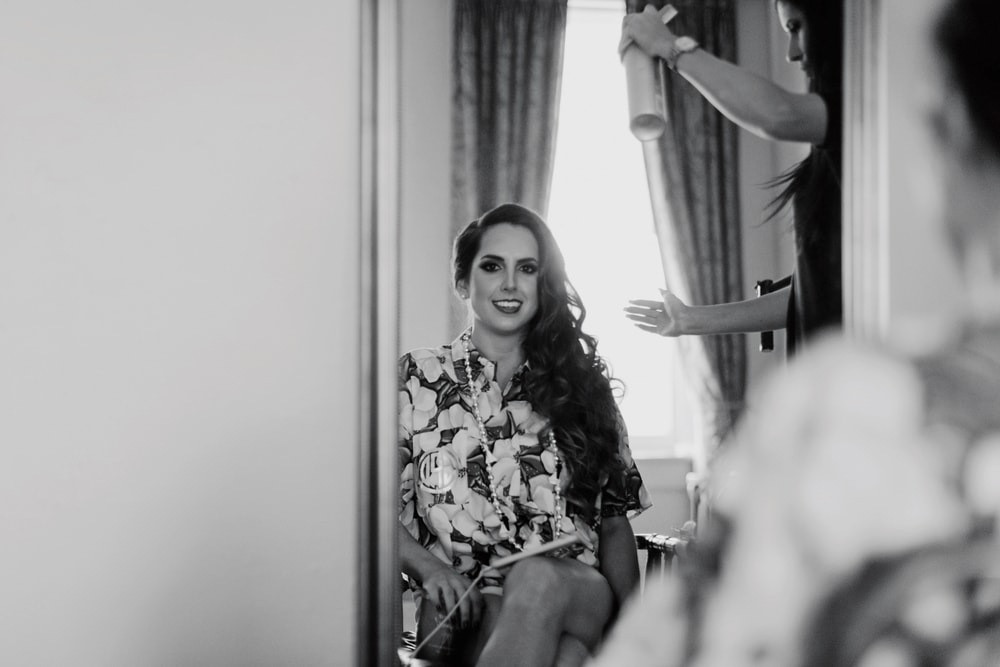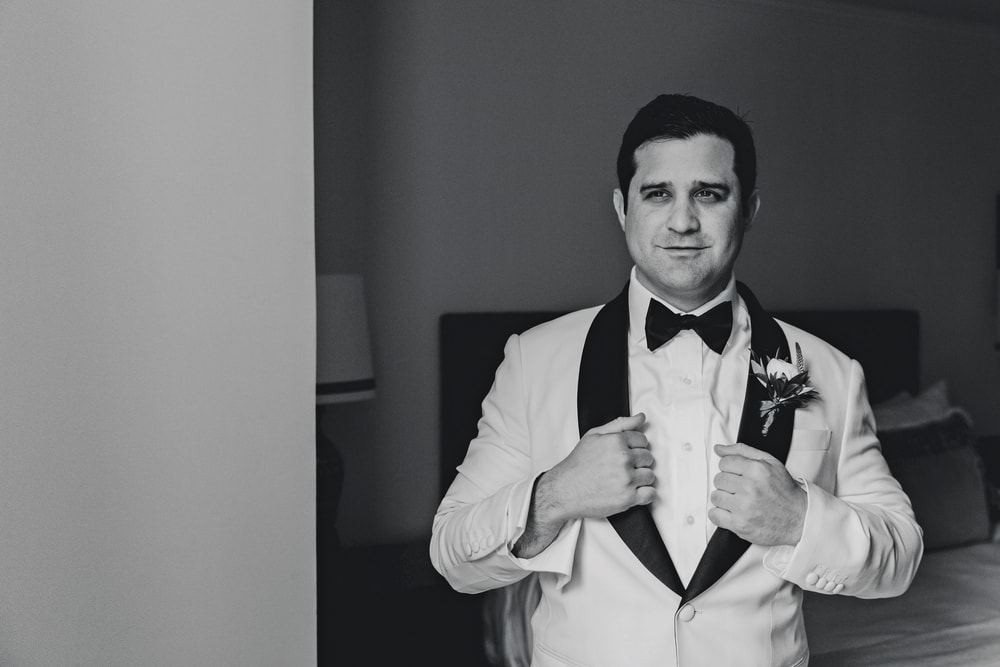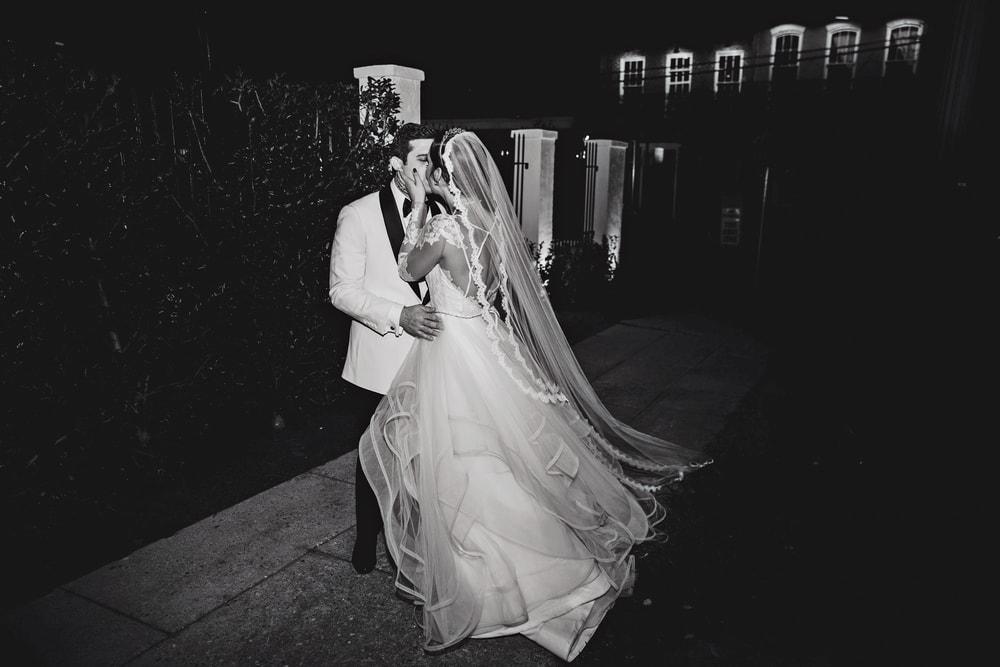 The Plans
We knew right away what church we wanted for the ceremony. Saint Mary's Assumption Church is one of the oldest churches in the city, and the altar is stunningly beautiful. Il Mercato was the perfect fit for the Sicilian-style wedding reception we were planning, and it was just a few blocks away from the church.
For the decor, I started by writing down the feel I wanted our guests to get when they attended our wedding: sophisticated, cultured, warm, and timeless. I knew I wanted to incorporate gold, ivory, white, green, and a touch of different red tones. I also knew I wanted to be swimming in olive branches. We started there and built up: the palette was based on light and dark greens from the olive branches, which we draped all across the wedding, used in the bouquets, and placed on the chandeliers.
The decor was playful yet timeless and came together in the most beautiful way.
From there, we chose champagne brocade bridesmaid dresses (designed by Jolie and Elizabeth, my fashion brand) and gold candelabras and gold lanterns. We even hand painted some of the olive branches with gold and platinum to tie them into the decor. Then we added white and ivory in the lighting, linens, cake, and more. I wanted to incorporate a very Italian feel with red, green, and white as a secondary color story. The bridal party wore red lipstick and red nails, and we had handmade red cake pulls, red, green, and white boas, and Italian flags. The decor was playful yet timeless and came together in the most beautiful way.
Planning was the most amazing experience, thanks to Sarah Worsley of Mint Julep productions and our parents. I don't know how couples plan a wedding without a planner, especially a big New Orleans wedding. From the menu tastings to the floral and lighting appointments, the champagne was flowing and we had a blast!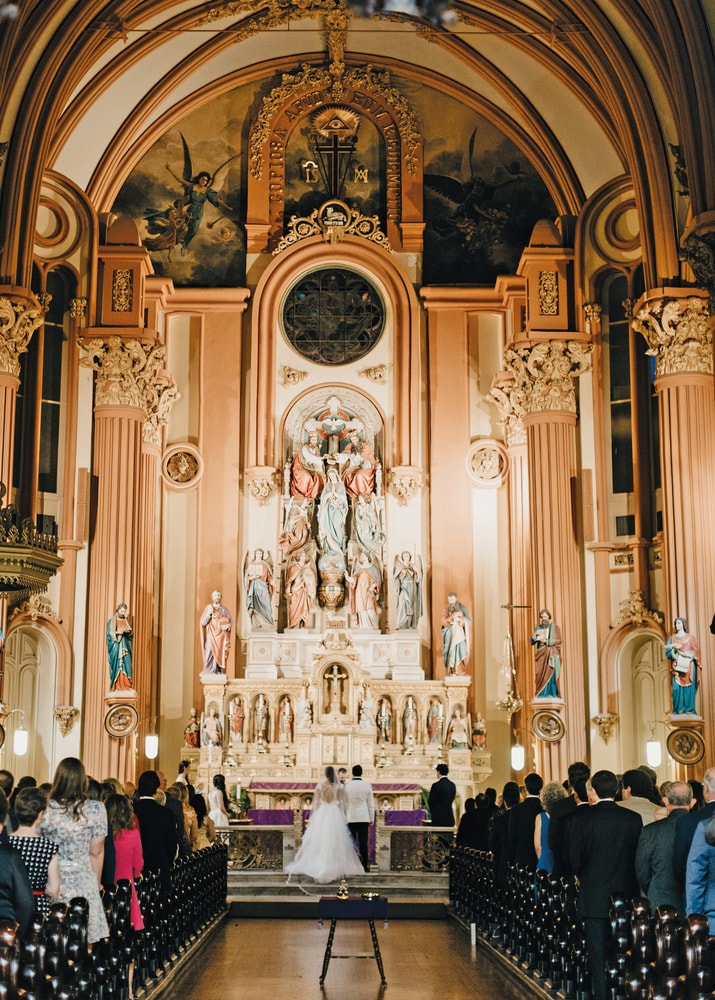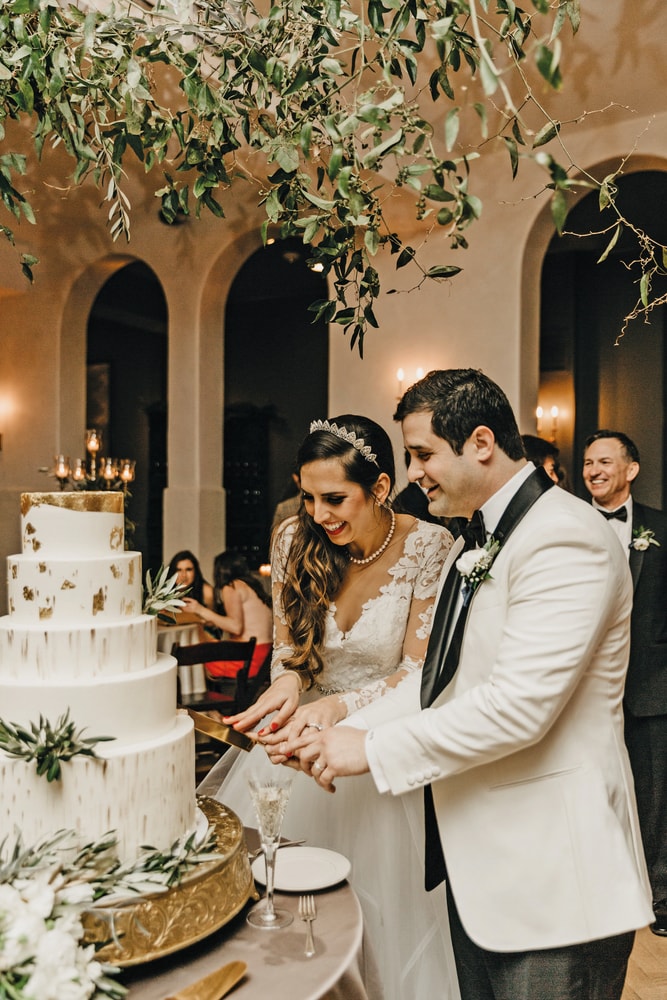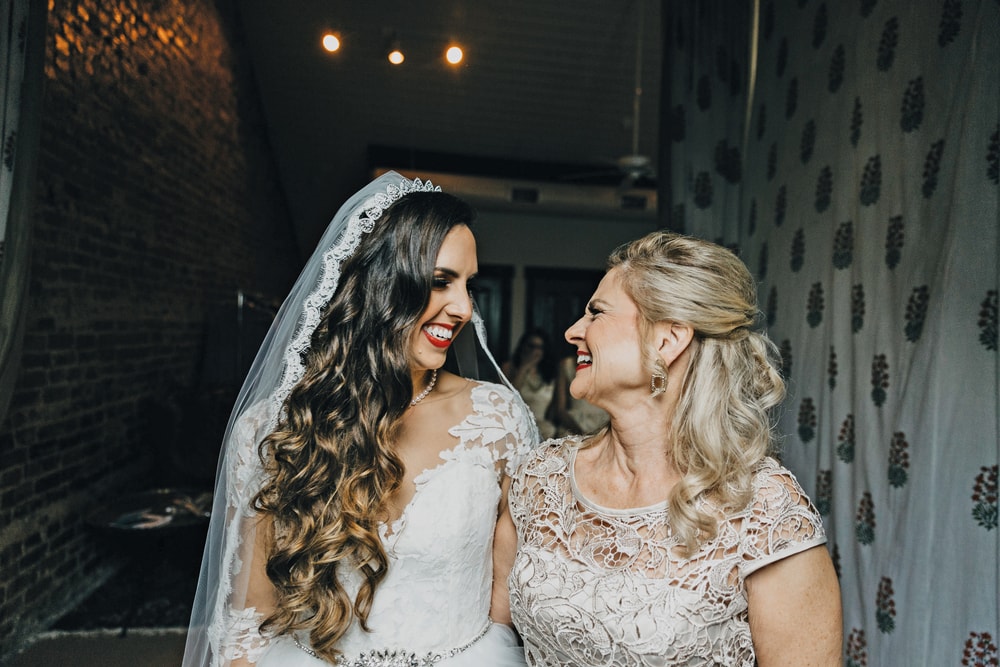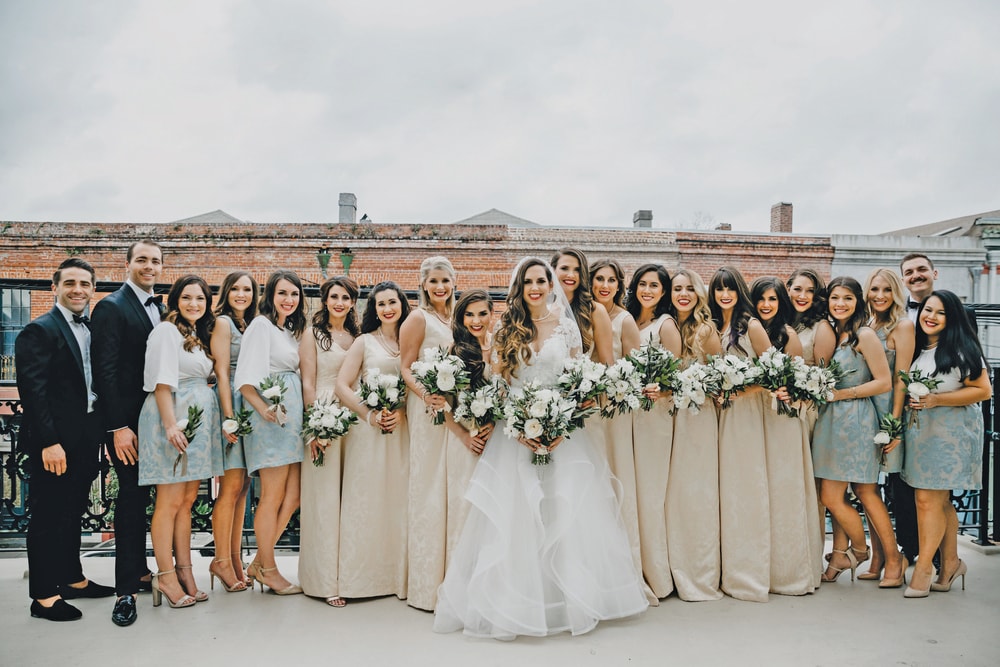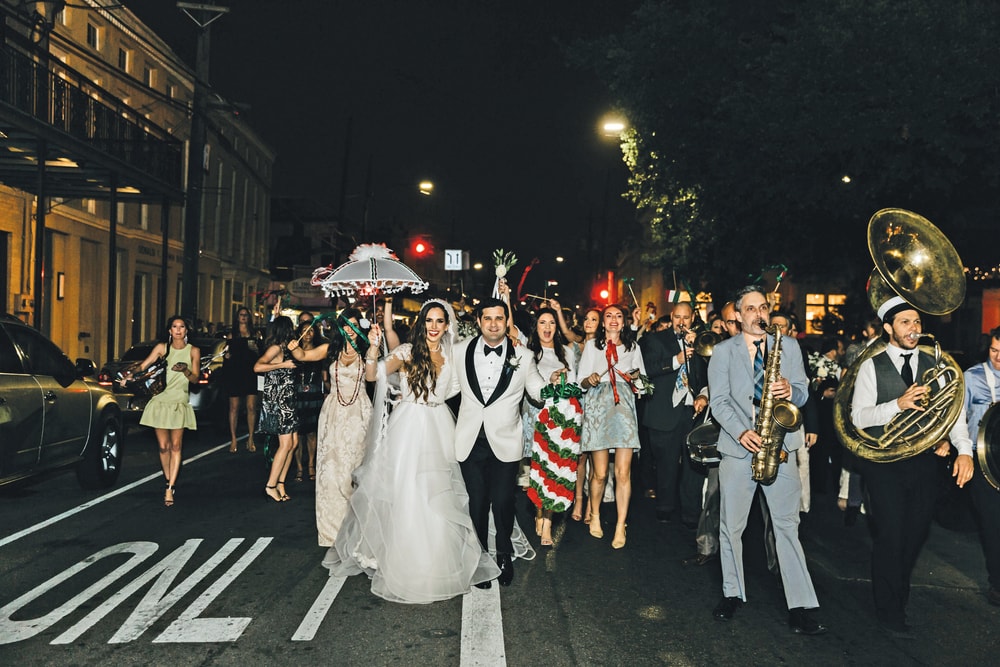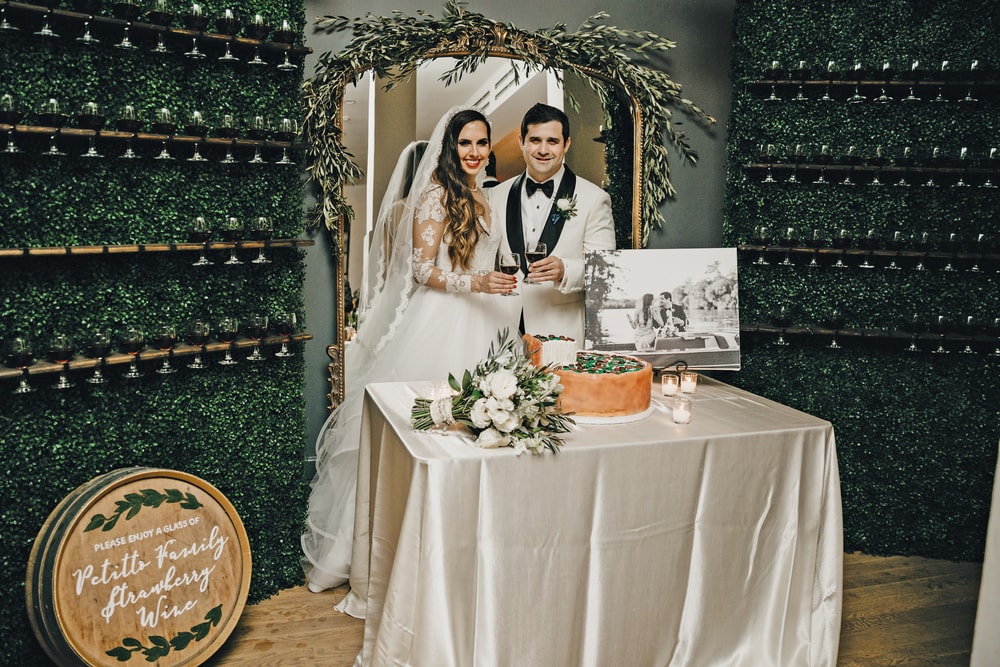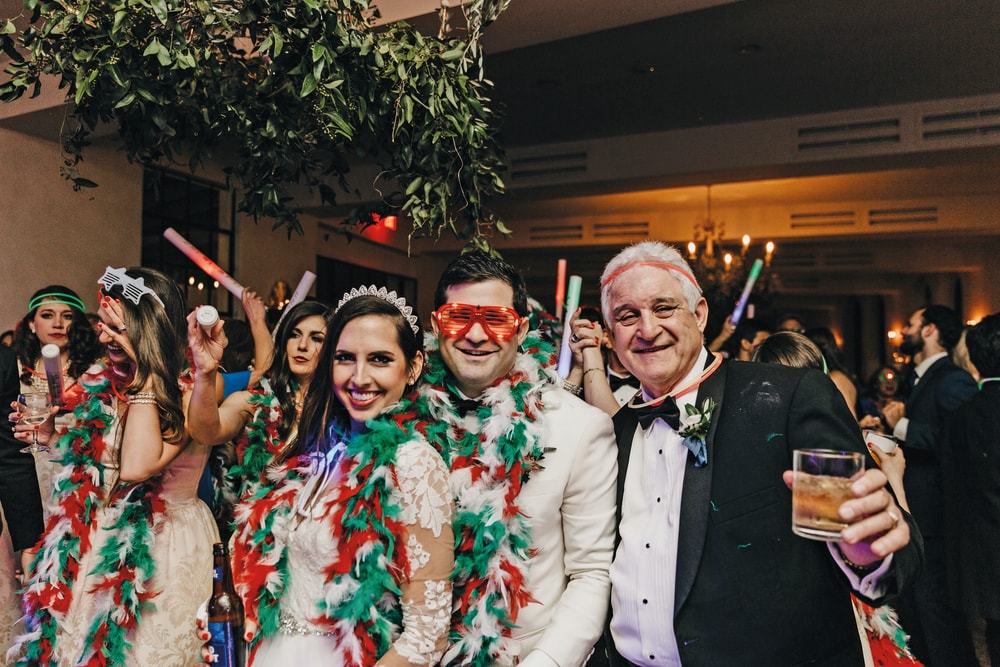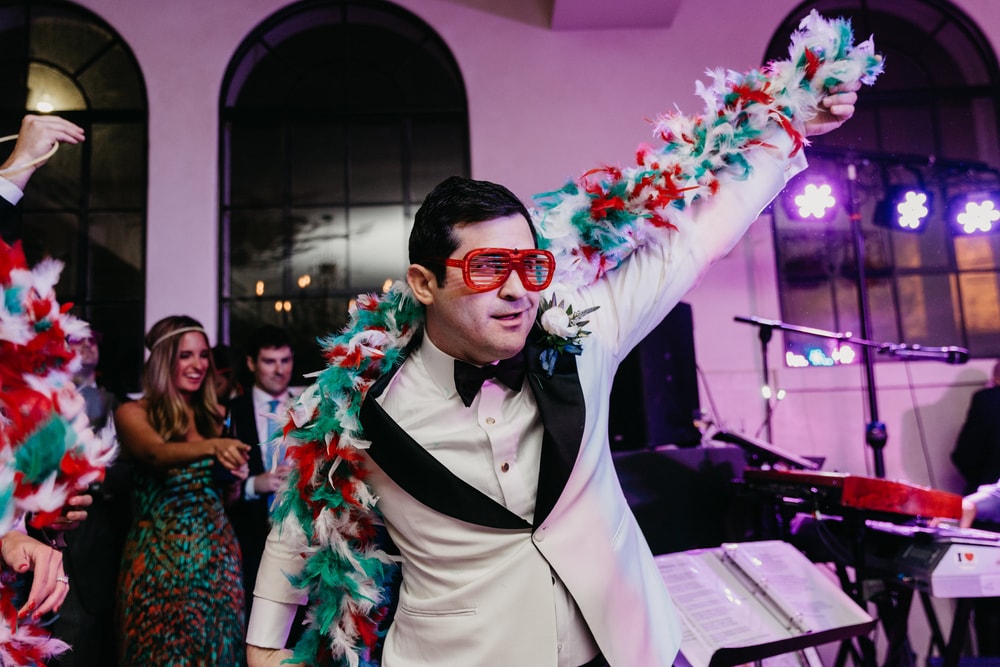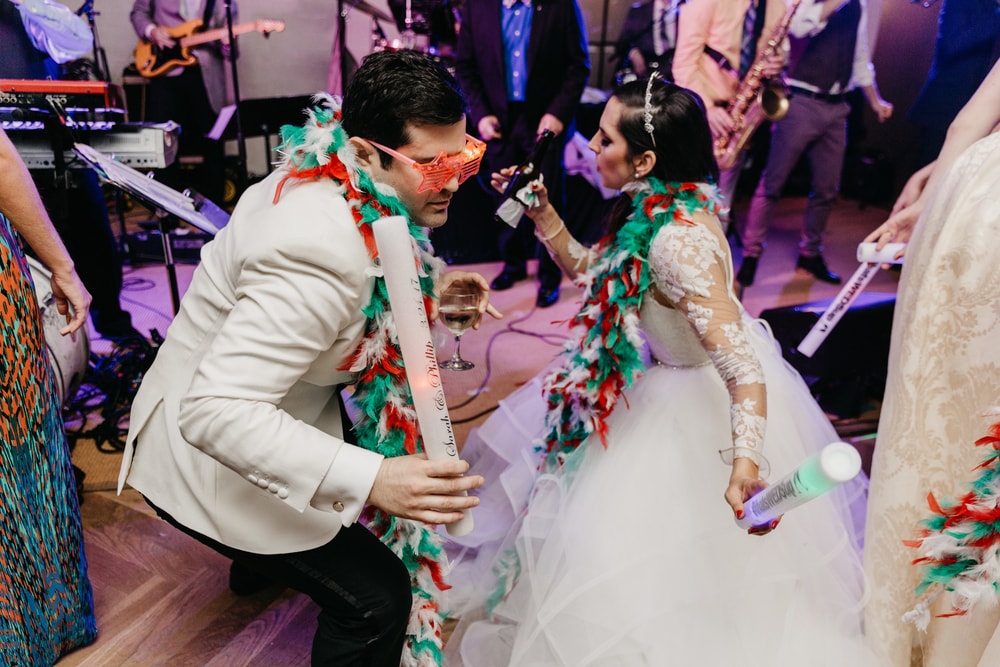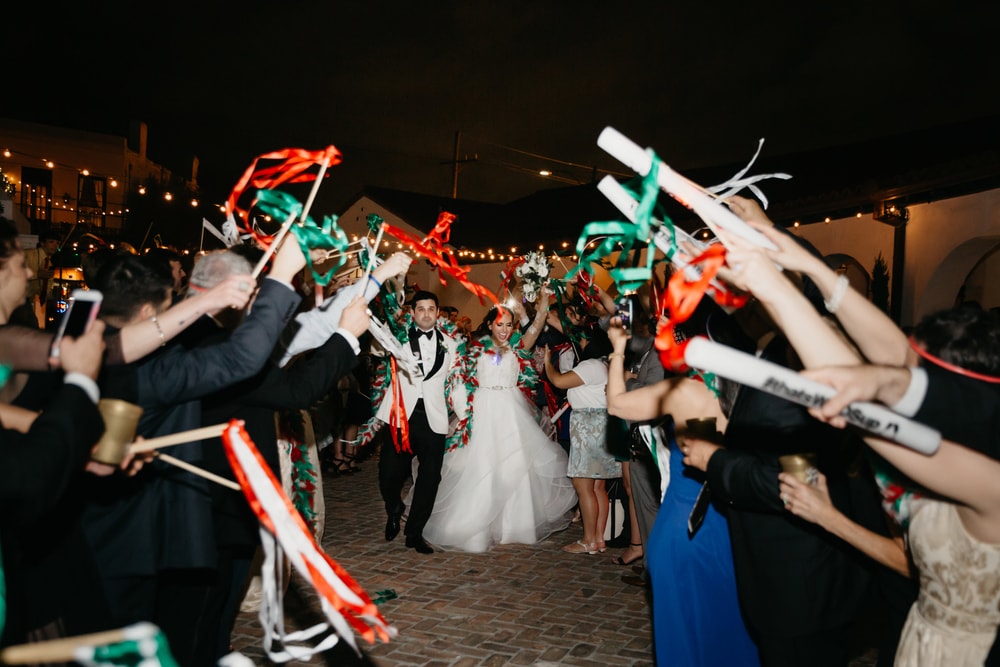 Our Big Day
Some highlights from our ceremony included Father Reuben C. Dykes officiating the wedding ceremony—he and Phillip went to college together. Phillip's father played "Ave Maria" as a guitar solo while Phillip and I presented flowers to Mary. We were also presented with a papal blessing from Pope Francis. The ceremony ended with an Italian-style second line parade out of the church and down Magazine Street to Il Mercato.
The reception was a blast, and Phillip and I kicked off the party by dancing to "Every Little Thing She Does Is Magic" by the Police. There was a lot of music, including the singing of "Che La Luna" in Italian by Phillip's father. Strawberry wine was served from the Petitto family's strawberry farms, and late-night pizza was passed. We exited through a sea of red, white, and green Italian flags and streamers while being serenaded by an a cappella band.
We honeymooned in Saint Lucia at Sugar Beach Resort. The food was amazing, it's small and intimate, the weather there is perfect in March, and it was a short flight for us from New Orleans!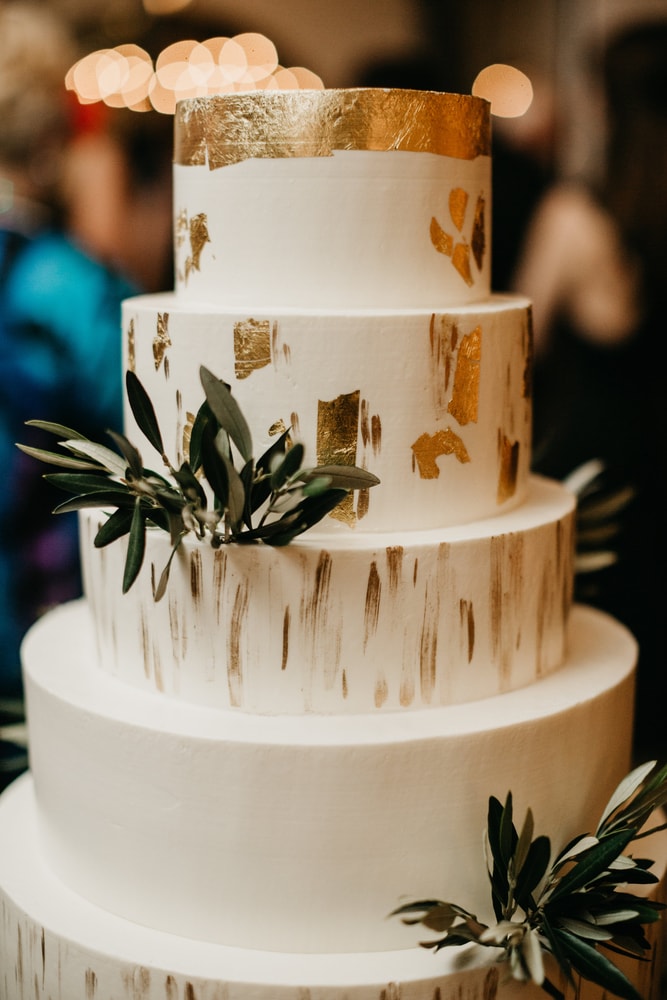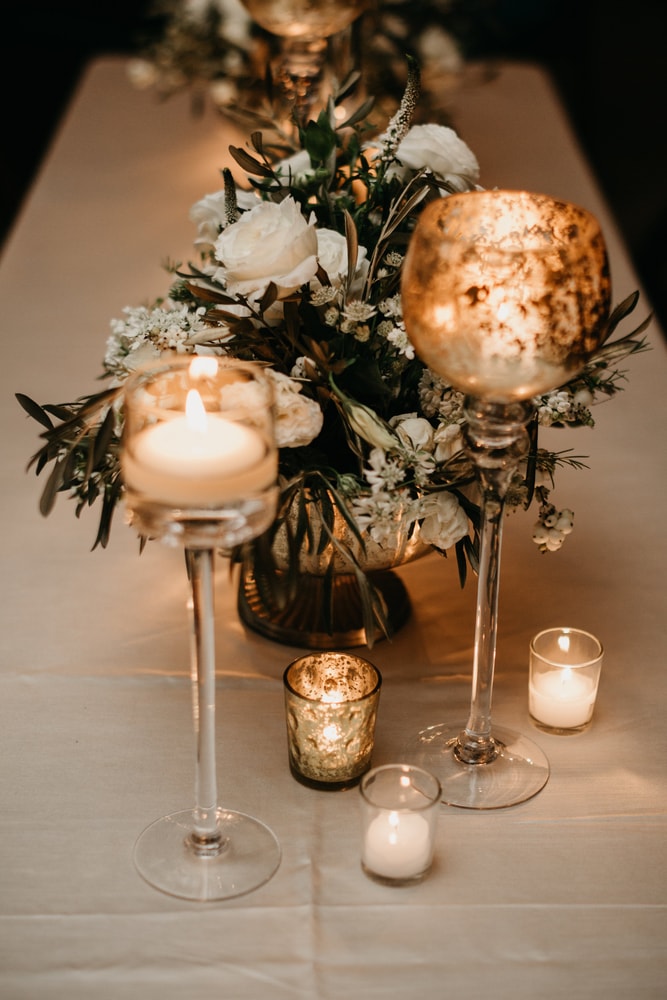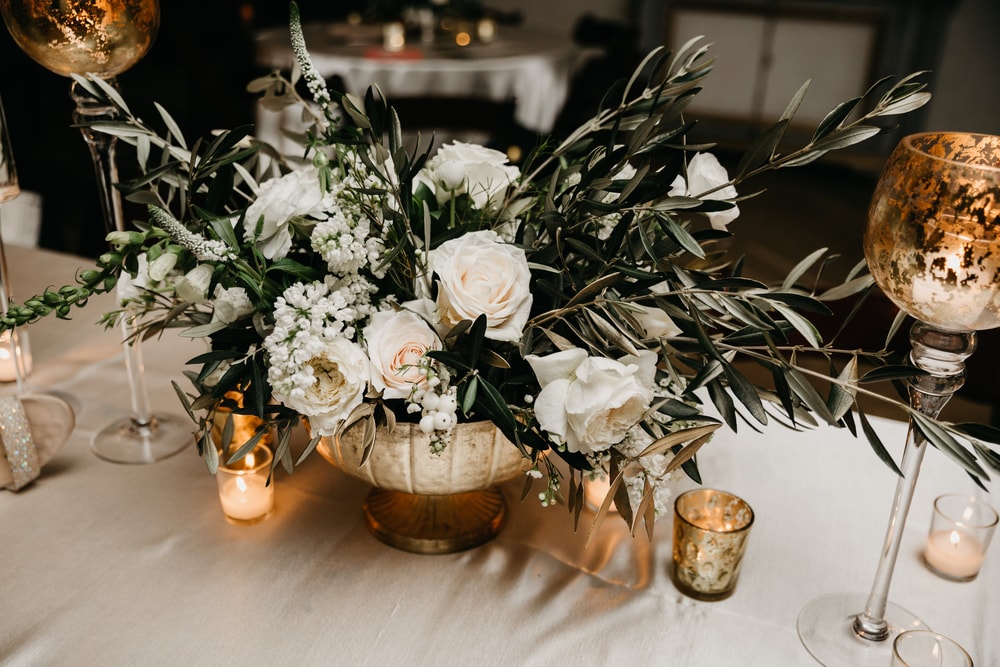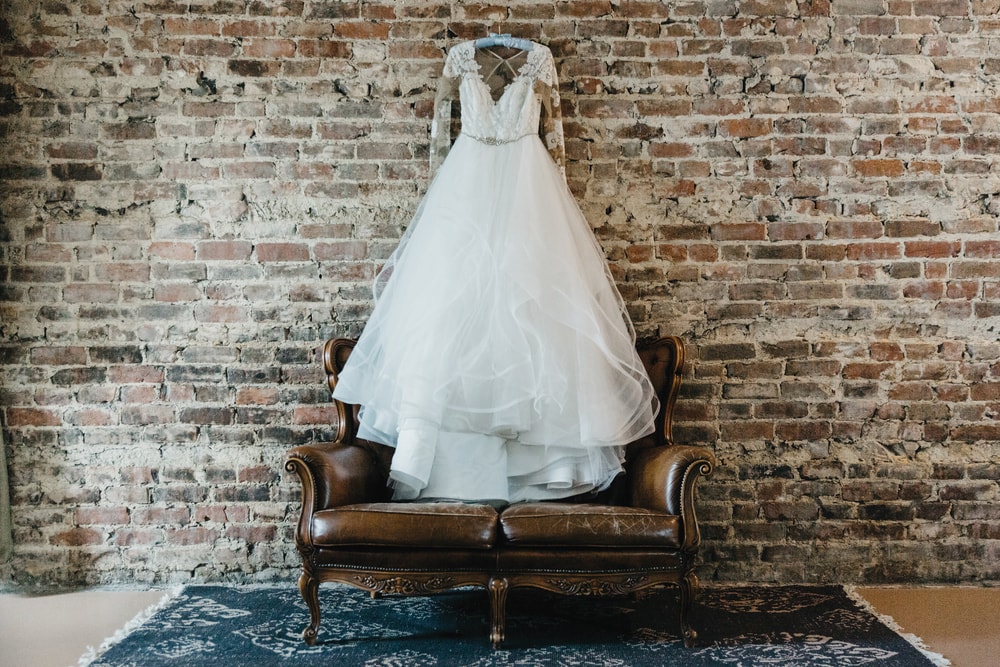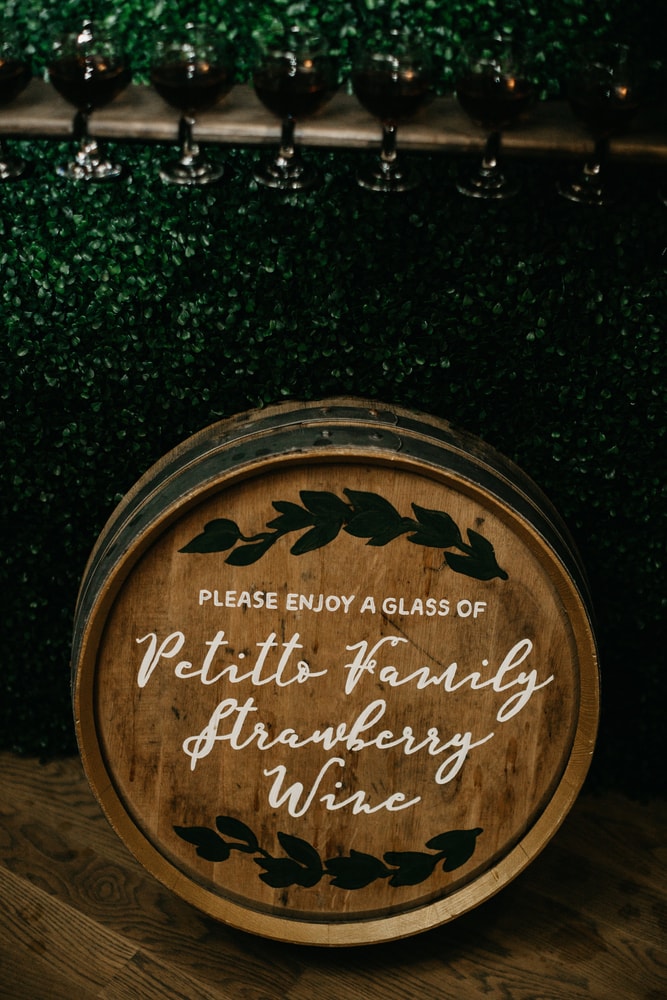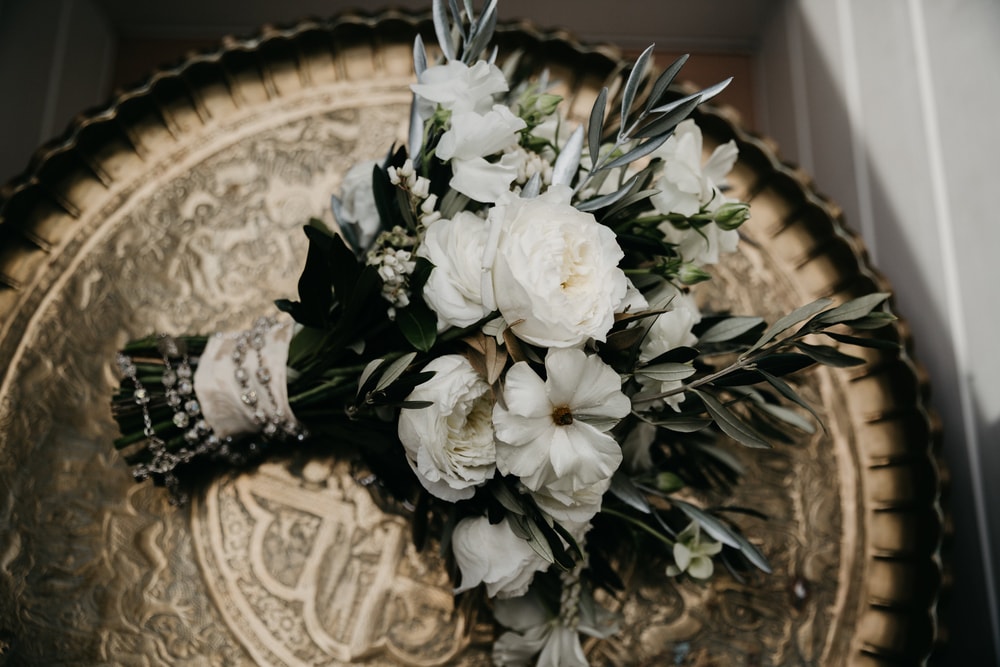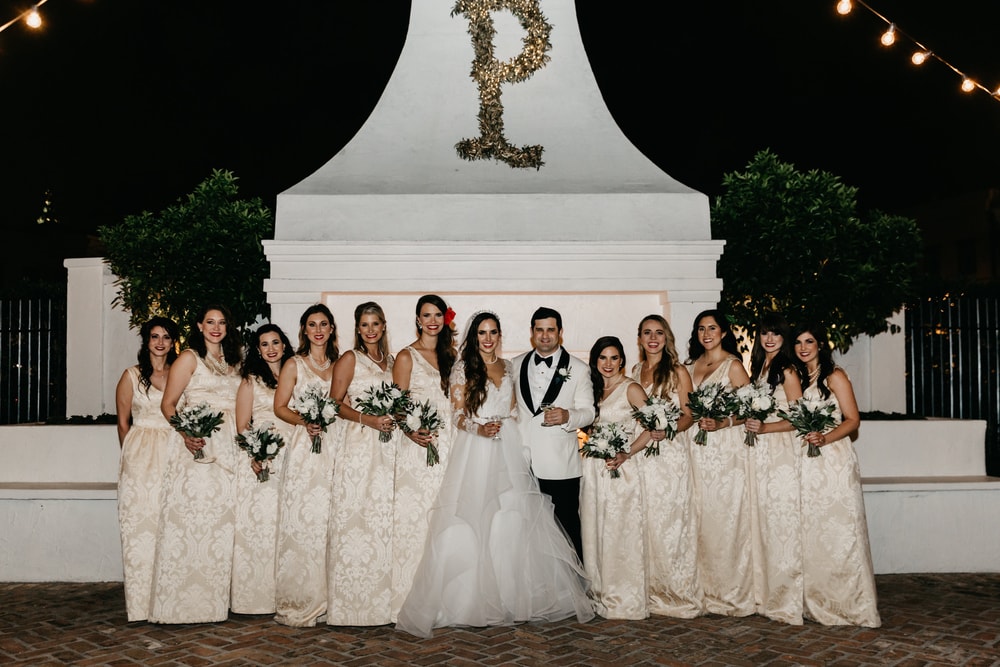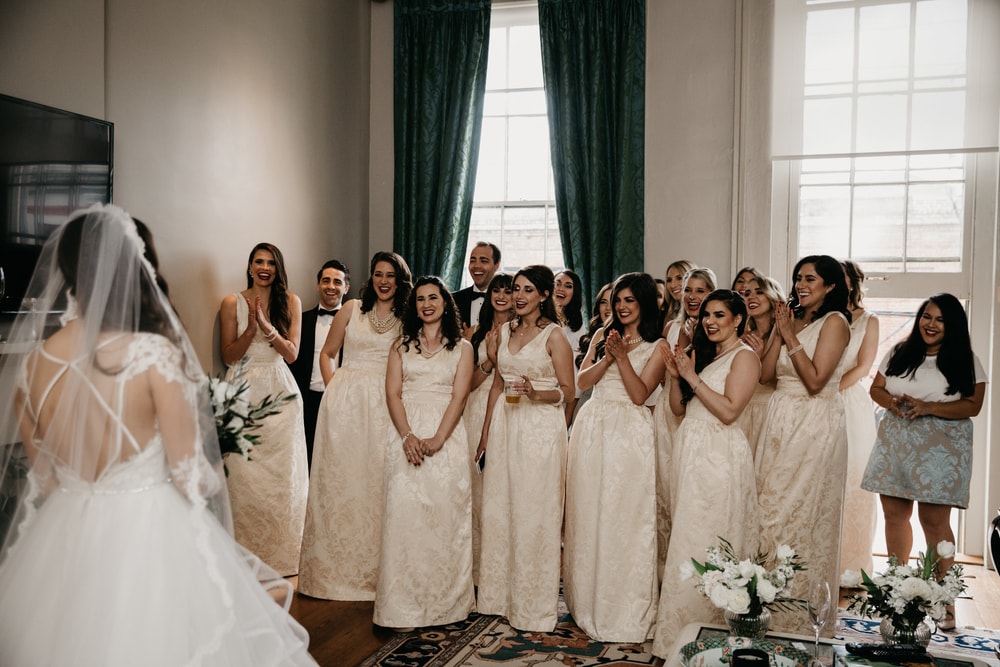 Special Thanks
Bridal Gown: Sarah wore a semi-custom ball gown designed by Hayley Paige (purchased at Town and Country). The gown featured hand-stitched ivory lace sleeves with an illusion sweetheart neckline and an open back with piping details along the seams. The full, white skirt was custom made of multiple layers of tulle, satin, and silk. She also wore a lace-edged ivory cathedral-length veil, a Pronovias crystal belt, shoes by L.K. Bennett, and a customized saltwater pearl necklace designed and made at Aucoin Hart (gifted by the groom).
Groom's Tuxedo: Phillip wore a custom tuxedo, designed and made by Fellow Suits. It featured an ivory dinner jacket with a black satin shawl collar and ivory alligator-print satin lining.
Bridal Party: The bridesmaids wore custom gowns designed and manufactured by the bride's company, Jolie and Elizabeth. They featured a fit-and-flare silhouette, V-neckline detail at the front and back of the gown, and champagne gold brocade fabric layered on top of silk shantung and tulle. The "Something Blues," more members of the wedding party, wore dresses and skirts also by Jolie and Elizabeth. They featured French blue and champagne brocade fabric. The groomsmen and ushers wore tuxedos from John's Tuxedos. Hairstyling and makeup were provided by Glam Nola and the bride's hairstyle by Corinna Bodden.
Rings: Aucoin Hart, New Orleans
Wedding Planner: Mint Julep Productions
Floral Arrangements: Poppy and Mint Floral Company
Cake: La Louisiane Bakery created a five-tiered ivory wedding cake with gold and champagne details. The groom's cake was a red velvet pizza.
Decor: Luminous Events provided custom ivy walls to display and serve the Petitto family strawberry wine and provided all of the lighting for the evening. Event Rentals provided the linens, chairs, tables, and cake stand.
Music: The Bucktown All-Stars and an a cappella group from Tulane University
Honeymoon Travel Agent: Vacations by Denise Alvarez
Photography: Tregg Istre, 63 Films & Photography
—V—
ARTICLE CATEGORIES