By Laurette Ryan | 
Photography by I.C. Rapoport
If you have ever seen pictures of the creator of Pilates, Joseph Pilates, you are likely viewing iconic photographs taken by I.C. Rapoport in 1961 for Sports Illustrated.
At that time, twenty-four-year-old photojournalist Chuck Rapoport was getting ready to enter the US Army, having been drafted during the Berlin crisis.
He had already done notable work, such as photographing Fidel Castro in 1959 after Castro's successful revolution. The then prime minister had made a surprise visit to New York, and Rapoport waited with several other journalists outside Castro's suite until 3 a.m. to capture his iconic photo of the thirty-four-year-old revolutionary leader.
Shortly afterward, Rapoport photographed French film director François Truffaut after his Oscar nomination, and his photos of Marilyn Monroe leaving Columbia Presbyterian Hospital in Manhattan in 1961 were published in Paris Match magazine.
Two weeks before Rapoport was drafted, Buddy Bloodgood of Sports Illustrated gave him a call and asked if he had time for a one-day shoot in Manhattan. Rapoport said sure. Buddy told him, "Go to 939 Eighth Avenue, by Fifty-Sixth Street, and meet our reporter. There's an old guy there named Joe Pilates who has some sort of health gym. One of our freelance writers has been going to him for some kind of treatments, and he's written an article about him. Go there and illustrate that article. The guy's got these torture machines with belts and pulleys and springs, and he connects them to people and stretches them out, or God knows what. Get some pictures of him looking wild. You know, crazy, too. Wild and crazy."
Rapoport describes meeting Pilates: "a near-naked man stepped into the room, barefoot and wearing only black briefs; he dried his hands on a small white towel.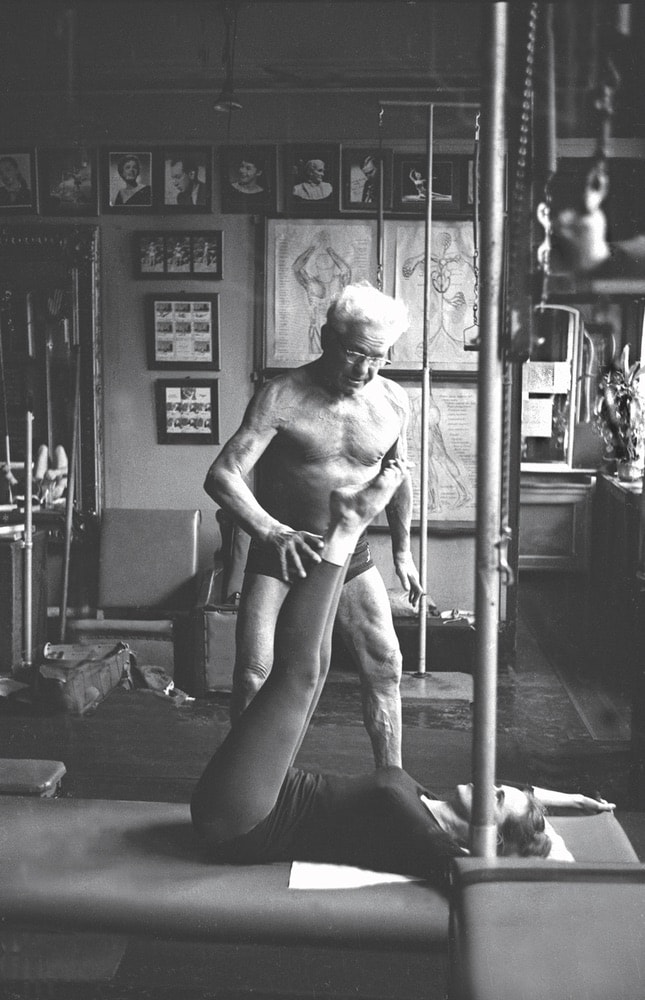 "'Joe Pilates,' he said, smiling. I had been told he was eighty years old, but this guy, though looking way older than me (I knew what my grandpa looked like at age eighty), didn't look a day over sixty. As far as the shape he was in, he could have been in his midforties. The only telltale sign of his age was the crepe-like texture of his golden-brown skin. But under the skin were ageless muscles, iron hard, taut, and powerful. In the afternoon of our photo shoot, Joe had run me through all of the cliché strength confrontations: thumb wrestling (he pinned me in a moment; the pressure he exerted on my thumb: unbearable). We arm wrestled. 'Just do it with me,' he said with a soft, Teutonic accent. I did. No contest. He had me stand on his stomach while he sucked it in and then raised me higher using only his abdominal muscles. When he asked me if I could touch my toes (I couldn't), he bent forward and touched his palms to the linoleum-covered floor and twinkled his eyes at me. 'You know why I do this?' he asked, then answered, 'Because I train. Every day, I have trained. When I was in the circus, I was training. When I was home, I was training.' He pointed to his gym. 'In here, with all this, you too can also touch your hand to the floor.'"
That day, Rapoport took many pictures, and he and Mr. Pilates discussed how and why the Pilates method came to be. Mr. Pilates believed that most people had lost their connection to standing, sitting, and moving their bodies in the most natural and efficient ways.
Later in their meeting, Chuck was photographed on the Bednasium. This historic Pilates invention resembles a hospital bed with springs attached to its metal-frame headboard.
Rapoport recalls, "When I climbed onto the bed wearing trousers, shirt, and tie, Joe stopped me. If I was going to exercise on his equipment, I had to be in 'trunks,' same as his Speedo-like briefs. I went into the changing area where I found a cardboard carton containing a dozen black Jantzen briefs, chose a medium, then posed for a photograph meant for Buddy Bloodgood's wall. I couldn't possibly know that fifty years later this photo would be seen by thousands of people around the world."
Rapoport entered the army weeks later and all but forgot about this strange and intriguing assignment.
Fast-forward almost forty years.
Mary, Rapoport's wife, has taken up Pilates. Her instructor, Emily Lawrence, comes to their home with an odd foldable contraption called the Reformer. When she set it up, Rapoport explained that he photographed the guy who invented that thing. Lawrence didn't believe him until he showed her the contact sheets of Mr. Pilates in action. At this time, Pilates was enjoying the beginning of popularity in mainstream exercise trends, and Lawrence was amazed at the discovery of these treasured photographs. She encouraged Rapoport to "get them out into the world."
Ken Endelmen, CEO of Balanced Body (a popular Pilates apparatus manufacturer), offered to sell the photos in his catalog—and so was born I.C. Rapoport's Pilates journey.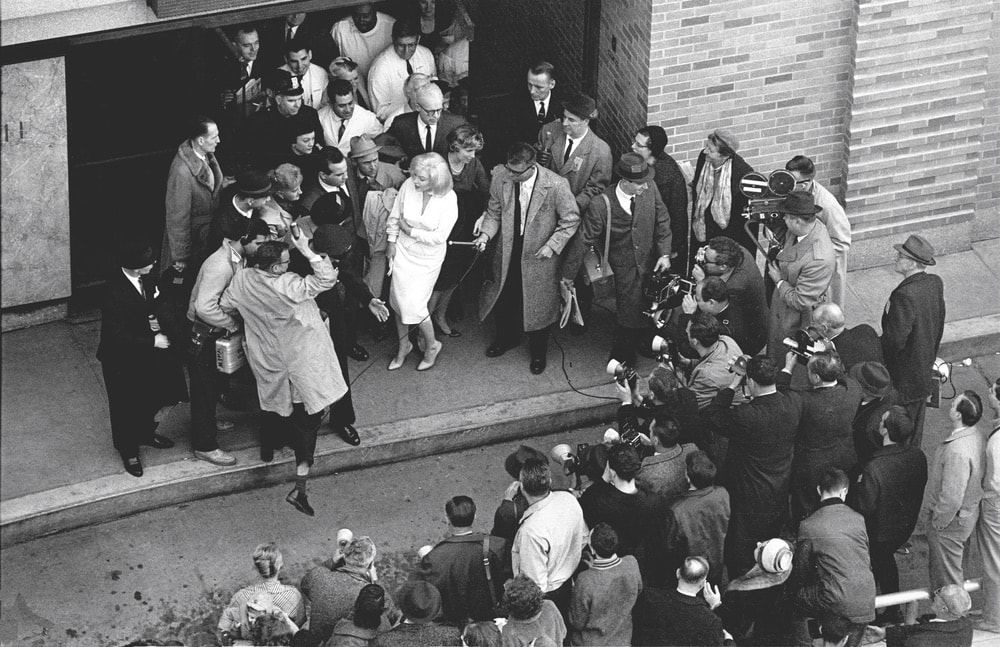 Rapoport is now one of the most recognized personalities in the Pilates world. Enthusiasts and teachers gather around him at conferences to purchase his photographs and hear about his personal experience in meeting the larger-than-life creator of Pilates. Rapoport enjoys going anywhere people are interested in viewing these photographs up close and hearing his stories about Mr. Pilates. It has become a life he could not and would not have imagined on that fateful day in 1961 when given the assignment to go shoot pictures of that "wild man on Eighth Avenue."
Even after Mr. Pilates himself encouraged Rapoport to take up his method, it took almost forty years for the photographer to begin his practice faithfully. He has studied in LA at Vintage Pilates, where Jay Grimes—who also personally met Joseph Pilates—teaches along with other notable trainers.
After a health scare in 2017 during which he was hospitalized with pneumonia and unable to practice Pilates for several months, Rapoport found it challenging to get back into his routine. He came up with the concept of a Pilates pilgrimage. He offered a print of the iconic photograph of himself in trunks on the Bednasium in return for a lesson from various teachers in the LA area, each with a different approach.
The pilgrimage continues as Rapoport, age eighty, visits New York and other places to experience the perspectives of many Pilates teachers. He often takes photographs of them and with them as a prized and treasured souvenir from each encounter.
Our lives are filled with seemingly inconsequential meetings and experiences that in time may bring us onto incredibly meaningful paths. One day, so many decades ago, has come full circle.
Mr. Pilates, a man, not well known in his time, with a burning dream and a desire for impacting the health and wellness of the world, planted a seed of his vision with those who would hear him—and with a twenty-four-year-old photographer.
Over fifty years later, that same photographer, through his historical work, personal experience, and practice, adds to the legacy of that wild and crazy man!
I.C. Rapoport has a portfolio of beautiful, moving, and meaningful work beyond Pilates, but when I asked him to describe his Pilates journey, he replied, "A fascinating trip around the world. To think that a one-day assignment when I was beginning my photography career would be the most important assignment of my life. It wasn't the best—my weeks in Aberfan, Wales, documenting the recovery and beginnings of new life after 116 children and 28 adults were killed by a devastating landslide, was the best work of my entire career. But as far as helping me in my retirement years, both monetarily and physically, Joe Pilates is more than a mentor: he's an inspiration. And I see that inspiration in all the Pilates gatherings and studios, Pilates Eye postings, and Instagram 'see me' photos."
You can never be sure what will inspire you and have a lasting impact on your life. Be open to the wild and crazy—it might just sow the seed of a new adventure!
— V —
---
I.C. Rapoport studied photography at Ohio University. In 1959, Rapoport impressed Paris Match with his photo-reportage work and began shooting assignments for Match. He later worked for the Saturday Evening Post, Time, Life, and Sports Illustrated. His Life photo essay of the aftermath of the horrendous mining avalanche in Aberfan, Wales, brought his reportage work to national attention. He is well known as the photographer with the only photographs of Joseph H. Pilates, the originator of the Pilates exercise method. Rapoport is also known for his award-winning writing for the television series Law & Order.
Laurette Ryan is a professional in the health and wellness industry and has been a national fitness presenter for over thirty years. She is the author of four books on fitness, self-improvement, and life coaching. She is also the mother of four amazing children.
ARTICLE CATEGORIES