By Sarah Freeman | Photography courtesy of Shinta Mani Wild, A Bensley Collection
Wading waist-deep into the water, I edge closer to the mesmerizing white veil where luminous butterflies are dancing in its spray
Scarcely an hour earlier, I'd enjoyed a hornbill's-eye view of this lost-world waterfall on an exhilarating canopy-skimming, 350-meter-long zipline, which delivered me to an aptly named Landing Zone Bar. No sooner had I stepped out of my harness than I was sipping a spice-addled "Pineapple Trap," surrounded by curios such as a carousel horse strung from the bar's thatched ceiling.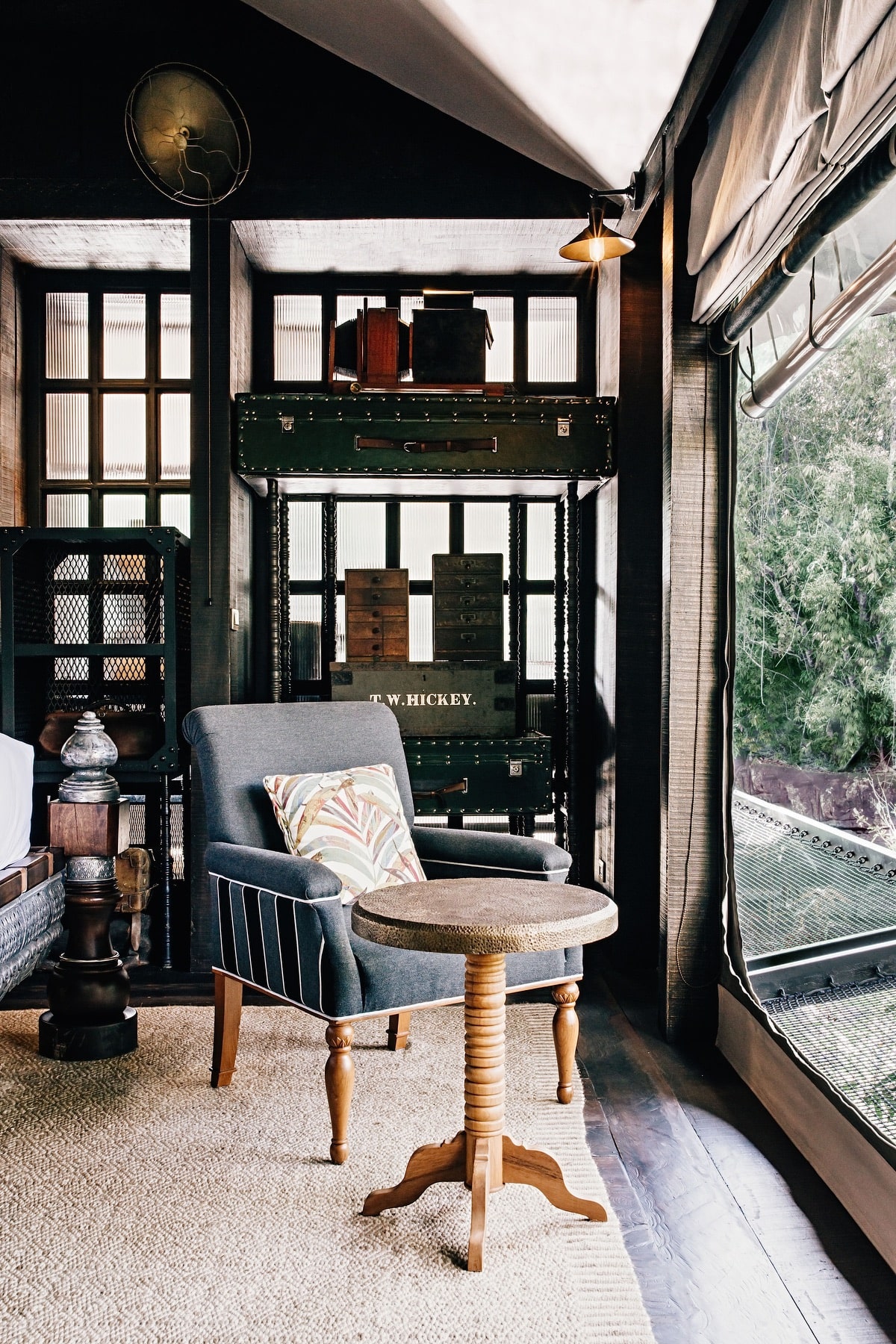 This surreal scene unfolds in a wildly remote but beautiful tract of jungle in southwestern Cambodia, which was nearly scratched off the map until American architect Bill Bensley and Cambodian hotelier Sokoun Chanpreda stepped in. In 2010, they won the Central Park-sized wildlife forest corridor—wedged between two national parks—at a logging auction. Seven years later, Shinta Mani Wild was born: a low-impact luxury tented camp where conservation converges with world-class design.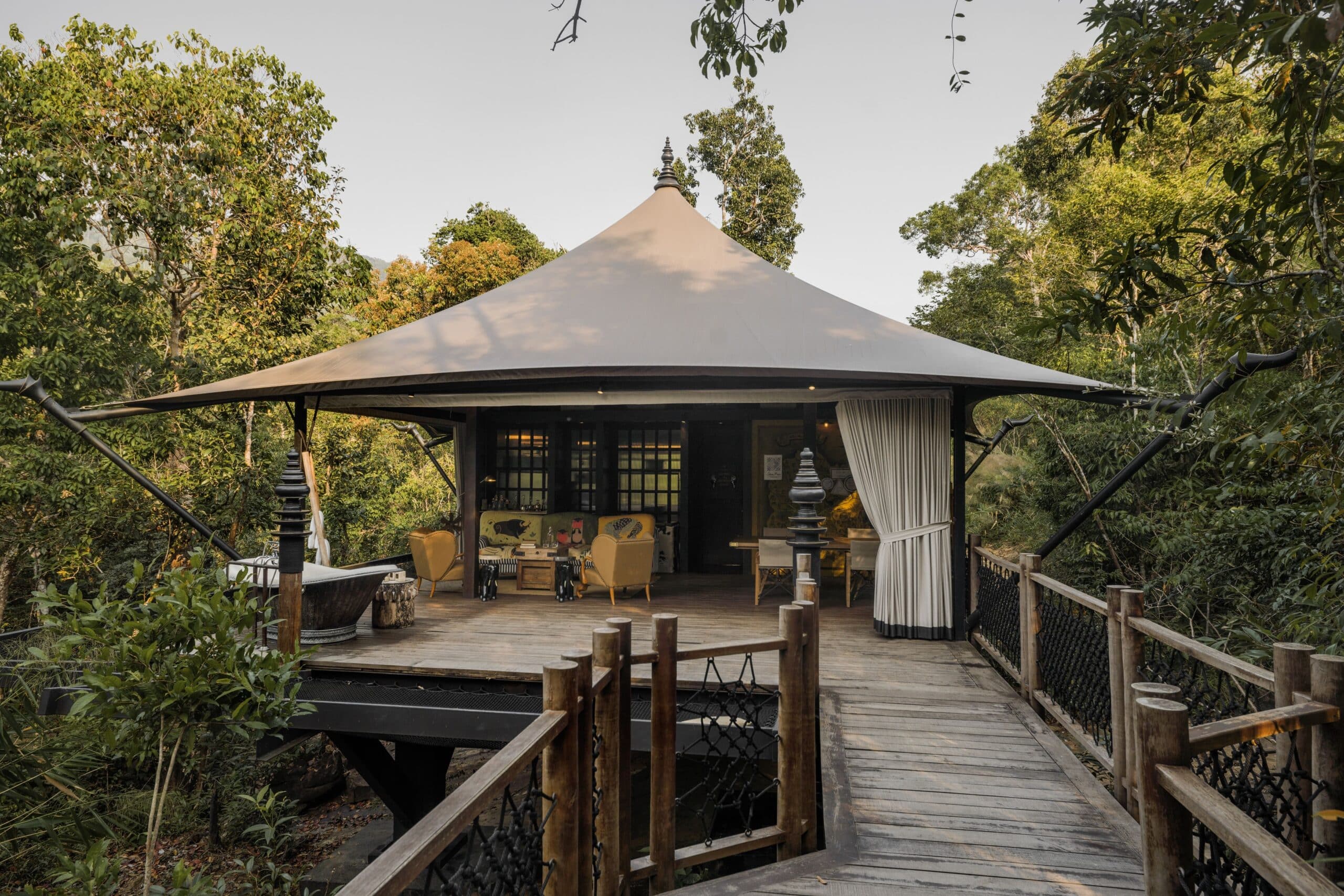 If you can't stomach the aerial arrival, 1960s army jeeps shuttle guests to Shinta's indoor-outdoor HQ. The stylish basecamp for excursions like orchid hunting, tenkara lessons (a meditative form of fly-fishing), and mountain bike trails is where you'll find the hotel's river-facing restaurant. The Timor Rung River is the wilderness camp's life force, transforming from a trickle in March to a terrific torrent come August. Strung one mile along its snaking course are fifteen stilted safari-style tents that blend seamlessly into their jungle locale. Like a snazzily lined blazer, inside, they're bursting with Bensley's signature eclectic style.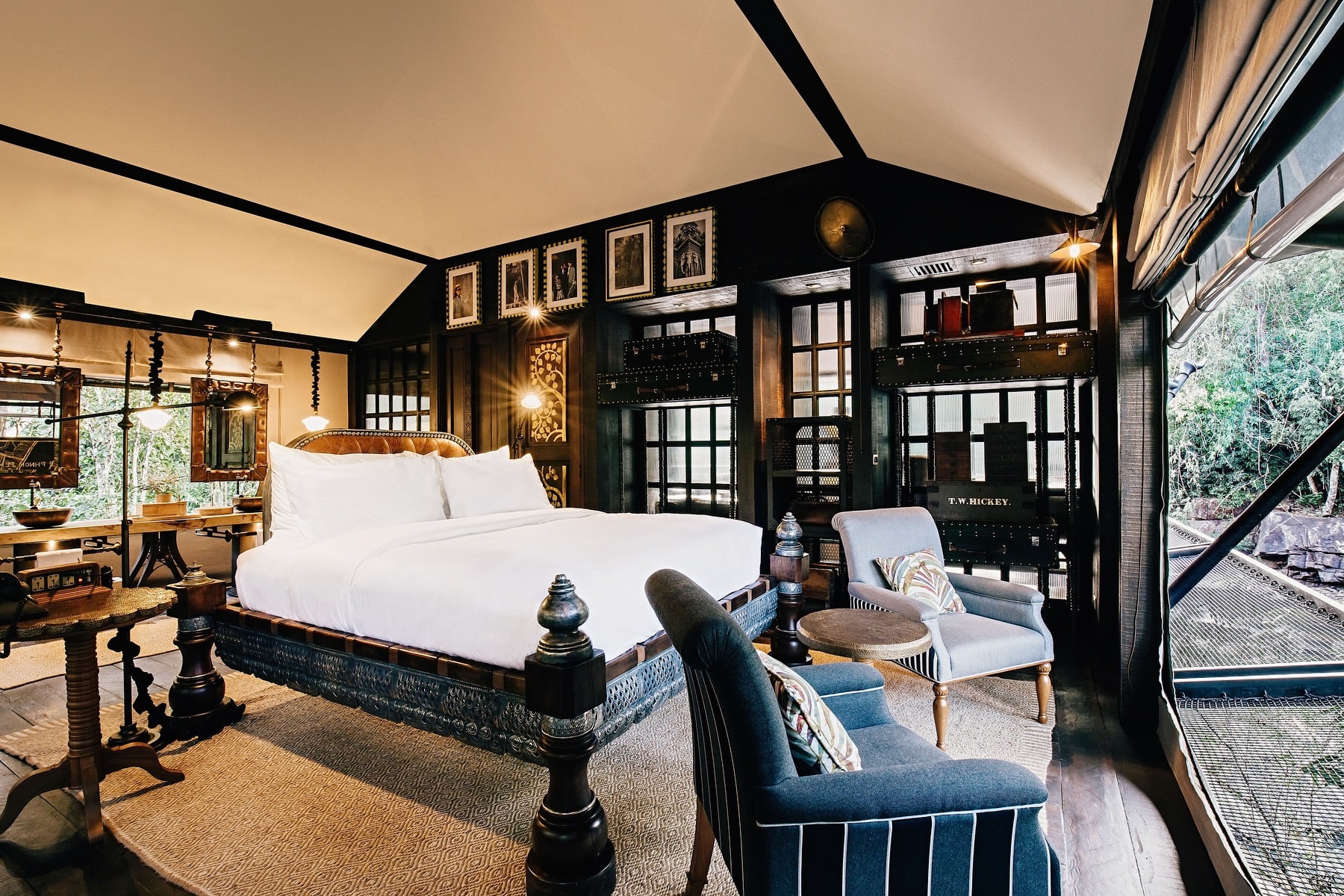 The centerpiece of each tent is a bespoke bed that's elevated to ensure you wake up to watery vistas. A wood-brass double vanity runs the width of the tent, while a walk-in rain shower invites the forest indoors through a cut-out canvas window. Recalling the golden age of explorers are vintage trunks and centuries-old leather-bound books. In true storytelling fashion, Bensley (himself a prolific explorer) wanted to evoke the spirit of traveling on a luxury Cambodian safari with a tribute to former First Lady Jackie Kennedy's visit with Cambodia's King Norodom Sihanouk. Tent #2 is a tribute to America's de facto roving ambassador, who realized her long-held dream to visit the Kingdom in 1967.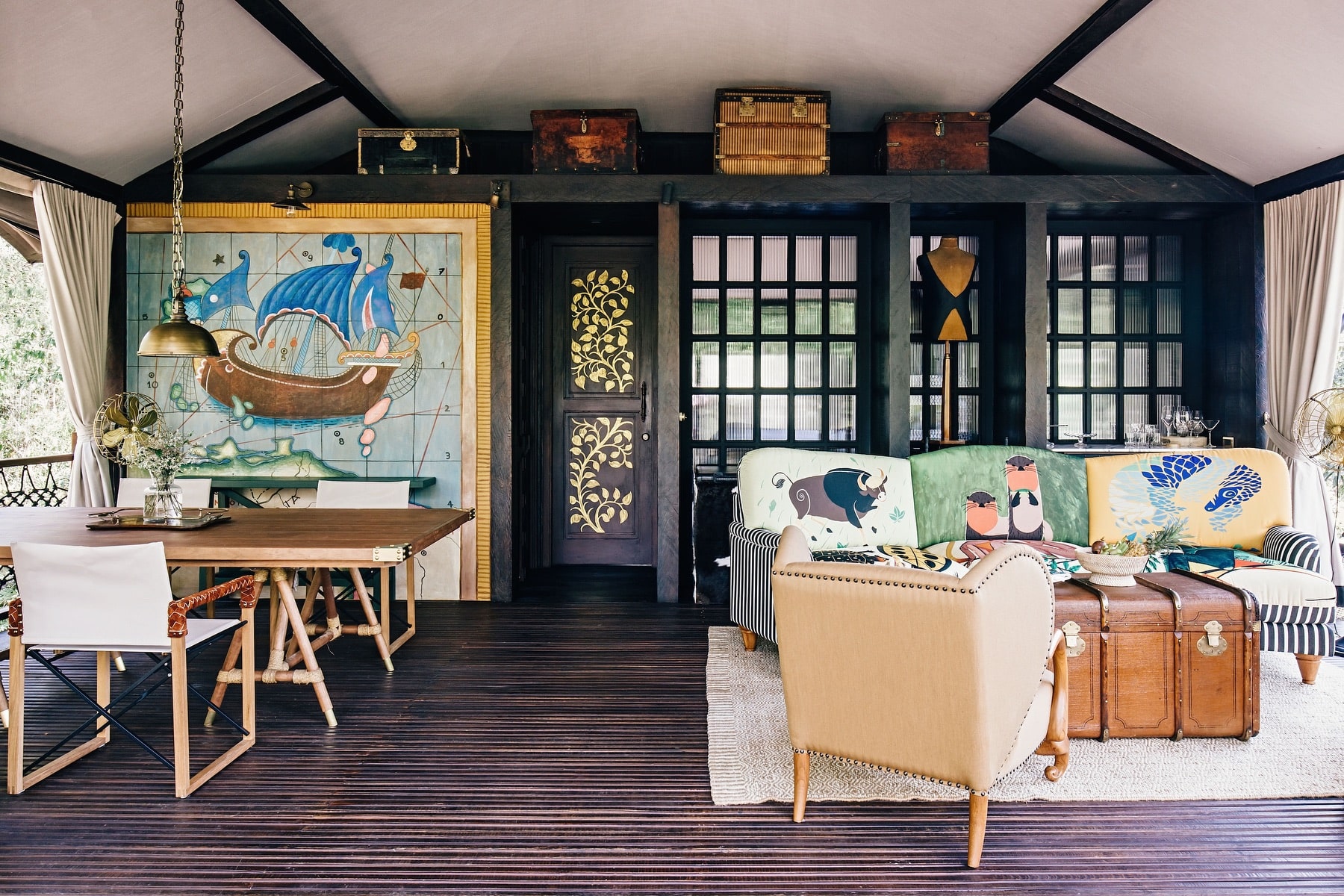 Meanwhile, National Geographic-themed #14 overlooks a gushing waterfall, and "The Bohemian" tent is hung with alternative art. But it's nature that serves as Shinta's main muse. Inspired by Cambodia's most charismatic species are the tents called "Terrapins," "Gibbons," "Elephants," and (my very own) "Butterfly." Its most colorful corner is the muralled washroom, emblazoned with painted jezebels and peacock pansies—just two of the one hundred butterfly species that flutter in the fragile forests of the wider Cardamom Mountain ecoregion. Brimming with biodiversity, it's home to one of Southeast Asia's last virgin forests.
Strung one mile along its snaking course are fifteen stilted safari-style tents that blend seamlessly into their jungle locale.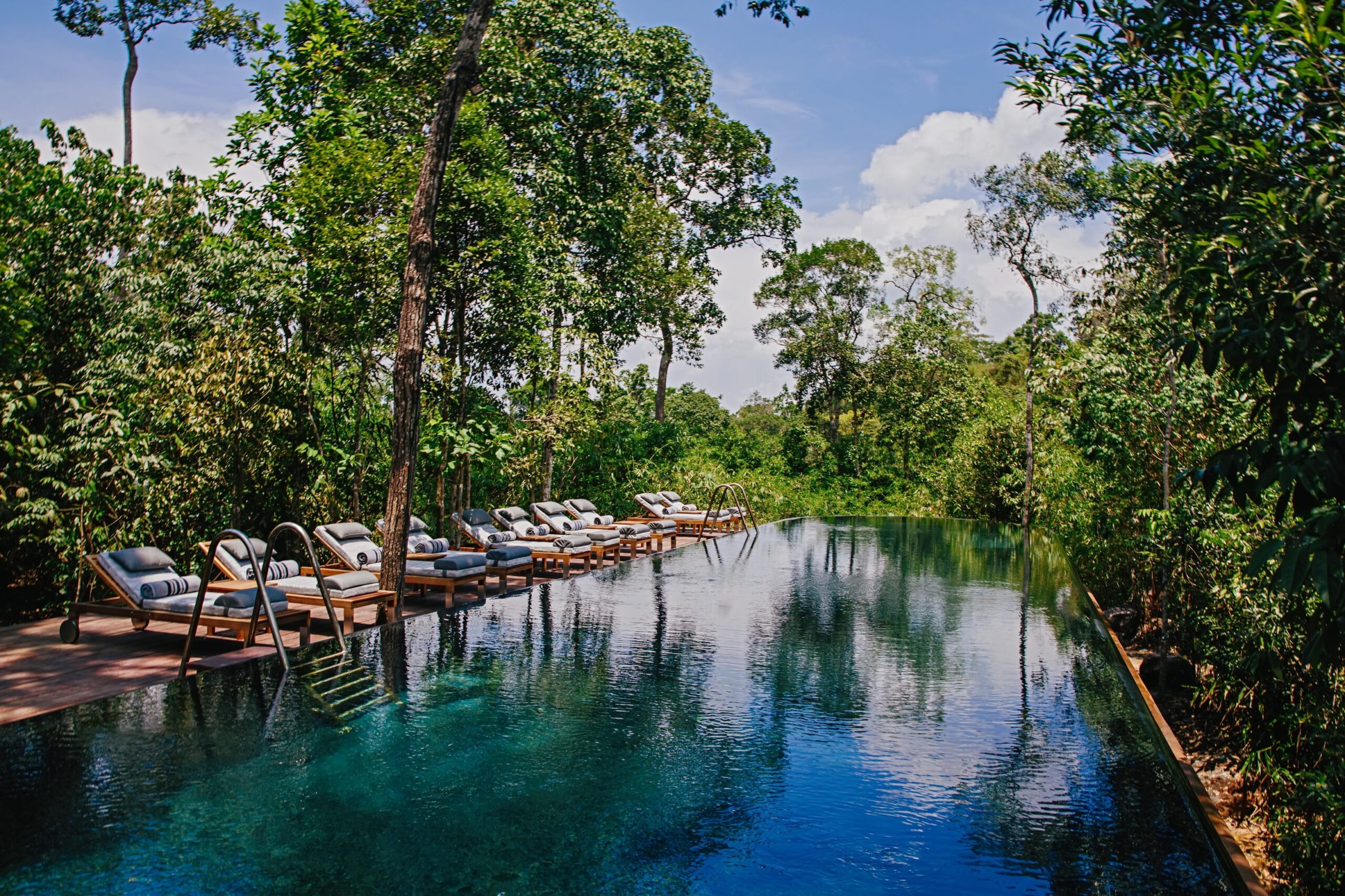 Getting better acquainted with wildlife is something my dedicated adventure butler, Tom, is tasked with organizing later that afternoon. So, at his direction and powered on char kadao (a wok-fried minced chicken dish laced with local herbs), I embark on a two-hour riverside ramble led by in-house naturalist Munny van Caan. As we weave between untamed jungle and boulder-strewn banks, he imparts his encyclopedic knowledge of medicinal barks, wild stingless beehives, and acrobatic pileated gibbons, who noisily rustle in the canopy above. "No tree bigger than Bill's Bensley's arm was felled in the build of Shinta!" Caan reveals as we scramble over supersized rocks to admire a new-to-Cambodia subspecies of wild vanilla.
The same sandstone boulders protrude through the Landing Zone Bar's walls and spa huts' floors, where my knotted shoulders are magically loosened with a healing hot volcanic stone massage. Limited only by your imagination, the all-natural Khmer Tonic treatments can be enjoyed pretty much anywhere: at the edge of a waterfall pool or while enjoying the comforts of your tent's sprawling wooden deck. Outfitted with custom-designed furniture and a chest refrigerator maxi bar, the decks' pièce de résistance is a claw-foot bath, which promises a serene soak—until the siren-like crickets warm up, that is!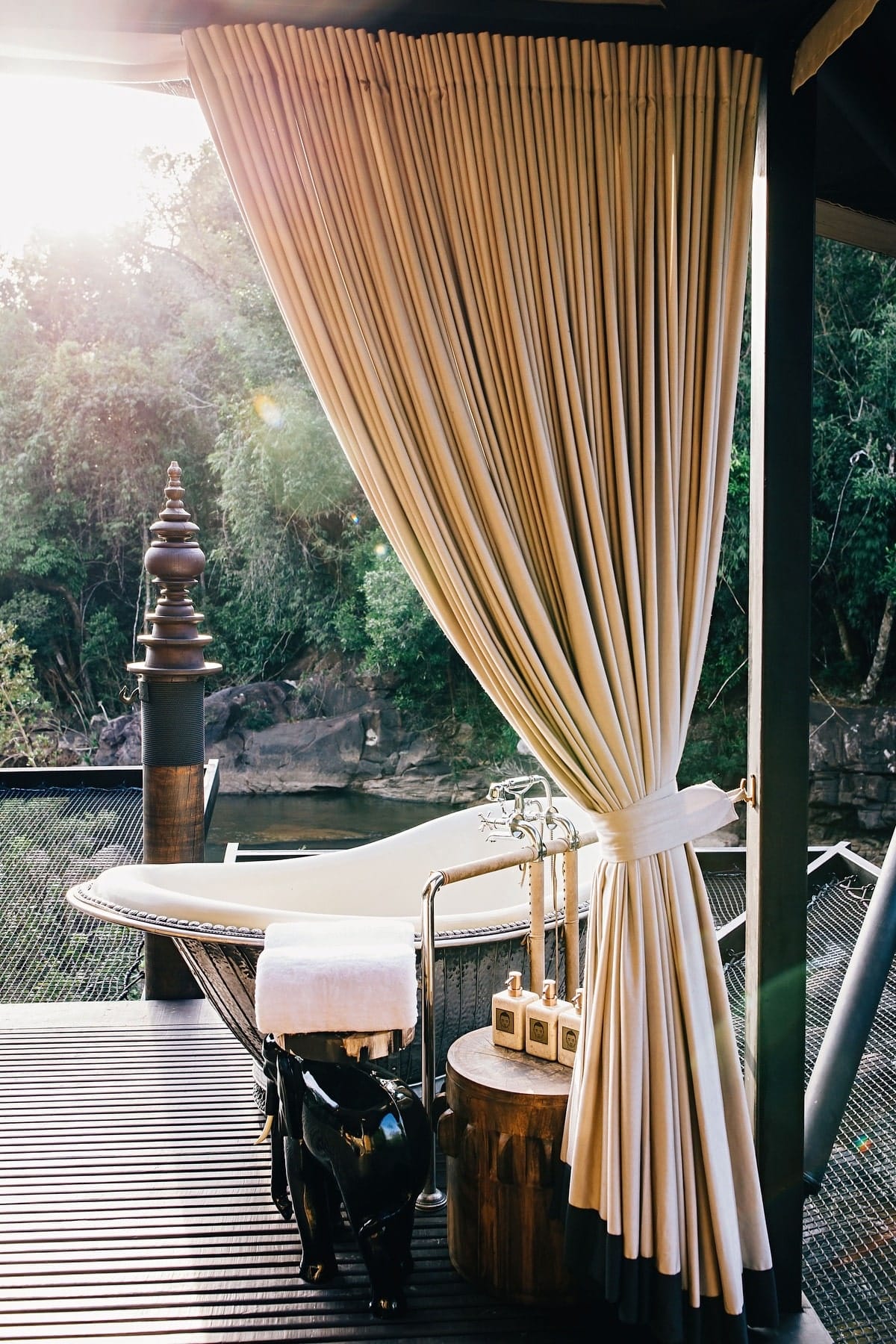 With one tent to every sixty-six acres of forest, immersion in nature comes easy here. Ripe for foraging, it's also Chef Bernard Hartzenberg's bountiful backyard larder. Depending on the season, everything from sour leaves to edible ferns finds its way into his fifteen-mile-radius tasting dinner. Thankfully, the crocodile resting on an overhead beam is not on the menu! Rather it's one of Bensley's whimsical wooden finds that festoon shelves and fill dressers at HQ, along with antique sextants and pinhole cameras. A confessed "lover of all things peculiar," he trawls thrift stores, bazaars, and art dealers' attics far and wide from England's cathedral city of Lincoln to Laos.
Bensley's maximalist flair is dialed down at the camp's thirty-three-meter-long pool, linked to the Landing Zone Bar via a series of natural stone steps. Despite being christened "The Cistern," the giant black steel bathtub—the perfect post-excursion cool-down—manages to be a thing of beauty by reflecting its greened surroundings. It's filled from a borehole that also supplies the property's double-filtered drinking water—one of Shinta Mani Wild's many sustainable initiatives, including a plastic-free supply chain and organic farm.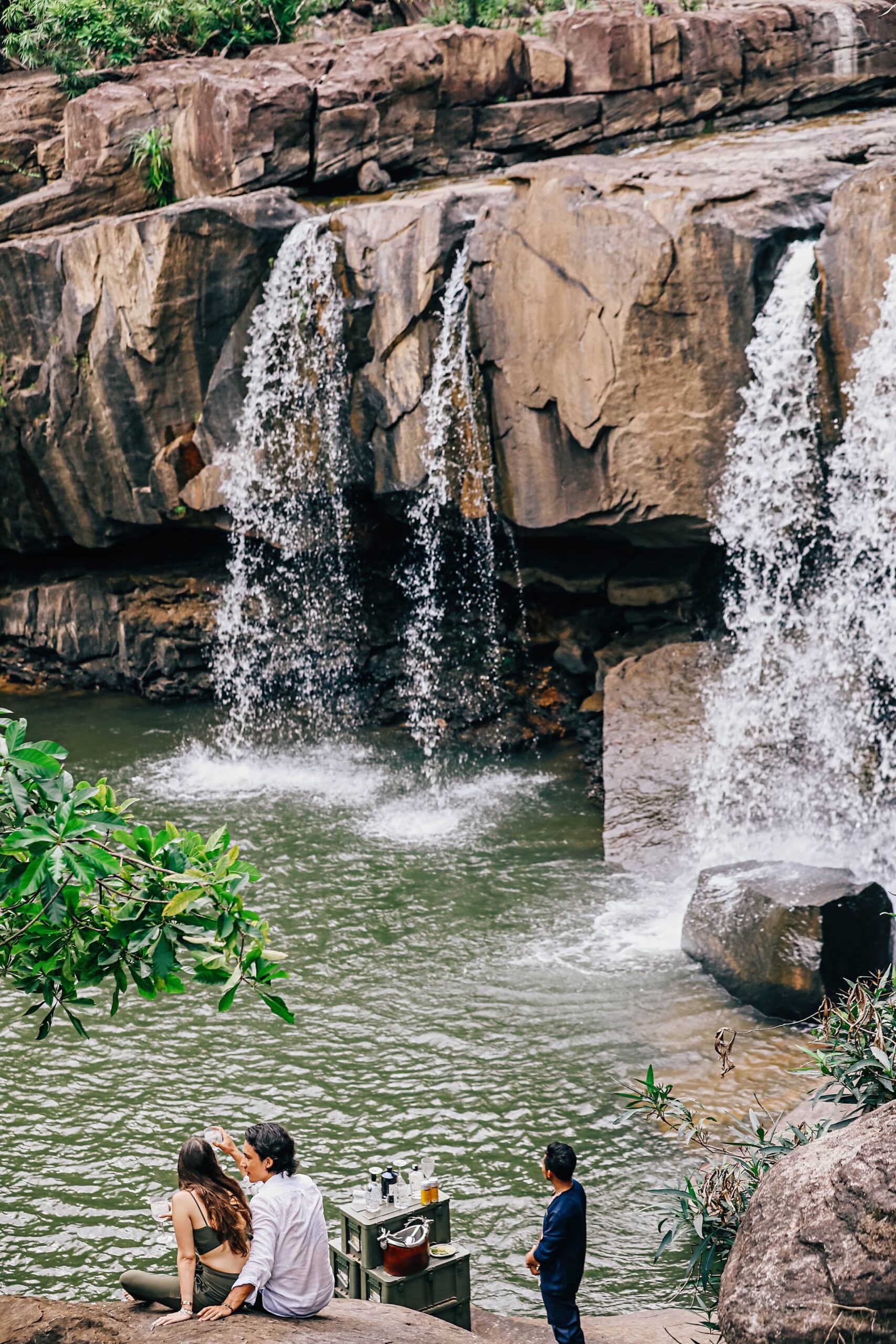 Another way to commune with nature (and stave off the daytime humidity) is from one of Shinta's shaded day beds, which nestle on natural rocky platforms jutting out over the river. To begin my second day, I enjoy an alfresco breakfast spread with a side of waterfall spritz before trading Timor Rung for the sleepy backwaters of the upper Srey Ambel Estuary. A tidal waterway tethered to the Gulf of Thailand, it's best explored on Shinta's fleet of pontoon-style expedition boats, custom-designed by Bensley. Stretched out on the upper deck's daybeds with a chilled glass of rosé in hand, I enjoy a front-row seat to egrets skimming the shallows and canoe fishermen (the only boat traffic to speak of) drifting by. The highlight is washing up on a private river beach—a pristine lick of golden sand known as "The Royal Terrapin" after the critically endangered freshwater turtle species occasionally spotted here.
They're one of a handful of threatened animals that include sun bears, clouded leopards (an elusive wild cat), and pangolins, which local NGO The Wildlife Alliance is striving to safeguard from illegal hunting as well as from loss of habitat due to mining and logging in the Southern Cardamom. The Alliance's tireless work (directly supported by Shinta) even inspired Tent #6. It's decorated with elephant wall art, khaki colors, and a coffee table upcycled from ammunition boxes—one of the many illegal items WA's rangers recover on their daily anti-poaching patrols, which intrepid guests can accompany them on.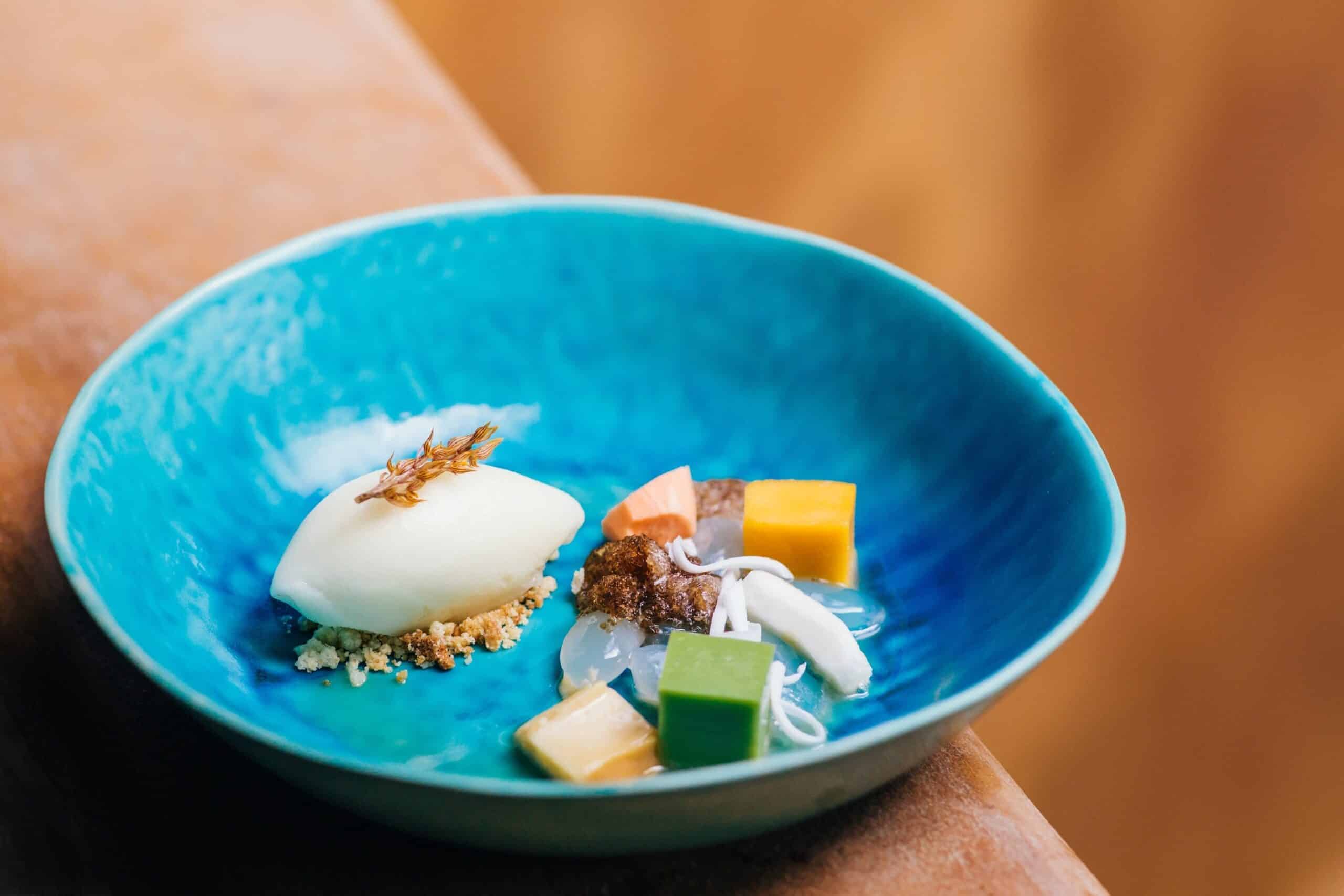 By day three, I'm moving between pool and hammock at the pace of a pygmy three-toed sloth, another of the river valley's residents. As the fading sun gives way to twilight, I gather with my new glamping friends for preprandial drinks quite literally on the rocks! General Manager David Steyn reveals how this stretch of the dried riverbed—located a stone's skim from the Wildlife Alliance's onsite Ranger Station—vanishes under roiling white rapids from August to October. The camp syncs with the rhythm of the river, which does more than dictate excursions and the location of pop-up sundowners. The waterway and its surrounding forest are a living, breathing part of Shinta's shape-shifting design, rendering the tents raised on rocky pyramid plinths in February and surfing on the water come August.
And with that realization, I vow to return in the rains to be swept up in Shinta Mani Wild's magic in a new and unfamiliar way.
— V —
---
Since each month ushers in a new adventure—from bird-watching kayak expeditions in July to river beach picnics in December—there's no wrong time to visit Shinta Mani Wild. Rates start from $1,900 per couple per night with a minimum three-night stay. The stay includes all meals, drinks, excursions, unlimited spa treatments, and roundtrip private transfers from Cambodia's Phnom Penh International Airport, located a two-hour drive away. With easily accessed pickup points, 300 meters is the most guests need to walk from their tent to HQ. For more details, visit ShintaMani.com/wild.
ARTICLE CATEGORIES