Animal Advocate Shines Bright
By Janet Thomas | Photography courtesy of Alaqua Animal Refuge
As I sit at my desk writing, I feel a pair of eyes fixed on my every move.
"Want to play outside now?" the eyes seem to ask. "How about now?" they plead a moment later. The sweet, longing eyes belong to foster dog Coral, whom I lovingly call Miss Coral. She's been with me a few months, as she awaits a forever family. Surely a fortunate individual or family will soon recognize how wonderful she is and what an ideal companion she would make.
It Starts with a Vision
Coral comes from Alaqua Animal Refuge, which was born in 2007 as founder Laurie Hood became aware there were no animal adoption centers or no-kill shelters in Walton County, Florida, nor in any nearby counties, which meant a shocking number of animals were being euthanized. Since then, Alaqua has become a premier, no-kill animal refuge and sanctuary for domestic and farm animals—and even wildlife. Located in the Freeport area of Northwest Florida, Alaqua is growing, thanks to donated land, non-stop fundraising, and a ton of hard work. A state-of-the-art, jaw-dropping hundred-acre facility opens to the public in March 2023 and is a dream come true for many animals and humans alike.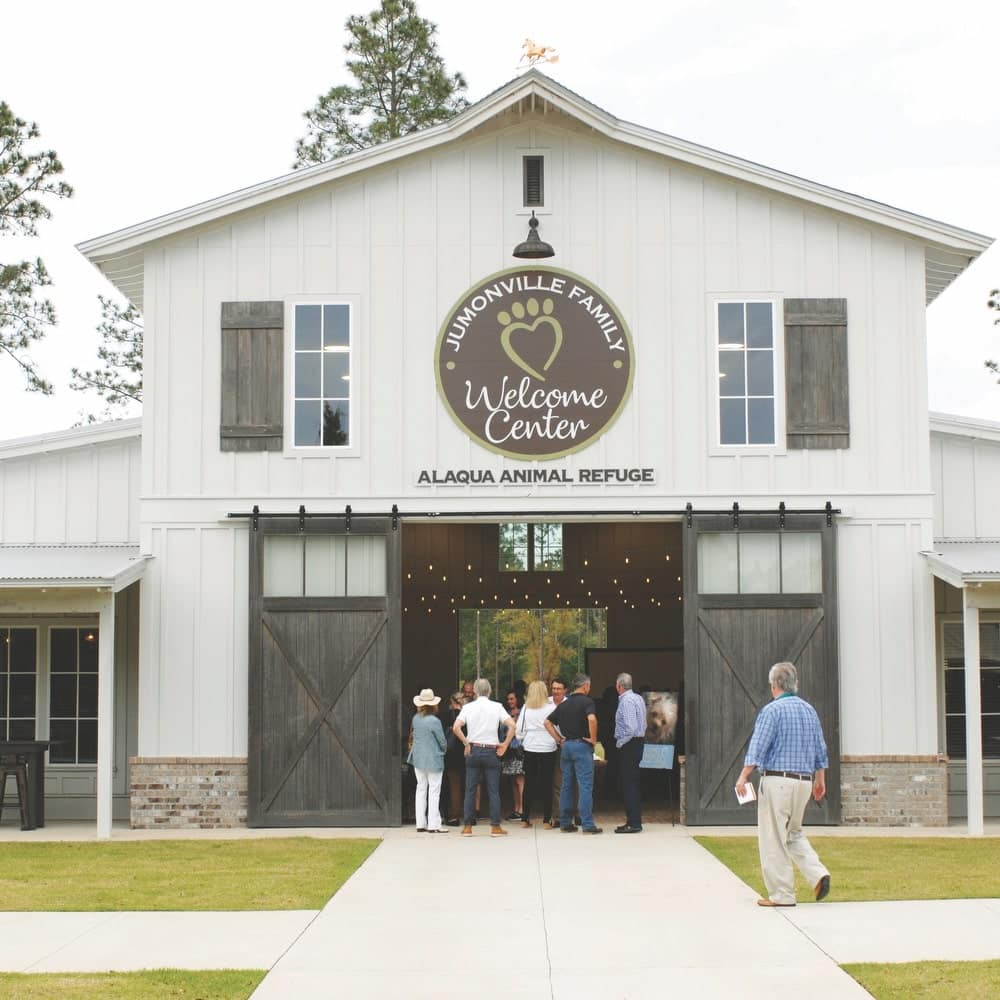 Hood wears many hats and works tirelessly for the benefit of animals. In addition to being the president and founder of Alaqua, she's the Florida State Director for Animal Wellness Action, serves as the Vice Chair of the Florida Wildlife Federation, has authored curricula to assist law enforcement with animal abuse cases, and is a founding board member of the E.O. Wilson Biophilia Center. Her numerous awards include the "Daily Point of Light Award" from President George H. W. Bush.
Sitting down with Laurie Hood and watching her eyes sparkle as she tells of her vision and the backstory to this fairy tale is a privilege and delight that will long stay with me.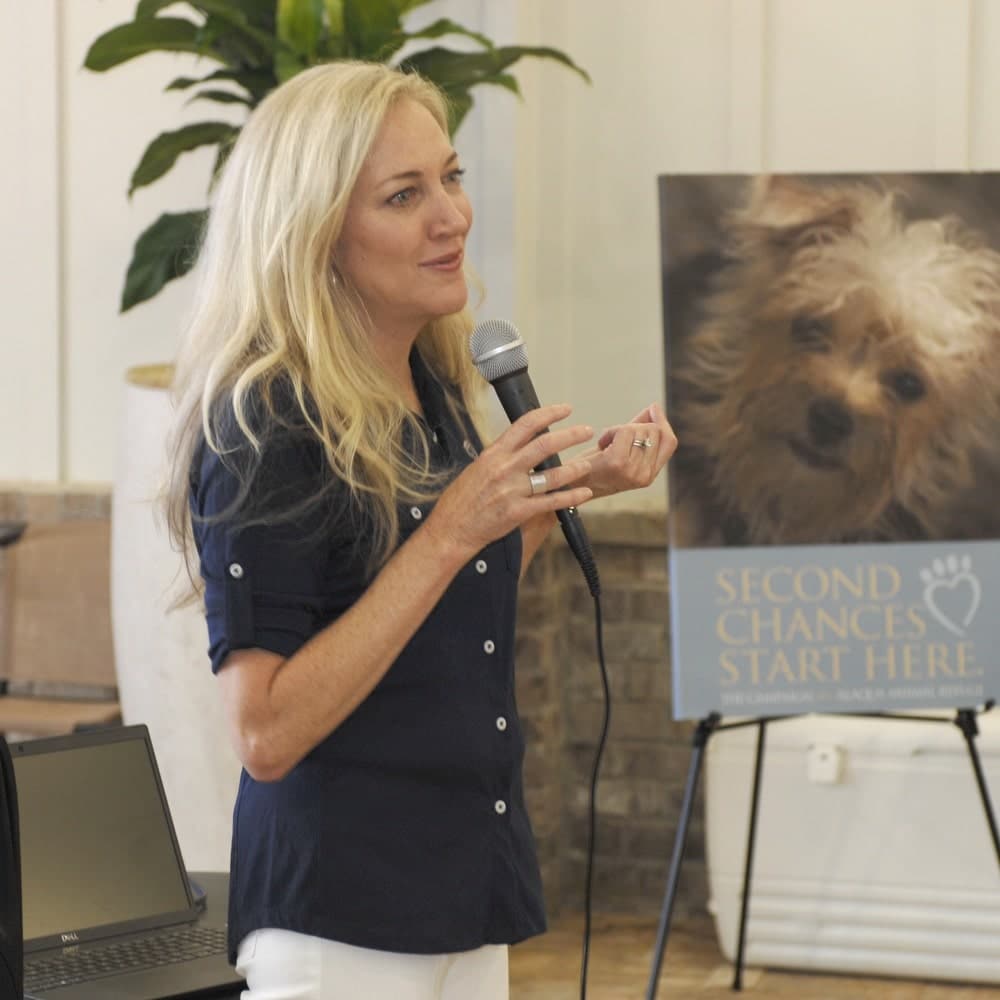 "Alaqua Animal Refuge has become a place where dreams come true for animals and the people who are so dedicated to its mission. It's a place of healing, where broken hearts mend and damaged souls find solitude, a place where school children come out and memorize the name of every animal and leave wanting to be their voice. It's been called by many 'heaven on earth' for the creatures who pass through these gates," Hood beams.
Tens of thousands of animals have been helped since Alaqua came to be. Like many businesses, Alaqua had to close its doors to the public for almost three years during the pandemic, and fundraisers were canceled, but the care of the animals somehow had to go on.
A New Lease on Life
The new sanctuary is making up for lost time with spectacular spaces, many with special naming opportunities for corporations, families, and individuals looking to make a difference in the lives of animals and people. Hood says she's always envisioned a sanctuary that would be a place where happy animals would be surrounded by nature, making it a peaceful place to adopt or volunteer.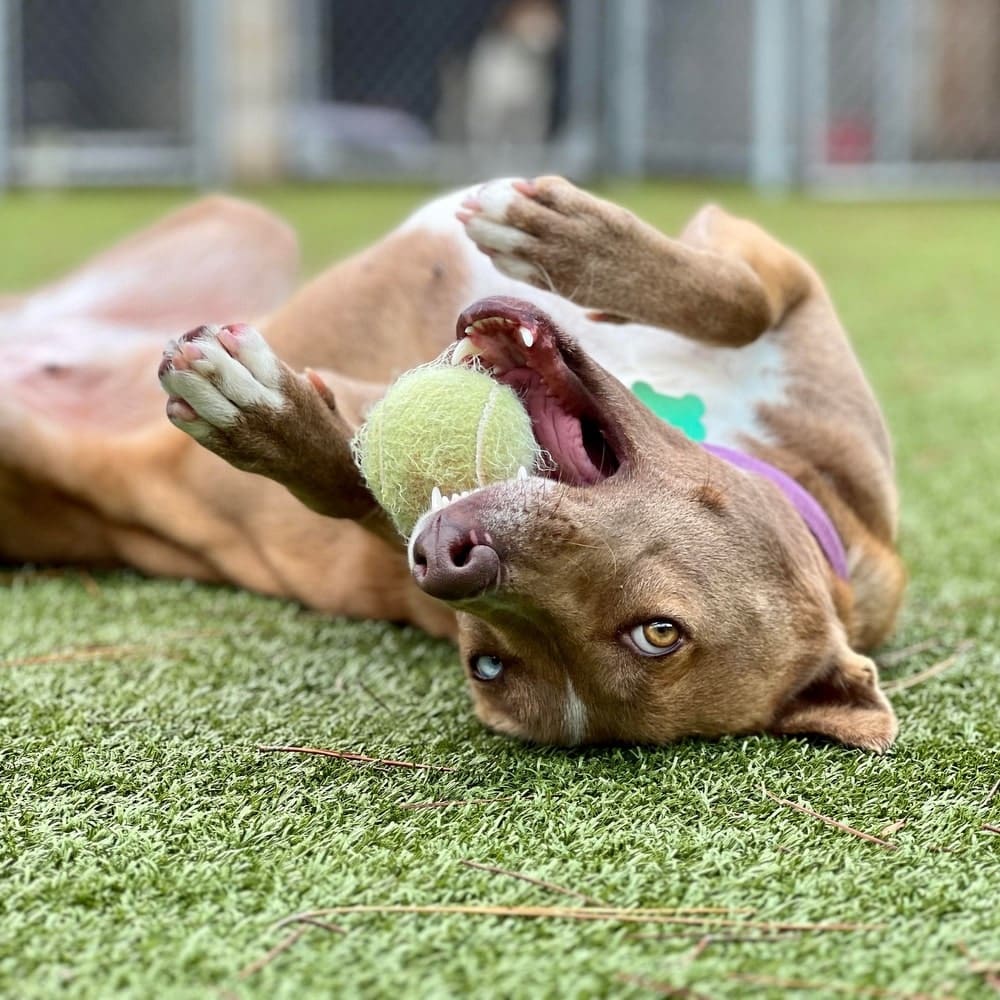 "I can see so clearly the facility in its completed stage—a space that will allow us to inspire even more people to make a difference," she shares. "Guests enter a magical land of animals and wander through exhibits and interactive enclosures of beings they may have never been able to touch or know before. Adoptable animals are featured in home-like environments so adopters can easily picture them with their families. People of all ages and students of all kinds come out for weekend seminars on horse care or canine obedience, and local law enforcement benefits from hands-on examples that will enable them to process their cases more effectively. Grieving families have a place to hold a memorial service for their pets in a chapel surrounded by woods. Rustic cabins provide a space for interns from veterinary schools to learn new skills or for future sanctuary founders to experience what we offer. It will become a destination for animal welfare advocates throughout the country and a model for the future of animal refuges."
The new facility is designed like a small town, and the Jumonville Family Welcome Center boasts a beautiful breezeway with a French Quarter feel, visitor reception, staff offices, and a cheery gift shop. The generous Jumonville family even donated a yacht for Alaqua to use in its fundraising efforts, which has become the seed money for a future black bear sanctuary, the first in Florida. Alaqua's most significant need continues to be funding, with a whopping $250,000 per month required to operate.
Alaqua Animal Refuge has become a place where dreams come true for animals and the people who are so dedicated to its mission. It's a place of healing, where broken hearts mend and damaged souls find solitude.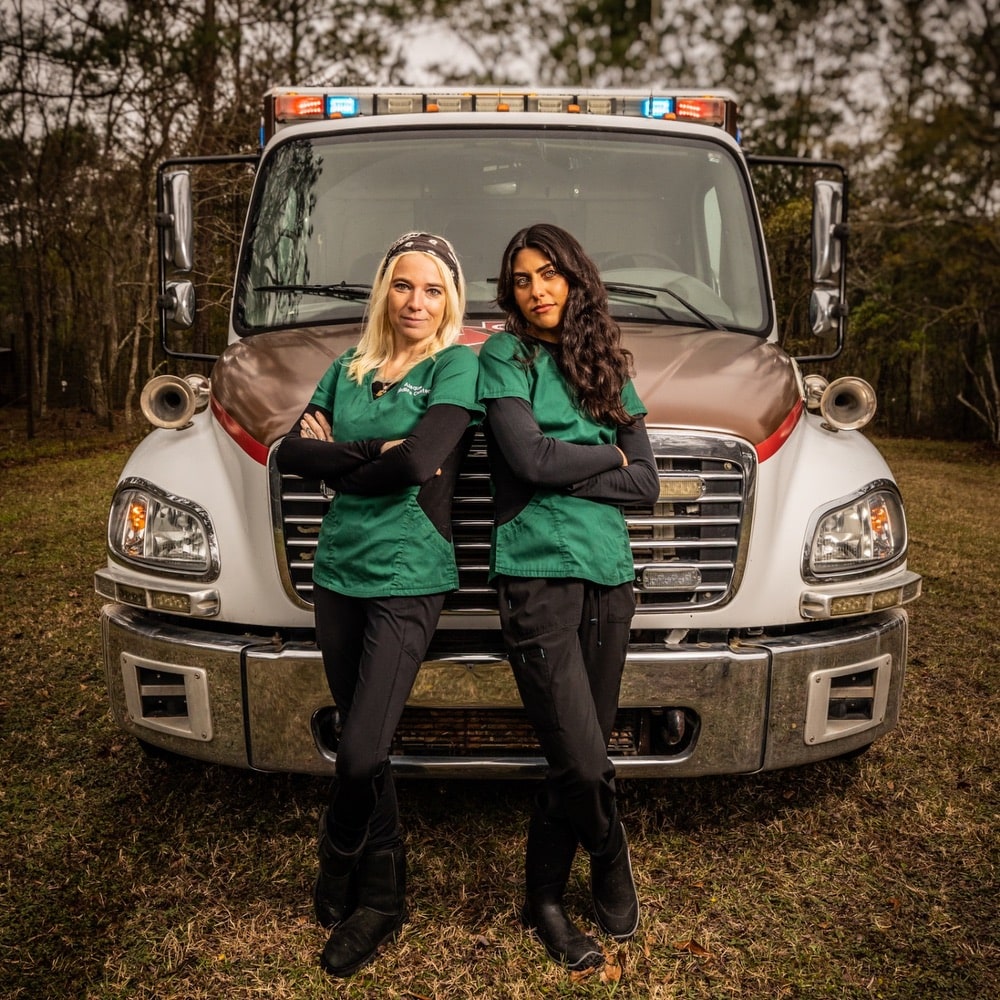 The momentum and support of Alaqua are growing. The Rosemary Beach Foundation recently donated $10,000 of a $50,000 visionary pledge for Alaqua's "Second Chances Start Here" capital campaign, and the new facility's courtyard will be named after the foundation. Executive director Malayne DeMars states, "We are proud to support Alaqua and their efforts to protect and rehabilitate neglected, abused, and injured animals."
The outstanding Dog Adoption Center allows the public to visit and observe adoptable dogs and puppies in climate-controlled buildings, where indoor and outdoor runs are attached to large play yards. Charming, homey meet-and-greet rooms allow prospective adopters to spend time with a dog in a relaxed and comfortable setting. If you love walking and you love dogs, consider volunteering as a happy and helpful dog walker.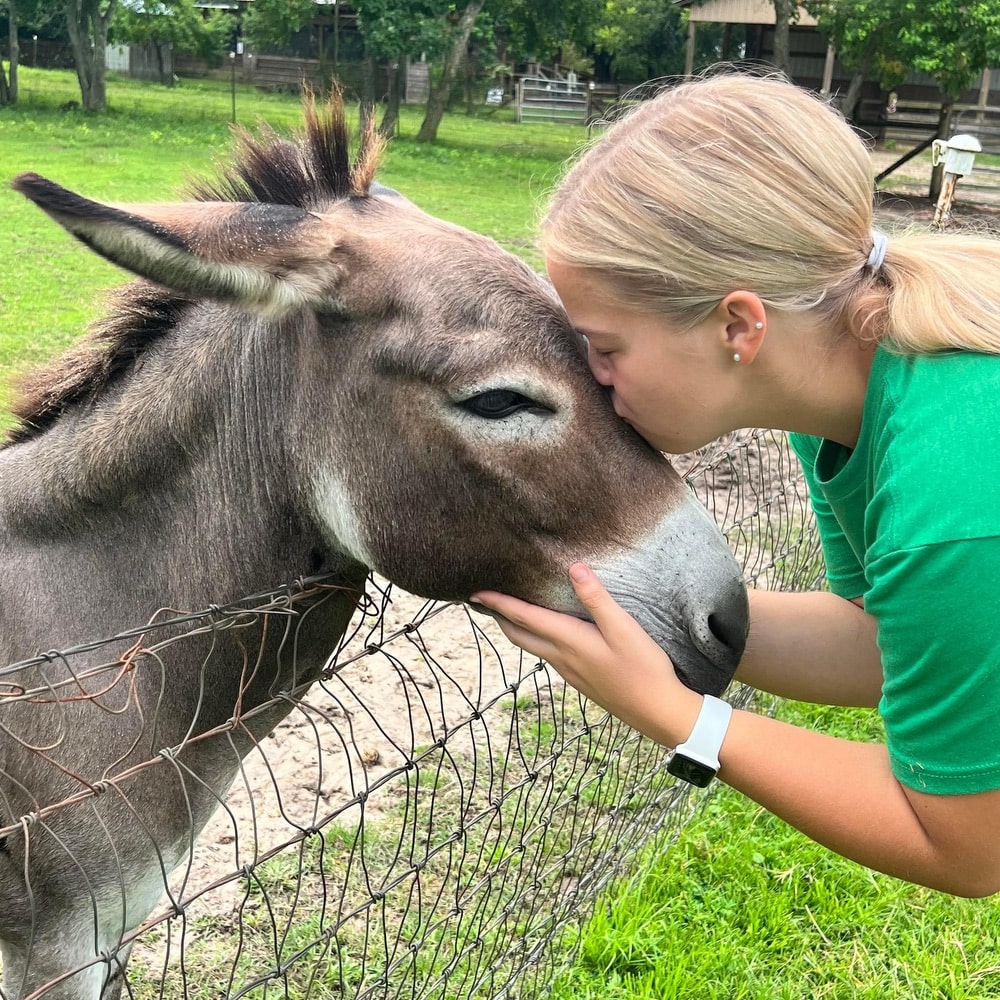 Unique cat cottages host adoptable felines in cage-free areas with large screened-in porches. And talk about a dreamy volunteer shift: Imagine chilling out with the cute cats, interacting with them and their toys. Soon to come are a fenced courtyard and café, where guests can enjoy coffee or tea while observing the cats. A kitten cottage allows moms and litters to stay together until adopted.
Barnyard Friends is another delight for kids and adults of all ages. Unlike your typical petting zoo, the emphasis is on educating and inspiring youth to become aware of how they could launch a career one day focused on protecting and helping animals of all kinds. Birthday parties have already been a hit on the new Alaqua grounds, and food trucks will also be a draw to encourage people to come and stay awhile.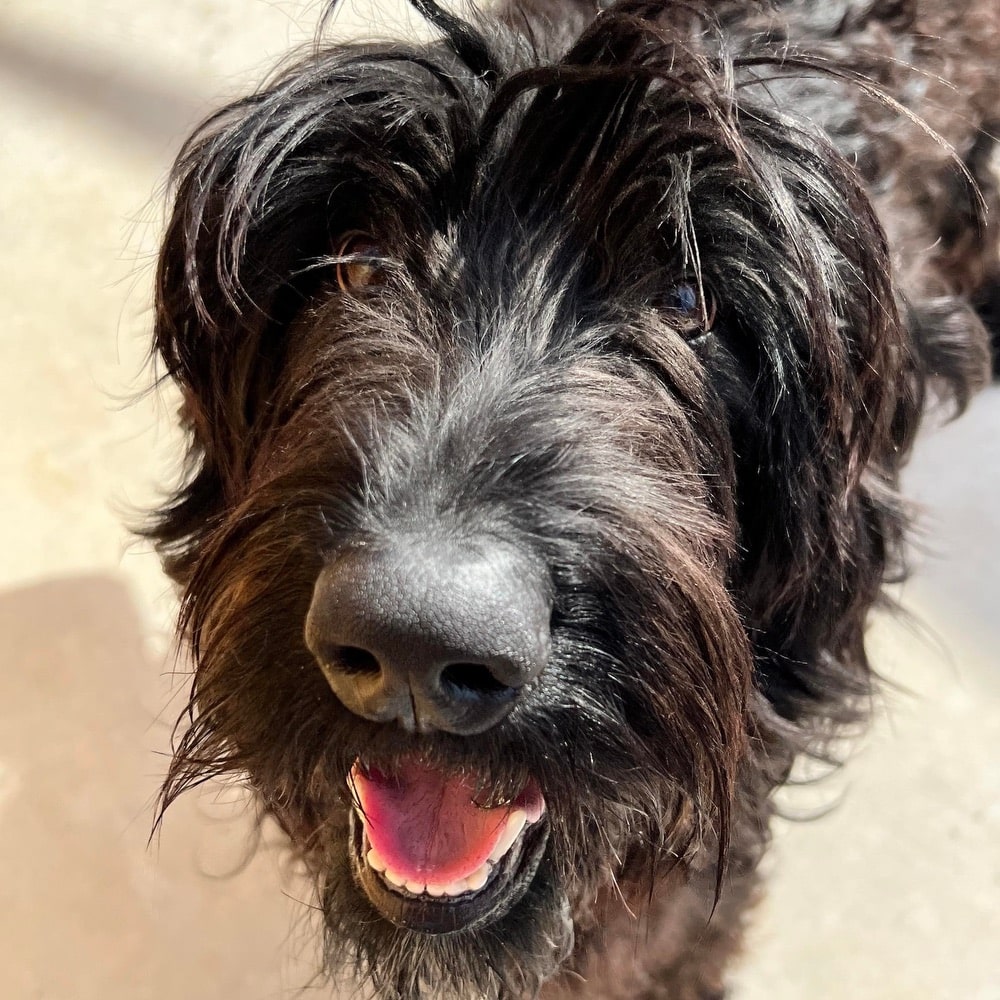 A beautiful enclosed Wildlife Sanctuary sits on more than forty acres. Here guests can learn about and connect with wildlife animals—including hawks, owls, other birds, deer, raccoons, and more—who are orphaned, have permanent disabilities, or are being rehabilitated.
Gardens will be splendid to stroll through, as will the miles of nature trails. A Sacred Spaces area is located near a spring-fed creek at the back of the peaceful property. A stone labyrinth encourages quiet contemplation and meditation, and a rustic chapel will be an idyllic setting for memorials and weddings.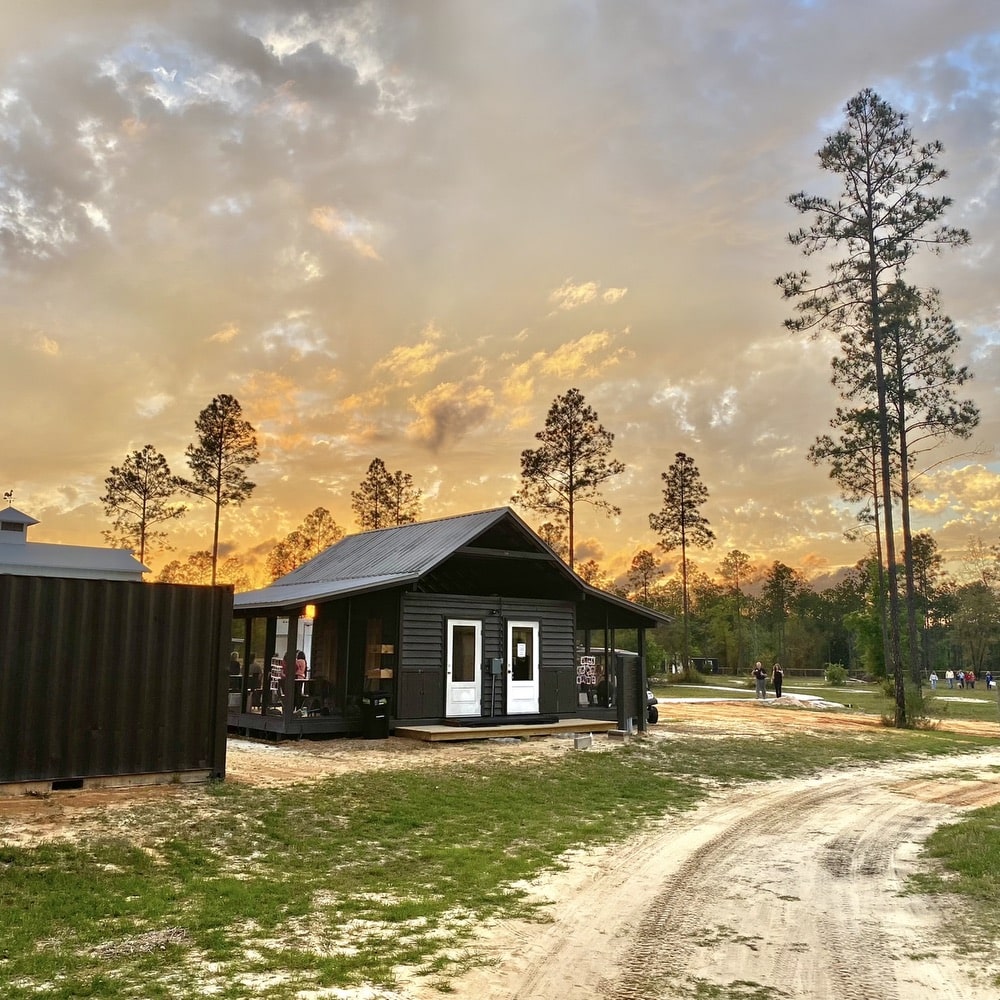 Healing Hearts, Hooves, and Paws
Over several years, Hood noticed something about many of the people who were drawn to what had been created at the refuge. Many volunteers had experienced some type of trauma in their lives, and it was with the animals that they experienced healing and an improvement of their well-being while bettering the lives of the animals. Thus, Kindness Kollective was created, providing an environment of sanctuary and ease for humans through animal and earth awareness and interaction. Workshops, yoga classes, and art therapy are just some of the offerings, with a focus on mental health and human wellness. The Kindness Kollective program aligns perfectly with the overall Alaqua vision of creating a kinder, healthier, and more empathetic society for animals and people.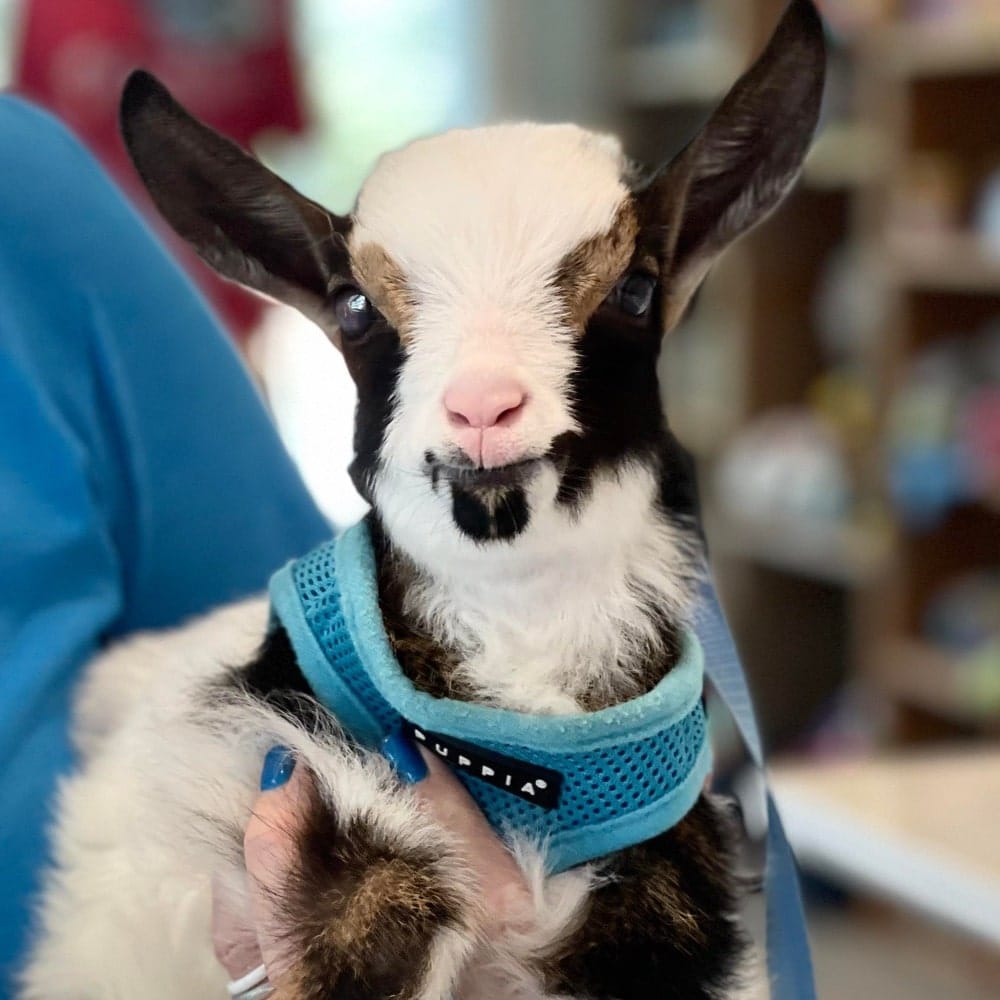 In addition to the new facility, Alaqua will maintain its original ten-acre farm setting, where it will continue to host the successful Equine Interactions Program, utilizing the healing power of horses to provide therapy to a wide range of individuals, including those with PTSD and autism. Farm animals and a quiet Wildlife Rehabilitation Center are also housed here, providing much-needed resources for rescuing and rehabilitating sick, injured, and orphaned native Florida wildlife.
Among the most impressive traits Hood is blessed with is her humbleness and readiness to put others in the spotlight to further a cause. After having a network show on National Geographic Wild, she decided that instead of tooting her own horn, she'd produce high-quality podcasts. The podcast titled Laurie Hood's Difference Makers showcases the work of animal advocates who've dedicated their lives to animal protection and safety. You can view compelling podcasts like those highlighting the work of Ellie Phipps Price and "Mustang Meg" on behalf of America's wild horses at Alaqua.org/podcast or on YouTube. Hood adds that the episodes are expensive to produce, and she'd love some sponsors to step up for future podcasts.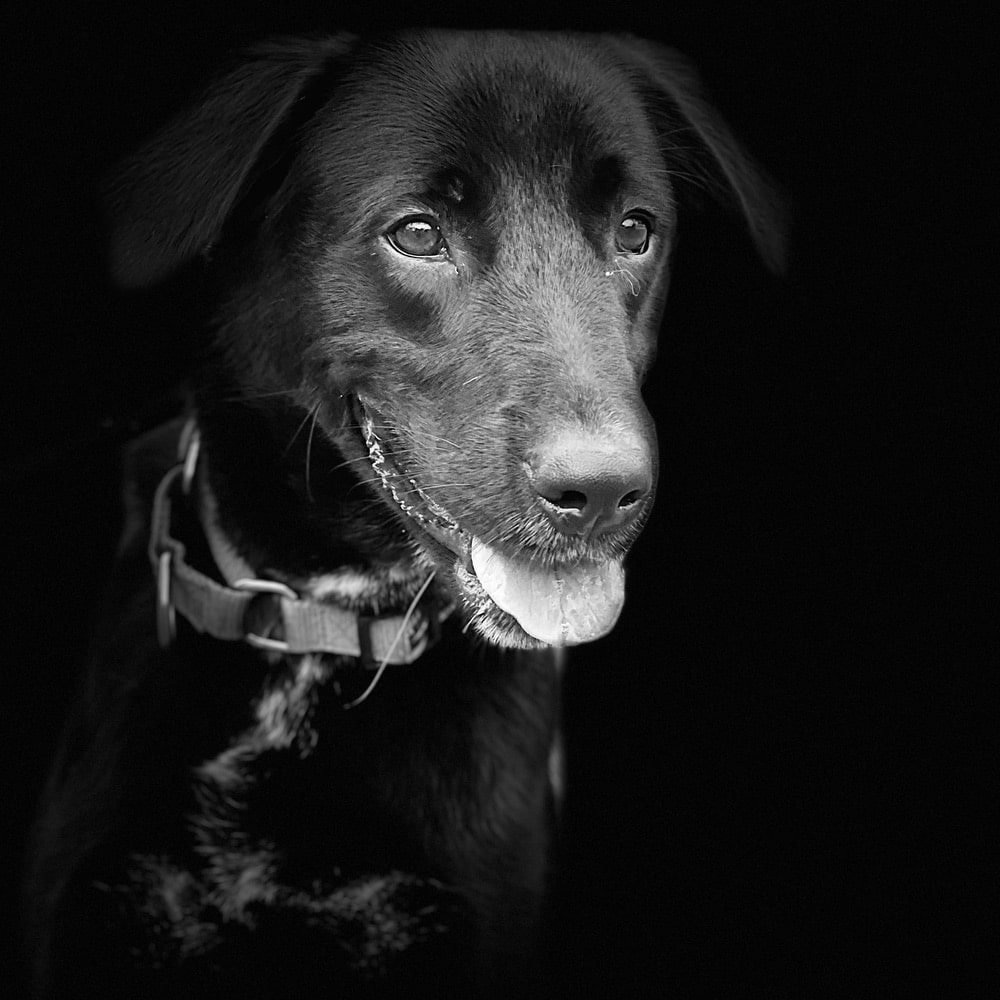 Longtime volunteer Lisa Snow says, "I volunteer to help animals through a transition period until they are healthy enough physically and mentally to find their second chance. Helping to connect an animal in need with a person in need is rewarding beyond anything I've ever experienced. Alaqua is the most open-armed rescue, taking cases that others won't or can't." This Alaqua volunteer wholeheartedly agrees. Becoming involved with Alaqua will enrich your life and the animals' lives. Like American philosopher William James said, "The greatest use of life is to spend it on something that will outlast it."
Laurie Hood sees the refuge as a healing place for both animals and people; it's a place to cultivate and encourage future generations of rescuers, veterinarians, animal lovers, and leaders.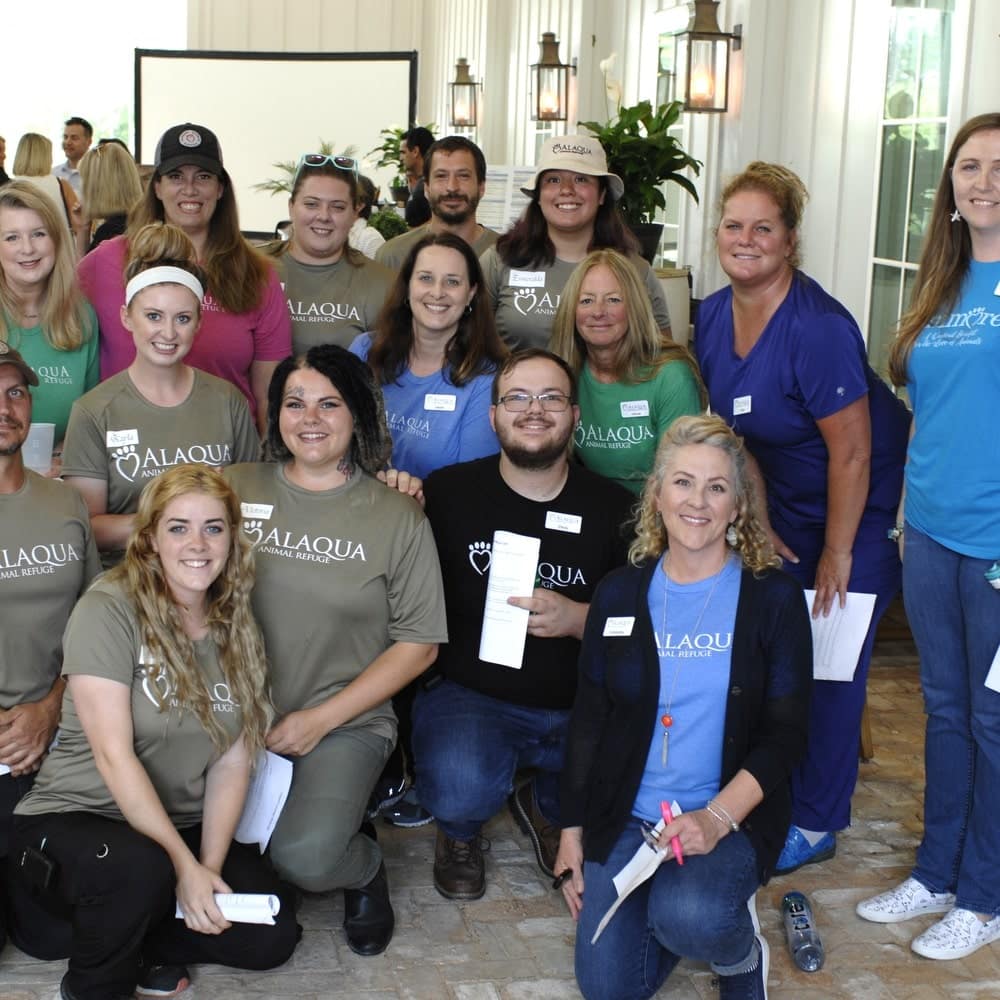 Laurie Hood has the rare ability to have her boots firmly on the ground and her head in the clouds, dreaming of future possibilities and how to make our earth a better place for animals and humankind. She sees the refuge as a healing place for both animals and people; it's a place to cultivate and encourage future generations of rescuers, veterinarians, animal lovers, and leaders. Thank God for rainmakers and change makers like Laurie Hood, who can—and undoubtedly will—make the dreams a reality.
And Miss Coral? Grab your tissues for a happy ending. This sweet senior dog was adopted by an equally sweet senior couple as this story approached the final deadline. May the Alaqua fairy tales continue forever.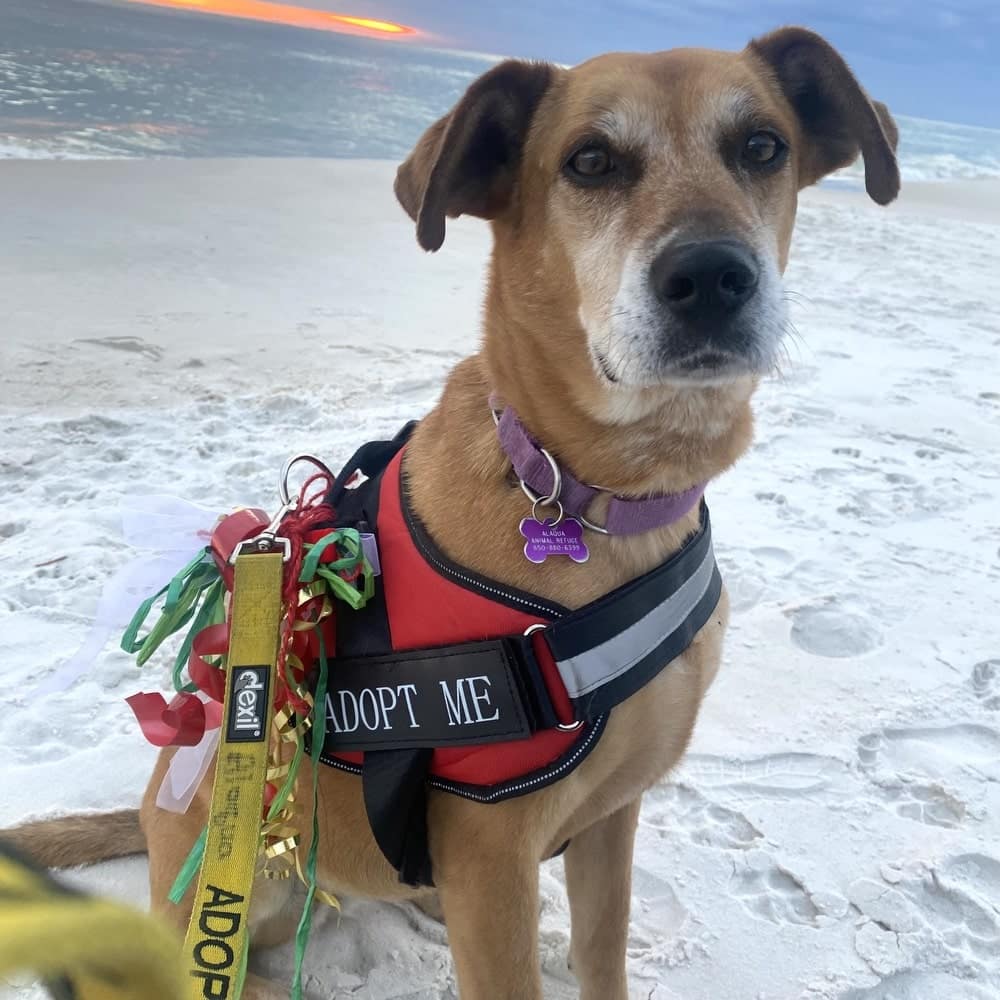 ---
For more information on Alaqua Animal Refuge and how to donate, adopt, foster, or volunteer, visit Alaqua.org or call (850) 880-6399.
Janet Thomas is a longtime writer, editor, and animal lover. She's a former Editor-in-Chief of American Airlines' luxury magazine, Celebrated Living, and is joyfully beach-based near Rosemary Beach, Florida—when she's not traveling the world for a good story.
---
Events at Alaqua, March 2023
A month-long series of events will celebrate Alaqua's opening of its fabulous permanent home. Join them every Saturday in March, kicking off with the March 4 ultra-special 100 Point & Cult Wine Dinner fundraiser—think five-course dinner, wine pairings, private concert, and silent and live auctions. This exclusive sneak peek event is available to a limited number of guests. Get tickets through Alaqua's website under Events.
A free Wellness Festival takes the spotlight on March 11, and Alaqua's Kindness Kollective team will host wellness facilitators and vendors, educational seminars, live music, children's activities, vegan food, local breweries, a nature walk, and a ceremonial bonfire at the end of the blissful day.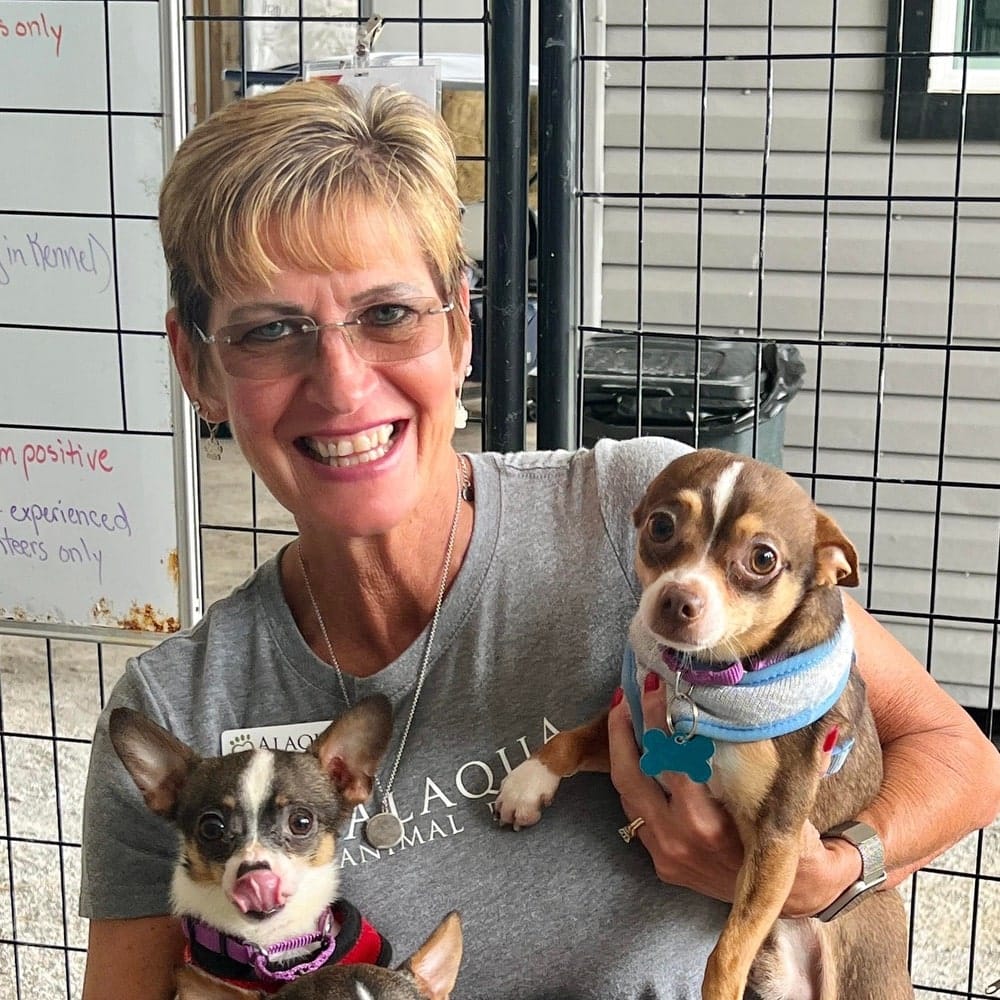 Refuge doors officially open for tours and adoptions on Tuesday, March 14, and will be open Tuesday through Sunday from 11:00 a.m. to 4:00 p.m. Don't hesitate to reach out to Alaqua if you are interested in adopting or volunteering before then.
Curious about adopting a pet or volunteering with Alaqua? Be sure to visit Saturday, March 18. Find your new best friend, get informed and plugged into volunteer opportunities, and enjoy food trucks and tours of the grounds and nature trails.
Saturday, March 25, is the Wild and Free Festival, a family-friendly event supporting the Alaqua Wildlife Rehabilitation team. Expect a "baby shower" for the orphaned wildlife at Alaqua, plus plenty of fun activities.
— V —
---
To become a sponsor or vendor for these events, email info@alaqua.org.
ARTICLE CATEGORIES