Chic. Modern. Seagrove.
By Lisa Burwell | Photography by Romona Robbins
Forget about the facetious manner in which the word "winning" has been bandied about lately, thanks to a certain celebrity. This is a true phoenix-rising-from-the-ashes story about perseverance—about really winning.
For over five years, the partners of V have contended with many obstacles that threatened their vision for the corner of 395 and Highway 30A in Seagrove: criticisms regarding the style of architecture, challenges, failed attempts to open, and a host of others. Two of the partners, namely Chip Haring and George Hartley, shared how the ups and downs of opening the restaurant bearing the letter V and the forthcoming Hotel Viridian were eerily similar to the story line of Herman Wouk's 1965 novel, Don't Stop the Carnival. The main character in Wouk's novel is a successful businessman who, lured by a carefree lifestyle in the sun after years of running the rat race, leaves NYC during a midlife crisis to run a hotel in the Caribbean, only to be met with a series of comical and disastrous events. The real-life adventures—and misadventures—of the partners became the impetus for choosing DST Carnival as the name for their development company (the DST stands for "Don't Stop the …" as in Wouk's title. They later changed the name to DST Phoenix paying homage to the bird of legend that rose from the ashes).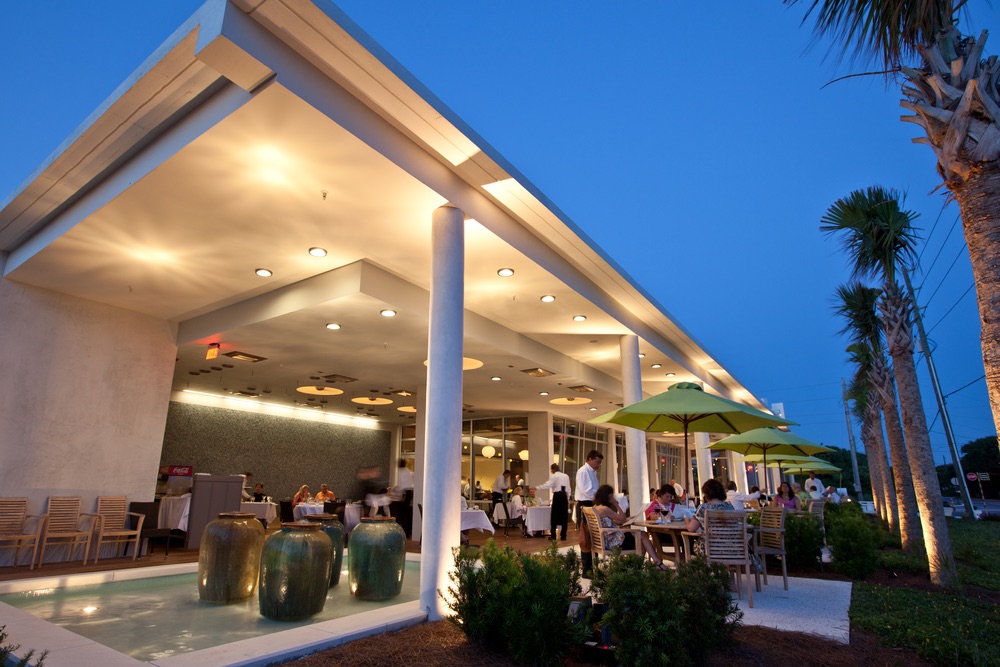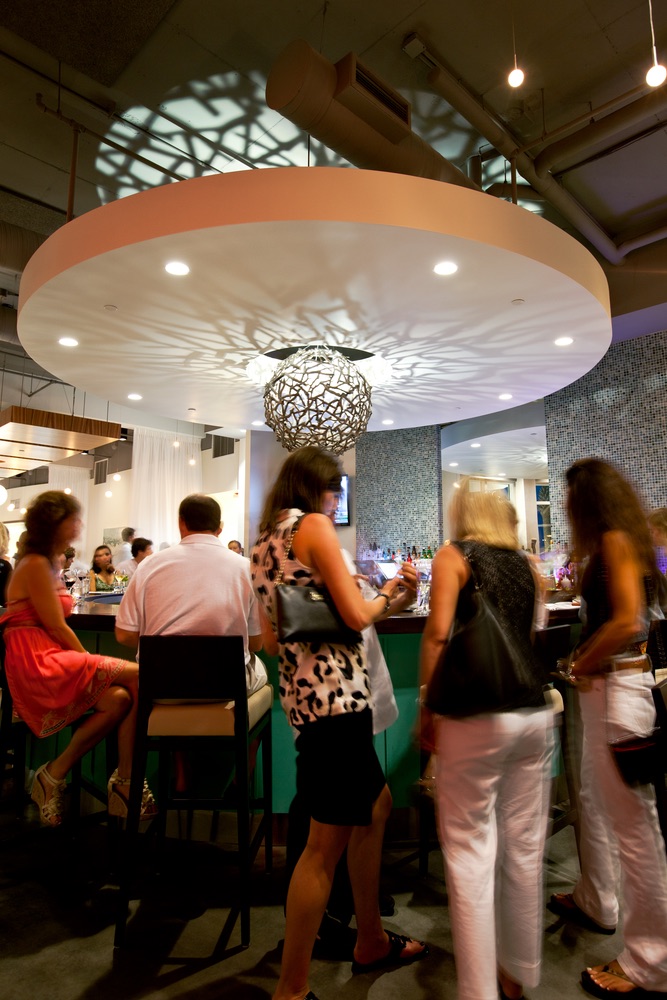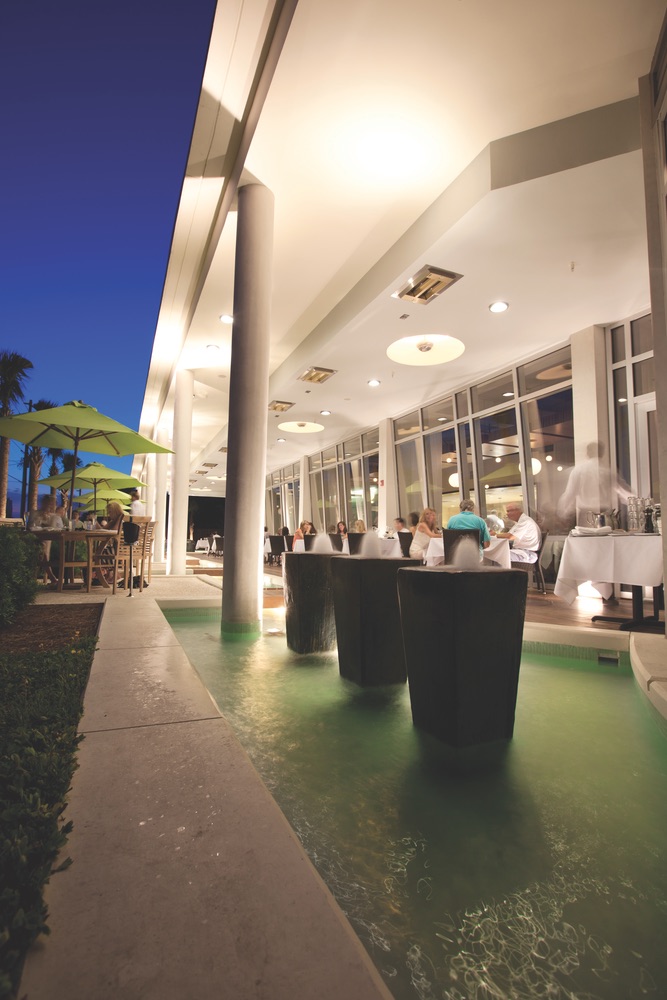 This fun-loving, gregarious, and genuine duo told their story with a sense of humor; but it was evident that it had taken sheer grit and determination to pull off bringing this signature building out of the ground, especially following several economically depressed years. In short, they had defied the odds. "It's been worth all of the heartache. Now that we're on the other side, we are consistently hearing from many of the former detractors and naysayers, those who didn't like the size and architectural vernacular of the building, that they now love how it looks," Chip said with a thankful smile. George chimed in, telling of a recent phone call he received from a longtime Seagrove resident. The caller had said, "I didn't like you when I knew you were planning to develop Hotel Viridian, but now I love you—the building looks like it's been in Seagrove for years."
While interviewing Roger Godwin, the principal of DAG Architects—the firm that designed V and Hotel Viridian—his calm resolve and unwavering confidence was evident. "When we first began working on the project, the building was intended to serve as the town center for Seagrove, since the intersecting corner marks the essence of the community. We believe we've accomplished that. Architect Carey McWhorter worked on the initial designs for Hotel Viridian; when the project grew larger than he was able to handle, he brought it to us because he realized he needed more horsepower. The restaurant alone is 6,700 square feet. We're now working together on two residences directly across the street that will be designed in the same style. There are three lots; the lot in the middle will remain undeveloped so that the view of the Gulf is unobstructed," Roger stated. The goal was to create an iconic building that looked like it belonged in Seagrove; it also needed to withstand the harsh elements prevalent in our area. "We made the building public and transparent, allowing the Gulf to add life and energy to the experience, whether you're a passerby or a diner in the restaurant." He explained that by creating a building that opens up to the street, the visual elements of the street become more defined. Considering Seagrove's streetscape, the decision was made to place the word "SEAGROVE" prominently on the building's marquee sign and V, the restaurant's name, on a small monument sign. "It's all about Seagrove."
Upon entering the restaurant, you're greeted by a circular bar with a chic and cosmopolitan edge. "The bar needed to have life, and by being able to see it from the road, an interest is created. A driftwood chandelier created by local artisan Stefan Daiberl is a focal point. At night it reveals magnificent patterns of shadow and light created by the shapes of the twigs," added Roger. "Whether you're inside or outside, you're part of the experience."
V
In addition to V's undeniable curb appeal, it is boasting revenues and patronage that have exceeded expectations since the doors opened at the end of February this year.  The restaurant does not take reservations and it's not uncommon to see a line of people standing outside waiting to get in. A line outside any establishment, especially a restaurant, is, well, restaurant nirvana. Managing partner and general manager Sean Goss has been leading the culinary and operational team for the past year, readying for the opening with a fierce determination to put his indelible mark and that of his team's on this restaurant. Sean's culinary pedigree includes oversight and management of the Capital Grille chain; he was largely responsible for its meteoric growth. He is also credited with bringing Seagar's to life at the Hilton Sandestin Beach Golf Resort. (These are just some of his career highlights, and he plays a mean game of rugby too!) "It's all about the service and the experience you have when you dine out, and V's experience is memorable," said Sean. "The dynamic, lively, and captivating ambience has its own energy and customers are really embracing the experience." With a diverse and interesting menu, V is quickly becoming known as 'the happening spot.' "We've created an extensive menu at reasonable price points, and Executive Chef David Cunningham is doing a remarkable job," noted Sean.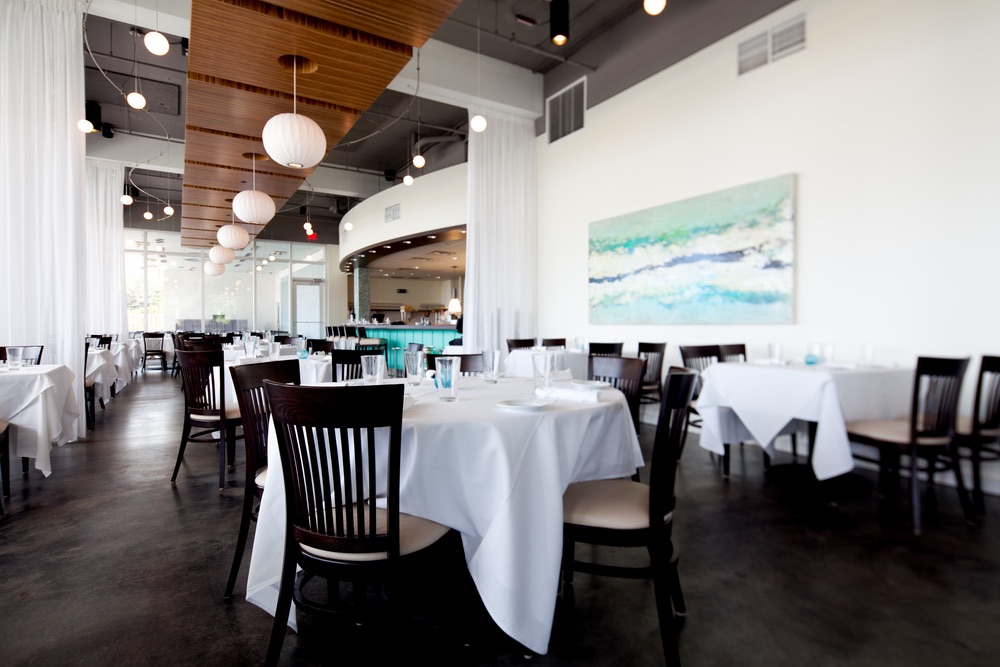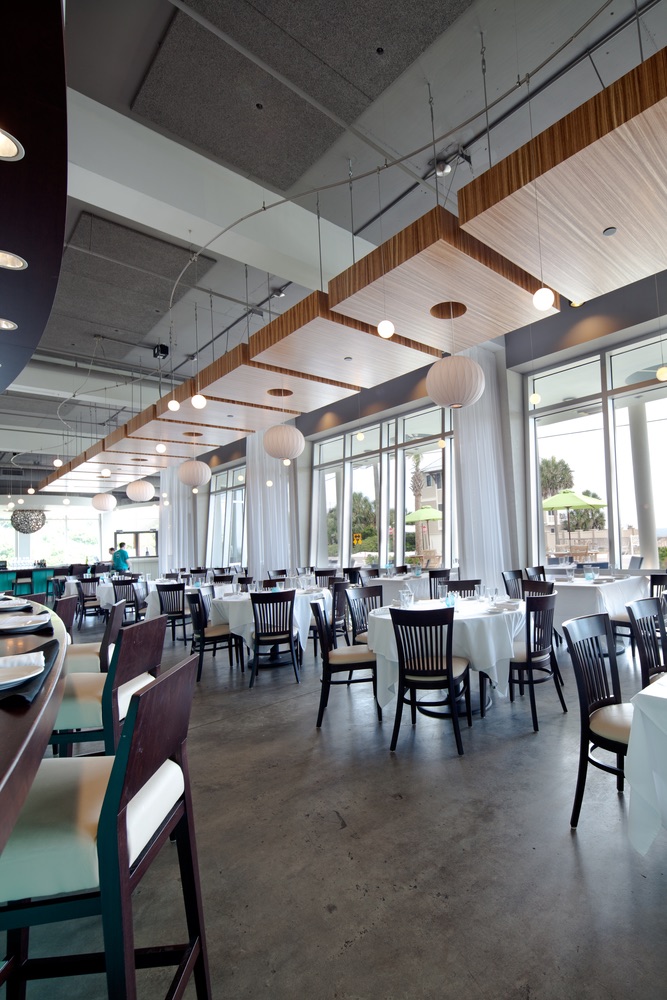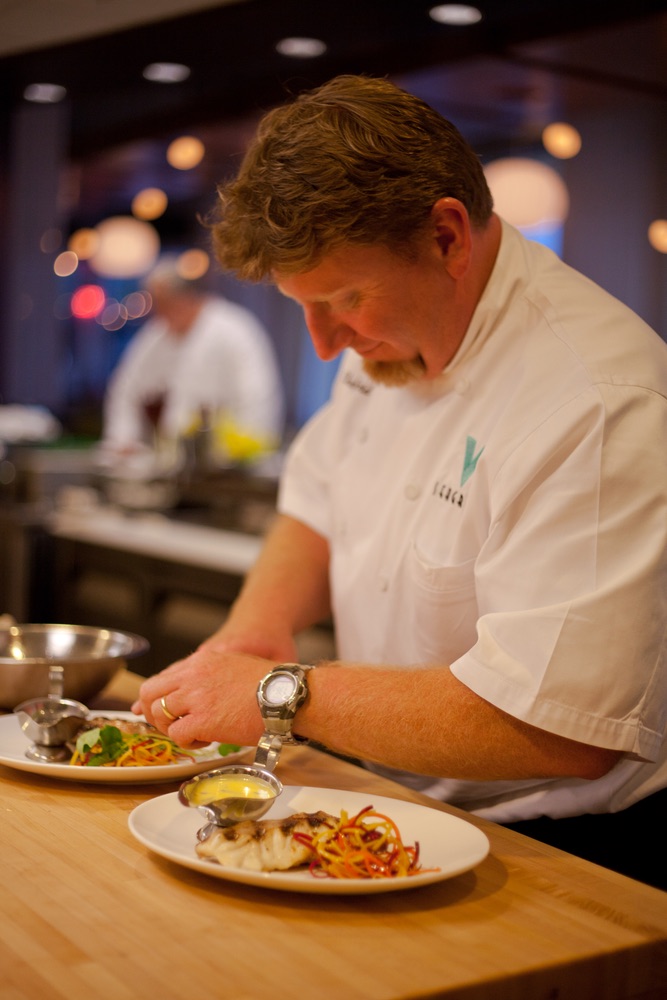 Executive Chef David Cunningham presides over the kitchen, bringing years of experience with him. His most recent stint, before joining V, was at the beloved Commander's Palace at the Emerald Grande in Destin, Florida, which closed, sadly, last year. David completed his formal training years ago working under Chef Jamie Shannon at the flagship Commander's Palace restaurant in New Orleans. During that time, he was featured in Gourmet magazine as having one of the top five chocolate desserts in the country. He has also had the prestigious honor of cooking at the famed James Beard House in New York City.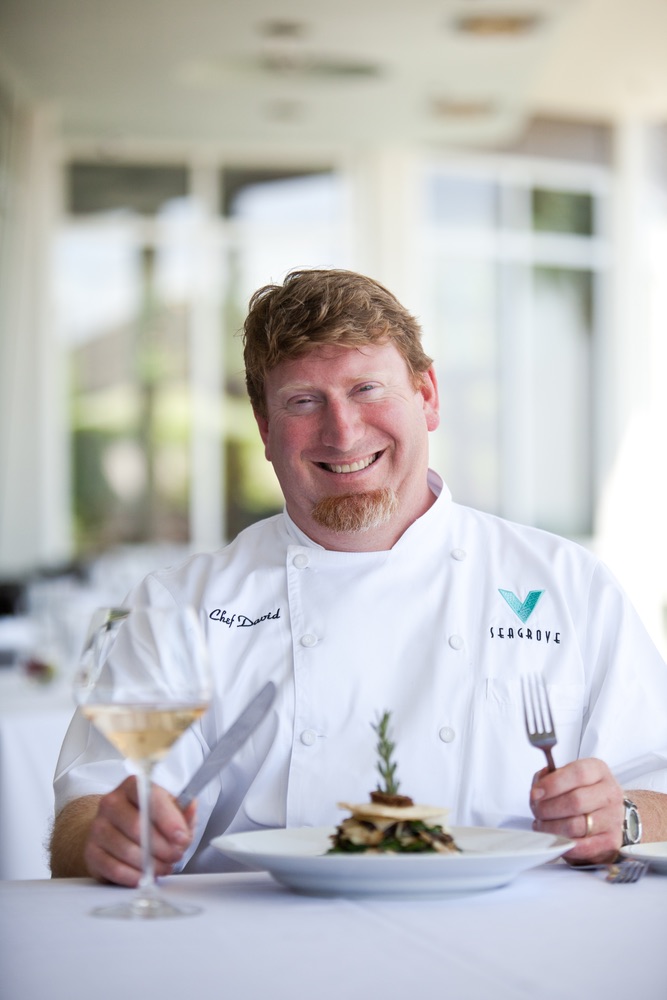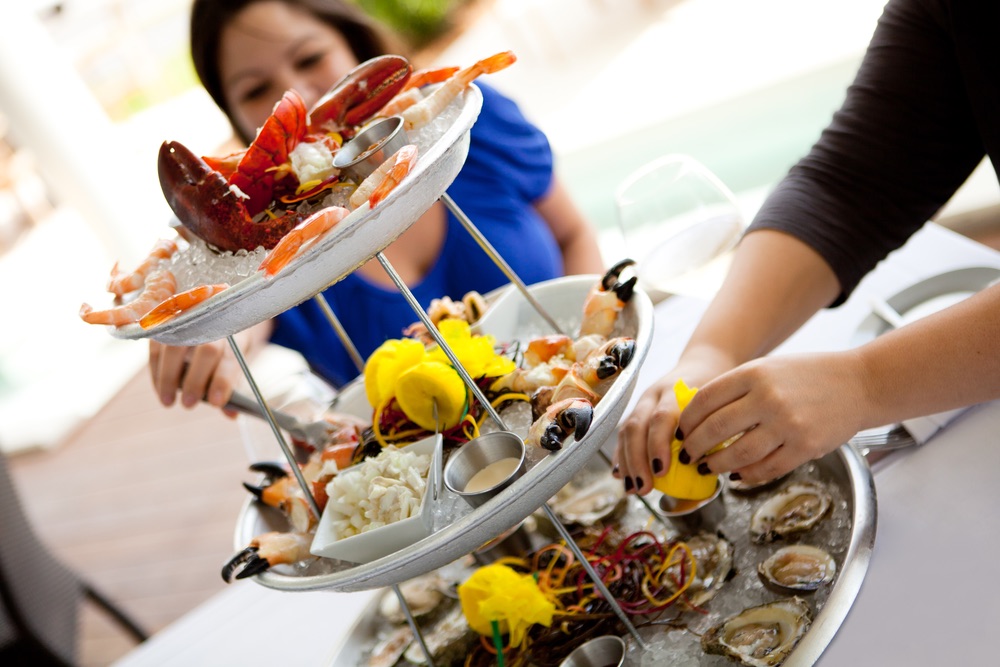 David states, "I strongly believe in using the freshest ingredients available and am a big proponent of using local purveyors who are growing locally." As testament to David's farm-to-table philosophy, the following are some of V's suppliers:
Mac Farms Ocheesee Creamery Sweet Grass Dairy Niman Ranch All Natural Meats Harris Ranch Siintl Herb Company Springer Mountain Farms C&B Farms Strube Ranch Eden Farms C&D Mills Dragonfly Fields Inland Seafood Farms at Long Leaf Water Street Seafood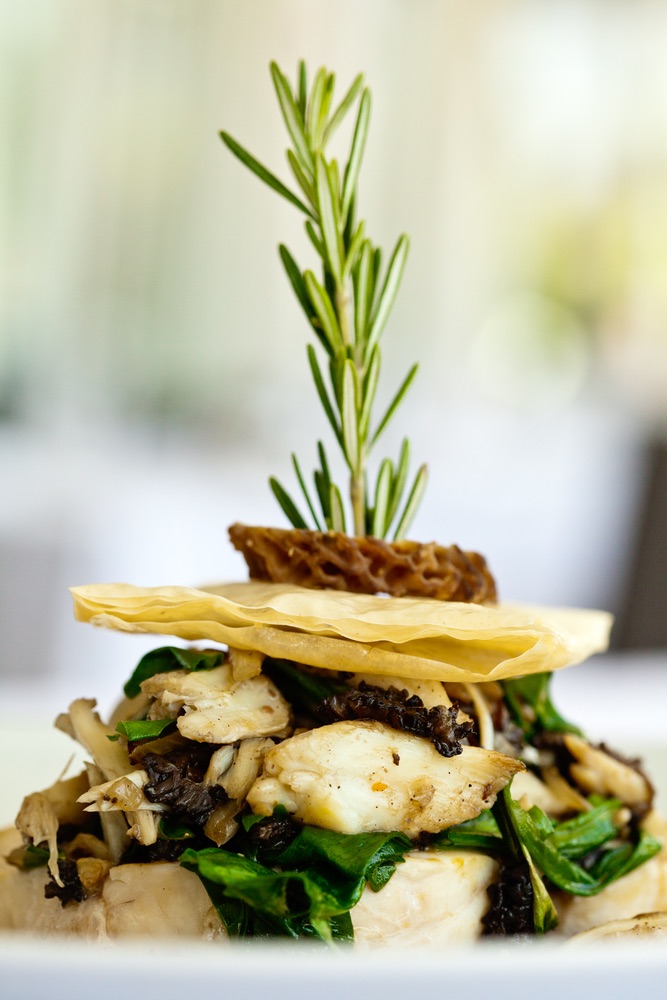 Hotel Viridian
The purposeful decision to open the restaurant first—as a prelude to the proposed boutique-style Hotel Viridian—was a masterful move. Checkmate. Hotel Viridian and V are destined to be the jewels at the center of the new downtown Seagrove development. Each of Hotel Viridian's twenty boutique hotel rooms, ten three-bedroom luxury suites, and two five-bedroom Gulf-front residences, each with its own pool, will be available for purchase as a fractional ownership opportunity in the coming months. Beach Properties of Florida, the exclusive brokers for Hotel Viridian, have a satellite office located on-site.
"It's rare to be able to showcase real estate in this manner, and we believe it is going to be a great sales tool for selling this new concept to the community," said Hunter Harman, broker and co-owner of Beach Properties of Florida.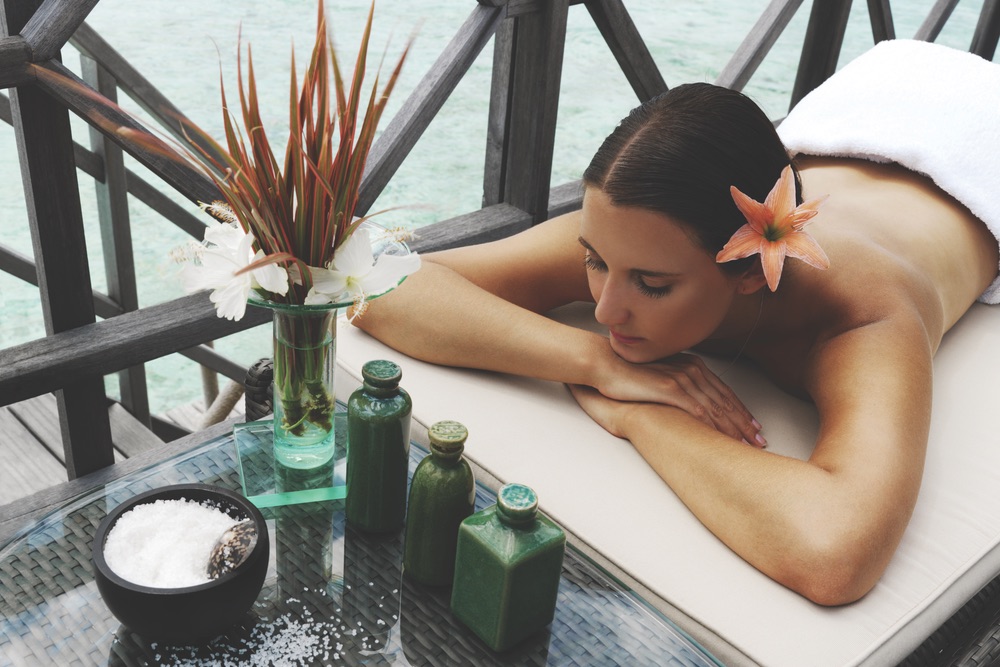 The hotel's luxury king-size units will vary from 600-square-foot studios to 1,200-square-foot corner suites. Each will feature custom-designed furnishings, oversized closets, opulent bathrooms with freestanding sauna tubs and spas, and floor-to-ceiling windows that open on to private terraces, offering expansive views of the Gulf of Mexico.
Hotel Viridian's ultrachic campus-style setting will include a lobby bar, the restaurant V, a world-class spa and wellness center, retail shops, and ample parking. "We're in negotiations with the acclaimed Blu Spas to manage a high-end luxury spa unlike anything offered in our area," added Chip. A rooftop garden will boast an infinity-edge pool and five permanent cabanas. "A Miami-style influence to the architectural vernacular with clean lines is melded with an old-Florida Art Deco to create a unique statement for 30A's unique neighborhood of Seagrove Beach," said Roger.
George joyously and half-jokingly mused, "We put the V in Seagrove with the birth of the restaurant." V also stands for victory, as the opening really is a triumph for the partners.
Take a victory lap, V. You deserve it!
— V —
---
V Seagrove – www.vseagrove.com Open Tuesdays–Sundays from 6 to 11 p.m.
Hotel Viridian – www.hotelviridian.com
To learn more about real estate opportunities, visit www.beachpropertiesofflorida.com, www.hotelviridian.com, or call (850) 213-5454. To learn about daily updates on restaurant V, please visit their Facebook page at www.hotelviridian.com.
ARTICLE CATEGORIES