There's No Place Like Home
By Melanie Cissone | 
Photography by Steven T Mangum
Toto, I've a feeling we're not in Kansas anymore. —Dorothy, The Wizard of Oz
For those who roll their eyes when idMI cofounders Todd Reeves and Jorge Saiz mention that they earned their chops in home furnishings and interior design in Topeka, Kansas, Todd grins knowingly and dispels preconceived notions about his home state: "It's a sophisticated, monied crowd there. Our Kansas clients have traveled everywhere."
Quietly mimicking the sound of hillbilly banjo-picking, Saiz can't wait to add, "Kansas is not what people think. It's smack in the middle of the country, and that's what makes it an easy trip to San Francisco, New York, or Chicago."
The only modern furnishings and decor establishment in the Florida Panhandle, idMI, short for Isidro Dunbar Modern Interiors, is in Miramar Beach. Its owners lovingly named the operation for Saiz's father, Isidro, and Reeves's mother whose maiden name was Dunbar. A month away from celebrating twenty-five years in the retail furniture and decorating business, the partners and husbands—they married at New York's City Hall in 2013—made their way to Northwest Florida twelve years ago on a circuitous route. And, like the ruby-slippered beauty's adventure, the journey began in Kansas.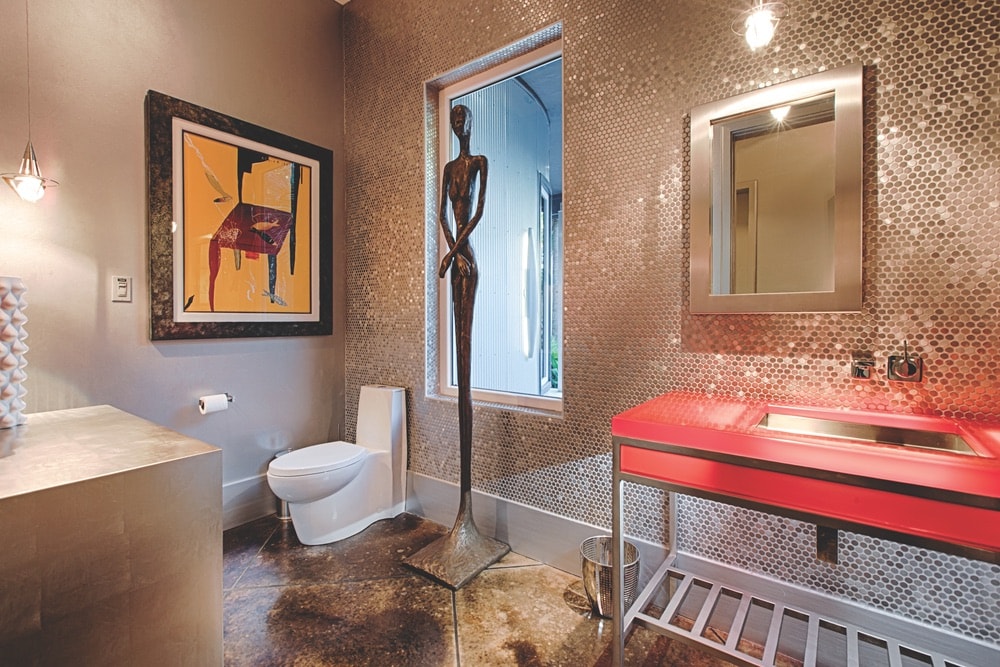 Born and raised in Topeka, Reeves graduated from the University of Kansas with a degree in public relations. After a post-college year in Kansas City, he hightailed it to the Big Apple. And what a time to go to New York City! In his early twenties, the Jayhawker descended on Gotham at the onset of the 1980s MTV era.
"I lived in Chelsea long before it was cool," Reeves chuckles.
Remembering his New York days, he says, "I really knew how to sell dresses." For eleven years, he worked in fashion—first for Japanese haute couture legend Hanae Mori and later for evening-wear designer Stephen Yearick. Whether he was representing refined runway looks of the or the "glitter and glam," as he calls it, Reeves traveled the United States marketing these brands to department and specialty stores.
It comes as no surprise, with his fashion background, that Reeves makes astute comparisons between beautifully tailored garments and expertly fabricated furniture. With a penchant for the latter, Reeves outfits both the showroom and residential or commercial spaces he designs with American- and European-made furniture brands, many of which are exclusive to idMI. He and Jorge have expert awareness of the differences between well-made, on-trend modern furniture and the cash-and-carry budget varieties. Their dedication to their vendors and skillful showroom selections are evidenced in having been named one of Furniture Today magazine's "Beyond the Top 100" list for the fifth time last year. The industry journal reports its prestigious list as "seventy-five furniture stores in the U.S. that are significant players in their markets."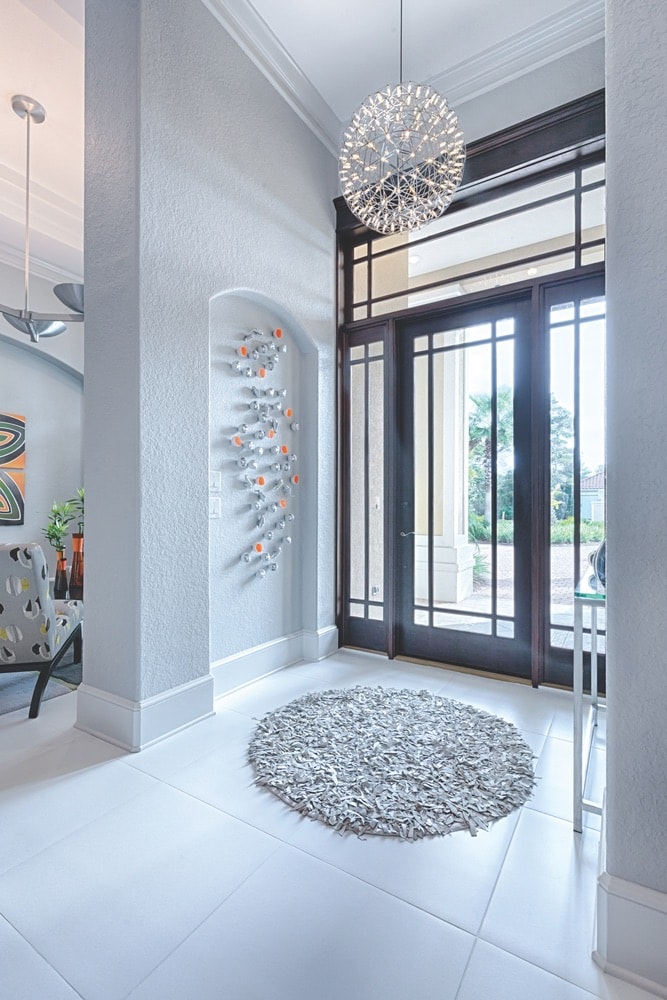 "We're platinum dealers for American Leather and have carried that premium line for over twenty-two years," Reeves delights in saying about the number one vendor carried at idMI.
Reeves met Saiz at a popular Chelsea dance club where Madonna was not only a regular but also appeared for the first time in public with bad boy Sean Penn. Saiz was in the stock brokerage business then. They have been together for twenty-nine years.
Saiz's family fled Castro's Cuban dictatorship in the mid-1960s when Saiz was about eight years old. The family immigrated to Northern New Jersey, which is where he was raised until attending Rutgers University and earning a degree in marketing and business. Most people, including Reeves, say his first name as "George." With a slight accent, Saiz muses sarcastically, "I'm not going to argue with anyone who can't do it," referring to the pronunciation.
New York City was Saiz's backyard. "Everyone in my family worked in the city," he says. He eventually made a career change from Wall Street to advertising, working at Young & Rubicam—one of the ad agencies on which Mad Men was based.
Reeves's mother significantly informed his attraction to clean lines in furniture selections and room designs. "Her aesthetic was an early source of inspiration for me," he says, recalling his childhood home.
Reeves's mother significantly informed his attraction to clean lines in furniture selections and room designs. "Her aesthetic was an early source of inspiration for me," he says, recalling his childhood home. "My mother was very modern. We had two black leather sofas and an ivory coffee table in the living room. My dad's office had red leather chairs."
When his mother's health fell into decline, Reeves knew a return to Topeka was necessary. Committed to each other and to doing the right thing, he and Saiz exited their respective careers, packed up their New York City lives, and headed to the Midwest.
During their early Topeka wanderings, they saw a "For Rent" sign on a storefront in the Westboro neighborhood. Having realized they couldn't find stores like the ones they'd grown accustomed to shopping at in New York and their travels, a business plan was born. With a passion for modern and contemporary style and a beautiful 1930s Spanish Colonial Revival shopping plaza called Westboro Mart as the backdrop, they opened a home accessories store in October of 1993.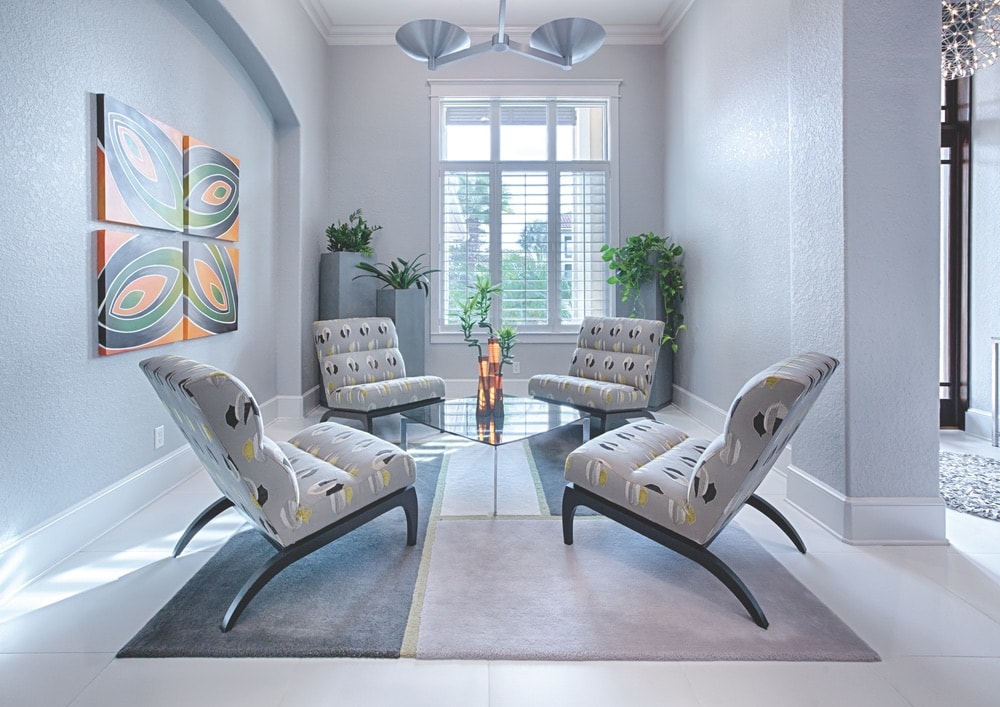 Store clients began asking for help buying furniture and decorating their spaces. In response, isidro dunbar Home Collections swiftly expanded into selling furniture and offering decorating services. Maintaining their enthusiasm for the modern style that launched them, Reeves and Saiz branched out to neighboring Kansas City. Referring to it as a "small big city," Saiz remembers, "Kansas City lagged a few years behind places like New York." By the time Reeves and Saiz were hitting their 1990s stride, the city was unearthing SoHo-like loft spaces that needed expert help. Reeves undertook the residential design of eight lofts there.
It was thirteen years before Reeves's mother passed away in 2006. The two men were faced with deciding whether to grow their business in Kansas City or to relocate to Destin, Florida, where they'd vacationed for eight years and had the beginnings of a business presence through connections there. With the ocean coursing through his Cuban blood, Saiz quips charmingly, "I served my penance. It was an easy decision." They moved to Miramar Beach later that year.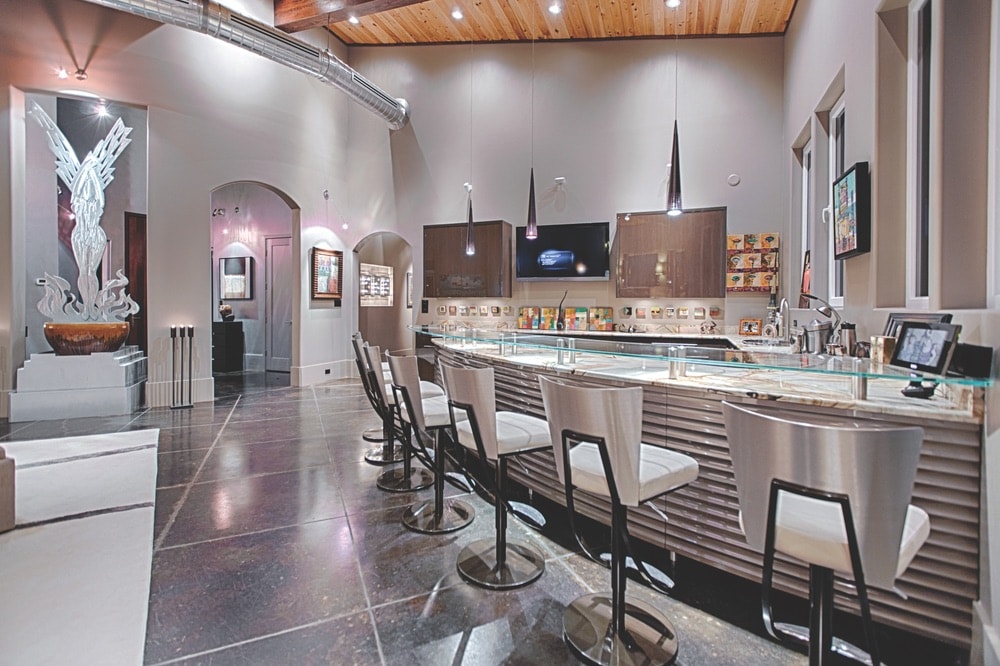 It would be impossible to say they never looked back. Newly residing in Florida, Reeves and Saiz nurtured their longstanding professional relationships in Kansas and continued to sell furniture and decorating services to their Midwest clientele. Loyal to their friends and Reeves's Top City roots, many of those relationships evolved into cherished friendships that flourish today.
Friend and client Terri Bond of Topeka reminisces, "Todd designed three houses for me and my husband, Duane. We've been in our current house for fifteen years, and guests continue to be wowed when they walk in; we still get compliments. Todd could read my mind, and I learned a lot from him. I had never worked with a designer before and haven't worked with anyone other than Todd since. He gained our trust." Underscoring their relationship, she says, "You Floridians are lucky to have Todd."
Not deterred by the devastating housing market crash of the late 2000s, evaporating big-budget design jobs, or the oil spill of 2010, Reeves has continued to attend the High Point Market furniture shows in North Carolina twice a year, only missing two events in twenty-four years. Saiz supervises the back office of idMI. He manages finances, orders furniture, ensures that orders arrive damage-free and as specified, and helps coordinate the logistics of installations.
"Interiors follow fashion. Whatever's trending on the world's runways one year will be influencing interior and furniture design the following year."
Reeves's declaration: "Interiors follow fashion. Whatever's trending on the world's runways one year will be influencing interior and furniture design the following year." He continues, "We stay ahead of the game at idMI. Everything in our showroom is current—it's this season, it's now." Reeves refutes anyone who says that modern furniture is uncomfortable and invites contrarians to have a sit.
For inspiration, Reeves strolls first through InterHall at High Point Market, where they showcase the new, distinctive, juried product lines. He says, "I compare the InterHall exhibit to my pre-thinking about looks and go from there." Color, shape, style, and print are drivers for the modern mastermind. "If something sticks in my mind after I've met with vendors and toured the market, I buy it for our store."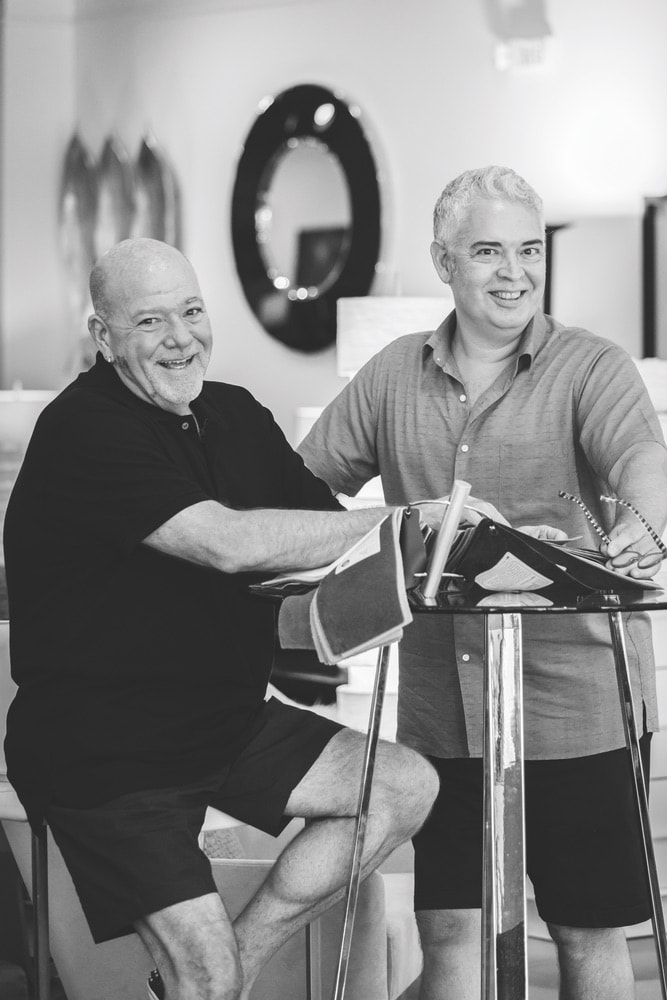 For Sue and Oscar Perez, a contrast in decor styles has been the basis for their twelve-year relationship with Reeves. The Sandestin, Florida, residents met him when idMI first opened. "Sue is more traditional," Oscar says. "I'm far more partial to European modern minimalism and abstract art." A retired pharmaceutical executive who spent six years living in Brussels, Belgium with his wife and youngest daughter, Oscar considers Reeves and Saiz family. Referring to his and his wife's divergent styles and Reeves's expertise at melding them tastefully and logically, he says, "Todd is perceptive. He listens and creates bridges. He is exceptional with people and knowing their buttons. I won't pick a paint color without talking to him."
"Todd is so patient with us," adds Sue. "He is a true treasure and a good friend."
Working one room at a time, Reeves has transitioned the Perez's home, traditional in design and construct, into a dreamy modern refuge. Everyone is happy.
Old friend or new, design client or one-time customer, colleague or vendor, the resounding theme among all who know idMI, Saiz, and Reeves is a profoundly overwhelming understanding that there's no place like home.
— V —
---
New York City transplant to the Emerald Coast Melanie Cissone has been a freelance writer for twenty years. A patron of the arts, she is inspired by beautiful architecture and design and loves learning about people's backgrounds, especially over a dry Italian red wine.
ARTICLE CATEGORIES