The Musical Siren with Velvet Vocals
By Lori Hutzler Eckert  |  
Photography by Kat Hennessey
She leans in with all her might once, twice, and then, still undeterred, a third and final time—but the gleaming black baby grand piano doesn't move a fraction of an inch. With hands firmly on her hips and a look of dismay, the diminutive Morgan James appears genuinely perplexed, as she is clearly a woman used to making seemingly impossible things happen all on her own.
James, who can be found most nights in the glow of Broadway theater footlights, was setting the stage, literally, for Sinfonia Gulf Coast's 2013–2014 season kickoff at Seagar's Prime Steaks and Seafood on October 10 in Miramar Beach, Florida. Dressed in jeans with her blonde hair pulled into a neat, low ponytail and peering through thick-framed glasses, her ingenue-like appearance belied the glamorous chanteuse who would belt out soul-stirring song after song at the sold-out show only a few hours later.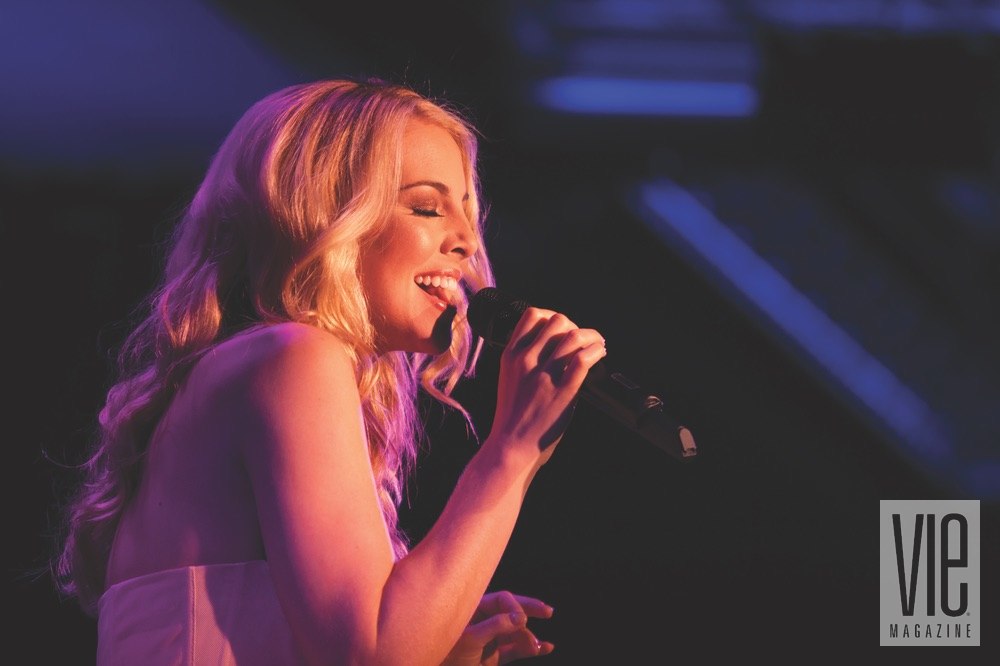 Quite frankly, Morgan James is not a "what you see is what you get" kind of person; she is more. The uncontrived contradictions she embodies reveal her as endearing, intriguing, and, if not a bit vulnerable, at least exposed in a very honest way.
And then there's her voice, which she describes as having "always been much bigger than my body." Actually, it's the voice, because it is unlike any other, with a tone so seductively rich it reverberates in you long after James is gone and leaves you wanting more. Just ask any of the Sinfonia guests who heard her perform songs from her debut album, Morgan James Live, which was released earlier this year by Epic Records.
Recently heralded by the New York Times as "heatedly compelling," James, who possesses an ethereal beauty, is a rising star on a trajectory that is the stuff of which success stories are made. However, cover-girl looks and breathtaking talents aside, her career hasn't evolved because of unsighted providence; rather, it's been painstakingly planned through her dogged determination and innate will to succeed. Flashing a charming diva-may-care smile, she confesses that she has "always been a schemer," even as a child.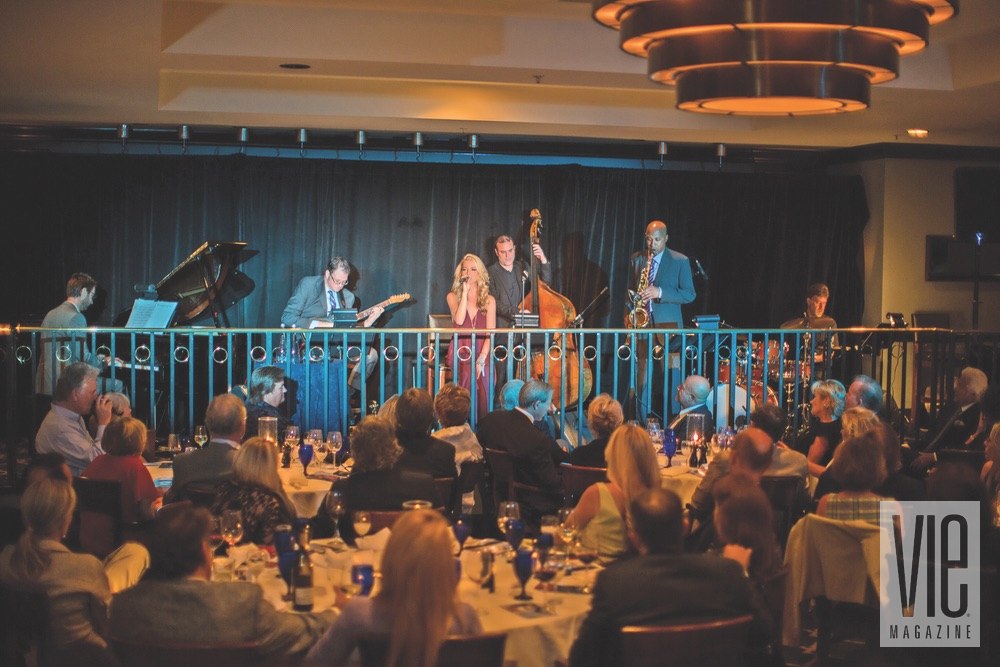 Born in Idaho and raised in Northern California, James credits her family with fostering her gift on a multigenerational level. Her parents, who were involved in the arts, planted the seed for her appreciation of the theater, while her grandparents provided encouragement from the time her talent began to emerge.
My grandfather overheard me singing in the other room, and he picked me up and hauled me upstairs—I think it was at Christmastime—and made me sing for the whole family.
Shortly after, her grandmother offered to pay for voice lessons, which was a commitment she honored from the time James was in sixth grade through her education at New York City's prestigious Juilliard School. And while the abundance of love and lessons prepared her to be in the spotlight, nothing could have braced her for the reality of a young entertainer's life in New York City before she found success.
"When I graduated, I was …" James pauses, carefully searching for the right words. "I was very naive, and I thought, well, you know, I'm talented, I work hard … I have a dream, so my dream's going to come true. And this is not the way it works for everybody. And it was not easy. I had many years when I could not get a job. I had many years where I couldn't get arrested in this town. I didn't find my niche, and I couldn't find my path very easily. It made me very sad; there's nothing more palpable than wanting something, and I didn't think it was going to happen."
But James doesn't love music; she is in love with music. Even during those early years that she recounts as "mean" and "harsh," she simply was not going to settle for a one-sided affair. It is obvious that, from the start, she was all in.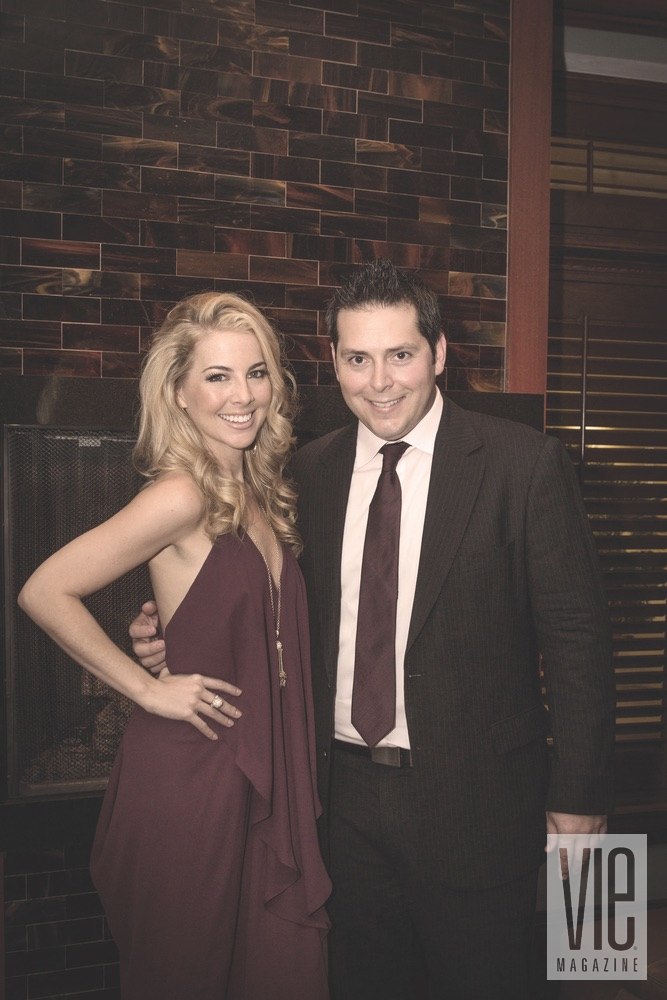 Many artists, even if blessed with immense talent, would not have had the grit and the guts to get knocked down and get back up again; however, during those uncertain years while tutoring, bartending, and catering for a living, James immersed herself in the music of her idols, including Aretha Franklin, Joni Mitchell, and Nina Simone, who inspired James's current album. "All the artists I love, they have in common that they all have a darkness; they have a sex appeal," she reveals. "There is an elegance, and yet, they are not completely polished and perfect. They're connected to their sadness."
James's own ability to connect to her emotions has been lauded by critics and fans for her work on Broadway, beginning with her 2010 role in The Addams Family, where Demetrius Fuller, conductor of Sinfonia Gulf Coast, first saw her. James has also appeared in a run of Wonderland and the first Broadway revival of Godspell; she is currently starring in the role of Teena Marie in Motown: The Musical.
Making it to Broadway was "a relief" for James, and she emphatically expresses gratitude for the opportunities and the relative success she's had. However, with a measure of unvarnished truth, she revealed that she no longer glorifies the idea of Broadway. "It's the hardest job I've ever had," she admits, "and people hate to hear that. They are like, 'Oh, don't talk about how hard it is!' But it's important, especially for kids growing up and wanting it. I wish someone had told me, 'It's going to be a lot of hard work, you are not going to see your family very much, you are not going to get a lot of time off, you are going to have to deal with a lot of rejection …'"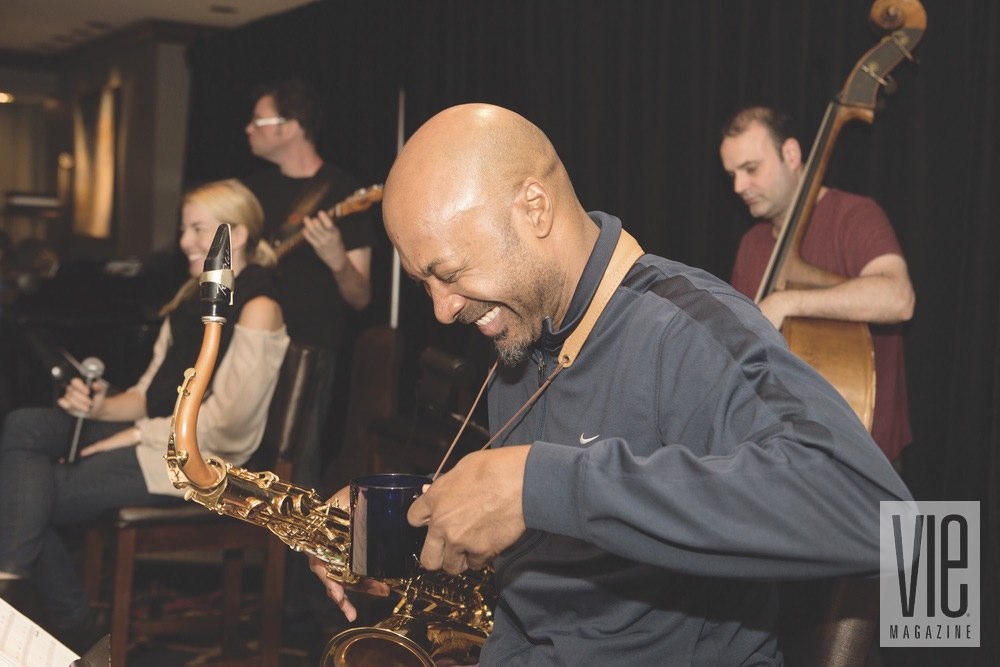 But more than twelve hundred miles away from the Great White Way, James would soon experience only unadulterated adoration at the event to raise funds for Sinfonia, the Emerald Coast area's only fully professional symphony orchestra. Looking around the Hilton Sandestin Beach Golf Resort and Spa's AAA Four Diamond–rated restaurant as it was being transformed into a cabaret setting, she says, "Well, this is my favorite size. I think about a hundred and fifty people will be here. It is intimate enough, but I've also played rooms that hold twenty. You don't know intimate until five people show up for your gig—which happens!" She laughs. "And this kind of setting, too—where people are with their friends and family, and their bellies are full—it just creates this atmosphere of enjoyment. And this restaurant is so classy; it's so first-rate, and it deserves first-rate music."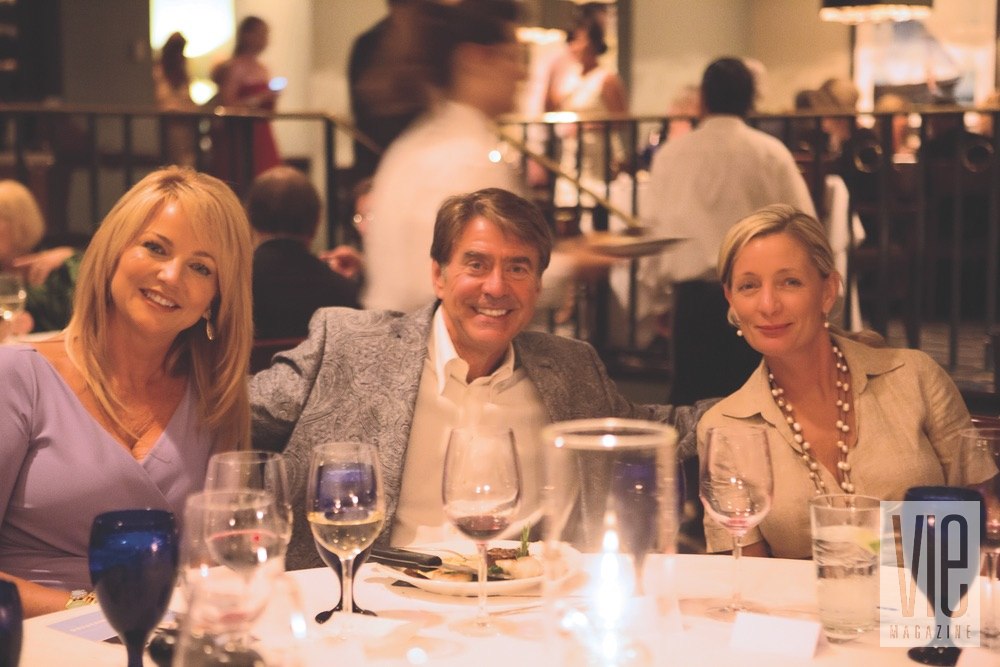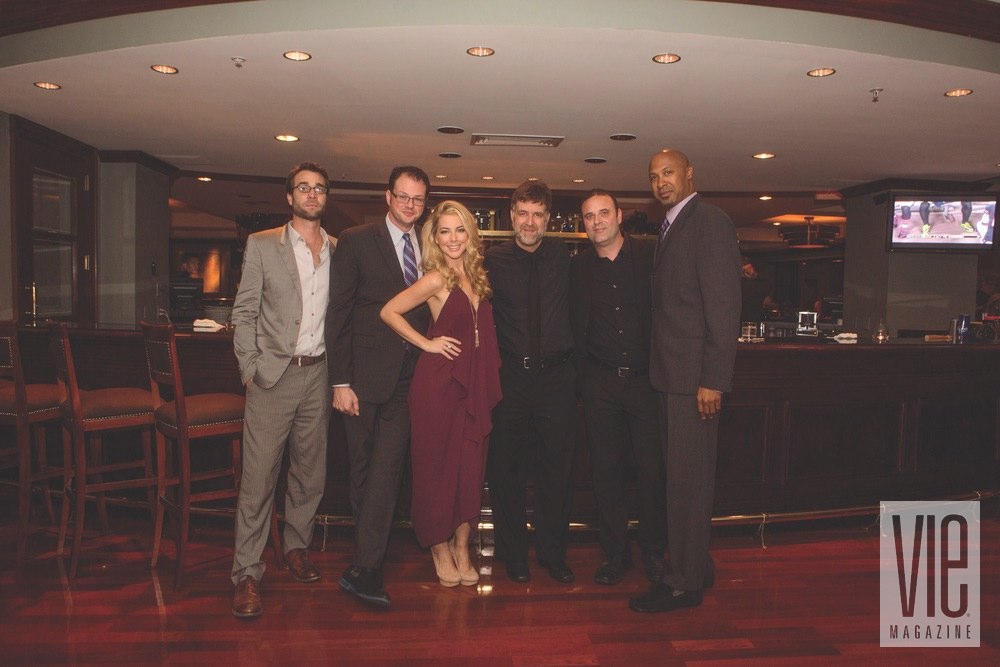 Following a four-course wine dinner created especially for the event by Seagar's executive chef, Dan Vargo, James's presence filled the room as she entered singing "I Put a Spell on You." The guests were unabashed in sharing spontaneous exclamations of approval throughout her set and punctuating the evening with a standing ovation and demands for an encore.
— V —
---
Season after season, Sinfonia Gulf Coast has raised the bar on the arts and entertainment options for Northwest Florida. The innovative programming continues in 2013–14 with "Musical Identities," a season featuring the locally based professional symphony and nationally recognized guests. Season eight's remaining schedule includes the following performances:
Annual Holiday Concert – December 20 at Destiny Worship Center, featuring holiday classics and excerpts from Tchaikovsky's The Nutcracker performed by dancers from the Northwest Florida Ballet
The Bernstein Beat – January 24 at Destiny Worship Center, featuring Jamie Bernstein, daughter of the iconic American conductor and composer Leonard Bernstein
Sybarite5 – February 14–15 at the Rosemary Beach Town Hall, featuring this classical string quintet and educational activities
Sinfonia Annual Gala Event – March 29 at Emerald Coast Convention Center, featuring Tony and Olivier Award winner Patti LuPone performing Broadway songs from her distinguished stage career
For more information on Sinfonia Gulf Coast, including ticket details, visit www.sinfoniagulfcoast.org or call (850) 269-7129.
ARTICLE CATEGORIES