By Colleen Sachs
Photography courtesy of Fish Out of Water
When Fish Out of Water first opened in the picturesque community of WaterColor, Florida, I was impressed at the commitment to exceptional quality on display. The restaurant was not only beautiful, but it also paid tribute to the natural beauty surrounding it. And, the menu was a wonderful example of food that was available locally. Now, with the naming of Todd Rogers as the new corporate executive chef for the nine restaurants that are part of St. Joe Club and Resorts (including Fish Out of Water), the commitment to creating an incomparable restaurant that fits its location is still evident.
Rogers, a graduate of the Culinary Institute of America, has a great deal of experience in the hospitality industry, making him particularly well suited to this position. His impressive résumé includes Ritz-Carlton hotels in Naples, Florida, and Houston, Texas. He also spent time at Nemacolin Woodlands Resort and Spa in Farmington, Pennsylvania, and the Cloister at Sea Island in Georgia. Over his career of nearly thirty years, he has cooked for numerous world leaders and dignitaries, including Queen Elizabeth II. He has also cooked at the prestigious James Beard House in New York.
Rogers embraces the farm-to-table movement and continues to serve food that is produced locally. A quick glance at the menu makes this evident as the words crab, shrimp, grouper, and snapper pop off the page. The signature seafood dish at Fish Out of Water is Gulf Black Grouper. A deep bronze exterior gives way to perfectly moist white fish. The fish sits atop pureed cauliflower and leek fondue. Lobster tempura tops it all off.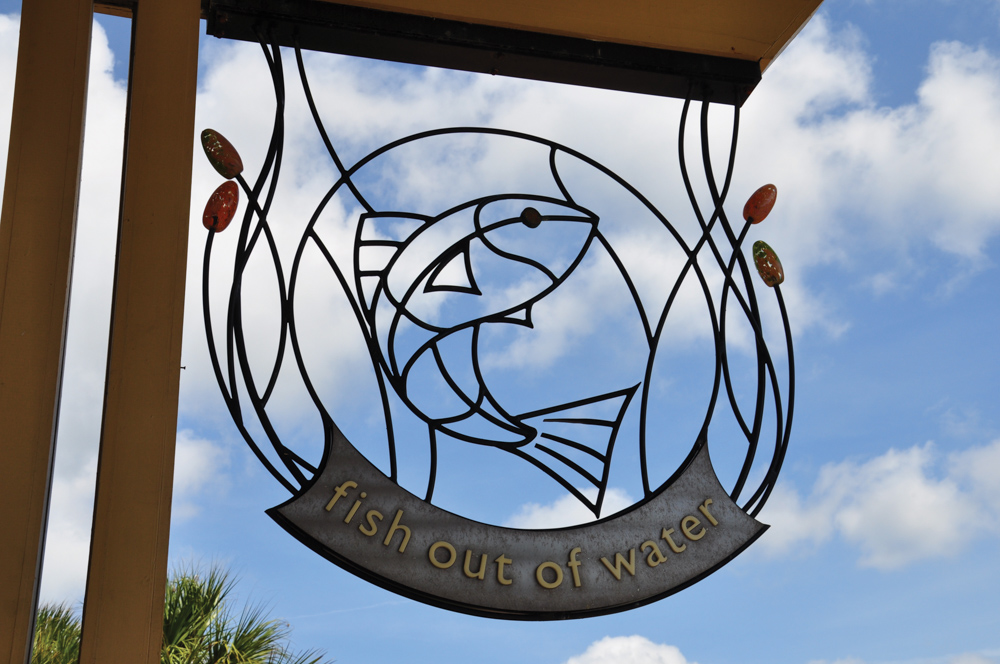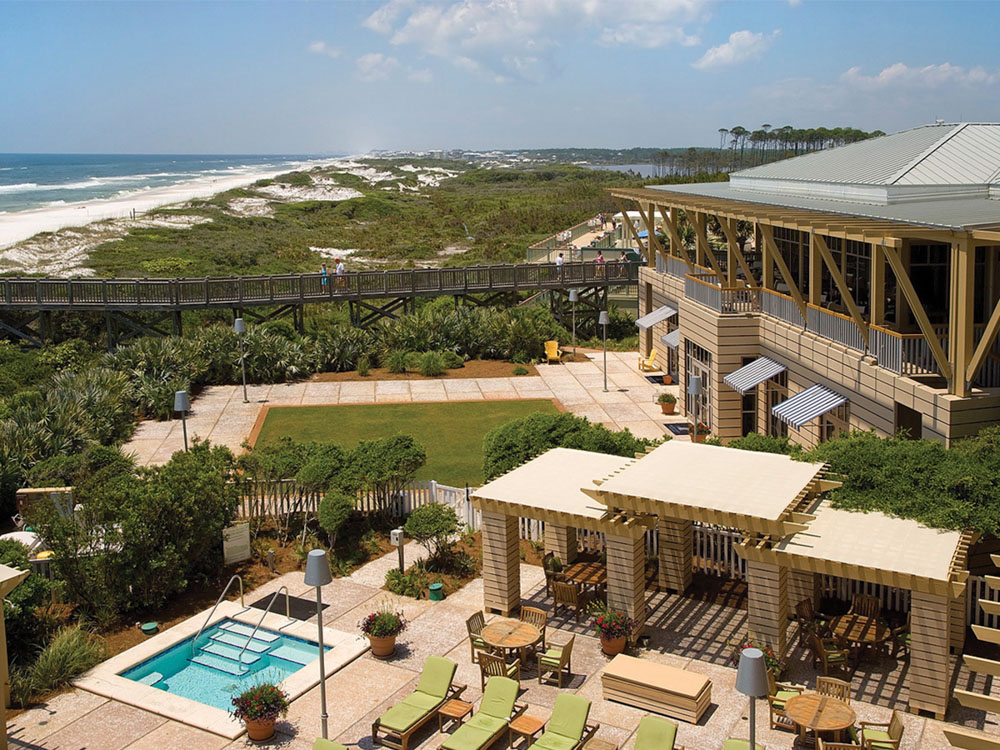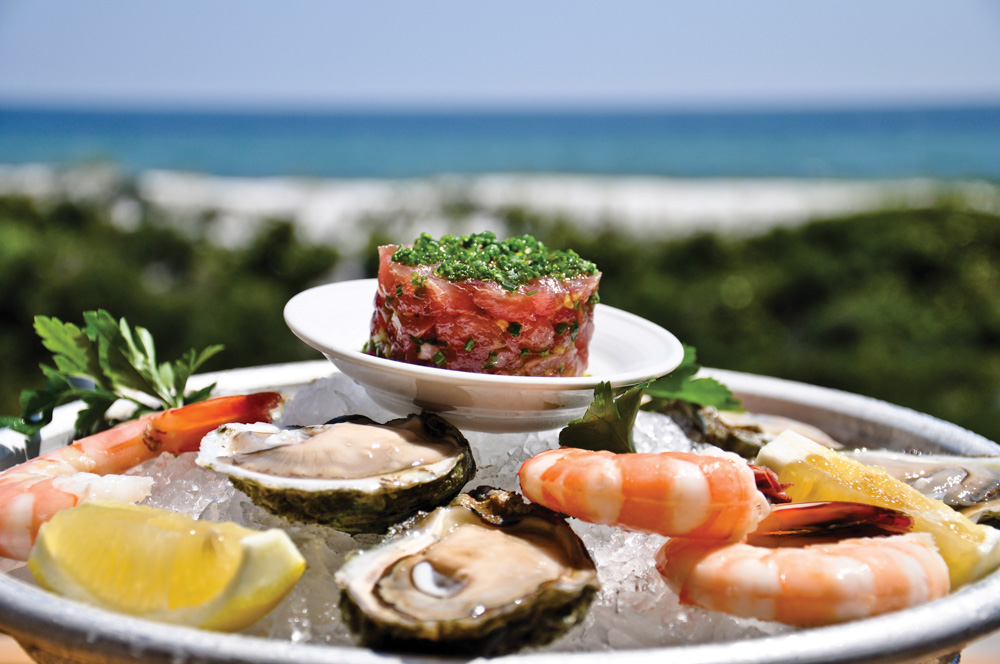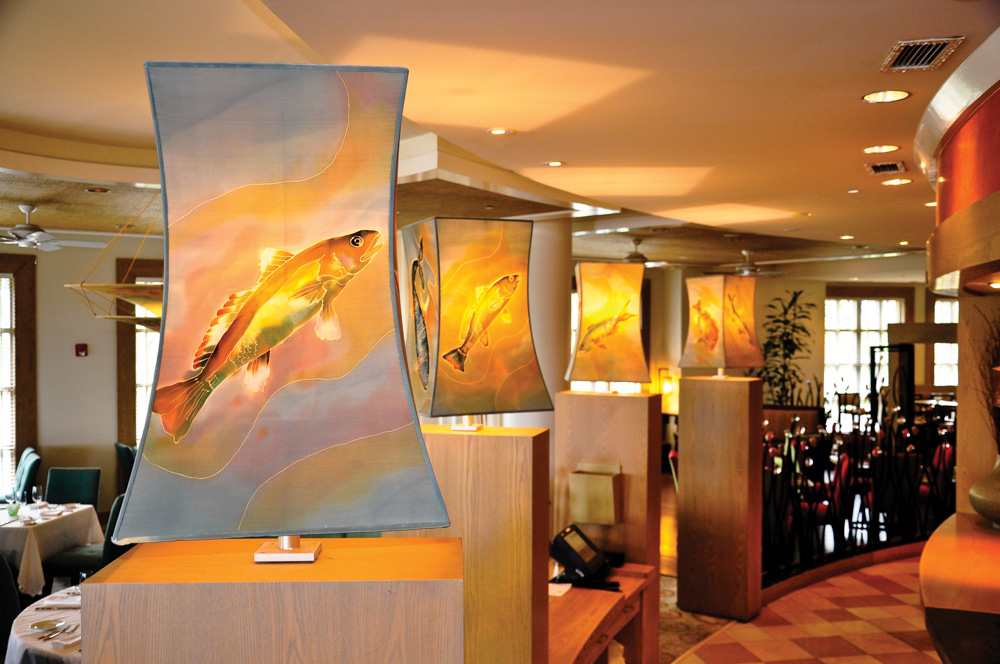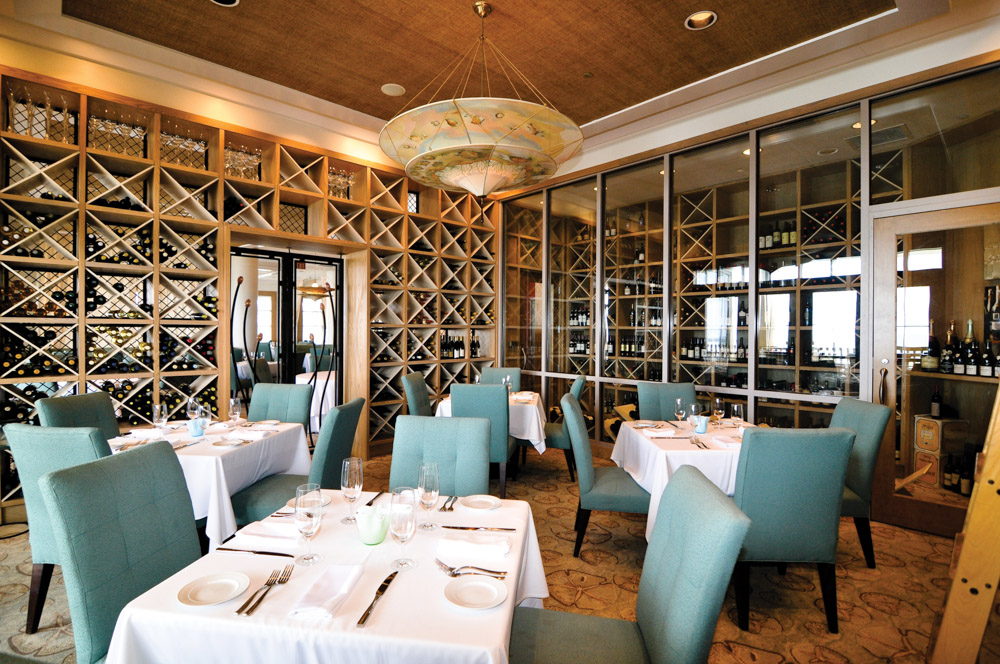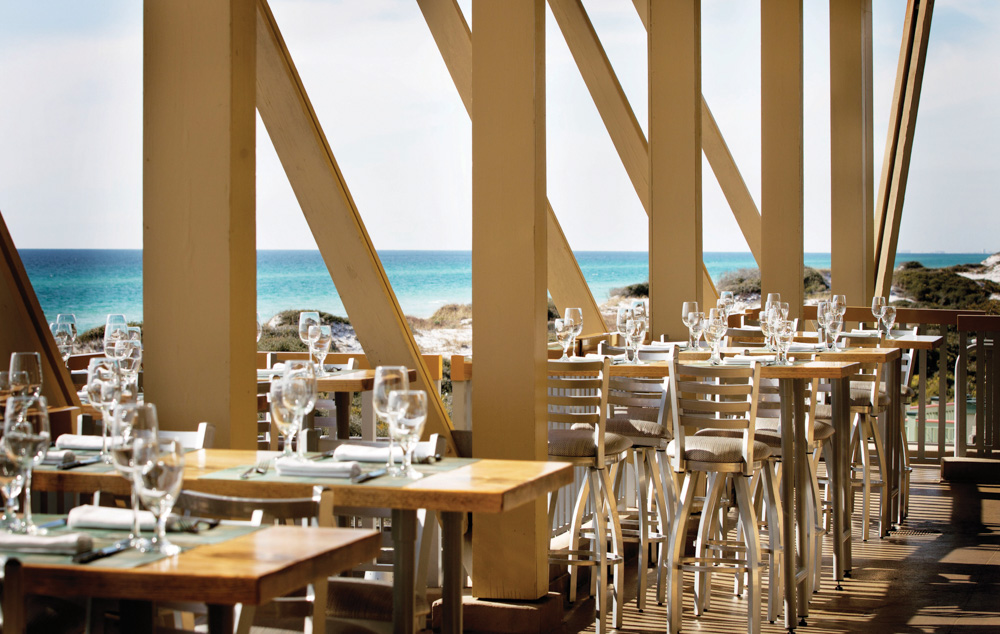 Crab cakes and shrimp cocktail are seafood starters, and Sicilian soup with calamari, grouper, crab, and shrimp is also on the menu. The FOOW Seafood Grill features grouper, lobster, shrimp, and scallops served with ratatouille and saffron cream.
In addition to an abundance of fresh seafood, there is an abundance of local produce at Fish Out of Water. The best example is the cucumber arugula salad. A sheet of thinly sliced cucumber is wrapped around slightly peppery arugula that is so fresh it tastes like it was just picked from a kitchen garden. The salad is completed with local melon cut into thin squares and stacked, which is then topped with a goat cheese mousse, fragrant with rosemary and thyme.
In addition to an abundance of fresh seafood, there is an abundance of local produce at Fish Out of Water.
Although seafood is an obvious choice at Fish Out of Water, other dishes rival their ocean counterparts. The chicken breast on the menu gets the Southern treatment with a sweet tea glaze and Conecuh dirty rice. The duck preparation is exquisite: rosy slices of very tender duck breast are layered on top of confit-laced pea risotto and topped with seared Hudson Valley foie gras. Steak and lamb options emphasize the depth of this restaurant.
Attention to detail includes making breads on-site. A lovely basket of tiny corn muffins, Asiago bread, and focaccia is served with whipped butter topped with a bit of smoked salt. There are many thoughtful touches throughout the menu. For example, an effort is made to make menu items gluten-free when possible. A potato crust on the crab cake appetizer provides a golden crust without wheat. Most desserts are also gluten-free, including the soufflé of the day.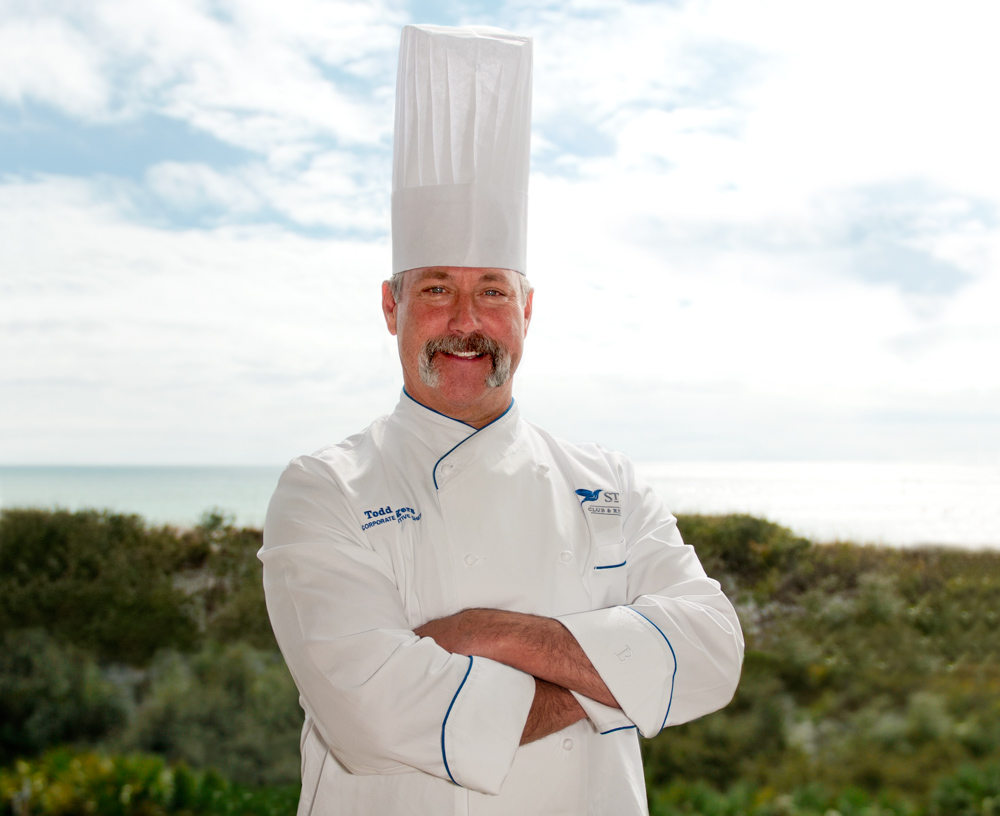 Fine detail also shows in the wine, beer, and spirits program. Wines by the glass are chosen to pair with individual menu items. Pfaffl Zeiseneck Grüner Veltliner is lovely with the arugula salad. Château Tanunda Grand Barossa Shiraz with the duck is a brilliant choice. Keeping things as local as possible, the craft beer selections come from Pensacola and Apalachicola. Classic cocktails and Fish Out of Water creations (several available without alcohol) are wonderful to enjoy while perusing the menu and relaxing in the beautiful dining room.
The decor serves as a complement to the outdoor surroundings and the Gulf of Mexico: the walls are the color of sand and a sand-dollar motif adorns the carpet. Swaying sea grass is evoked in a metalwork rail with glass finials. For the best view of the Gulf, sit at the high-top tables on the outside veranda, where ceiling fans create a breeze. While the view outside is spectacular, the quiet dining room is elegant and serene, and there really isn't a bad seat in the house.
When discussing his philosophy, Rogers says, "We source the finest ingredients we can find to help us create the best food we can provide. We change the menus three to four times a year to demonstrate the diversity of ingredients found on the Emerald Coast, creating modern, regional, or classical dishes that are intense in flavor and beautiful to the eyes and that provide a memorable culinary experience." A dinner at Fish Out of Water shows that he is succeeding.
— V —
ARTICLE CATEGORIES