The Best of Bevolo
Photos by Modus Photography
As a family business operating in the Big Easy since 1945, Bevolo Gas & Electric Lights understands the meaning of "legacy." This wealth of experience and a longtime partnership with VIE magazine made the bespoke manufacturer of hand-crafted copper and stainless steel lanterns a perfect match for The Heritage – A VIE Legacy Show Home. Bevolo's stunning lights greet guests in the home's front courtyard and wash the terrace in a warm glow from above. Andrew Bevolo, Sr., first learned metalworking at World War II-era manufacturers, including Ford, Sikorsky, and Higgins—specifically on ships and aircraft. He later repurposed that expertise to make high-quality copper lanterns from techniques not used before in the lighting field. Some of his original lanterns are still operating in the French Quarter today.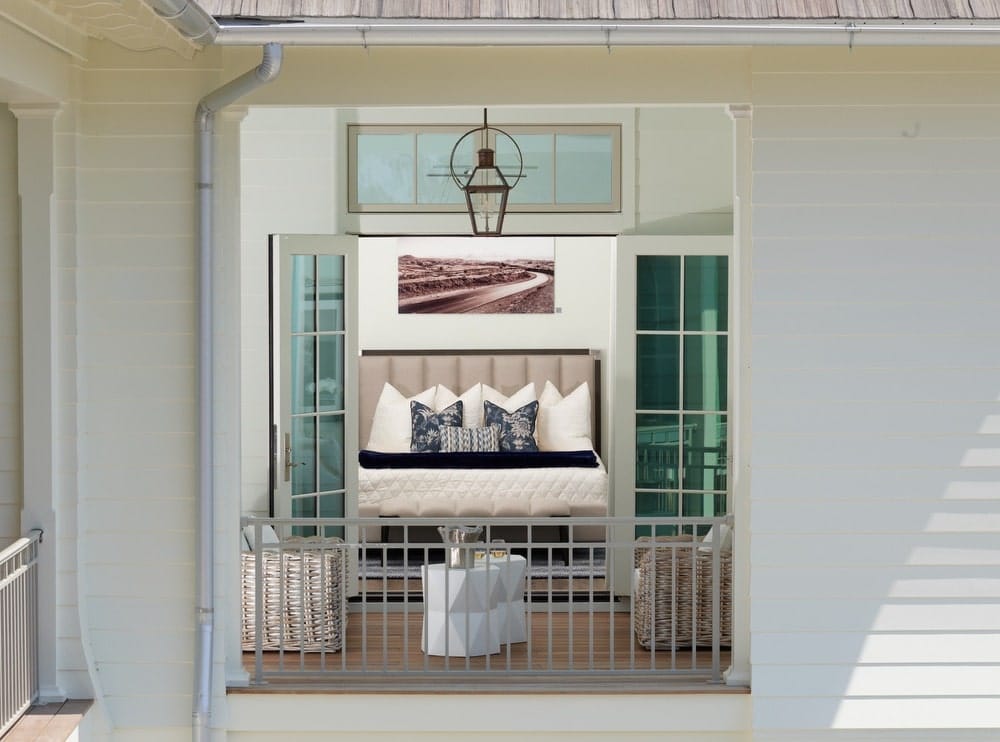 We were fortunate to speak with the company's third-generation owner, Drew Bevolo, and marketing rep Patty Palmer about the brand's partnership with The Heritage.
VIE: How did you become involved with The Heritage Show Home? What styles of Bevolo lanterns are used around the home?
Drew Bevolo: This is the third show home Bevolo has sponsored with VIE, and each one has been a good experience and perfectly showcased our lanterns. The Heritage Show Home features the original French Quarter Gas Lanterns on our Yoke and Gooseneck brackets. All brackets have naval brass to help combat the corrosive coastal environment and wind baffles since this is a high-wind area near the Gulf.
VIE: What were some differences in choosing the lantern styles for this home versus other show homes you have been involved with?
DB: Our selections are always based on the home's architecture; our lighting designers just listen to what the house is asking for. The French Quarter Lantern is a good fit for traditional architecture homes like those in Heritage Dunes and does not compete with the architecture but complements it. Of course, the environment plays a role as well. This home is on the coast, so Bevolo uses naval brass to ensure the brackets hold up to the corrosive salt air.
VIE: How did it feel visiting the home and seeing the Bevolo lanterns illuminating the front gate, courtyard, and second-floor terrace?
Patty Palmer: The Bevolo lights cast the first impression when you walk up to the house. The ambient glow of a Bevolo gas lantern gives you a peaceful, inviting feeling. The sheer volume of lights was very powerful. Your eye is immediately drawn to them.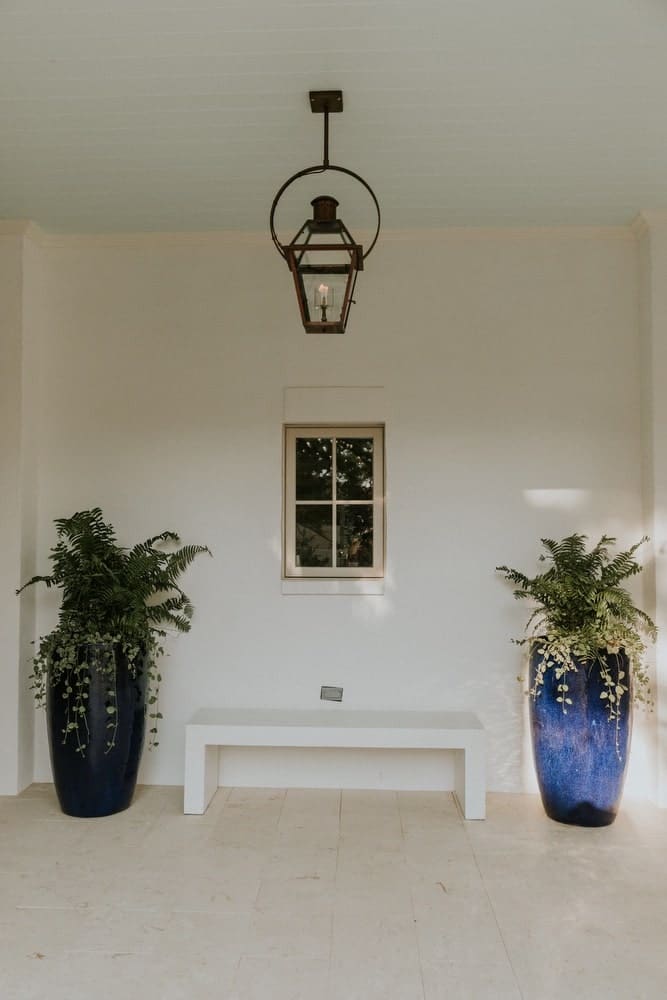 VIE: What makes a copper gas lantern a great fit for this neighborhood or any home that wants a traditional outdoor light like these?
DB: Historically speaking, all gas lights used to be made out of copper because copper can hold up to the heat of a gas flame. In this instance, being near salt water, copper is one of the only metals that will survive in this environment.
VIE: Tell us a little about the Bevolo showroom and studio. What can visitors expect when they go there?
DB: Bevolo has four showroom locations in the French Quarter of New Orleans. You can bring in photos of your home, and a skilled lighting professional will help you select the correct lantern style and scale for your home.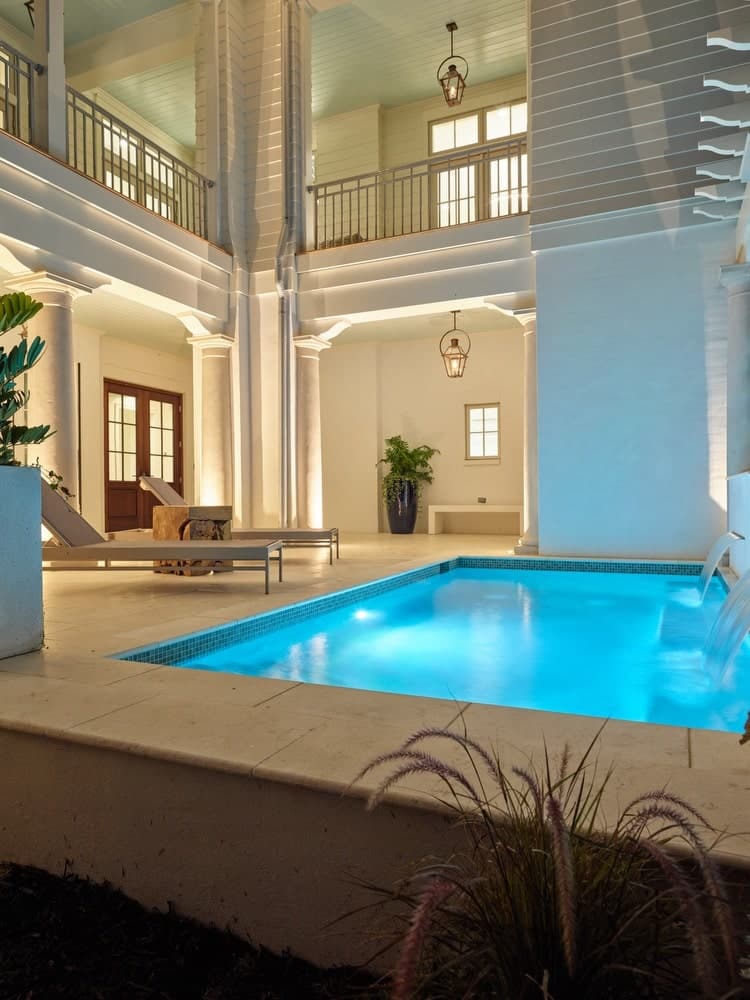 You can also visit the Bevolo Lighting Museum on Exchange Alley, where you can learn about the history of lighting and Bevolo's contribution to the city and beyond and experience the expert craftsmen making these iconic light fixtures in the studio.
We also have the Mid-Century Modern Collection Showroom. Owners can add a perfect touch of mid-century modern style with exquisite color, skilled craftsmanship, and imaginative designs from our collection of vintage lamps paired with your choice of vibrant fiberglass shades. This collection offers pieces from Blenko Glass Company, Murano Glass, St. Clair Glass, and more.
The Bevolo lights cast the first impression when you walk up to the house. The ambient glow of a Bevolo gas lantern gives you a peaceful, inviting feeling.
VIE: Are all Bevolo lanterns made for hanging or as a wall sconce?
PP: Bevolo also offers a Portable Pool House Series in copper and stainless steel. These lanterns can go anywhere inside or outside the home, designed to be used with large candles for warm illumination.
VIE: Can you tell us a little more about your complimentary design services?
DB: Bevolo offers this service complimentary to all of our clients because we take as much pride in designing the perfect lighting plan as we do in hand-placing every rivet on your Bevolo lantern. We have a team of lighting designers with generations of experience. Every aspect of the home will be taken into account when we look at your project. We will narrow down your options from the hundreds of combinations in our line to help you make the best decision for your home.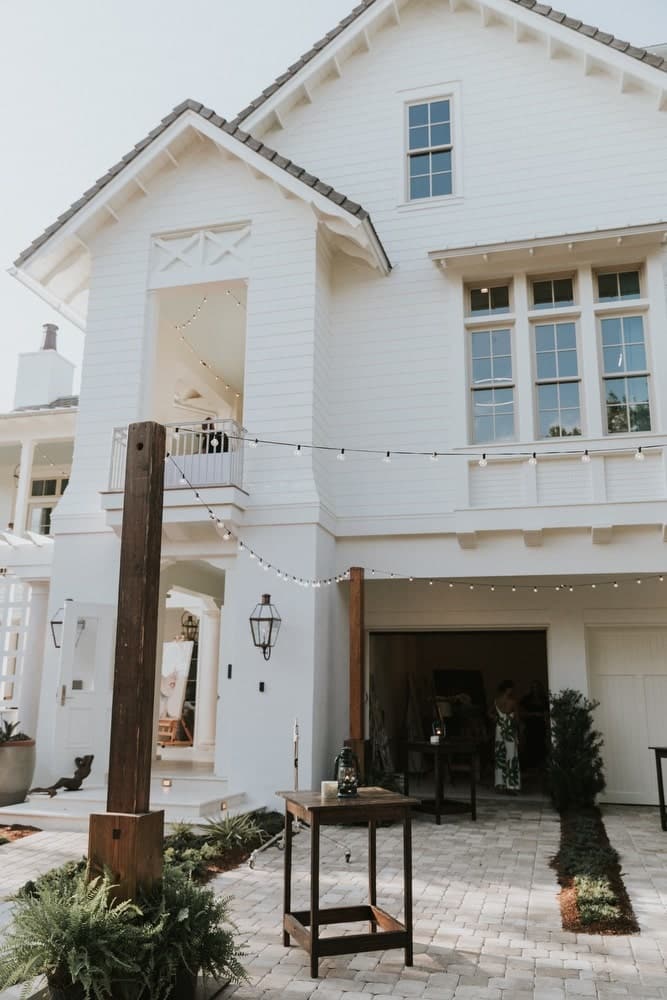 — V —
---
Head to Bevolo.com to learn more, shop, or see showroom hours. See more beautiful homes featuring Bevolo Gas & Electric Lights on Instagram @bevolo.
ARTICLE CATEGORIES