Secret Stories on Canvas
By Jordan Staggs | Photography courtesy of Adaro Art
It's never a guarantee that children will follow in their parents' footsteps, but for Gretchen Weller Howard, the daughter of two New Orleans artists, the call to create has always been strong. "The backdrop of my childhood was steeped in art and its processes," she shares. "My father had a studio in the French Quarter, and we frequently visited him and the other artists on the Square—Jackson Square. My mother was part of an all-female painting group, and I have great memories of doing woodcuts and drawings under her guidance."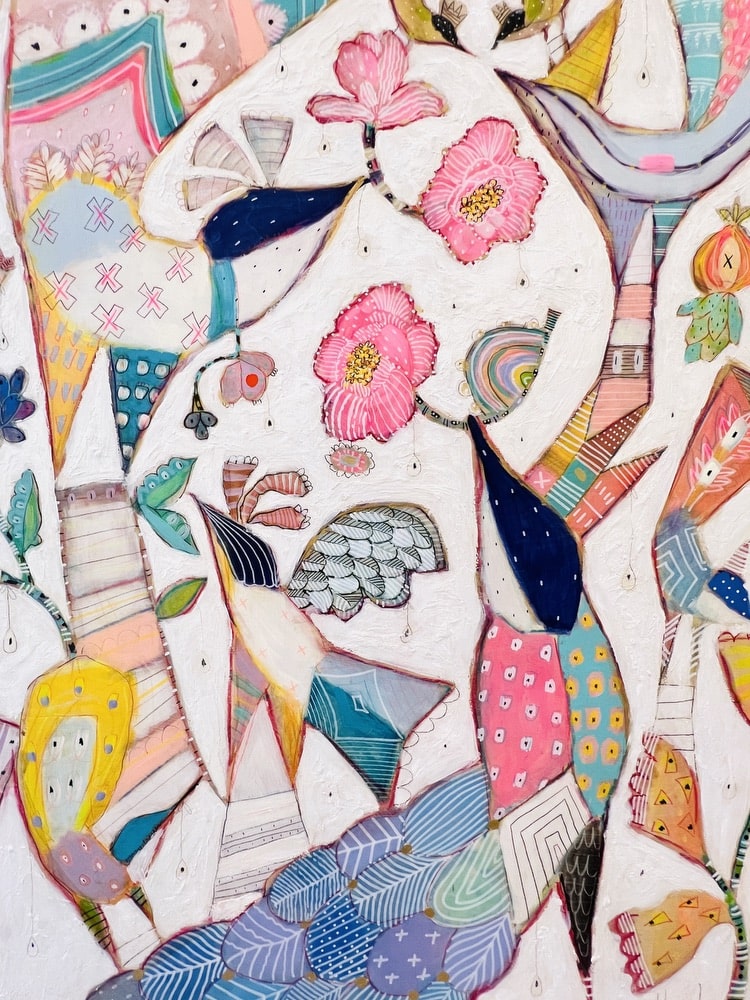 Still, that creative legacy took a turn from tradition when Howard pursued a career in commercial art, working in New York City after college for the fashion brand Liz Claiborne. "It wasn't until I returned to New Orleans and spent six years as a faux finisher that I turned toward works on canvas," she recalls.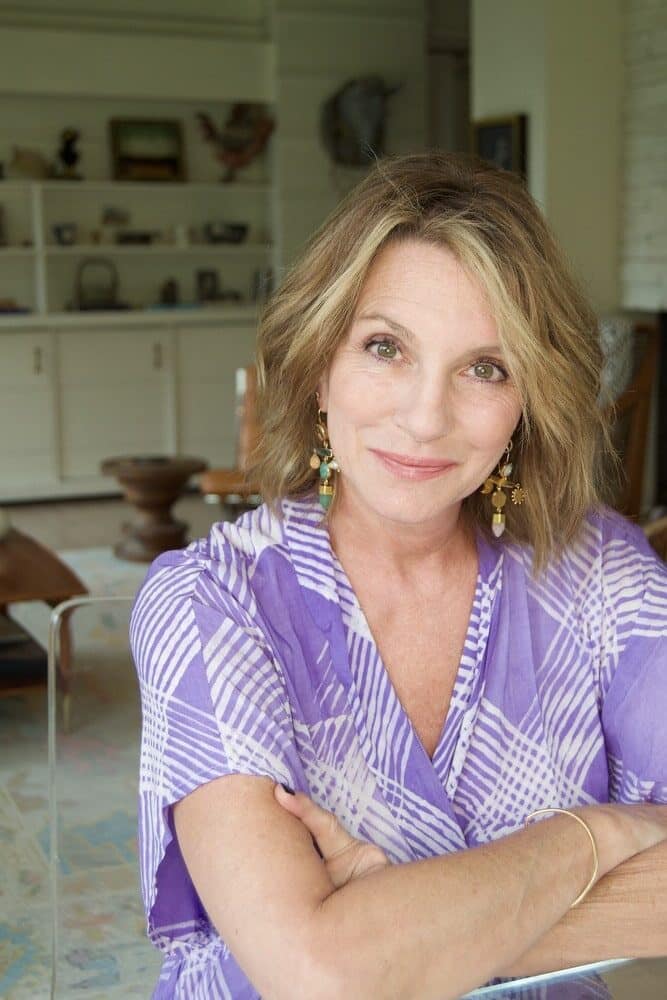 When the devasting Category 5 Hurricane Katrina approached the Gulf Coast in August of 2005, Howard and her husband were forced to evacuate their home in Pass Christian, Mississippi. They came back to ruins. "After we lost our home and our collection of art, including my parents' pieces, I started painting vessels that resembled boats," Howard says. "I placed within them fragments of the paintings that we found on our property when we returned to Pass Christian in the weeks following the storm. In this way, I found a new purpose for the lost art, as it represented something tattered but unbroken—rebuilding and reborn."
During that emotional yet evolutionary moment, Howard also began to develop her own symbolic "language" that prevails in her works today. Her alphabet comprises colors, materials, and images that tell visual stories when she arranges them on canvas. "I describe myself as a symbolic colorist," she explains. "I use multiple mediums of acrylic, plaster, remnants of paintings lost during Katrina, pencil, and crayon to convey secret narratives. Each story is told through a vast vocabulary of symbols." For example, ladders connecting the vessels are a reminder to stay grounded yet always strive for something higher. Pearls are another motif she uses often, and they first appeared as memories gathered or scattered, Howard admits, but they soon came to represent new possibilities and opportunities to be discovered. "My work became deeply personal during the time after the storm, but I was also consciously imbuing each one with a story that could transfer to the owner of the piece." A talisman of protection or a four-leaf clover for luck could enrich the lives of anyone who purchases or admires one of her paintings, whether they are aware of the "secret symbols" or not. Birds are one of the most common subjects, she says. "After we recommitted to living in NOLA after Katrina, I painted a series of bridges over water, symbolizing us putting down solid roots again. On one of those bridges, a bird appeared perched outside a cage, poised for flight. The image struck me as a turning point toward feeling good about life and trusting in it again. Birds became the central figures in my work from that moment on." Pods, feathers, flowers, and rain are other common themes in Howard's colorful creations.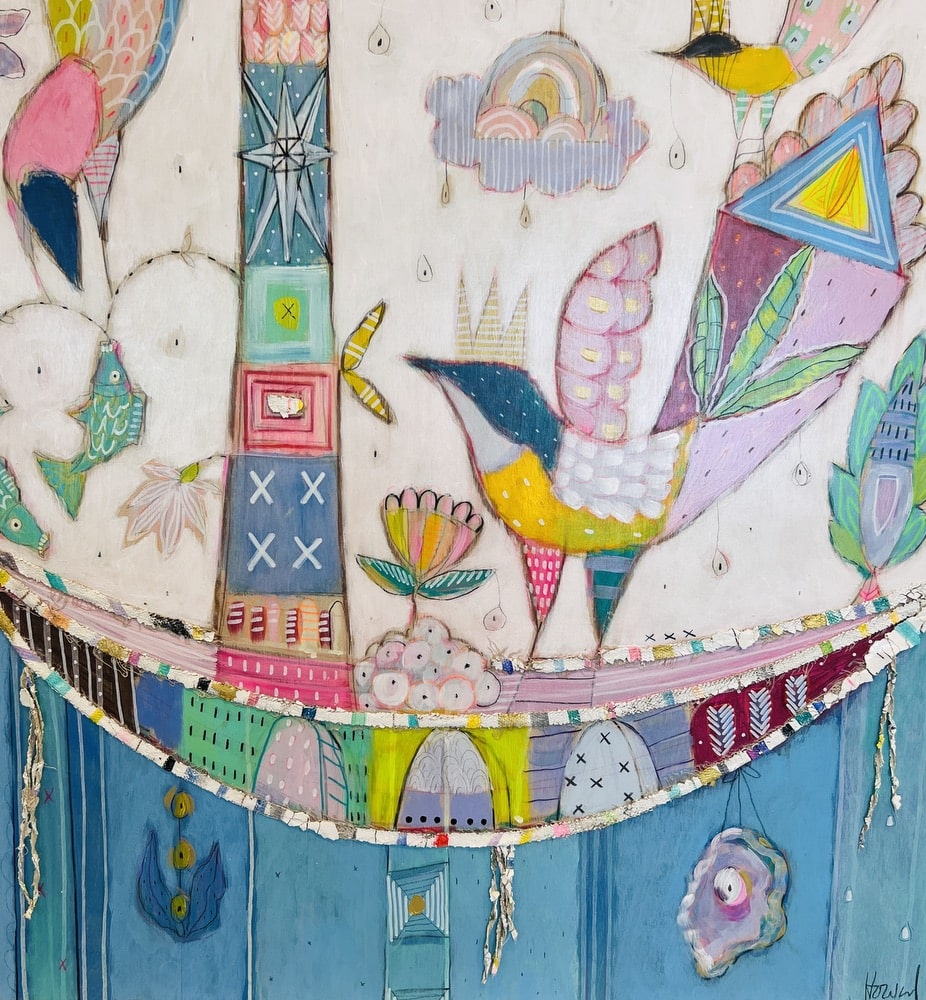 People often ask Howard to reveal the mysteries of her motifs. Rather than keeping those secrets for herself or worrying they might tell a different story than the viewer expects, she says she enjoys sharing the meaning behind each piece, as it allows most people to relate and connect to it on a deeper level. "I love releasing my work to go off and live a life of its own," she describes selling a painting. "It is incredibly rewarding to hand off a piece that is no longer my story but becomes another's."
Fans and prospective collectors can find Howard's artwork at Adaro Art, a colorful gallery and retailer located in the vibrant beach community of WaterSound, Florida, along Scenic Highway 30-A. "My family has been vacationing in Florida along 30-A for thirty years, and it was always a dream of mine to be in a gallery there," Howard says. She and gallery co-owner and principal artist Francisco Adaro share a love of color—especially pink—and joyous expression, so when co-owner and photographer Brooke Gontarek invited Howard to become part of the Adaro gallery collection last year, it seemed like a perfect fit. "Then, during Hurricane Ida, our house sustained significant damage. After the storm, we packed my van with every piece from my studio—and even a few of my personal pieces—and brought them to Adaro Art on our way up to North Carolina. This fall marks the first anniversary of our collaboration."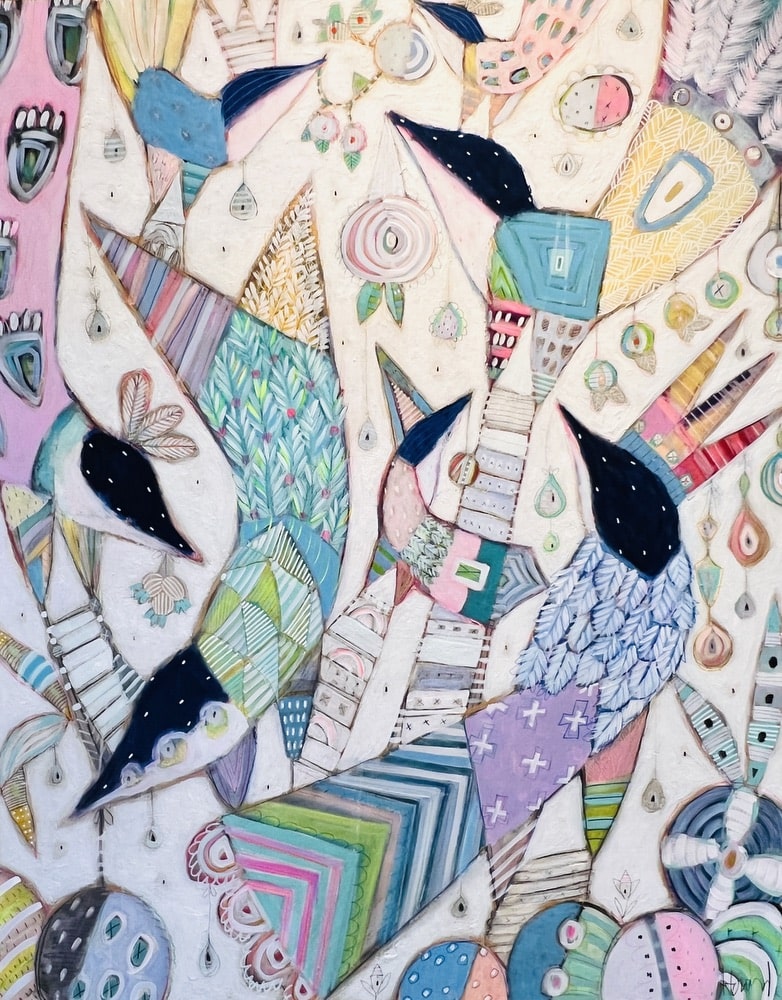 Howard and Adaro hosted an artist meet-and-greet at the WaterSound gallery, located in the Shops at The Hub, in the spring of 2022 and look forward to another coming up on October 14 and 15. "I don't think there's a more colorful, intimate gallery anywhere, and I look forward to meeting more locals and homeowners and doing a little storytelling," Howard shares.
Adaro adds, "Gretchen Howard and her pieces have a magical force that immediately draws each person not just to them but into them. The colors she uses, the whimsical, weightless style of the pieces, and the stories and symbols become a conversation between Gretchen and the viewer. When anyone sees her work, the first reaction is an audible gasp—then they go and get their friends or partner to look at its beauty. The second reaction is usually pointing out their favorite gorgeously feathered bird or tasseled vessel." Adaro and Gontarek admit that several people reverently say that Howard's art speaks to the soul. "This is my favorite part," Adaro says. "I love taking something beautiful and adding that extra sprinkle of emotion. It's what turns a piece from pretty to inspiring. We're all looking for connection. As humans, that's what we do. When there's a genuine connection to something created by someone else's hands, it becomes a shared, unique experience. Gretchen Howard's work does this in spades."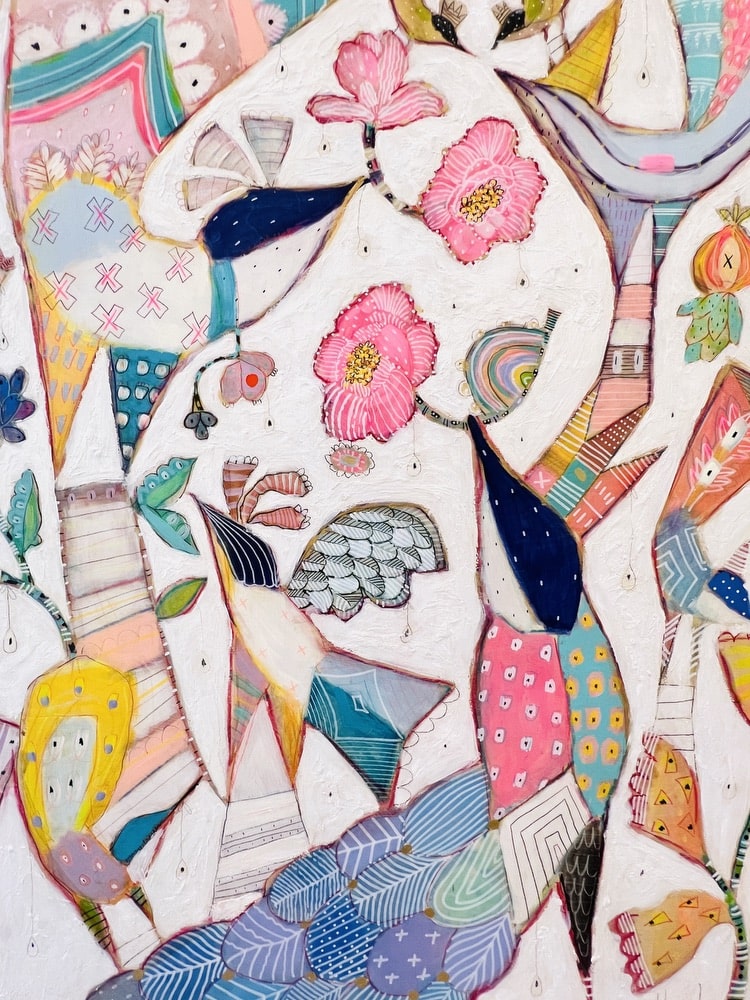 Inspiration can come from everywhere, and Howard's art today is just as influenced by what's going on around her or in her life as it is by the events of her past. Music, she says, is a vital part of her creative process. "I have a pair of old-school headphones that I can blast my music through, and it enhances my physical experience of painting and inspires me while blocking outside distractions," she expounds, revealing that the innate need to create also seems to have blossomed in her daughter. "Brandi Carlile, Chris Stapleton, and my daughter, Jenn Howard, top my playlist. Jenn is now laying down tracks for a new album and sends me the raw, pre-mixed tracks to listen to. I love painting my stories while listening to her own. That, for me, is everything."
She continues, "I also know I'm about to have a very creative output when I start cleaning out drawers in the house or straightening up my studio and my paints. It clears my head as I touch each material and reacquaint myself with colors and tools I haven't used in a while. I tend to work on a lot of pieces at once and move around the room very quickly as I lay down the colors. Then, when they get to a more finished stage, I focus on one piece calling to be finished at a time."
Other artists, not just her parents, have impacted Howard's career. One of her favorites is Walter Inglis Anderson, the American master painter whose beautiful depictions of nature in the Southern coastal regions spanned through the 1940s until his untimely death from cancer in 1965. "I recently visited the Walter Anderson Museum in Ocean Springs, Mississippi," Howard says. "The last time I saw his work in person was right before Katrina. Like Van Gogh, Anderson painted with fervor, as if his very life depended on it, in colors and forms that rival nature itself. I think, even today, he is one of the world's most underrated gifts. To stand in Mary's room in the museum, where he painted every square inch with color, is a moving and holy experience."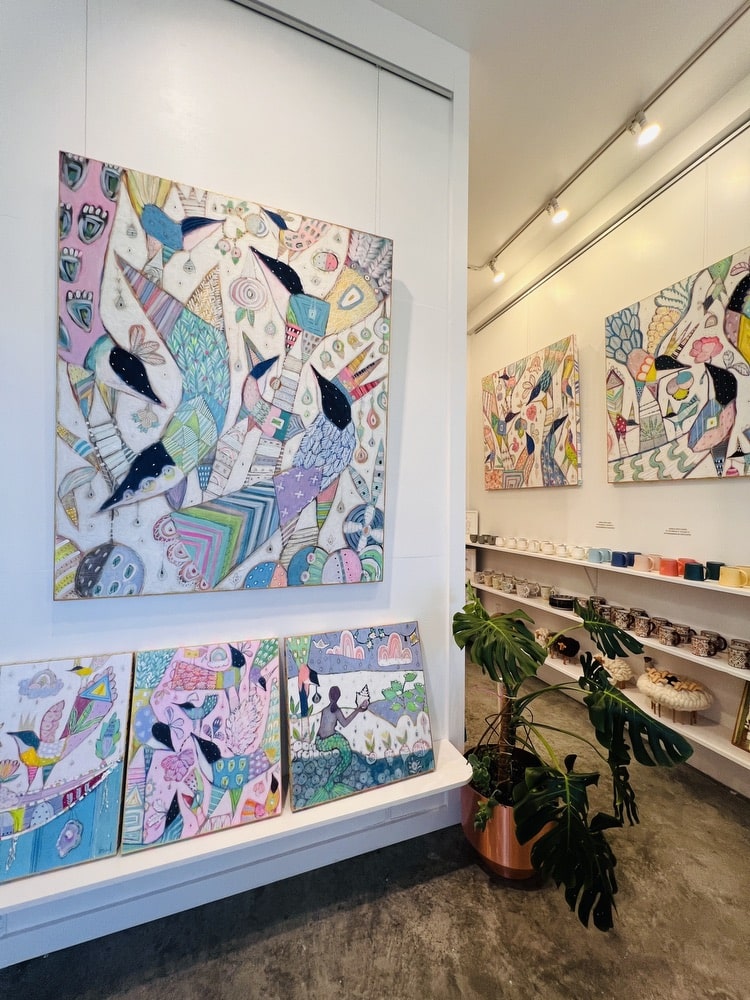 Howard advises those budding artists who have not yet made a name for themselves, "Fall in love with the process of creating the work and let it bring you to your knees, for you alone. Then, give it away freely and completely, whether you sell it or gift it to a friend. With these two things will come the realization that there is always more to come, and you will be in the flow with your life and your craft. My father's advice was that as long as an artist had a pencil in one hand and another to draw from, an artist should never be bored. I love that."
— V —
---
Visit AdaroArt.com/gretchen-weller-howard-art to learn more or shop now. Guests can also stop by Adaro Art at 21 Hub Lane in WaterSound, Florida, at the Shops at The Hub. Howard will be there on October 14 and 15, 2022, for a special artist meet-and-greet, so mark your calendar!
ARTICLE CATEGORIES