Radius House Takes Los Angeles by Storm
Story courtesy of Pentagon | Photography by Eric Staudenmaier
Sometimes a home is just born to stand out, and that's certainly the case for this unique Los Angeles stunner. Radius House is a context-specific architectural residence and the first ground-up residential project by LA design studio Pentagon. Now listed on the market with renowned real estate advisory firm Engel & Völkers Santa Monica, Radius House is located at 640 Milwood Avenue in the Venice neighborhood of the city.
The 3,700-square-foot, four-bedroom, four-and-a-half-bathroom residence features sculptural indoor spaces and articulated facades, giving it a distinctive presence in an area recognized for expressive residential designs. Crisp angles, curved surfaces, and large picture windows throughout the two-story structure create unique moments of dialogue between the interior and exterior.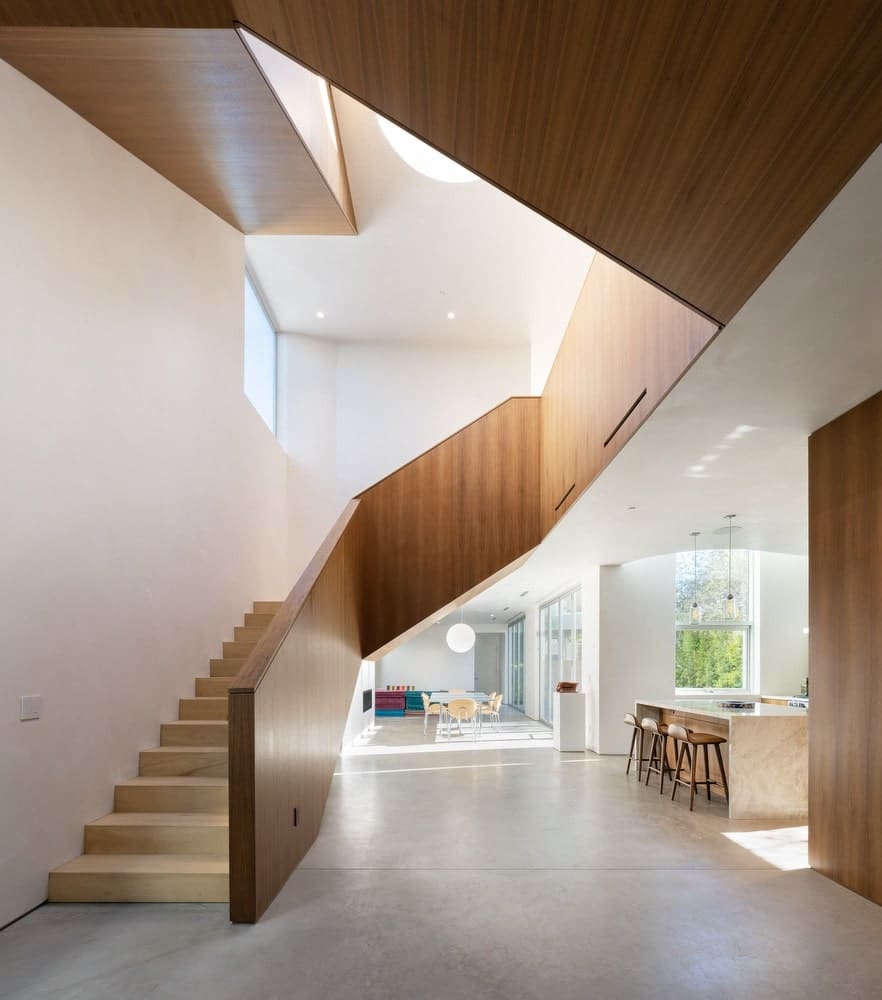 The home wraps a central courtyard on three sides. Lush landscaping by Sarita Jaccard Design surrounds a raised basalt slab containing a pool, sundeck, and fireplace, conceptualized as a "bento box" of outdoor activities. Inside, a cantilevered grand staircase encircles a central atrium illuminated from above by a large walkable oculus skylight embedded in the outdoor roof terrace.
Crisp angles, curved surfaces, and large picture windows throughout the two-story structure create unique moments of dialogue between the interior and exterior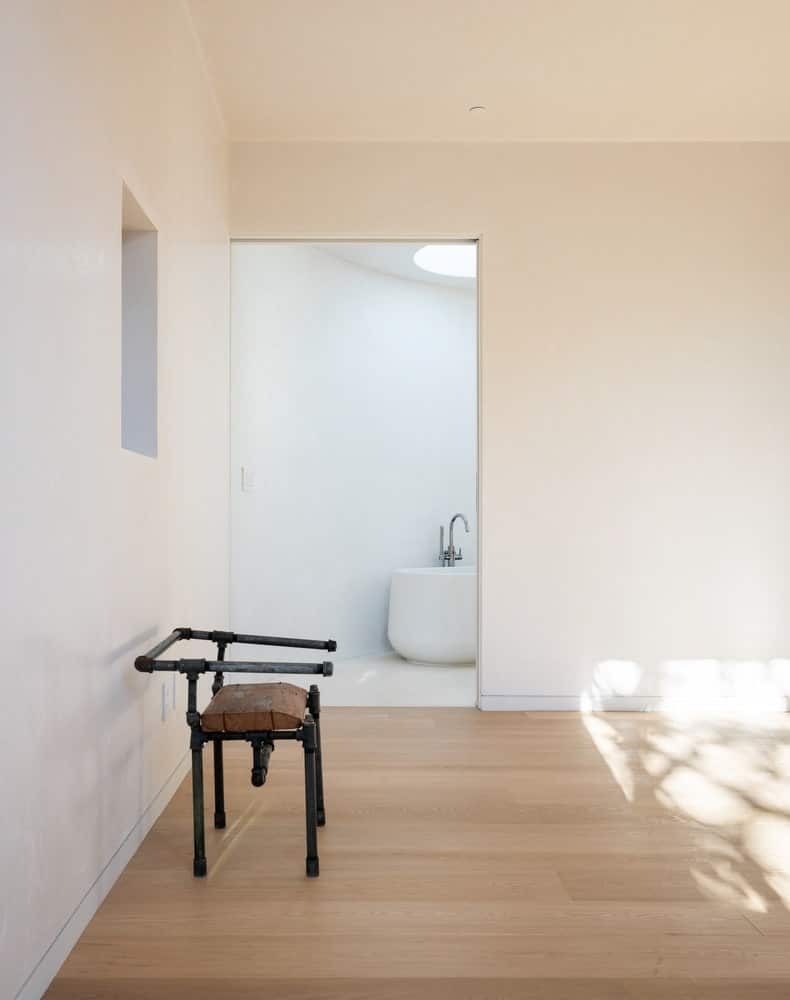 The interior of the residence introduces finish selections that express visual contrast, human scale, and refined materials. The walnut cladding of the curved shelving in the entry continues through the kitchen to the grand stair and central atrium, wrapping upward to the roof. The venetian plaster walls give Radius House a luminous continuity and a handcrafted quality. The radiant-heated concrete of the first floor and European white oak wood on the second floor bring comfort and warmth to both shared and private spaces.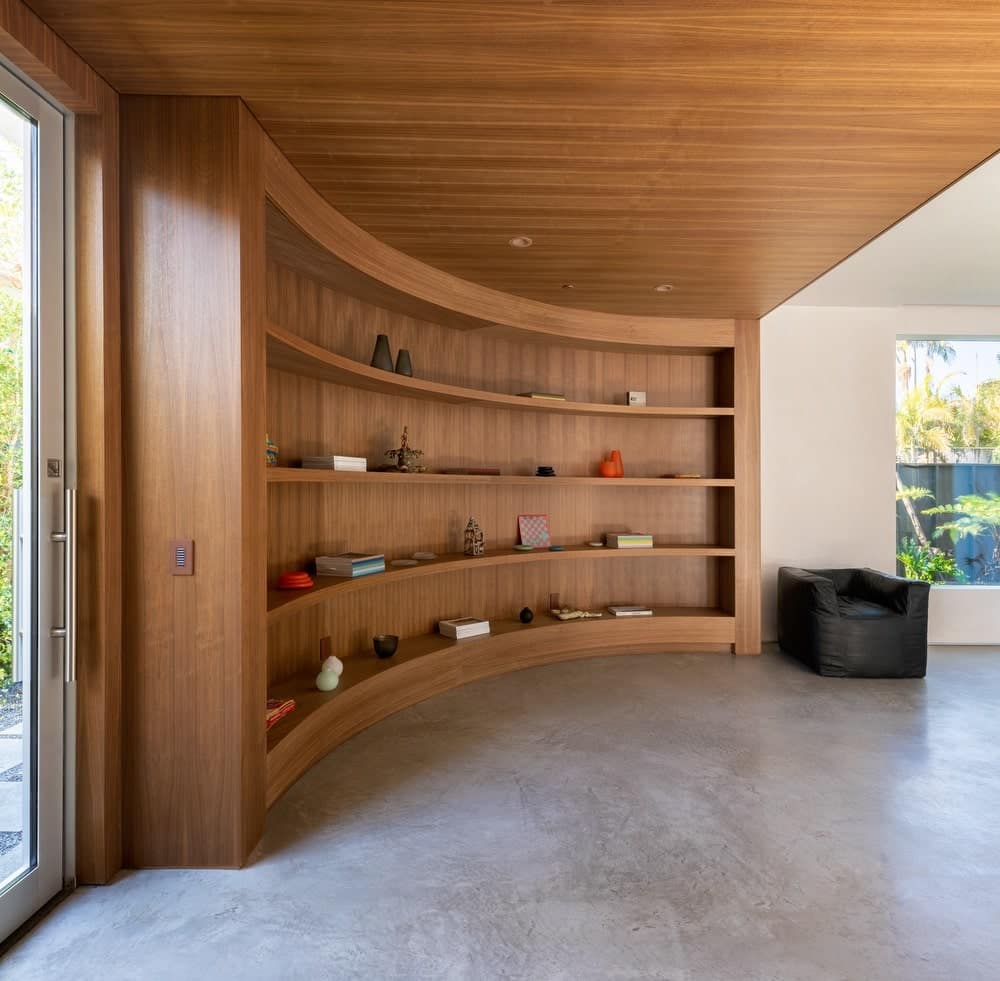 The property recently contained a temporary conceptual exhibition, SALON, curated by Noemi Polo, which showcased artwork and objects from renowned international artists and designers. SALON presented an inspiring collection of colorful and ironic materials, objects, and bodies and acted as both a showroom and a group art show. Creating tension between art and architecture, public and private, connects the home with the creative community of Los Angeles.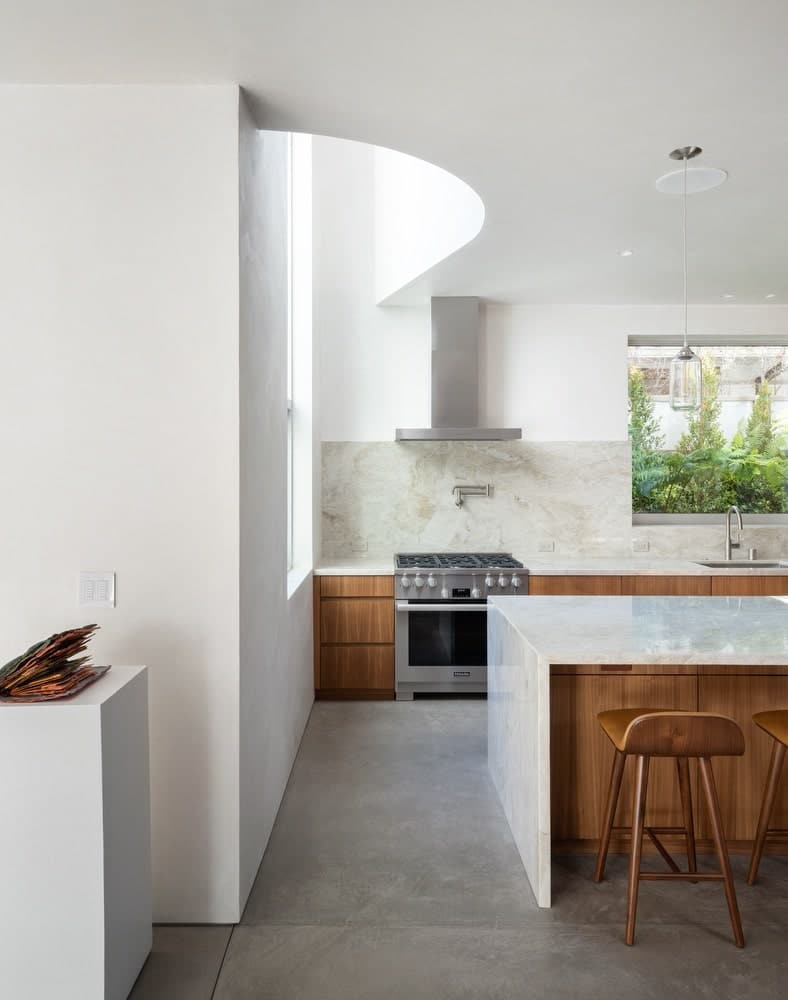 Additional artists in the home include Cali Thornhill Dewitt, Darren Bader, Dese Escobar, Jan Gatewood, Jordan Wolfson, and Noah Dillon. Brands include Everybody World, Greg Ross, Magniberg, Mowalola, Plant Intelligence Agency, Praying, and Blobb by Sofia Elias. Some furniture was sourced from The Window; books were sourced from Arcana: Books on the Arts. Taylor Durie created the unique ikebana floral artwork.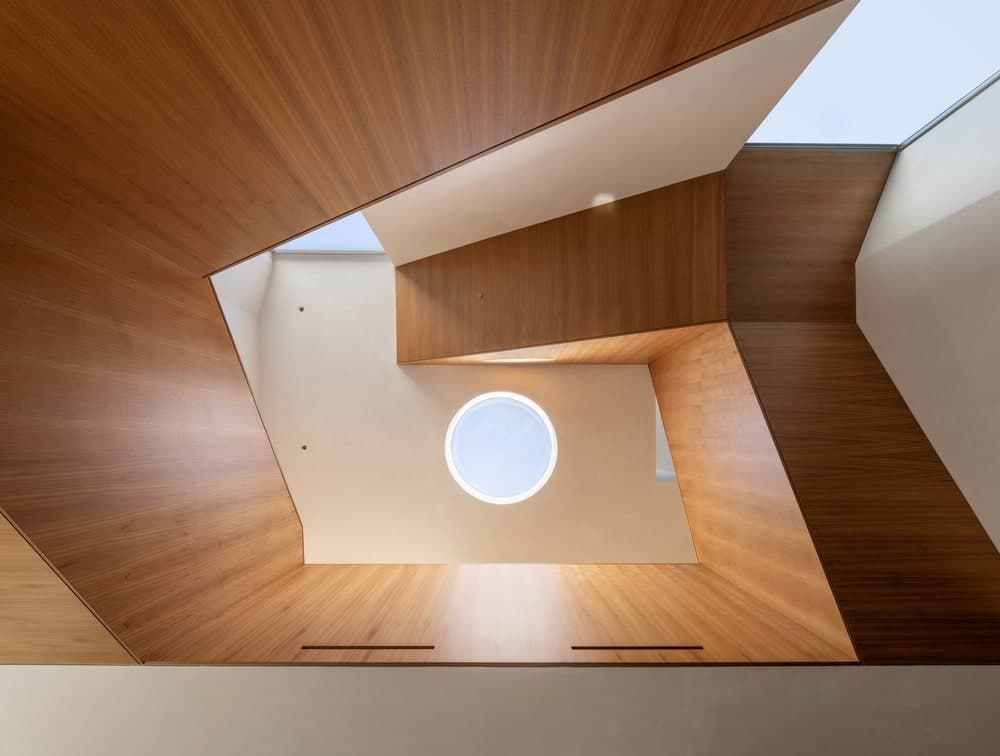 In addition to SALON, the property will be partnering with innovative and luxury brands to showcase the modern lifestyle of Los Angeles and the possibilities of this residence. Coordinated by Idea Parade, Casa del Sol, Recess, and Cookies are just a few of these select brands that guests will discover in the space.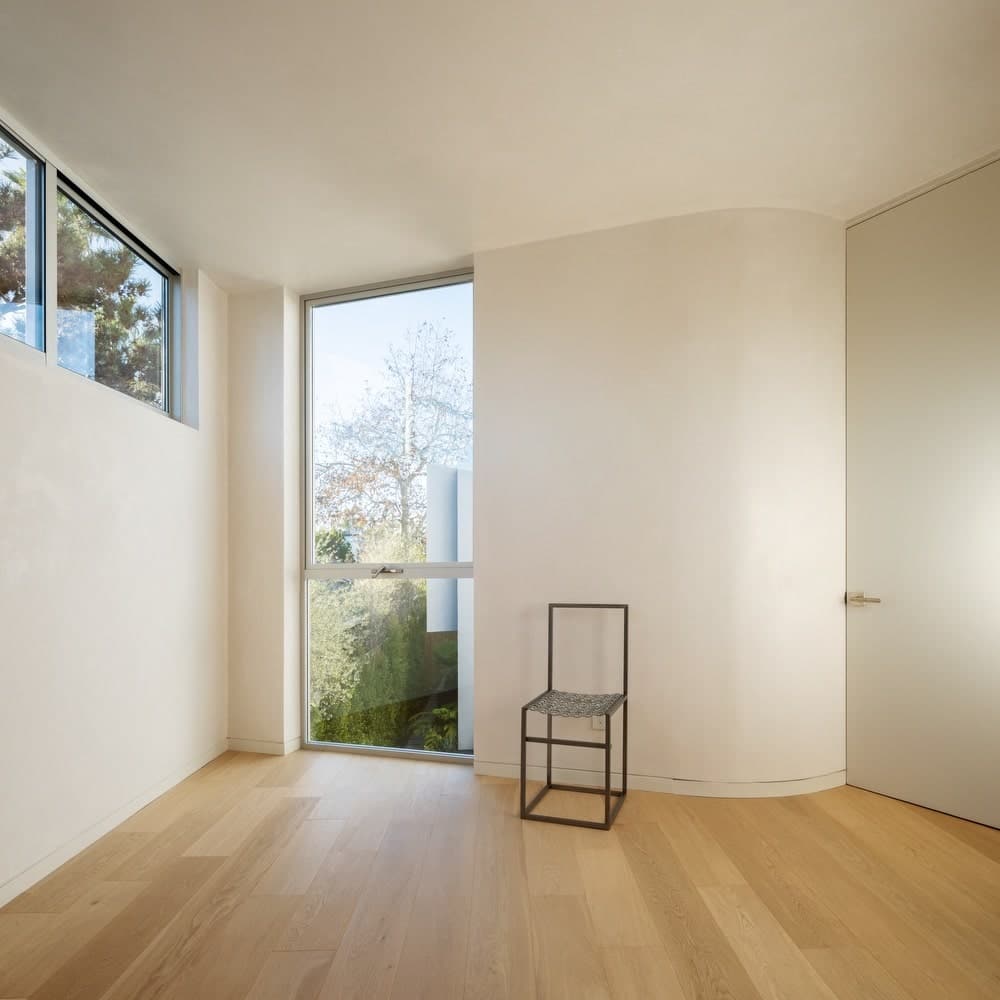 In order to engage LA's creative thought leaders, Race Service, a forward-looking creative agency, will be curating the garage at the residence. This site-specific activation throws the car culture of Venice Beach in a new direction by presenting the car as an integral part of a private art collection.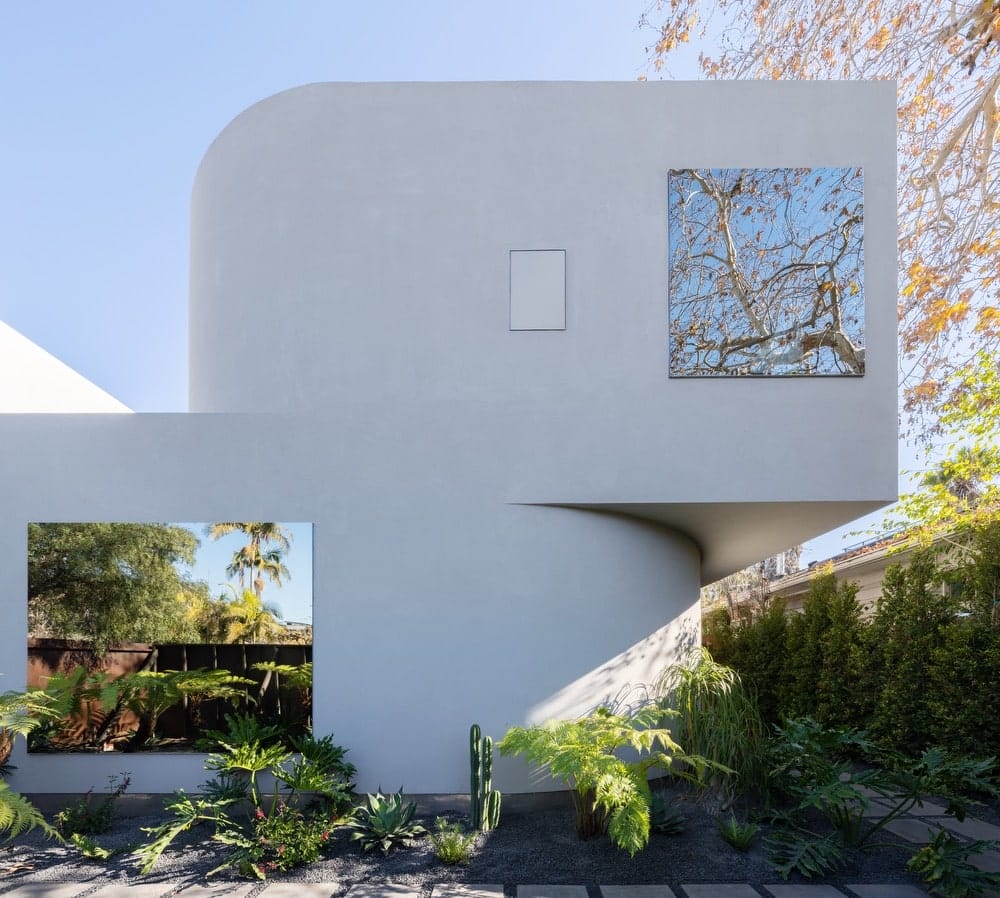 Milwood Avenue is quickly becoming a design hub in the Venice community. It is home to projects such as Spectral Bridge, an artistic collaboration between Ehrlich Yanai Rhee Chaney Architects and internationally known artist Johannes Girardoni. Pentagon is the youngest design firm to complete a project in the neighborhood.
— V —
---
Radius House is being shown by appointment only by Engel & Völkers Santa Monica (SantaMonica.EVRealEstate.com). Designer: Pentagon; Team: Ben Crawford, Dale Strong, Paul Stoelting, Tyler McMartin, and Paul Trussler; Structural engineer: NOUS Engineering; General contractor: Buildwell Construction Inc. Follow on Instagram @pentagon.la or visit www.Pentagon.la to learn more.
ARTICLE CATEGORIES